A digital asset management software can really boost a nonprofit's marketing game. Think of it as a central hub for all types of digital assets - photos, videos, documents, you name it. It keeps everything organized and within easy reach, making time for truly important things.
But it's not just about storage. Digital asset management systems lets nonprofits decide who can access what, keeping digital assets safe. Plus, analytics feature helps keep track of what's being used, and how often. It's a friendly tool that means serious business for any nonprofit's marketing success.
But how exactly can a DAM platform revolutionize marketing for nonprofits? And why is it an investment worth considering? In this article, we delve into the crucial role that a digital asset management software plays in nonprofit marketing, highlighting the myriad ways it can optimize marketing efforts, save resources, and ultimately, help make a bigger impact.
Why Nonprofit Marketing is Important
Just like for any business, marketing is vital for nonprofit organizations. Even though not every not profit team has enough resources for it, it does make a difference. Marketing is like the beacon that shines a light on the organization's cause and the impact they're making. Here's why.
Nonprofits use marketing to reach out to their audience. It helps them share their stories, spark emotions, and inspire people to take action. It's through marketing that they can engage donors, volunteers, and advocates who might not have otherwise known about their cause.
Additionally, marketing helps nonprofits to establish a strong brand. A clear and consistent brand image helps people understand the mission and values of the organization, fostering trust and credibility.
But the benefits don't stop there. Good marketing brings in donations and grants that fuel nonprofits' programs and services. It also amplifies their voice, increasing visibility and reach. Through marketing, nonprofits can attract partnerships, collaborations, and even influence policy changes.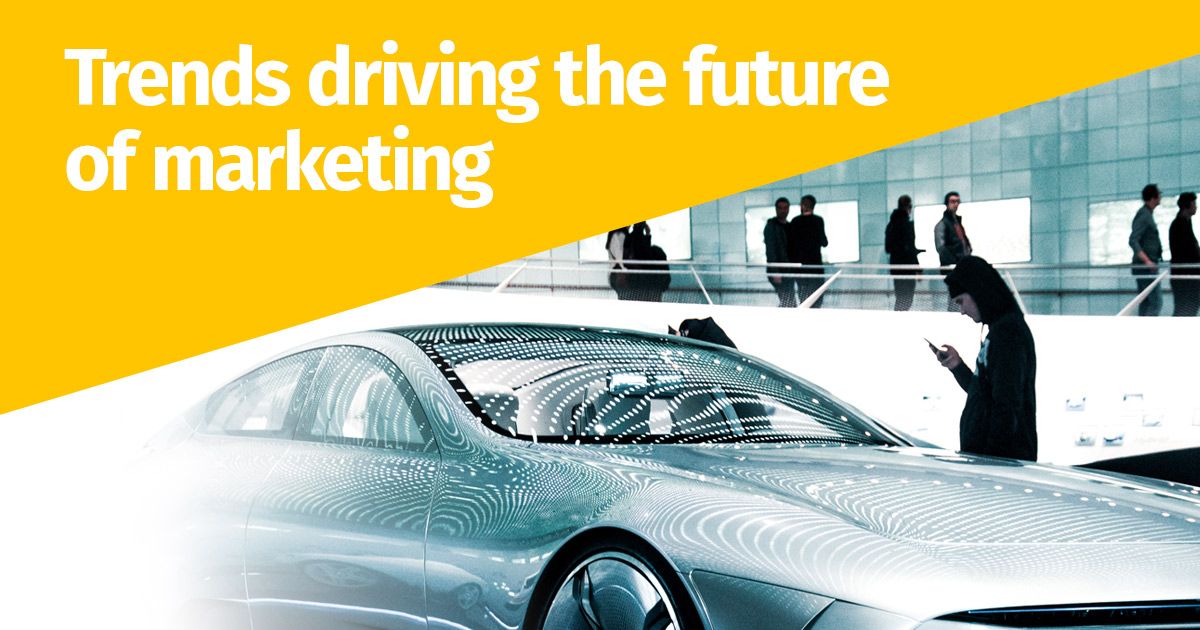 So, it's fair to say that marketing is not just a "nice-to-have" for nonprofits. It's a must. Effective marketing is a gateway to impact and success, and an essential tool for making a difference.
How to Use Digital Asset Management System in Nonprofit Marketing Plan
Marketing and content go hand in hand. Content is the substance that fills out a marketing strategy. It's the engaging articles, enlightening infographics, compelling videos, and enticing product descriptions that connect with audiences.
Marketing, on the other hand, is the strategic process that employs this content to build relationships, influence decisions, and convert prospects into customers. Without compelling content, marketing lacks substance; without effective marketing, content fails to reach its intended audience. Together, they create a powerful synergy that can drive business growth and customer engagement.
And, in case with nonprofits, successful marketing strategies would convert into bigger donations in the end. A digital asset management solution doesn't just simplify content management for nonprofits; it enhances their entire marketing process. Let's look how:
Organize and Access Content Easily
DAM software provides a centralized repository for all digital assets - images, videos, documents, etc. This means your marketing team can find the assets they need quickly, eliminating wasted time searching across various platforms. For instance, nonprofit marketers can arrange and sort organization's digital assets in different folders called collections in Pics.io DAM system. More on creating a proper folder structure for your digital asset management solution here.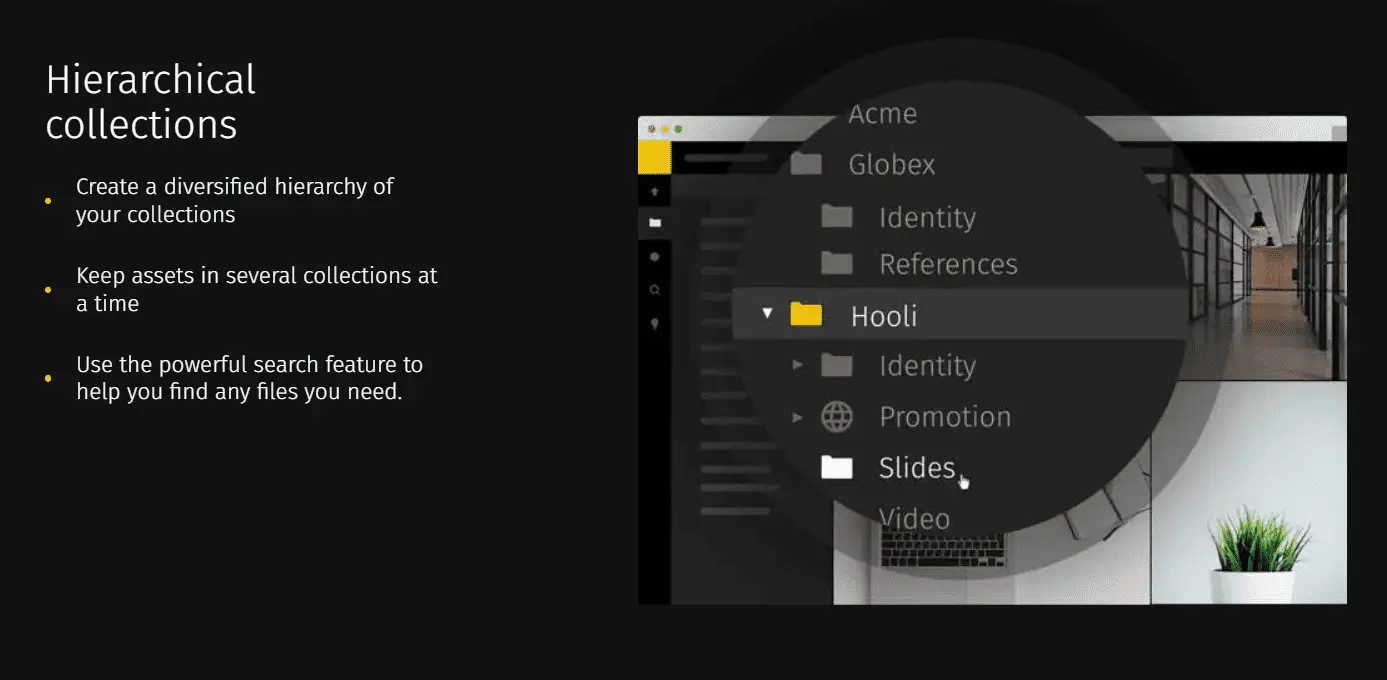 With proper organization, intuitive and easy-to-use search features, as well as metadata tagging, the process of looking for specific digital files happens within seconds. What's more, one can use AI-powered keywording feature and tag all the brand assets in no time. Thus, the users of digital asset management systems for nonprofits receive not only an immediate access to all possible brand assets for digital marketing. They also save time and recourses that can be spent on nonprofit marketing strategies.
Brand Consistency
By storing all digital assets in one place and using features like version control, a DAM software ensures that everyone uses the latest, most accurate versions, maintaining brand consistency across all content marketing materials and channels. With version control, you can see all the versions of one asset under one thumbnail, check comments from other users, and approve or disapprove these versions. No more confusion with what file is the necessary one as you can choose the version you need in just a few clicks.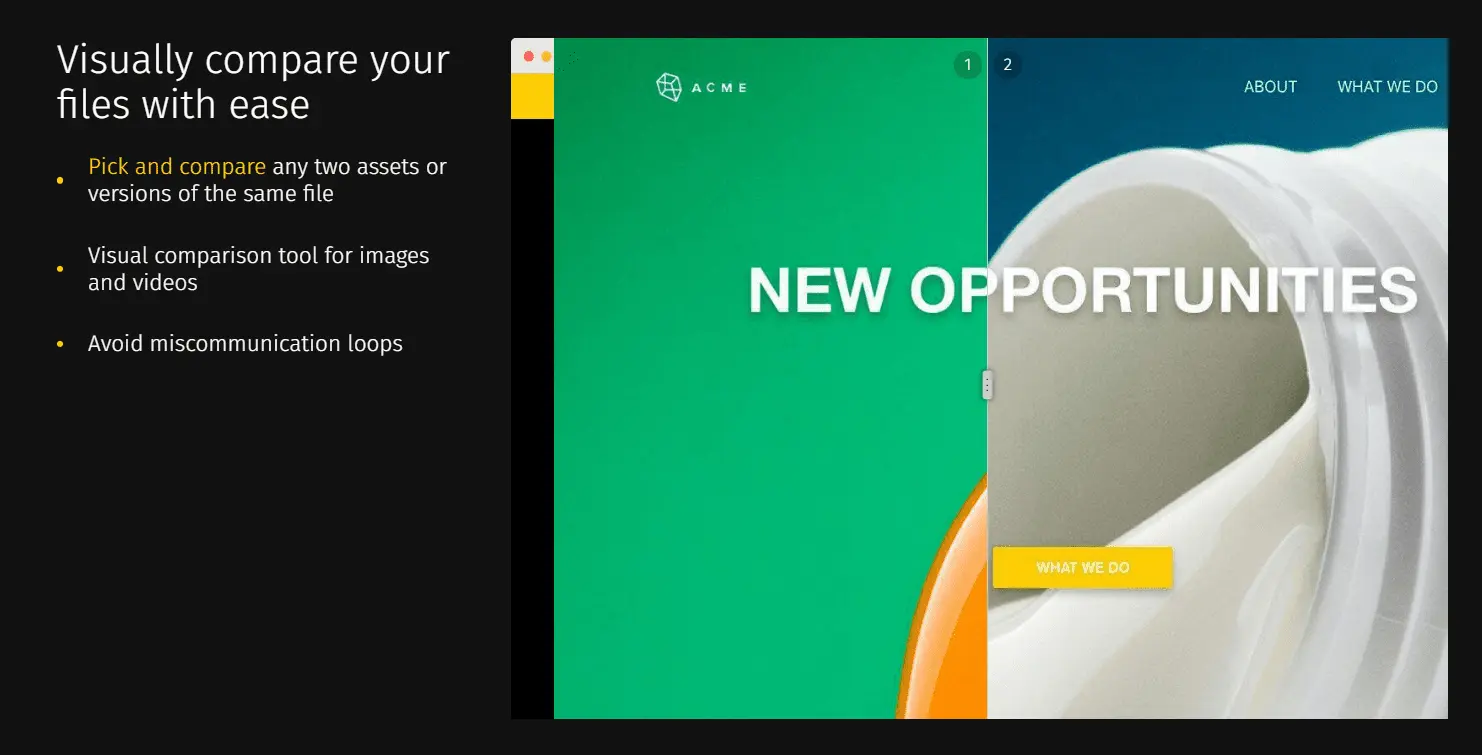 Such functionality is especially useful for nonprofit marketing, as members of one team often work remotely from different countries. Therefore, version control does not only boosts brand consistency and helps to preserve brand image, which, undoubtedly, is essential for the reputation of any nonprofit organization. Using the same digital assets everywhere also streamlines digital content approval process.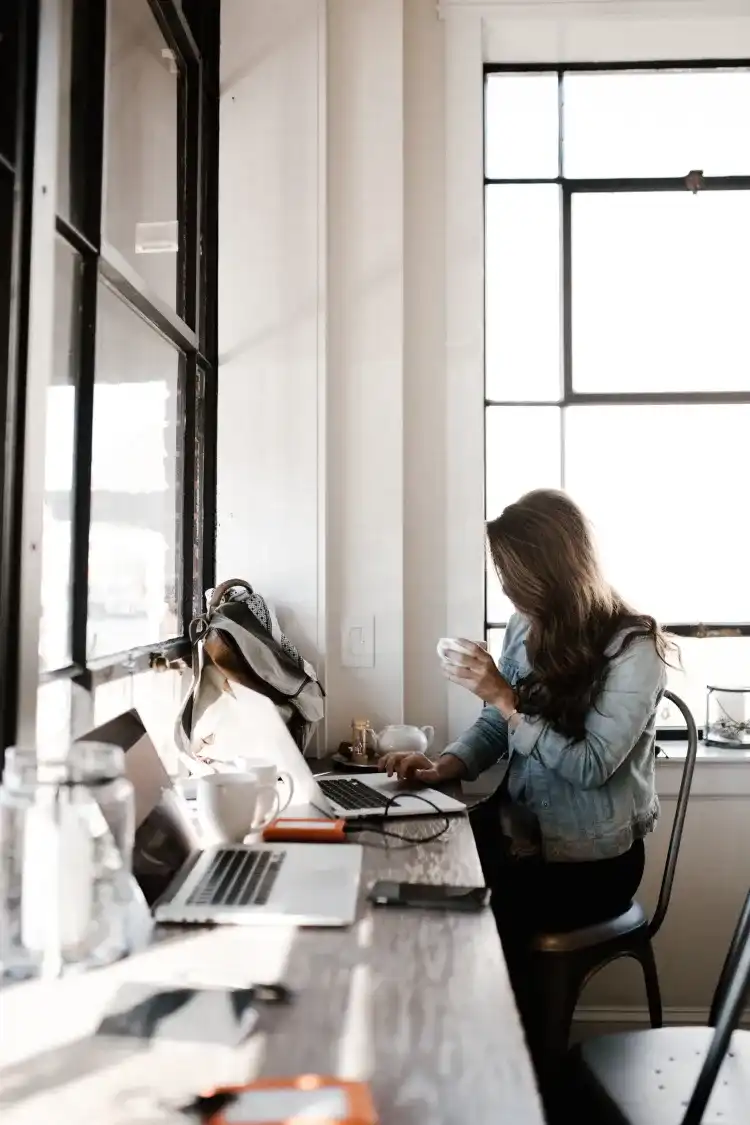 Collaboration
Digital asset management system fosters better collaboration by allowing nonprofit marketing team members to share, comment, and work on digital assets together, streamlining the content creation process. We've already discussed version control feature, which is also crucial for collaboration in nonprofit organizations above, but DAM systems stull have lots of cool things to offer.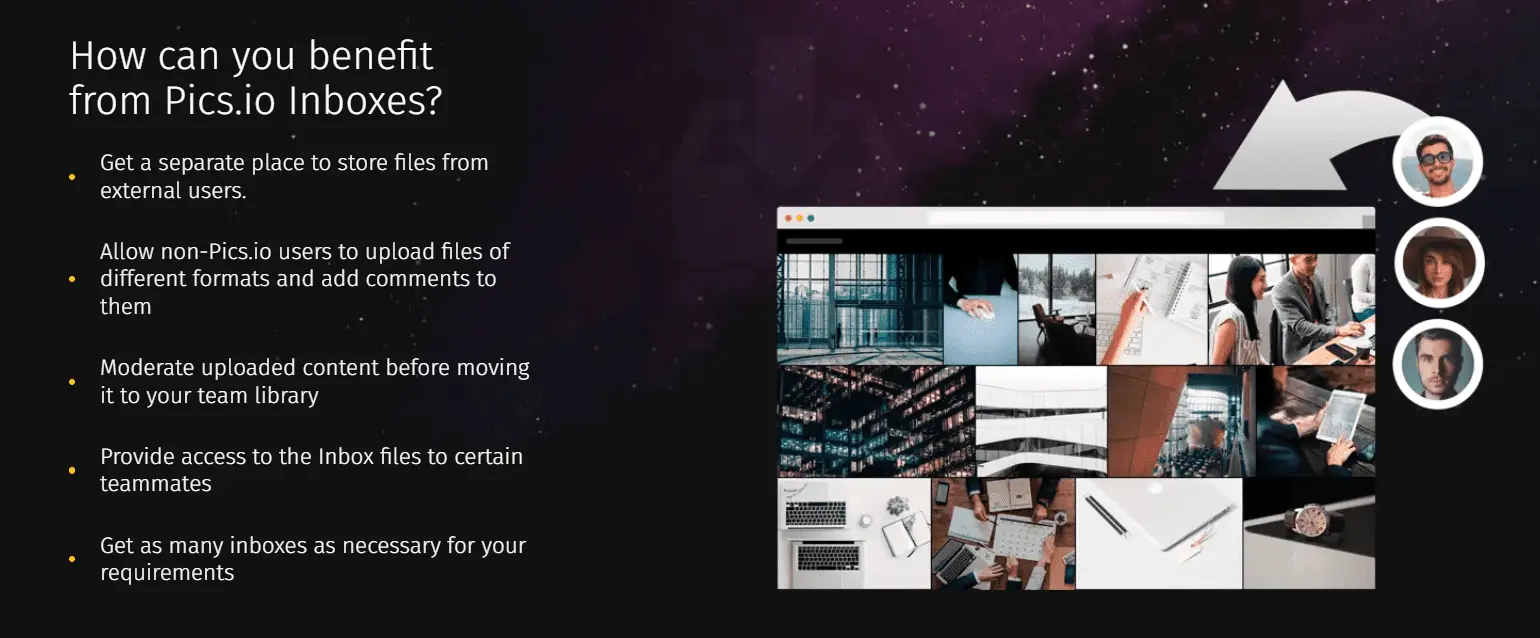 One of the key components of Pics.io digital asset management solution is sharing functionality. Pics.io websites and inboxes serve as secure online storages for easy digital assets sharing and retrieval. One of nonprofit marketing goals is to reach out to larger audiences worldwide and, thus, expand their fundraising efforts. That is why they often need to share and receive digital files from internal and external stakeholders like photographers, partners, event managers, etc. This is where inboxes and websites save they day and make quick and secure file exchange possible.
Security and Control
With a DAM software, you can control who has access to what, safeguarding your important assets from unauthorized use. A Digital Asset Management (DAM) solution provides nonprofits with robust security and control over their digital assets.
One of the key features is user permissions which allows to set different access levels for nonprofit marketing team members. This ensures that each person only has access to the digital assets they need for their work, and can only make changes within their authorization level. Digital files are not just organized, they're secure.
Track Performance
In nonprofit marketing, resource allocation is crucial. And that's where the analytics and reporting feature of Pics.io digital asset management system comes into play. This feature lets nonprofit marketers track which assets are being downloaded and used, and how often. By understanding the usage patterns of different digital assets, they can effectively streamline marketing efforts and optimize resource use.

This level of insights not only saves valuable time but also aids in making informed strategic decisions. For instance, the most often downloaded and used digital files probably mean they are preferred by the target audience. Consequently, such statistics shows what digital content is the most beneficial for a particular marketing strategy or marketing campaigns.
Conclusion
Digital asset management software is transforming the way nonprofit organizations handle and utilize their digital assets for marketing purposes. From improved organization and ease of access, to robust security measures, and insightful analytics, DAM systems equips nonprofits with the resources they need to optimize their marketing strategies. It not only saves valuable time and resources but also boosts team collaboration, enabling organizations to communicate their mission more effectively. With a DAM solution, nonprofits can keep up with the fast-paced digital world and harness its power to create a more significant impact.
Give Pics.io DAM a try
free 7-day trial
Did you enjoy this article? Give Pics.io a try — or book a demo with us, and we'll be happy to answer any of your questions.