Developers and designers are like two peas in a pod. Your project won't be completed without the full and equal contribution of both. But it's no secret they address the issue from two different angles.
Your dev team approaches the problem from the technical perspective. They think about how functional the idea is and how to put it into practice. This is why your engineers are likely to offer you a budget-restricted or less time-consuming solution when needed.
As for designers, they're visual thinkers and thus obsessed with all those fonts, colors, product interfaces, and marketing collateral. Design is all about creativity and innovation so as to make your product stand out among its competitors.
But again, no progress is possible without the two departments working together. And here we are: ready to tell you how Pics.io DAM will help you bridge the gap between your developers and designers. So let's start...
Some typical stumbling blocks between developers & designers
You've probably heard about the situation when a designer comes up with a fresh and innovative solution, but then their idea encounters reality. This is when developers reject the designers' vision claiming their idea is hard to embody.
Or vice versa. Your developers approach you with a good engineering solution, and then designers criticize it as outdated and without a flair for creativity.
But it's actually good to get to know that your idea is bad before the actual implementation. How many times do your developers/designers get the feedback only after they send the completed task? And so they have to redo the project and spend extra hours on edits and development cycles, which cannot but end with higher project costs.
Another typical issue is at the level of communication. Your developers & designers may simply not know how to interact with each other effectively. The review cycles are longer in this case as they are done separately, and more bugs and errors show up at the end.
As a result, the strain between two departments appears. Your colleagues have a blurred understanding of the project scope and their next move. And the team doesn't work as a single mechanism anymore.
The bottom line here is the lack of a common platform for communication. So here's our solution to help you out.
DAM Pics.io - Solve your communication issues
No need to worry, our Pics.io team has a recipe for you against the lack of communication. Our product will help you to keep your developers & designers connected and not to shift to individual tasks but work alongside.
A few tips on how we will make it possible:
Keep all your design assets in one place & access them easily
Your design team works with a lot of assets. And it's important to organize them properly and keep them in order so the developers could access the files without bothering designers every time.
With DAM, you create a media library of any size and scale. To some extent, it's similar to GitHub but for media assets. All your files are stored in the same shared repository, and both departments access it easily and quickly.
Our in-house UX/UI designer Aleksey says he appreciates Pics.io for its simplicity and ease of use. You just open your storage and see all the lately uploaded assets. And so you know the current state of affairs and what your team is working on. It allows you to become involved more quickly and easier.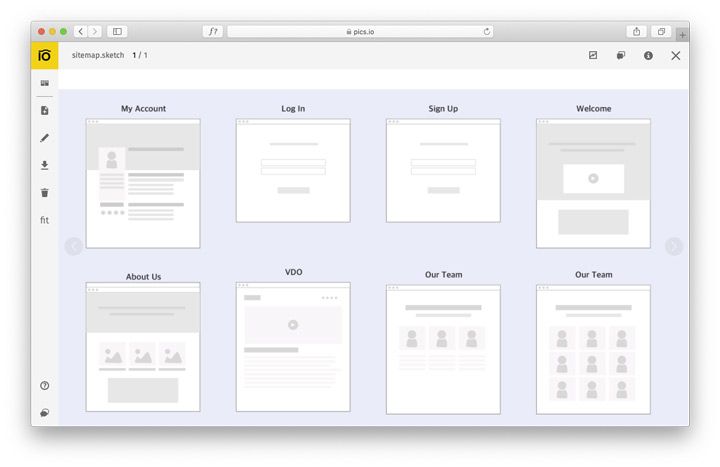 By the way, as your company grows further, so increases the number of your teammates. Don't worry if you need to engage more people in the project. With DAM, you can assign different rights and roles to your team members.
Stay updated on the latest changes & execute only recent designs
Thanks to DAM, your dev team doesn't have the slightest chance to miss any changes made by designers. Our smart notification system will update your developers with push notifications once they open the storage. Or make it even simpler, and integrate your DAM storage to your email, Slack, or other messengers you use.

What's more, creative process is messy. When they're creating, designers are used to producing tons of versions, with slight differences now and there in hues, typography, or forms. Versioning is what helps your team to keep track of any changes in designs.
Long before we had developed versioning, we had an unpleasant experience when our developers got confused about different versions and brought the wrong one to the stage. And so we wasted lots of time to make amends.
This whole situation taught us a lesson: making designs without the use of version control is too risky. It's like you've failed to keep a backup. And so now we use versioning almost daily.
While this tool is a whole finding for designers, it may still confuse the developers. What is the latest design? Which version should I use? In Pics.io DAM, we have revision approval for this occasion so the designer lets their teammates know which asset to use.
Again, we'd like to shed light on how our own team uses this feature. During the design process, it frequently happens that we understand that the former revision is much better than the actual one. And so we return to this older revision, set it as current, and there is no chance our dev team will choose the wrong one for the production.
But let's imagine it's an old design, and our designer forgot to mark the approved revision. Now we need to compare the different versions and choose the best one. Pics.io got one more trick up its sleeves in this case. We use our visual diff tool to make a side by side comparison of two files or their revisions.
Treat your DAM not as a repository but the workplace
Our small Pics.io team is investing its time and effort to go beyond the limits of simple storage. And we're striving to make it a place where your engineers will work easily with design assets, and your entire team will run like clockwork.
Collaboration is of the utmost importance in Pics.io DAM. So your teammates can leave comments under assets, discuss designs with minimum distraction, and mark certain areas they want to clarify.
For example, recently, our designer Aleksey has received a task to design emojis. He completed it in a way so our Pics.io users could add an emoji to their comments. But then, one of the developers noticed that it was also good to be able to react with emojis, not only add them as separate elements to comments.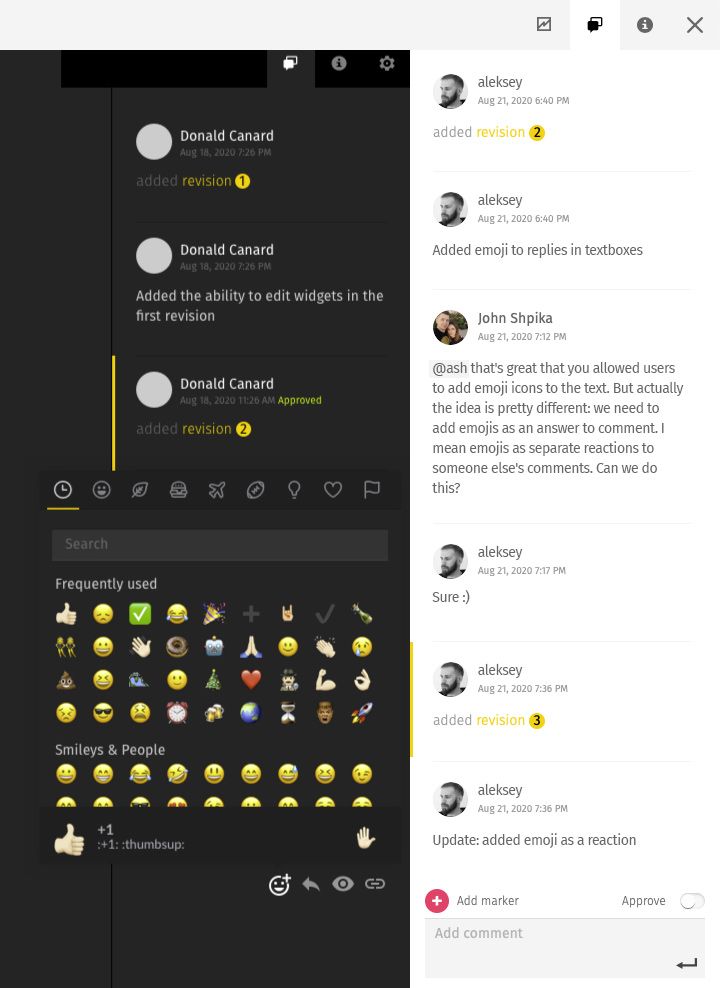 And of course, all this conversation took place in our Activity Panel. The two teammates didn't have to leave DAM, switch between apps, and waste time on explaining what they're talking about. They discussed the task right behind the newly uploaded emoji designs, and the workflow wasn't disrupted.
Last but not least, to make designers' lives easier, our DAM storage easily integrates with Adobe Photoshop, Sketch, or Adobe Illustrator. We also don't want to limit your team in the formats used. So your designers are free to choose different vector files like Sketch or Adobe XD, CAD file formats, 3D image files, etc.
A few concluding remarks...
As you see, it's easy to make your developers & designers a part of the common workflow. With DAM, you will make sure that none of the departments work in silos, and the whole working process is seamless and interactive.
The better the process, the better the results. Your end user will be more satisfied if the project is completed according to their expectations, with fewer expenses and in time. Feel free to choose a free demo with us to enhance collaboration in your team and get to know about our DAM product in detail.
Give Pics.io DAM a try
Free 7-day trial
No credit card required
Set up in 3 minutes or less