Single asset sharing implemented in Pics.io
Knowledge shared is knowledge multiplied.
This is especially true about digital content. What counts nowadays is not how many digital assets you have, but how effectively you can distribute them among various channels and touchpoints. The more you share your content with different people on different platforms, the more added value it gains.
File-sharing option is one of the key functionalities of Pics.io Digital Assets Management solution. One of the ways to share your content outside Pics.io is to create what we call a website.
Here are some typical cases where you may need this feature:
You need to create an eye-catching portfolio to showcase your work, but hiring a professional designer for this job seems to be an overkill. Instead, you can simply apply one of the ten pre-designed templates in Pics.io — and you have a nice-looking online publication ready in a few moments.
A small tip for those who work with video. Try our recently developed Lumière template — it works especially great to showcase video assets.
You may also need to share a collection of files with external collaborators if you want them to evaluate & select assets they like best. It's particularly relevant for designers — you typically have several design proposals and you want your customer or another stakeholder to make some selection and give feedback about your work.
To help you make this feedback as precise as it can possibly be, in Pics.io you can let your collaborators leave comments and marks right on the files you've shared with them.
So, putting it all in a nutshell, websites in Pics.io work best when you need to share a collection of assets in bulk.
But what if you wanted to share one single file?
For example, you have one single photo that you want to show to somebody. Or you've made changes to some particular asset that you want to discuss, and you don't want to display all other files in this collection…
Truth be told, there has been no straightforward and simple solution for that in Pics.io for a long time. But finally, this has been fixed.
In our recent release, we introduced the long-awaited shortcut for single asset sharing right out of Pics.io.
Here's how it works:
Once you open an asset that you want to share with somebody, you can see a new option in the Infopanel — Share. A simple switch of the slider will generate a link that you can copy and distribute in any way you like.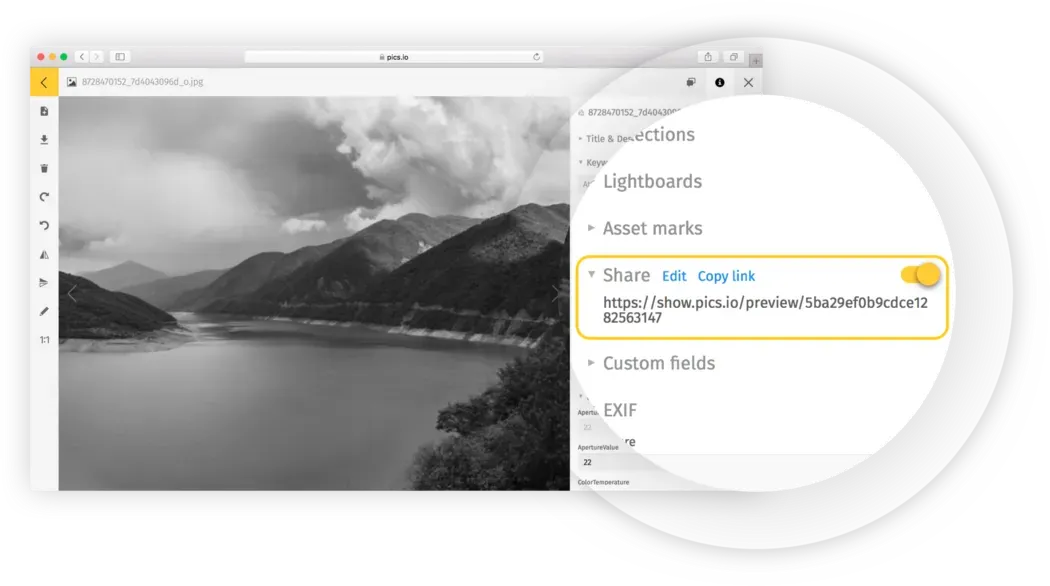 Similarly to websites, you can customize your sharing in a number of ways:
allow or disallow downloading;
let others view all the previous revisions of the shared file;
let others leave comments about the asset;
protect your shared file with a password, etc.
The advantages of single asset sharing are pretty obvious.
In the first place, it clearly saves you lots of time on sharing your digital content. No more need to download this file and send it with a separate mail, or take the pain of creating a website in Pic.io just for the sake of one single file. Now, you simply get one link that you can use anywhere you need.
Besides, if you happen to update your asset, you don't need to bother sending out this link once again. The update is automatically synchronized everywhere, without any effort on your part.
You're most welcome to try single asset sharing in Pics.io. We hope you'll find it convenient and easy to use. Happy sharing!
Give Pics.io DAM a try
Free 7-day trial
No credit card required
Set up in 3 minutes or less