The COVID-19 crisis has completely reshaped the way we work. This allowed many companies to transition their workforce from a traditional office setup to a remote one. I know it did for me and my agency - I can still remember trying to figure out what Microsoft Teams actually did.
While this shift can be challenging, it also presents an opportunity for businesses to increase productivity and reduce costs. According to Global Workplace Analytics, "a company with 1,000 employees working remotely half of the time, can save more than $1 million a year. These massive savings stem from a combination of increased productivity, increased business continuity, reduced office costs, reduced absenteeism, and reduced turnover.
In this article, I'll outline five tips your PR department should follow to successfully transition to remote work. Let's get started!
1. Develop a Plan for Communication
Communication is one of the most important parts of remote work. Without proper communication, after all, you can't possibly get things done. This is particularly critical in a remote work setup, where members of a team aren't in the same physical office.
So, in your transition to remote work, how do you make sure that your team members will communicate effectively?
Start by setting clear expectations for communication. Make sure that everyone is fully aware of their responsibilities when it comes to communicating and working remotely. For example, you could set clear guidelines for when people should be online (like during normal business hours).
You also need to determine the platform you'll use when working. Will it be email? Or a combination of email and messaging apps? Will you use cloud phones so they can make and receive calls as long as they have an internet connection? You'll need to consult with your team to determine which ones they prefer. After all, it's your team who will be using these tools.
Here are other popular communication tools you might want to consider:
Slack: Slack is a workplace messaging program for teams of all sizes. It has many appealing features, including project planning/scheduling, third-party integrations, and more. Slack is present in both mobile and web versions, allowing its users to collaborate and coordinate from wherever they are.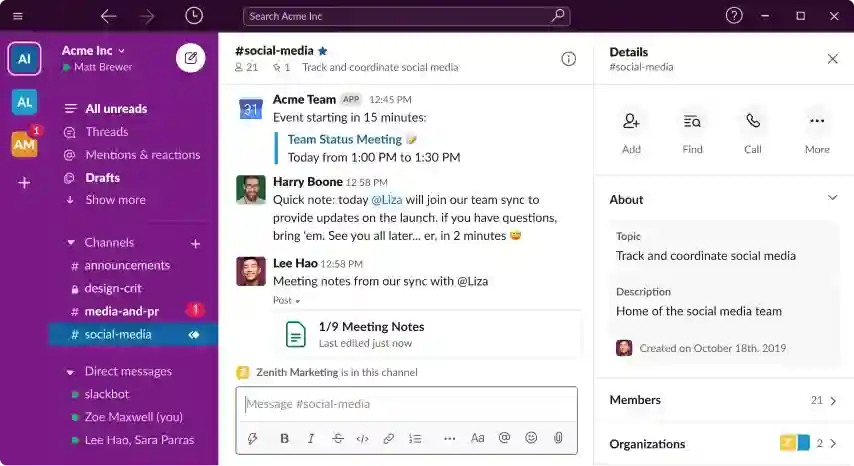 Zoom: Zoom is a powerful video conferencing tool that integrates seamlessly with Google Calendar. It's exceptionally lightweight and has many useful features, including video call recording, screen sharing, and an online whiteboard.
Finally, guarantee that you remain in touch with your team members consistently throughout the day. It doesn't matter if you're running a digital PR, crisis management or retail PR agency. Once your team starts remote work, maintain open communication to ensure that questions about the new work setup don't go unanswered.
2. Set Performance Goals
According to Gartner, effective performance management depends on effective goal setting. That means even if you don't plan on making the transition to remote work, you need to set performance goals to give your team some direction.
But don't just set goals without thinking. When you include them in your recruitment plan, they should be specific, measurable, and time-bound. Your goals need to have corresponding key performance indicators, too. That's the only way you'll know whether your team is actually making progress towards achieving those goals.
Here's a good sample PR department performance goal:
"Boost brand awareness by 20%, over the course of three months."
The performance goal is specific, measurable, and has a timeline—once per month for three months—so that you can track progress as time goes on. For this specific goal, you'd need to specify your KPI/s for "brand awareness." How would you measure brand awareness in this instance? So, your KPIs could be the number of mentions on social media, or your branded search volume, for instance.
But it's not enough to just create a PR departmental goal as you transition to remote work. You need to break down this goal for each team in your department. For example,  let's say one team is responsible for sending out press releases to media outlets. Their performance goal could be writing and sending X press releases in a day.
Then, for the media monitoring team, their performance goal could be writing one media monitoring report each day.
The more specific your performance goals are for each team, the better for you and for them. You'll both be on the same page as you work towards the success of the PR department from different locations.
3. Pick Right Project Management Tools
To ensure a smooth transition to remote work, make sure you pick the right tools. We already briefly talked about communication tools in a previous section. But there are other tools—like the ones for project management—your employees should also use to ensure seamless processes as they work remotely.
When picking the tools to use, you have to, again, consult with your department. Here's a list of useful tools your department might consider:
Pics.io: Pics.io allows teams to have their digital assets centralized. So, anyone in the department can access the assets without relying on other people or during office hours. You can also easily share those files and customize them before sharing. This helps eliminate wasted time spent searching for documents on various hard drives and flash drives.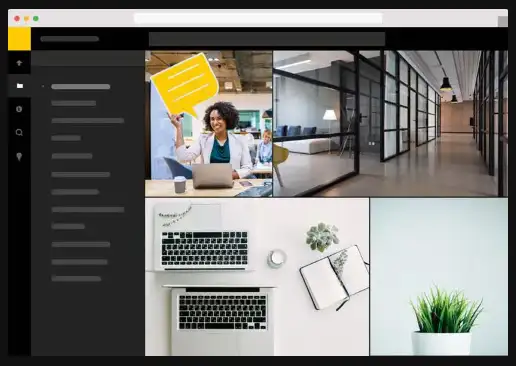 Give Pics.io DAM a try
free 7-day trial
Trello: Trello allows users to create boards and lists to manage tasks and projects. Each board can have multiple lists and each list can have multiple cards, which represent individual tasks or items. Users can add due dates, labels, comments, attachments and more to the cards, making it easy to keep track of project details.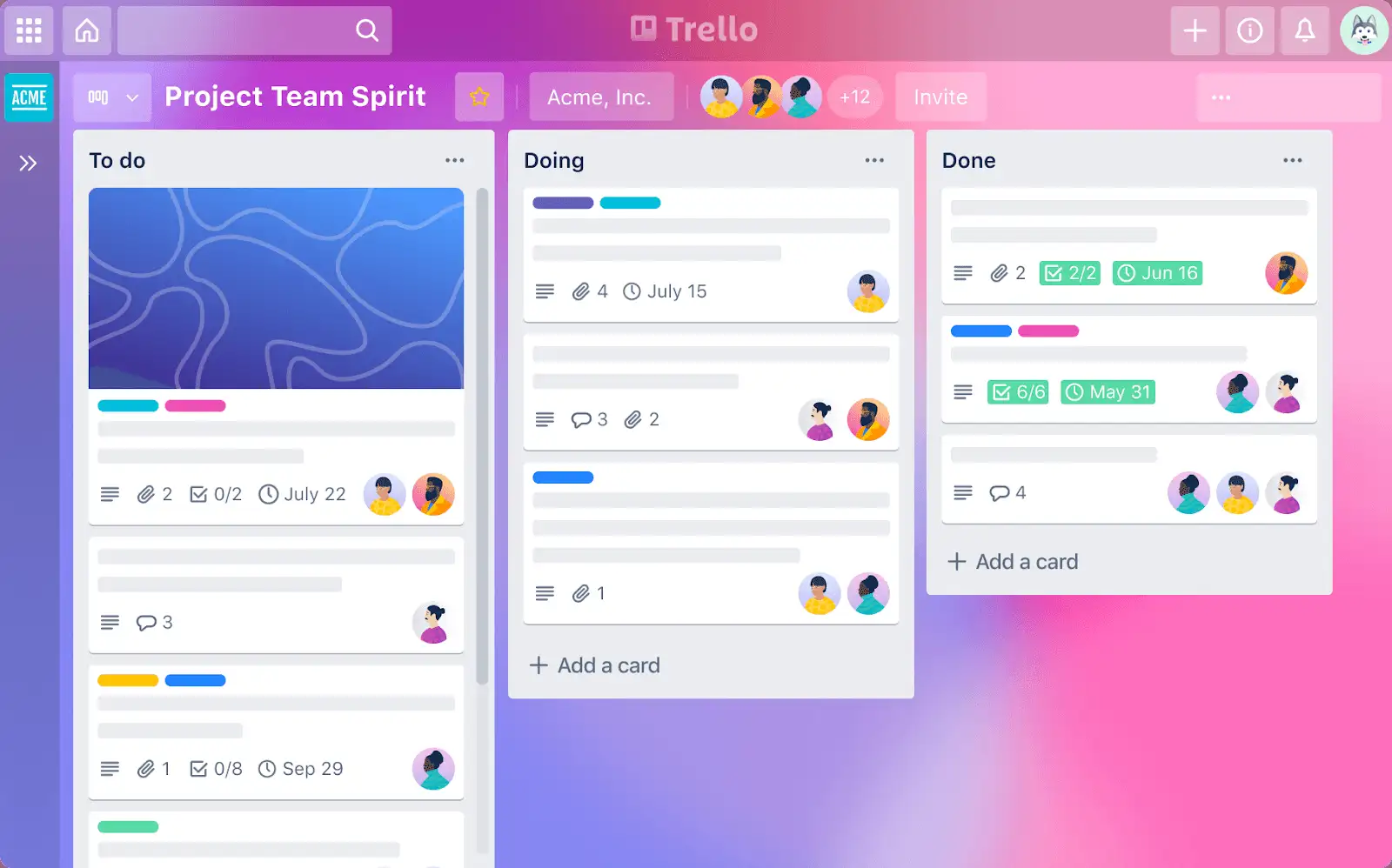 You'd need to provide your employees with the support they need to be successful in using these tools. So give them the necessary training as you transition to remote work.
4. Determine Rest and Meal Break Policies
You should determine your policies for work breaks. Even if they're not in the office, remote employees are entitled to breaks while working. Besides, work breaks don't just help alleviate stress. They also contribute to creativity and productivity. That's a good thing for the company and the PR department, of course.
You need to determine two break policies as you transition to remote work. One is your department's rest policy and the other is the meal break policy.
Consult with your team members to come up with the best policies for both. During your discussion, ask the following questions.
What time should your meal and rest breaks be?
How long should your meal and rest breaks be?
Should each PR team member follow their own time zone when availing of the breaks?
Write down the specifics of what you decide on. After your discussion, you should have something like this: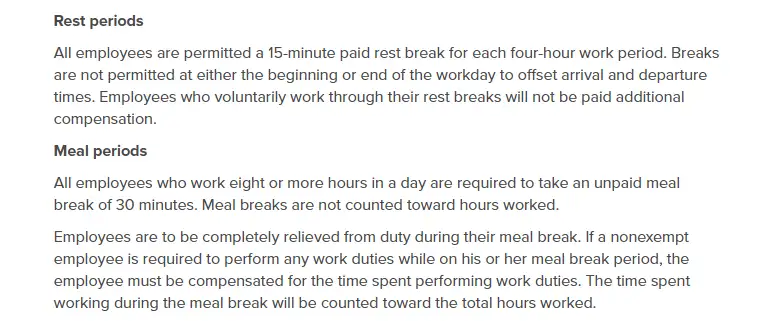 Make sure you disseminate the written policies before you start implementing the remote work policy.
You might consider setting up a remote employee time-tracking system with tools like Time Doctor or Toggl. These will help ensure your employees don't spend too much time taking breaks. But if you do decide to use these tools, include it in your written policy document, too.
Also, bear in mind that measuring success by hours worked in a remote work setup isn't always accurate. Consider this hypothetical scenario. You have an employee tasked with writing press releases. They can write a press release in one hour. Let's say that employee spends just seven hours working in a day. They'd still be more productive than that other employee who spends nine hours working in a day, but takes three hours writing one press release.
5. Ask for Feedback
Let's assume your entire department has finally started working remotely. But your job doesn't end there. After some time, you need to gather feedback on the new work setup. After all, you want to know from the perspective of your PR department what needs to be improved in the new work setting.
So, schedule a video call with your PR department to get this feedback. Make sure you give everyone ample time to try out the new work arrangements before you make the call. I would suggest a one-month trial period, although you can make yours longer. It's entirely up to you.
During your call, you can ask your department the following questions:
Are the tools enough for easier collaboration when working remotely? If they're not enough, what additional tools are needed?
Does the current remote work schedule work? If it doesn't, what improvements can be made to the schedule to ensure better collaboration?
Are employees more productive when working remotely? If not, what tools do they need to help enhance their productivity while working remotely?
You can add more questions to the list as you see fit.
List down the problems or issues your PR department raised, then brainstorm possible solutions to each of those problems together. Write down your possible solution right beside the specified issue. This is your plan of action. Implement these, and monitor if the issues specified before have indeed been addressed.
6. Measure Success Based on Tangible Results
It's not enough, however, for you to get your employees' feedback. Employee feedback, after all, is subjective. You also need to have quantifiable data. This should show, objectively, the effects of your PR department's transition to remote work.
So, go back to the performance goals you set beforehand with your team. Have they all been met? For example, did the email team reach their goal of sending X emails per day? Did the media monitoring team submit the required number of reports on time?
If your answer is yes, great! That means you just have to continue what you're doing when implementing your remote work setup.
If your answer is no, list down possible ways you can ensure these goals are met the next time around. For instance, if your employees didn't meet the number of emails sent to media outlets, you could give them access to software to automate gmail emails. This will enable your employees to send more emails in one day and meet your quota.
Then continue with your remote work setup, but this time, while implementing the solutions you specified. Monitor whether there are improvements in your department's performance with respect to the issues you initially identified.
If there are improvements, just carry on with the current setup. If there aren't improvements, go back to the drawing board. Specify other possible solutions to the problem again and implement them.
In Closing
The transition to remote work can help businesses increase productivity and reduce costs. But making the transition isn't as easy as it sounds. You need to approach this strategically if you want to succeed.
If you're running a PR department, you learned some tips to help you make that transition successfully:
Develop a plan for communication
Set performance goals
Pick the right project management and time-tracking tools
Determine rest and meal breaks policy
Ask for feedback
Measure success based on tangible results
Follow these tips, and your PR department will be working fully remotely–with no hiccups–in no time.
Give Pics.io DAM a try
free 7-day trial
Did you enjoy this article? Give Pics.io a try — or book a demo with us, and we'll be happy to answer any of your questions.
---
Author
Chris Norton, Founder of B2B PR agency
Prohibition
, former University lecturer, author of "Share This Too" and his
social media training blog
which is listed in the UK's top 10 PR and social media marketing blogs. For tons of digital PR tips, you can find Chris here
@chris_norton.