A common trait among successful teams is their magical ability to manage project tasks. I say this because getting tasks done on time, on budget, and without churn, is nothing short of magic.
‌One secret (well, no more a secret!), to this magic trick, is the team's innate bonding and rock-solid communication. Luckily, a smart Manager can help the team develop these tenets and there is no better starting point than picking a friendly task management software tool.
But that doesn't fully solve the problem. Your obvious next question is, which software tool? And if you're a manager who knows the team inside out, you'll have certain prerequisites that the software tool must fulfill.
I totally understand you, and therefore, I have put together a list of task management tools that will help you drive up productivity and build a strong communication culture in your team. Look for the tool that speaks to you the best, and have your pick!
Pics.io DAM‌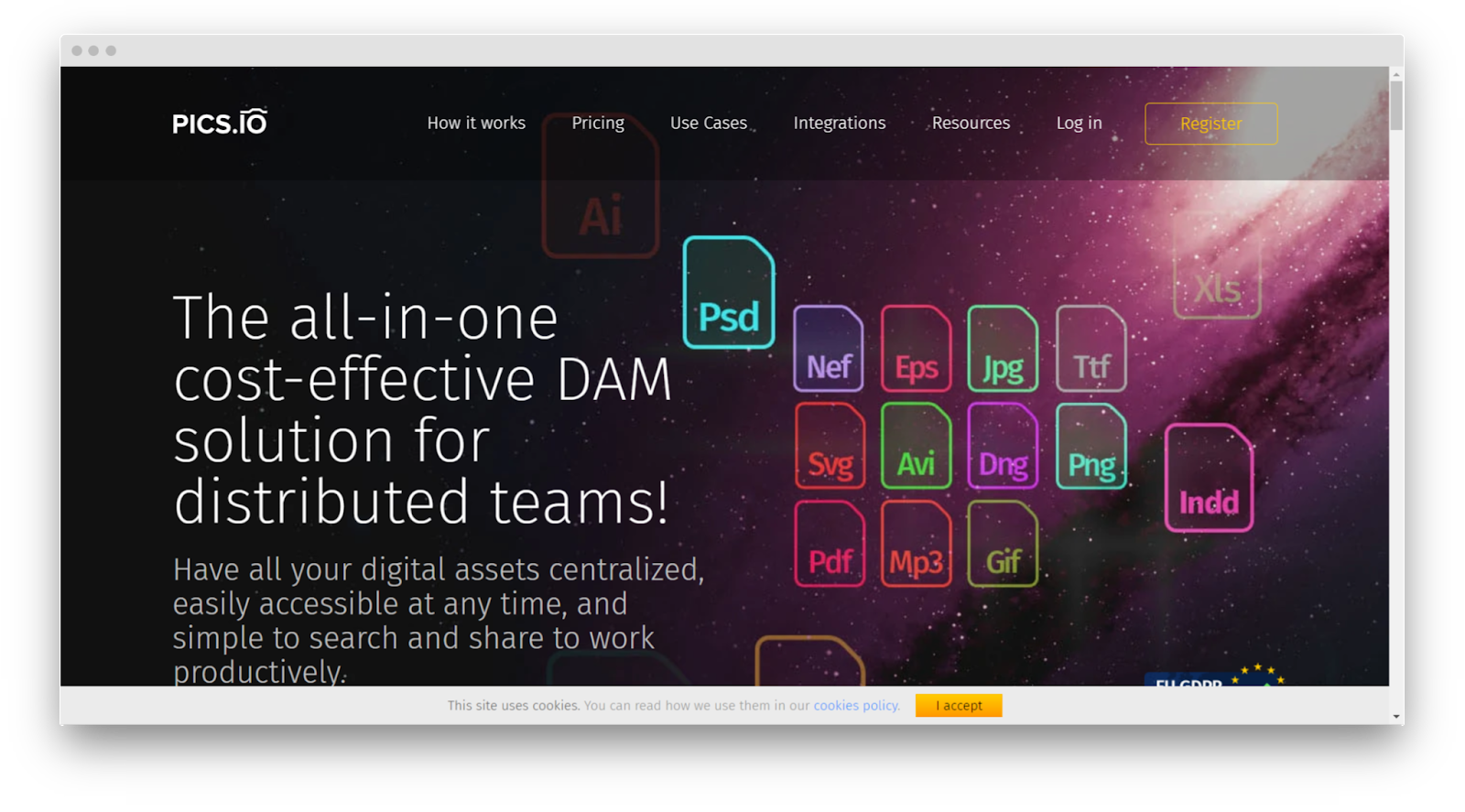 Overview‌
Pics.io is Digital Asset Management that helps you organize and distribute data easier inside and outside your organization. The tool allows you to navigate digital library, access and search for files in no time.
A metadata editor and keyword-based search will help you organize your media library the most efficiently. Search for your digital assets in any way you want: by file type, content, descriptions, custom fields, etc., etc.
The tool works on top of your cloud storage (Google Drive or Amazon S3) so you won't have to move digital assets anywhere. If you have no intention to place files in traditional cloud storage, you can buy terabytes of Pics.io storage and launch an all-in-one DAM.
Pics.io is very easy to get started with. You won't spend much time on implementation – the free trial starts in a couple of clicks, no credit card required. The learning curve is also not that long. Pics.io DAM is very intuitive and user-friendly.
Give Pics.io DAM a try
Free 7-day trial
No credit card required
Set up in 3 minutes or less
Top Pics.io Features
As a Digital Asset Management platform, Pics.io offers extensive functionality to meet all tastes and needs:
Keywording – You can tag digital assets and find them quicker. Use AI keywording if you want to do it quicker.
Websites – Share digital assets outside the company in the most secure and presentable way. Place files into one collection, create a customizable, public website, and share the link to partners or clients.
Revisioning – Keep versions in one place and organized. Tag colleagues and discuss revisions, then select the current version.
Inboxes – Receive information from third parties without extra effort. No emails or third-party tools. Just give a link to your inbox, and your partners will upload the data directly.
Notifications – Get updates about what's going on in your media library. Was a new asset uploaded? Has a colleague added a revision? Did someone leave a comment?
Integrations – Connect your digital library to any tool you need. For example, let your designer access the DAM tool right from Photoshop or any other Adobe app.
Pricing
Pics.io has affordable pricing for small and medium businesses. The pricing starts from $150 per month for a Micro plan, with 10 users and unlimited number of websites. You can also choose Solo plan for $50 per month and only $18 per month for a user.
ProofHub‌

Overview‌
ProofHub is a complete project management solution that offers several useful task management features for hitting the desired productivity goals in a team environment. It has a dedicated Task Management System that comes with an exhaustive list of features such as:
Task Files
Task Tracking
Task Description
Task Calendar
Task Comments
Gantt Chart for Task Planning
Task Reporting
Task Workflows
It's quite understandable that managing tasks the right way can get pretty complex when you're managing a team. Every task needs a detailed contextual description, deadline settings, and communication media. Without these, it's hard to ensure that tasks would be executed as expected.
ProofHub is built keeping the above facts in mind. It bundles the much-needed project management tools such as Calendar, Time Tracker, File Repository, and Communication channels alongside Task Management. Therefore, managers don't have to scout for additional apps or switch between several browser windows to achieve the same thing.
Task lists and workflows are some of the most attractive features of ProofHub. You can create several task lists in a project according to the task type, and let tasks flow from stage to stage in that list. You get full control over the task workflow, letting you define your own task stages such as "Instagram Post Ideas", "Approved Posts", "Posts to be Published".
Top ProofHub Features
As stated earlier, ProofHub offers many more tools in addition to task management. Some of these are:
Discussions – A Slack-like discussion portal for the entire team. Share ideas, notes, files and more, to instantly inform everyone about the latest updates.
Files – Your own filesystem with Google Drive, One Drive, Box, and Dropbox integrations. If you'd like to have a company-controlled file hosting solution, this is it!
Calendar – A shared calendar for planning the week, tracking deadlines, and marking significant milestones. All your tasks automatically appear in the ProofHub Calendar.
Reporting Automation – Managers can create custom morning alert emails that lay down the tasks for the day, to put the workday in perspective.
Custom Fields – In addition to predefined Task fields such as Due Date, Description, etc., you can create your own field parameters for personalizing task context. If you're an accounting firm, you might want a custom currency field or a separate status marker, both of which can be easily added to tasks.
Pricing
ProofHub comes with a flat fee of $89 per month, regardless of the number of users. Scaling organizations get the added benefit of a consistent and plannable monthly bill, no matter how many new members onboard every month.
Trello‌

Overview‌
Trello is a generic Kanban Board system that is simple enough for managing everyday tasks and effective enough for all kinds of teams to smoothly adopt it. It's one of the oldest productivity tools that can very well be used as project management software.
Initially, it feels like a personal To-do software on steroids, but as you grow accustomed to it, you realize that it can be molded as per your needs whether you're planning a party, building a website, strategizing blog content, or just managing your day-to-day tasks. The good thing about Trello is that it comes with its own universe of power-ups that let you extend Trello's basic functionalities to suit your specific needs.
‌The clean user interface with neatly laid out Trello cards in vertical columns is refreshingly intuitive. The latest version of Trello supports automation for repetitive tasks and lets managers integrate Trello with other commonly used tools such as Google Drive, Dropbox, etc.
It must be noted that as your project grows, Trello may start feeling claustrophobic. That's why most people like starting with Trello and then move to a more refined product.
Top Trello Features
Kanban Boards – Customizable Kanban boards with tons of functionalities are the USP of Trello. The premium plans, however, feature the more refined Table and Timeline views also.
Trello Cards – Trello Cards are like post-it notes that can be used to contain a singular task, reminder, deliverable, files, etc. You move these cards across vertical columns to manage project progress.
Automation – Nifty automation features such as deadline reminders, scheduled tasks, and custom workflows can be built inside Trello. This is pretty useful for reducing task management burnout.
Pricing
Trello's Business Class plan is priced at $12.5 per user per month for advanced features. The basic plan with basic features is free of cost.
Flow‌

Overview‌
Flow is a project management suite that focuses on three important aspects of modern projects - Tasks, Employees, Timeline. It has a dedicated section for each of these aspects which informs the manager about the latest updates and noteworthy metrics.
Managers can check the task progress, who is doing what, and overall project progress from the Tasks pane. The Workload section displays the active tasks a certain employee is currently handling, for smarter resource allocation to avoid burnouts and excessive overtime. Finally, the Timeline section shows the relative time spent on each task so that the managers can keep the project deadline in perspective as each day rolls by.
Top Flow Features
Project Views – Users can toggle through Kanban boards, calendar view, and timeline view to make project information easily perceptible.
Task Lists – Tasks can be arranged in multiple lists neatly and subscribed to relevant stakeholders. Everything from deadline tracking to task files is available in the software.
Resource Management – The workload section describes the current tasks assigned to a certain team, employee, and the organization as a whole. This makes resource management a bit easier for the manager.
Pricing
Flow's pricing ranges from $6 to $10 per user per month, based on the plan and features chosen by the user. The top-tier plan has all the features promised by the software.
nTask‌

Overview‌
nTask is another all-around project management tool that lets you do more than just task management. You can plan projects, ensure your team follows the plan, and cater to daily collaboration needs. It begins from Team and Task features, going all the way to Issue Tracking and Risk Management.
‌nTask is built with the philosophy of serving most (if not all) avenues of a modern work office. It's aware of the challenges at the project planning level and how to solve them with an intertwined web of tools. If your team actually needs all the features that nTask offers, it's a great tool for centralizing most of your project needs.
Top nTask Features
Project Tools – Commonly used tools such as Kanban Boards, team chat, and progress trackers are available. Additionally, you also get project budget management.
Team Collaboration Tools – Teams can create dedicated workspaces and use them to enlist all the important updates in regards to the project. This allows teams to maintain transparent communication.
Workflow Management – nTask offers additional workflow management features such as issue tracking and risk management that can be useful for the target audiences.
Pricing
nTask is priced at $11.99 for the business plan which covers all the features that a modern office needs. It also has a free plan for up to 5 users.
ClickUp‌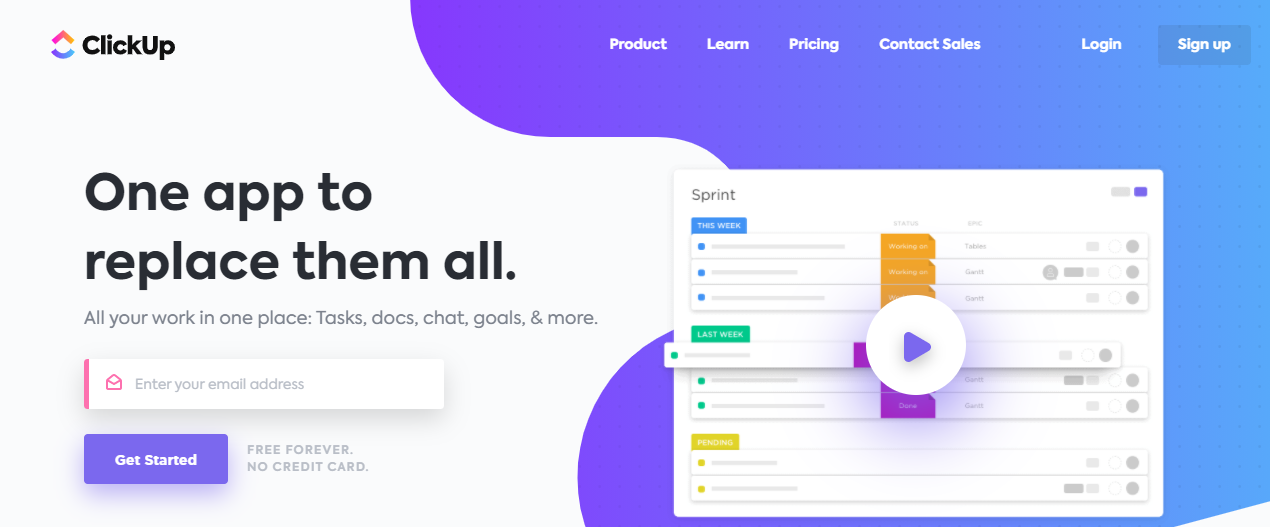 Overview‌
ClickUp offers a centralized space for managing team tasks, building a project knowledge base and creating project plans. It's a collaborative SaaS app that lets you bring a wholesome number of your work functions to its digital platform.
‌The software lets you track and manage tasks in a team. Managers get to assign tasks and keep the team members in the loop for each task. Then there is a Docs & Wiki area for creating project documents. Managers can also create task-based goals for the team so that the project constantly meets its milestones.
ClickUp has a strong integration ecosystem that enables teams to pull data from plenty of other popular work apps directly into the software.
Top ClickUp Features
Task Management – You can create collaborative tasks that can be subscribed to multiple users alongside file attachments. Tasks can be organized into lists with 14 different kinds of views.
Docs and Wiki – The Docs and Wiki section lets users create project documents with concurrent user access. This solves many of the documentation needs such as minutes-of-meeting, guidelines, etc.
Goal Setting – Managers can create individualized goals for efficiently tracking progress. This feature is useful for timeboxed projects such as Agile Software Development.
Pricing
ClickUp is offered at $9 per month per user when billed monthly. It also offers a limited storage plan which is free of cost.
Asana

Overview‌
Asan is a generic tool that is designed to cater to task management and team coordination needs. From Sales & Marketing to Customer Support, all kinds of teams will find Asana useful for streamlining their projects.
On the task management front, Asana offers Kanban Boards, Timeline view, and smart task reporting. All of these features ensure that the team doesn't get lost while executing the tasks. For improving team coordination, it has several automation features and a neat calendar view. Managers would love the "Workload" section the most as it lets them gain insights into the status of tasks assigned to individual employees.
Overall, Asana is great for rendering a structure and organization to project flow in collaborative team environments. Today, you will find several competitors to Asana that do the same thing, but only a few are this sophisticated.
Top Asana Features
Task Boards – Task boards are designed to organize tasks into comprehensible Kanban-styled cards that can be stacked in vertical columns. Each board offers several contextual task details.
Task Reporting – Asana has a rich reporting interface that lets managers generate task progress reports, track project roadmap, and discuss issues with the team on the fly.
Workflow Templates – Being a generic product, Asana provides several pre-built templates for a quick project jumpstart. Teams can benefit from its pre-designed workflows, lists, and task profiles.
Pricing
Asana's Business plan offers all the mentioned features for $30.49 per user per month when billed monthly. There is a free plan also available with elementary features.
Nifty PM

Overview‌
Just like the name, Nifty's approach towards task management is pretty chic. It amalgamates all the necessary tools we have discussed so far in a fluid interface with a focus on collaboration. You can track tasks, files, docs, view charts, and hold discussions, all from one screen.
Nifty's design is smartly balanced to let highly collaborative teams get the best out of their efforts. Therefore, Agile Software teams and Cross-functional Marketing would find it a great fit. Tasks begin from a Kanban board and go all the way to Gantt Charts. If you're a trained project manager, you'd get to apply many of your skills with Nifty.
The team behind Nifty has specifically featured a list of use cases, including Agile Software Development, Legal Cases Management, Client Management, etc., that are worth paying attention to.
Top Nifty PM Features
Project Goal Management – Managers can define goals using task lists and create corresponding timelines to keep the project on track. The team will know when is a certain milestone pending so that work can be throttled accordingly.  
Task Collaboration – The team can actively collaborate on tasks by making comments, attaching files, and changing task priorities, etc. You can customize task workflows as per your use case.
Workload Reports – Workload reports help the team supervisors to smartly assign tasks without under or overburdening individual team members. It also makes resource allocation much more even across the team.
Pricing
Nifty PM's pricing ranges between $49 and $499, depending on the number of users signed up with the software. There are no per-user fees and the $49 Starter bundle offers up to 10 team members.
Chanty

Overview
Chanty is a team communication platform that doubles as a smart task management system. It's designed to organize and streamline team chats, calls, and conferencing, in a neat interface that seamlessly lets you manage your tasks side by side. If you have used Microsoft Teams or Slack before, you'll find Chanty pretty familiar.
The good thing about Chanty is that it's not overdone. At the core, it's a chat portal that lets you manage your team activities with built-in management features. You can turn a chat message into a task, assign it to members, and then track it on a Kanban board. Chanty lets you share all kinds of media files, voice notes, and even code snippets!
It doesn't have the most advanced Gantt Charts or Calendar views but you do get useful integrations such as GitHub and Google Drive.
Top Chanty Features
Conversation Channels – Communicate project updates, tasks, announcements using team-wide conversation channels. Focussed and private channels are also available.
Team Calls – Get an audio or video call with your team for real-time communication. This adds to the asynchronous communication that conversation channels facilitate.
Task Communication – A detailed task system allows you to create, assign and track tasks right from the chat interface. Managers can easily ping team members for updates, without writing an email.
Pricing
Chanty tariffs start from $4 per user per month. There is also a free plan, but you'll have too many limitations in this case.
Conclusion
Choosing software is like jumping on a train. Once it starts moving, it gets ugly to go back or jump another. Which is why researching the right tools is so important. By now, you'd have some idea as to what your needs are and what tools fulfill those properly.
Remember that no tool is perfect, and if a tool satisfies 70% of your core requirements within budget, you should go for it. As you start using it, you'll keep finding ways to get better at and ultimately better your task management processes.
Get your digital assets organized with Pics.io DAM. Schedule a free demo with us to get all your questions answered.
---
Author
Vartika Kashyap is the Chief Marketing Officer at ProofHub — a project management software for teams of all sizes. She is one of the LinkedIn Top Voices in 2018. Her articles are inspired by office situations and work-related events. She likes to write about productivity, team building, work culture, leadership, entrepreneurship among others and contributing to a better workplace is what makes her click.