Organizing Sketch files has proven difficult a long time ago. Most of the tools don't support the format – you can't even open the file on your Mac. Besides, Sketch files are usually heavy, with layers, unoptimized and hidden elements in them. Engaged in the messy design process, a designer produces several versions and multipage Sketch files, which then get scattered in drives, cloud storage, etc.
It gets worse if it's a professional design team. You need to create a logical and ordered system to organize Sketch files. Otherwise, your team will waste half of their work time looking for the right version or file.
You might think that keeping Sketch files updated and orderly is unattainable. But what if we say that a perfect app exists to organize and manage Sketch files and even share them with your clients and partners? Explore how Digital Asset Management (DAM) can come in handy to your design team.
Give Pics.io DAM a try
Free 7-day trial
No credit card required
Set up in 3 minutes or less
Keep your Sketch files in one centralized place
Over the 10 years since Sketch appeared, this fabulous vector graphics editor has won more than one designer's heart. Pixel-perfect precision, variety of plugins, simple export of presets and code are only a few of its benefits. The only inconvenience is where to keep Sketch assets, frequently multi-page and big. Since not so many apps support the format, you might store Sketch files wherever possible: external drives, local PCs, or cloud storage. And then, whenever you need the design, you download and open it in Sketch.
Too much manipulation, isn't it? And files placed all around, which creates an additional challenge for your design team. It'll be more productive to keep Sketch assets centralized in one image library, and DAM is exactly what you need here. While your files appear at your teammates' fingertips, Pics.io also allows you to open Sketch files right in the app, even if it's a multipage design.

Navigate between Sketch files easily
When your storage doesn't support Sketch files, even easy tasks like choosing the design and sending it to the marketer seem time-consuming. Instead of previewing the asset and sharing the link to it, you need to download and upload it to some other app to make sure it's the right design.
DAM grants more visuality and saves your precious time, therefore. When you open the Pics.io photo library, you scan the whole storage in a few minutes. Nice-looking thumbnails of Sketch files help you find the design you need easily. But they'll also tell you a lot about your digital assets, such as its title, what collection it's placed in or who it's assigned to. A tree of collection is another element to help you navigate between images. Structure Sketch files in collections and sub-collections to never lose a single design of yours.
Search for Sketch designs in mere seconds
If your design team is composed of more than five people or your digital library has 1000+ Sketch files, navigation alone might not be enough for you. In this scenario, some decent search functionality will be useful to access files.
With DAM, forget about scrolling through the whole page down as you used to do. With metadata and tagging, you can find Sketch files (or any other) much faster. For example, you may search for the right design by filtering its date of creation (or upload), the uploader, title, keywords, description, etc. For better visuality, you can also mark Sketch designs with different colors, stars, or flags.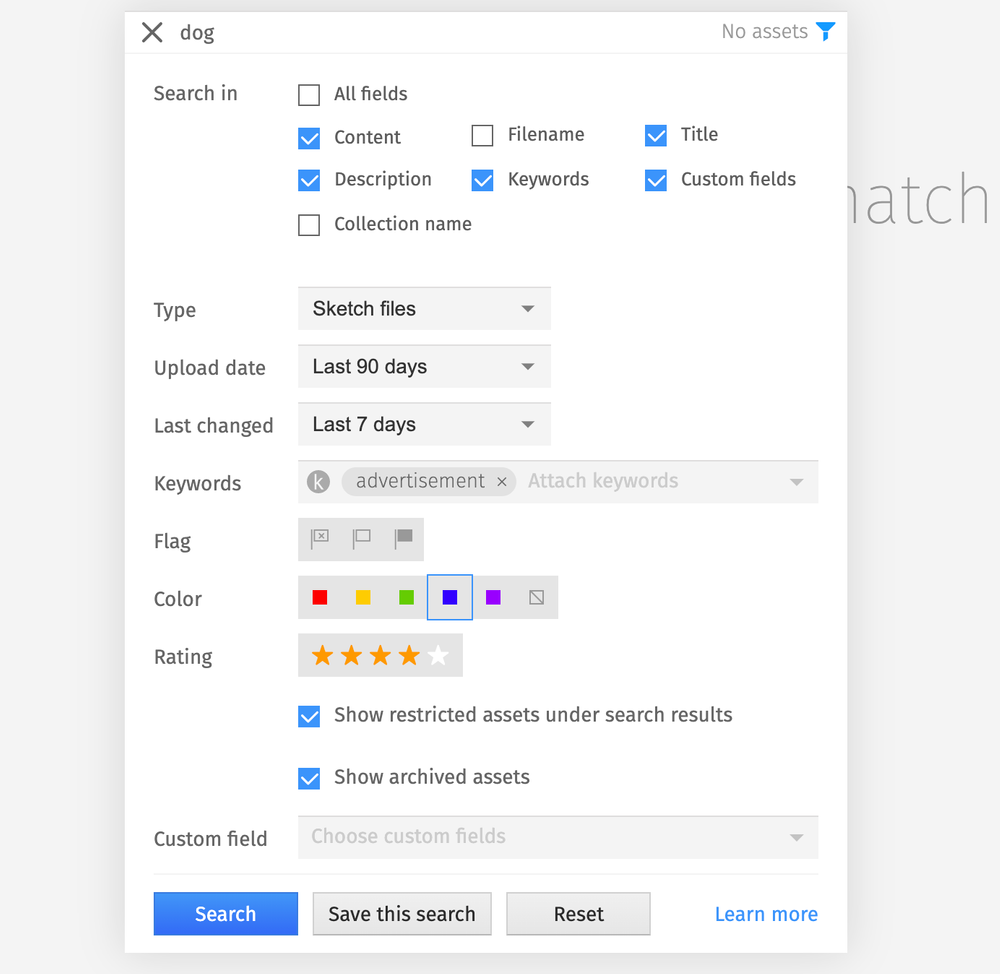 Keep revisions neatly organized and together
Professional designers usually produce tons of versions unless they come up with that ideal one. And this is one more big problem with Sketch files, as well as any other design formats. You have to somehow distinguish between multiple revisions and don't lose yourself in 10+ designs with the title final.final.final.
Simple version control will be a rescue here. You just keep different revisions of Sketch files piled one onto another and navigate between them easily. So you could manage Sketch files in the most efficient way, Pics.io DAM also has a stylish diff tool in its feature arsenal. Move the slider sideways as in the screen below to compare two versions of the Sketch file: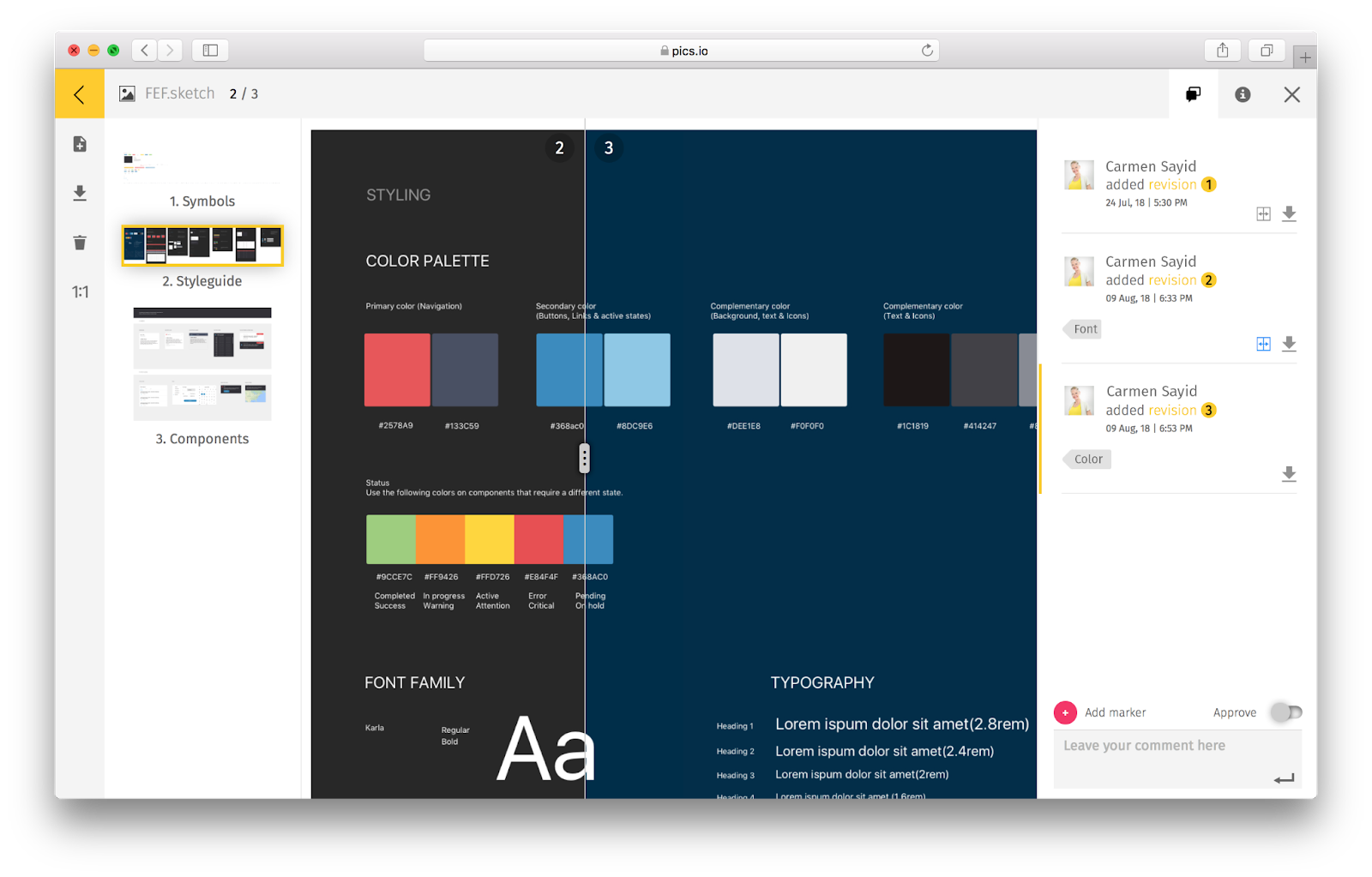 Collaborate with your design team
Your interaction with Sketch files must be convenient not only to you, but the whole design team, as well as other departments if any. Here is where collaborative apps (and not design tools) are in high esteem.
Pics.io DAM has a lot for you to offer when it comes to teamwork. Here are a few use cases to consider:
Comment right under the Sketch file to ask whether it's the final version to use
Tag the designer to discuss a new idea that you have for this project
Place visual markers to show the area where you recommend changing the exposure or adding brightness
To put it simpler, have the entire conversion in one tool and chronological order, available to all the participants. In this way, everyone in your team will keep track of the conversation and know if any change is planned for design.
Share design with clients
A lion's share of the team managing Sketch files includes sending them to clients for review. A repetitive task is to have designs coming back and forth until the project is finished. What tools does your team usually use for this purpose? Emails? Cloud storage services? Neither of these won't allow receivers to check the Sketch files without downloading them.
A nice alternative comes with Pics.io since DAM is not only about managing files but sharing them too. Pics.io allows you to create a shareable website with your collection of Sketch files. In this way, you can showcase your work to your client in the most presentable way ever.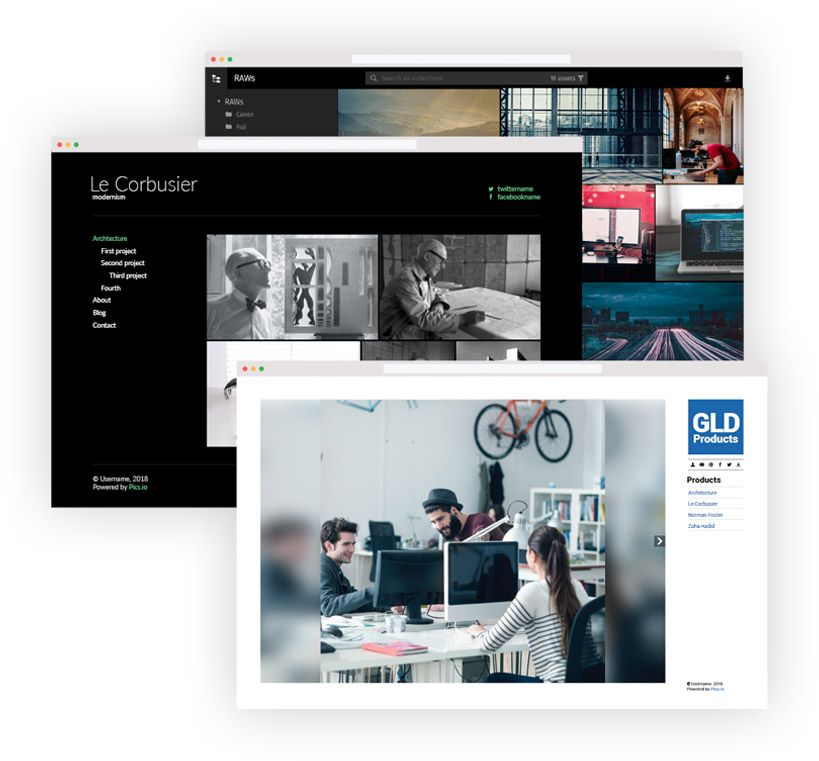 Are there other alternatives to DAM?
Sure. There are other solutions available on the market that support Sketch files. Let's review the 5 most popular ones and see how they're different from DAM.
Figma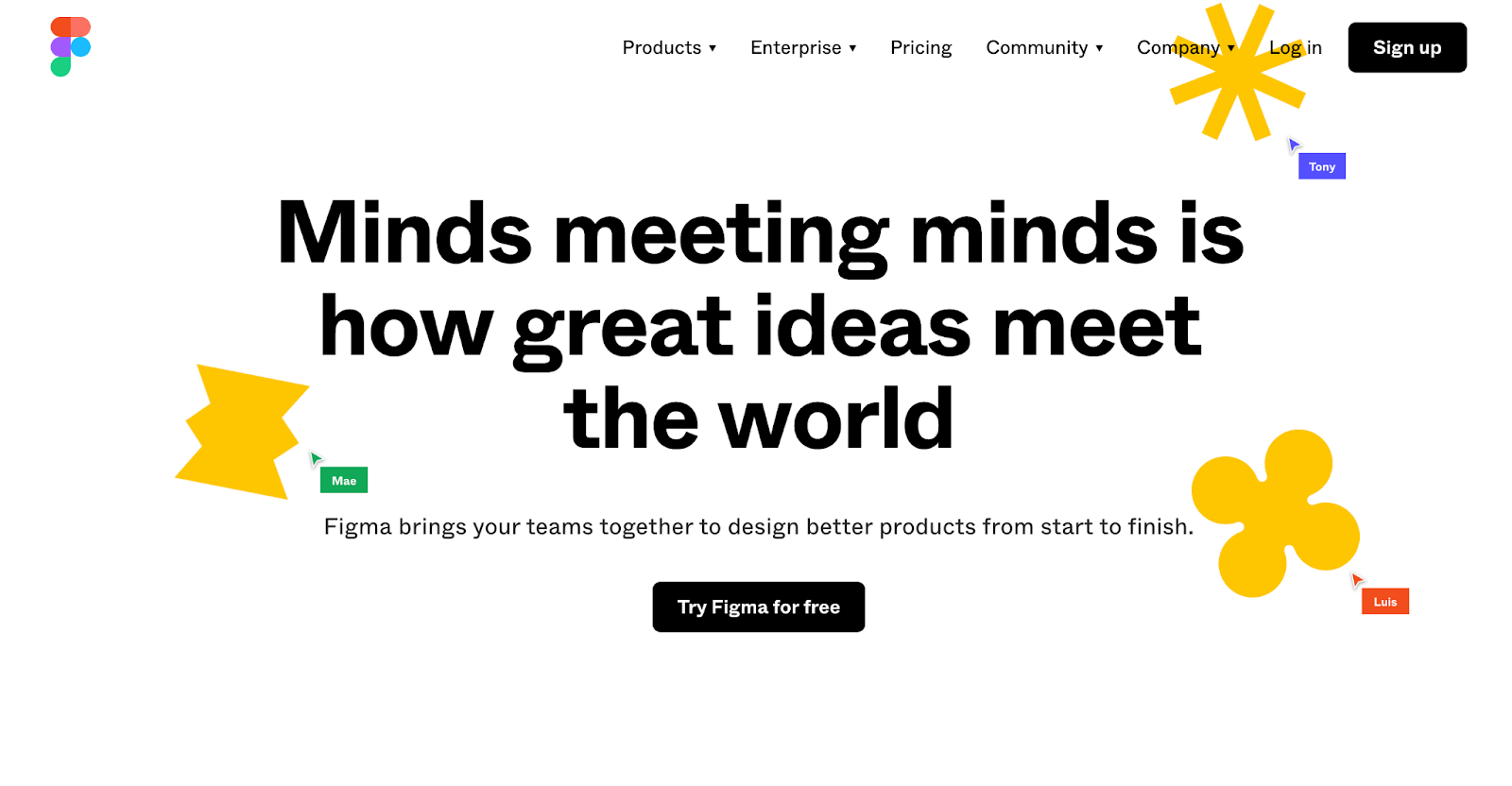 Figma is a web-based graphic editor used for UI/UX design. Developed for designers specifically, Figma is pretty flexible with Sketch files. (You can even import and export them directly from Sketch). The tool also supports most Sketch features, from pages to symbols, fonts, and styles. The idea is to allow you to edit Sketch assets and save them back in the correct format (Sketch or Figma).
Lunacy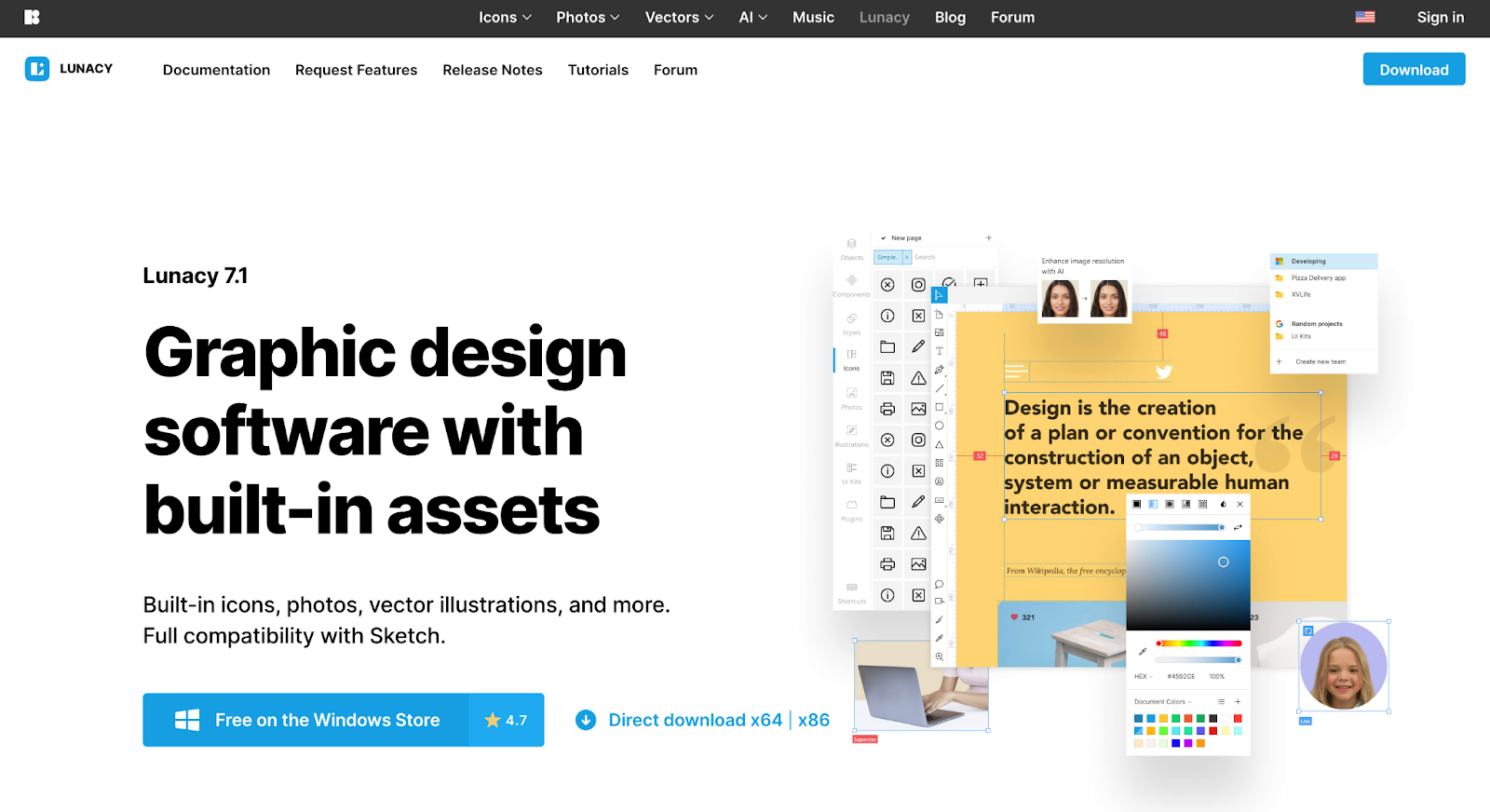 Lunacy is one more interesting design project by Icons8 – the website that offers design elements. Alternatively, Lunacy is a graphic design software with in-built editing features and full compatibility with Sketch. Again, you can open Sketch files here, edit and save them for later use in the native Sketch format.
Photopea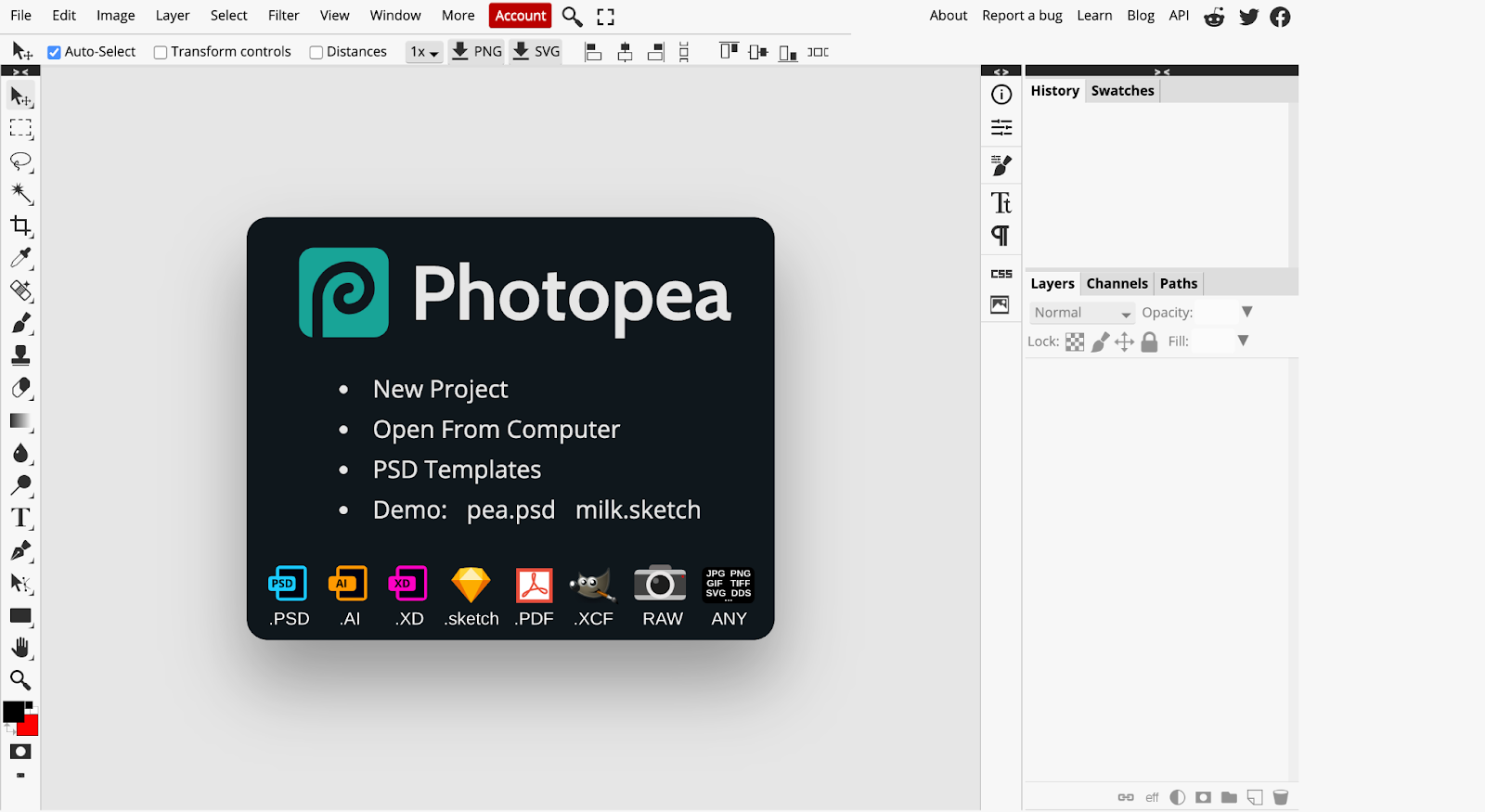 Photopea is another editing software that allows you to peep into and adjust Sketch files. The tool reads Sketch format with ease, but it also works well to navigate through Sketch layers, export the file in different image formats, and save back the asset with all its layers. Unlike other tools, Photopea has its own storage where you can store Sketch designs.
Avocode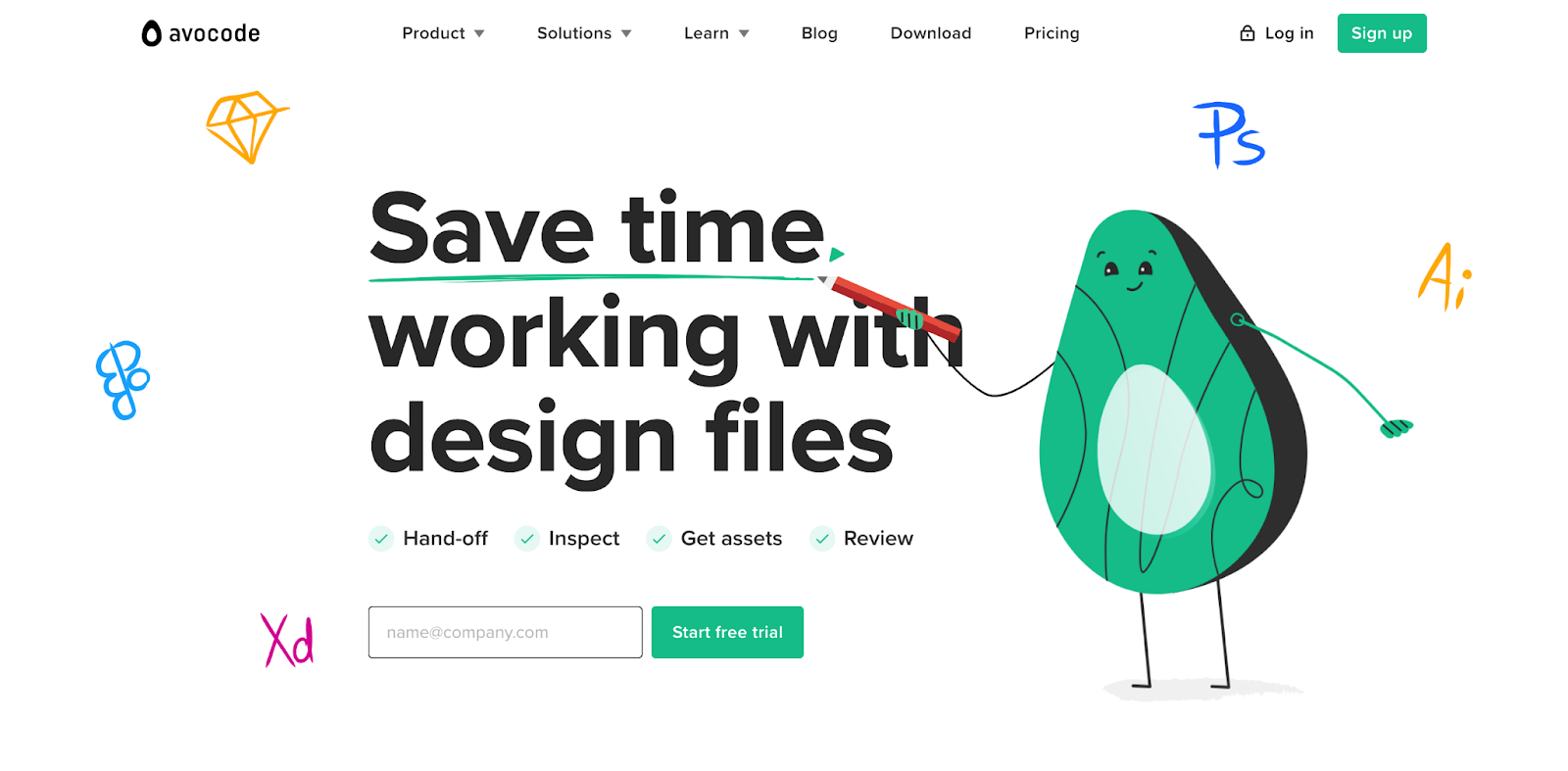 Avocode is a collaborative app to work with design files. The tool reads all the most popular design file formats, from Sketch to Photoshop, Figma, and Illustrator. You can send the link to your design so your teammates jump in to view it, approve the design, and leave their comments. Besides, the tool allows you to export styles, specs, images, etc. from the Sketch design if needed.
Zeplin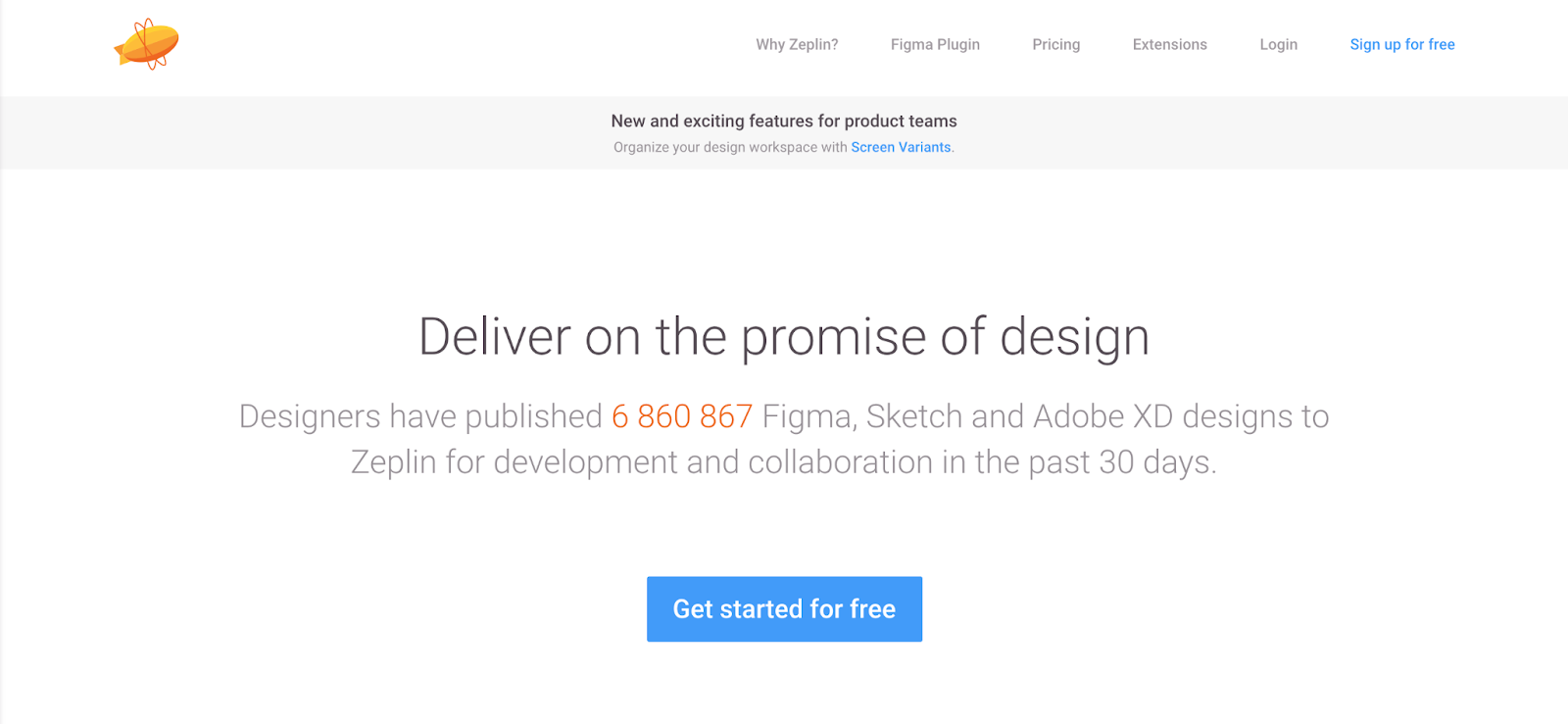 Zeplin is another cooperative software to bridge your designers and dev team. Your design team uploads the Sketch file (or Figma/Adobe XD file), and developers get a ready-made design to build from. Zeplin is also a great platform for designers to track progress and intervene whenever needed. The tool allows you to save some design elements so the developers can reuse them further, without writing the code from scratch.
---
See the difference between DAM vs other tools to work with Sketch files:
| Criterion | DAM | Figma | Lunacy | Photopea | Avocode | Zeplin |
| --- | --- | --- | --- | --- | --- | --- |
| Preview of Sketch files | + | + | + | + | + | + |
| Storing | + | - | - | + | - | + |
| Editing | - | + | + | + | - | - |
| Saving as Sketch files | - | + | + | - | - | - |
| Search | + | - | - | - | - | - |
| File management | + | - | - | + | - | + |
| Import/Export from Sketch | - | + | - | + | + | + |
| Support for layers | + | + | + | + | + | + |
| Collaboration | + | - | - | + | + | + |
| Support for multi-page Sketch | + | + | + | + | + | + |
| Sharing | + | + | - | + | + | + |
Give Pics.io DAM a try
Free 7-day trial
No credit card required
Set up in 3 minutes or less
A few takeaways
Whether you're a lone wolf or a team player, keeping your design files organized and updated will help you optimize the workflow. Sketch assets are those that are usually the most difficult to put together. Multi-page and with lots of design elements, those files are heavy and, what's worse, not supported by the most popular tools.
Still, where there's a will, there's a way. DAM is a great tool to organize and manage Sketch files. You keep Sketch files centralized in one place, but also navigate between them easily, access and distribute designs in the most efficient way.
Don't hesitate to choose your best photo organizing software, and Pics.io DAM is a good starting point here. Give Pics.io a try and see how it transforms the image library in the best way possible.