How many hours a month do you spend looking for the right design? How many times did you lose a banner or were confused by multiple revisions uploaded by the designer?
A photo organizer can solve these file management problems as well as many others. The best picture organizing software allows you to organize, view, and navigate between images easily. The most sophisticated ones also empower you to use metadata and share photos. This is why you can't pass by our ultimate review of the best photo organizing software, with pricing and top features included. Let's get started!
Lightroom CC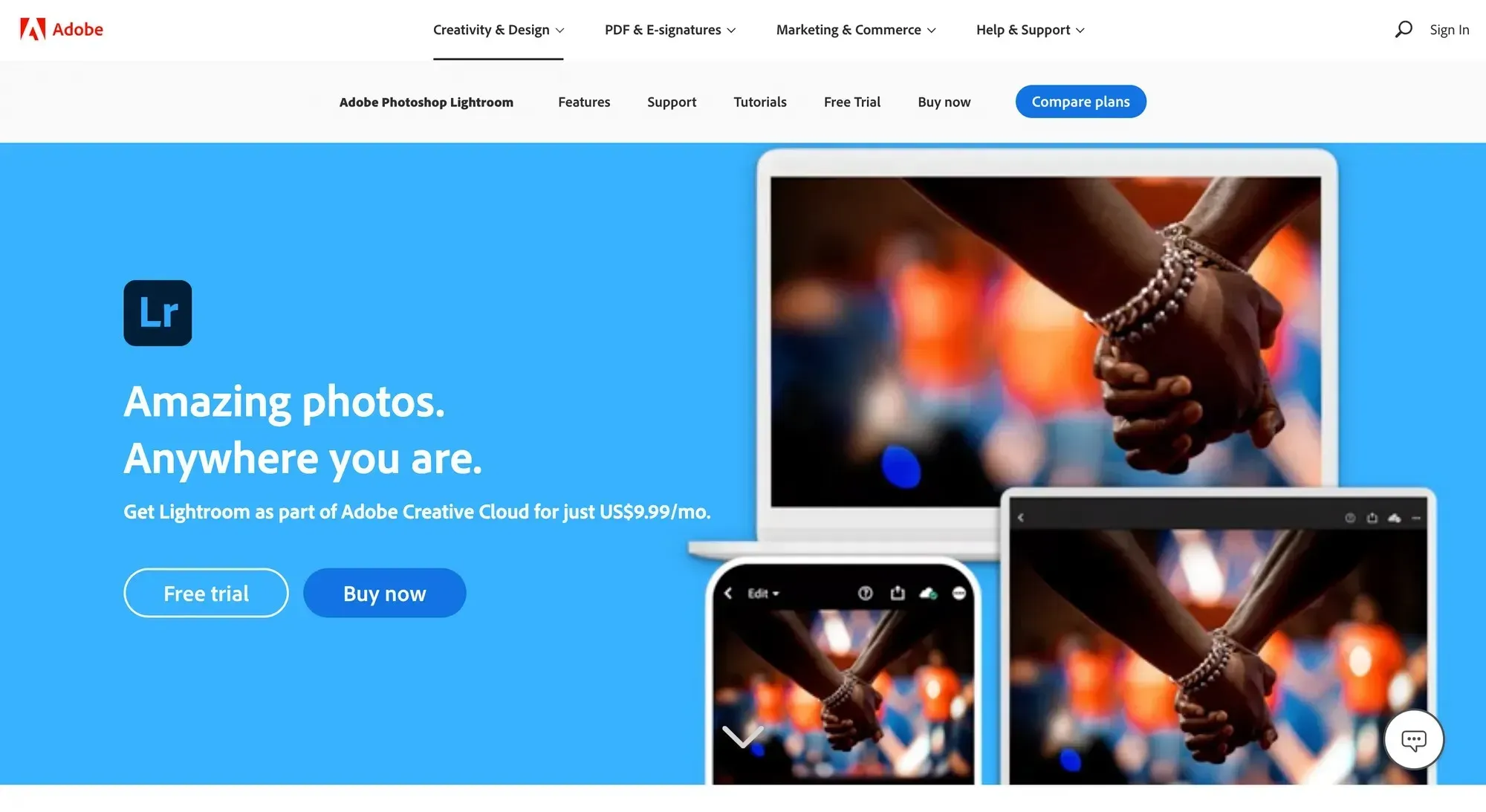 Without any exaggeration, Adobe Lightroom is the most popular photo editing and organization software. And this is for a reason – the tool offers heaps of useful features to store, organize, share, and edit photos, as well as a very intuitive layout.
In Lightroom, you can group images by folders, color-code photos, add keywords, stars, and all sorts of tags to identify files easier. AI technology will recognize people and places, and Lightroom will offer you to create smart albums based on these algorithms.
Still, Lightroom might feel overwhelming for some users. As a professional editor, it has lots of complex features, which could be redundant if you're looking for a photo organizer first of all.
Best features
All-in-one organizer and editor
Adobe Sensei (built-in AI technology) to help you recognize faces, themes, colors, objects, and locations in photos automatically
Pro-level editing features
Seamless integration with Adobe products
Experiments with photo books, web galleries, and slideshows
Pricing: $9.99 per month, with 1 TB storage space. You can get 2/5/10 TB of storage more for the price of $9.99 per terabyte.
Pics.io DAM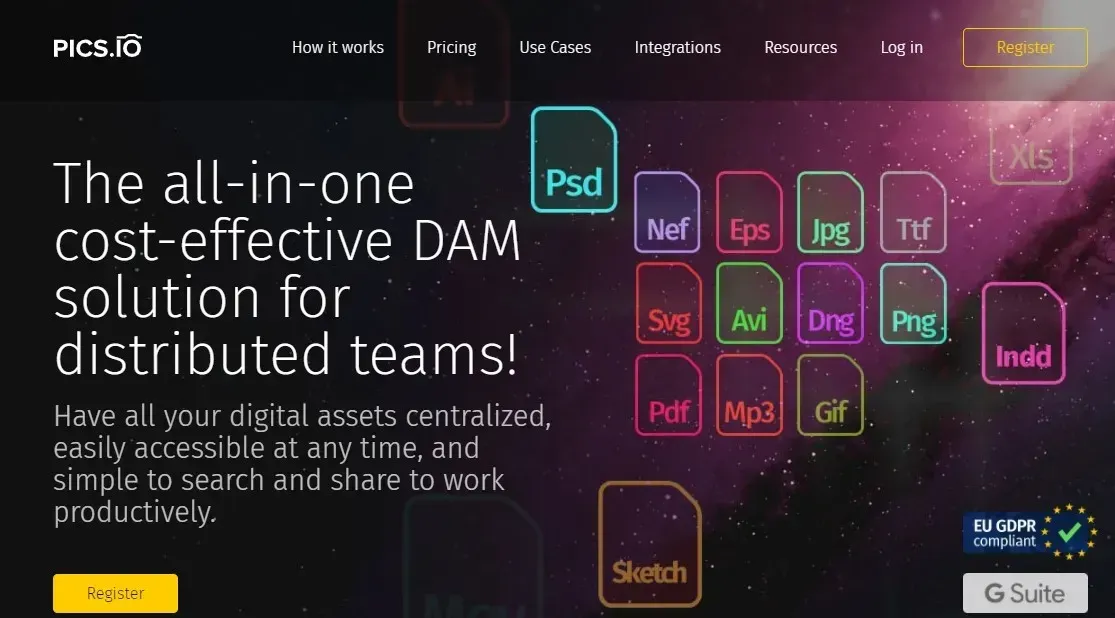 Pics.io is a digital asset management platform that offers advanced organization and search features for your files (not just images). At the same time, Pics.io DAM is dead simple to use, with a clean and intuitive UI.
The tool allows you to build advanced, hierarchical folder structures for images. It also presents top-notch sorting and filtering – you can organize and search for your images by nearly a dozen of characteristics such as keywords, custom metadata fields, locations, file types, content, and so on.
DAM is also very useful to boost collaboration in the team. You can easily discuss images right in the app, tag colleagues, and place visual markers to highlight areas in the photos. Pics.io also has the simplest version control, which allows you to keep track of design versions.
Best features
Advanced search by metadata, filenames, file types, etc.
Bold thumbnails and a clean layout design to navigate between files easier
Support for any file formats, including indd and psd files
Great sharing options via nice-looking, ready-made websites
A vast number of integrations, including Google Drive and Adobe apps
Pricing: $50 per month, though there are also different pricing plans for team users too.
Adobe Bridge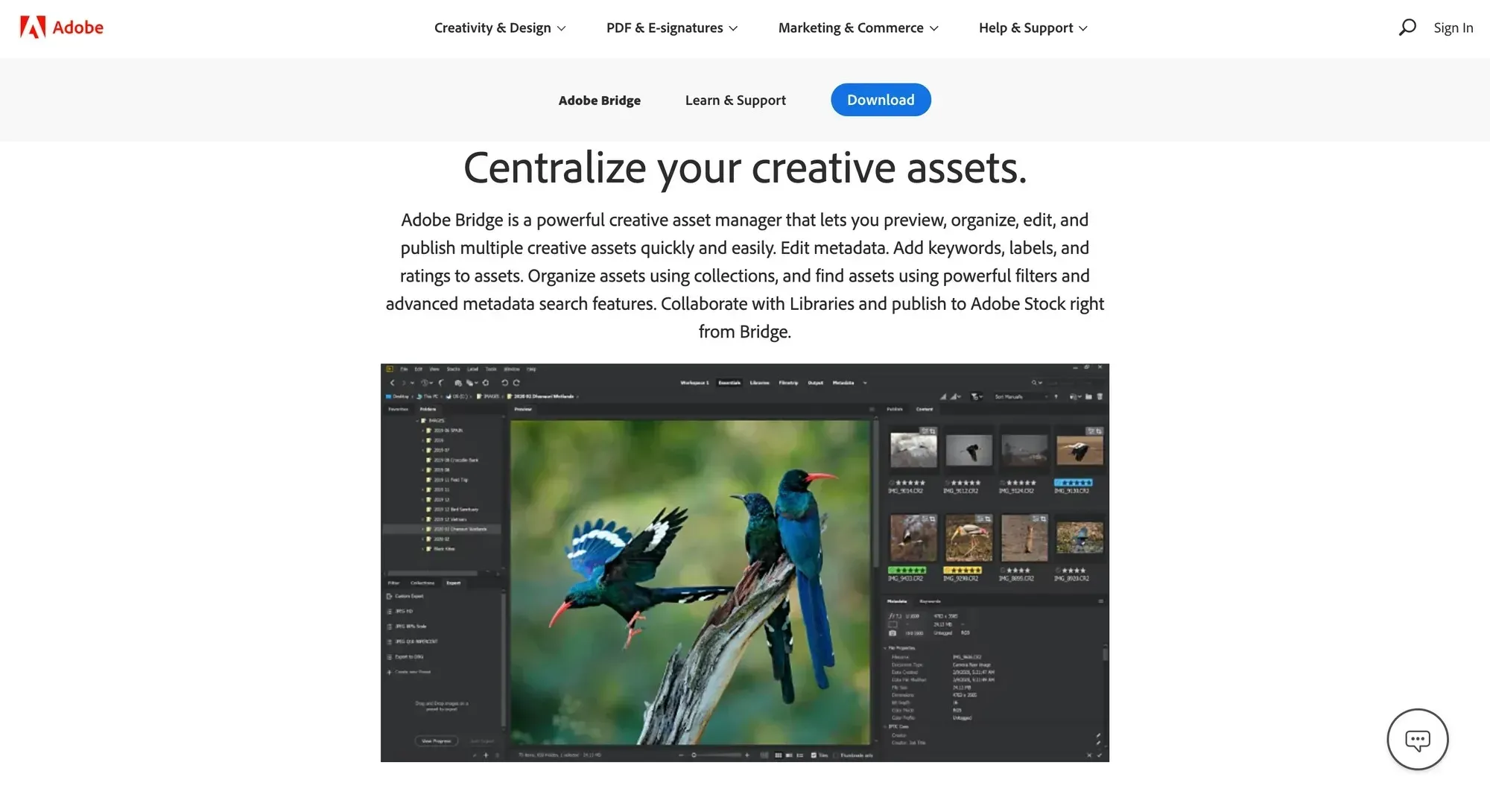 Somehow, Adobe Bridge is a very underrated picture organizing software available on the market. The tool allows you to sort bulk images in one go, work with metadata, and easily preview photo collections.
This photo management software is a great help if you work with raw images regularly. The tool allows you to quickly import photos right from the digital camera. Besides, you can easily convert pictures in DNG formats and rename them during the import.
Adobe Bridge is a lifeline for photographers. Still, it could be overkill for those who are not so fluent with photo editing. The price is another problem here. Though it's advertised as free, you need to buy lots of extensions to be productive in Bridge.
Best features
Pro-level organizer with labeling, keywording, and star rating for easy access to images
Flexible batch image operations
Automatic photo and video import from camera devices
Rich previewing features
No in-built editor but powerful integration with Adobe CC
Pricing: $20.99 per month, though you can get the product for free by purchasing the Creative Suite.
Zoner Photo Studio X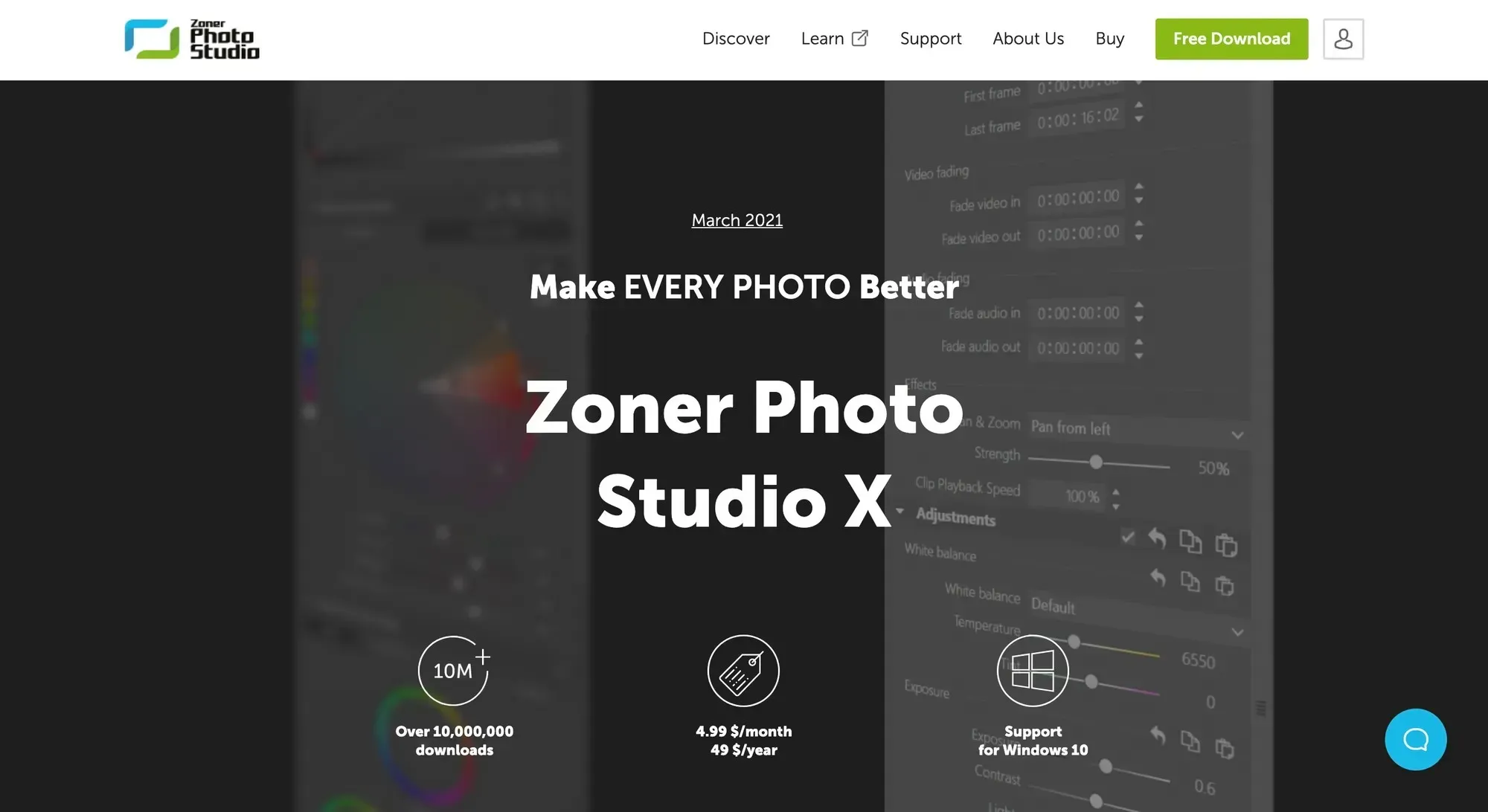 As an all-in-one solution, Zoner Photo Studio X is the best Windows-based software to organize and edit photos. The app has four main sections: Manager, Develop, Editor, and Create. The Manager section is about organizing images.
The app doesn't have too advanced functionality when it comes to file management, but just enough features to cover your basic needs. For example, you can organize photos by keywords, locations, or dates. You can also rename images and add descriptions.
The editor has 35 filters to use, which will come in handy if you need to change brightness or add contrast adjustments. This won't be enough for professional image editing, but you can easily download pictures to upload them somewhere else.
Best features
Tagging, color-labeling, and star rating to find photos easily
Ability to back up content
Sharing to social media channels directly from the app
Fast import options from the camera or mobile phone
Layer support in image editing
Pricing: $4.99 per month. The tool offers lots of discounts for non-profit organizations.
Google Photos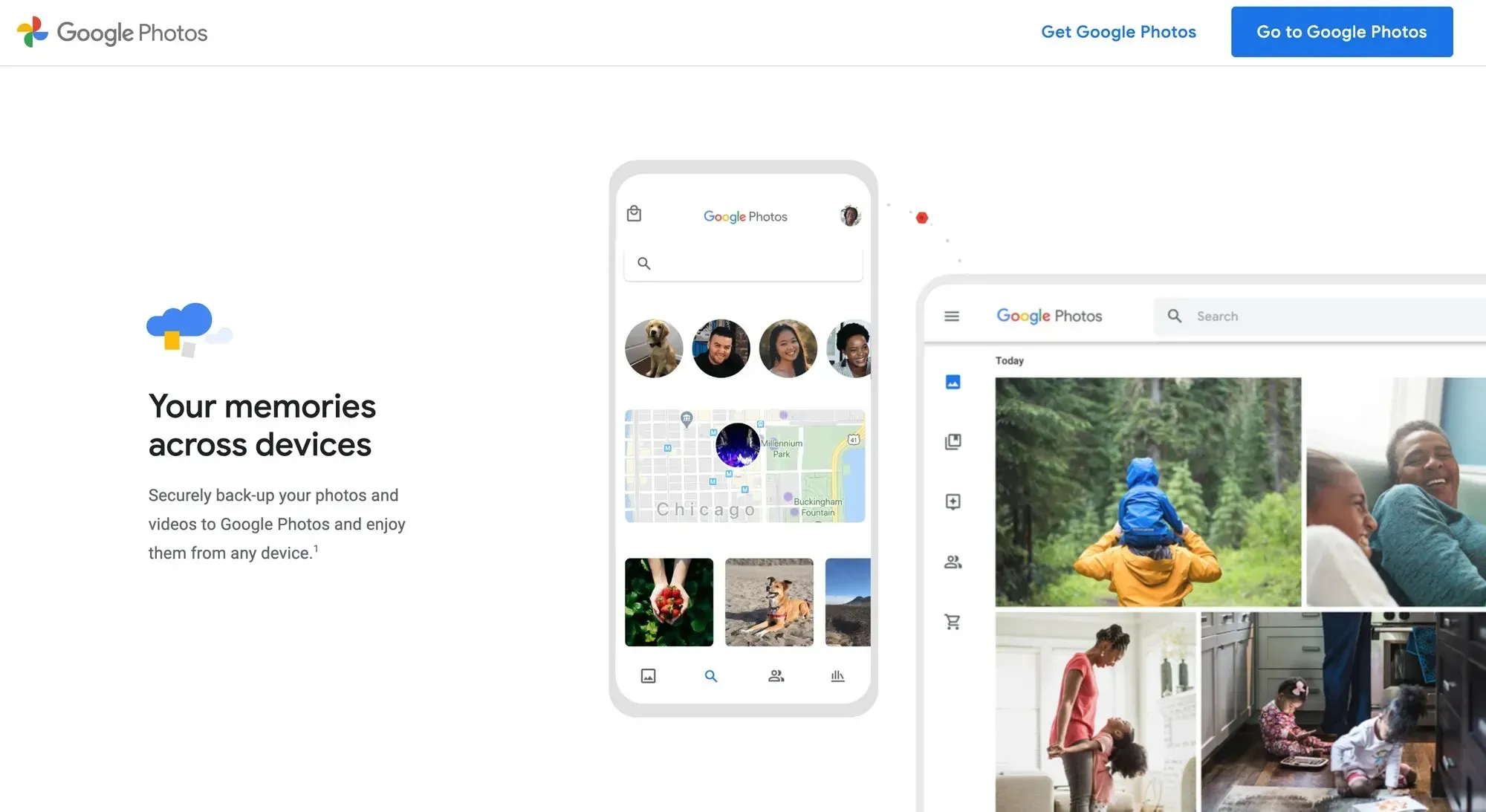 Google Photos is a favorite app for many users to store and organize photos. Simple as it is, the app was developed for personal photo storage, with no separate Google Photos for business available. And although individual users love its sleek interface and dynamic AI algorithms, you shouldn't expect any complex sorting or filtering here.
As image database software, Google Photos allows you to place images in albums and mark photos and collections as favorites. To access pictures faster, you can also use keyword search and sort by location.
AI technology also creates automatic albums for you, organizes images by date, location, or people depicted, and even recommends what photos to archive.
Best features
Smooth and sleek UI design
High-level AI algorithms to sort and organize images easier
Basic editing features to adjust colors and exposure in photos
Top-notch sharing capabilities
Automatic backups
Pricing: Free for the first 15 GB, then $1.99 per month for 100 GB and $2.99 per month for 200 GB.
Corel AfterShot 3

If you're looking for a budget-friendly image organizer, Corel AfterShot 3 is a great alternative here. With basic organizing features to tag and sort pictures, the tool also has a decent built-in editor, watermarking, and batch photo processing.
The app allows you to use the prepared sets of keywords. Also, you can group photos by rating, colors, themes, and favorites. (Batch tagging is available too.) Although Corel lacks some critical organization features such as geo locations or face recognition, it's still flexible enough so you could categorize images and find them faster.
Best features
Sorting and converting images in batch
Watermarking feature to protect your brand
Surprisingly cheap app
Basic editing tasks
Pricing: $79.99 but as a one-time payment.
digiKam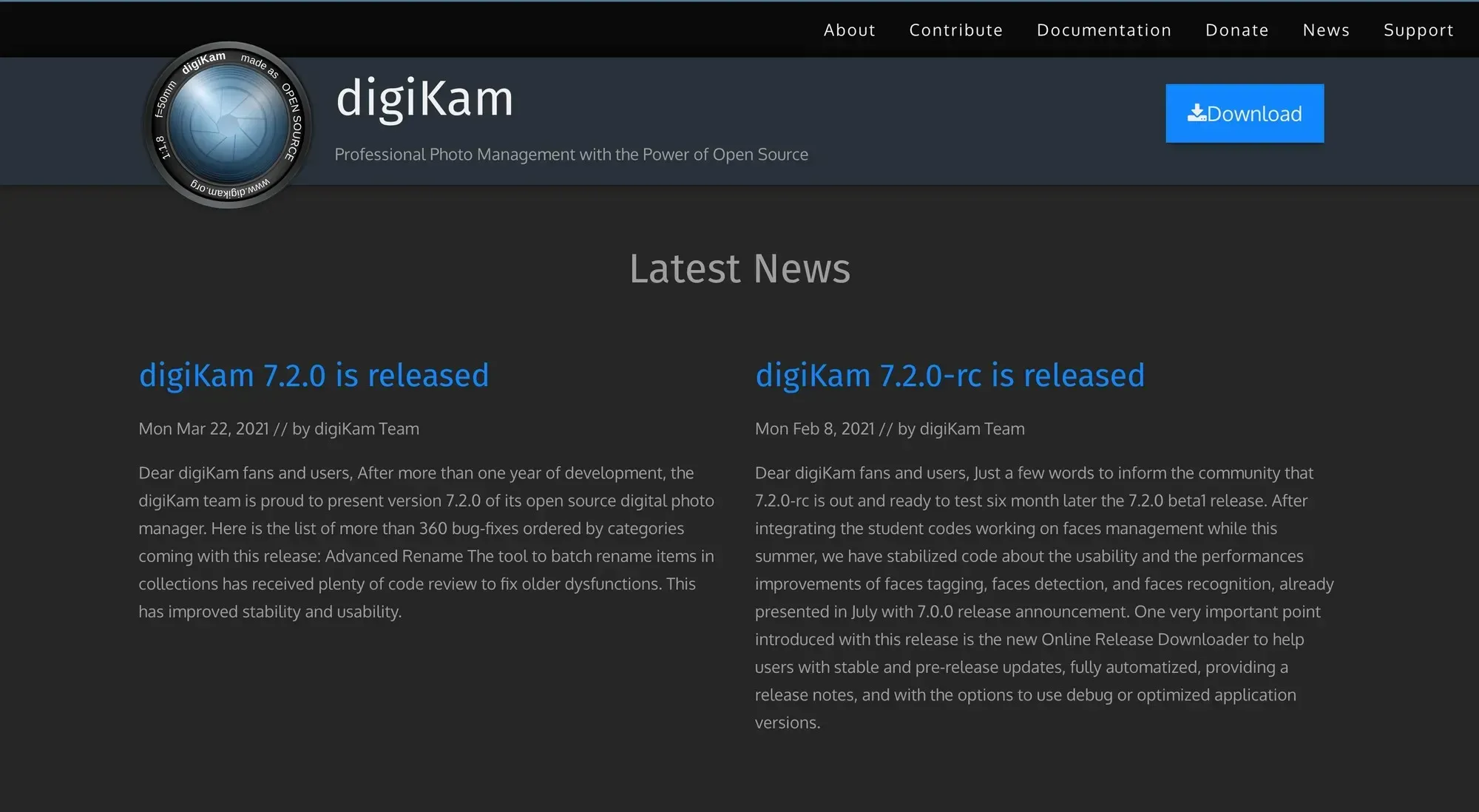 digiKam is the only open-source tool in our review, which means it's really worth your attention. Open-source software means that the app is free and publicly accessible, for anyone to use the program.
You can navigate and configure the app in the way you like. For example, you can write plugins to export and import photos from a third-party tool. Besides, this picture organizing tool allows you to create custom image collections or organize photos chronologically.
Still, there is a flip side here. With digiKam, you need to have a decent technical background. Moreover, the tool is a bit clunky and non-intuitive even though it allows you to play around with its settings.
Best features
Rating, tags, and comments to add to your photographs and retrieve them easily
Metadata automatic export from photos such as IPTC or EXIF data
Compatibility with macOS, Windows, and Linux
Similarity feature to locate duplicate images faster
Pricing: Free, but some features won't be available. For more functionality, get a $10 per month subscription.
StudioLine Photo Basic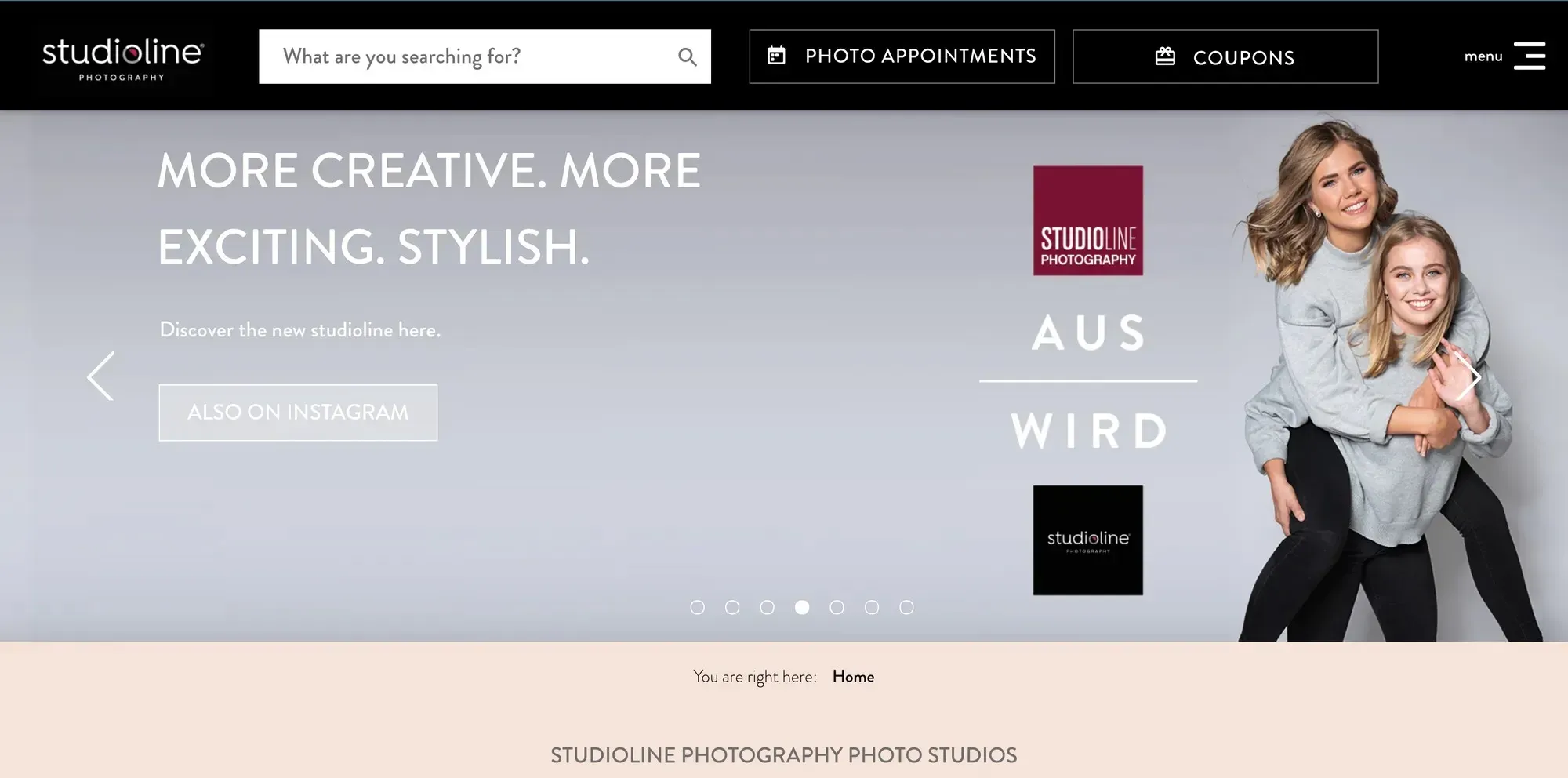 Another budget-friendly tool for you. If you're looking for the best photo organizing software, StudioLine is a light version recommended for beginners. The tool might lack deep editing or advanced organization features, but it's simple to use, easy to navigate and has all the basic features in place.
A user uploads photos to StudioLine via a drag-and-drop or simply imports them from the camera. Then, they can add a description, tags, or GPS coordinates. Geolocations are very useful to visualize photos and view them on a StudioLine interactive map.
Next to sorting and searching, the app also has lighting-fast previews and the ability to see images in a slideshow.
Best features
Refreshingly simple tagging and search functionality
Import from cameras, mobile devices, and scanners
Convenient geotagging and ability to preview images on an interactive map
Support for slideshows and galleries
A basic in-built editor for cropping and resizing
Pricing: Free, though with limited functionality. A user can upgrade to StudioLine Photo Classic for $70 per month.
Phototheca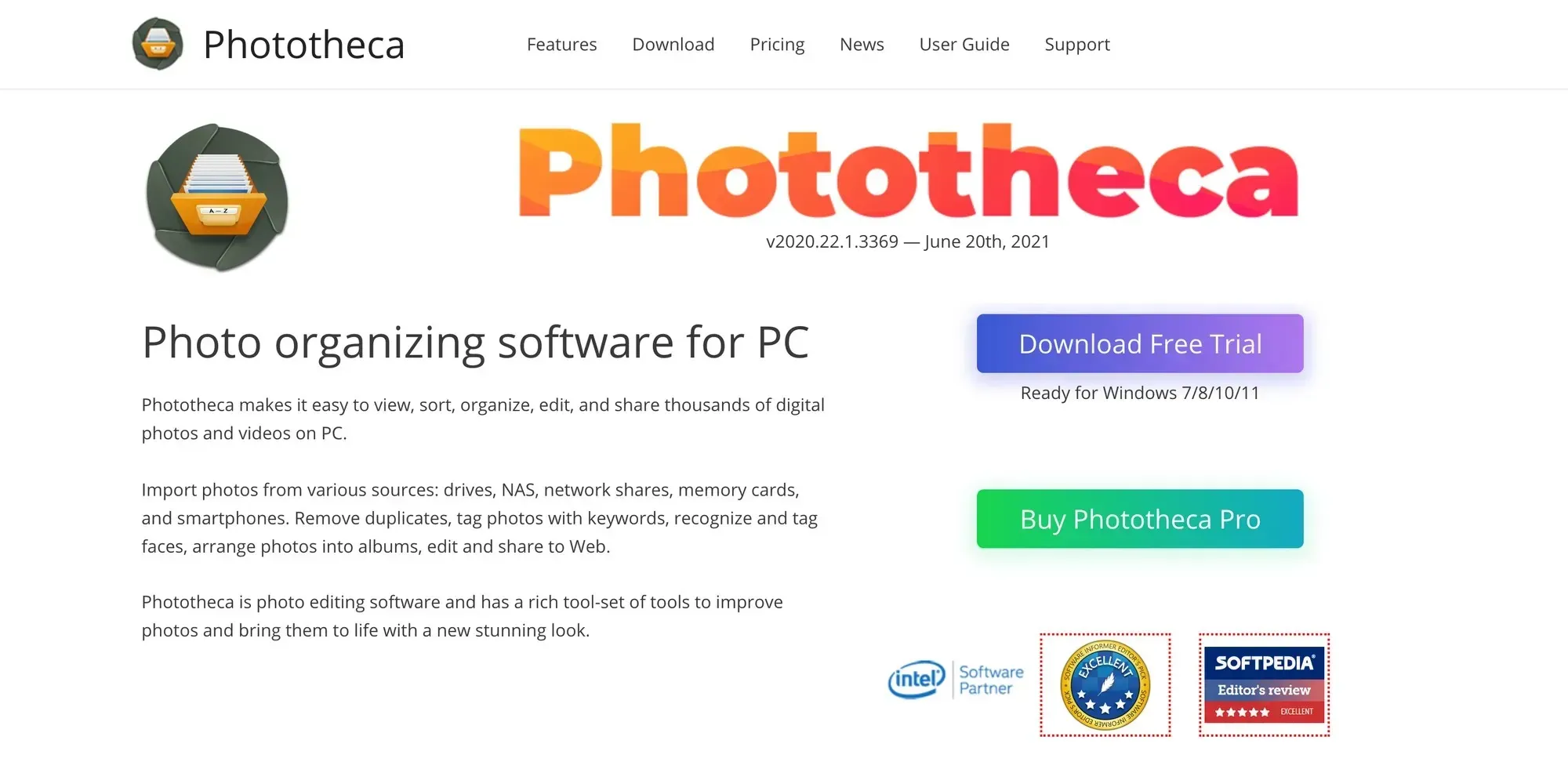 Phototheca is another great software for your PC that will help you arrange the photo library in the way you want. The tool allows you to group images by events and nested folders. Smart albums are also helpful if you want to organize photos by specific criteria.
As a one-of-a-kind image organizer, Phototheca has top-notch viewing capabilities. For example, you can zoom in and out photographs or open them in a full-screen mode. There are also slideshows and a dual view feature that allows you to see images in the second display and organize them with more space.
Besides, you can password-protect images with Phototheca, as well as share them via a number of tools such as email, Google Photos, or Flickr.
Best features
Multilevel photo organizing software with smart albums, nested collections, and filtering
Import from memory cards, drives, mobile phones, NAS, cameras, etc.
Facial recognition to tag images faster and easier
Duplicate image finder
Support for RAW image formats
Pricing: $39.95 (one-time payment) for managing up to 100,000 images.
Movavi Photo Manager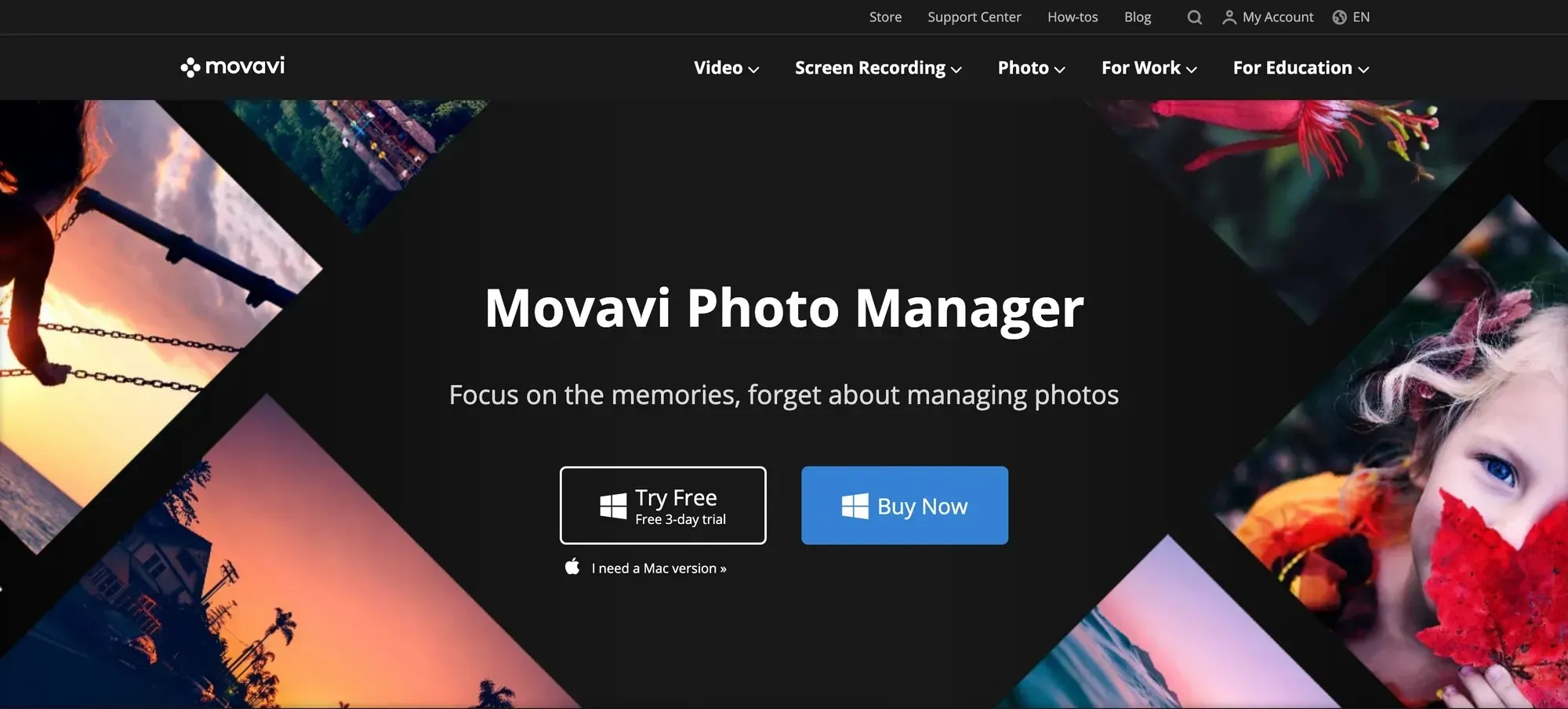 Users choose Movavi Photo Manager if they're planning to work with various image formats. The photo organizer supports most traditional formats such as PNG and JPEG as well as less popular formats like RAW or TIFF.
With Movavi, you can organize pictures in folders, tag them, add comments and geodata. AI technology helps you detect people in photos and automatically create albums.
The editor is available, but not powerful. All you can use it for is to rotate pictures, crop, flip, and sharpen them. On the flip side, you can edit multiple photos at once, which is rarely possible with picture organizing software.
Best features
Photo organizer and editor in one tool
AI recognition and automatic album creation
Batch photo organization
Backup for images
Pricing: $39.95 per month. For $59.95, you can get a photo manager plus a powerful editor, and for $79.95, it'll be a manager, editor, and slideshow maker.
A few takeaways
Choosing picture organizing software is like jumping on the train. Once it starts moving and begins picking up speed, it becomes challenging to change it. That's why it's important to opt for the best photo organizer from the very beginning.
When choosing a photo organizer, the most important criteria include:
Organization of images (folders, albums, hierarchical structure)
Sorting (number of filters, keywords, geolocation, color labels, flags, stars)
Visuality (modes of view, thumbnails, previewing)
Availability of metadata, plus their import
The support for image formats
Sharing options
Ease of use
In this post, we've covered the 10 most popular picture organizing software today, though it's always worth testing the software before making the final decision. Start with a 7-day free trial of Pics.io DAM to see its benefits firsthand and make your own impression.
Give Pics.io DAM a try
Free 7-day trial
No credit card required
Set up in 3 minutes or less