Updated December 2020
Have you heard of the cloud-based photo storage service provided by Google — called not surprisingly Google Photos? If yes, you probably had an amazing experience using this service for storing and sharing and personal photos.
But, what about your business?
Have you asked yourself a question — how to incorporate this service into my company? How can the albums I upload be easily accessible to the public? (Besides sharing the custom link). And can this be managed by multiple accounts?
Is There a Google Photos App For Business?
Users ask these multiple questions in their Google search and support every day. But do they receive the answer? Frankly speaking the answer from Google is — "no", such service does not work for business. Google Support is rather straightforward in their answer:
Currently, there isn't a Google Photos for business app. Google Photos accounts are automatically private, so making your entire account visible to the public can't really be achieved. You can share links to your albums and use the app to share photos and videos via social media, but your Google Photos library will remain private.
Google Support
However, if you miss Google Photos powerful features when sharing or editing visual assets as a team, consider giving digital asset management platforms a try. These tools are packed with features for organizing and sharing photos with peers and clients.
Why Businesses Benefit From App Like Google Photos
If you run an ecommerce website, a marketing campaign, or a creative studio, you are no stranger to how hard it is to manage thousands of pictures. Deciding on a convenient storage platform, finding a needed file to share with your team, and making sure no change catches you unaware — all these are extremely important.
However, a lot of business owners struggle to handle such tasks, using multiple tools at once to make sense of their media library. The good news is, there's a better way of handling your files — digital asset management software.
Here's why an app for handling pictures like Google Photos is a must-have for business owners.
No more file stashes on your computer. With digital asset management, you can create shared folders accessible by your entire team. Other than that, business owners can create sleek branded websites to share creative work with clients.
No more "final1", "final2". We all know the struggle of having to save multiple picture versions on your computer. After a while, the folder becomes messy and file names turn into the "final final final2221144" mess. With digital asset management, you can see all the versions of a picture without having to save it as a new file. Also, business owners can see and approve of the exact changes that were made. Convenient, isn't it?
No more PC-only workflows. Business owners often struggle with having no access to their assets via a smartphone. Say, you want to write a social media post or a website update via a phone — yet, what do you do when all of your assets are stored on a computer at the office? With a DAM tool, business owners no longer struggle with the issue — your entire team can manage files via a smartphone, a tablet, or a different computer.
No more security concerns. What if somebody hijacks the access to my PC and deletes all files? That would be a pain in the neck, but it wouldn't bother you as much if you manage assets digitally. DAM tools are a safe place to store pictures since it backs up your pictures and makes sure no file is lost forever. Other than that, top-tier digital asset management platforms encrypt user data and are GDPR-compliant.
No more struggling to find pictures. If you upload dozens of pictures every day, remembering the name of every file is too much to handle. Standard sorting options most PC and cloud storage platforms offer aren't too helpful either — sorting a file by date doesn't do the trick if you uploaded 100+ files yesterday. Instead of struggling to find a needed picture in your collection, how about describing what should be in it and letting artificial intelligence do the searching? That's exactly what digital asset management software is capable of since it supports AI-based tagging.
No more guesswork about your team's progress. If you and your teammates edit pictures simultaneously, saving changes is a mess. Unfortunately, in most image editing, either your or your peer's changes will be overridden. However, it's not the case for top-notch digital asset management tools that track product updates in real-time. Also, DAM software can generate a comprehensive report that will tell you what exactly everyone on your team has been handling lately.
There's no denying — digital asset management software is just as convenient for managing photos as a business as Google Photos is for storing your vacation pictures.
Give Pics.io DAM a try
Free 7-day trial
No credit card required
Set up in 3 minutes or less
However, if you are wondering which DAM software comes the closest to Google Photos with ease of use and range of features, the answer is Pics.io.
It's a service on top of Google Drive or Amazon S3. (Recently Pics.io also released its own storage & became known as an all-in-one DAM solution.)
Pics.io unites all the features of Google Photos with valuable organization and collaboration features. Our tool is as quick and as easy as Google Photos. You can access your photos or videos from any device as long as you have an internet connection. You don't need to be overly tech-savvy to use it. It's fairly intuitive and straightforward to navigate. It has numerous features to organize, use, share, and manage photos and videos.
Pics.io also seems an excellent option after Google promised to end its free unlimited storage in Google Photos on June 1st, 2021.
After offering unlimited free photo backups at "high quality" for almost five years, Google Photos will start charging for storage once more than 15 gigs on the account have been used. Google is also introducing a new policy of deleting data from inactive accounts that haven't been logged in for at least two years in a row.
All photos and documents uploaded before June 1st will not count against that 15GB cap, so you have plenty of time to choose another cloud storage provider for your photos who will not charge you for the amount of photos you have. Only photos uploaded after June 1st will begin counting against the cap.
Google already counts "original quality" photo uploads against a storage cap in Google Photos. However, taking away unlimited backup for "high quality" photos and video (which are automatically compressed) also takes away one of the service's biggest selling points. It was the photo service where you just didn't have to worry about how much storage you had.
As you see, that's the right time to think of transferring your photos to Pics.io that will store as many photos as you need and will not spoil their quality.

Google Photos vs. Pics.io DAM on top of Google Drive or Amazon S3
You would say that Google Photos has all these features, so why does your business need other tools? Let's talk a little about values your business shares and problems it solves every day.
Are these values and duties the same as your personal ones?
If you are a business owner, you probably care about:
Security — Google Drive is the most reliable and secure storage on the planet Earth. The same we can say about Amazon services. With Pics.io working on top of Google Drive or Amazon S3, you do not depend on your vendor. Even if Pics.io suddenly disappears for some reason or you don't want to use it at some point, then you have all your assets in your Google Drive or Amazon S3 in the same order and state.
Collaboration — as a businessman you require not only sharing of assets like in Google Photos but also collaboration on the assets and collections of images. With Pics.io solution you facilitate collaboration within your company and external partners. You can set up various permissions on your assets to the people and teams within your organization who need to use them.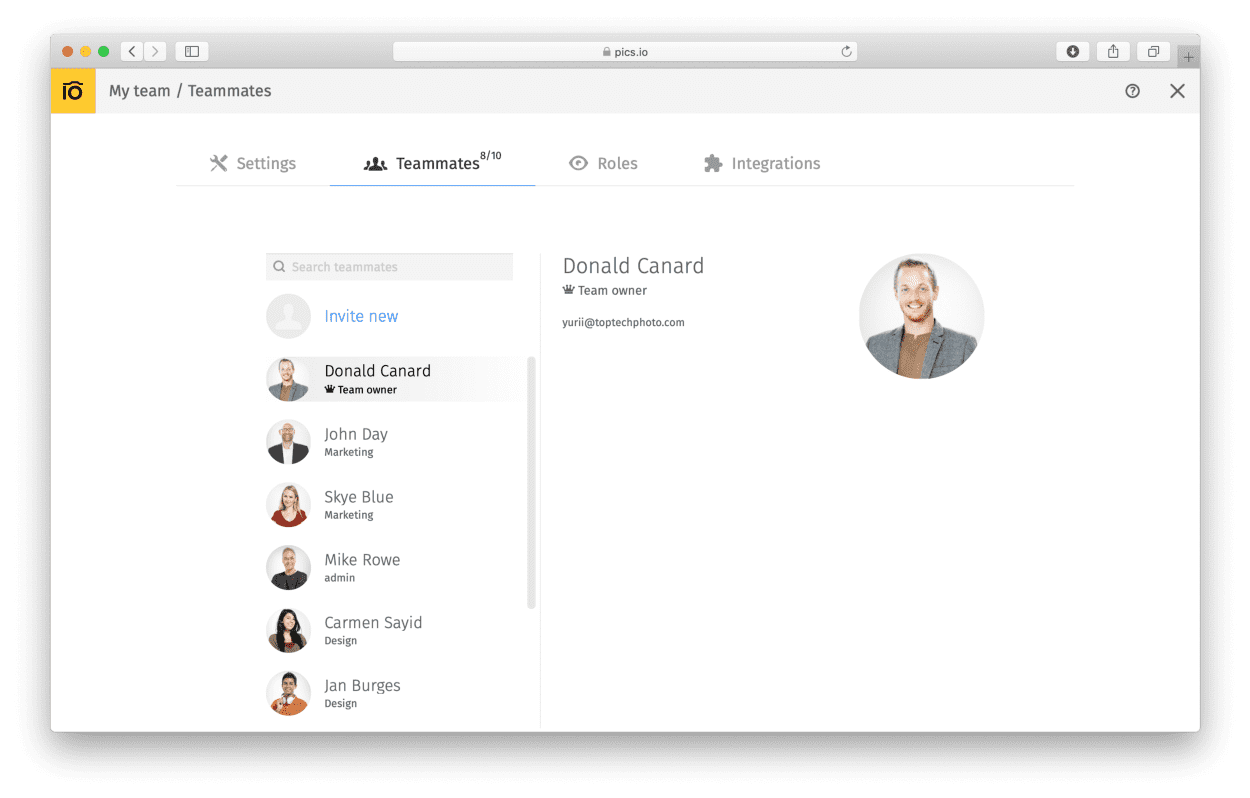 Team permissions — want to hide certain assets from certain people? You can do that too with Pics.io. But you're in control, and you can set or change team permissions once, without fear that the right person will not have access to it. This is especially life-changing for your teammates who work remotely, in different time zones, or even on different continents.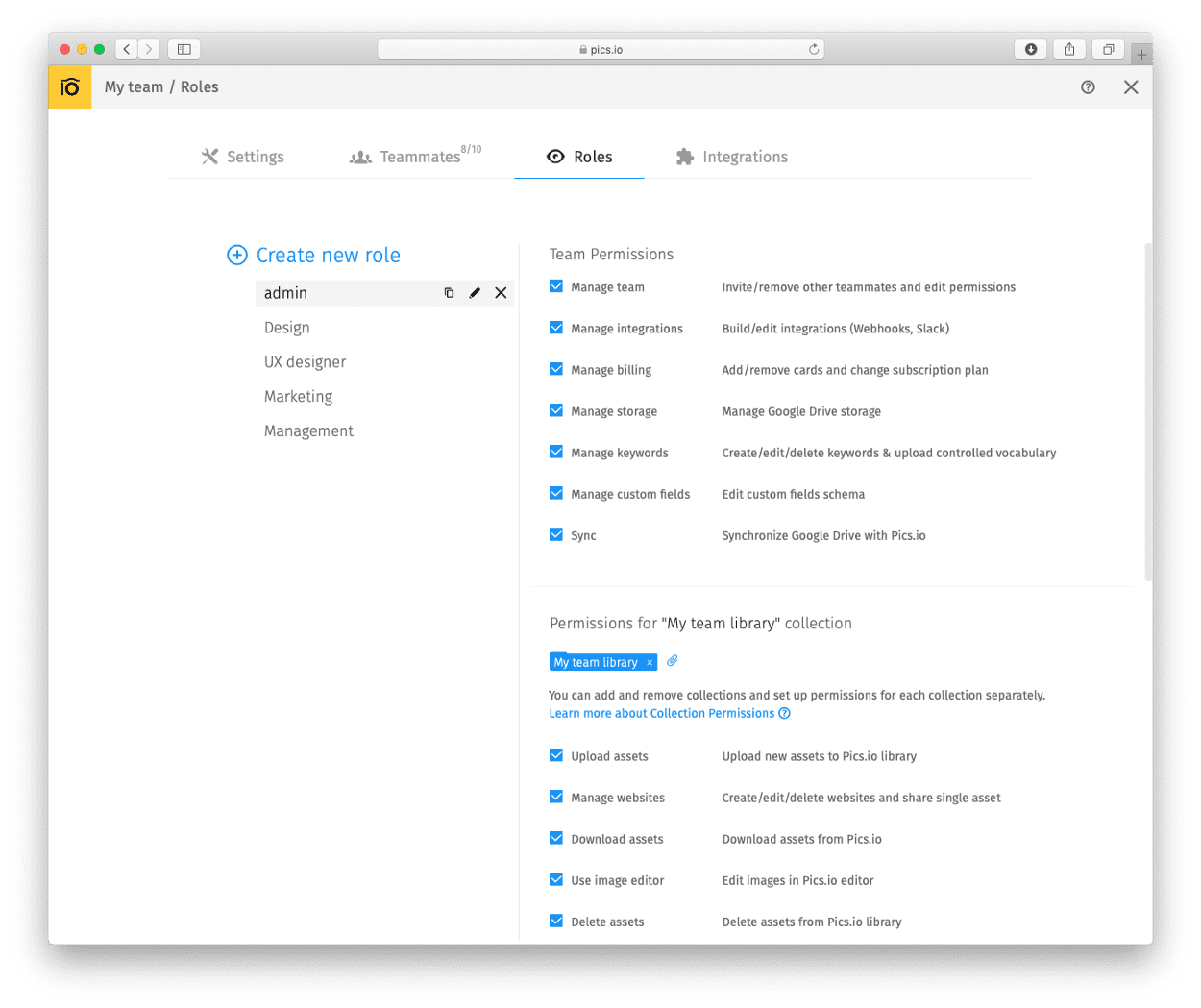 Advanced navigation — at first sight Google Photos looks streamlined and convenient for image navigation. Pinch-and-zoom to sort the images by month, date, and year. And scroll, scroll, scroll to find what you're looking for. When your library includes thousands of images shot on the same day or cluster of days, this visual approach is not the most efficient. Besides, it might not work if you are looking for images with certain metadata, for example for photos of a certain size and quality.
And what if you have 10+ versions of these photos?
Here, Pics.io comes into place with its advanced keywords and metadata navigation features. The visual storage platform allows you to easily see and locate the assets you need. Plus, with tags and metadata, you can ensure that misspellings, a variety of keywords, and helpful category tags will pull up the assets that you need, whether you or your colleague uploaded them.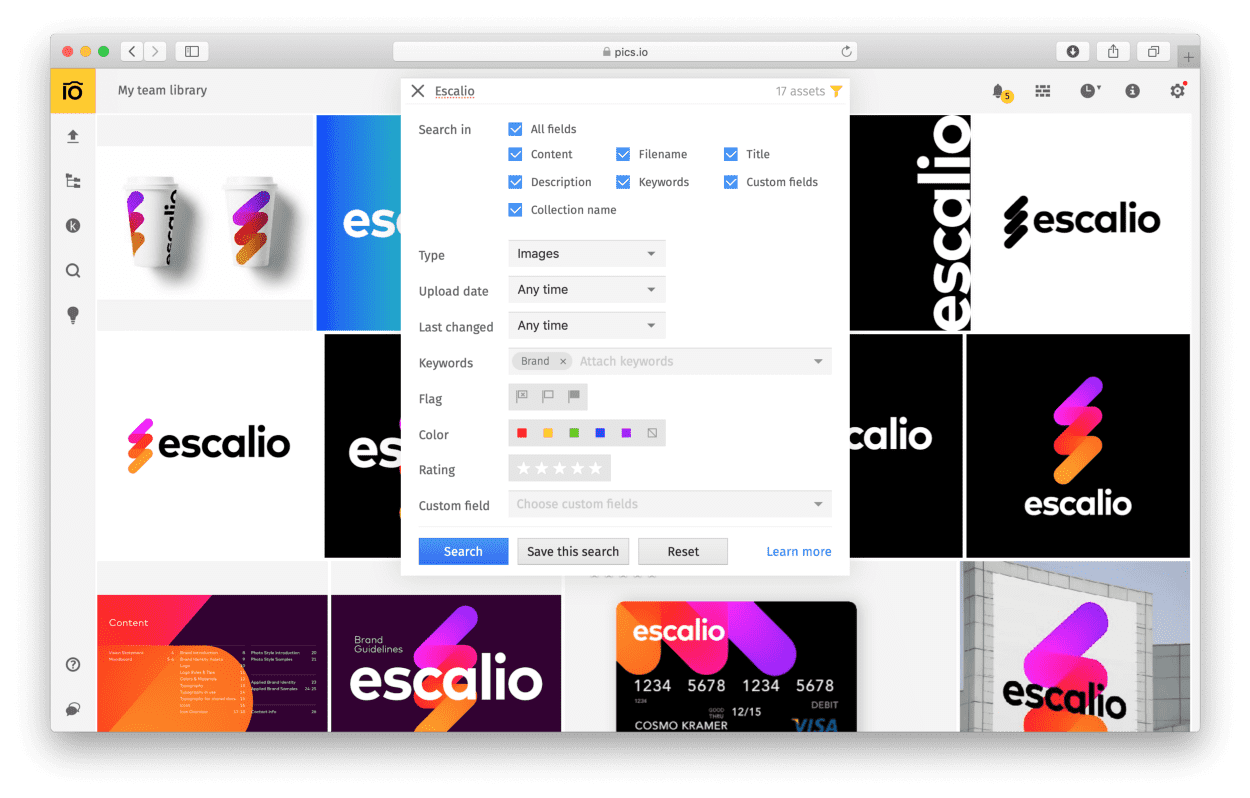 Version Control — The creative process is messy. New versions pile up exponentially, each teammate coming up with their own idea of file classification. Google Photos will never allow you to keep track of changes of your assets and chaos reigns.
In Pics.io new asset revisions find their place on top of each other, like layers in Photoshop, and you can't mess up this order. To reduce any possible confusion and misinterpretation to a minimum, you can leave all comments right here in Pics.io, next to the revision you are discussing. It keeps all team members on the same track and does not allow for any confusion.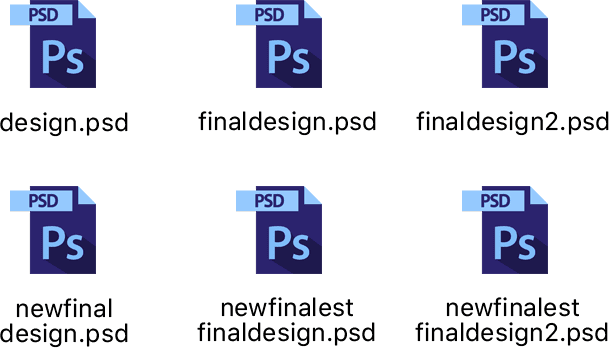 Various file formats — and one more big advantage of Pisc.io application over Google Photos for business is that we support a huge variety of formats, practically without restrictions: videos, psd files, 3d graphics, vector files, you name it. The variety of file formats you use in your own work might not be very big. But if you have a lot of clients or partners, such as photographers, creative agencies, big publishing houses, etc. it is important. They do work with various files and this feature would be of much help for streamlining your business processes.
Integration with other services — is one of the important advantages of Pics.io over Google Photos for business needs. Pics.io integrates seamlessly with Slack, Adobe Illustrator, and more of the tools you use every day. So you don't have to worry about easy access to your media files. Each of your systems will talk to your DAM, and we think they'll really like each other.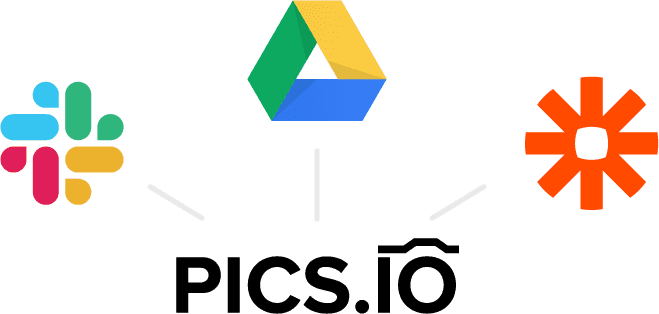 Pics.io vs Google Photos: Comparing Your Favorite Features
People have different reasons to love Google Photos — its sleek interface, seamless backup, AI tagging, and many more. However, for businesses the solution is far less convenient. Right here digital asset management software like Pics.io comes into the game, expanding Google Photos functionality for business needs.
Pics.io brings a new level of convenience for businesses and to prove this fact let's compare the way both tools handle storing, sharing, and managing pictures.
AI Tagging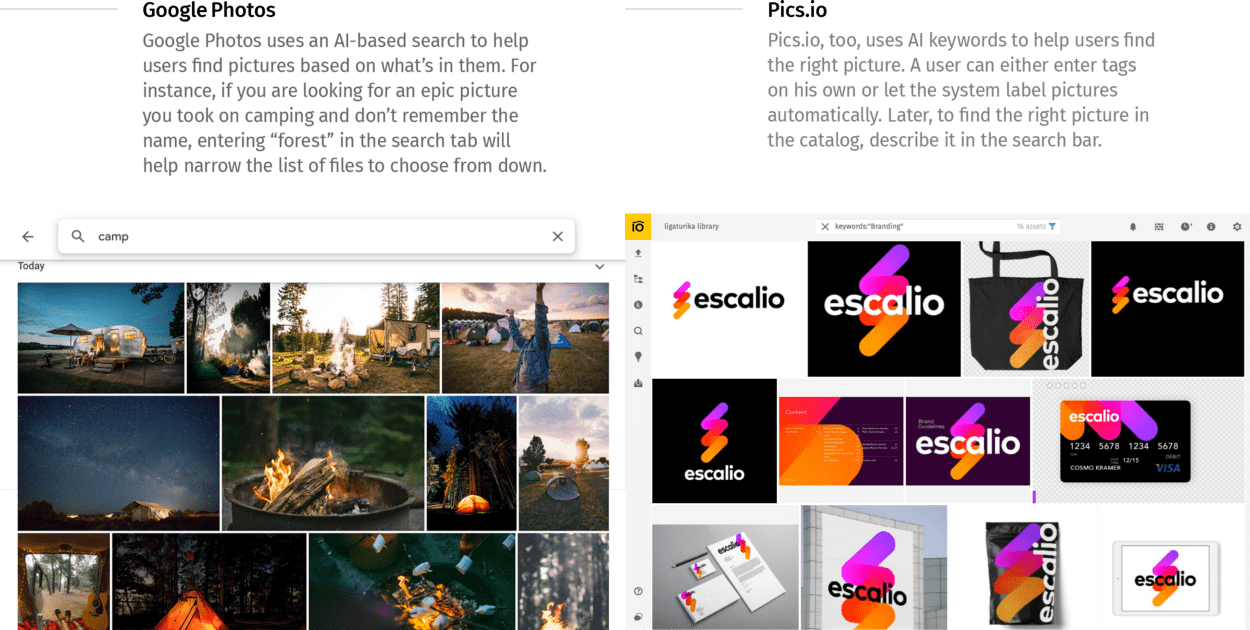 Built-in editor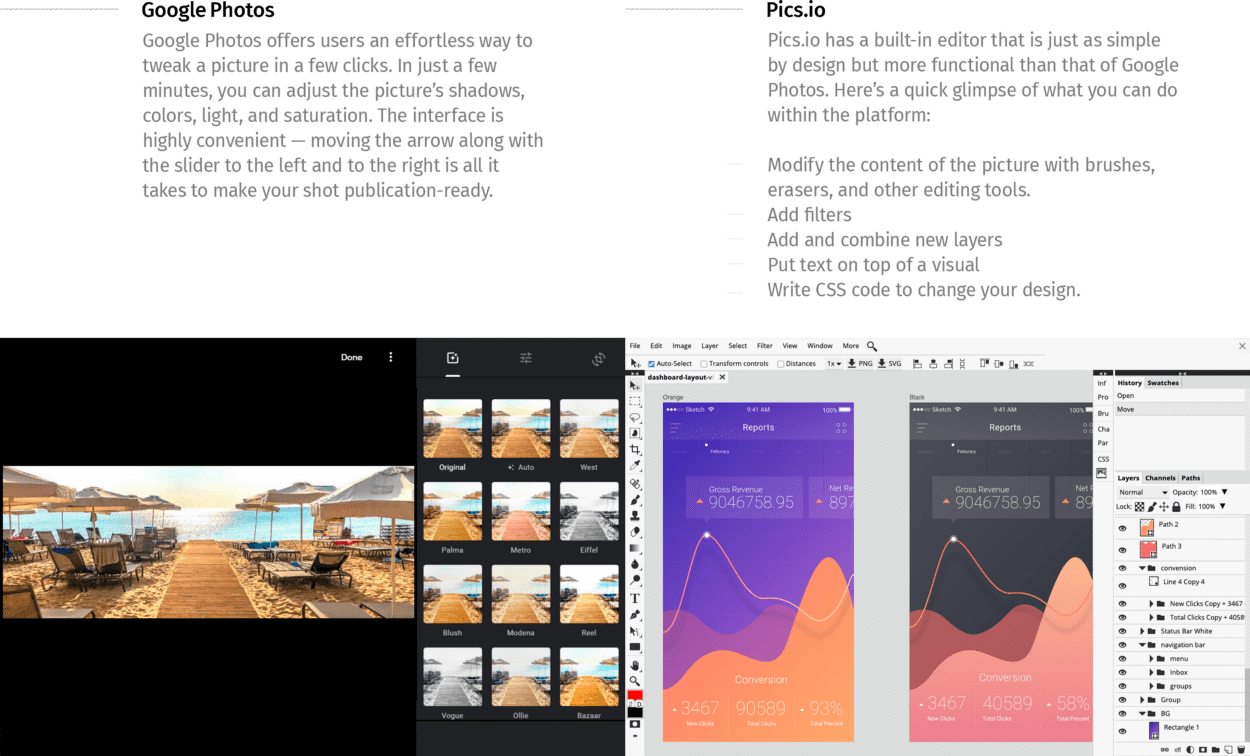 Shared access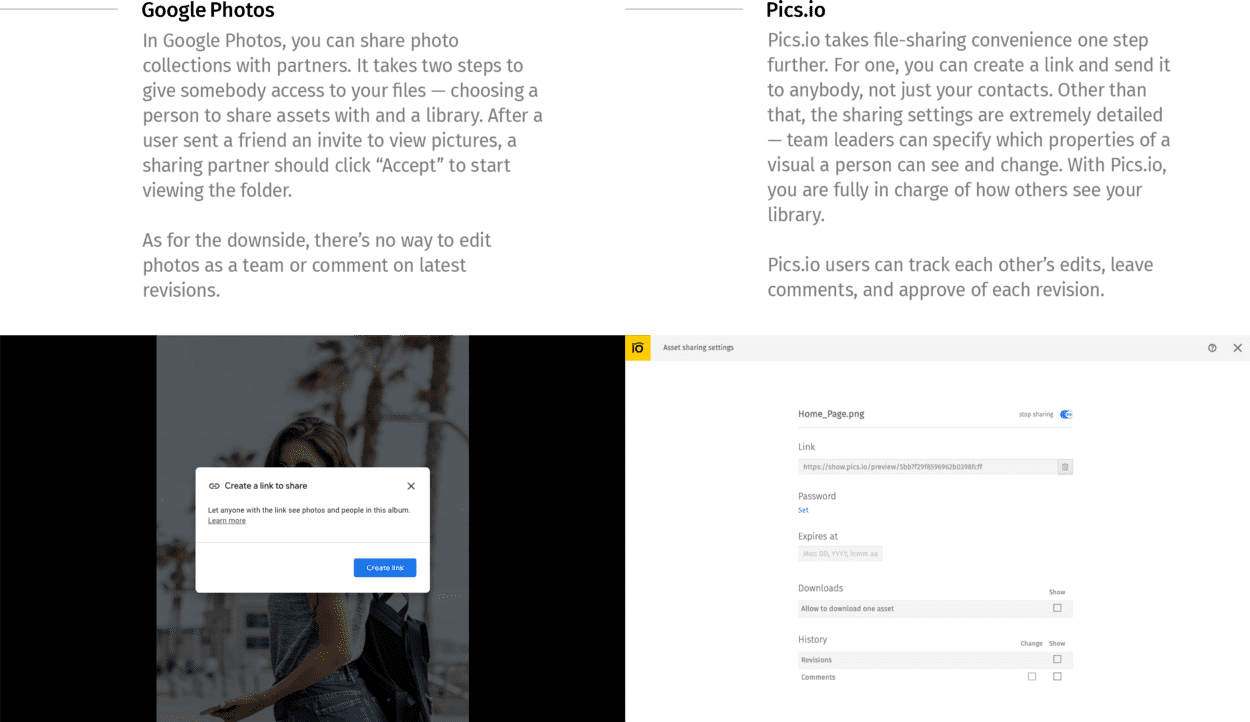 Metadata management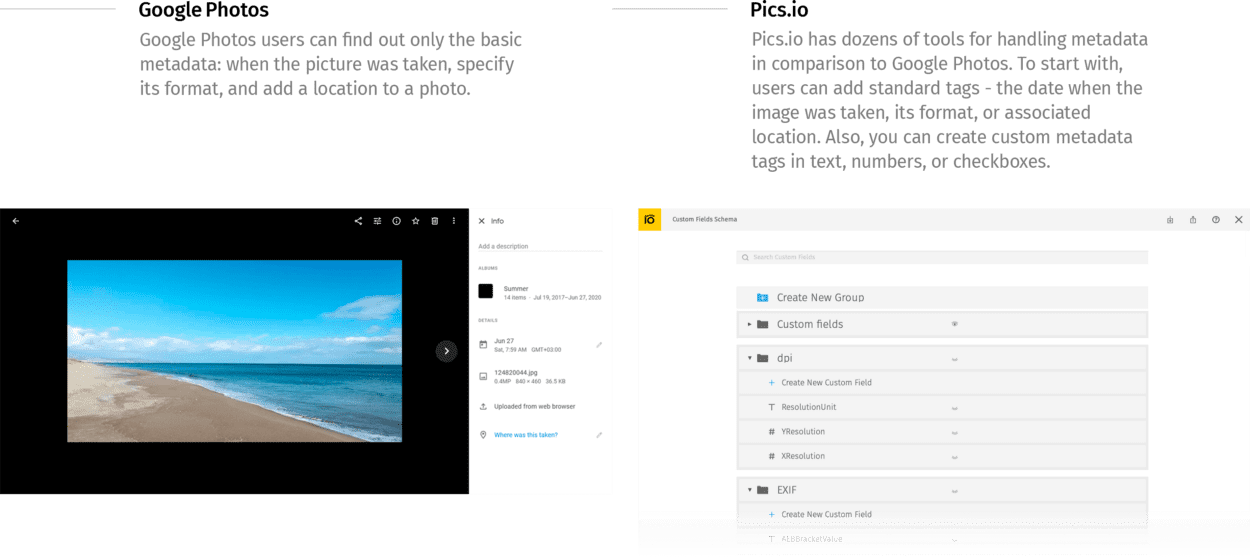 Version control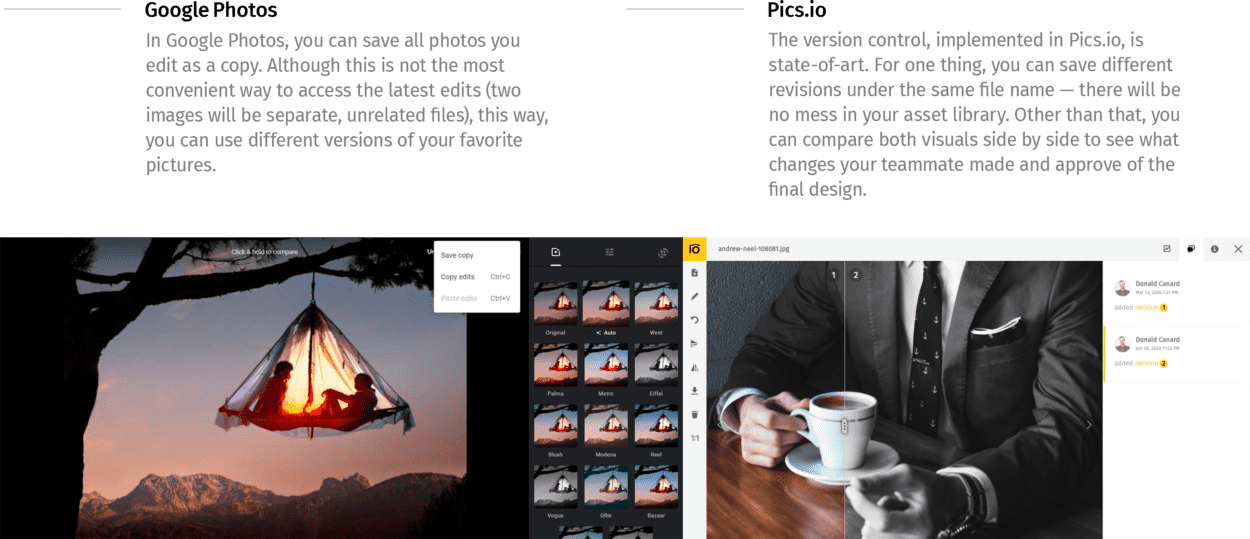 Editing video clips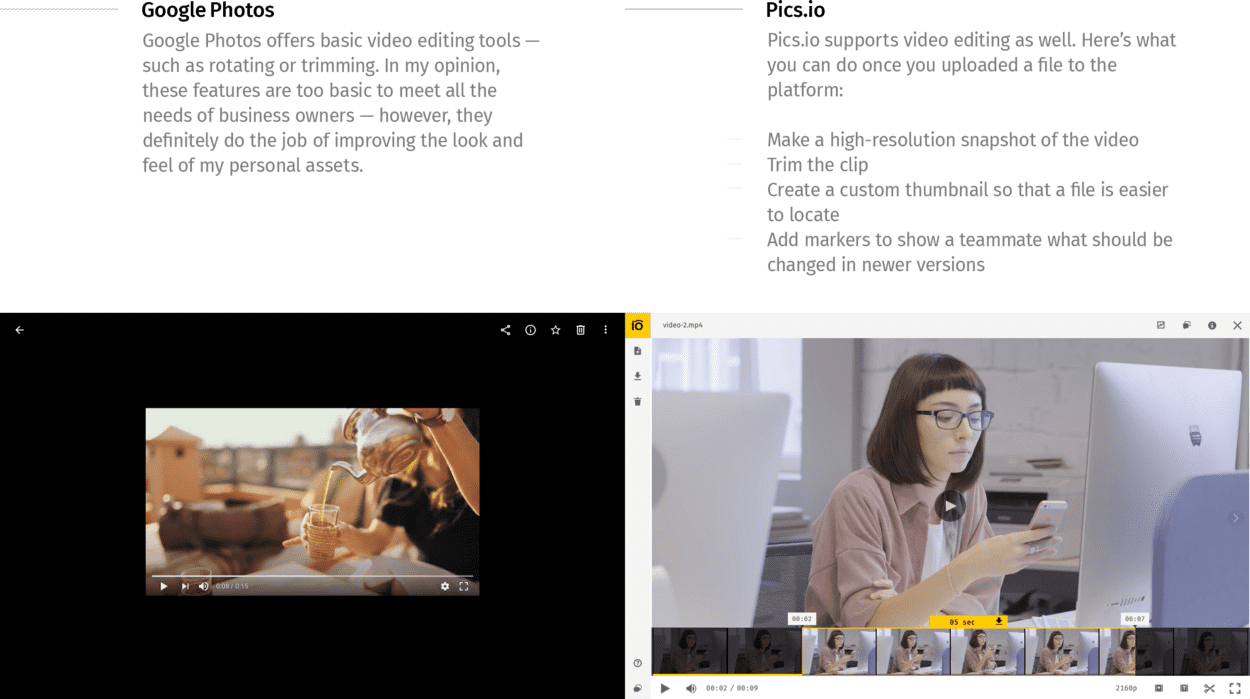 Verizon Cloud App: A New Alternative on the Market
Not so long ago, a new alternative to Google Photos appeared. Verizon Cloud is a storage platform designed to store & backup your media content as well as share it with multiple recipients.
As media storage, Verizon hardly yields to Google Photos in its functionality. The app offers advanced search across devices, shared storage, backup for files on your mobile phone & computer. You can also protect your folder with a PIN code and receive weekly flashbacks from your photos & videos to relive your favorite moments.
But the best news is its unlimited storage option for $19.99 per month. A nice marketing tactic to beat Google Photos after their news about removing unlimited storage.
Still, the Verizon Cloud app has the same limitation as Google Photos. It doesn't suit business purposes!
Verizon will be a great option for you as an individual user. But it will unlikely meet your business needs. Unlike Pics.io, Verizon Cloud:
Doesn't have version control;
Has more limited search capabilities (you cannot use AI-keywording or search your documents by content here);
Won't archive your photos & videos;
Won't allow you to edit your media. The Verizon editor is very similar to an in-built editor on your mobile device. You can crop your photos/videos, rotate them, add a few filters or stickers, and that's it. But you'll hardly deepen your colors or add contrasts. And you definitely won't be able to open your content directly in Photoshop or Premiere Pro, as you do it in Pics.io;
Limits you in the choice of formats. Of course, Verizon supports all the most popular file formats like JPEG or PNG for photos or MPEG4 for videos. But businesses usually make use of more intricate formats, such as vector graphics or 3D images;
Doesn't have a retention option;
Doesn't require but recommends you to be a subscriber of Verizon. Verizon Wireless is a US-based telecommunications company. And so you'd better be its subscriber to use Verizon Cloud to its fullest. For example, you can backup your contacts & messages in this case.
Google Photos Alternative for Business Exists
Long story short, when it comes to your business assets Google Photos is not enough for your needs. With Pics.io you have an easy and intuitive tool to store and search for your assets. You also have a development team, a customer service team, and really, a whole company who is ready to help you succeed.
We believe that DAM should be simple, and so we spend all day, every day trying to make a better product. A product that empowers creatives and marketers to do the work they actually want to be doing. If you would like to learn more about Pics.io we'd be happy to put 30 minutes on your calendar to walk through a strategy that works best for you.
Give Pics.io DAM a try
Free 7-day trial
No credit card required
Set up in 3 minutes or less
---
If you enjoyed this story, please click the 👏 button and share it with friends and partners looking for Google Photo alternatives for their business needs. Don't hesitate to leave your feedback in the comments section below or drop us an email.