Updated July 2022
Google Photos is convenient cloud-based storage for your personal photo gallery. As good as it is, it does not work for business needs. That's a shame, as many business niches can benefit from an easy way to share and upload photos at a scale.
While unfortunate, that is no reason to give up because alternatives exist. Some offer more functionality and can integrate with G Workspace like Google Photos!
Let's dig into our top 5 alternatives for Google Photos and how to choose the best one for you.
Is There a Google Photos App For Business?
Currently, there isn't a Google Photos for business app. Google Photos accounts are automatically private, so making your entire account visible to the public can't really be achieved. You can share links to your albums and use the app to share photos and videos via social media, but your Google Photos library will remain private. - Google Support

If you want something like Google Photos but for enterprise needs, your best bet is to look for replacements. Hence, this article.
Best alternatives to Google Photos
Pics.io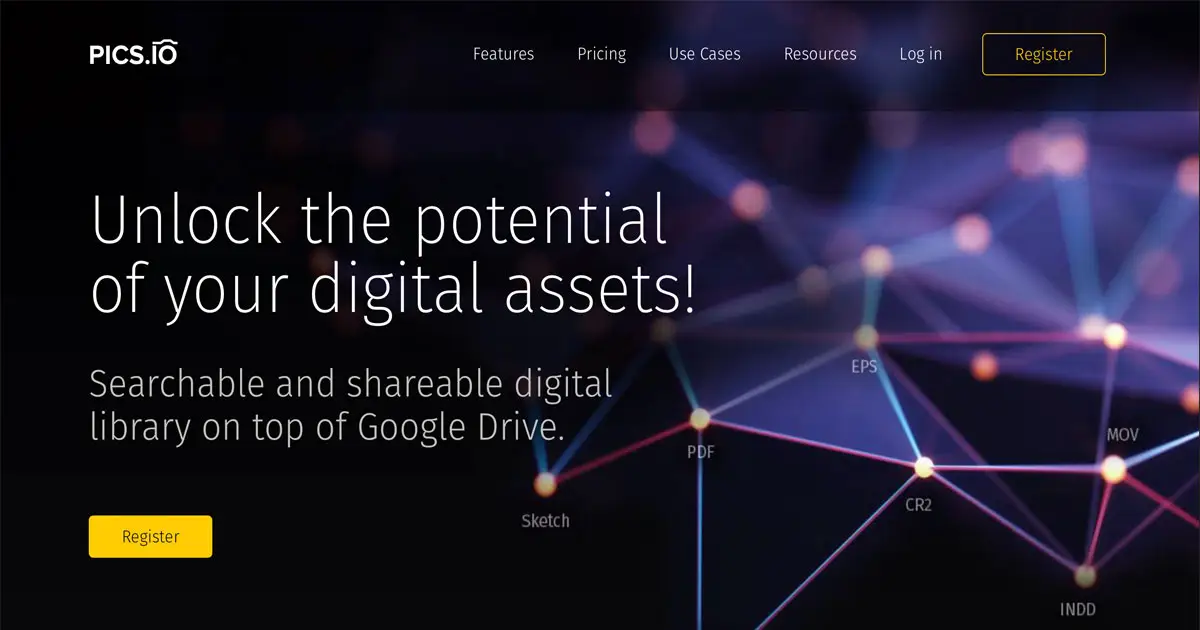 Pics.io is digital asset management (DAM) software that makes it easy to search for and organize media files in your library.
One of the main issues with having 100+ assets is that it is impossible to remember where they are and what they describe at all times. You might remember their purpose right after you have uploaded them. After or month or so it becomes complicated.
This is especially noticeable in niches with high context assets such as insurance claims. In this scenario, photos by themselves don't mean much. If you have an image of a burst pipe, you have to know which pipe. That's where metadata comes into play. It allows you to tag assets with specific information about location or person.  You can use that information to find assets, regardless of whether they are in the library.
So, even if we would advise against it, you can have one large dump folder of assets that you can filter in seconds by specifying all information that is related to a particular location or a person.
Plus, Pics.io directly integrates with Google Drive. What this means is that you can keep Drive storage and your photos there and use Pics.io as a sort of controller to better manage your library.
Consider buying Pics.io if you need to create a structured and easily searchable media library with hundreds of assets.
Dropbox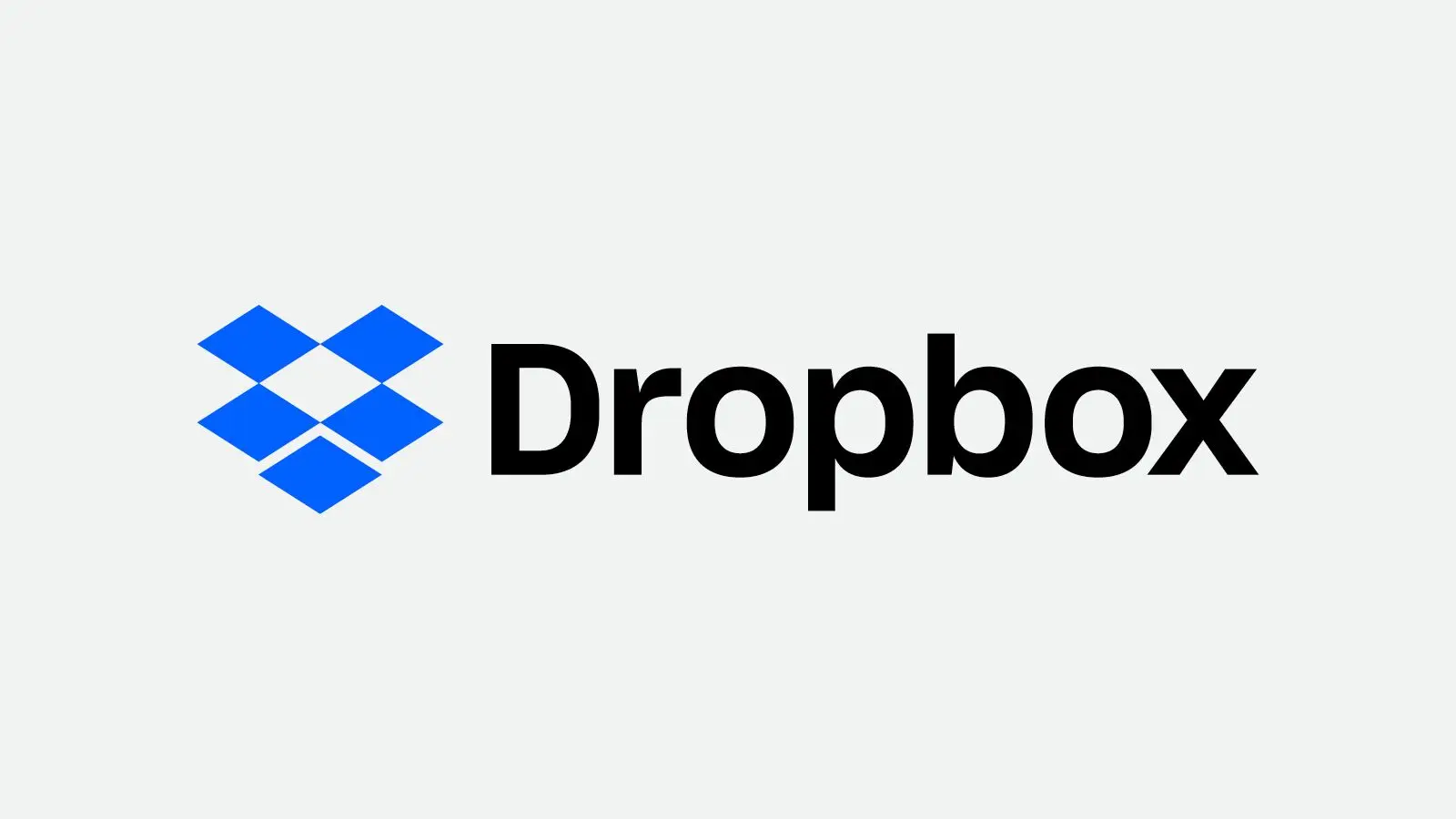 Dropbox is the go-to solution for all cloud storage needs and photos aren't an exception. Simple to use, broad format support, and easy way to share folders with your colleagues.
Dropbox also has some good features that help integrate it into your company's workflow. You can open stored photos in the photo editor Pixlr and there is Adobe CC integration for easier access to files.
It isn't without downsides, though. If you need to not only store but categorize your files, Dropbox won't help you much. Its metadata management options are limited and you cannot bulk tag assets with the help of AI. So your options are either:
Remember each file's location and purpose (works only for small libraries)
Keep a separate sheet to track and categorize files (complicated and takes a lot of time)
Consider buying Dropbox if your main need is to store, auto-sync, and share files without an immediate need to create content taxonomy.
Adobe Creative Cloud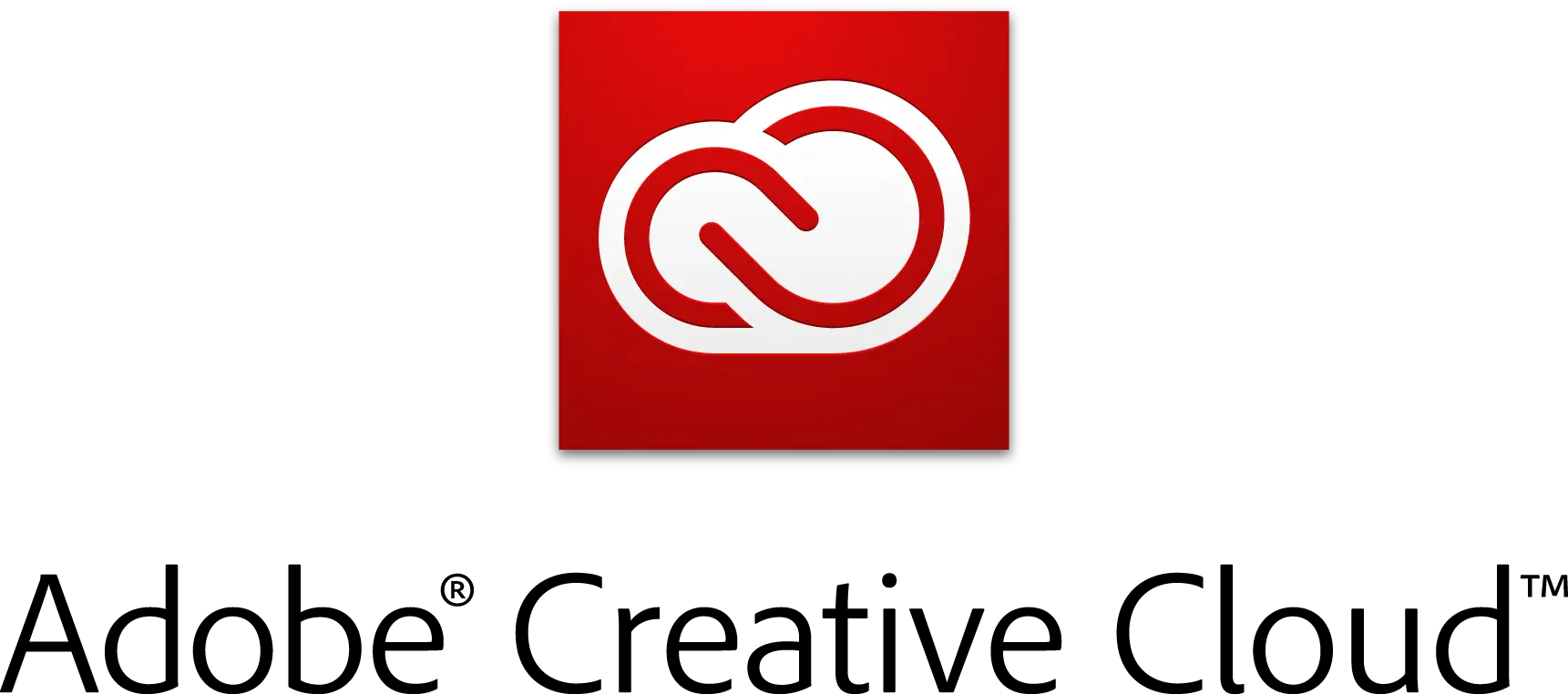 While many apps like Google Photos offer integration with Adobe software, Adobe CC does it best of all. Adobe CC is a great option for teams that focus on the creative end of things. It has native integration with Adobe products and metadata features you expect to see for photo software. Not to mention that there are plans which include a subscription to the Creative Suite.
If you want the best of both worlds, however, it might come at a premium.
A Photography Plan that includes Lightroom and Photoshop + 1TB of storage will cost $20/mo or $240 annually. But if you are already using Photoshop, that should offset the premium price tag.
Consider buying Adobe Creative Cloud if you are already using or planning to use Photoshop in your workflow and if your needs focus mostly on photo editing.
500px

500px is a part photo storage, a part social network for photographers and a part marketplace for selling your photos. It might be an outlier in this list as its main purpose is to share not store your photos, so you might feel as if its inclusion here is not needed.
But, if your goal is to deliver photos to buyers or like-minded, 500px offers you to deliver your work to the people that will be interested in what you have.
The interesting part here is that both paid plans ($60/yr and $120/yr) offer unlimited storage for photographs. This is a killer feature for businesses that specialize in photo production known for its large file size.
But the good things don't stop here. 500px has tools to create portfolios, provide statistics for how your photos perform, and even offer ways to monetize your photos and related tutorials.
Consider buying 500px if your business specializes in creating original, high-definition photos and related content such as tutorials or guides
Flickr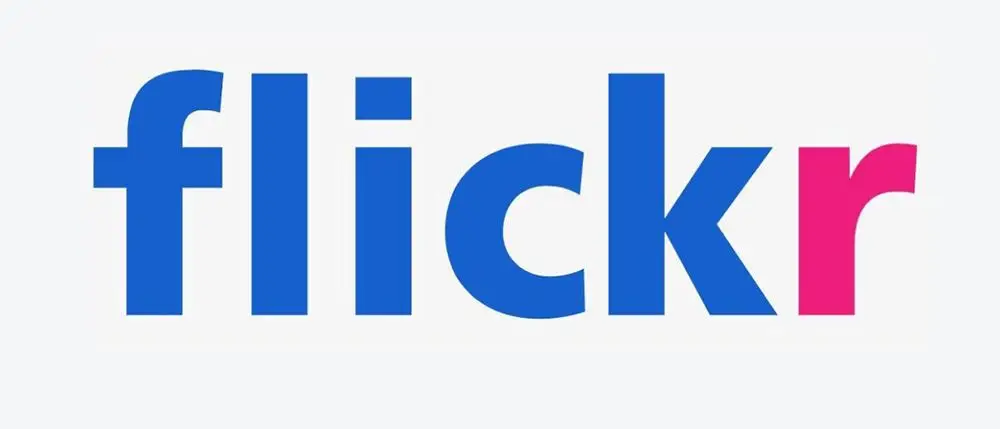 Flickr enjoys a middle ground between 500px and Dropbox. It has more photo-oriented features than Dropbox but not as many 500px. While 500px tries to draw and keep you inside its ecosystem, Flickr is all about driving customers to your business.
The premium plan, called Flickr PRO, provides unlimited storage and statistics on how others engage with your photo feed. The second feature will come especially useful as you try to build your brand identity and determine the target profile of your audience.
Because it focuses on businesses that want to use media content as a pillar of their marketing efforts (not necessarily photo tech experts), uploading and sharing content is as straightforward as on any other social network. That simplicity comes with a price. Flickr supports only the most basic file formats that are good for viewing and sharing (JPG, PNG, GIF) and nothing else.
If you were expecting to use Flickr for unlimited RAW storage, you better look elsewhere.
Consider buying Flickr if you want to use your photos for marketing purposes by sharing them online with engaged audiences.
How to Choose Google Photos Alternative That is Right For You
The provided selection of software differs in their specialization. Of course, all of them have sharing, social media, and metadata features, but that specialization leads to how developed certain features are.
So if your primary concern is to convert your photos into a marketing channel, Flickr might be the best option for you. It offers you an existing infrastructure to share pictures and engage with potential customers.
If you were using Google Photos for organizing and safekeeping your library, Pics.io will work the best as its main feature set revolves around this particular need.
Why Businesses Benefit From Apps Like Google Photos
Here's why an app for handling pictures like Google Photos is a must-have for business owners.
No more file stashes on your computer. Keeping files on your computer is dangerous: devices can break or get stolen. Cloud storage with auto-sync frees up space and guarantees the security of your media.
No more computer-centric workflows. Software that you have to install on a computer stops working when you're away from it. With cloud photo storage you can access your library from any device. And, you don't have to wonder if the device that you're using opens uncommon file formats like RAW.
No more security concerns. What if somebody hijacks the access to my PC and deletes all files? That would be a pain in the neck, but it wouldn't bother you as much if you manage assets in the cloud.
No more struggling to find pictures. If you upload dozens of pictures every day, remembering the name of every file is too much to handle. Apps such as Pics.io, Adobe CC, and Flickr have tagging system to find assets faster. Their metadata tools outperform basic features of both PC and Mac, making them a must for large libraries.
In other words, Google Photos and its alternatives make things that you are already doing easier. The question is then only about which tool to pick.
Give Pics.io DAM a try
free 7-day trial

Google Photos vs. Pics.io DAM on top of Google Drive or Amazon S3
Teams that use Google Photos to organize their media library will benefit from DAM the most. DAM has all features of Google Photos and expands upon them thanks to the direct integration with Google Drive.  
The question is: why go beyond Google Photos? Because solutions such as Pics.io DAM are business-oriented, while Photos is for more casual use, meaning that it lacks important features that are a must-have in a team environment:
Reliability — Pics.io works on top of Google Drive or Amazon S3, so you don't depend on us for storage. Even if Pics.io suddenly disappears you will have all your assets in your Google Drive or Amazon S3 in the same order and state.
Collaboration — Pics.io helps you promote collaboration within your company and with third parties. You can set up various permissions on your assets to the people and teams within your organization who need to use them.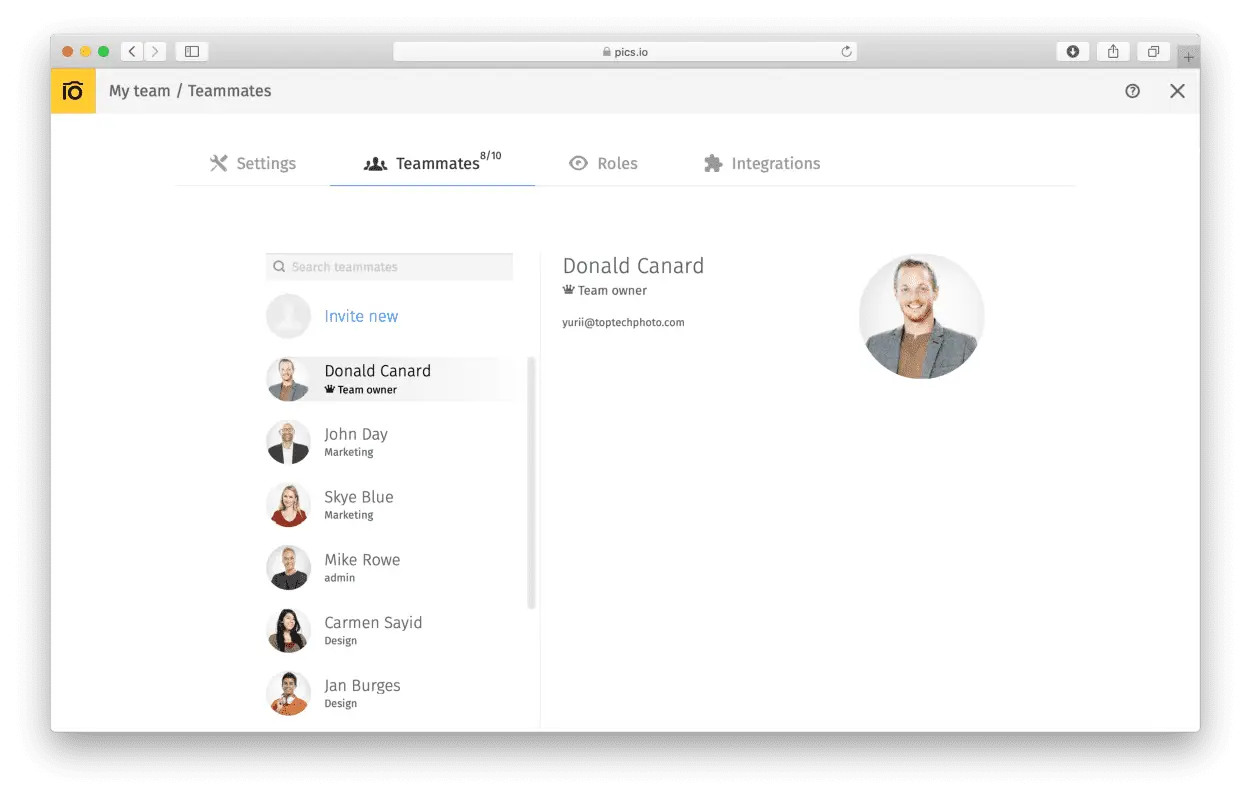 Team permissions — want to hide certain assets from certain people? You can do that with Pics.io. Decide who gets to see which assets and what can they do with them through intuitive UI.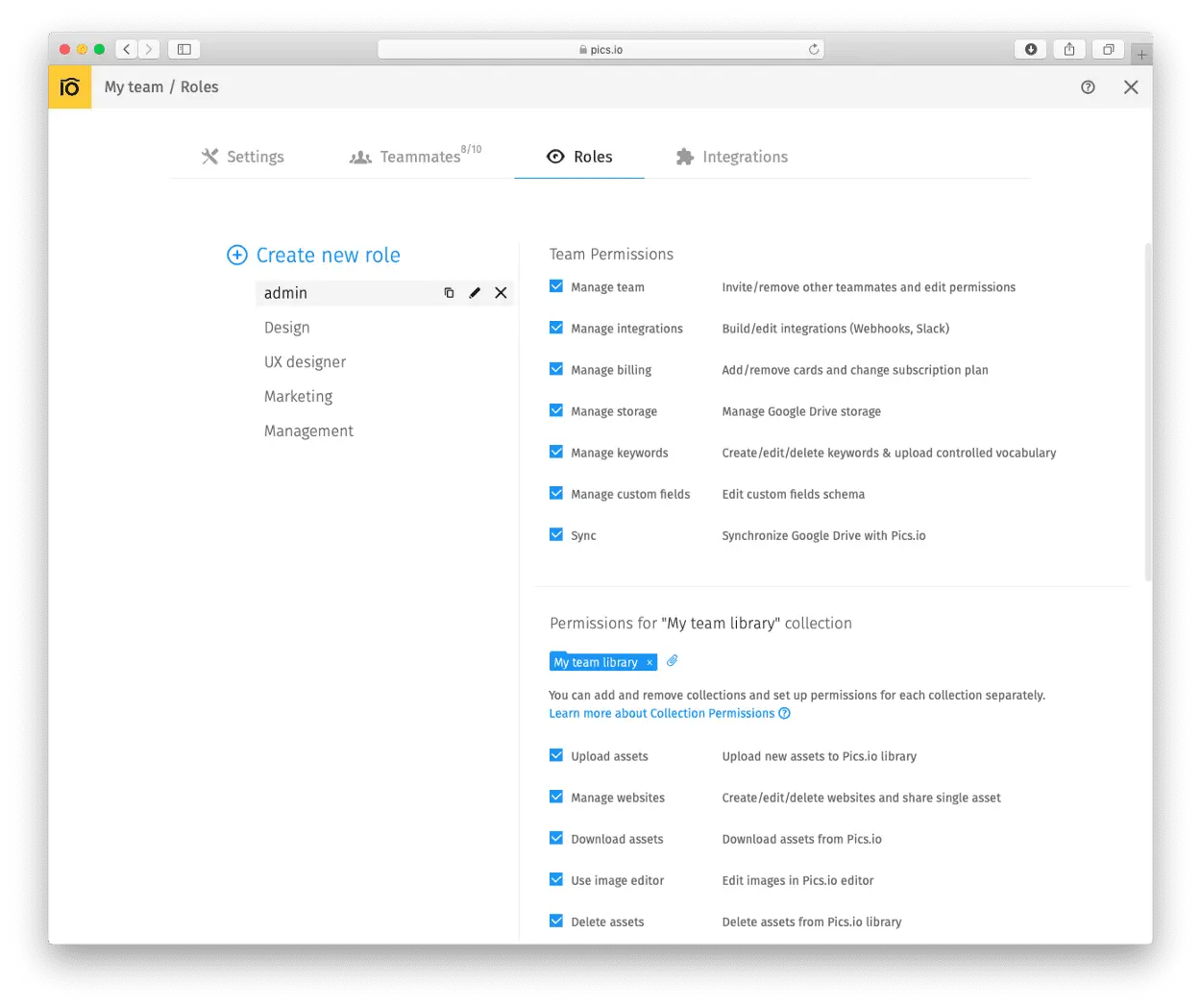 Advanced navigation — at first sight Google Photos looks streamlined and convenient for image navigation. Pinch-and-zoom to sort the images by month, date, and year. And scroll, scroll, scroll to find what you're looking for. When your library includes thousands of images shot on the same day or cluster of days, this visual approach is not the most efficient. Besides, it might not work if you are looking for images with certain metadata, for example, photos of a certain size and quality.
And what if you have 10+ versions of these photos?
Here comes Pics.io with its advanced keywords and metadata navigation features. The visual storage platform allows you to easily see and locate the assets you need. With tags and metadata, you can ensure that misspellings, a variety of keywords, and helpful category tags will pull up the assets that you need.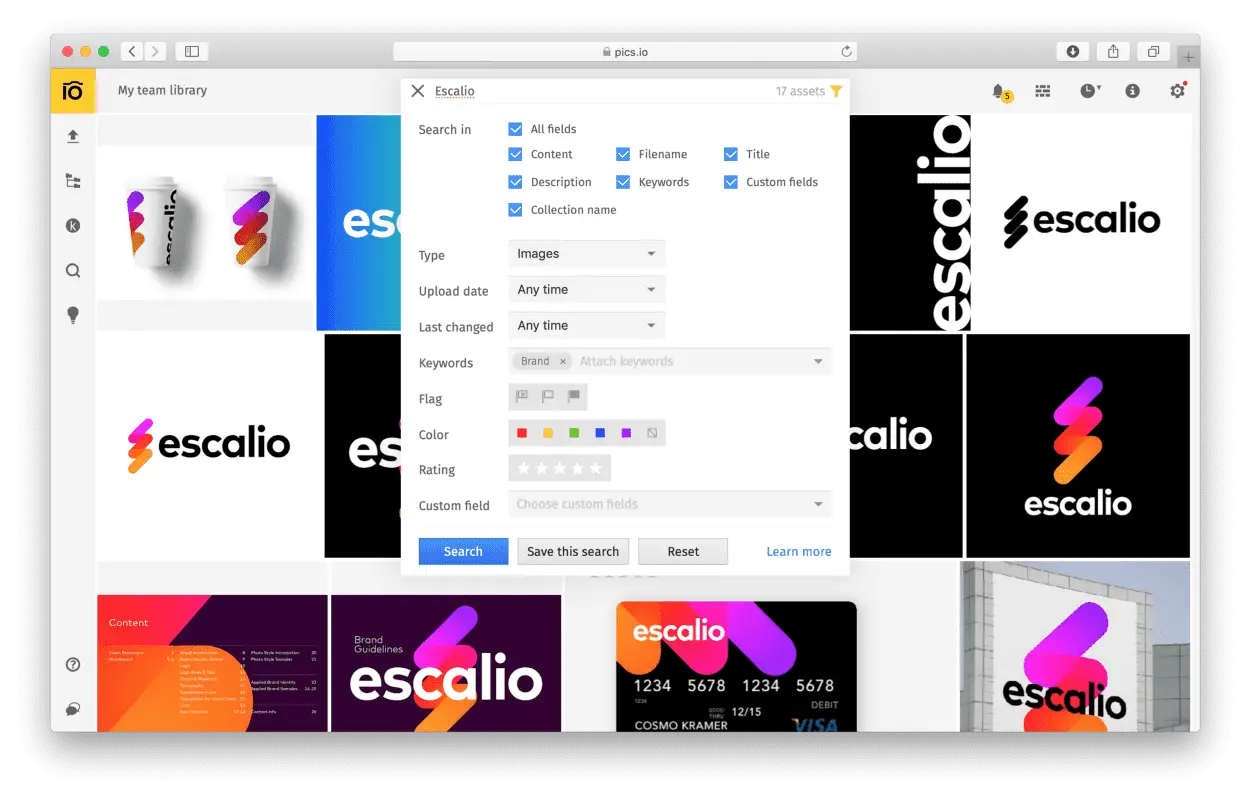 Version Control — The creative process is messy. New versions pile up exponentially, each teammate coming up with their own idea of file classification. Google Photos will never allow you to track changes in your assets and chaos reigns.
In Pics.io all versions of an asset are accessed from the same thumbnail. You can then freely switch between them and also leave comments to let your team know what was the reason for revision.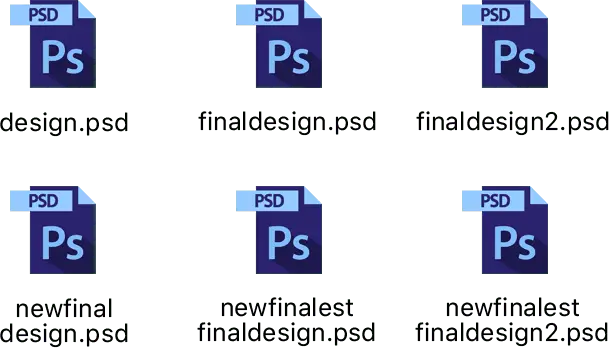 Various file formats — Pics.io supports a variety of formats, practically without restrictions: videos, PSD, RAW, vector files, you name it.
Integration with other services — is one of the important advantages of Pics.io over Google Photos for business needs. Pics.io integrates seamlessly with Slack, Adobe Illustrator, and other tools you use every day. So you don't have to worry about accessing your media files.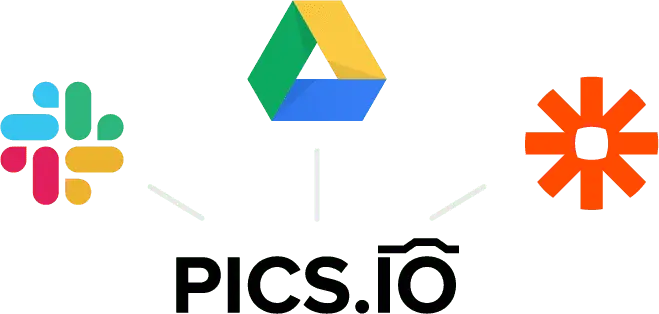 Pics.io vs Google Photos: Comparing Your Favorite Features
People have different reasons to love Google Photos — its sleek interface, seamless backup, AI tagging, and many more. However, for businesses, the solution is far less convenient. Right here digital asset management software like Pics.io comes into the game, expanding Google Photos functionality for business needs.
Pics.io brings a new level of convenience for businesses and to prove this fact let's compare the way both tools handle storing, sharing, and managing pictures.
AI Tagging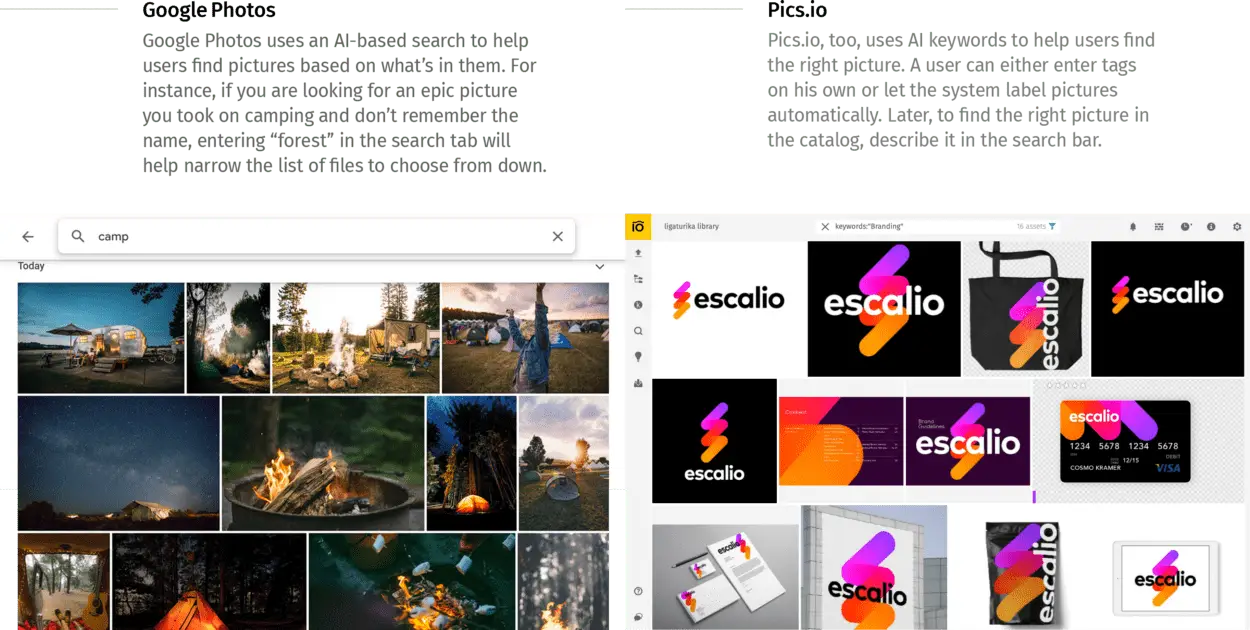 Built-in editor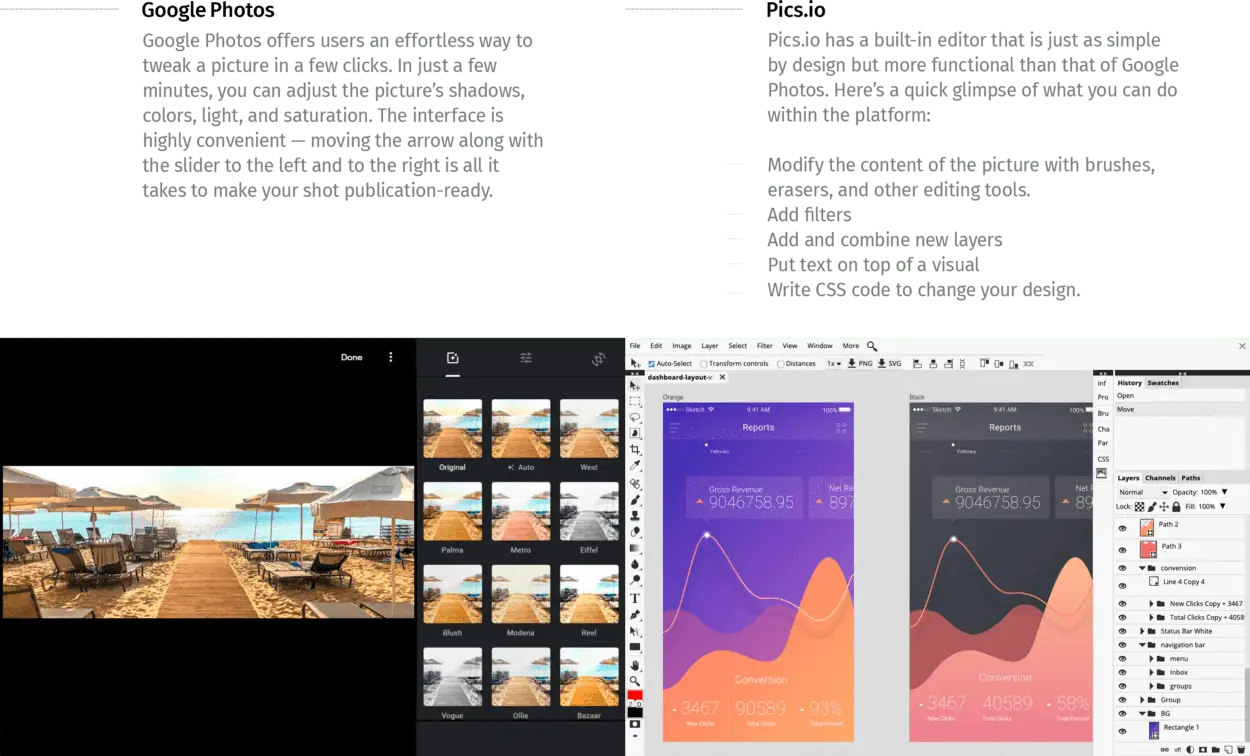 Shared access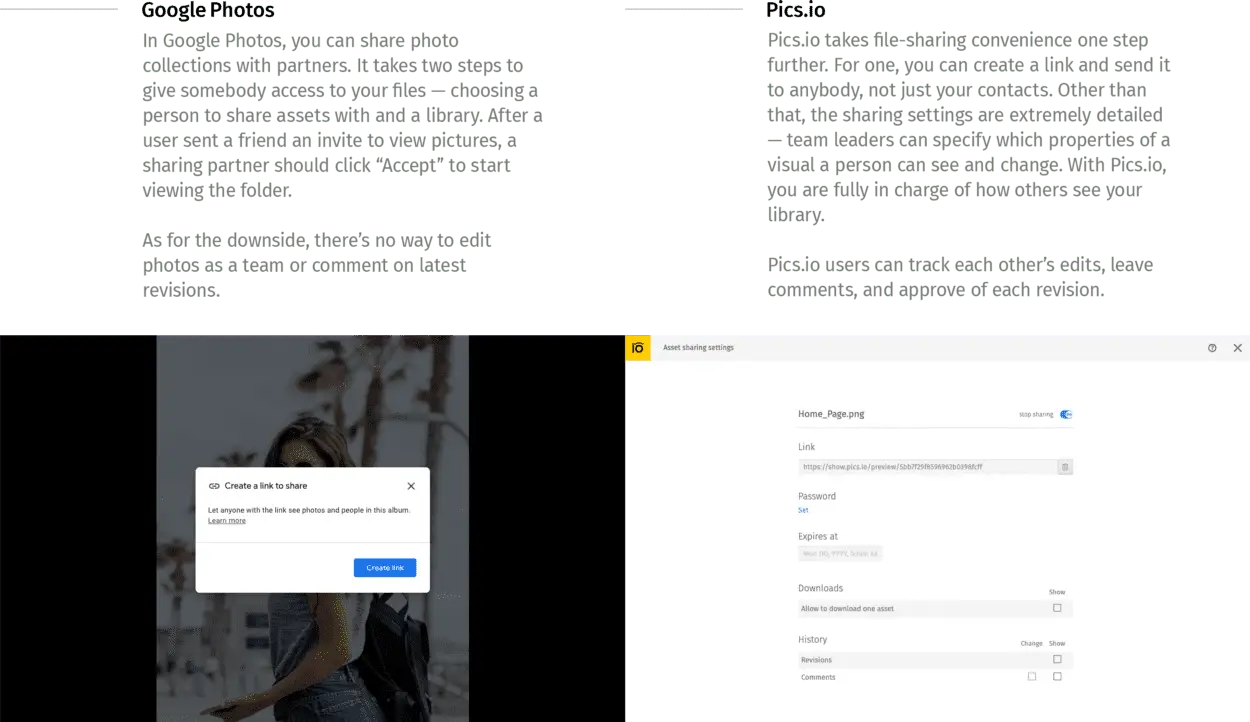 Metadata management
Version control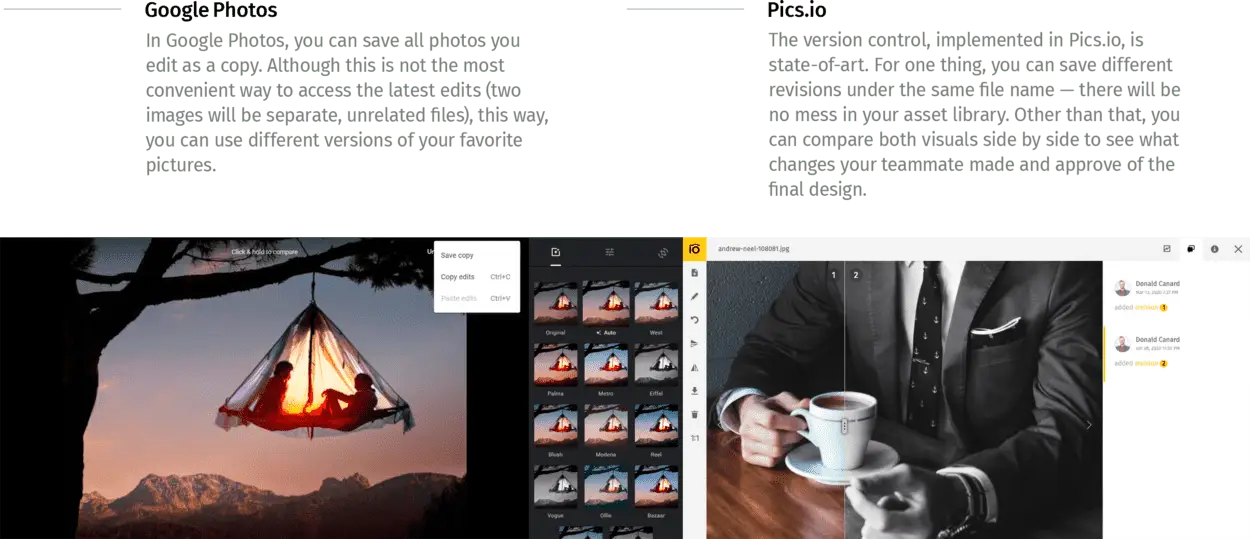 Editing video clips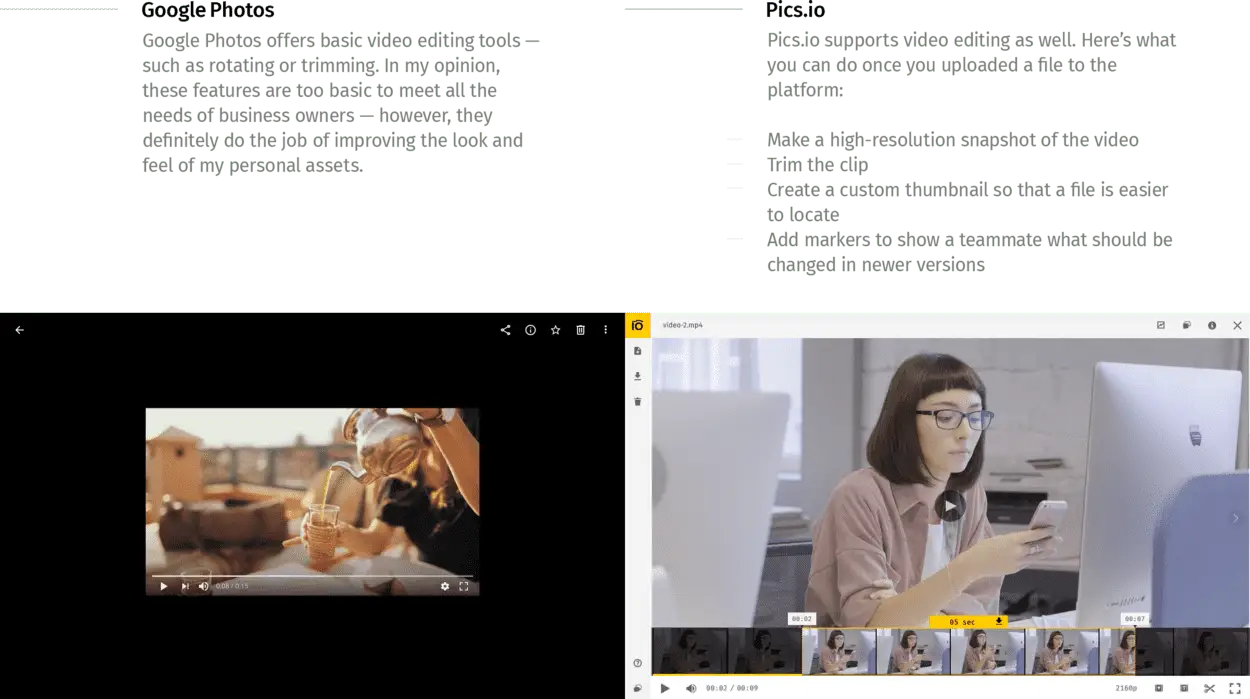 Google Photos Alternative for Business Exists: Conclusion
Google Photos does not satisfy business needs (sharing with others, metadata management, collaboration features) and Google doesn't have any plans to roll out the enterprise version of the product.
Thankfully, there are plenty of alternatives that can do the same thing as Google Photos and even better.
There are many great alternative solutions on the market - Pics.io, Pixlr, Adobe CC, 500px, and more.
The choice comes down to your particular needs: if you spend a lot of time editing photos, Adobe CC is going to be a better option. On the other hand, if you need to categorize and organize your library, Pics.io will be a better fit.
Give Pics.io DAM a try
free 7-day trial
Did you enjoy this article? Give Pics.io a try — or book a demo with us, and we'll be happy to answer any of your questions.