Metadata is a common buzzword today. But a few people truly understand what lies behind this term. Companies shift to metadata to be a part of the popular trend. But their metadata management begins and ends with adding a project name or the date in the filename.
In reality, metadata is the future. Structuring files by names and in a hierarchy looks like lumps of a yesterday. And if your company wants to lead the market, you have to adopt metadata as quickly as possible.
And for our part, we're going to explain to you what is metadata so as to exclude any misinterpretation of the term. We'll also give you the best tips on metadata management – so you could use our advice in practice.
A brief guide on metadata: its definition, types, and use cases
So what is metadata?
In brief, metadata is the information describing a digital asset. If translated, "meta" is "after" or "beyond." In other words, "beyond data" or "data about data" as they put it.
"What type of data?" you would ask. Anything! The creator, the date when the file was uploaded, any sort of description (like who/what is on the photo or what the document is about).
This could also be any associated words (often known as keywords), the type of media, the license information, copyright, compression, file format, etc., etc. Anything you would use to speak about your digital file.
Here is another guide to what's in the metadata that we've written. Feel free to explore it. Also, don't miss our metadata playbook to research the topic in detail.
To make it easier for you, let's also define what metadata is NOT. If it's a doc file, the text in your file is not the metadata, unlike the table of contents, title page, or chapter. If it's an image, who/what is portrayed on the photo is not the metadata but data again. But the number of pixels, file format, EXIF data, and so on are all the metadata.
Here's a more visual example for you to consider: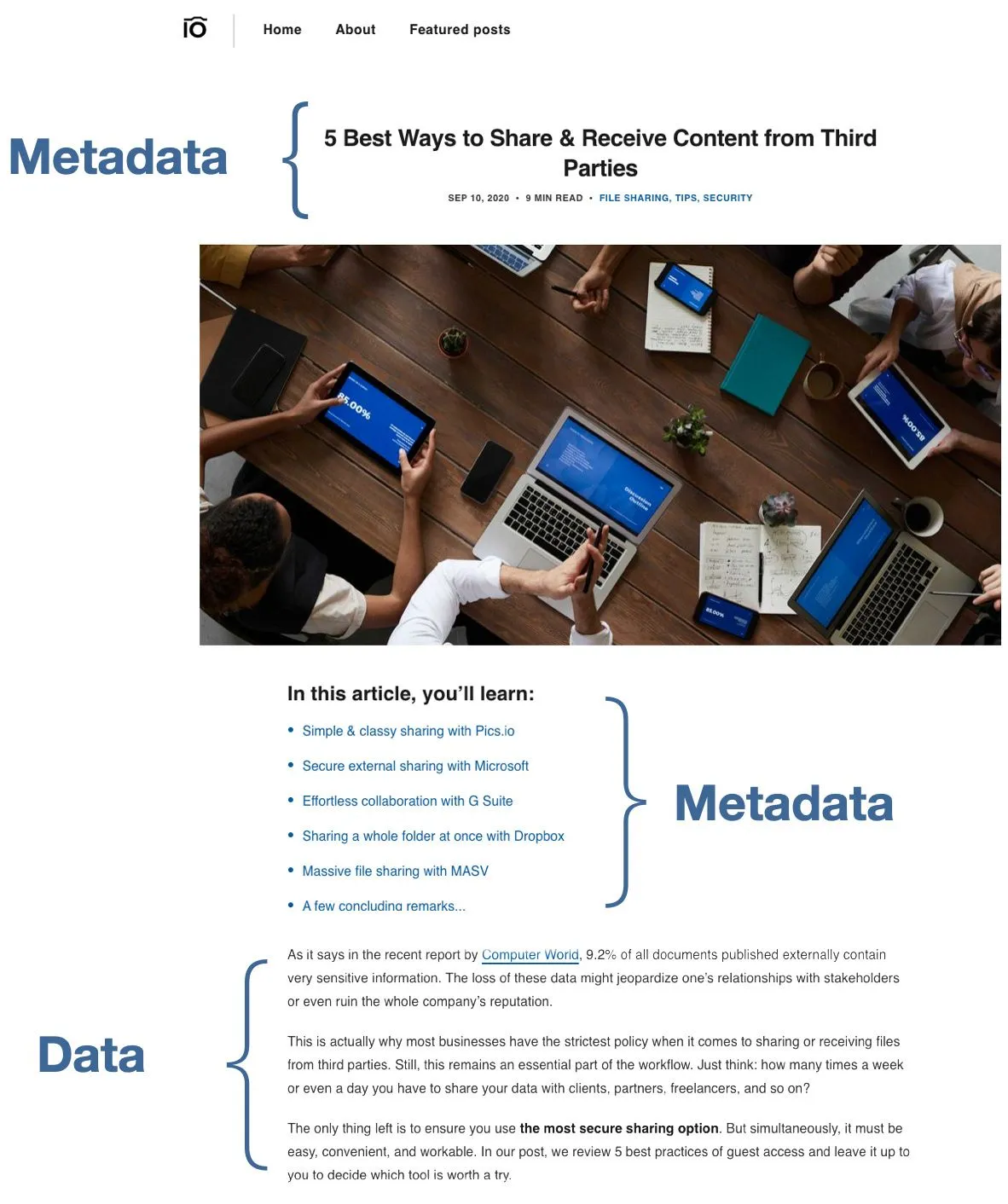 This is one of our blog posts. And we notice a range of standard metadata fields here, including:
The title;
The published time;
The average reading time;
Three tags describing what's the post is about;
And the table of contents.
Other relevant information (read: metadata) we could include is the category of the post, its author, the link, and so forth. Now it's clear, isn't it?
Types of metadata
Now when we have the overall picture of metadata and what it is about, it's high time to define its types. As a rule, there are three large groups of metadata which vary depending on the purpose of its usage:
Descriptive metadata e.g. physical attributes (the file type or format) or bibliographic data (title, author/creator), keywords. As its name suggests, descriptive metadata helps to describe and identify the asset.
Structural metadata e.g. any structuring tags like the table of contents, chapters, or a title page. Again, as the name hints, this type of metadata assists in structuring files i.e. giving information about the file organization like whether the asset is the part of one or more collections.
Administrative metadata e.g. any technical info like the resolution and compression in the image or the light source, owner, copyright, etc. Administrative metadata are used for long- and short-term management & processing of digital assets. For example, your license for some documents could expire, and you'll need to renew it by this time.
What's a big deal?
At this moment, you should have asked me a natural question: so what? Why do we need this metadata in the first place? Another easy question – for data management!
There are a whole bunch of ways how metadata would make your life easier as a business owner. Here are just the main ones:
| # | Metadata will: | How will they do it? |
| --- | --- | --- |
| 1. | Allow you to find & identify your assets in the twinkling of an eye | By grouping assets by relevant criteria; distinguishing between dissimilar files; and updating on the asset location. |
| 2. | Help you organize e-resources in the most efficient way | By linking those sources that have similar topics, audiences, etc.; building some structure within the asset e.g. table of contents. |
| 3. | Encourage you to reuse your resources | By providing easier access to them. |
| 4. | Assist you with archiving & preserving your assets | By tracking changes in the assets & any legal info; controlling asset usage; following production & approval processes. |
And so you've made your mind to add metadata to your workflow. Now we need to learn how to manage this data properly. We'll review three different approaches to metadata that companies resort to. And you decide which suits your business needs best.
Metadata management tools
Method 1. Manual entering & editing
Many companies chose a manual approach to managing metadata because this is believed to be the easiest & most transparent. In this case, companies create a "master file" (sometimes referred to as manifest or index) where they place all the metadata, plus the path to a particular file.
For example, a marketing agency using Google Drive could have a file enumerating all their blog posts. There will be a link to each post with a short description of the article, the type of post, the date of creation, etc.
This approach is usually combined with the traditional file-based workflow. This is when the company uses the configure of files & folders to make the most out of its asset organization. Plus, employees could be asked to follow a distinct number of naming conventions so as to retrieve files most easily.
Naturally, you add/edit/delete all the metadata manually in this instance. And you should come up with a tangible solution of how to make your staff not to forget about this metadata "file" all the time.
The problems arise as soon as your library increases in its scales and complexity. Your creatives waste lots of time to keep up with the increasing number of your files. As an alternative, they could meet the deadlines, but then your metadata loses on quality.
Method 2. Google Drive Labels
As a faithful Google Drive user, you should know that GD has had no metadata for the long 8 years. And so it finally happened: Google Drive has announced its metadata feature, also known as labels or Google metadata tags.
Currently, these labels still function in the beta version. But this is yet a revolutionary feature released by Google, which forced its users to manage metadata manually for all those years.
Now there will be the menu "Manage custom properties" where users will find a number of labels that could be attached to files. Each category or label has a set of structured fields where you select between the types of data/ values.
To make it clear, let's use the example provided by Google during its latest demo. So within the label Budget, you choose the field Amount. And then you specify the amount assigned to a particular project.
As it comes to metadata management, you can create your own labels, fields, and properties. You may even specify who will be responsible for creating & managing your Google metadata tags. You can also vary users' rights, depending on their positions.
Some could be allowed to create, edit, and remove labels. In turn, others could be granted viewing options only.
And so you could curate & find your assets easily, searching your files by labels. You'll also organize your files better by categorizing the common file types.
But is this all the potential of metadata? Of course not! With labels, Google has solved its problem of absent metadata & so removed access issues (at least partly). But it's far from resolving all its metadata management issues.
With a bit more automation in creation & editing metadata, GD labels still force users to spend lots of time managing their metadata and/or compensate for quality. But you avoid this with more advanced metadata management tools. Let's check their opportunities together!
Method 3. Manage your metadata easily with Digital Asset Management
Providing quick & easy access to your materials is the top priority for most DAM solutions, including Pics.io. They were specifically designed for accessing files so metadata is the basic function here.
Give Pics.io DAM a try
Free 7-day trial
No credit card required
Set up in 3 minutes or less
Working on top of your storage, Google Drive included, Pics.io has all the metadata you could think about & more. Here you could search your materials by using lots of other ways next to field-level texts (GD labels in other words).
(You can also integrate it with Amazon S3 or use Pics.io an all-in-one DAM, with its own storage).
Pics.io supports 5 out of 5 available approaches to organizing metadata. Let's review them all:
1) Keywords
Keywords are a range of descriptive terms assigned to files by using a free-form text or an enforced list. In Pics.io, you can attach any number of keywords you want. You can add them manually and/or select from the available.
Another option is to use our AI-powered keywording – a tool that will provide you with a list of relevant keywords to save your time on creating & inputting these manually.
2) Taxonomy
This approach is about structuring your keywording in a hierarchy. And indeed, DAM Pics.io allows you to create your own collections and sub-collections of keywords within the platform.
This will make your users' lives easier, especially if your company has a policy "no assets without keywording". (And this policy makes sense if we're speaking about accessing materials easily).
3) Field-level text
These are precisely GD labels or short descriptions of files, organized in categories and applicable to particular collections of assets. Pics.io has this feature too, and we made it live in the most engaging way possible.
Our custom fields allow you to create any types of metadata relevant to your workflow specifically. Let's say you're in the fashion industry. And so it makes sense to you to tag your assets by sizes, textile, types of clothing, etc., etc. You add these in your custom fields and then search your assets by the information that is critical to you in the first place.
By default, Pics.io allows you to choose between 5 types of custom fields: textual information, checkboxes (yes/no), dates, numbers, and lists so you could adapt metadata to your workflow. EXIF/IPTC metadata are also within this category. These are the standard info about images and videos like camera settings, resolution, video duration, codecs, etc.
By the way, you can import your metadata with the DAM solution in case you have a ready-made base of custom fields. Plus, Pics.io will adapt your metadata info when you sync your account to Google Drive. And so your photos will get the map location, for example.
The same as with import, you get a chance to export your metadata. So don't be afraid of your well-developed hierarchy of keywords. They'll come with you wherever you go.
4) Picklist
This is one more approach to metadata management supported by Pics.io DAM. As the name suggests, Picklist is composed of various descriptive terms a user can choose from.
For example, our DAM will allow you to choose the type of your searched asset (image/video/audio/text/PDF/Sketch/etc.), upload & last changed data, and the field where to look for e.g. content, filename, title, and so on. You can distinguish your data in other ways too like by rating them, adding a flag, or a color.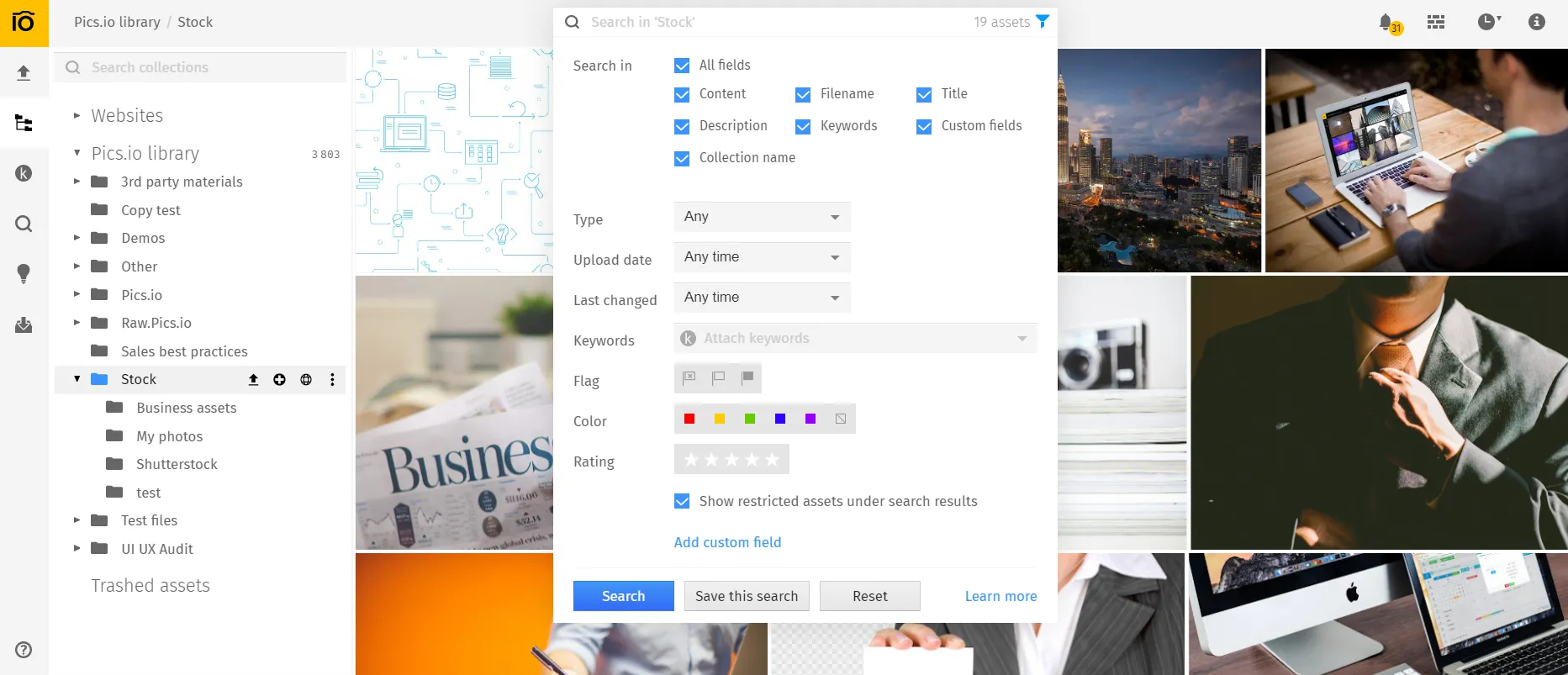 5) Rights fields
The last approach to structure your metadata is to include the information on asset ownership and usage rights. And indeed, you can assign users to specific files in DAM.
Or vice versa, restrict the usage, for example, by setting an expiration date for your materials. This is especially useful if you usually work with legal documents or at least make use of stock images regularly.
A few practical tips on managing your metadata right
Regardless of the tool you'll choose, here are a few pieces of advice which will help you maximize the benefits of your metadata:
1) Start with defining the objectives for your metadata. These will also impact the way you manage them. Do you use metadata for searching & accessing files only? Are there any more complicated goals like tracking copyright or expiration dates? This basic info will give you clues about the vocabulary & taxonomy for your metadata. Aside from this, you'll know what metadata will be the key to your storage.
2) Then, take your time to export metadata from the older platform you've used if available. Adding/editing metadata should be your second logical step right after you migrated your materials to Google Drive.
3) Add metadata to all your files without any exclusion. If you use DAM, you're free to use AI keywording. For example, you can add keywords with this magic tool and then manually delete redundant ones. Another good starting point is to create a collection of keywords (or use the ready-made one that you have exported). Then, add these keywords to your materials.
4) From the very beginning, also define your users' rights regarding metadata. No need that everyone has access to creating collections of keywords and/or removing metadata from your photos or PDFs, for example. Your regular users or those who use your storage for accessing & sharing files only could go with viewing metadata solely.
5) But still, assign at least some people to control for your metadata who will make sure that all your assets are tagged & have the basic description info.
6) Set some basic rules for adding & editing metadata in your repository too. For example, you can make adding & reviewing metadata a mandatory step during the upload. And so the system will block the upload or edit until one fills in particular fields.
7) Plus, provide your users with a specific guideline of what metadata to add & which format to use for them. For instance, adding location & EXIF clues could be obligatory for image and video content. For texts, you can ask to use keywords from the table of content or chapters.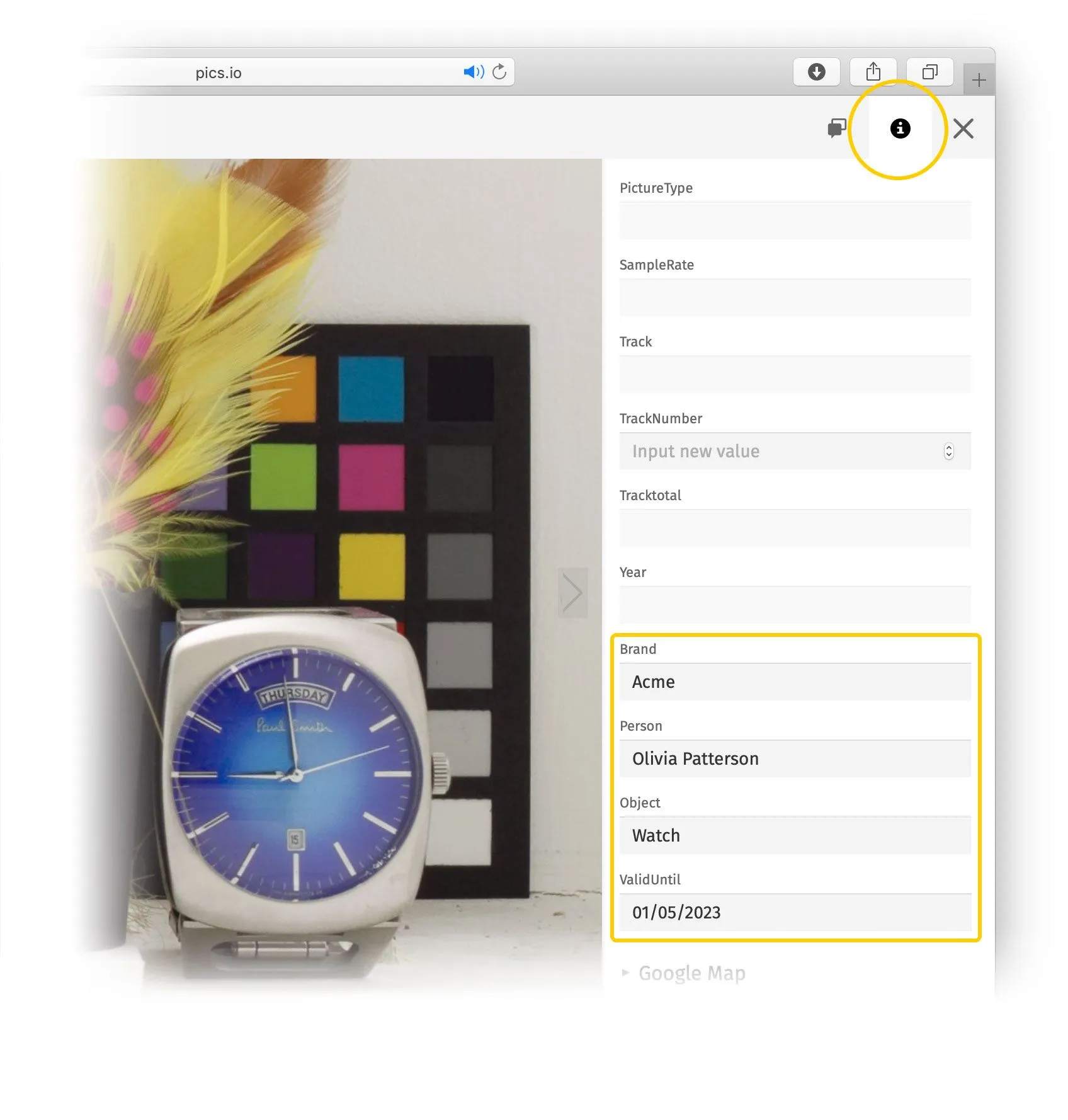 8) Dates and descriptions need specifications as well. Choose one data format which will be used consistently across your storage. For descriptions, you could ask not to exceed two lines of text, be clear & precise about the content.
9) At the same time, keep in mind your users' needs when organizing your metadata. Use those tags and fields that users most likely associate with your assets & those that relate to your specific workflow. The mentioned custom fields will be, of course, most useful to you here.
10) Ask your teammates to be consistent in their choice of metadata. For example, if you work in a photo agency, your team can edit the metadata by using associated colors, the data when the photoshoot took place, and the subject of the photos. And so they'll know what info to use to retrieve the images easier.
11) To improve searchability, link your assets whenever possible. If to use the photoshoot example again, you can link the photos/videos belonging to the same client/project.
12) It's good to use the metadata viewer with the best visuality possible. For example, in Pics.io, you'll find all the details about your assets in one place, in the Infopanel. You can edit the metadata there too.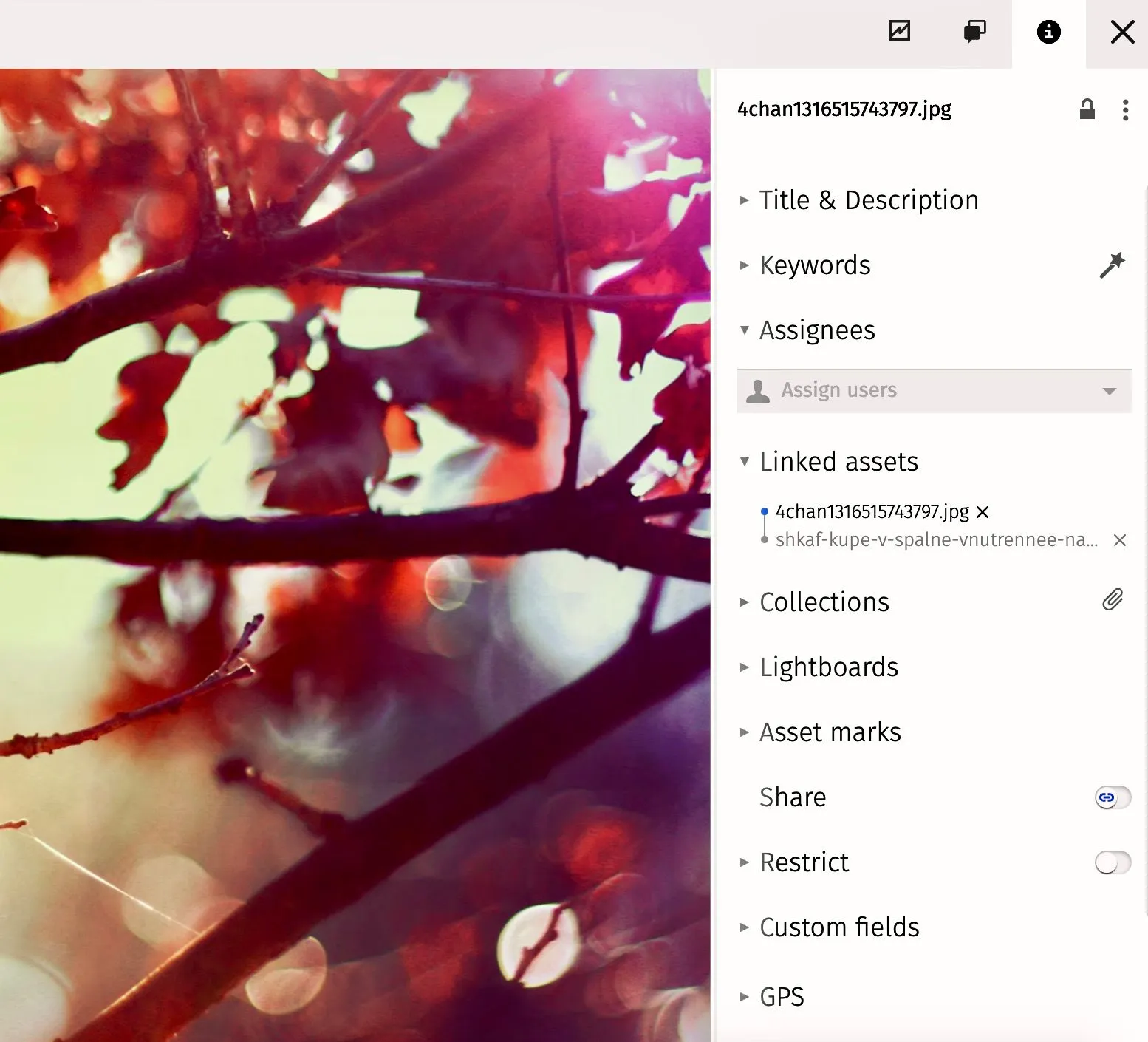 13) When working with third-party materials, don't forget to include the information about the author, copyright, original links, expiration dates, etc. This will help you avoid any legal issues in the future.
14) In your understanding, metadata editing should not reduce to adding/removing tags only. The best metadata management solutions like Pics.io DAM will allow you to hide unnecessary metadata fields (or make them hidden only when there is no data provided). You can also rearrange the order of your metadata to see the most relevant to your first or change metadata for groups of files at once.
Give Pics.io DAM a try
Free 7-day trial
No credit card required
Set up in 3 minutes or less
15) When searching for assets, don't limit yourself to search by keywords only. With DAM, you can use the map to find your files by GPS data. Or you can use the linked assets we've talked about earlier. Or the AI-powered tool would help you access your files by content, for example.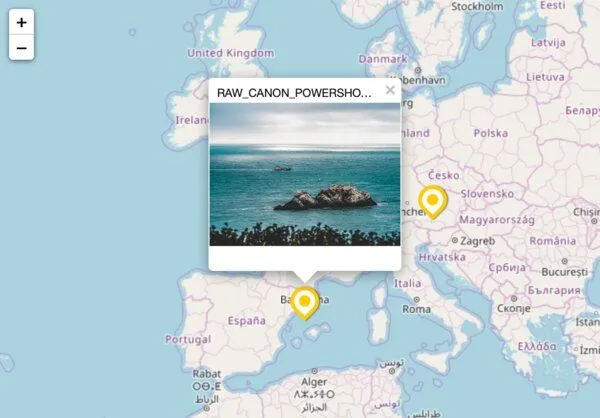 A few concluding remarks…
As you see, metadata management isn't as bad as you could think. Most businesses misunderstand metadata or have an incomplete picture of it. And so they don't use the feature right or, what is worse, ignore it entirely.
Still, metadata could help you get rid of many pain points in your workplace: access & search for assets, reuse of files, organization & archiving. Choose the best metadata management tool for your organization and make the full out of it.
And if you decide to empower your storage with DAM, don't hesitate to order a free trial with Pics.io. We'll provide you with the most advanced metadata viewer & editor you could only imagine!