As it says in the recent report by Computer World, 9.2% of all documents published externally contain very sensitive information. The loss of these data might jeopardize one's relationships with stakeholders or even ruin the whole company's reputation.
This is actually why most businesses have the strictest policy when it comes to sharing or receiving files from third parties. Still, this remains an essential part of the workflow. Just think: how many times a week or even a day you have to share your data with clients, partners, freelancers, and so on?
The only thing left is to ensure you use the most secure sharing option. But simultaneously, it must be easy, convenient, and workable. In our post, we review 5 best practices of guest access and leave it up to you to decide which tool is worth a try.
Simple & classy sharing with Pics.io
As an advanced digital management solution, Pics.io makes sure it provides all the necessary tools to back you up throughout the entire project development cycle. And sharing your project presentation is the last but not least step in this process.
For this occasion, DAM Pics.io offers so-called public websites. These are shareable, highly customizable websites where you upload any type of content and send the link to people outside of your company.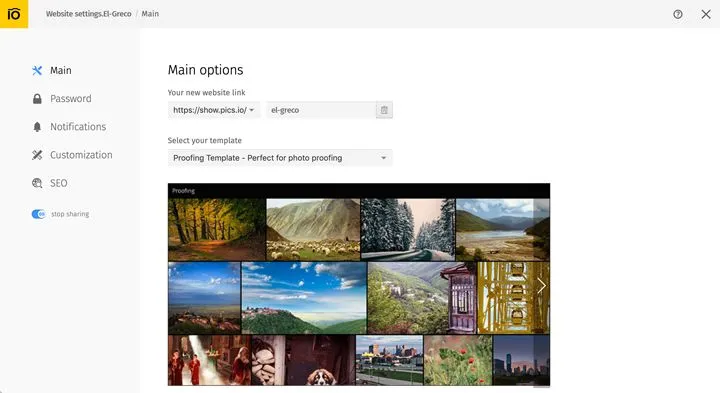 You create these websites based on your Pics.io collections i.e. folders, choosing one out of ten templates. You're free to change every single aspect of your improvised website like your visitors' actions (viewing only/downloading/leaving comments), the number of images on the Home page, visible/absent contact details or "About" page.
You may even make your materials appear in a particular order or add SEO tools so as to track your visitors and their actions in Google Analytics. Enhance your branding by adding your domain name, logo, and color palette.
And so you've created a stylish, ready-to-use website in less than 15 minutes.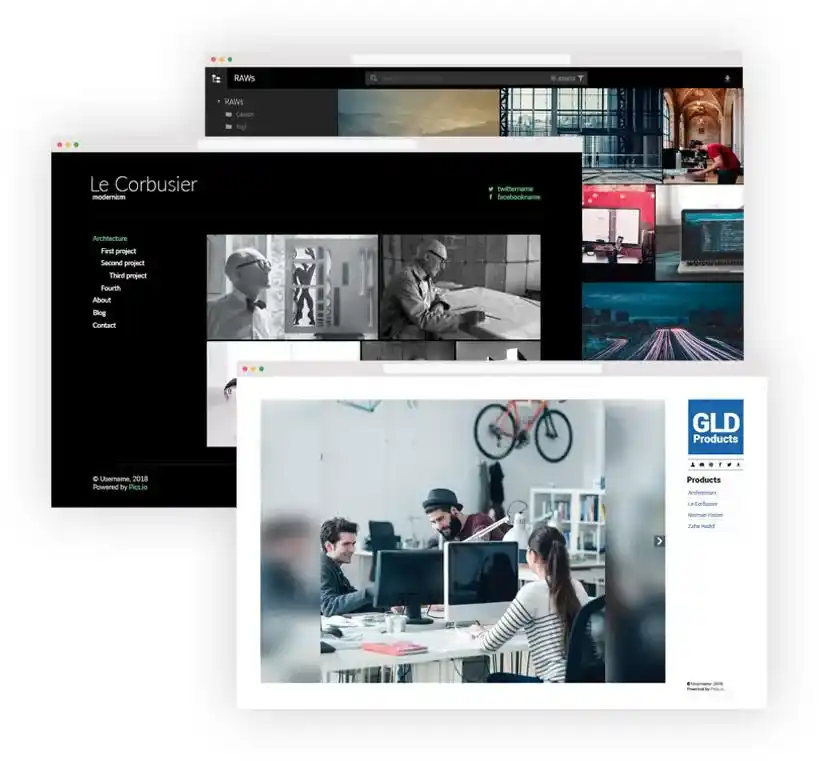 Here are a few cases when you can use it:
You want to show your project to the client in the most presentable way;
You're a creative agency, and your clients have asked you to send a few works to them;
Your sales team familiarizes the clients with your company & its product;
You have to share certain materials with your partners;
You're nonprofit, and you need to provide some templates to your volunteers working across the globe, etc.
Public websites are definitely a thing. But what if we have the inverse situation? You're a large organization that often takes advantage of external services like marketers, photographers, freelance designers, and videographers. And so you regularly collect different materials from them.
As a one-size-fits-all solution, Pics.io can help you tackle this problem too. By using inboxes, your guests get an opportunity to upload files to your library. The users aren't limited in formats to use and may leave comments under assets if needed. Customization is possible here as well: you may change your URL or set start/expiration date if needed.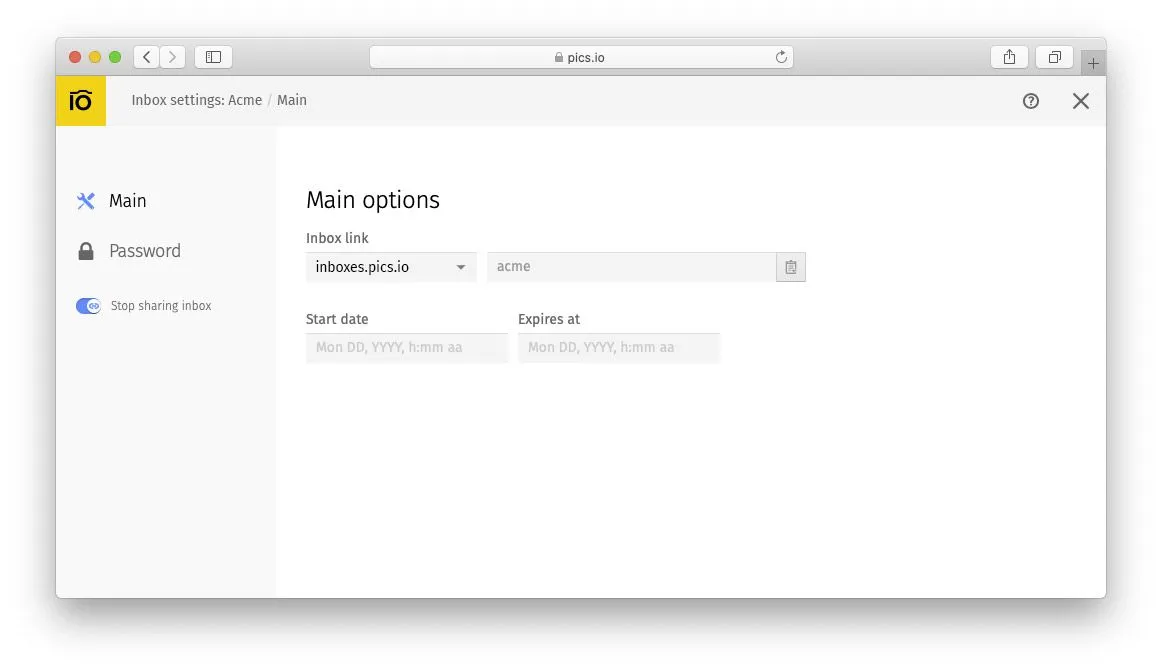 But the best part: the uploaded files don't just appear per se. They're waiting for you to review them, maybe add some metadata, organize your data, and move to different collections. With this approach, your team stays the only one in charge of your DAM storage. Outside users do have an option to upload files, but they won't transform your media library in a total mess.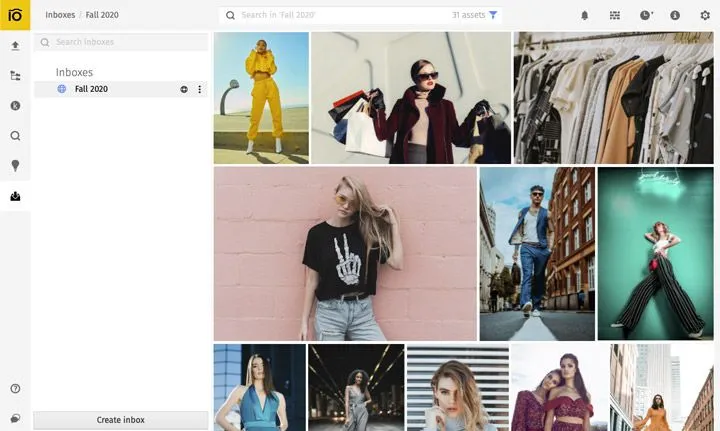 Review your uploads from external sources, and you get a chance to declutter your storage, remove duplicates, broken or redundant files.
Secure external sharing with Microsoft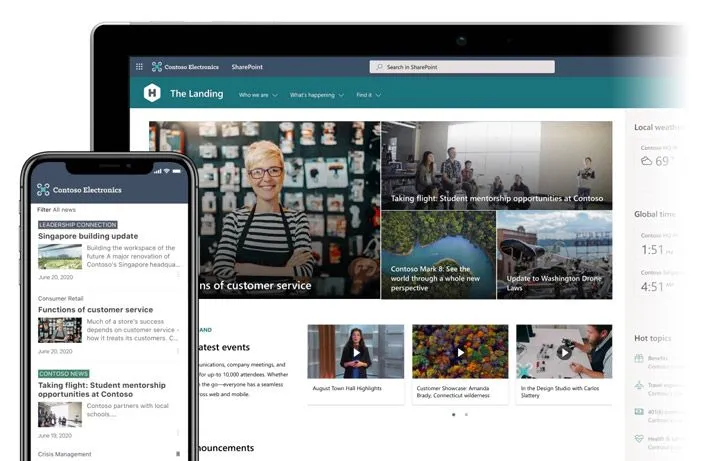 With its SharePoint & OneDrive tools, Microsoft takes a whole different approach to guest access. Security is the top priority in this case, and this will especially come in handy to you if your company works with sensitive documents.
Microsoft SharePoint is a rich and open platform intended to make content creation and sharing a piece of cake for you. Provided your team needs to share some materials with the third party, you just send your guests an invitation email, containing a link to the shared item. It could be both files and folders.
For the sake of security, the software allows you to choose between three authentication sharing options. The first one is to ask your recipients to sign in. They can do this either by using their Microsoft account or work/school account in Azure AD in case they're your partners from a different organization.
The second option is to ask your guests to enter verification code if your users have a work/school account in Azure AD again or they have a totally different email address. Here's how it'll look like: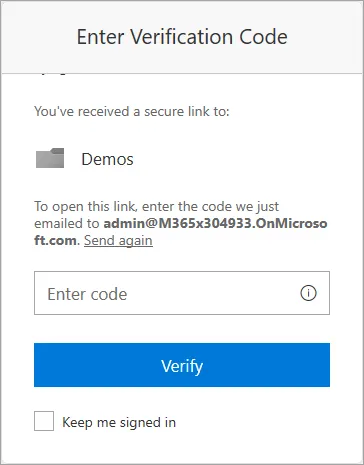 In both cases, your guests will be identified and added to your directory. They will also get the same rights and permissions as internal users (or those rights you assign them to). To put it simply, people outside of your organization will be able to view, edit, and remove your assets and work side by side with your team.
For example, depending on the permissions you'll set for external users, your guests will be able to:
Edit documents together with your team members;
Edit/move/delete your files and folders;
Navigate through different folders & their subfolders;
View site feeds.
And finally, the third option is the simplest but least secure. In this case, your guest users don't have to go through any authentication. They just click on the link and access content immediately. And the link works until it expires or is deleted. Still, you get no idea of who your users are, so Microsoft doesn't actually recommend using this method.
In case you found Sharepoint a difficult app to use, there are at least 50 more sharepoint alternatives you might consider to replace it with.
In contrast, OneDrive for Business is how you collect materials from external users with Microsoft. The solution works according to the same principle as SharePoint. You just send an invitation email through which the users get access to your library. But before you send this email, make sure you set permissions for guests to add content on the site (a particular folder) and/or modify its structure.
Effortless collaboration with Google Workspace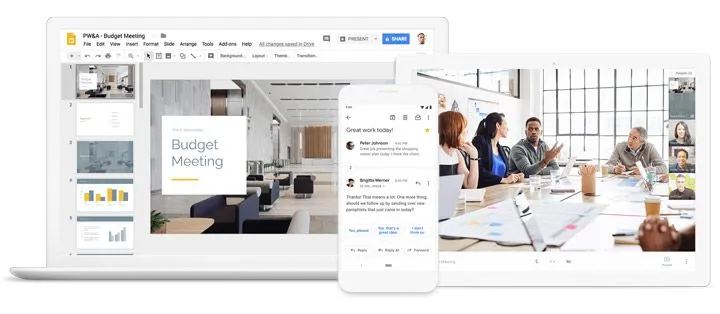 Altogether, there are two different ways how you can share your files with outside users in Google Workspace. So-called limited file sharing means sending a link with an expiration date of 14 days. This could be the period assigned to guests to view files if you allowed previewing content by external users. Or this could be the period during which your users have to sign in or create a new Google account to access the materials.
Sharing a public link is another option available in Google Drive although many users sometimes discard this approach. Some organizations may simply ban publishing content on the web, so this sharing option becomes close to their employees.
In reality, sharing via a public link is much simpler. There are no deadlines here, and external users don't have to sign in.
This sharing option is especially good if you need to share big data to external users. For example, videographers are frequently asked to send raw versions to their clients, and these files can reach gigabytes of information. Of course, you cannot simply email the video because of attachment restrictions.
Still, you can send a link to the file. A receiver will click on it and open it in the web browser where they will also download the video.
But let's remember that Google Workspace attracts most people due to its collaborative nature. And external sharing isn't an exclusion here. When you share your files, you originally choose your recipient's role: the viewer, commenter, or editor. Plus, Google Drive will notify your clients or partners about the access you granted to them.
Up to 100 people are allowed to work simultaneously on your docs, sheets, or slides. So if collaboration plays a central role in your experience with external users, Google Workspace is taking the lead.
As for receiving content from external parties, Google Forms are the best and only fit for this mission. These are secure, easy to create and use.
As for the downside, they still lack customization. Google Forms also don't look really finished or professional. The only you can set up here is the maximum size of your uploads, from 1 GB to 1 TB. (Also keep in mind the default limitation of 1 GB). Look for the newly uploaded content in the form's parent folder.
Sharing a whole folder at once with Dropbox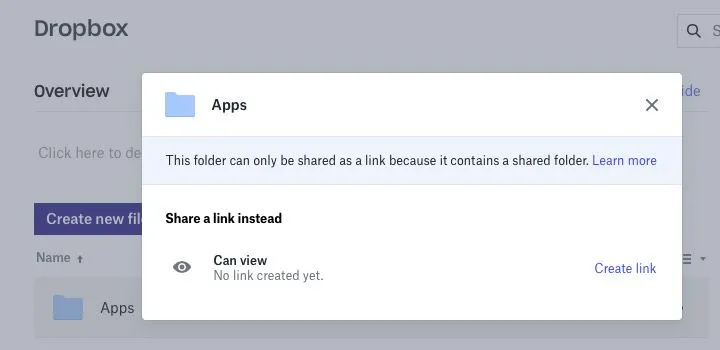 If Microsoft SharePoint or Google Workspace don't suit you for some reason, you can always use Dropbox. Many small businesses prefer this platform now owing to its user-friendly interface and redesigned admin console. The storage doesn't yield to other solutions in terms of its enterprise-level features too.
External sharing works here the same as in Microsoft or Google Workspace, for instance. You create a shareable link to any file and folder and send it to your clients, partners, freelancers, etc. via email, social media, or any other messenger.
By default, your invited users can view and download the content you shared. (If they aren't Dropbox users, they can open materials in the web browser.) If you have a Dropbox Professional or Business account, you can also add passwords and expiration dates to your shared links.
Keep in mind that passwords are best protected when they consist of complex combinations instead of everyday words and phrases. A password manager can help you generate and store them in a safe virtual locker.
Do you want to grant more rights to your outside users (let's say, allow moving or deleting files? Then, create a so-called shared folder. But this time, your guests cannot do without a Dropbox account where they'll sync the folder and be able to manage files.
Dropbox yet offers a much better alternative to Microsoft or Google Workspace if you need to collect files from external users. In contrast to bothersome Google Forms, Dropbox allows you to create file requests. In this case, you choose where your uploaded files will be stored and how to name this folder. With a Professional or Business account, you can also add a deadline for uploads, allow late uploads, etc.
The next step is to copy the file request link and send it to your recipient. All the collected flies will be automatically organized in your chosen folder. Needless to say, your guests won't have access to any other of your Dropbox files.
Massive file sharing with MASV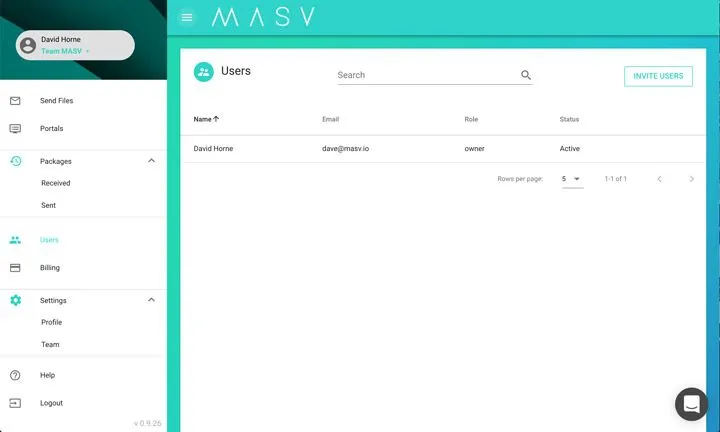 When it comes to file sharing, we also cannot ignore file transfer platforms. These were specifically designed for secure and reliable transfers and are especially helpful in big data shares.
Today's market is saturated with different file transfer platforms. But MASV stands out because of a few reasons. First, the platform has no restrictions for file types or sizes, which is why it's good for sharing large files. It also requires no special hardware, browser plugins, and so on.
Sharing files is the most intuitive here: you just visit the website, enter the recipient's email address, choose the files/folders you want to send, and that's it.
Secondly, the payment process is the most transparent too. With a pay-as-you-go approach, you pay only for the data you transfer. No additional subscription fees, usage commitments, nothing.
Thirdly, you can rest easy about the security of your files. The platform encrypts your data, protects them with a password if needed, and uses Amazon Web Services infrastructure. The latter is known for its safety measures. And you can track the status of your transfers on the website, by the way.
---
In a nutshell, here's a short summary of all our observations so it was easier for you to compare the 5 platforms:
| Criterion | Pics.io | Microsoft | Google Workspace | Dropbox | MASV |
| --- | --- | --- | --- | --- | --- |
| Sharing files with third parties | + | + | + | + | + |
| Customization in sharing (adding domain name or logo, for example) | + | - | - | - | - |
| Presentable look | + | - | - | - | + |
| Sharing big data | + | - | + | - | + |
| Downloading files by visitors | + | + | + | + | + |
| Leaving comments by visitors | + | - | - | - | - |
| Simultaneous editing | - | + | + | + | - |
| Ease of use | + | - | + | + | + |
| Receiving files from third parties | + | + | + | + | + |
| Ability to check files uploaded by visitors before they're moved to the library | + | - | - | - | - |
| Customization in receiving files (adapting the URL or setting the expiration date) | + | - | - | + | - |
A few concluding remarks...
File sharing makes up a critical part of your working process. Send a monthly report there, upload an article for review here. More issues arise when you have to share your materials with external users like clients or partners.
This could be very sensitive information, the loss of which will cost your company a fortune. For this very reason, businesses are cautious when it comes to choosing an external sharing option. Here we've considered 5 different means, and each of them has its own pros and cons. Now you have to think over your priorities and decide what solution suits you best.
We encourage you to share your choice with us in the comment section. You're also welcomed to sign up for a free trial with us to browse our DAM Pics.io product on your own.
Give Pics.io DAM a try
Free 7-day trial
No credit card required
Set up in 3 minutes or less