Duplicates have troubled me for as long as I can remember. One version of the article for a blog. Another for a social media account. And at least five more exist as drafts…
The latter I am describing my weekdays as a copywriter. What to say then about designers or marketers who work with tens of duplicates daily?
With every new version, your workplace is becoming more cluttered. You click "save" and get "another file exists with the same name" more often. You solve this problem by creating a duplicate…
And the story repeats and repeats, and repeats until you find 30 project1 files in your folder. By all means, this must happen when you're in a hurry and have 5 minutes to send the right version. Or maybe you're in traffic and cannot physically open and check these files.
What else comes with duplicates?
The problem of duplicate files is familiar to each and every one. Every second professional reports it as a dire issue for them. Businesses and individuals suffer from its consequences, big and small:
The lack of space. Too many files and folders with identical names are cluttering the space in your storage. They pile up over the years, reducing your computer's memory potential.
Longer loading. As if it wasn't enough, duplicates slow down the performance of your devices. I'm sure you've observed this situation lots of times: you open your Google Drive folder, full of docs, and it takes an eternity to process the files.
Slower working process. Your PC isn't the only one that suffers. Disorganized files affect the productivity of your team as well as yours. Now it takes more time to find the needed version. And your colleague will obviously choose the wrong revision when asked (as if they didn't notice that final_final_final copy).
Risk of deleting files. Misunderstandings in the team will seem nothing to you in case you mistakenly delete, let's say, the latest draft. And this can happen very easily if your files are in a total mess, with different versions scattered in the same drive.
A messy desktop. Lastly, your inner perfectionist will be in pain whenever you open the storage and come across all those duplicate files. Multiple versions create a mess and disarray, and you won't solve them until you get rid of your duplicates once and forever.
Yes, yes, we do know that you've already promised yourself not to clone those files and folders anymore. And we do know this was the last time you were checking those files manually to find the needed one…
Although all your tries were fruitless, and you're still researching how to delete your duplicates, technology has already provided you with at least three tangible solutions.
Let's explore them in detail…
Solution 1. Duplicate file finder and ССleaner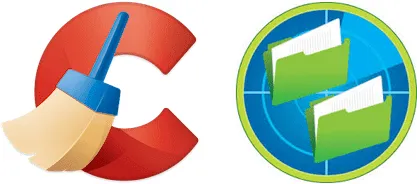 This is the tool you should start with once you declared the war on duplicates. In brief, this third party tool uses "fuzzy matching" algorithms to scan your hard drive and find files with identical or near-identical names. Then, you can review your files and delete the redundant ones.
Duplicate file finder and cleaner is the most basic solution to find and remove duplicates with the help of technology. And there's a good chance that you're already using one of them on a regular basis. It could be CCleaner or Duplicate File Finder, for example.
How does it function?
Tools like CloneSpy or Duplicate Files Pro are very easy to use and have a simplistic, intuitive interface to help you get rid of duplicates. Their functions still differ, depending on the sophistication of each individual solution. The most basic tools will only find and filter the matching files and folders for you. More advanced solutions offer more diverse features, accordingly:
Automatic removal of empty folders, caching data, cookies, temporary files, etc.;
Searching for duplicates across different file formats (for example, matching JPEG and PNG versions);
Filtering your search by file size, its format, location, or date;
A built-in preview panel to check the image/video/document before its removal.
And there's always a but…
Duplicate file cleaner will definitely save you from manual searches for clones. But it's still a third-party tool, which requires downloading and installation. Plus, you'll get a real headache while researching the best solution for Mac/Windows/Android.
As for the core downside, don't forget that this solution is for removing duplicates from physical devices only. But we believe you're a more advanced user, and your team has abandoned PC and moved to cloud storage a long time ago. This is why traditional duplicate file cleaners are no longer an option for you.
Solution 2. Browser-based duplicate finder

As an alternative, you can opt for a browser-based duplicate finder like Auslogics File Finder or Cloud Duplicate Finder. These work on the same principle as duplicate file removers but are adapted to cloud storage.
To put it simply, you just need to share access to your storage account and run an application. No additional downloads, launches, or installation. The tool is as easy as ABC and very intuitive.
Besides, a single solution works for multiple cloud storage services. Let's take the Auslogics app, for example. Integrate it to your Google Drive, Amazon S3, One Drive, and Dropbox, and you'll be able to use one app for removing duplicates from all of them.
Any other features?
In functionality, in-browser duplicate finders are similar to their "predecessors" — computer-based duplicate removers. Some particular apps yet offer a couple of unique features, such as scanning files by content. Above all, this feature should hit the spot in content marketing, where text duplicates are the most common.
Another acquisition includes an opportunity to move duplicate content to the Trash or a separate folder on your cloud storage. In other words, the tool sorts out duplicate files but doesn't delete them immediately. Instead, you get your versions as backups in case you need them once more.
So what?
At first glance, a browser-based duplicate finder seems to have it all. The solution doesn't make you launch any additional apps and works on the top of your cloud storage. You also don't waste time on researching its compatibility.
If you go deeper, the tool still doesn't solve the problem of your duplicates but only delays it. It's a short-term solution, and in a week, month, or three months, depending on your workload, you'll find yourself where you've started — in a complete mess with your files.
Solution 3. Version Control
But what if we go the way around and, instead of removing files, we won't duplicate them anymore? Sometimes, different versions of the same file are not pesky duplicates but important milestones in the project. It is especially true for design projects that can be erratic. You might need to come back to previous variants, change and update them, etc.
So, there is a need to organize the clutter rather than remove it. Try a version control tool to do it — a typical functionality of designer software solutions and DAM services. Let's take the Pics.io solution as an example.
The basic idea of version control is to record changes in the file in a way so they appear as specific versions. To put it differently, you or your team of designers don't create a new copy anymore whenever you save the file. There exists only one version of the file and as many revisions, as you want, just saved within this single copy.
What's the fuss?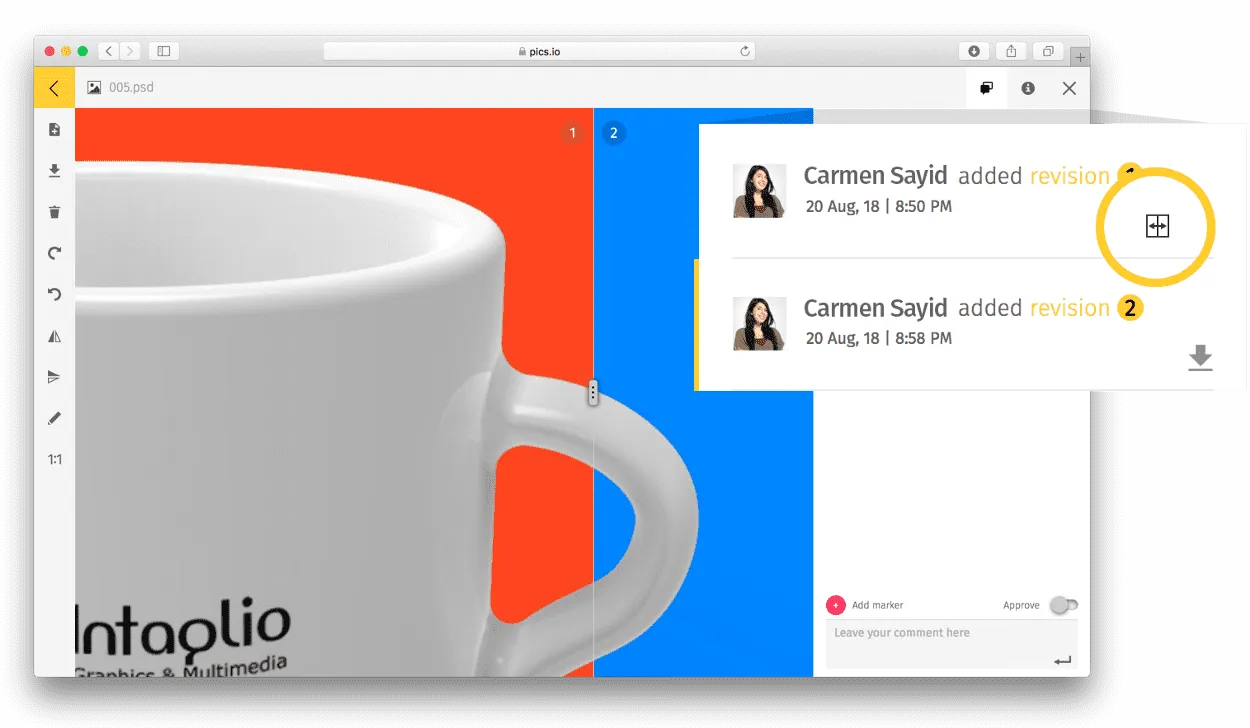 Throughout the lifecycle, versions are edited multiple times and, frequently, by different teammates. This is where version control, for example, the one we designed in Pics.io, will be a whole finding for you:
When you upload a file, you'll save it as a revision. The last revision will then become your latest update on the file. As usual, you still have an option to save the assets as separate or replace both. But no duplicates will be created by accident anymore.
You may want to add a description to your assets too, attach metadata, or assignees.
With a revert revision feature, you can make any of your versions the main one, and you won't waste time clicking between them.
Version control will also keep a history of changes with your assets. You'll know who, when, and what. Who uploaded a new version? When did it happen? Etc.
This opportunity to track changes is what makes the tool so appealing for team projects. Your colleagues won't only get automatic notifications on any updates but can leave comments or place visual markers on the areas they want to discuss.
After the discussion ended, just put "approved" on the revision you all agreed on.
…And I believe no need to mention that our version control is very simplistic and intuitive. In this way, you and your team of designers or marketers won't spend much time on learning its functions.
Last but not least…
Here we've mentioned only a few features your team would appreciate if choosing version control as your solution for duplicate files. DAM is yet much bigger than mere version control. This technology is also about metadata, tagging, sharing, storing, and collaboration. In Pics.io, we have many more for you to offer, so come and check the available features on your own.
Give Pics.io DAM a try
Free 7-day trial
No credit card required
Set up in 3 minutes or less