Getting your media files organized is an important part of your business efficiency. Learn more how you can do it like a pro!
There's always a moment when you find yourself in a sort of a datageddon.
It happens when the volume of your digital content suddenly appears overwhelming. Your computer is bursting at the seams with photos, brochures, videos, and all sorts of digital files. Yet, it takes ages to find what you need…
It's a sad story which is so familiar to lots of businesses. There's a good part, though. If you've come to realize you have this problem, you're more eager to find a solution! It means that you're on the right track to smart digital asset management system.
A journey to efficient file organization takes 3 simple but very important steps.
Step 1. ANALYZE YOUR WANTS & NEEDS
A good file organization system should be useful and intuitive. The structure is going to create must reflect the usual structure and workflows in your team. The last thing you want is to implement something which is totally alien to your daily practices, right?
To achieve that, you should start with a thorough analysis and audit of your files and workflows that stand behind them.
Here's a checklist of things you need to consider:
Content. Estimate the entire scope of your digital content. What kind of digital assets do you commonly use? Photos, videos, design files, technical drawings… Can you open them from any device, or you probably need some specific software to open designer files, for example?
Security. Is there any content that should NOT be in your system?Maybe you have some sensitive assets that should remain available to some limited circle number of teammates?
Search. Try to realize how you and your teammates normally look for the necessary assets. Think of the relevant criteria for your search.
Let me give you a small example. If you sell beauty products, you're likely to search your marketing collateral by SKU, producer, or price. Or maybe by the image resolution if you are selecting materials for a print catalogue. GPS coordinates, on the contrary, won't be as important for you. But this may be vital for agencies that do aerial photography.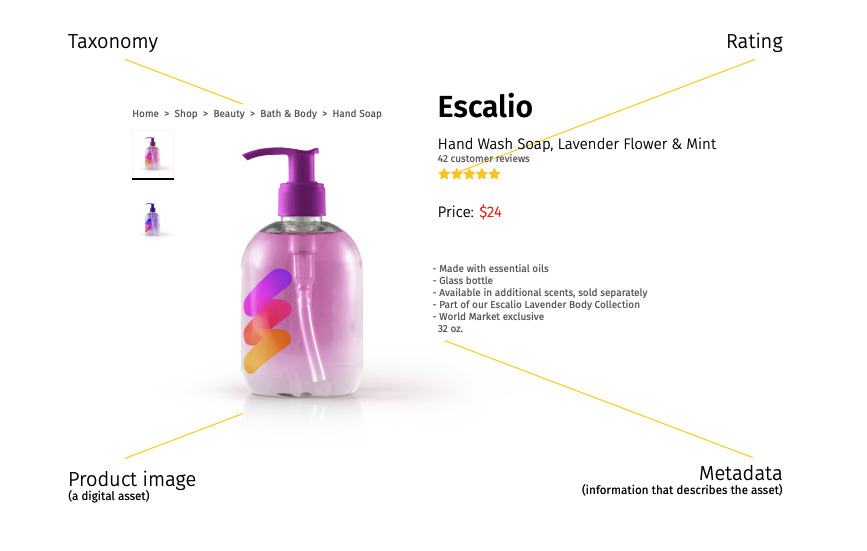 Sharing. Consider which of your teammates are likely to distribute your digital content (PR or SMM manager, perhaps?) What kind of files they share, with whom, and how often? Do you think you need a watermark or a password to protect your assets from unsolicited use?
For more ideas of analysis — please check our Smart File Organizer.
In this way you make a complete audit of your digital files and workflows that stand behind them. This thorough analysis will help you better understand how you should proceed with shaping a structure for your entire digital library.

Step 2. THINK VERTICALLY — BUILD HIERARCHY
The very first step is to organize high-level categories of information into a logical hierarchy — the backbone of your entire tree of collections and nested sub-collections.
Here are a few tips for you:
• Select very general categories that will work for your entire business and will be broad enough to cover all the possible assets in your library. Depending on your business, you can use the names of your departments, products, projects, etc.
E.g. If you are an online clothing store, these major building blocks can be women, men, shoes, home, accessories, etc.
Keep your hierarchy logical, intuitive & transparent. Bear in mind that this is something your staff is going to use every day. The system you are creating should be as comfortable as your favorite shoes — not another bottleneck for your staff who will be reluctant to use it.
Keep balance in the number of your collections & sub-collections. The problem is that you don't often see the whole tree of your collections, as many of your subcollections are nested within. You have to open them all to see the whole structure. So, make sure that your system is not too complicated.
STEP 3 — THINK HORIZONTALLY — ADD DETAILS
In this step, you think of tags, keywords & labels for a multi-faceted flat search.
These really depend on the nature of your business. Remember you analyzed the usual search patterns in your daily workflow? All those insights you got then will come in handy now.
E.g. If your business is an online clothing store, your relevant search queries might be size, color, brand, style, material, price, or the exact name of the SKU (e.g. kimono sleeve chiffon shirt). You may also need some info about the photographer and the model who were involved in the photoshoot, for future reference.
Do you want to find more examples from different industries & learn about the remaining two steps of file organization?
Welcome to download a free copy of our Smart File Organizer — a complete guide to organizing your digital library like a pro. Get your free PDF copy here.
Give Pics.io DAM a try
Free 7-day trial
No credit card required
Set up in 3 minutes or less