This decade is all about content. And not just physical content but digital.
Blogs, product demos, videos, infographics, explanatory carousel images, or case studies - your sales and marketing need assets or content of various forms every day for their day-to-day user interactions. You will need to license and buy image assets from the Internet, even for creating new visual content. And with time and the growth of the organization, the number of these assets keeps increasing.
But it doesn't mean that the older assets become redundant after a period of time; you never know when your team might repurpose them later.
You need to manage your digital assets, and that is where digital assets management comes into the picture.
Did you know that in one of the latest forecast reports, the global Digital Asset Management (DAM) market size is expected to grow from $3.4 billion in 2020 to $6.0 billion by 2025?
The market need for DAM is rising at a very fast rate. More than 65,000 images per minute are posted on Instagram alone.
The market size of DAM also flares from the user's need for effective collaboration, the emergence of cloud-based delivery options, and most importantly, the growing need for controlled access of digital assets for better security to avoid copyright issues.
But before we talk about how you can improve your team's productivity using digital asset management, let's briefly discuss DAMs themselves.
What is Digital Asset Management?
Digital Asset Management (DAM) is a solution for the organization and management of the media library. DAM categorizes your assets to maximize their use and allows you to set expiration dates for asset licensing, automate workflows, and set user access levels for files, folders, projects, and entire campaigns to ensure data security.
And its analytics allows you to keep track of the use and performance of the assets.
In other words, by using DAM, you can store, organize and secure your digital assets like presentations, reports, graphs, etc.
Now that we know is digital assets management let's dive into how it can help you boost sales in 2022.
Give Pics.io DAM a try
Free 7-day trial
No credit card required
Set up in 3 minutes or less
8 Ways DAM Boosts Sales Team Performance
DAM can certainly help in the sales team's performance and productivity, but it depends on how your team utilizes it. If you are just using DAM to get away from the ancient practice of saving data in silos in drive and files, then it will benefit you by providing a centralized storing space that even organizes your content.
But if you take advantage of all its feature for creating, editing, and even collaborating and understanding user intent of collaterals then it can help your sales team better engage and win all deals.
1. DAM Makes Sales Pitches Engaging
When conducting a cold call, if you find yourself unable to effectively engage with the user because of a lack of information and support, then it's probably a lost deal.
One of the best ways you can ensure you can engage with users is by having all the information or, better still, content or some material to help you answer any user queries and support your statement. For instance, this would help the insurance agents to upsell their policies for Auto, SR22 Insurance, or other types of insurance.
With a digital asset management solution, your sales team isn't limited to PowerPoint presentations or having to duke it out on memory alone. Now they can have access to everything they need at the right time—and store information in an organized, easy-to-reference fashion that increases productivity by making sales teams more effective.
2. DAM Makes Sales and Marketing Collaboration Easier
One of the biggest hurdles for sales is having limited access or not even being aware of marketing ToFu, BoFu, and MoFu assets that are being created for helping sellers better engage with prospects. It is because of no collaboration or minimal collaboration between both teams.
DAM's marketing automation ensures effective collaboration between sales and marketing departments. It gives direct access to organized marketing collateral, making it easier for sellers to access and use the content for any stage of the funnel.
3. Fast Editing and Reviewing of Digital Assets
Before digital assets management, you were forced to log into separate applications for each asset you needed in your marketing collated and rely on sending emails and Slack messages back and forth to ask your marketing team to make these changes. Alternatively, you could waste hours of your day doing it all by yourself.
A digital asset management platform gives you the ability to edit and personalize your marketing collateral using the dashboard itself. You can even leave a comment on an asset if you need more help or if you need some changes being made!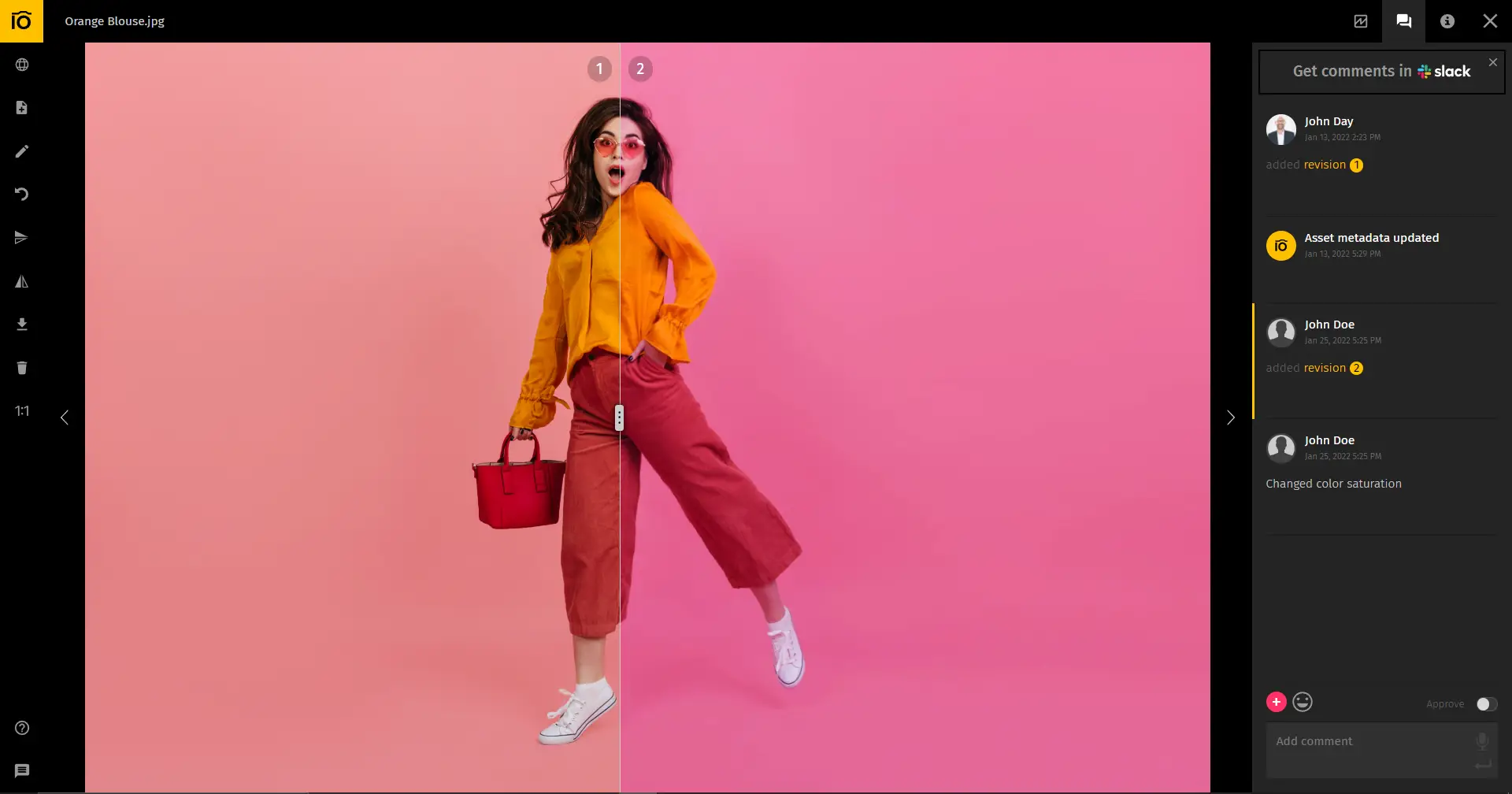 4. DAM Allows for Easy Sharing of Assets
Are you thinking about why you need real-time sharing of assets?
Are you thinking about why you need real-time sharing of assets?
During conferences, meetings, and events, it can become quite difficult to deal with last-minute changes on pamphlets and other collateral that is crucial in these settings. Why risk sending a message back and forth when the content can be shared with everyone directly as soon as it's created?
You can ask for changes on digital assets management and the collateral is shared with you as soon as it is created. In Pics.io, sharing assets is done with a single click. Just hit a toggle on the asset's info panel, and your sharing link is ready in an instant!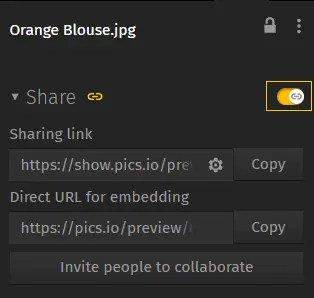 5. DAM Decreases Asset's Production Cost and Time
You don't want to waste money or time on new assets you'll only use once. Having a central digital asset management solution will organize the assets in one location, allowing you to easily search and scan an entire library of assets – thus reducing the need for repeated production and costs.
Pics.io's robust sharing features allow you to search by multiple categories. Keywords, custom fields, and tagging all allow you to pinpoint the exact assets that you need in just mere seconds.
Pics.io's robust sharing features allow you to search by multiple categories. Keywords, custom fields, and tagging all allow you to pinpoint the exact assets that you need in just mere seconds.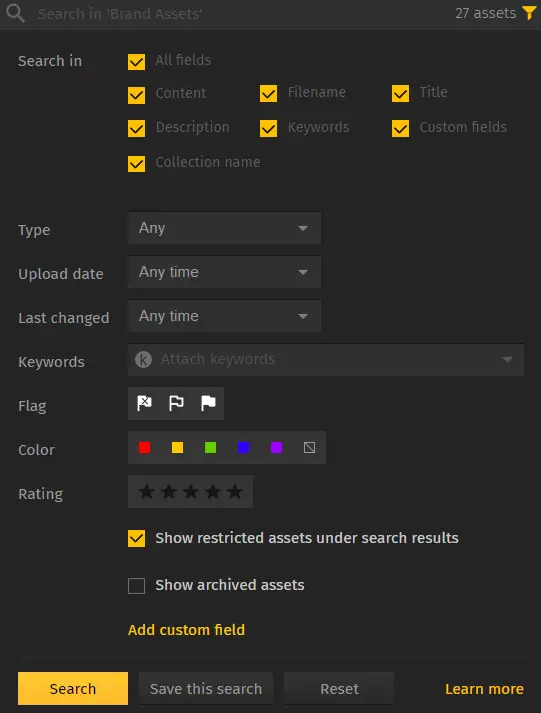 6. DAM Helps Understand Users' Behavior
One of the toughest challenges a salesperson has to face is understanding what stage of the sale the prospect happens to be in and figuring out how to successfully navigate through that stage, which can be pretty confusing. However, knowing your prospect's objectives and intent could make all the difference during each phase of the sales process.
Digital assets management solution uses real-time data on your website with its AI algorithm to identify where exactly you rank in your prospect's mind: are they just exploring, or comparing your prices. Basically, it's about if and when they're trying to make a purchase decision.
7. DAM Integrates with Your Sales Stack
Wondering why is it important?
When you want to deliver the best user experience possible, it's important to ensure that your internal CRM and DAM are regularly updated with the latest information. An up-to-date CRM contains not just user records but also sales lead details. Conversely, an up-to-date DAM is packed with copies of all sales materials, including brochures and flyers.
But if you don't integrate your CRM with DAM, there could be lengthy delays between making a change in one system and having it reflected in the other, as it will have to be done manually. What's more, your user and deal will suffer as they might not immediately see what they need when they visit your website or request more information by email.
There are many popular marketing automation and CRM solutions, but there are also more affordable Hubspot alternatives available online. You can opt for one which suits your business needs.
8. Track Browsing Behavior
As we mentioned earlier, DAM tracks your website for users' browsing behavior. You can use this feature to track what content attracts your prospects more or what section of the blog, article, reports, or case studies they are spending more time in and if they are sharing these contents with others.
You can use these content insights for creating in-demand and engaging content for your prospects.
Additionally, you can even track what content is most shared by your sales reps and which deals win it correlates to. That can help you create sales content that can help them close every winnable deal.
To Sum Up
Digital assets can boost your sales productivity by helping you better engage with your users. DAM streamlines and centralizes the digital assets and thus makes the accessing, editing, and collaboration on digital assets much easier and faster.
When you use a digital assets management solution library, you have an expedient way of finding and accessing existing digital files, saving time, energy, and money by not creating new ones!
DAM even makes collaboration between sales and marketing a piece of cake by giving them direct access to organized marketing collaterals. It can help you track browsing trends to eliminate any redundancy and to understand viewers' intent to create content that better resonates with your target audience.
Give Pics.io DAM a try
Free 7-day trial
No credit card required
Set up in 3 minutes or less
Curious? Learn more about Pics.io or book a demo with us and we'll answer all of your questions!
---
Author
Radhika Mohan Singh Roy is the Head of Marketing at EngageBay. He was previously a Senior Marketer with Agile CRM, Manager for Communities & Social Media at Simplilearn, an AdWords Strategist with Google, and has also worked with Apple and Bank of America. He has a Masters' degree in English and is a certified Six Sigma Green Belt.