The holiday season is a great time for sales, but only if you're ready to capture them. Did you know that, according to Internet Advisors, 85 percent of consumers plan to do at least some of their holiday shopping online? Unfortunately, many online businesses aren't ready for the surge in traffic that comes this time of year. Their landing page is outdated or irrelevant. Customers have a hard time finding what they're looking for. The result is lost revenue and a poor customer experience. That's why it's so important to get your website ready before the season starts.
Imagine having a great product and an effective marketing strategy, only to have potential customers abandon their cart because your website isn't working the way it should. All that money spent driving people to your store is wasted. Worse, potential customers may leave bad reviews about their experience. Ouch.
The good news is that spending a few hours before traffic starts flowing will help convert your visitors to customers. It's an important step that needs to happen now. Here are some helpful tips on how to get your eCommerce website ready for holiday sales.
Welcome customers with a high-quality landing page
Your landing page is the first thing visitors see when they visit your store. That first impression goes a long way when they are deciding whether to stay and shop or simply turn around and leave. Just like a brick-and-mortar store, you need to maintain a clean, professional, safe, and inviting environment. Otherwise, you can be sure they will walk away and never come back.
First, spend some time making sure that your customers know they arrived in the correct place. That means your landing page should clearly identify what you sell. Your images, promoted products, and any blog post links should all reinforce your brand. Keep text to a minimum and make it easy to read. There are many website design options available that can provide you with a great looking website.
Second, double-check your navigation options. Customers get frustrated when links are broken or take them to a place they weren't expecting to go. Also, make sure that the products people are looking for are front and center. You don't want to make your customers do more work than necessary to make a purchase. You'll want direct links to those product pages from your landing page, and maybe even a "buy now" option directly on the hottest items.
Finally, don't overwhelm the visitor with too many items or options. A rotating product carousel is almost always a better option than a dozen static advertisements. A picture is almost always better than a block of text.
One more idea. To create a sense of urgency, consider including an active countdown to the end of your sale or when orders need to be placed to arrive in time for the holiday. Check out YUPLAY for an example of a business using a feature like that.

Ultimately, your landing page needs to reflect your business. It's worth the investment of a few hours to get it right.
Make it easy for the customer with gift guides
Directing customers to the product they're looking for is easy. But, what about capturing sales from people who don't know what to buy? That's where a gift guide comes in. A gift guide is a collection of products to meet a specific need - Like someone trying to find something appropriate for their Secret Santa at work. They know who they're shopping for, but not what to get them.
The great thing about a gift guide is that it allows you to offer a service rather than a sales pitch. When a visitor is looking for that perfect gift, you can direct them to the hottest selling products on your site. While creating a gift guide will take some effort, it is a great way to get visitors clicking all the way through to your checkout page.
To start, add a "gift guide" option to your main navigation menu. Here is an example from Macy's: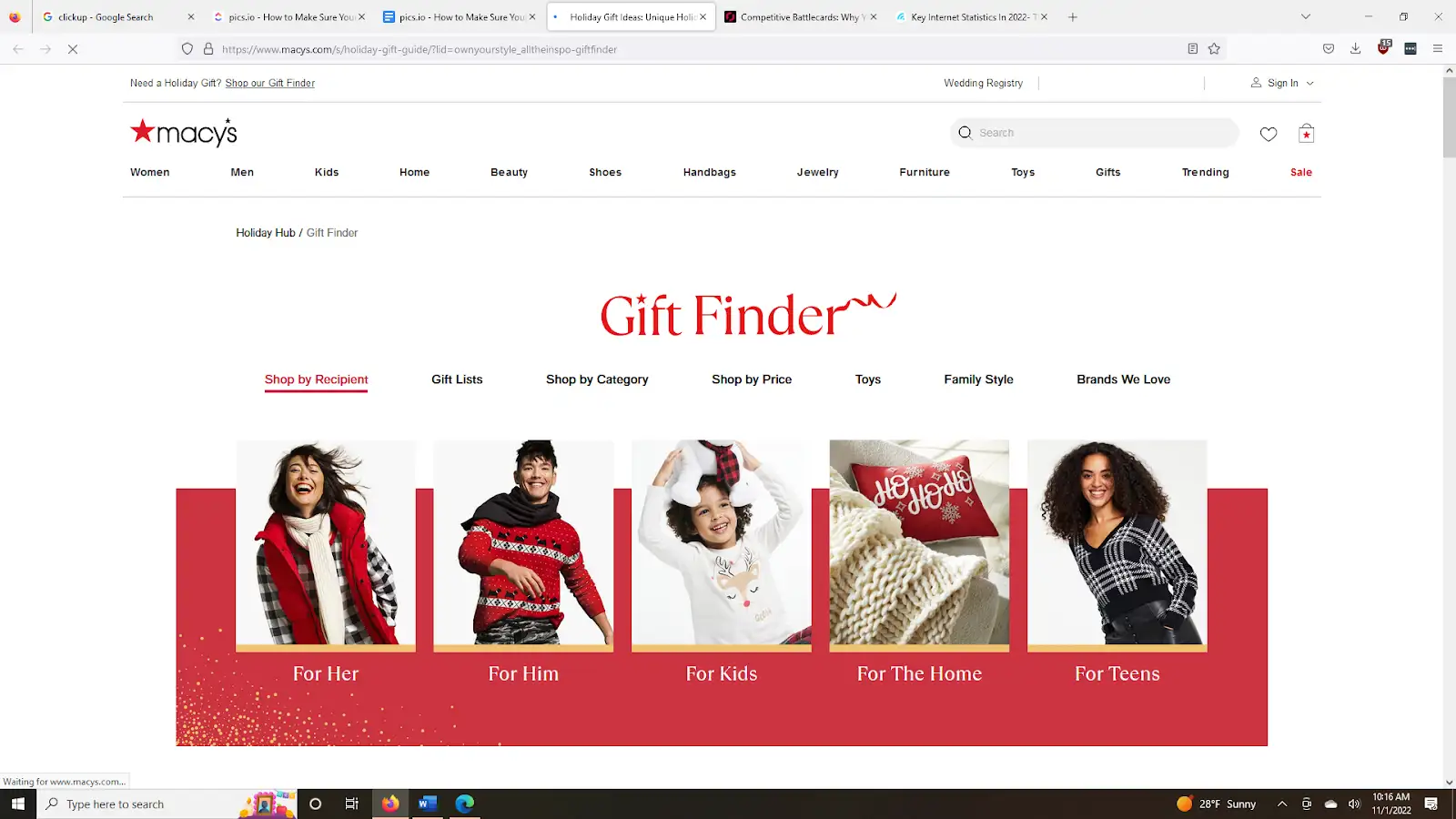 Then, tag your products based on the type of relationship it would be best suited to meet. For example, you might have options for someone shopping for their wife, husband, son, daughter, coworker, or boss. The idea is that when the visitor clicks through to that page, you have a selection of ideas just for them.
You'll want to spend some time thinking about how to organize those products. But, you'll also want to think about the titles and design elements you want to use. Make sure they are consistent with your brand identity and won't turn away your visitors. The easiest way to do this is by using a design template. Customize the look and play with the features to meet your specific needs. A well-designed gift guide can help your customers solve their problems and inspire them to make a purchase from you.
Be prepared for high demand products with competitive battlecards
Holiday shoppers typically want to weigh the pros and cons of buying your product versus your competitors. That's where competitive battlecards come in. They are a way for you to help the customer compare your product against the alternatives. They are also a way for you and your team to understand your strengths and weaknesses, prepare for common objections, and build consistency across your marketing efforts.
Building a competitive battlecard starts with understanding what your competition is offering. That means you will want to do some research. Their website is a good place to find out what they are claiming as their value proposition, as well as their pricing. Next, you need to identify how your product or service stacks up against their claims. Talk to your sales team (if you have one) and your customers to get some ideas.
Here is an example of a battlecard from ConvertKit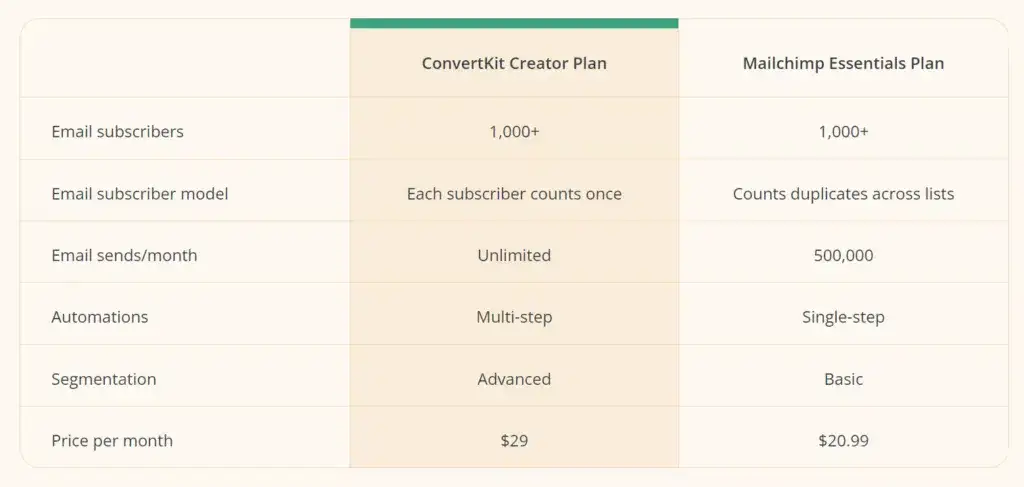 Once you have the information, prepare a table that highlights the key features that customers care about. In one column, provide a brief description or statistic describing your product. In another column, do the same for your competitor. The idea here is to do the research for your customer so that they don't have to leave your site. Ideally, this comparison should address the difference between the products and the reason for the price difference. Then your visitor can make an informed decision about whether your value proposition works for them. Just be sure to use accurate information, as misleading claims can quickly dissolve trust. And most customers don't like to give money to people that they perceive as untrustworthy.
Make sure you're prepared for higher customer service needs
With increased holiday traffic on your eCommerce website, you can expect more sales. But, you can also expect more customer service needs — questions, complaints, technical problems, returns, and all kinds of other challenges. Don't get caught off guard. You should be mentally and physically prepared to work longer than normal hours during the holiday rush. You should also prepare your friends and family for the fact that you won't be available for a month or so.
The good news is that you don't have to do it all yourself. There are plenty of people looking for opportunities to work from home in the evenings. You can hire a few part-time customer service representatives to help you out with all those phone calls and emails. Just make sure you hire them before you need them, train them on your business processes, and provide them with your competitive battlecards to tackle consumer questions.
Summary
The holiday season is an important time for almost all eCommerce businesses. It represents a tremendous opportunity for increased sales. According to this article, up to 30% of retail sales happen during the holiday season. As the world continues to move more and more into the digital retail space, we can expect that number to grow. However, that could turn out to be a lot of missed opportunities if your eCommerce website isn't ready to convert visitors to customers.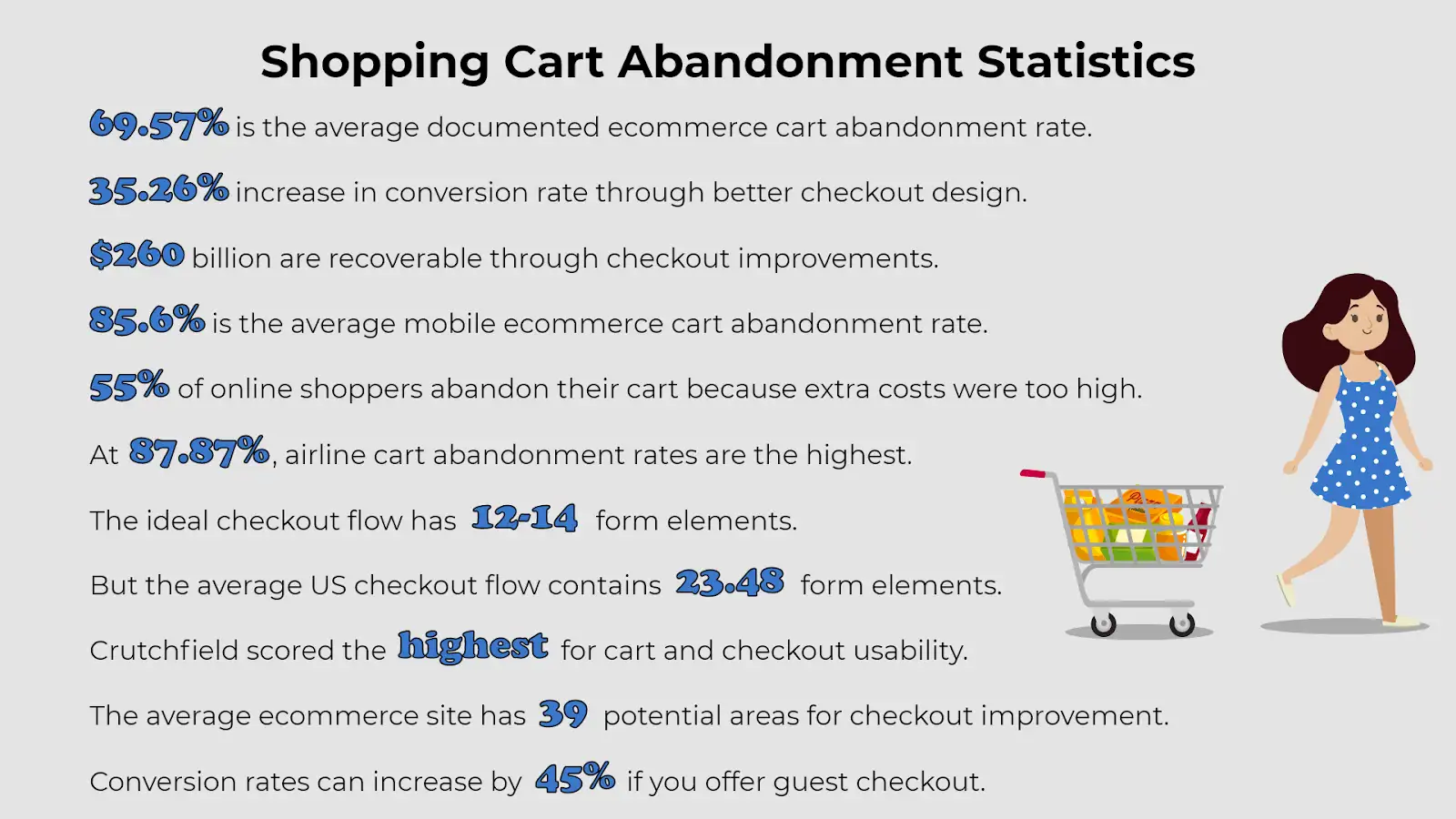 Did you know that the average cart abandonment rate is nearly 70%? That means that only 3 out of 10 people that like a product enough to add it to their cart actually finish the purchase. That's a lot of lost revenue. Who knows how many more potential customers will turn away before getting that far. The bottom line is that you can't take full advantage of the opportunities that the holiday season presents unless you put in the work to get ready. A well prepared landing page, quality gift guides, competitive battlecards, and superior customer service are just a few of the ways you can prepare your eCommerce website for the holiday season.
Give Pics.io DAM a try
free 7-day trial