What are the best Shopify integrations and why do you need them? Apps and SaaS are almost synonymous with modern eCommerce. However, with so many out there, it can be sometimes difficult to juggle all of them, especially when they work in isolation.
Integrations are the thing that makes this headache go away by providing you with a convenient way to turn all these dispersed apps into a unified workflow.
In this article, we'll talk a bit in-depth about what Integrations are, how they differ from Shopify Apps, and give you a hand-picked list of the best ones out there.
Let's dig in!
Shopify Integrations and Apps: Are They the Same Thing?
While they share their similarities, integrations and apps are not exactly the same.
Shopify Marketplace offers many apps for every occasion but most of them work only inside Shopify itself - they do not interact with your other software solutions in a meaningful way.
Integrations, on the other hand, are meant to be used as a bridge between Shopify and other software that you're using - whether it's your Email, Facebook Ads, Shopify CRM integrations, or anything else.
Shopify Payment integration is a bit trickier as the payment processing isn't something that you can get right through the Shopify store. However, it is still important integration that you need to enable unless you want to process every payment manually. Thankfully, Shopify makes it quite easy; you just need to select an option that you'd like from the list of options (PayPal, Stripe, etc.)
Why Should I Care About Shopify Integrations?
The modern business is all about SaaS solutions that are used to enable your business by reducing micromanagement of payment, marketing, customer service, and all other elements of modern entrepreneurship.
However, it just so happens that a lot of the time these apps don't really "talk" to each other. As you get more and more apps, you're back to where you've started. Now, however, you're micromanaging apps instead of the things that they were meant to solve.
Integrations solve that problem by creating a bridge between your applications so that you can share the data between the two and even use the features of one app from within another!
So, for example, if you're using some sort of Helpdesk service (like Intercom or Zendesk), Shopify integration will let your customer support team see all the information about the Shopify order as soon as the customer opens a ticket, thus saving you time and money.
Give Pics.io DAM a try
free 7-day trial
Top Shopify Integrations
Facebook Channel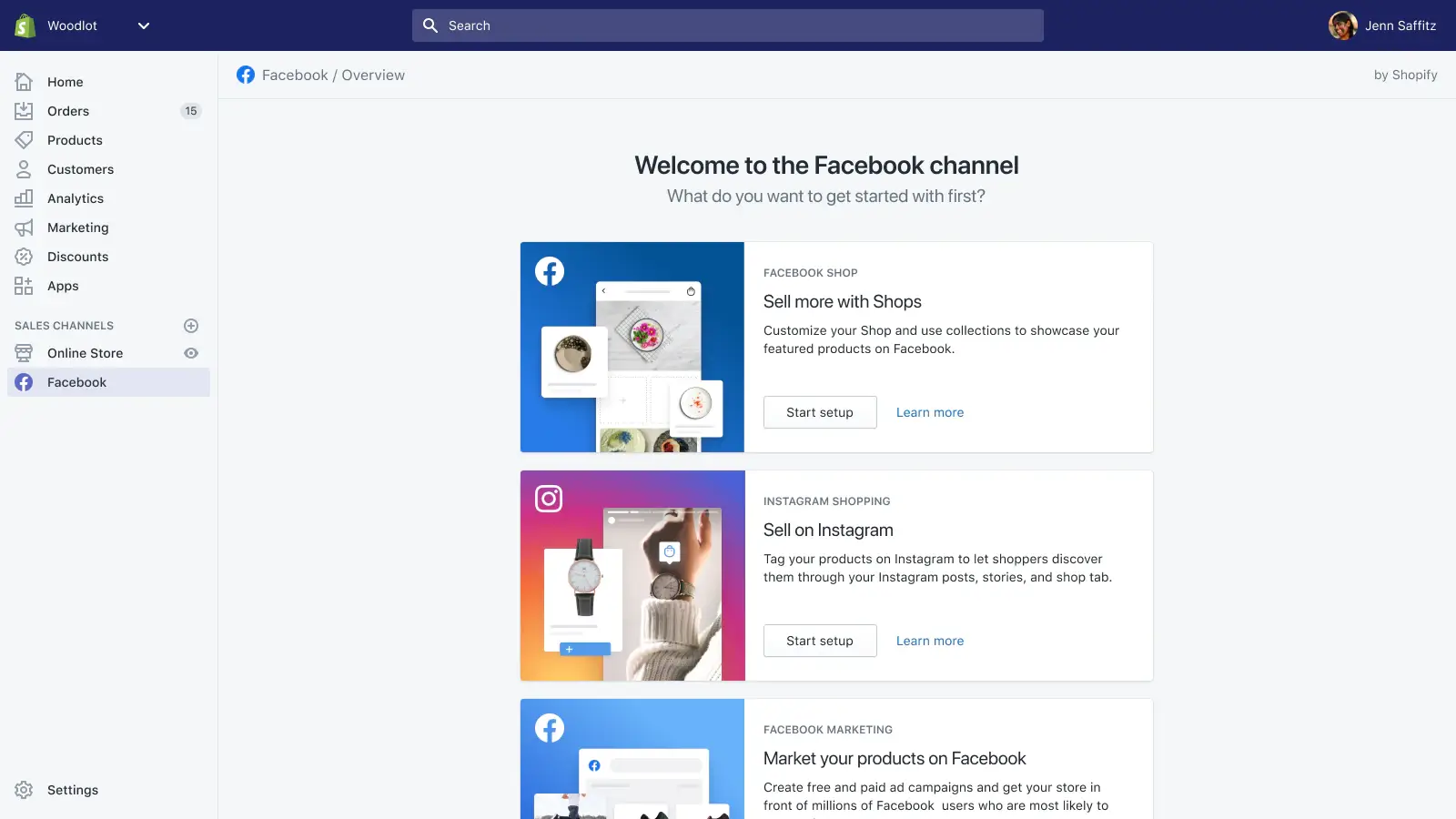 It is impossible to imagine eCommerce marketing without Facebook and Instagram ads. These two channels remain focal points due to their large audiences and algorithms that allow you to tailor ads to specific audiences.
Facebook Channel plugin lets you seamlessly integrate your Shopify and Facebook marketplaces without having to micromanage two separate stores.
Features
Access Facebook and Instagram advertisement channels
Use built-in analytic tools to understand customer behavior, campaign performance, and incoming traffic
Set up a Facebook store to sell products directly from your Shopify store
Pricing
The plugin is free but you can set up the Facebook Ad budget at the same rates as you would on Facebook.
Klaviyo: Email Marketing & SMS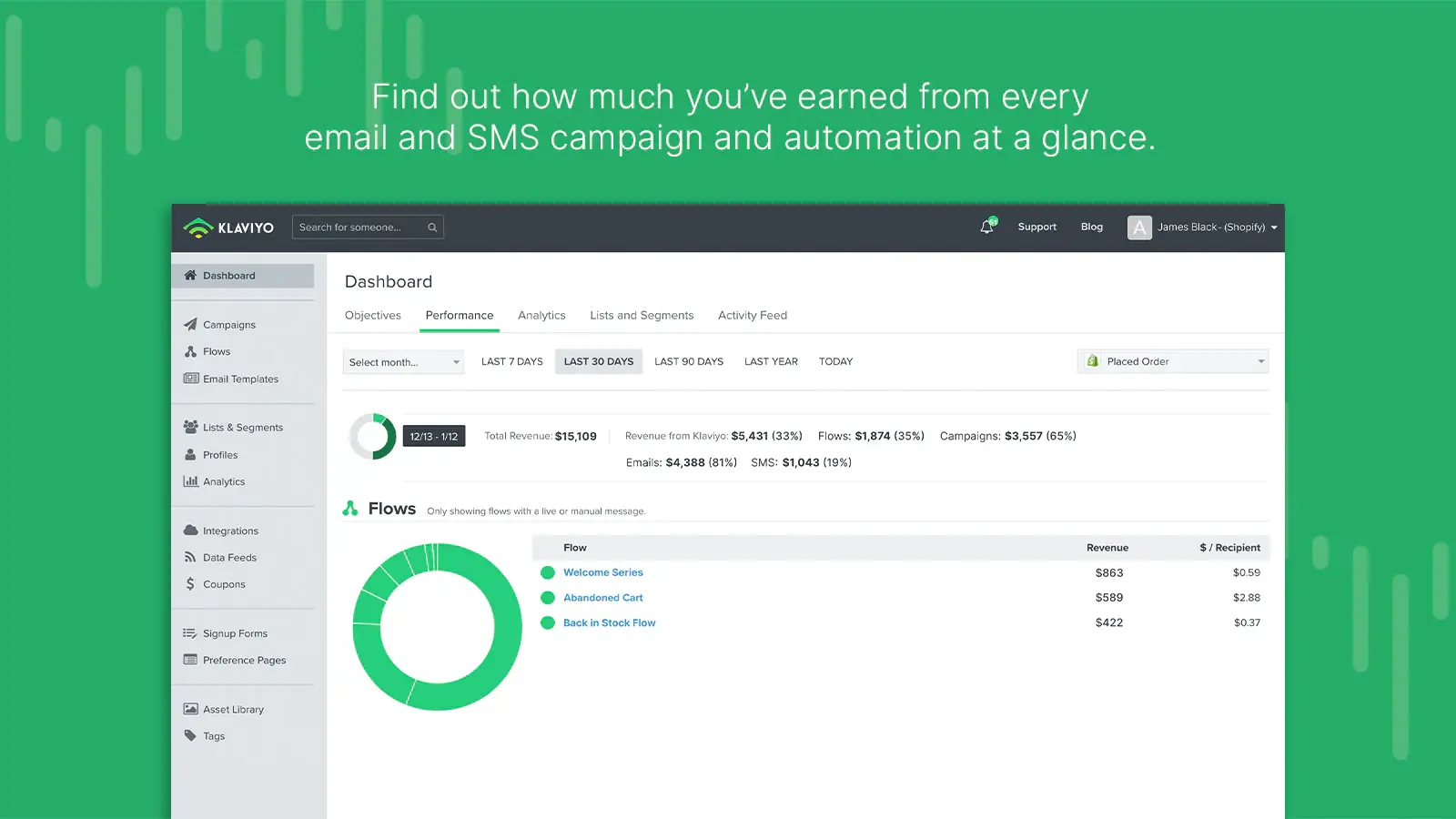 Customer retention, reactivation of the old buyers, and enticing those that are still on the fence - are the necessities of modern eCommerce. Email remains the crucial tool to reach those clients.
Klaviyo is one of the Shopify email integrations that seeks to make the job easier for you by offering tools to easily create, send, and track messages that you send.
Its ability to set up automated emails as well as segmentation features allow you to always reach the audience that you need to right on time.
Features
Create ready-to-go email templates through an intuitive interface
Use segmentation to target specific audiences and send custom made emails to them
Reporting and Analytics allow you to track the effectiveness of your campaigns as well as gauge Klaviyo's ROI
Integrates with other Shopify apps like Facebook Advertising, Smile.io, Zendesk, and more.
Pricing
Klaviyo operates on a pay-as-you-go (PAYG) system. The First 250 Email and 50 SMS contacts are free. If you need more, it'd cost you $20/mo for 500 Email contacts or $5/mo for 150 SMS contacts, with the price for both increasing as you grow your business.
Zendesk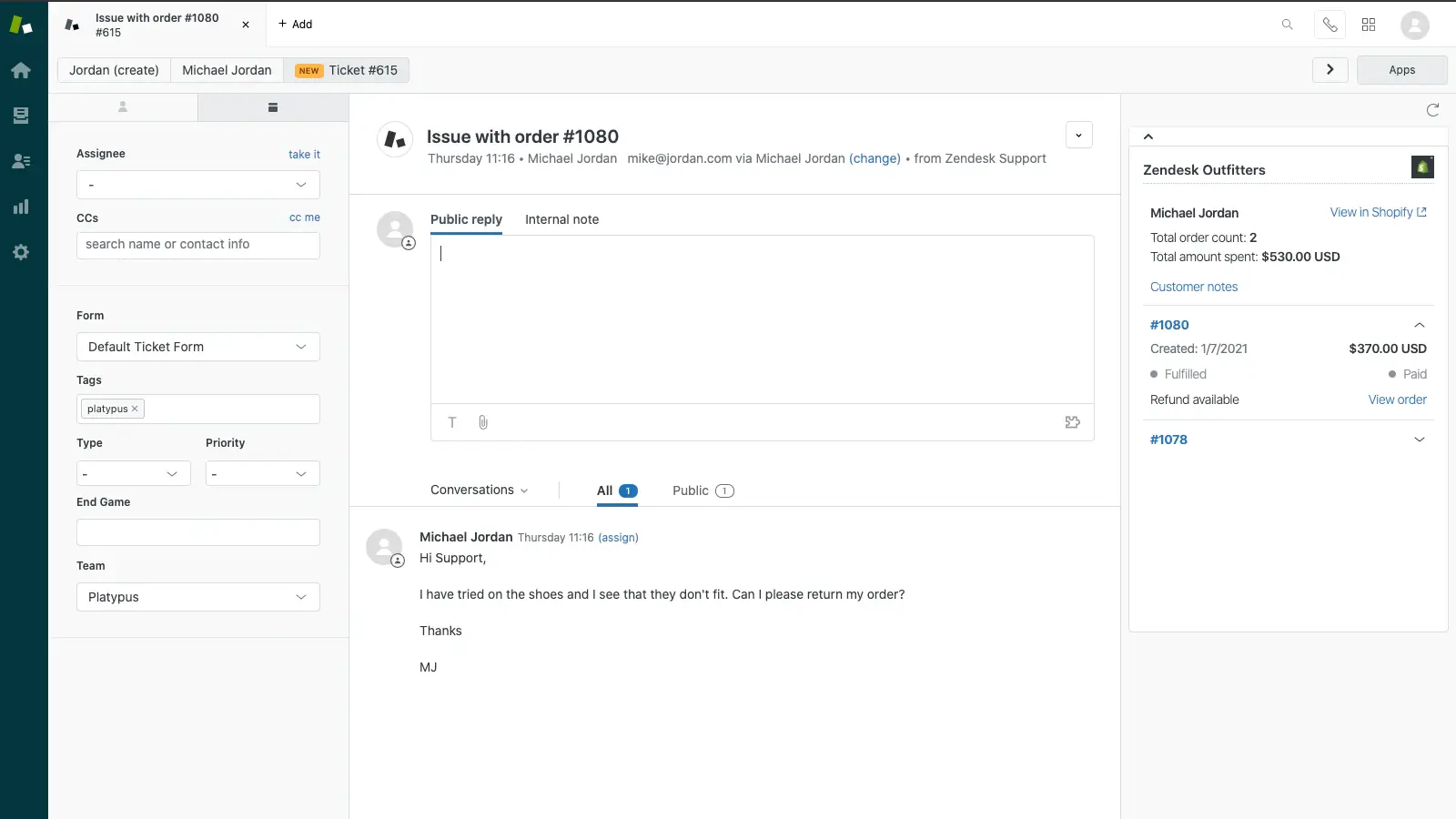 Good customer service is fast and efficient. Sometimes, that efficiency depends on the factors that are beyond the control of your customer support rep, however.
If your customer support service is completely disjointed from your store, then it might create delays. Not every customer is knowledgeable enough to provide all the information that they need to receive help. Plus, many questions could be easily answered by the interactive FAQ, instead of taking away support's precious time.
Zendesk Shopify integration fixes those issues by connecting the two. Now, when your customers turn up with a complaint, the customer support rep will have all the information they need to help right at their fingertips, ensuring a fast and quick turnaround.
Features
Creative interactive FAQs to answer customer's questions
Unify customer's data to make your support team work better
Integration with Shopify provides direct information about customers' past orders
Pricing
The plugin is free but requires an active Zendesk subscription which starts at $19/mo per agent
Stripe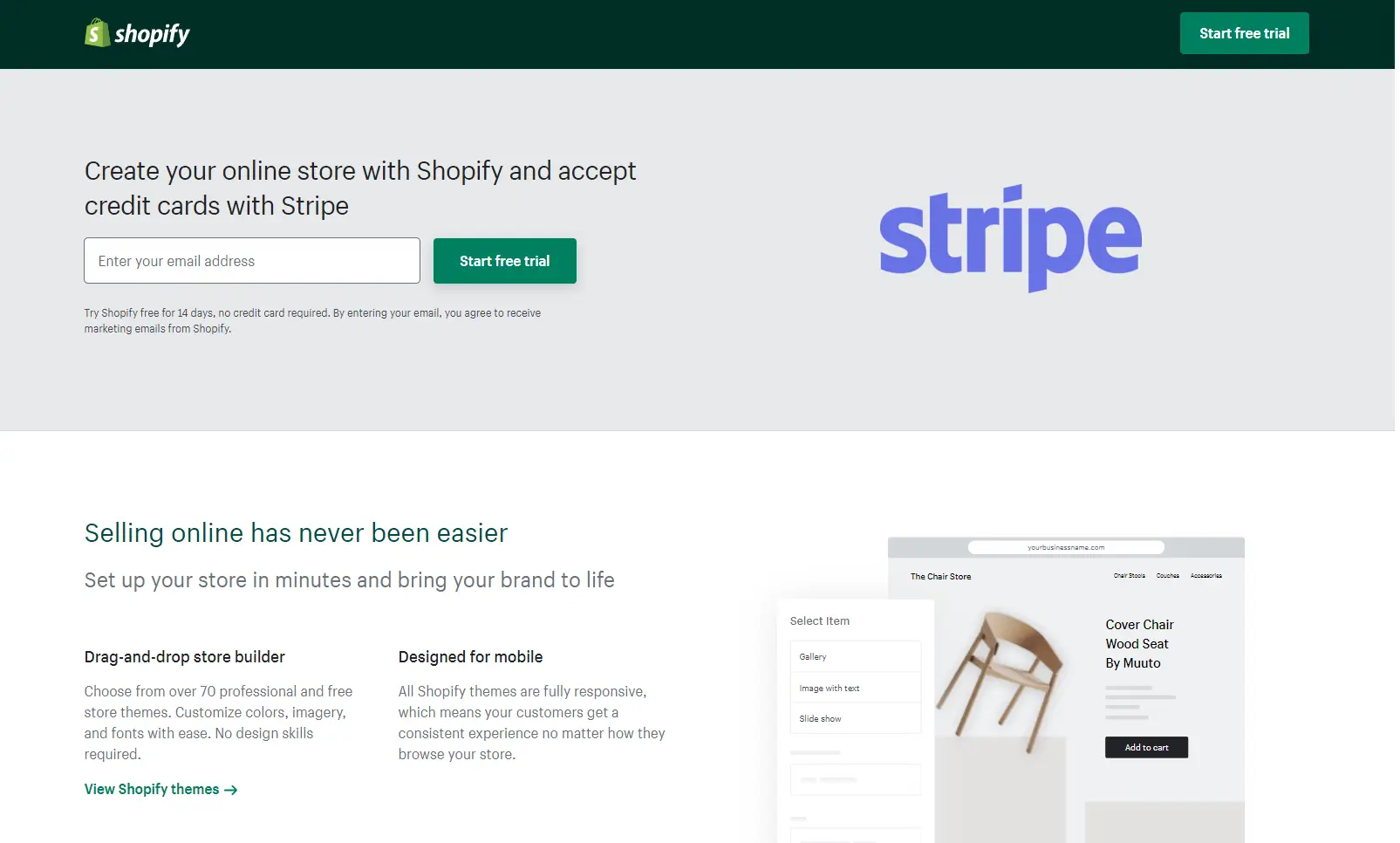 Stripe is rising as a solid competitor to PayPal, mainly due to its broader support for various currencies, countries, and payment methods. The commission it takes is also very transparent and you can usually set up Stripe Shopify integration in just a few minutes.
Features
Supports a wide range of currencies and payment options
Customizable checkout flow
No setup or cancellation fees
Great customer service
Pricing
Stripe takes 2.9% from each successful transaction + 30 cents.
Pics.io Bulk Image Upload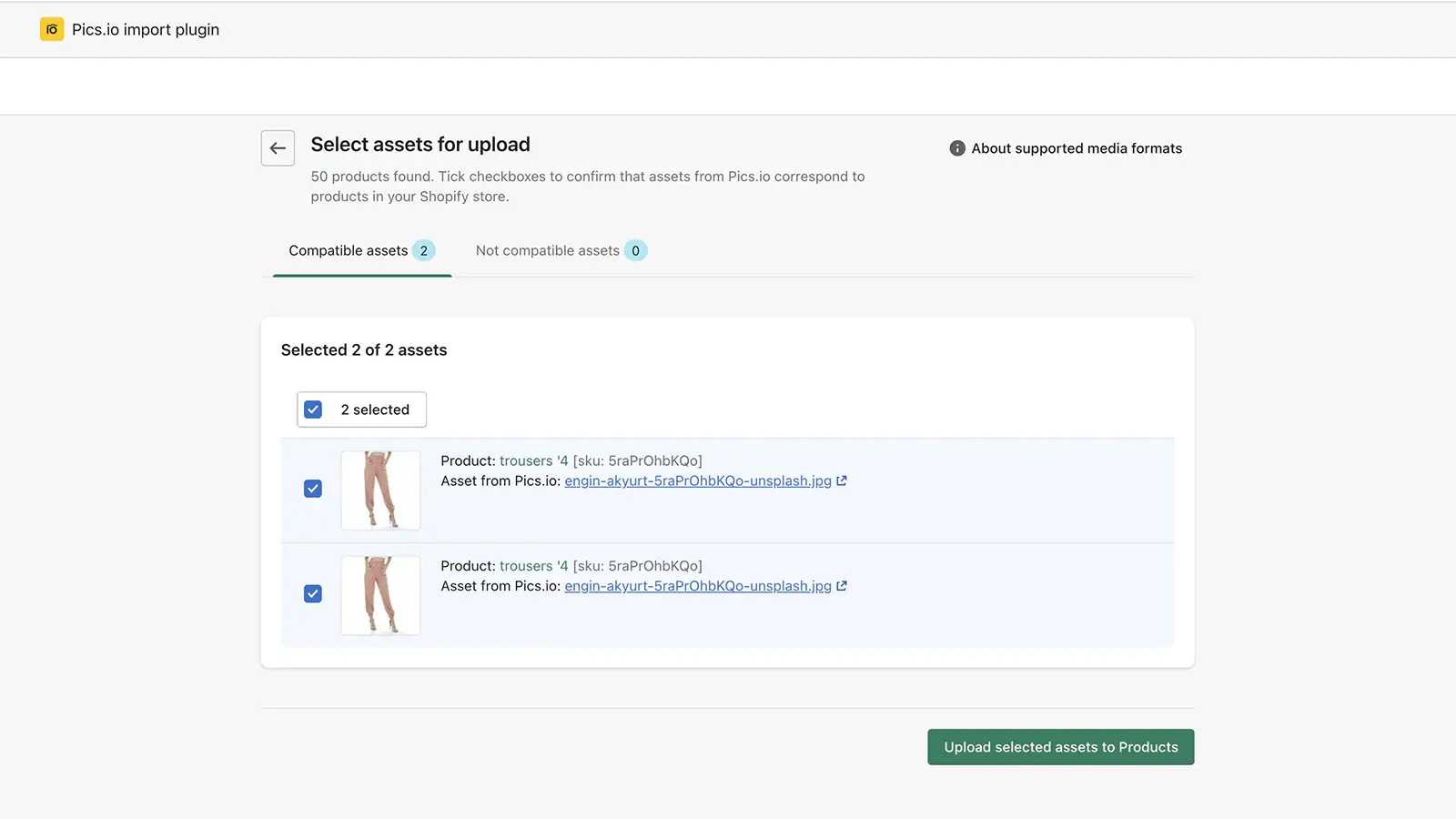 Few things drive sales as well as visuals. Advertisement, promos, item listings, etc. - all of these require quality assets to make a point.
However, while platforms such as Facebook and Instagram have figured out proper bulk upload for a long time, Shopify is still lagging behind. By default, there is no convenient way to upload multiple images for one item; you need to use time-consuming CSV sheets to manually match images with product SKUs.
And if you ever want to update existing images? Yeah, that's a problem.
Pics.io Bulk Image Upload is an extension of the Pics.io Digital Asset Management (DAM) system. All you need to do is include the product's SKU anywhere in the image's metadata and the plugin will then scan your library to automatically match the product with images. Simple as.
Features
Upload images without CSV sheets
No need to use a separate CDN for uploading
Use DAM features to organize and search through your collection of images fast
Pricing
The plugin is free and is available with all Pics.io pricing plans.

Pics.io DAM Overview
Pics.io Bulk Image Upload is an interesting outlier in our list, as the app doesn't do much by itself. It only enables the seamless integration of your Shopify store and Pics.io DAM solution
You might be wondering what DAM is and why would you spend time setting it all up. Just to upload some images? Well, not really. Digital Asset Management does a lot more for you.
Digital asset management software is a solution designed to make the management of your media library (pictures, videos, photos, infographics, documents, etc.) easier and faster. It accomplishes that task by taking full advantage of metadata (Keywords, filename, title, information about the camera that was used, etc.) and then allowing you to search through hundreds of assets not just by their name but all these numerous criteria.
It also allows you to create custom metadata to fit information that you couldn't fit elsewhere. Since we're talking about Shopify, let's talk about product SKUs as an example.
For every product, you might want to have 5-6 images from different angles. How do you link all these images together to search for later? Including SKU in the title is messy and can make it difficult to search for the exact image that you want. Plus, it leaves little room for actually descriptive namings such as "green shirt" or "ceramic pink mug"
By using Custom Field functionality, you can create a dedicated SKU field and then just search by that criteria to pull up all the images associated with a specific product. It also makes updating said images easy - instead of trying to maintain a complicated library of outdated and actual images, you can upload a new version of an image on top of an already existing one and then freely swap between the versions whenever you deem fit.
These search and maintenance optimizations save 10 hours/mo per individual - 10 hours that you can spend doing something meaningful and productive.
Pics.io Bulk Image Upload will then allow you to sync your Shopify store and Pics.io DAM - making it easy to upload and update images for your listed products.
Conclusion
Shopify Integrations save you a lot of time by connecting all your existing applications into a unified work environment
They automate such processes as handling marketing emails, customer support requests, media library management, and payment processing
Pics.io Bulk Image Upload removes the need to use CSV sheets to upload product images
As part of a larger Digital Asset Management package, Pics.io saves the time that you would have spent managing and maintaining your media gallery
Give Pics.io DAM a try
free 7-day trial
Did you enjoy this article? Give Pics.io a try — or book a demo with us, and we'll be happy to answer any of your questions.
FAQ
How do I use Shopify integrations?
Shopify handles the backend of setting up the integration for you. Simply select the app that you need from Shopify App Store (such as Facebook Channel one), click Add app, and log in to your Facebook account when prompted.
How do I upload images to Shopify faster?
To forget about manual CSV sheet uploads, you can use Shopify Integrations, such as Pics.io Bulk Image Upload. These integrations allow you to sync your media library and Shopify store, thus giving you an option to automatically match products with their images by SKU.