Collaboration is the key to success no matter what kind of business you are in. Without a well-managed teamwork, all your individual efforts may go down the drain.
In the long run, it's collaboration that moves the needle.
Efficient, clutter-free communication between teammates is the vital part of collaboration, without which everything falls apart. It improves the overall quality, reduces confusion, and boosts productivity!
It's especially the case now that remote decentralized teams are mushrooming & the tribe of digital nomads is growing exponentially. Coworker alone unites 12k+ people from all over the world!
Our Pics.io team is a perfect example of the trend.
With around half of our staff working from far away, we of all people understand the value of well-oiled, efficient communication. And like many other similar companies, it took us some time to develop an efficient ecosystem of tools to support our collaboration.
Eventually, we ended up with 3 basic collaboration tools that keep us on the same page. Here they are.
1. Inbuilt Notification Center
To begin with, we are a team that stands behind Pics.io Digital Asset Management (DAM) service. So, we have an inbuilt communication tool right inside Pics.io.
What for?
If you take a closer look at the workflow in your office, you'll see one simple thing. A great deal of communication happens around digital files.
This way or another, you always find yourself discussing and updating some design mockups, sharing pieces of content, sending files for approval, etc.
Where would you exchange comments if not in your DAM? Almost every day we exchange messages like this: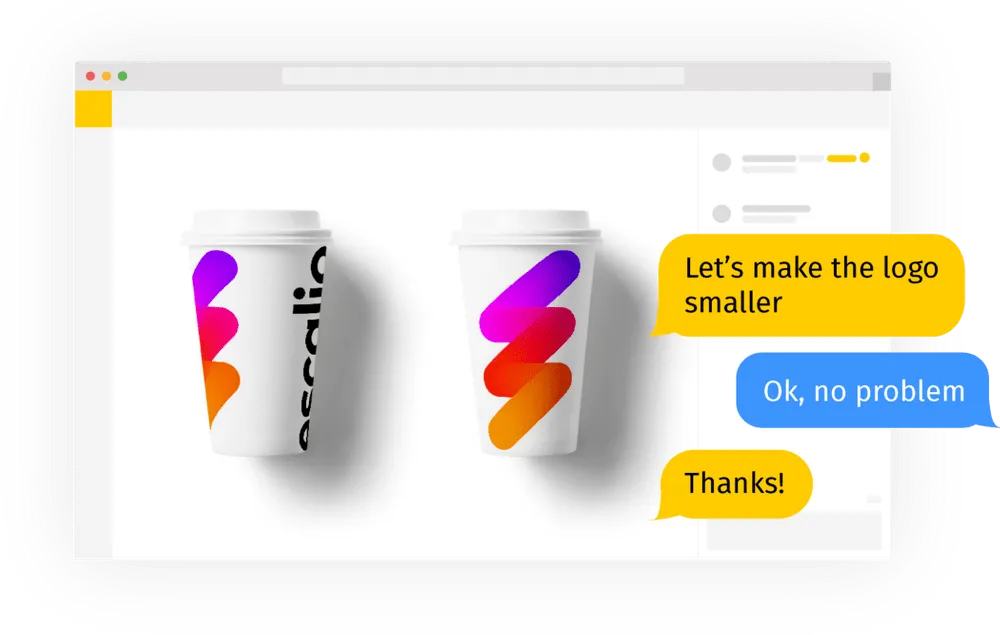 Thanks to this communication tool, we learn about everything important happening in our digital storage: a new comment was added, a colleague assigned a file to you, some images were deleted or renamed, etc.
What is more, recently we've significantly revamped our system of notifications. It has become much more personalized and adjustable. Each coworker decides for themselves which events they want to learn first hand.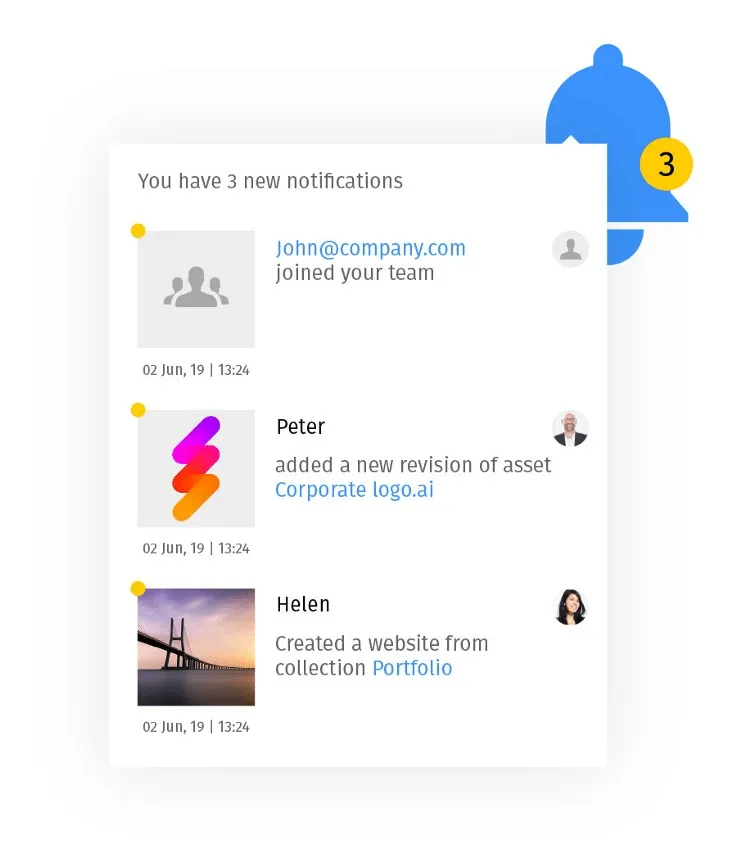 All notifications appear in the bell notifications in the right top corner. Just the way you are used to in Facebook.
And to make things even smoother, some guys from our team have redirected these notifications to personal emails or task planners via Zapier integration.
Explore other DAM features here.
2. Filestage.io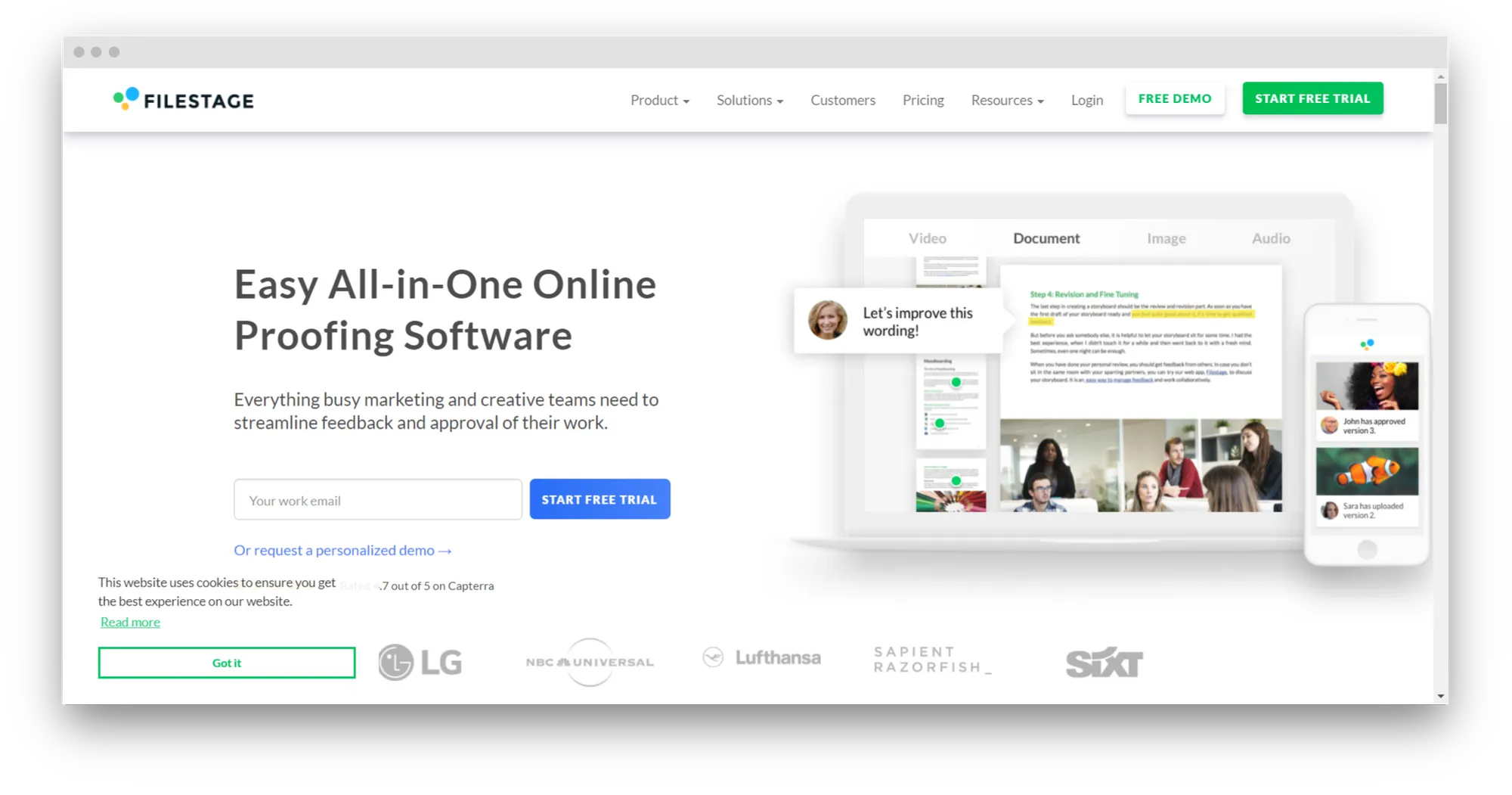 Running a marketing or a creative business is not easy. There are a lot of tasks managers need to track at once - communication within the team, draft creation and editing, approving the final version of ad creatives and designs with the client, and many more.
To have full control of our day-to-day processes, we use Filestage.io alongside Pics.io. It's a good-looking and easy to use proofing tool that helps us streamline file editing and reviewing. We love it for card-based navigation, a wide range of legal compliance tools, and dozens of helpful integrations.
3. Slack
It's the second collaboration tool that we use on a daily basis.
Putting it simply, we love it. And here join the army of millions of other users around the globe who choose Slack as their favorite tool of collaboration.
We love the way we can funnel different messages into different channels in Slack. And we like it that we can have both open discussions & private face-to-face conversations. Well, to be fair, we are trying to reduce the number of private talks and "keep all our cards on the table".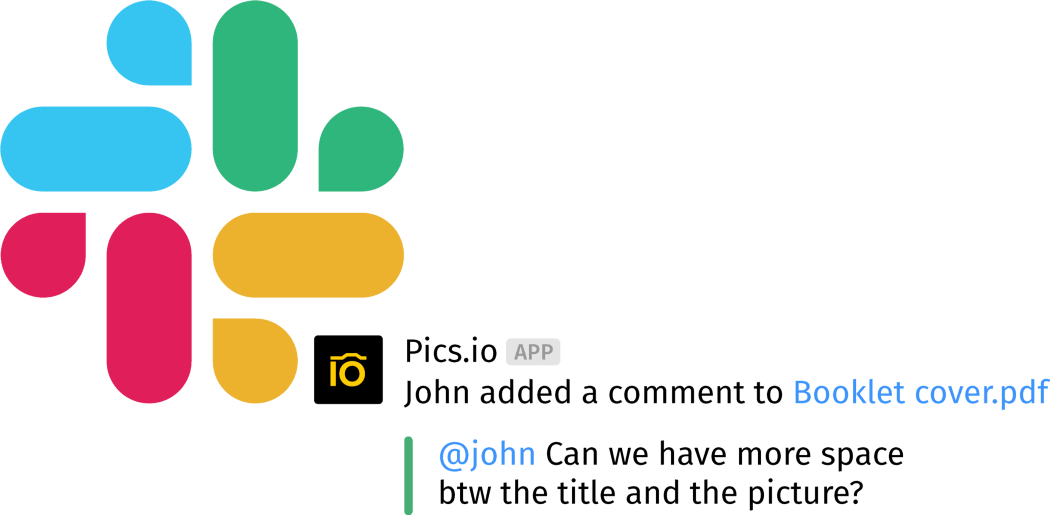 And again, we benefit a lot from Slack integration with Pics.io DAM. We configured it so that all important messages about our own digital library arrive to the relevant channels in Slack. And so do all alarm messages about the current state of Pics.io. So, if something urgent happens in the service, we discover that in a matter of seconds and rush to fix it.
4. Trello
This one is another tool we've taken to quite recently.
Despite notifications in Pics.io and Slack, we still lacked some space where we could organize our everyday tasks.
We are a tech-savvy team and we are not afraid of complicated software. But this time we wanted something easy-peasy — just a simple no-brainer tool that would show us who is working on what at the moment.
Trello met all these demands. It's downright simple and versatile at the same time. A single glance at the boards is enough to see where the work is in progress and where help is needed.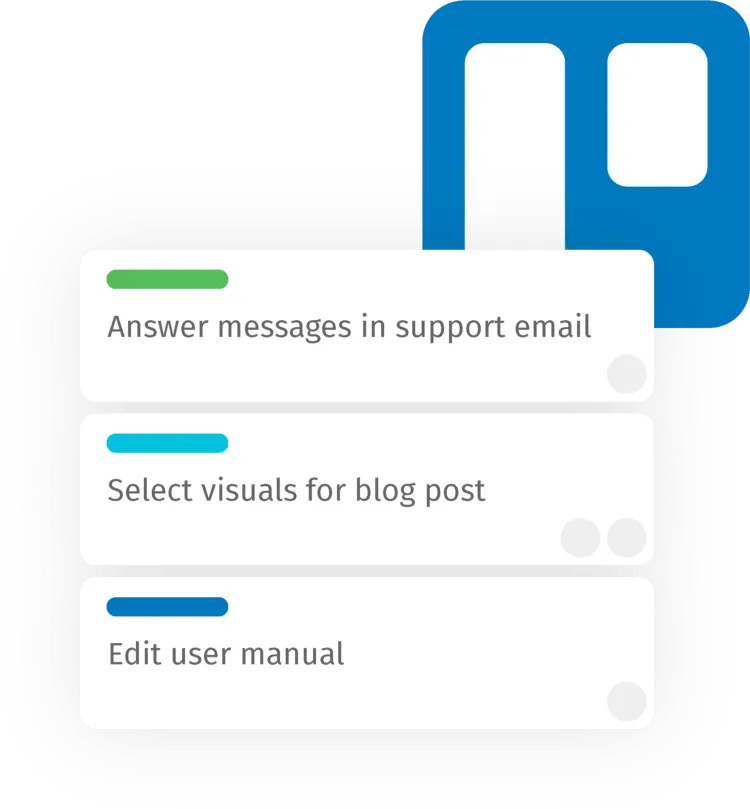 So, at the bottom line we have 3 basic pillars that support our collaboration: our own Pics.io app, Slack, and Trello. These three make up an ecosystem that keeps our scattered international team united and working together.
What about you? Which collaboration tools do you use in your team? Share your experience in the comments.
---
If you enjoyed this story, please click the 👏 button and share this blog post with your friends and colleagues who also look for the tools for the improvement of their team collaboration. Subscribe for Pics.io 7-day FREE trial to test our in-built communication tool.
Give Pics.io DAM a try
Free 7-day trial
No credit card required
Set up in 3 minutes or less