Online fraud is on the increase, and it's affecting all types of online businesses, including eCommerce. While fraudsters can't physically lift items from a store, they resort to targeting valuable customers and merchants.
In 2021, $20 billion in eCommerce was lost in the US as a result of online payment fraud.
This is sad and demands that you take action as an eCommerce merchant.
Otherwise, you risk losing a significant amount of money made from your eCommerce business to fraudsters. And at the same time lose your loyal customers.
In this guide, you will learn 7 different strategies to prevent eCommerce fraud.
What's eCommerce Fraud?

This is when fraudsters devise all means to intercept a transaction on an eCommerce store to achieve their financial goal. The shopper who buys products from a store and the merchant are victims of this criminal act.
Below are the types of eCommerce fraud you're probably battling with in your online store:
Card testing:  A fraudster makes a low-value purchase to test if a stolen card works. If yes, they make pricey purchases.
Friendly:  A scammer shops in your store and later files a chargeback with their bank.
Online payment: A fraudster steals someone else's payment details and uses them to shop in your store.
Account takeover: A fraudster gains access to your customer's online account and uses the stored payment details to make purchases.
Refund abuse: A customer returns a product they damaged and asks for a refund.
Triangulation: Middlemen use stolen cards of marketplace shoppers, impersonate them, and order goods. Unsuspecting retailers unknowingly process these fraudulent orders. This is common on Amazon and eBay.
Loyalty fraud: Customers join loyalty programs, use stolen cards to make purchases, and earn points. Thereafter, they move to the dark web to resell them for a percentage of their value.
Promotion fraud: A fraudster explores the loopholes in a merchant's promotions and claims products for free.
Affiliate fraud: Affiliate marketers send fake referrals to online stores and use stolen cards to get paid.
Below is a chart showing regions and company sizes that witness these types of eCommerce fraud: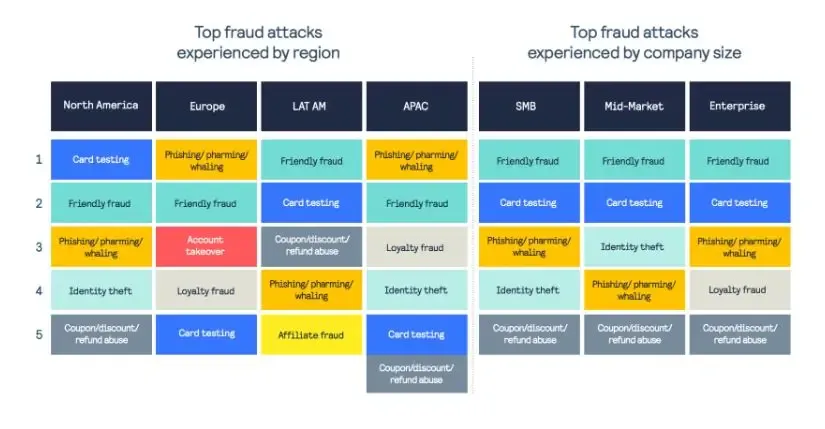 Signs of fraud in your eCommerce site:
Unusual high volume orders from a customer with low order history
A discrepancy in credit card details and shipping address
Transaction declined repeatedly
Suspicious IP location
Multiple attempts to log in to an account
Let's dive into strategies to prevent them.
1. Limit Daily Order Quantities

It's a red flag when you have an outrageous number of orders from a single customer at a time. A scammer probably has stolen your customer's credit card details and is using them to make fraudulent purchases in your store.
Limiting the number of orders a customer can make at a time is the best way to check this type of fraud. You can even block such orders once they have exceeded the limits and request that the shopper verifies their identity.
2. Use Account Takeover Prevention Software
Using account takeover prevention software like Authsafe will help you beat eCommerce scammers at their own game.
You protect the sensitive data of customers who shop in your store, and recognize and kick against chargeback costs that scammers use to defraud merchants.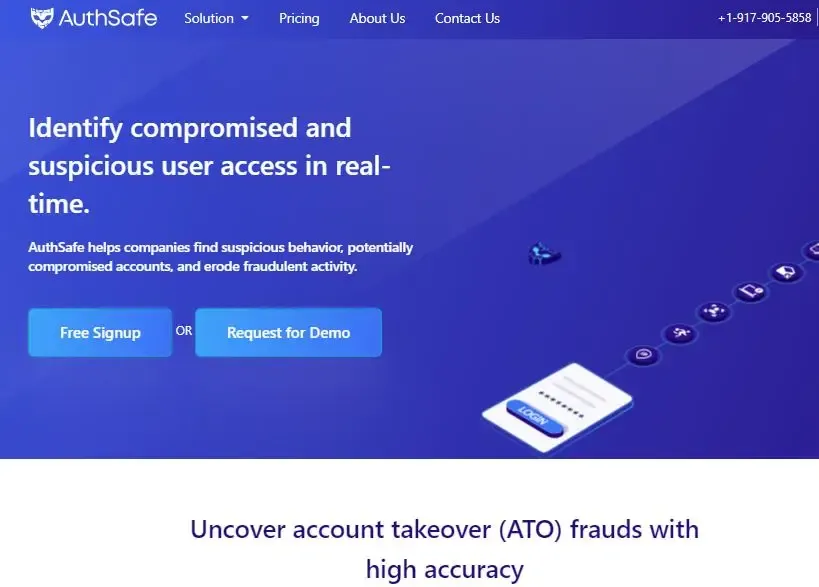 Plus, you detect the devices and locations of suspicious behaviors, block them or trigger authentication to deny access to a customer's account.
3. Comply With PCI
As an eCommerce business that processes online payments, it's compulsory you meet the security standards of the Payment Card Industry. The main credit card brands came together in 2004 to form this organization.
And the aim is to ensure that your systems protect the details and sensitive information of cardholders who shop in your store.
Here are the PCI standards you should comply to:
Regular testing of your online security systems
Limit access to cardholders data to certain employees in your business
Change the default password for systems and software
Encrypt the data of cardholders across public and open networks
Install antivirus software to stop malware attacks
Have a firewall configuration to protect the data of a cardholder
Assign a unique ID to each person with computer access
Have a policy that addresses information security for every personnel
4. Review Risky Orders Manually

An order becomes risky when it's of high volume and comes from a suspicious IP. In this case, don't rely on eCommerce software that automatically reviews orders. Halt the processing and swing into action to check it manually.
If possible, reach out to the customer and request further verification. A scenario like this could be that a fraudster wants to use a customer's credit card details to make purchases.
Another strategy you can adopt in this case is to review the purchase history of the customer. A purchase history that shows a maximum of $500 per shopping and all of a sudden wants to spend $5000 per shopping looks suspicious.
It's safe to block it and seek clarification.
Failing to hear from the shopper after a few days suggests that it's a scammer trying to make fraudulent purchases in your store using a customer's credit card details.
5. Be On Red Alert During Shopping Seasons

Black Friday, Thanksgiving, Christmas, Mother's Day, and Valentine's Day are shopping seasons that cause a spike in eCommerce shopping.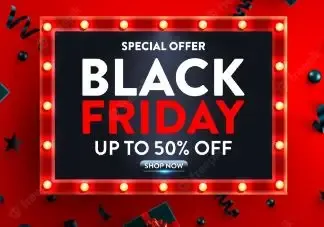 Be on the alert as there could be all kinds of fraudulent activities on your eCommerce store.
Why?
Because you're likely to be occupied with processing and shipping orders; fraudsters might take such advantage to play a fast one on you.
For example, scammers can file chargebacks with their banks after shopping from your store.
It could also be refund abuse, where they return a damaged product and ask for a refund.
The solution here is to seek an IoT security solution, hire cybersecurity personnel who specialize in eCommerce fraud, or use software to deal with it.
For example, Amazon has Amazon Fraud Detector, which is a service that helps its customers to identify potentially fraudulent transactions and flag them in real-time.
Even Shopify payment has a fraud analysis feature that fights against all forms of online payment fraud in your store.
"We use Shopify Payments on Shopify, which gives us a fraud analysis on every order.
In cases where order appears to be fraudulent, we have a templated customer support message that will reach out to the customer and ask (gently) for a different payment method.
Most customers are understanding and will happily order with a different method that passes Shopify's fraud analysis.
While we do lose occasional orders, this approach helps us sleep at night and has been surprisingly effective."
- Zach Grove, Co-Founder, Imagine Woodworking
6. Show Policy & Terms Of Your Store

Policies and terms pages show how you operate as an eCommerce business. It's important you display them where customers can easily see them as they try to shop in your store.
The aim is to show that you have measures to kick out fraudsters from taking advantage of them. And at the same time protect your business as a merchant.
A potential customer who reads them will understand some of the strategies scammers use to defraud them, the systems you use to process payments, ship products, or even offer refunds.
Your policy and terms should include:
Return Policy: State which product is eligible for a refund and under which condition a customer can get a refund. Plus the payment methods, a refund can be made. This will checkmate customers fraudulently asking for chargebacks.
Very Strong Password Policy: it's easier for scammers to take over a customer's account when the password is weak and can be guessed. Advocate for a very strong password alongside two-factor authentication
- this will pose a difficult hurdle for scammers.
A very strong password should randomly contain upper and lower case letters, numbers, and special characters.
Promo & Reward Policy: This policy kicks against customers who want to fraudulently earn a reward from the promo you run in your eCommerce business. Make it clear that you will cancel such earned rewards if it's confirmed.
7. Have A Verification Software
One of the ways to spot eCommerce fraud is when the shopper's card details are different from their shipping address. It is hard to manually verify this since you could receive many orders.  Deploying automatic card verification software is the way out for many merchants, according to a study by Statista.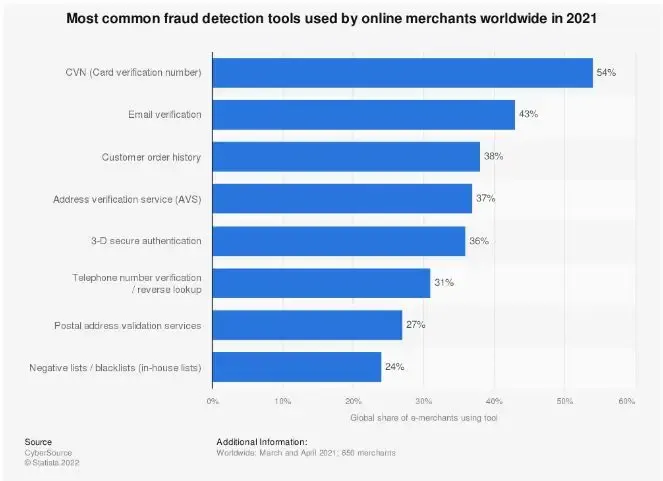 A scammer who is lucky to get the front number of a credit card and the 3 or 4 CVN won't celebrate again. The verification process will fish them out and run them out of luck.
Final thought on fighting eCommerce fraud
Ecommerce fraud affects merchants and customers.
A customer whose credit cards were used to make fraudulent purchases will never return to your eCommerce store to shop. They will spread the bad news and leave negative reviews about your store.
That's a loss for a business that wants to make more sales. Scammers can even take advantage of security lapses in your eCommerce store to defraud you as a merchant.
It's up to you to unleash your arsenal and fight scammers before they run you out of business.
I've shown you seven different strategies to adopt in this article. Limit daily orders, be PCI compliant, use account takeover prevention software, and make your store policies clear.
Be vigilant during shopping seasons, manually review risky orders, and automatically verify every credit or debit card.
These strategies if implemented will kick out fraudsters from feasting on your eCommerce store.
Give Pics.io DAM a try
free 7-day trial
Did you enjoy this article? Give Pics.io a try — or book a demo with us, and we'll be happy to answer any of your questions.
---
Author
Sandeep Kamble is a cybersecurity professional with 9+ years of experience in bringing together the best security experts to simplify complicated security problems. He's the founder of Securelayer7 and Authsafe and has helped companies like PayPal and Dropbox fix cybersecurity issues. Connect with him on
LinkedIn
.