At its best, manufacturing is a well-oiled machine that does the things you need when you expect them to happen. That goes both for the hardware side of things but also for the design, marketing, and distribution. A roadblock at any step here means that the product takes more time to reach the market, and that's never good.
So, when someone suggests that you throw a wrench into your established practices, you have to wonder: why? Sure, digital asset management system is known to bring improvements to how you manage your digital assets, but is it really worth the time and money to adopt a new software solution?
In this article, I'll talk about a few reasons why digital asset management might be a great fit for you, and also throw an extra freebie to make it worth your time.
Let's dig in.
Streamlining Creative Workflow for Manufacturing Organizations
Manufacturing organizations are not like many other business niches because the marketing here cannot be all talk.
If your team gets too excited with promotion and boasts about features or functionality that your product doesn't have, it might become a costly problem damaging your brand.
So, it's a problem of combining technical actuality with marketing flair, one that requires dialogue between professionals on the opposite sides of the spectrum.
With Pics.io's DAM for manufacturing, you can ensure compliance and brand consistency due to its communication and digital asset management features such as:
Linked digital assets. By linking assets together, the user can see all connected assets in the side panel. They can then switch between them in an instant. So, you can attach technical documentation to the marketing digital assets, and if a user is not sure if an image, photo, or video is compliant with the former, they can double-check in just a click.
Comment section. Maybe you're a marketer that is unsure how to proceed/edit the asset. Maybe, you're a product manager who's noticed an issue that needs to be fixed. In Pics.io's manufacturing digital asset management, each digital asset has a comment section. Tagging a user there will send them a notification in Pics.io, Slack, and email. So, they can get straight to work to fix whatever needs fixing.
Version control. Instead of bundling all revisions in a messy folder, Pics.io's manufacturing DAM keeps them all under a single thumbnail. There's an option to switch between digital asset's versions while visual comparison can let you know exactly what has been changed between asset versions. So, if there's a mistake that needs fixing, you can use a side-by-side visualizer to make sure that everything is neat and proper.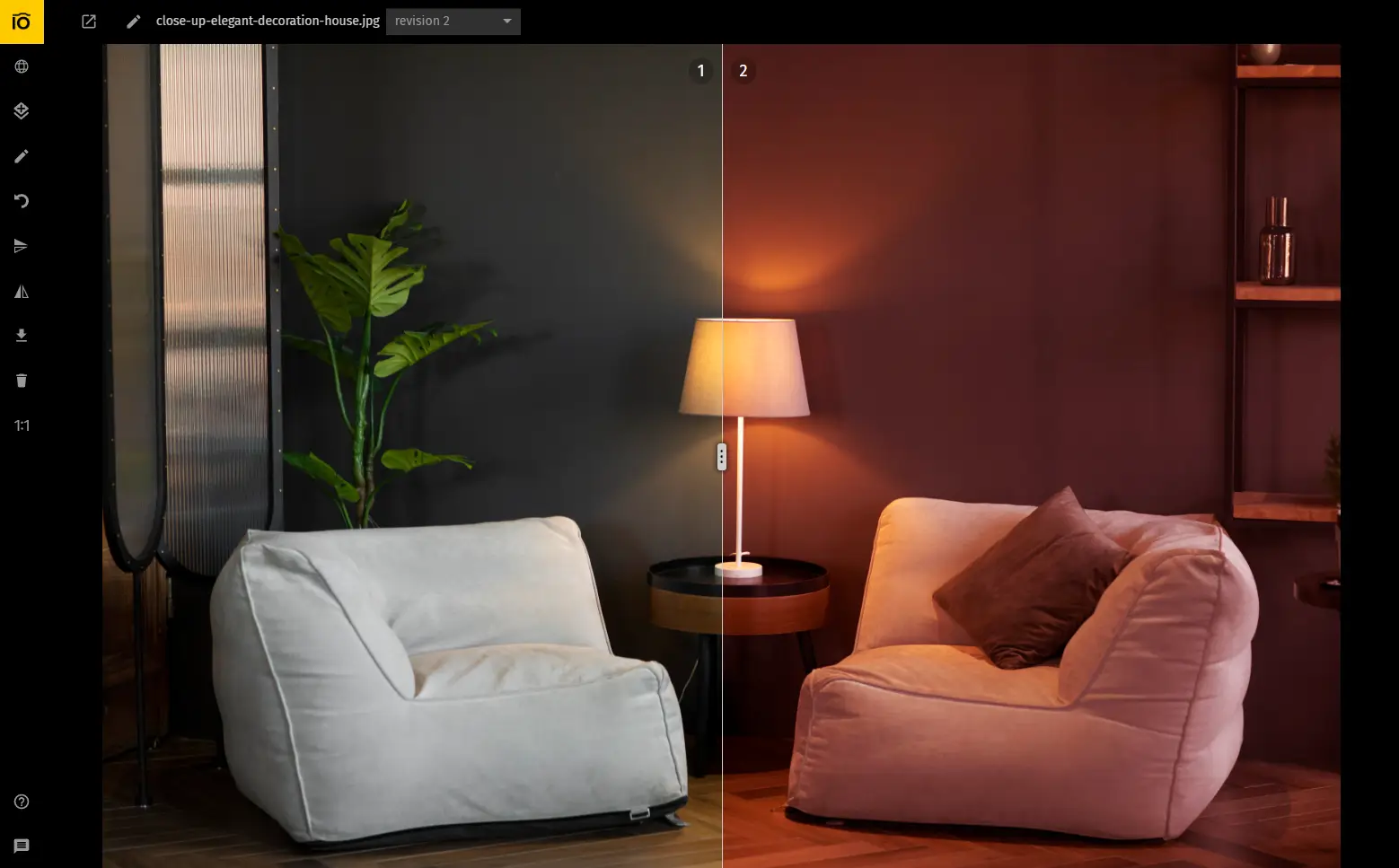 Improving Marketing Digital Assets Distribution
Social-media managers, email newsletter marketers, pamphlets printing - you need to get your high-quality visuals to all these teams (sometimes contractors) without worrying about redundancies or missed deadlines. Here's when a DAM system can have a tremendous impact on your success across various distribution channels.
As asset library is the single source of truth for all your digital assets needs, it can help you deliver everything to everyone at the same time, using Websites.
Websites are what we call our branded portals. You create those yourself in just a few clicks. Simply choose a collection inside your DAM and publish it on the web. Those with the link (and password, if needed) can see, comment on and download assets just as if they were inside your DAM.
So, instead of sending a string of different formats to all your contacts, you can just send them a link to your Website. During download, they will have complete control over what they are downloading and how. They can pick the exact format and dimensions that they need for their job, saving them the effort of keeping multiple file formats for different occasions.
Plus, Websites still have that comment functionality I've mentioned above. If there's any feedback about assets (maybe you'll get a memo that the number of colors on your image will be expensive to print or somesuch), it will be kept in one place.
You can check out more about how Websites work in this short video tour:
We also have a more in-depth write-up on how DAM enables better manufacturing marketing, so make sure to check it out.
Better Way to Handle Security Clearances
Assets aren't only about marketing, though. There are also employee files, some R&D information, internal tech specifications, audio files from meetings, and whatnot.
There's always this dilemma between convenience and security. You want to be secure so you create multiple points of entry (or maybe multiple storages altogether) to fragment your sensitive information and not-as-important stuff.
But you also wouldn't mind scaling down on app hopping by keeping everything in one place.
Well, with DAM you don't need to choose. Roles & permissions management lets you decide what each user is going to see even before they get access to the asset library. And no, I'm not talking about password-protecting everything.
You simply set up who can see what folders and what they can do with them. So, if you don't want your salespeople to see sensitive technical information, for them it'd be like it's never existed.
This has an extra bonus of minimizing the amount of "can I use this picture in X?" that gets thrown around the office. They can't see it? Or they can see it but only that (no downloads, edits, etc.)? Well, the question just answered itself so they can get back to being productive.
Digital Asset Management Blueprint for Manufacturing Companies
To save you your precious time, we're also providing you with a sample workflow and DAM structure that you might use if you wanted to ever get serious about managing your digital assets. These suggestions were created by using feedback and insights from our existing users in manufacturing organizations and how they use DAM daily.
The beauty of this template is that the first few parts aren't exclusive to our product, or DAM software for that matter. Using this workflow and folder structure ought to serve you well even when using something as old and reliable as Google Drive. But you'll obviously get the best results while using the appropriate software.
Preparation
Collect all brand materials for the entire time of work of the marketing department of the company.
Put them in storage.
Weed out outdated versions and leave only those that match the brand guidelines.
Share these materials with partners, so they can access this library and can look for any assets they might need.
For example, I want to find a brand logo that fits the format of a Google slide presentation. To do this, I need to attach descriptive tags to an asset: logo, logo for presentations, logo for Google Slides. Then the partner can easily search for them.
Give each partner access to this library, allow them to download individual assets, and limit view only to the folders they need.
After 1-2 months it is important to look at the usage statistics of each brand asset in the library to understand which assets are up-to-date, useful, which are not, and why. Each asset has an Analytics view where you can look at these metrics. There is analytics for downloads, Websites, and for teammates' actions.
DAM structure
Marketing assets

Logos
Product photos
Catalogs (PDF)
Website images (except product photos)

Campaigns

Campaign Name

Channel (Instagram)

Year

Final creatives
Videos
Post photos
Texts for posts

Events (product promotion)

Year

Month

Location

Photos
Videos
Print materials distributed
Workflow in the DAM (not only for manufacturing companies)

Existing customers with similar workflows (names are removed for privacy):
The Cost of Trying DAM for Manufacturing is Extremely Low
I can make this claim for a few reasons.
First, it's the 7-day free trial that has all the functionality unlocked. There's no credit card required and you can even use burner email if you don't want us pestering you with remarketing.
Second is our Google Drive and Amazon S3 integration. Pics.io is the only DAM on the market that has full integration with these storage providers. This means that your assets will still belong to you, fully, and Pics.io will just act as an interface through which you can manage your assets better. So, there's no migration to worry about, no "hostage" situation, and no extra costs you'd be paying for storage.
For those without either storage, check out Amazon S3 vs Google Drive article to help you decide which one is the better fit for your organization.
We do have our own storage if the need arises, but syncing Google Drive with Pics.io is the fastest way to do a field test of DAM's functionality without a high time investment.
Finally, DAM is easy to scale. After all, you don't need to bring your entire team on board just to figure out if it's worth your time. After a trial run, you can sign up for a Micro plan ($150/mo, 10 seats included) and see how your team performs. Once you are ready to go bigger, it's as simple as switching to a new plan, getting more seats, and MORE benefits. For instance, starting with the Enterprise plan, you can get Okta Single-sign On (SSO), an integration that lets you forget about password management entirely.

Curious about SSO and why you should care about it? Read our article on its importance and the benefits!
So, if you're eager to try DAM out, there should be a large yellow sign-up form right under here…
Give Pics.io DAM a try
free 7-day trial
...or you can book a demo with us and we'll answer any questions yout may have still. Hope to see you there ;)