It's hard to imagine a modern design workflow without Photoshop. But can I imagine Photoshop being better? Ab - so - lu - te - ly. For all the good things that it does, Photoshop sometimes feels not quite there, making you wish that there was this feature or if that other thing worked a little better.
Adobe is self-aware enough to realize that they cannot offer their users everything but other developers can. Hence the Adobe plugin marketplace and hence why we are here today. With so many competing options to choose from it might be difficult to find the one that:
Works as advertised
Doesn't break a bank
Gets constant support and updates
Which is why we've made you a list of killer apps that I think every designer should take out for a spin. We've handpicked best Photoshop designer plugins that would work beautifully for anyone neck-deep in web design, photo retouching, collaborative projects, and more.
Let's dig in!
Layrs Control 2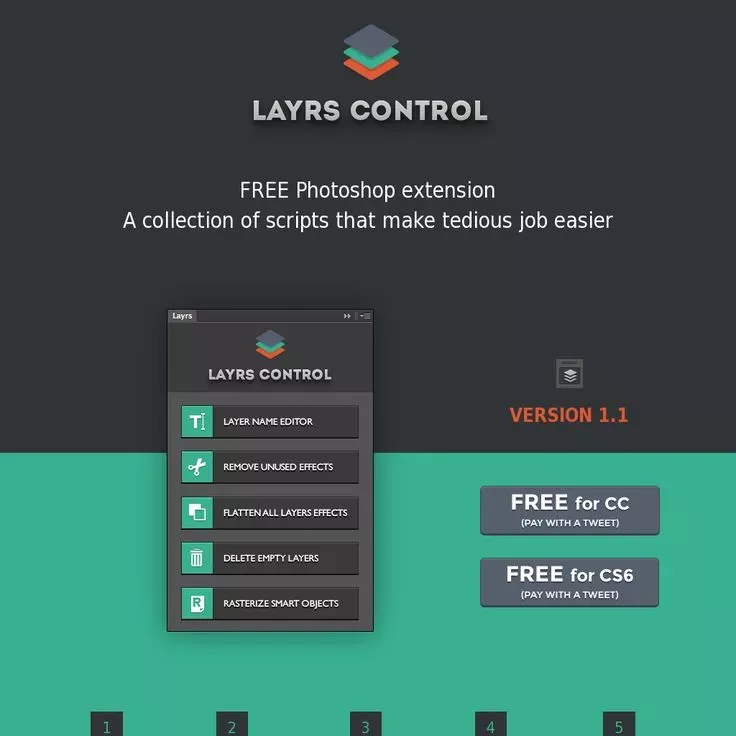 No matter how much time you've spent working with Photoshop, trial and error still remains the to-go method of doing things. There is nothing wrong with that approach save for one thing - clean-up.
While you are experimenting with layers, effects, and whatnot you will soon find yourself with dozens of unused and unneeded objects that do nothing but make a mess.
That's where Layrs Control 2 steps in, allowing you to automate many of those actions with a few button presses.
Features
Remove empty layers
Remove unused effects
Rasterize smart objects
Flatten all layer effects
…and more
Pricing
Layrs Control 2 is completely free
CSS3Ps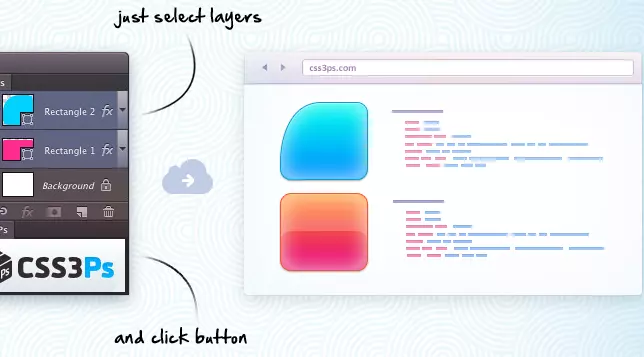 Like Layrs Control 2, CSS3Ps proves that great Photoshop plugins don't need to be expensive or cost anything at all.
What it does is quite straightforward - it expands on Photoshop's built-in ability to convert layers into CSS3 mark-up, ready to publish.
Features
Convert multiple layers into CSS mark-up with one click of a button
Provides SCSS and SASS code on demand
Pricing
Free
Pics.io Adobe Plugin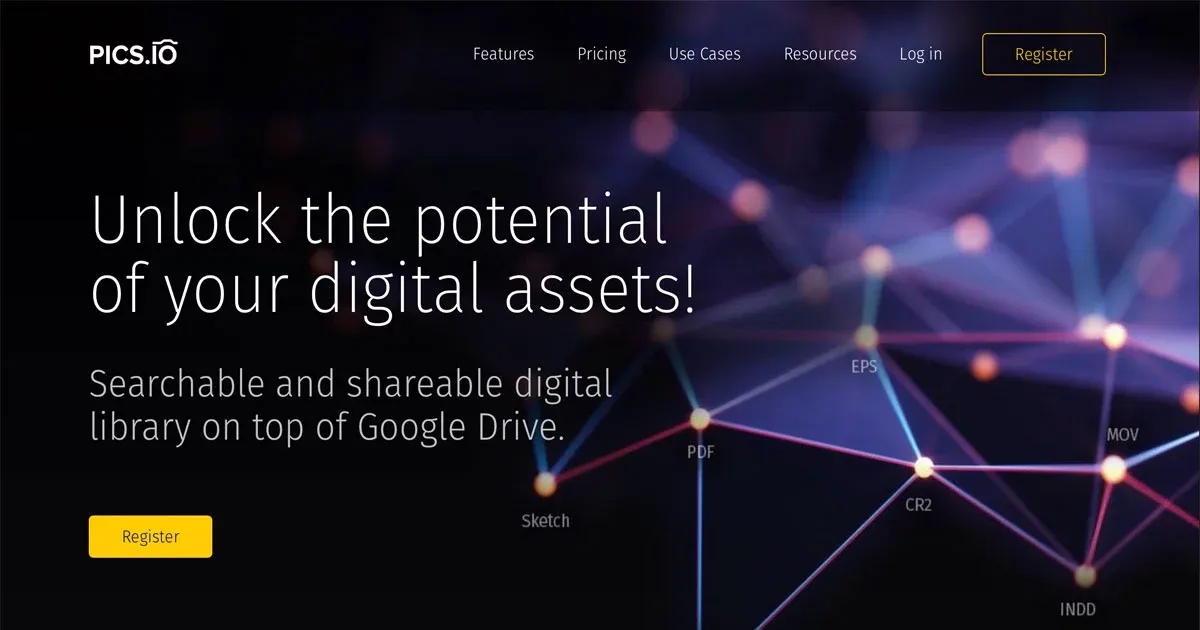 Design work, especially in the corporate environment, is not a one-man army process. You're expected to collaborate with others and tweak/utilize pre-approved assets from the company's vast media library.
Accessing those digital assets from the comfort of your Photoshop, however, can be an inconvenient process as you have to constantly switch between your editor and the cloud library.
Pics.io Digital Asset Management software solution seeks to solve the problems of managing the growing library in question. The proprietary plugin, meanwhile, allows you to access and download assets directly from Pics.io's collections straight from your Adobe Photoshop window. Thus, you'll always keep your eyes on the prize, helping you determine which assets would fit the project the most.
Features
Download single files and add them as new projects or as new layers to an existing one
Bulk upload files to add them as new projects in Photoshop if you work with several files at once
Use all Pics.io search features - by keywords, visual tags, or through custom metadata fields - straight from your Photoshop
Pricing
Plugin itself is free, however it requires having an active Pics.io subscription. Adobeintegrations start with Micro plan that is $15o/mo, with 10 users included.
There is also a free 7-day trial that grants you access to these features so you can see for yourself if the Pics.io DAM tool is something that you need.
RH Hover Color Picker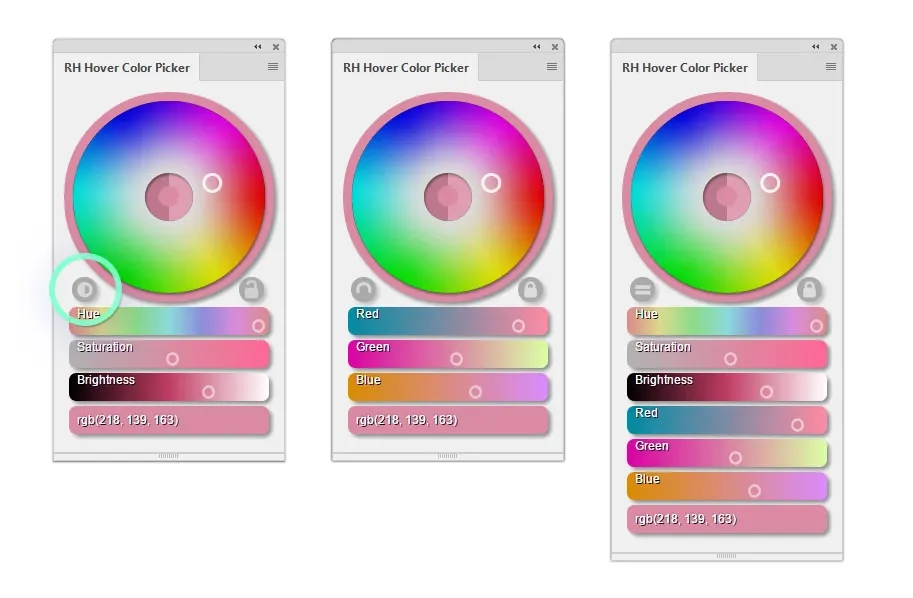 Photoshop has evolved drastically over the years, adding more and more intelligent features to its impressive arsenal.
RGB color picker, however, remained largely the same as it has always been. Not that there is too much wrong with it but it doesn't strike me as something that a visually-oriented person (such as a designer) would enjoy using. Majority of color gradation fine-tuning is hidden behind awkward sliders and numeric inputs.
RH Hover Color Picker fixes those issues by providing you with a color picking wheel that looks a treat and provides dynamic information in a manner that, in my opinion, makes more sense for designers.
Features
Real-time display of changes to brightness, color, and hue of the particular color
Does not take much space, minimizes automatically once you're done using it
Pricing
$16
Getty Images
There is no shame in using stock photos or images. Frankly, there are no problems at all…except the actual minute-to-minute workflow of trying and testing different photos before committing.
Open a browser tab, find the photo that you need, upload it & tweak it. Try another one, settle on it, purchase an HD version and redo this all over again. Kinda takes a lot of time doesn't it?
The Getty Images plugin simplifies this process by granting you direct access to photos from, you've guessed it, the Getty Images stock marketplace.
Features
Search and filter for stock photos directly from your Photoshop, Illustrator, and InDesign
After purchasing HD version, automatically replace the trial one while keeping all the edits
Pricing
Plugin is free and all the photos cost the same as they would on Getty Images' website.
GuideGuide

Another product in the series of "this already exists in Photoshop but better", GuideGuide will be a great boon to designers that spend a lot of the time creating grids for their documents, projects, and mock-ups.
GuideGuide makes the default procedures much simpler while also adding options that the default offering cannot provide.
Features
Save grids as template for later use
Use negative margins
Mark midpoints with pinpoint accuracy
Pricing
Starting with $33 annually.
Fontself Maker for Photoshop CC

Creating a distinct and recognizable brand identity is a must for anyone who wants to stand apart from the competition in the highly-competitive digital environment. There are many ways to get that "one-in-a-million" look but often overlooked part of the equation are fonts.
Text comprises a significant portion of any website's real estate but the majority of companies eschew custom options. One of the main reasons for that is the pure difficulty of creating a new font from scratch. Fontself Maker for Photoshop CC makes this job easier, allowing you to turn any Photoshop file into an OpenFont.
Features
Turn any image into an OpenFont
Customize the resulting font by adding color, bold & italic styles, and more
Price
$50
Chameleon Adaptive Palette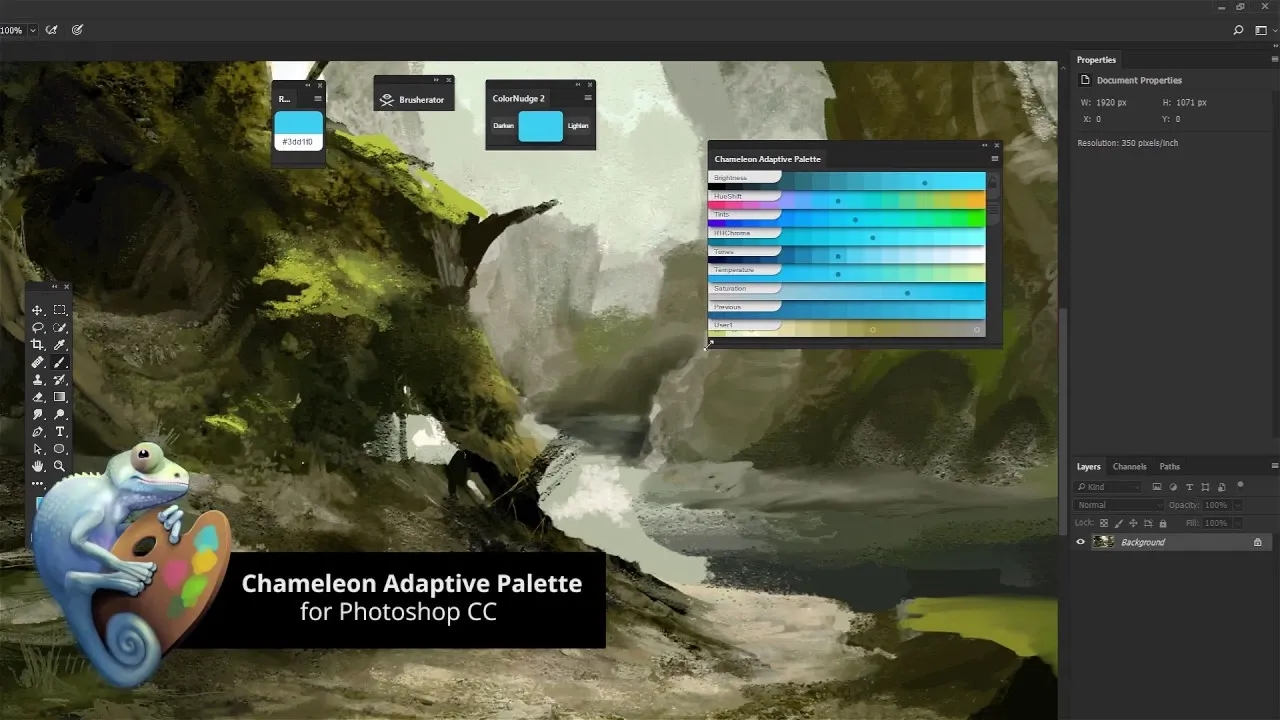 Artificial Intelligence is an impressive technology that revolutionizes everything - from marketing, eCommerce to design and digital art. Chameleon Adaptive Palette is an impressive plugin that will be a life-savior for digital artists.
Instead of breaking your head trying to figure out what colors look harmonious with each other, Chameleon Adaptive Palette will dynamically change color suggestions for the painting that you're creating at the moment.
Features
Ability to lock colors to prevent further suggestions
Flexible layout and many customization options
Price
$16
ON1 Effects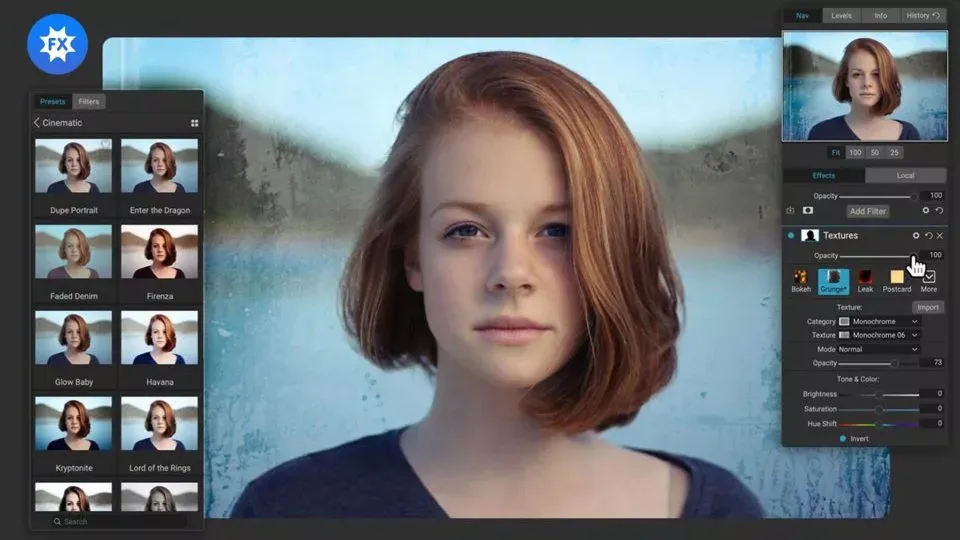 If you want to create apple pie from scratch, first you have to create the universe…point being that there is nothing wrong with templates and presets, despite what purists might say. ON1 Effects popularity may just prove that you don't need to build everything from the ground-up to create distinct and impressive photos.
Features
Stack multiply presets into one
Selectively apply effects only on the part of the image
Modify existing effects and save them as presets to use later
Price
$70
Avocode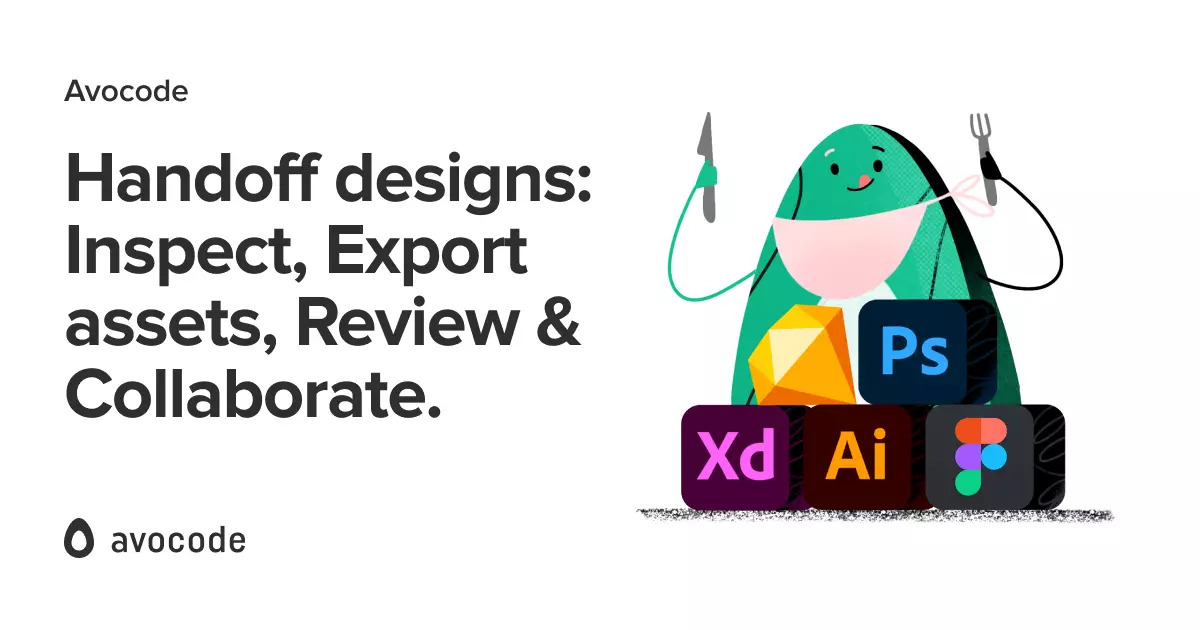 Breadth of options means that every designer and creative can find a program that plays to their strengths and supplement their weaknesses. The problem with multiple options is that it makes joining forces a tumultuous task. Avocode seeks to make collaboration easier and to create a true online workspace by eliminating all these barriers through the power of cloud tech.
Avocode is an app for Photoshop (as well as other design solutions such as Figma, Illustrator, etc.) that mends those bridges through a tiny pop-up window inside your software of choice. Through that window you can share, discuss, and leave feedback on files, and guarantee the smooth flow of any project - from the very beginning to the hand-off.
Features
Independent import of Sketch, Adobe XD, Photoshop, Illustrator and Figma design files
Cloud based version control
Code generation ​(including CSS, Sass, Less, SCSS, Stylus, CSS in JS, Swift, Android, React Native)
…and more
Price
Starts with $17/mo
EasyMockup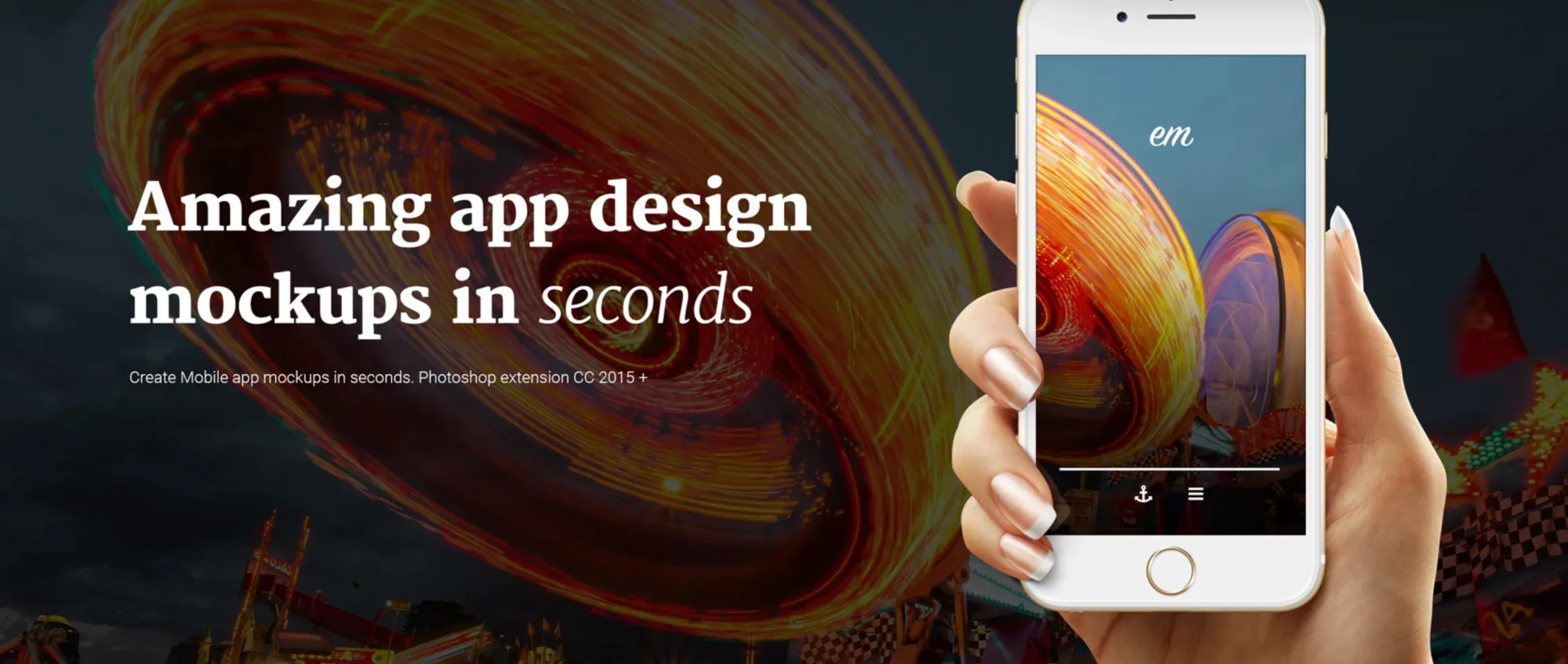 Mockups are important because they allow you to contextualize design through the real environment in which they are going to be used. Creating a good mock-up however is a laborious process and the project by itself.
EasyMockup, as the name implies, seeks to make this process trivial by giving you a preset template to choose from, so you can generate project mockups virtually on the fly.
Features
10 contextual mockups to choose from
Pick and choose devices and backgrounds to be used in the mockup
Price
Free
Conclusion
Adobe Photoshop is a powerful editor and undisputable royalty in the designing and photo editing world. However, there is no such thing as perfection and some of its out-of-the-box features are not as well thought out or developed to accommodate designer's needs.
That's why plugins exist though and, thankfully, Adobe makes it quite easy to enhance your Photoshop experience with third-party offerings. While many of these offerings are the matter of personal taste, Getty Images and Pics.io plugins are pure convenience.
There isn't a thing in the world that I don't like as much as alt-tabbing, something that I've realized when I had to give up the luxury of multiple displays. So having an option to access all required assets from one window is certainly a boon that saves me plenty of time and patience.
If you think like me, don't hesitate to try out these plugins today. As I've mentioned before, Pics.io, in particular, has a free trial so you can learn the ins and outs without any metaphorical strings attached. So, see you there!
Give Pics.io DAM a try
Free 7-day trial
No credit card required
Set up in 3 minutes or less
Did you enjoy this article? Give Pics.io a try — or book a demo with us, and we'll be happy to answer any of your questions.