2020 has been an acid test for every business. The Digital Asset Management industry is no exception.
On the threshold of the new year to come, we at Pics.io decided to do a small research about how the DAM industry is holding up and why it is still a priority for marketing & creative teams all over the world.
Here's what you're gonna learn from our research:
Forecast for the DAM industry & factors that promise its long-term, steady growth;
Business profile of a likely DAM user;
Criteria for choosing a DAM solution;
Types of digital assets frequently stored in DAM;
The ROI of DAM for business.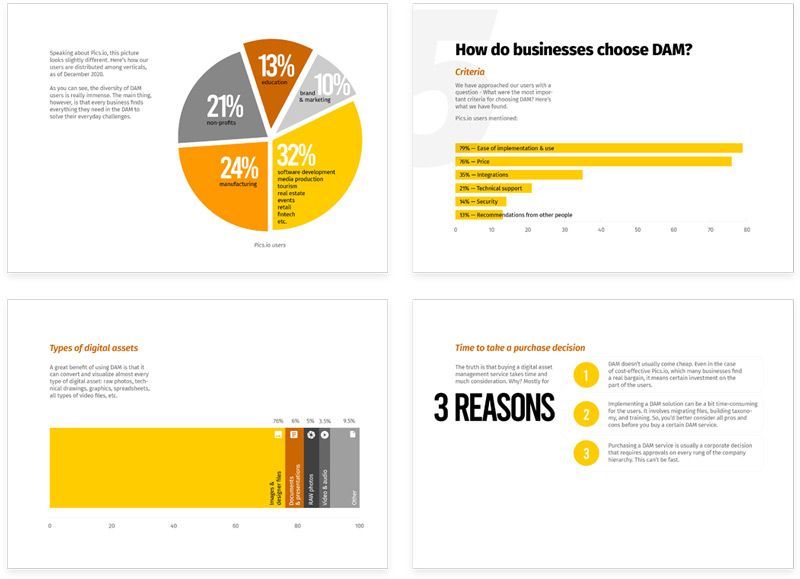 Here are some brief takeaways from the research we did. To download a complete free copy of our research - click here.
Hot facts about DAM 2020
The overall market size of the DAM industry has grown by 40% this year, and it is expected to reach a staggering $ 6.0 billion by 2025.
In Pics.io alone, the number of registered users has increased by 200%, and this trend is not likely to stop.

North America continues to be the leading consumer of digital asset management software. Our statistics also prove that - 61% of all Pics.io users come from this region.

79% of DAM users mention "ease of implementation & use" as an important criteria for choosing DAM. Time has come for easy-to-use of-the-shelf DAM products, rather than bulky enterprise solutions.

The churn rate in the DAM industry is one of the lowest in SaaS. Our churn rate at Pics.io is a mere 3.05 %.

64% of current DAM users had their digital assets stored on Google Drive before adopting DAM.

76% of all digital assets stored in DAM are images and designer files. This explains why available integrations with Adobe CC, CMS services, and social media are very important criteria for choosing a DAM solution.

82.7% of DAM users claim that search takes them less than 5 min, as compared to 31% who could claim the same before adopting DAM.

10 hours a month - this is how much time at least DAM saves an individual user in your team.

270% - this is how much DAM improves your search results, according to our survey.

300% - this is how much DAM improves distribution & sharing of digital content in your team, according to our survey.
Find this and much more analytical information on DAM ROI in our hot-off-the-press DAM Benefits for Business - Research 2020.

DOWNLOAD THE FULL COPY OF DAM RESEARCH 2020
Give Pics.io DAM a try
Free 7-day trial
No credit card required
Set up in 3 minutes or less