Here's an interesting paradox.
As projects grow more complex and teams more diverse and decentralized, there's an increased demand for software to automate or at least streamline the challenges which occur as a consequence.
That's how we've got things like JIRA, Slack, Figma, GitHub, Google Docs, Trello, and more.
All these apps exist to simplify this or other elements of teamwork. JIRA & Trello help you stay on top of tasks' progress, whereas Figma & Google Doc help collaborates on designs and documents with people that can be on the other side of the globe.
There's a high chance you're using some or all of those in your day-to-day.
But as you acquire more and more apps that should make your life easier, there comes another pain - the actual need to keep track of all of these apps.
Project and team managers in particular will know the pain all too well. With the need to track both their and the team's progress, it's not rare to find yourself spending the better part of the day window-hopping to get all the crumbs of information to see the full picture.
In today's article, I'm going to talk about how you can fix this headache thanks to digital asset management and our new feature - external links.
External links let you add URLs as assets to your digital asset management, which means that information from all sources, even those where it is not feasible to re-upload a file, will be accessible from one screen.
What is Knowledge Base Software?
In the most literal sense, a knowledge base is any place that stores general or specific information. It is vague, as you can describe many things as knowledge bases - libraries, archives, something like Confluence. Even a Google Drive qualifies.
In other words, whatever thing you're using right now, you already have a "knowledge base"
So, then there's a question: why bother with creating something that you already have? And with another app to boot?
The answer is simple. Whichever knowledge base you're using does not offer you a unified interface through which you can manage and access all your files, regardless of where they are.
But DAM can.
What is Digital Asset Management (DAM)?
Note: if you already know what is DAM, you can click here to go to the next section of the article.
Now, before we go deeper, some of you might be curious about what is DAM.
Digital asset management helps you manage all your digital assets (images, videos, documents, and more through a single unified interface. So imagine your Google Drive but with improved search, version control, easier sharing, and collaboration.
How exactly does DAM achieve these things?
Improved Search
To become a knowledge base, DAM uses metadata. Keywords, custom fields, and various tags (star rating, colors, etc.) By tagging your assets with metadata, you can then search for those assets faster because you:
Don't need to remember where they are
Don't even need to remember their name or general appearance
An example. Let's say that your company goes to multiple expos each year. The total number of photos from all of these (for marketing and press release purposes) can amount to hundreds. So how do you find the specific one you need. So not just any photo from one conference but a very specific one?
Adding metadata, like a custom field with the events' name or the keyword with the photo's subject can reduce your search for photos from hundreds to seconds. Here's a short video demo on how it works in practice:
Metadata-powered search works even with video files and not only with the name of the video asset itself. You can now generate transcript for any video within seconds in Pics.io DAM system. This AI-powered feature turns speech to text and also provides time codes. Thus, now, you can also use words in video transcripts in search.
Version Control and Collaboration
Another issue with assets is that when you're working on a high-quality one, it gets messy.
You have so many revisions that your folder is full of almost identical pictures with names like "finalRE", "re_REactuallyfinal", "PRODversionrelase2". Plus, there's a problem with matching feedback with images.
You either have all images in one place and discussion in them in the other, or you send assets back and forth as attachments in messengers or email and then you have to go and find that one particular thread to find the approved version.
Pics.io DAM solves these problems by providing intuitive version control. It keeps all versions of an asset under a single thumbnail but also has a comment section in the asset's info panel. That way, everything you need to know about the asset - how it looks, how it looked before, and what your colleagues have said about it - is all in one place.
Sharing Assets Faster & Easier
Sharing files is another area where DAM helps with keeping things all in one place. Especially if third parties are concerned.
Sure, when you're sharing files with your team, an internal knowledge base works just fine. You can just give them a link to a file or give a few pointers on how to reach it. Not so much with third parties, especially one-off relationships like contractors or freelancers. Don't need to say that introducing externalities into your internal environment is a big no-no. At the very least, it's just tedious to clean up their credentials after the fact.
So what you would usually do is download a file, reupload it to Dropbox or any other file hosting service...and then probably do it again a couple of times, especially if we're talking about something that needs work to be done.
Pics.io DAM has two features to handle both incoming and outgoing files - Inboxes and Websites. These two let you either receive files directly to your media library (without giving the sender access to the library as a whole) or share entire folders' worth of assets in just one click.
It's as simple as going to the collection (folder) that you want to share, clicking a few buttons to host it online, and sending the link to whoever needs to see it. And they'll also get to enjoy some of the features that you've already familiar with - like commenting on assets, viewing its revision history, and easy download! So, not only it's easier to share assets with DAM but it also helps you track keep of conversations revolving around the assets.
Once again, here's a short video to better demonstrate how Websites function:
That story about using Websites to work with contractors wasn't just hypothetical. Check out our story about how we've used Pics.io's sharing to develop a series of videos that you see throughout this article.
Give Pics.io DAM a try
free 7-day trial
DAM Powered Knowledge Base
Historically, all DAM vendors used one catchy slogan to describe their product:
A single source of truth for your digital assets
And as far as assets that you actually could have uploaded to the DAM of your choice - that was very much correct.  But what about assets that you cannot or don't want to reupload?
Why would you download a Google Drive document if you would need to edit it in Google Docs anyway.
Having a better way to organize and categorize your YouTube videos is good in theory, but doesn't really warrant taking up space by uploading videos twice.
Exported Figma files use a lot of functionality that makes Figma worth using.
...and the list goes on.
That's exactly what we are solving with external links. These let you upload external links to your Pics.io DAM thus getting the best of both worlds. You'll keep files right where they are (and all the precious functionality) while using DAM to find those assets fast and conveniently, regardless of where they are!
We've already talked about how using external links can help maintain your blog assets consistent and up-to-date. Now, let's take a jab at how it can facilitate an internal knowledge base that gives you access to everything at your fingertips.
Upload Links as Assets to Pics.io
So, we're working on some new landings at the time of writing. It's obviously an involved process. You need to track:
Design specifications
Marketing copy
The design file
The task's progression
Naturally, these things take time as any company will have multiple projects in the pipeline, so it's not like this humble writer (responsible for all things marketing'ish) just have tabs open to all of that at the same time.
Plus, I wouldn't be the only one checking on those things as a designer, web developer, and project manager would want to look at those things independently.  
The latter part is especially important. Because I know where those things are, they might not, necessarily.
So since we've just rolled out this new thing, I decided to upload links to all these files to our Pics.io account for better management and tracking. It's as simple as copying all links that you want to add and choosing the proper upload option from the toolbar at the bottom: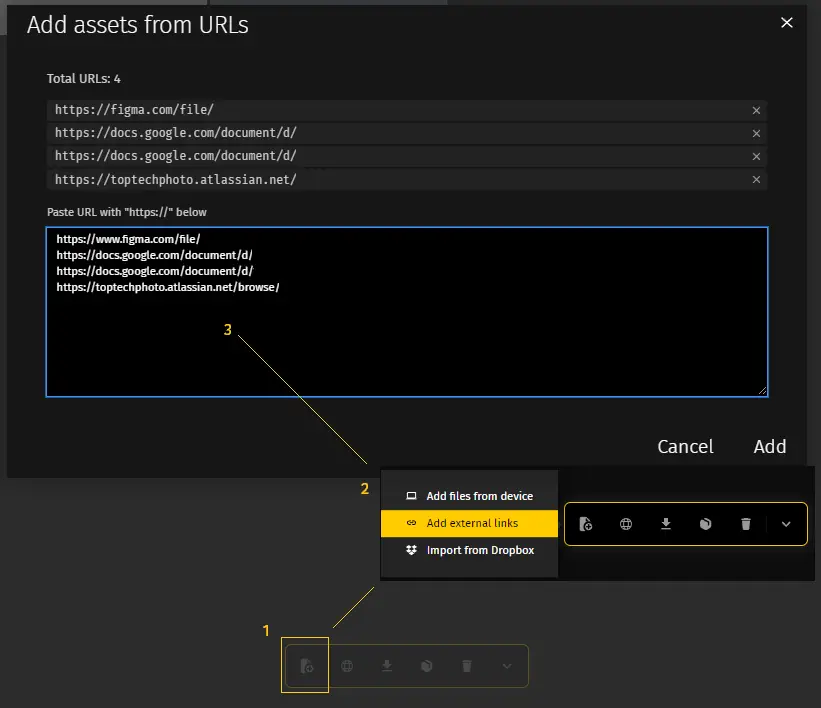 I've also added specific metadata so that anyone can find everything just by specifying relevant keywords. In this case, I think that just bulk-adding Integrations Landing to it all would suffice.
So now I have something that looks like this: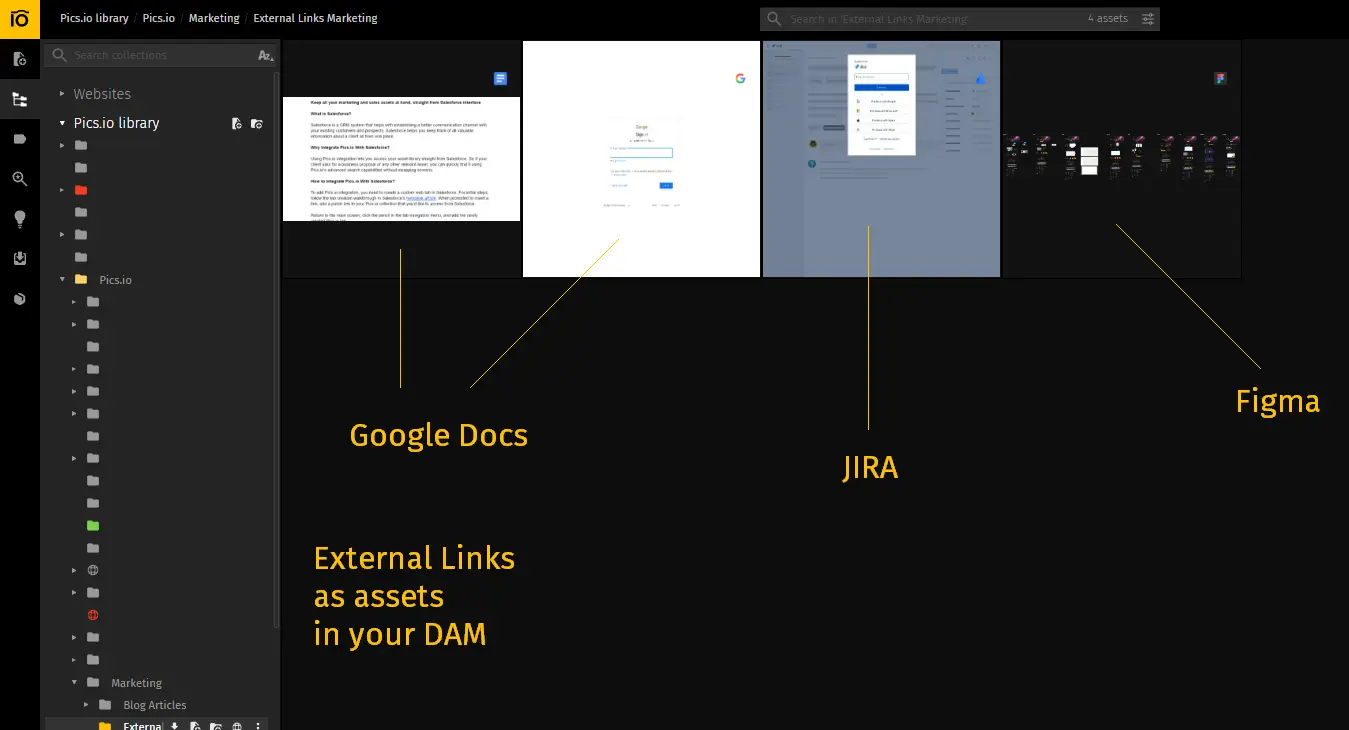 You can also see that Pics.io adds a visual thumbnail for each link that you upload, by looking through the webpage and taking a snapshot of the page.
The asset preview offers some extra functionality. So, for the webpages and Google Docs, I can also search by the page's content as if it were a document that I directly uploaded to Pics.io.
For Figma, opening the project inside Pics.io lets you zoom in and scroll through the document as you would albeit without all the fancy commenting bits and bobs. It works well enough if you need to take a quick glance at the file and if you need any more details, you can always click through to work with Figma directly: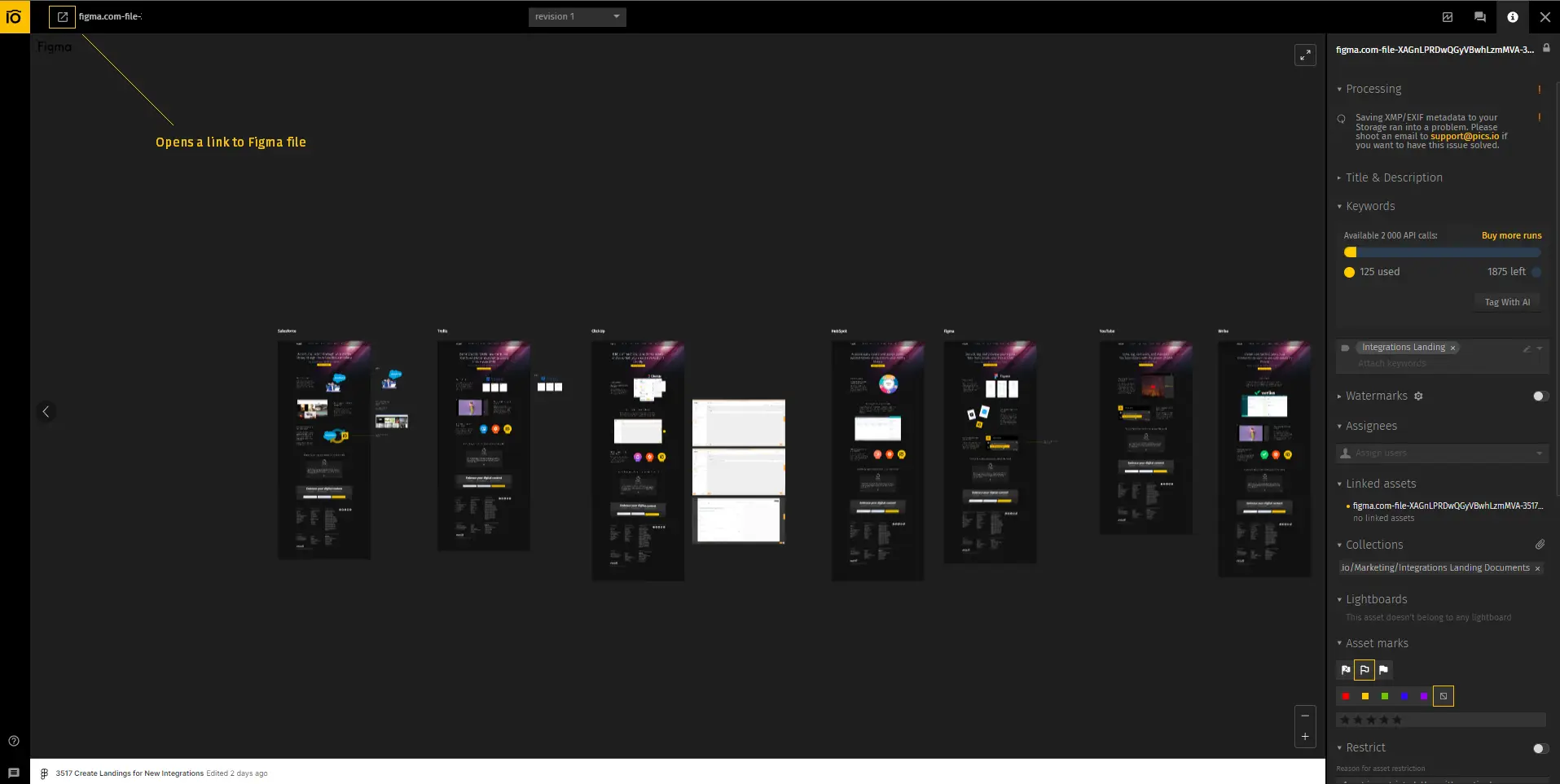 Note: External link previews work only with public URLs. This means that if it's something locked behind a login (like JIRA or private Google Doc), a preview won't be available.
Find External Assets From Anywhere in Your Knowledge Base
So now that I have all materials related to this project in my DAM, I can use our beloved search to find all the information that I need. If I care only about external assets, I can further specify my search like so: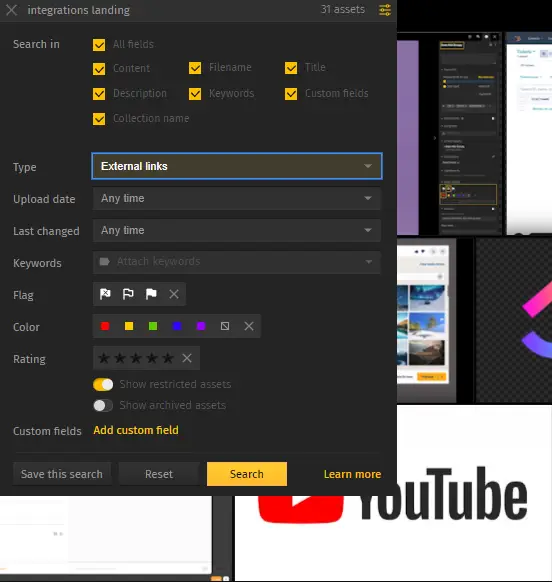 This is actually quite helpful because, as you can see, I've tagged both links and screenshots/visual assets for the landing with the same keyword.
Speaking of which, you can also do some other interesting things now that you can mix and match native assets with external ones.
To make our designer's life easier, I can for example link the marketing copy together with the images for it, so he would have an even easier way of finding everything that's relevant: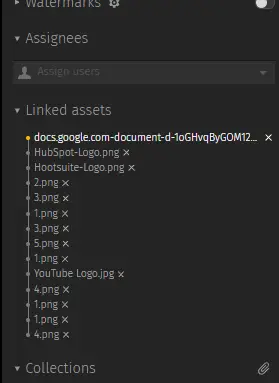 And here you can also use the asset's comments section for any quick thoughts. Sure, if you need a more involved discussion, or revising, the actual tools (in this example, Google Docs) would work best. But if we're talking about efficient communication, this is definitely faster.
Especially since all @ and comments on assets are also duplicated in one's email or Slack.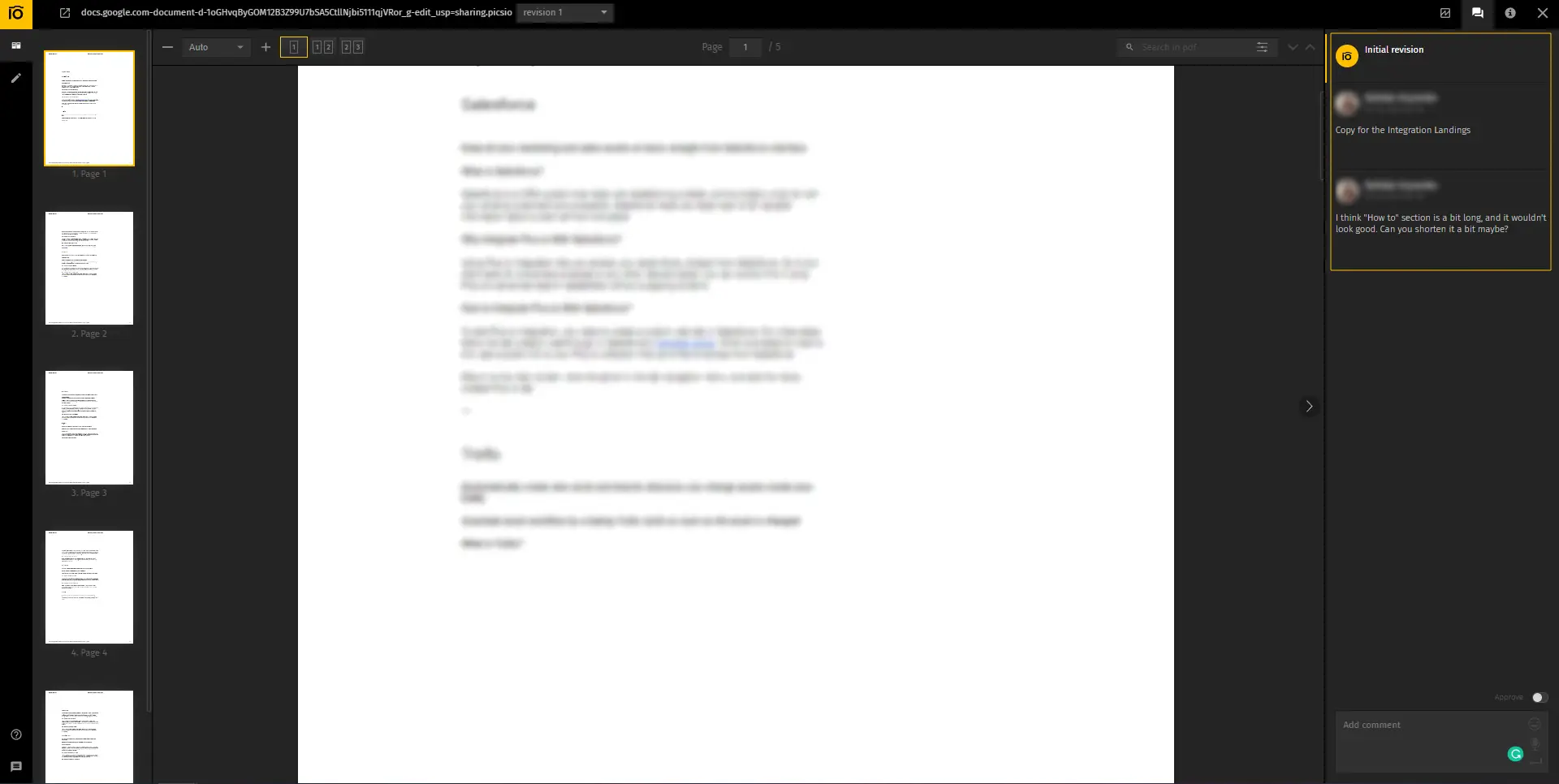 All this talk about Google this and that...did you know that Pics.io is the only DAM on the market that offers full integration with Google Drive? So you get to keep your storage and your assets where they are while using Pics.io to control those better (external links included too)
Conclusion
Wait...that's it? I mean, yeah. It's that simple. Unifying all sources of information into a unified knowledge base should not be difficult after all.
To re-iterate all you need to do is:
Add links to all external sources of information (Figma, JIRA, Google Doc, etc.) to your Pics.io DAM, and click Add
Tag these external link assets with any keywords that make sense to you so that you can find all of them, just by typing the said keyword in the search bar.
Find all assets in seconds and never worry about going to each portal and finding info piece by piece, every day ever again.
I could have written like 1000 more words for some SEO padding, but I won't. Instead, I can suggest you see how simple it is yourself with our free trial, that's ready to go as soon as you are (email and password are everything you need).
See you there ;)
Give Pics.io DAM a try
free 7-day trial
Did you enjoy this article? Give Pics.io a try — or book a demo with us, and we'll be happy to answer any of your questions.