For any company, blogging is an important element of content marketing. Writing a blog lets you stay in touch with your existing and would-be customers, and tell them about any new product features, new deals, and anything else that they might find of value.
The blog is also the tool to use if you're trying to optimize that organic reach through SEO. Because blog posts tend to be relatively long pieces of content that means you can populate them with keywords and queries that your TA audience is using.
An often overlooked yet nonetheless important part of the blog is blog images and other visuals. These let you break the monotony of text and also illustrate things that you're talking about.
But here's the issue. When your blog has been running long enough, you may discover that you have a lot of images. Our blog, for example, has around 200 articles, 2-3 images each. That's almost 600 images! And how would you track all of them? And why would you?
In this article, I'll talk about the importance of organizing your blogging pictures, blog itself, and why it matters.
Let's dig in.
Why Do You Need to Care About Keeping Your Blogging Images Organized?
The specifics will depend on the exact type of image that you're using. Stock photos, pictures of products, infographics, or even screenshots of UI if we're talking about software. But the main thing is that - after time passes, images might become irrelevant, or outdated, or you might not have permission to use them at all!
Let's look at each one individually.
Stock Photos
Though these grow out of favor because they're not as informative as custom-made assets, stock images nonetheless remain an important tool in any blogger's arsenal. Maybe you were running out of time and didn't have the option to commission custom assets. Or maybe you've found just the stock photos that you need and bought licensing rights.
So here is where things get interesting. Not all stock photo licenses are permanent, some can be bought on a temporary basis. Even those free stock photos that you got from Unsplash or wherever - the authors can change licensing rights, meaning that you won't be allowed to use photos anymore!
Keeping track of those images means that you will avoid awkward conversations down the line, when somebody emails you saying: "hey, looks like you're using something you shouldn't, tsk-tsk."
Product Photos and UI Screenshots
No matter if you're selling physical goods or software, you still want to show them to potential buyers. And a blog is the perfect platform for that as you can focus on a specific niche or functionality and then illustrate how your product helps solve this or that issue!
But here's the thing. With physical goods, some product lines can get updated or removed from stock completely. With software, it can be anything between drastic UI changes or the depreciation of irrelevant, outdated features.
The point is that if you have an article somewhere that shows something that you're no longer selling, that's an article that is no longer useful. Plus it can appear misleading or confusing.
Information That is No Longer Relevant
Here's a scenario. Let's say that you've written an article in 2019 about remote work. To support the points that you're making, you might have used an infographic or a graph to showcase the current rate of remote work adoption across different industries. While the article's general outline still holds up…well…we all remember 2020, eh?
So, whatever illustrations you've had would be quickly outdated due to an obvious spike in remote work utilization following the global lockdowns. Looking from an outsider's perspective, it's hard to take the article's claim seriously if it's using obviously outdated information to support its narrative.
How to Keep Images in Your Blog Relevant and Up-to-date?
Okay, so here's the thing. Mapping all articles to all images might have been easier if you had one blog image.
But you have hundreds of both, and it's not unlikely that you're using the same image multiple times across many articles. How do you remember which article uses which image?
Manually skimming through articles seems like a huge time-sink, even if it's theoretically doable.
Creating something like an Excel spreadsheet where you have two columns, one with images used and the other with links to the articles? I don't need to tell you how awkward it's going to feel doing and maintaining that makeshift database.
So, let me show you how you can do it the Pics.io way!
Use Digital Asset Management and External Links to Keep Blog Photos Organized and Up-to-date
Just not long ago, Pics.io released External Links functionality to help teams consolidate all digital assets they have in one place. And although when people think of digital assets they think about photos, images, videos, and such, your blog articles are important assets as well. Marketing collaterals, to be precise.
Hold on a second…what is digital asset management (DAM)?
For those not in the know, digital asset management is smart storage for your media files. DAM allows you to organize and categorize all the assets you have by tagging assets with metadata, tags, and custom metadata fields. So, next time you want to find a specific asset, it will take you only a few seconds as you won't need to skim through all the files manually or remember their exact locations.
Give Pics.io DAM a try
free 7-day trial
Back to the blog articles and organized images
Right! So external links allow you to add links to your blog into your DAM and the DAM will then treat them like any other asset that you would have uploaded from your computer.
Let me show you how I've been using it since we added this feature!
From the bottom panel, I can choose whether to upload assets from my device or add them as links. So, I've been slowly adding all our existing blog articles like so:

And then I just need to add a link (or multiple) to all articles that I'd like to add.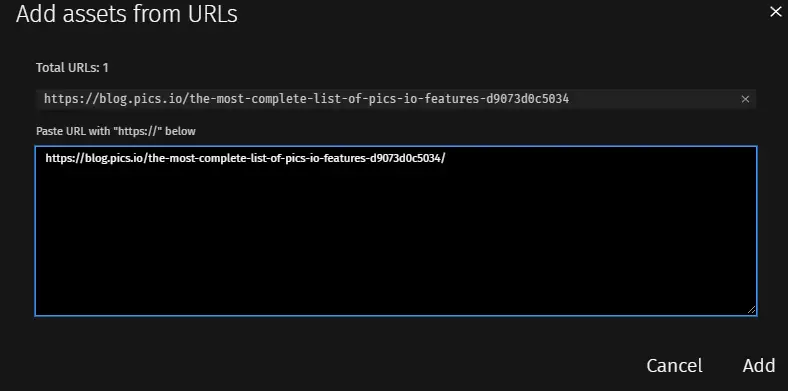 Once you add the link, it'll take Pics.io a few moments to process the link, after which you'll get a visual thumbnail and also a built-in preview so you can read your blog from inside your DAM!
The cool thing about how Pics.io processes these links is that it will parse any metadata that it can reach and it automatically to your newly made asset. In my case, Pics.io managed to grab the blog's meta title and description which can be handy if you want to search for it.
But if that's not enough you can also search for specific articles by their content or you can add keywords with things like the article's topic or types of images that you're using in it (e.g. Stock images)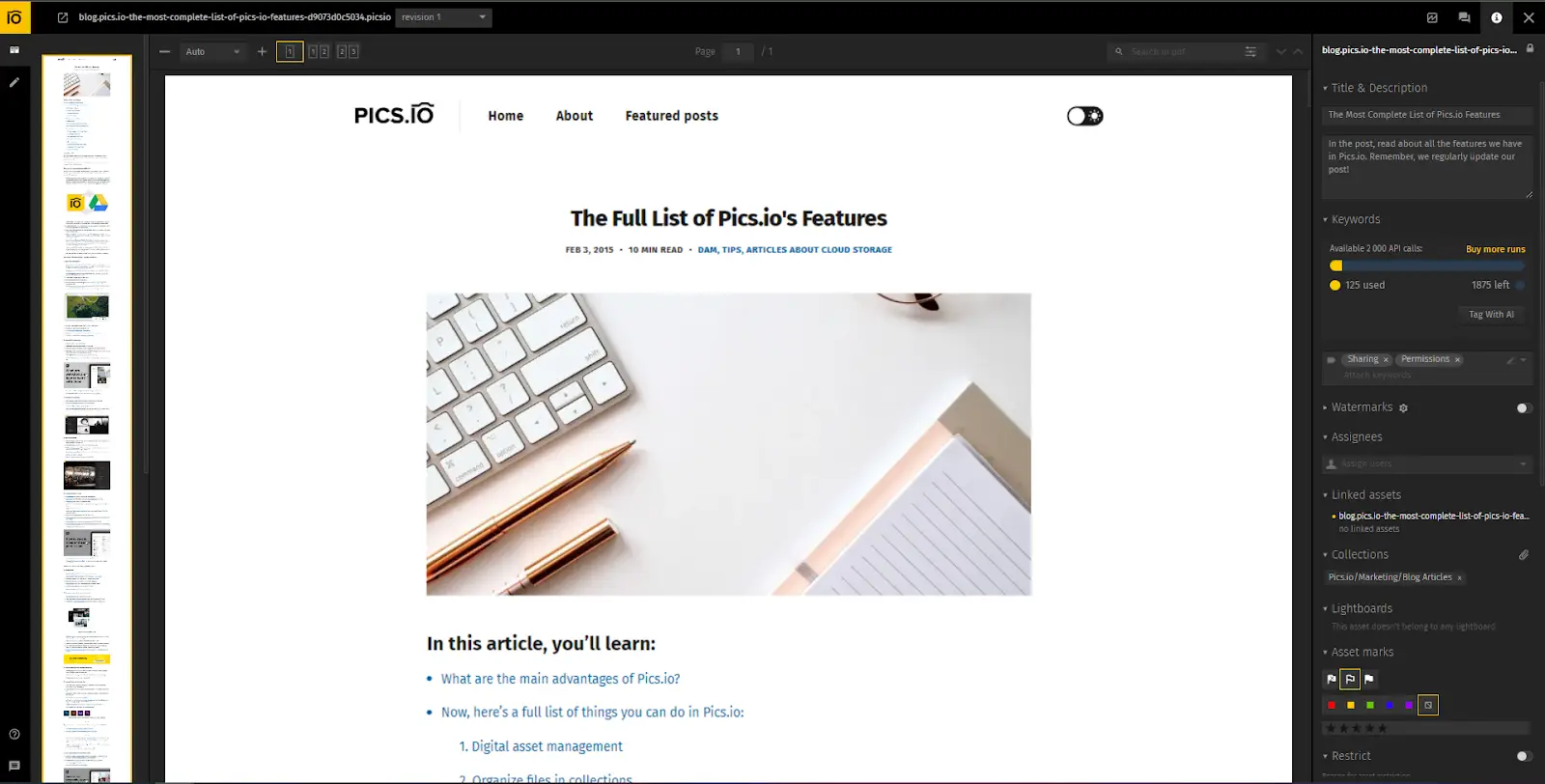 Link Articles with Images to Keep Images Organized
Whether it is stock images or screenshots of UIs, I tend to keep everything inside our DAM. Now that I can also add URLs to published blog articles what I can do is link those assets together.
In this article (and some others), I've used a screenshot of what our Roles & Permissions management interface looks like.
But what I've forgotten is that we updated this interface a while ago. Well, my manager didn't which is why she'd reminded me about that:

So now I'm just going to upload the new look of the UI as a revision of the previous image. Since I've already linked articles with images inside my DAM, I don't have to endlessly look through my blog to find all the articles where I've used this image. I can just go to the article straight from my DAM and update it there immediately.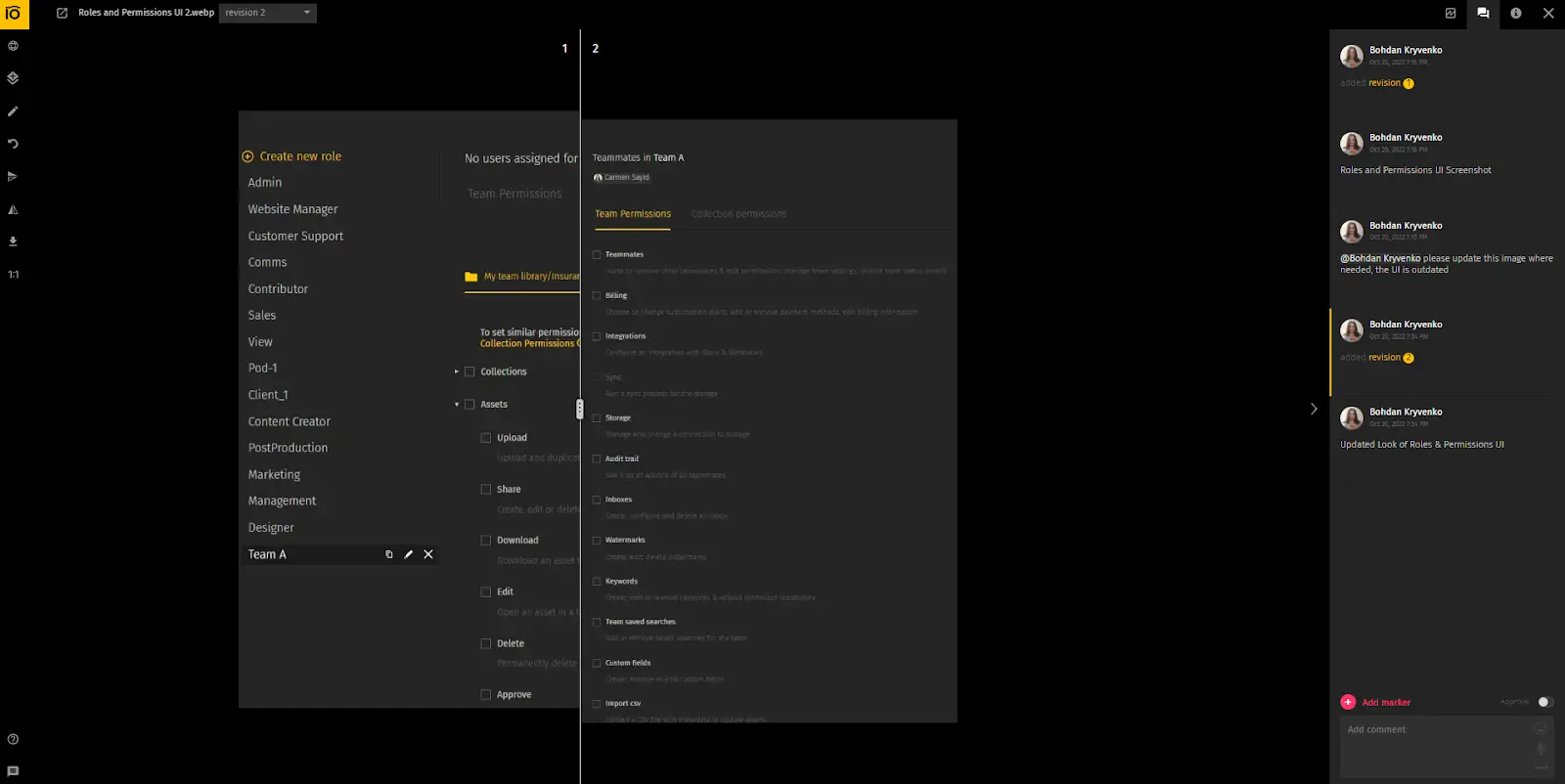 Granted, this is not a fully automated process (you do still have to go through each article and replace the image) but it speeds up the process tremendously!
If you're curious about how roles and permissions work in Pics.io, check out the video below!
Conclusion
Keeping visuals up-to-date is an essential part of the business. It ensures that your readers get the actual and relevant information about your product, maintains your brand image, and in the case of stock photos, helps you avoid some unfortunate legal consequences of license misuse.
With external links, tracking media in your blog is so much easier as it lets you upload your blog posts as is direct to the place where you'd want to manage and organize these things. So it's not something awkward as having bits and pieces in one place and the finished project in another, forcing you to go outside of your asset management to…manage your assets.
URLs as assets bring DAM one step closer to reflecting the so-often repeated marketing phrase: a single source of truth for your digital assets.
And if you're eager to see how it works yourself, don't look any further than our free 7-day trial!
Give Pics.io DAM a try
free 7-day trial