A company photoshoot helps to visualize your products, services, your teams, and your company ethos to consumers. With professional photos, you can improve your company's overall image and credibility. This is essential to establish a trustworthy relationship with your customers.
You also get to present your company and employees professionally and originally to consumers and potential clients, which will give you an advantage over your competitors.
Do you have a planned business photoshoot and need ideas to help you achieve a professional company looks? This guide highlights eight awesome tips. But before we get into them, let's first discuss what exactly a business photoshoot is and why it is important for your company.
What Is a Business Photoshoot
A business photoshoot is a photography session that portrays a business through staff or product photographs. As a result, it shows the company's values and the people involved through images. It's a type of photography that usually takes place in a professional environment, like an office, meeting room, production room, or at event. Anywhere you will find professional workers.
Corporate photographs usually include headshots, environmental portraits, staff pictures, in-context photography of your product, and photography of the premises.
For example, Law Firm Anesi Ozmon shares the team photo below on their Facebook profile.

Depending on your industry, business photoshoots can be done in many ways. For example, some companies would focus on the employees more, while others on the services the company provides.
Why It's Important To Organize a Business Photoshoot
Corporate photographs help companies communicate what their brand is all about. Whether it's a new, fast-paced company or an old business with a well-established position in the market, business photoshoots are great for showcasing your brand. They help to establish your brand's identity.
Once you have your best shots from a business photoshoot, you can place them on your company website and other company assets. This is important for various web pages, such as your homepage, about us, and "our staff" pages which are usually linked to other pillar pages on your website.
Include professional photographs across company brochures, internal magazines, and newsletters as well. All your marketing publications will benefit from using great professional images.
Now that we've covered the reasons why it's worth organizing a business photoshoot for your company, here are eight business photoshoot ideas and tips your company can follow:
1. Set Clear Expectations
First, you should speak with your professional photographer about your business photoshoot ideas. Depending on the purpose, the files will come in different sizes and resolutions plus have different editing needs.
Your photographer needs to know if you want shots of the premises, the buildings, products, etc., as well as business portraits. Think about where to shoot the corporate portraits. The important details, like the background, access to natural light, and composition, will depend on the location. Your photographer will also help you with the setup.
The more details your photographer has, the better they can prepare for the photoshoot. This means planning their concept, the time, and the equipment they would need.
To avoid unexpected outcomes, write down all your expectations on a contract and have your professional photographer agree to it. Here's a sample contract between a professional photographer and a company for a corporate event photoshoot: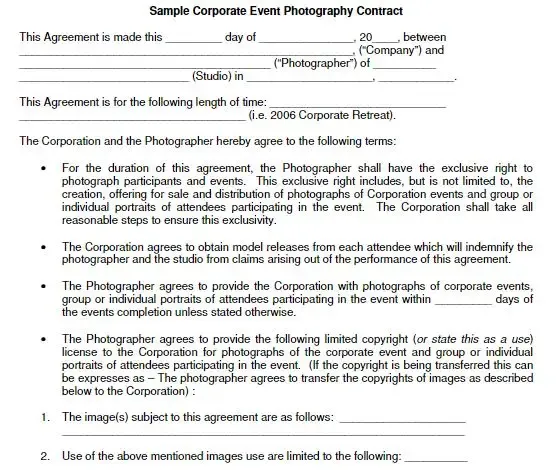 Clarifying what you intend to do with the images is essential here. For example, your photographer should know if the photos will only be needed for the website or as big prints for wall art. Setting clear expectations will help you and your photographer to set the details of the photoshoot process.
2. Click a Good Headshot Photo
While gathering business photoshoot ideas, you should make sure that you always get a classic headshot photo of the employees. The company may use them on the website (about us page), for staff ID badges, or as social media profile pictures.
Just like the Director of the Glasdon Group Limited, Joy Kavanagh. Joy has used a professional headshot picture for her business LinkedIn profile: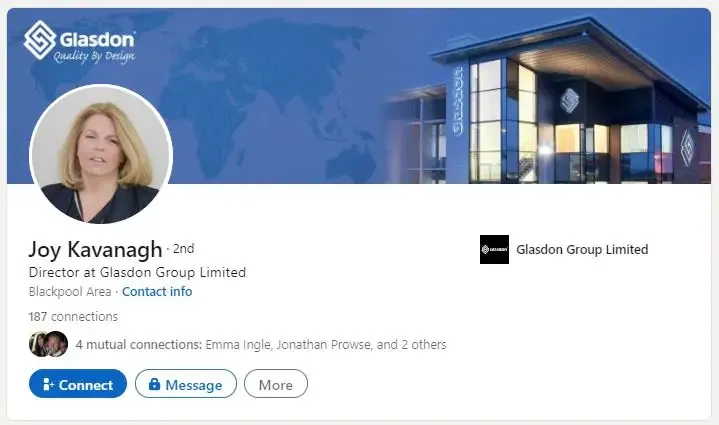 Headshots should be clean and focused. You should make sure the background appears clean and appropriate. Here's an example of a classic headshot: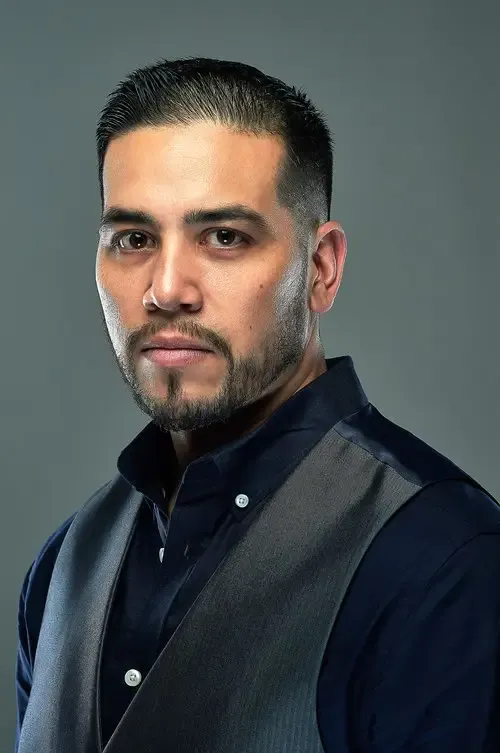 The picture suits all the purposes. Notice the dark gray background. It doesn't have to be light. The dark color surrounding looks posh and elegant.
3. Hire A Stylist
Hiring a stylist to help everyone look their best is another awesome tip for some of your corporate photoshoot ideas. So if your company has a decent photoshoot budget, consider this option.
A stylist will ensure that all employees wear clothes that reflect the type of company and its culture. Whereas a startup's clothing style can be informal, the traditional office style is usually formal. Production or medical staff usually have shots taken in their uniforms.
A professional makeup and hair artist will ensure your employees look great, especially for their headshots. This can help take off the stress off your employees as not everyone feels comfortable in front of the camera.
4. Take Before/After Pictures
Taking before and after pictures is an excellent business photoshoot idea. The before/after pictures are the ones that show people's natural emotions like smiles, laughter, focus, and bliss.

There's no better way than to show a story through emotions. Keeping the before, during, and after pictures of the preparations will help to tell a story about your brand. Showing a story means much more than just saying it.
It is best to appoint someone other than the photographer to take the less formal pictures because it provides a third-person point of view. Here's an example of such a picture that will make a remarkable memory of the photoshoot: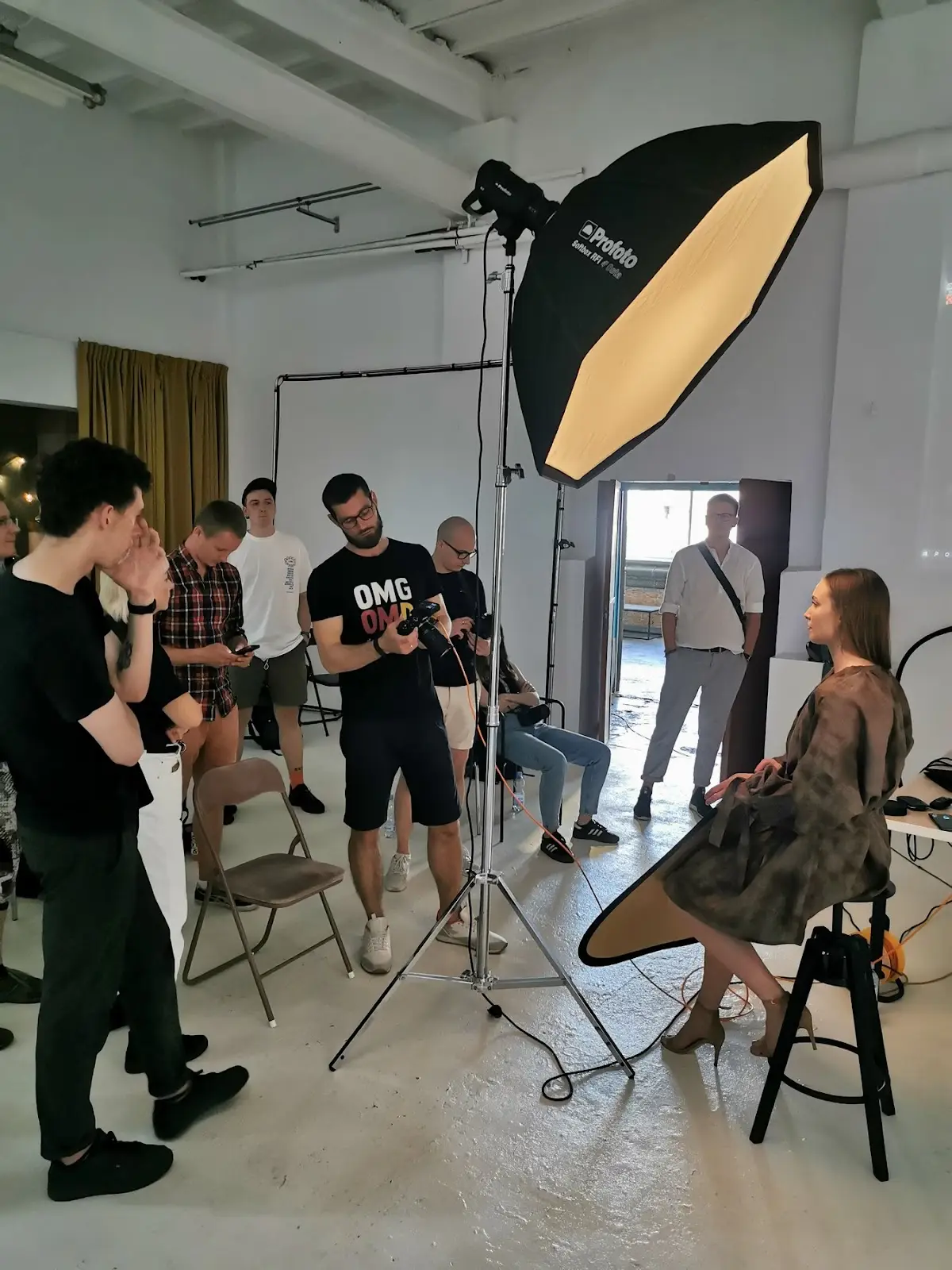 The behind-the-scenes pictures are the best for publishing in less formal places, like the company's internal newsletter or social media page. Let your clients see that your team consists of "real people" with emotions. Also, you can show that your staff has a great time during events, like corporate photoshoots.
Publishing photos of your company from a photoshoot is a crucial part of communicating your brand to your audience. That's your chance to show your customers your brand's image and the importance of your employees, products, and premises.
5. Capture Business Event And Meetings
Business events and meetings provide networking opportunities essential for any company, big or small. Your potential customers and employees should know your company holds regular meetings at a professional level. Therefore, those are some of the best places and times to take photos.
So, if your company has a business event planned soon, like a trade show, you should send a cameraperson too. The photos will prove your business' credibility, and you can use them as marketing material later on to promote your business.
Here are some example shots from a trade show taken by @ryanarmbrust, a commercial photographer: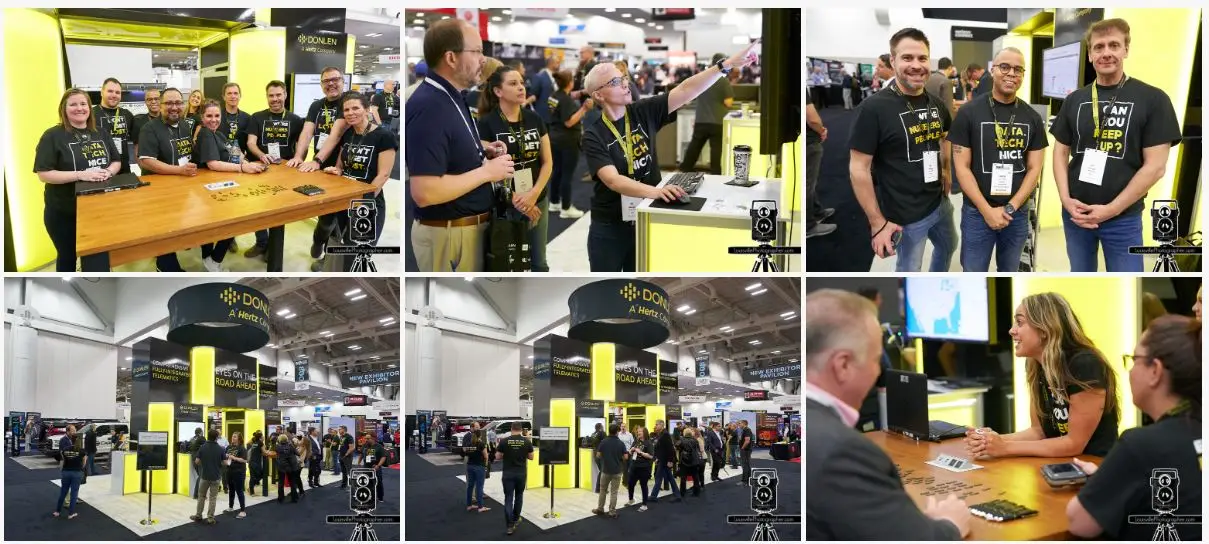 The pictures show the team's involvement and the dynamics of the event. Live events are driven by emotion and are a great way for companies to attract new clients or bond with existing customers. Capturing these moments in a good photograph is important.
Photographs from business events and meetings are also great for social media, newsletters, and your website. Make announcements of the events your company will be taking part in. Invite your stakeholders. After the event, publish pictures to present your company in the best light.
6. Showcase Important Deals
Anything that makes your company proud makes for a great business photoshoot. This could be an image of an award, a certificate, or a new degree of one of your employees.
For instance, pictures showcasing important deals convey to viewers that your company is trustworthy, professional, and recognized. Why? Because you are showing them your best achievements which are a testament to your success.
The example below shows Martin Wallwork of Glasdon Group Ltd receiving an Open Spaces Award 2018. Companies should proudly display pictures where employees and customers can see and admire their achievements.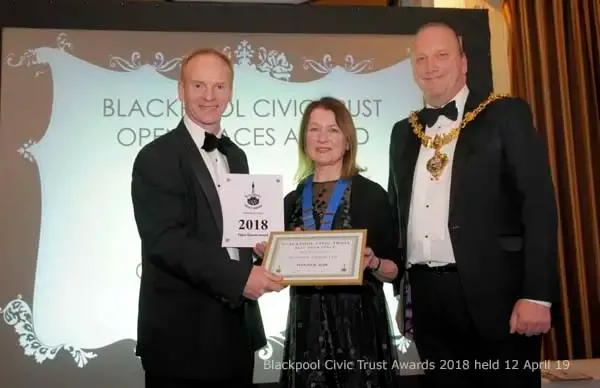 Any small or big business has to go through various processes to complete a sale or provide a service. Picture those processes and share your hard work with your audience.
7. Edit Photos for the final cut
At the end of your session, your photographer should pick the best photos for editing. Basic photo editing refers to enhancing images, like fixing white balance, temperature, level, and similar image parameters.
The term "retouch" photos imply the act of improving the appearance of images. In photography, to retouch is to remove certain defects from an image, like dust or dirt on the camera lens.
Usual retouching tasks include outfit adjustments, face and hair editing, and background corrections, to name a few.
Notice the two pictures below showing the before and after editing. The picture on the right will look so much better as a headshot for a social media profile or the "about us" web page.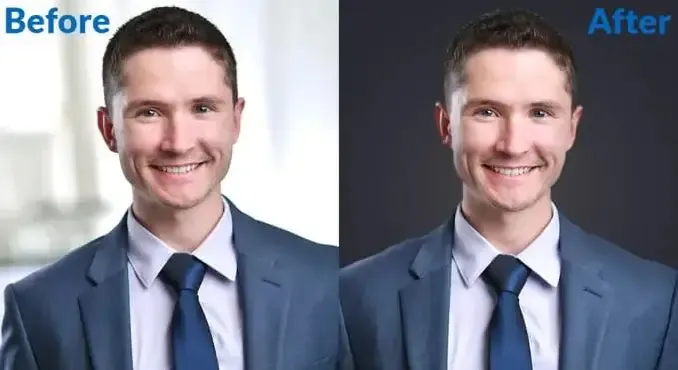 Retouching makes your headshot images look professional. Retouched images represent your brand in a great manner. Also, If you want to optimize your images for your website, retouching is the best stage for the task.
Once all your pictures are ready, you should receive the photo files electronically. Emailing large-size files may be a challenge; thus, it's best to use DropBox or a similar service. Of course, you can also ask for physical copies of your amazing photos.
8. Make Use Of Software & Apps
Using software and apps for your business photo shoot will help you to cope with the processes faster.
An all-in-one digital asset management (DAM) software can provide you with one source for your media library. If you store digital files for your business, including pictures, software like Pics.io can make your everyday tasks easier and quicker.
Give Pics.io DAM a try
free 7-day trial
DAM systems help to stop the chaos of media management in your company. With the help of the software, you can store, share, and organize all files in one secure and centralized location. As a result, your team won't have to waste time looking, sharing, and optimizing digital assets.
The system ensures all files are indexed and structured appropriately in the library so your team members can easily find them in the future. If users can't remember the file title, they can search using different parameters, such as tags, descriptions, categories, indexed document content, etc.
Here's a screenshot from an example Pics.io DAM library: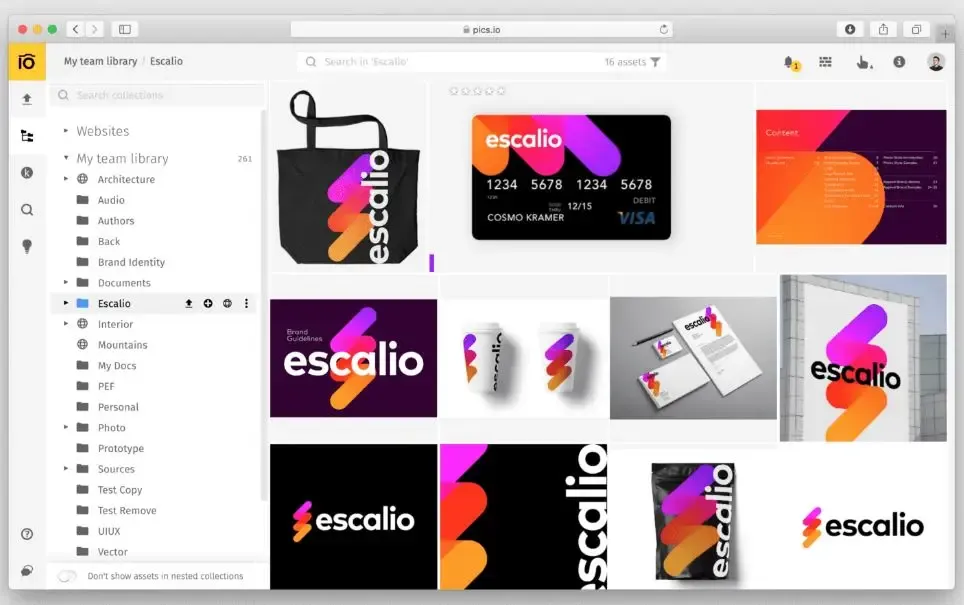 Business owners who often publish on social media can use free social media design apps. Apps like Canva or Pablo have many template-based designs for making perfect social media pictures with just a few clicks.
In Closing
Professional-looking photos can help you establish your company's identity and personality. Through these photographs, you can effectively give your potential customers and clients an idea of who you are.
In this article, we've covered the best business photoshoot ideas and tips that you can use for your branding photography. To sum up, here's the list:
Set clear expectations
Click a good headshot photo
Hire a stylist
Take before/after pictures
Capture business events and meetings
Showcase important deals
Edit photos for the final cut
Make use of software & apps
We live in a digital age, where images are powerful. So go on and make your business photoshoot ideas real with the tips discussed in this guide.
Give Pics.io DAM a try
free 7-day trial
Did you enjoy this article? Give Pics.io a try — or book a demo with us, and we'll be happy to answer any of your questions.
---
Author
Written by Stacie Twomey, Brand Marketing Manager at
CEWE UK
&
CEWE Ireland
. Stacie is an experienced marketing professional with a history of working across several different commercial products and industries. Stacie is highly skilled in brand comms, campaigns, stakeholder management, relationship building and product management. She has worked at Cewe for more than four years and previously worked in marketing in roles at The Camping and Caravanning Club and Coventry City Football Club.