When it comes to cloud storage providers, Google Drive, which includes Google Docs, and Dropbox are often the first names that come to mind. But which one is the best fit for your needs?
At first glance, they are quite similar in saving all the files to the cloud, syncing all your file formats across multiple devices, sharing options, etc. However, if digging deeper, these cloud storage services have quite a few underlying differences.
In this blog post, we will shed light on both Google Drive and Dropbox's strengths and weaknesses. Read on to find out who's better: Google Drive vs Dropbox.
Dropbox vs Google Drive: Basic Overview
So this was a short comparison of Google Drive vs Dropbox and now, we'll get into more details.
If you're also curious about how OneDrive works compared to Dropbox and Google Drive, check our article.
Storage
One of the most critical aspects of a cloud storage service is the amount of storage space you get. With Google Drive, you enjoy a generous free storage capacity of 15 GB, significantly more than Dropbox's 2 GB. Though, Google Drive's storage is also used for your Gmail and Google Photos.
Should you need more storage space, Google Drive offers two purchasing paths: through Google One or Google Workspace subscriptions.
With Google One, you can secure 2TB storage at a monthly rate comparable to Dropbox's yearly 2TB plan. Opting for the yearly Google One plan can save you some cash. They also have budget-friendly plans: $1.99/month (or $19.99/year) for 100GB and $2.99/month (or $29.99/year) for 200 GB. Plus, the $1.99/month plan lets you share storage with up to six users. To share in Dropbox, you'd need their Family plan at $19.99/month.
Alternatively, Google Workspace offers enhanced features for apps like Docs, Slides, and Sheets, along with increased storage and capabilities for Drive. While it's pricier, it might be a good fit if you're after more than just storage space.
Google Drive offers more free storage and cheaper paid storage.
Security
Both Dropbox and Google Drive have advanced 256-bit encryption. So how do they differ if at all?
Google's security management via the Google Admin Console is intricate. While it's a robust tool beneficial for cybersecurity and IT teams, it can be overwhelming for the non-tech-savvy. The Console delves deep into security specifics, aiding in pinpointing attack origins.
Dropbox in its turn, focuses solely on cloud storage security, making its dashboard simpler and more user-friendly. Users can easily modify settings for ransomware alerts, major data deletions, or cloud-based malware detection.
Google has no limits for file recovery and history. With Dropbox, you can only recover file versions for up to 30 days with free pricing plans. With paid plans, you receive options for file recovery up to 180 days and even 10 years.
Google is ideal for tech-savvy people, whereas Dropbox suits those preferring simplicity.
Search/organization
Google Drive and Dropbox each have their pros and cons in terms of file search and organization.
Google Drive's search bar offers search chips that suggest files as you type and searches both file names and contents, making it easier to find what you're looking for quickly. In addition, its advanced search also provides plenty of filtering options, giving it an advantage in file searching.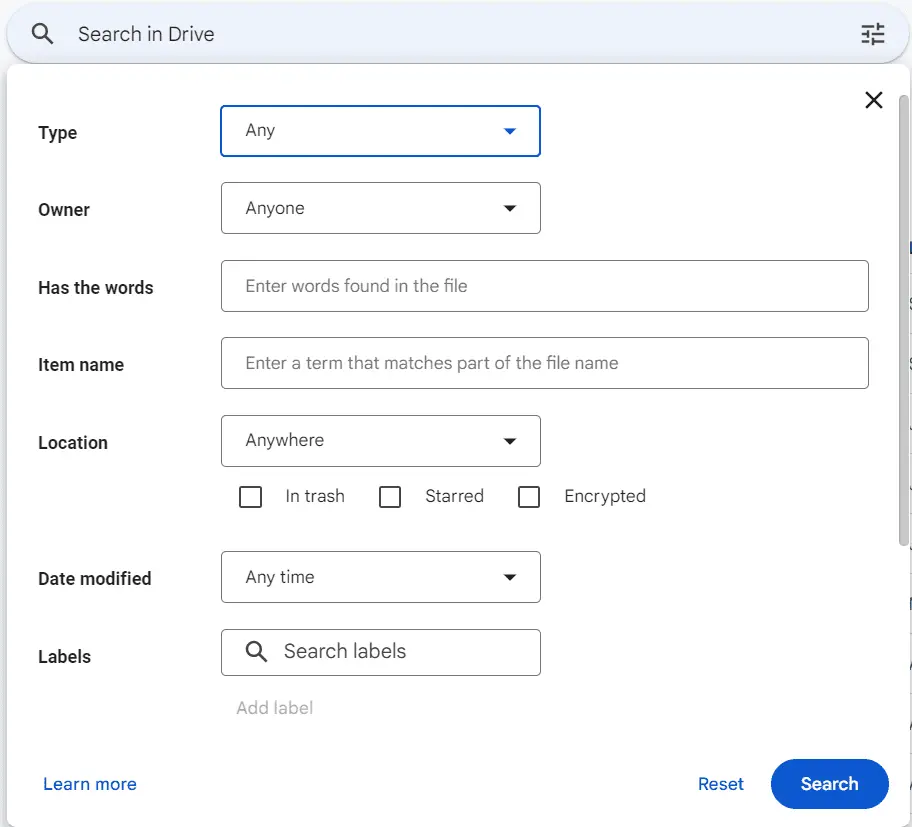 Dropbox, in its turn, only allows search by file names and types with filtering results by tags, people, and recent files.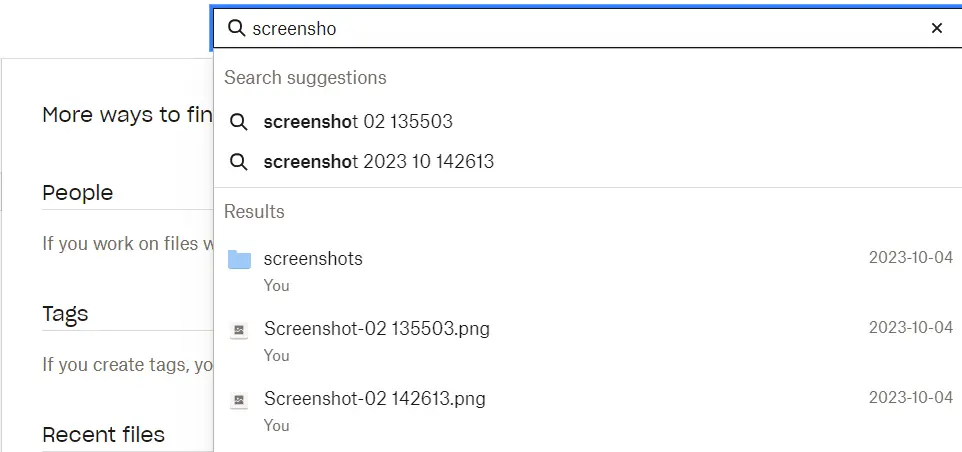 With paid plans on Dropbox comes more advanced search features such as search inside documents and images. You will also be able to filter searches by different image properties like resolution, for instance.
When it comes to file organization, Google Drive doesn't offer much. You can apply labels, star files, and change folder colors, but that's pretty much it.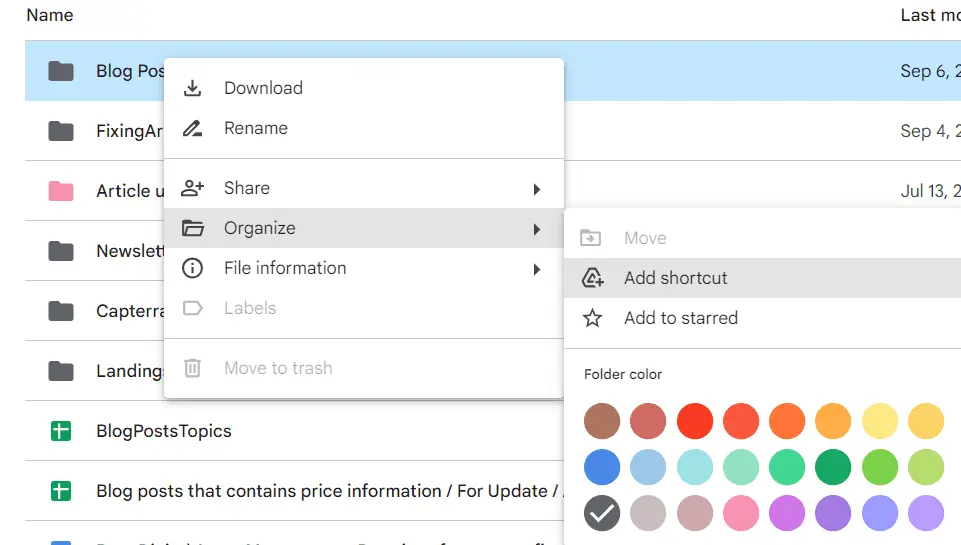 Another option here is to use workspaces in the Priority section but it's not very convenient, as only the most recent files are suggested.

This is where Dropbox definitely excels - especially if you're using tags for your files. You can set up naming conventions as shown in the screenshot below.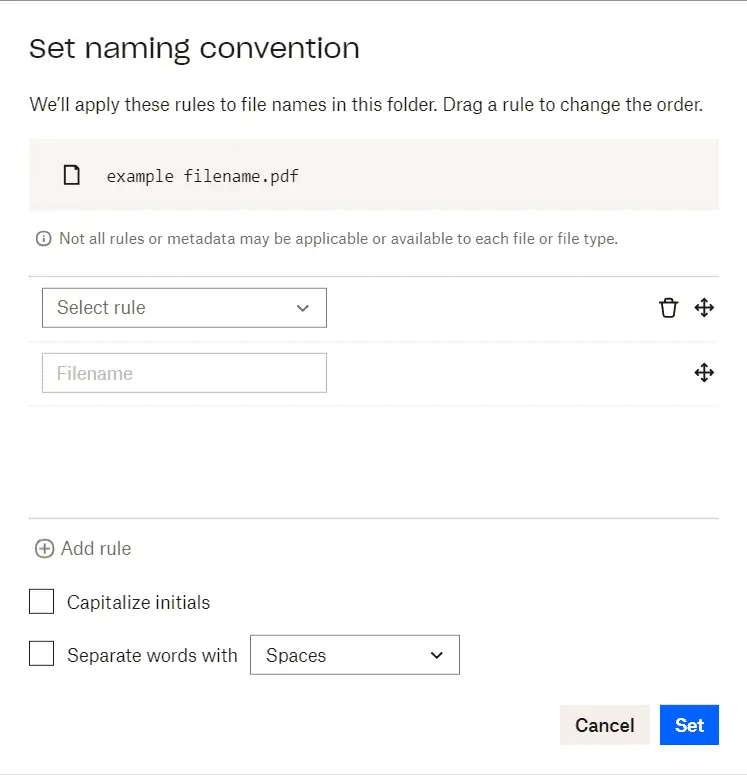 You can also use multi-file organization and group files based on different criteria.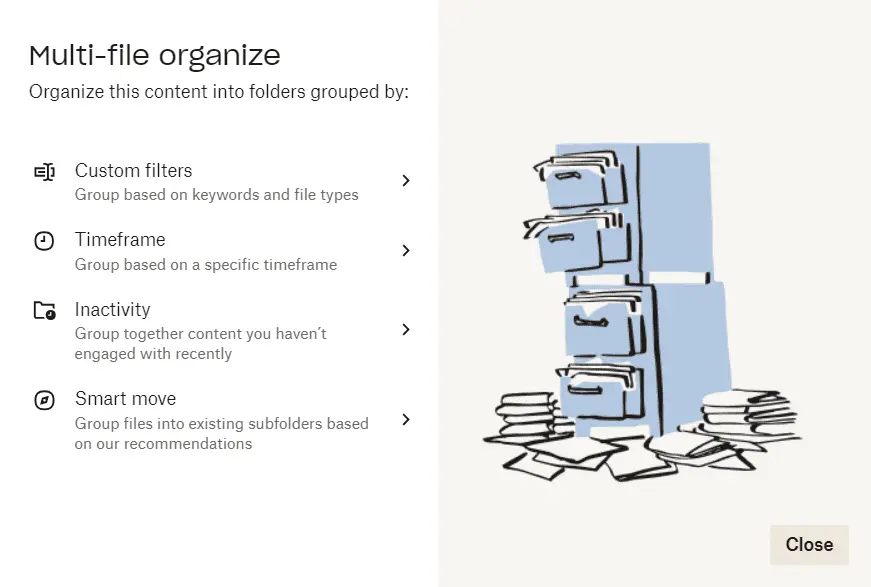 Finally, you can create naming conventions for newly uploaded files or set up automated folders: simply insert files into this folder and set your desired actions. This might include file unzipping, or automatic file tagging, etc.
Starring files is also available, just like in Google Drive.
Google Drive would suit users prioritizing file searches, while those needing better file organization and navigation should opt for Dropbox.
File sharing
Both Google Drive and Dropbox perform exceptionally well in file sharing, providing similar permissions and sharing link options.
Google Drive only allows creating expiration links for sharing only with its paid Google Workspace for Business and Education subscription.
However, Dropbox stands out in file sharing security, offering password protection, link expiration, and file requests. For instance, you can set up link expiration to 3 days - after this timeframe, a link will stop working. Remember that link expiration can only be set up in days, not hours.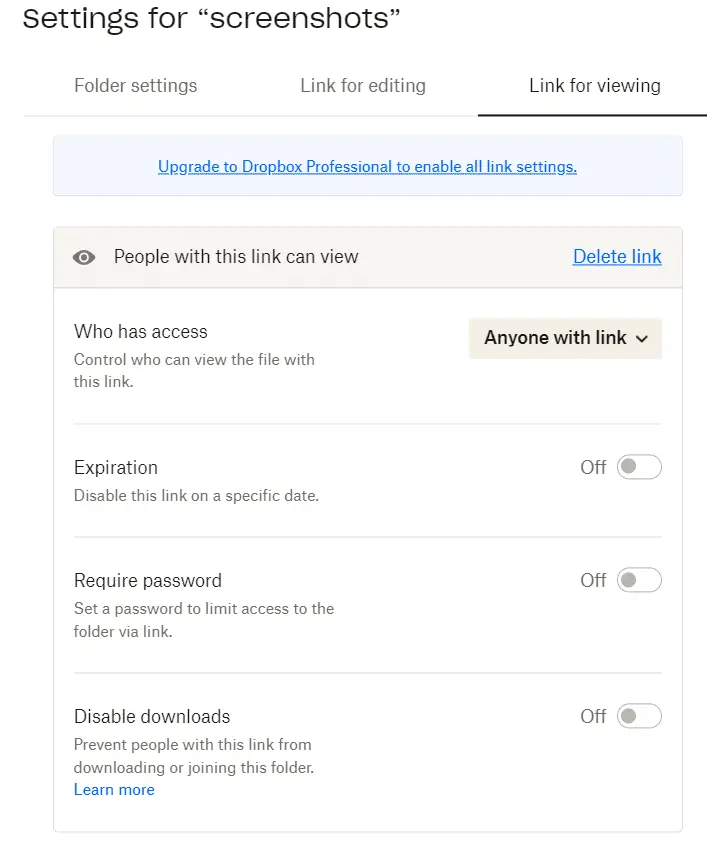 Sending file requests in Dropbox also comes with lots of settings. You can choose the deadline, add the reason for a request, and even create a password for late uploads.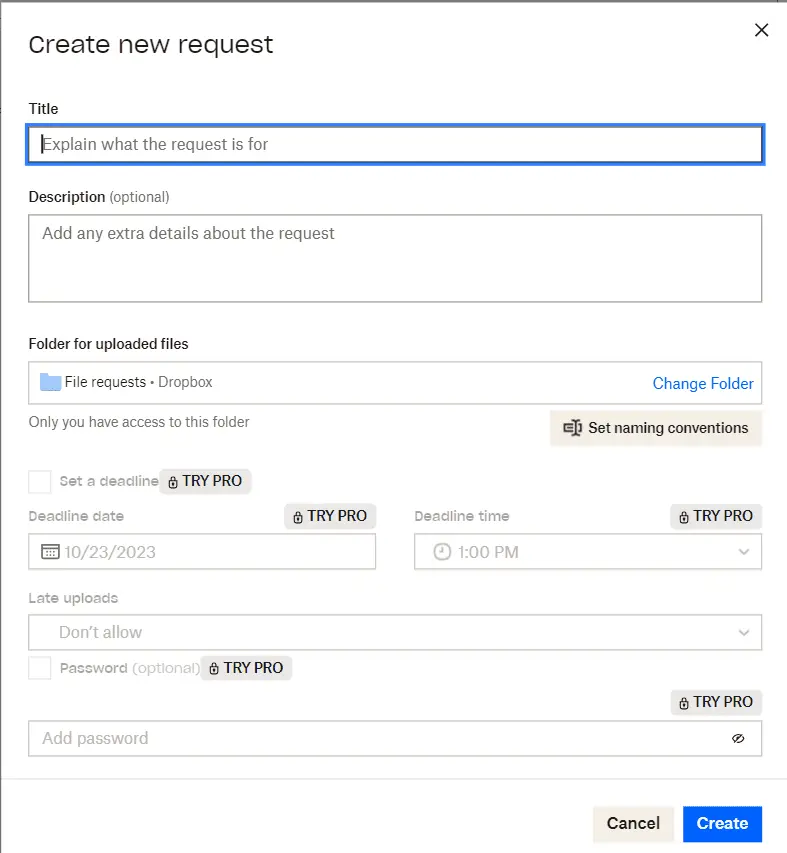 Dropbox has more advanced file sharing options compared to Google Drive.
Syncing
Google Drive and Dropbox approach syncing differently, which impacts the speed at which files sync. Google Drive syncs by downloading and re-uploading the whole file, leading to potential delays. If you're trying to access an updated version from a different device, you might need to wait anywhere from a few seconds to minutes, especially with many users and updates. If the internet drops during this syncing process, there's a risk of losing your recent work.
In contrast, Dropbox syncs file portions that have changed rather than re-uploading the whole file. This results in a swifter sync process. Accessing the most recent version of a file on a different device with Dropbox also tends to be quicker.
Google Drive allows using limitless devices for your account, while Dropbox syncs only up to 3 devices for one account.
Dropbox syncs faster than Google Drive.
Pricing
Google Drive offers four distinct plans tailored primarily for individual users, all under the umbrella of Google One:
Free: Comes with 15 GB storage.
Basic: Provides 100 GB storage at $1.99/month or $19.99 annually.
Standard: Offers 200 GB storage for $2.99/month or $29.99 per year.
Premium: Grants 2 TB storage, priced at $9.99/month or an annual rate of $99.99.
For those who require expanded features and storage while wanting to remain within Google's ecosystem, Google Workspace is the ideal alternative.
Dropbox rocks a whole bunch of options, but is a bit pricier than Google Drive. Whether you're solo or running a business, there's something for you. If you level up your plan, you get more storage and can add more buddies.
Quick look at what Dropbox pricing plans:
Plus: 2 TB for just you. That's $11.99/month or $9.99/month if you pay yearly.
Family: Same 2 TB but for up to six people. Costs $19.99/month or a sweeter $16.99/month with the yearly deal.
Professional: Boost to 3 TB for one user at $19.99/month or $16.58/month yearly.
Standard: 5 TB for three or more of you at $18/user/month or $15/user/month if you go annual.
Advanced: Unlimited space for three or more users. That's $30/user/month or $24/user/month yearly.
Enterprise: This one's special – you get what you need, and pricing's tailored for you.
Google Drive is more convenient for personal use, while Dropbox has better functionality for business users.
Integrations
Both Google Drive and Dropbox have multiple integrations with tools like Zoom, Trello, Asana, and others. However, Google scores some extra points thanks to its wildly popular suite of tools.
Dropbox can actually play nice with Google Drive, but the files stay in Dropbox.
Google Drive has more integrations than Dropbox.
Dropbox vs. Google Drive: What to Choose
When choosing between Google Drive and Dropbox, it ultimately depends on your specific needs and priorities. Google Drive is an excellent choice for users who seek more free storage and affordable pricing plans, making it the more budget-friendly option.
On the other hand, Dropbox is a better choice for businesses and users who require advanced security and file sharing options. Its superior file organization and navigation capabilities make it a more robust choice for those with extensive file management needs.
Last but not least, the quality of customer service in Dropbox tends to be much better than in Google. The last ones tend to reply longer and even provide quite confusing answers.
Level Up Google Drive with Digital Asset Management Software
If you've stopped your choice on Google Drive, you can enhance it with Pics.io DAM. Our integration works like a cap on top of your storage and adds an extra layer of advanced features for efficient digital asset management.
For example, all file versions within DAM are conveniently stored under one thumbnail. You can access them anytime, anywhere, as well as edit, recover, and re-use them. What's more, our DAM offers multiple collaboration features, such as comments and tagging teammates directly in the file version.
The same goes for sharing features - you can create shareable websites protected with a password and expiration dates for as many digital assets as needed.
Check it out yourself!
Give Pics.io DAM a try
free 7-day trial
Did you enjoy this article? Give Pics.io a try — or book a demo with us, and we'll be happy to answer any of your questions.