It's hard to imagine an enterprise environment without digital assets. But the number of assets that the company is expected to handle in such an environment creates particular problems. Multiple teams, hundreds of assets, constant updates and iterations of the product and the message - these circumstances create a need to maintain efficient communication between departments and guarantee consistent brand representation.
When the scale of operations is so large, noticing mistakes immediately is not always possible and once the genie is out of the bottle the damage has been already done.
Losing, misplacing, or accidentally distributing work-in-progress assets - all these mistakes are costly and are, oftentimes, irreversible.
So, how do we tame them? Well, with library management tools, ideally.
Solutions backed by technology giants like Google and Amazon are as reliable as you'd expect. Unsurprisingly, organizations near and far turn to Google Workspace or Amazon S3 to keep their assets in one place… but these things aren't that good at doing much besides just storing your goods.
That's where Digital Asset Management (DAM) software steps in. Designed to make search, management, and sharing of your assets easier, DAM quickly became a staple in the enterprise environment where a company's operations can be hardly imagined without it.
In this article, we'll talk about what is DAM in general and how it conforms to the enterprise's needs.
Give Pics.io DAM a try
free 7-day trial
The Basics of Digital Asset Management
The modern DAM solutions have numerous features that can be roughly split into three categories of working with assets:
Search
Collaboration & Management
Sharing
For each one, DAM provides users with the tools necessary to make these tasks as easy and seamless as possible
Search
DAM uses metadata (keywords, custom fields, technical information, and more) to help you find assets as fast as possible.
In an enterprise environment, you can have hundreds (if not thousands) of assets. With such volume, it is impossible to remember the name or even the visual thumbnail of each asset that you need. Let's say you're working in real estate, and need to get 15 images of condos in Orange County, California that have pools.
Sure, you can just create an infinitely deep and complex tree of nested folders but that just shifts the problem onto another plane where you have to click through those folders until you find all the property photos that you need.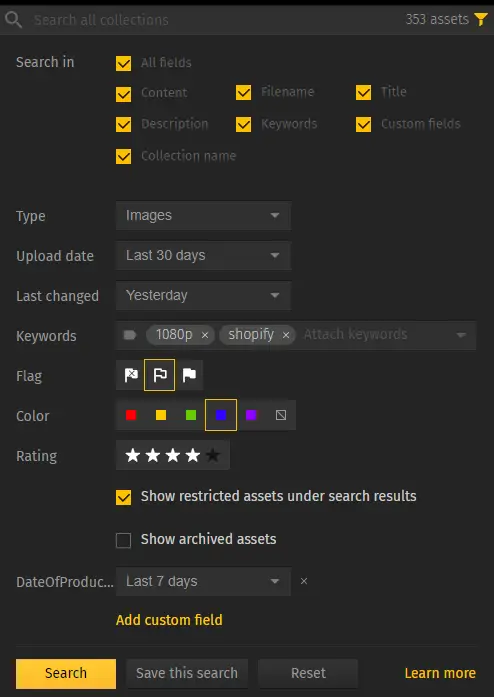 If you were using metadata, on the other hand, you could have just populated assets' Keywords or custom metadata fields with the required information. Once set up, you can just type all the criteria in search and DAM will pull up all assets that match, regardless of where they are in your library.
On average, DAM saves 10 hours/mo per user that they would have otherwise spent searching for assets they need. On a small scale, that might not seem like much but in mid and large-size companies that translates into weeks worth of productivity wasted on virtually nothing.
Asset & Permission Management
Roles And Permissions
Another problem of particular importance in an enterprise environment is the management of users and their access to the right assets.
When you have a large enough team, letting everyone see everything can spell problems. Obviously, there is a concern about sensitive information and users seeing what they really shouldn't. But you also need to remember that it might be something as simple as there is too much information. Sometimes, users need to see only the things that they are working on or they might get overwhelmed or confused.
That is why DAM offers you a simple way to curate who gets to see what assets and what exactly can they do with them. There is freedom for you to decide how granular or how general these rules should be: from permissions on a global collection level to those of a subfolder.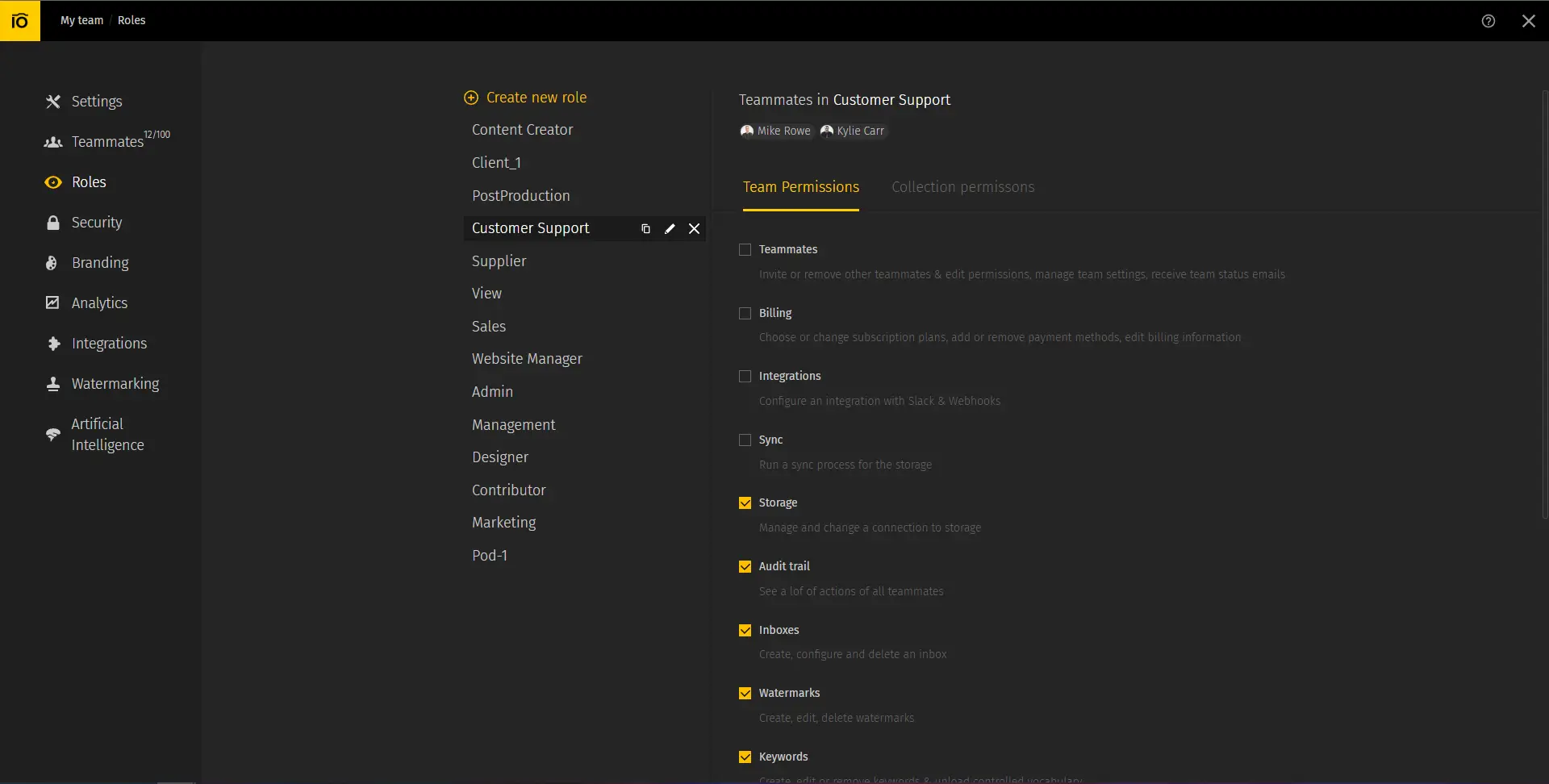 Team Collaboration
Once you've figured out who gets to see and do what, it's time to actually do things. Here, likewise, the Enterprise Digital Asset Management solution provides a lot of benefits over traditional library management tools.
In Google Drive, for example, collaborative features really work well enough only for text-based formats like documents or sheets. If you want to share feedback on media assets, there is no way to leave comments directly on pictures or even keep feedback in one place with the assets.
Similar to metadata, DAMs seek to keep all information about your enterprise assets under a single thumbnail. Bringing up asset view displays a comment and revision section where you can exchange feedback with your colleagues on work that still needs to be done on the asset.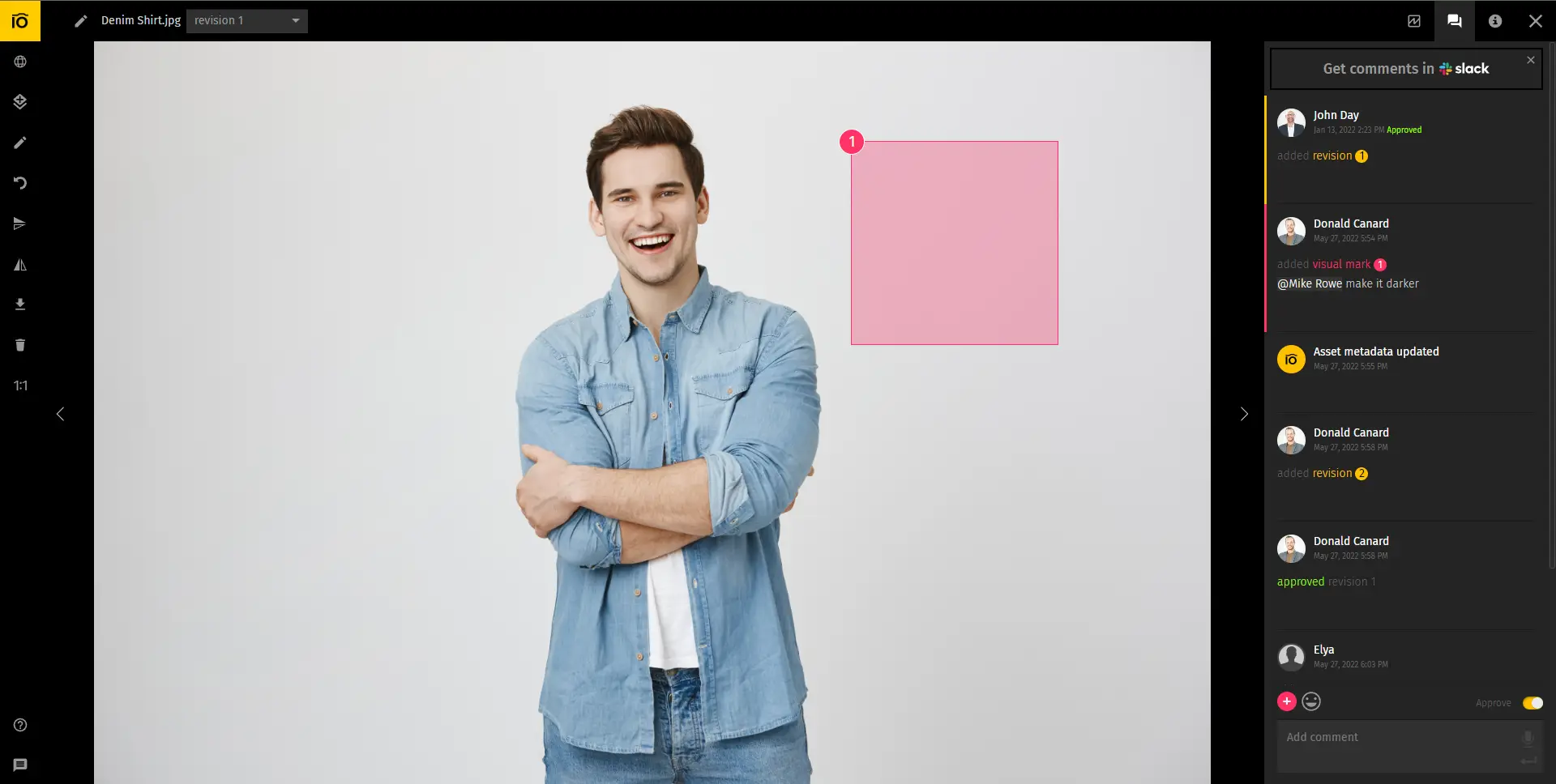 You can even leave a comment on an exact frame or a timecode of a video!
From the same screen, you can hot-swap between versions of an asset, thus eliminating an outdated practice of calling revisions file_Revised, (1)RE_RE_file, etc.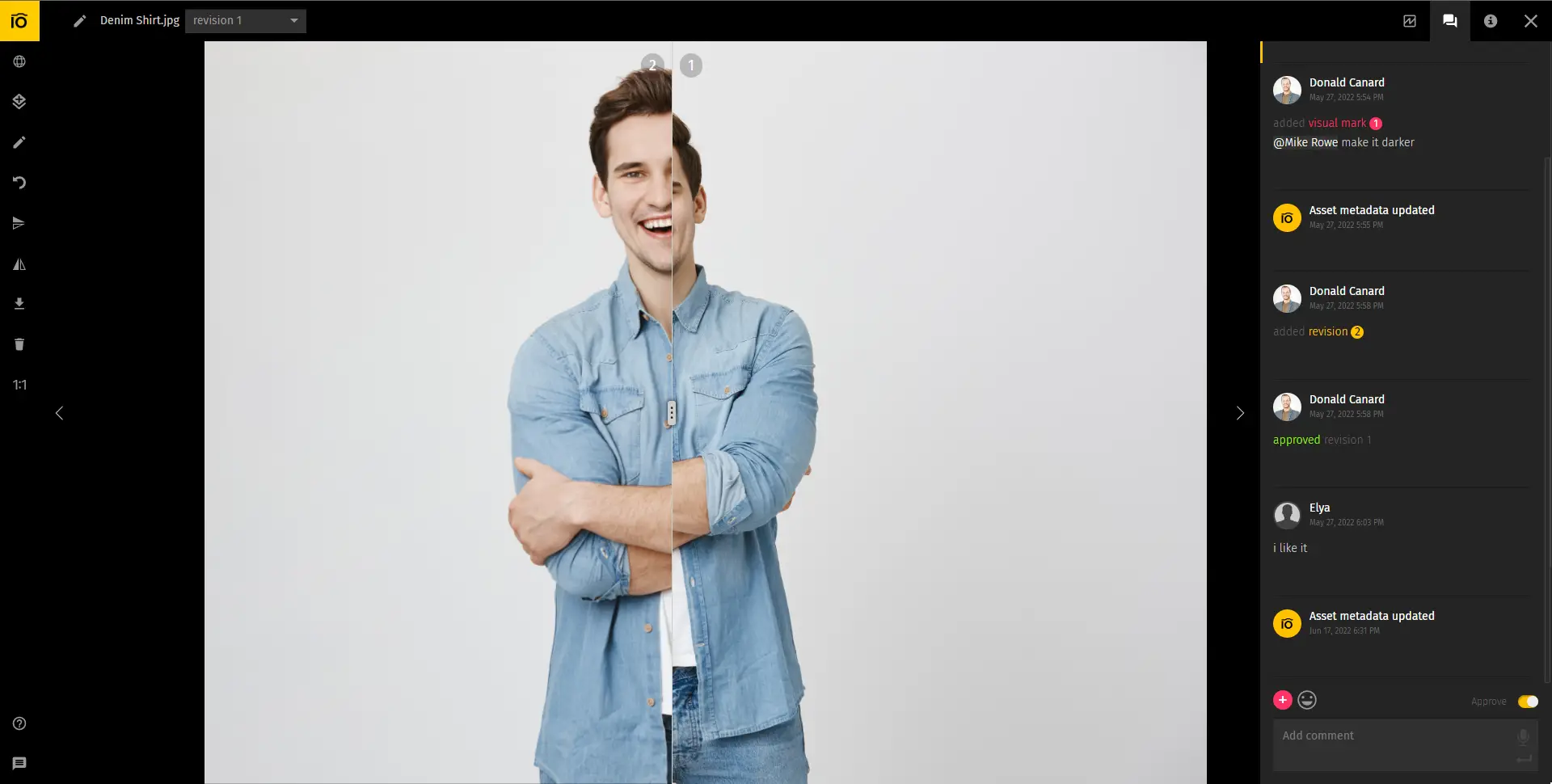 When you have hundreds of assets with dozens of revisions for each one, such a practice only breeds further confusion and frustration.
With Enterprise DAM solutions, you get to keep them under one thumbnail and even can freely compare them side-by-side with a handy slider.
Give Pics.io DAM a try
free 7-day trial
Sharing
Obviously, there is also a need to share assets or receive them from third parties. The modern work environment is ever so globalized and your clients or contractors can be from the other side of the world - not exactly the easiest way to call them into an office to look at work-in-progress or classified info.
So, enterprise requires both quick and secure ways to exchange assets with third parties. Services such as Google Drive kind of fit the bill. It is obviously secure and sort of fast (provided you are not plagued with common issues with Drive upload speeds) but it's not fully convenient.
Sharing files in bulk, in particular, is something that Drive isn't really good at, especially if you want to have a proper visual representation of your assets.
DAM is likewise secure but it is also sleeker. For bulk sharing, there is an option to create branded interactive portals that allow you to share assets not only in an easy way but also make it look attractive. Appearances matter, after all, especially in high-stakes environments. So, when your partner receives a flashy mosaic with all the assets (that they can comment on and download, by the way) it is a much better look than some dread list or a cavalcade of email attachments.
Receiving files is, likewise, easy. Inboxes generate a link through which others can upload assets straight into your media library without getting any access to it. So there isn't even a possibility of them seeing something off-limits and all the ease and convenience.
DAM vs Enterprise DAM: What are the differences?
You might be wondering: why make a distinction between just DAM and enterprise DAM?
The answer is features and scalability.
Like with any software niche, there are different degrees of complexity depending on the users' demands. If we have been talking about Google so much, let's draw a quick example.
If you're a casual user, you're going to use Google Drive. If you need something bigger, you'll opt for Google Cloud for more storage. Finally, enterprise clients will be more interested in Google Workspace due to its bigger range of features and easier ability to scale storage size.
Enterprise DAM solutions are the same way: the higher you go, the more features you'll get access to. So, if you're just using DAM as personal storage or for small-scale operations, you might not be needing the ability to quickly watermark your assets so you don't feel a need to pay for that functionality. Conversely, a larger team might need that but also some other relatively complex functionality like access to DAM's API.
Scalability, meanwhile, is offered through a modular structure of the solution. You might want to start with a smaller team as a test run to see if DAM is the right fit for you. If it cannot support a larger operation, however, your trial run was all for nothing as you'd have to look for another option.
So an ability to scale up or down without much hassle is something that an enterprise needs as a commitment to anything comes with a huge price and time sink.
Pics.io as Your Enterprise DAM of Choice
Here at Pics.io, we understand those needs and expectations hence why it's so easy to scale our DAM's functionality with your particular needs. What's more, we can integrate on top of your existing Google or Amazon S3 storage so you can start testing out DAM functionality without any extra commitment to duplicating or migrating your assets.
Obviously, we also offer our own storage if you ever decide to make a switch, and migrating all your data is as seamless and free as you'd expect.
Besides, our team understands that there are certain business niches that might not be fully satisfied with a size fits all solution and we often receive custom development requests to accommodate the particular needs of our old and new users. In fact, a lot of our features have been developed in tandem with our users, and you also get full access to our API to fine-tune Pics.io to your specific needs.
But that's talk. If you want to see these things for yourself, there is a 7-day trial for you to enjoy all of our features with no strings attached. Alternatively, you can book a demo where our team will answer all of your questions and more. I'm sure you won't be disappointed.
See you there ;)
Conclusion
In an enterprise environment, organizations are expected to handle hundreds of media assets on a daily basis
Traditional solutions such as Google Cloud are well suited only for secure storage and limited sharing of such assets
Discoverability, collaboration, approval pipeline, and collaborative features are limited
Digital Asset Management (DAM) software is a proper alternative for said services as it is built from the ground up to make the search, management, and sharing of media assets better
Enterprise DAM differs from traditional DAM through better scalability (ability to upscale and downscale operations depending on immediate needs) as well as improved features for management of large teams (e.g permission management)
Pics.io is a great example of enterprise DAM that can fit every immediate need due to great scalability, feature set, and opportunities for custom development.
Give Pics.io DAM a try
free 7-day trial
Did you enjoy this article? Give Pics.io a try — or book a demo with us, and we'll be happy to answer any of your questions.
FAQ
How is Enterprise DAM different from normal DAM?
Enterprise Digital Asset Management has the same basic functions as normal DAM. Where it differs is in its ability to easily scale the size of operations to accommodate immediate needs, security features, and expanded functionality focused on management permissions of large and diverse teams.
Who Needs Enterprise DAM?
Realistically, all organizations can benefit from a dedicated tool to manage their media library. However, the biggest benefit would be felt by the companies that handle a lot of media and/or metadata-rich assets on a daily basis. Examples of those are marketing agencies, the hospitality industry, and real estate.