Frame.io is a wonderful tool, designed to make creative collaboration on video review projects easy. You can comment on the timecode and leave annotations on the video. With version control, you can always revert to the previous version of a proxy.
Sharing is simple and secure. You protect sensitive assets with passwords and end dates.
Pics.io's Digital Asset Management (DAM), one of the best Frame.io alternatives, too, has these features that make collaborative workflow easy as a breeze. The same functionality extends to other assets: text, images, Sketch files, and more.
Let's say that you want to work with proxy videos only and nothing else. So, why would you choose Pics.io over Frame.io in such a scenario?
Pics.io Makes Cataloguing Easier
There is no typical folder tree in Frame.io. Instead, proxies exist as creative projects, with files inside.  That works well for immediate needs. If you are working on a single video project at a time, you need to remember its name and nothing else.
If you want to create a catalog, there is no sensible way to make your collection of projects orderly. The best you can do is a dropdown list of all projects that you have.
If you want to separate projects into dedicated folders for each client, then you're out of luck.
Pics.io lets you create folder structure as granular as you'd like, keeping chaos at bay.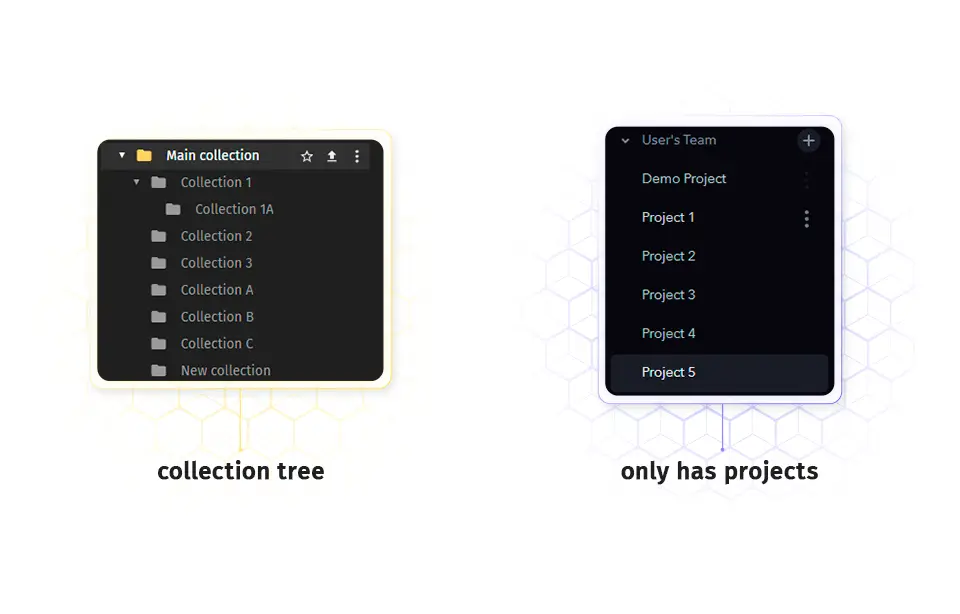 Pics.io Unlocks Full Potential of Metadata
DAM takes full advantage of metadata (filename, keywords, description, EXIF, etc.) to make work on assets easier.
In Frame.io, you can only search for projects by their title, name of the uploader, or the file extension. If you are trying to build a robust catalog with hundreds of videos, that information won't be enough. You don't always remember a project's specifics by its name.
With metadata, you can tag your videos with information about what's in it (e.g. animals, architecture, nature) or what camera it was shot on. Or, any other information that you deem relevant.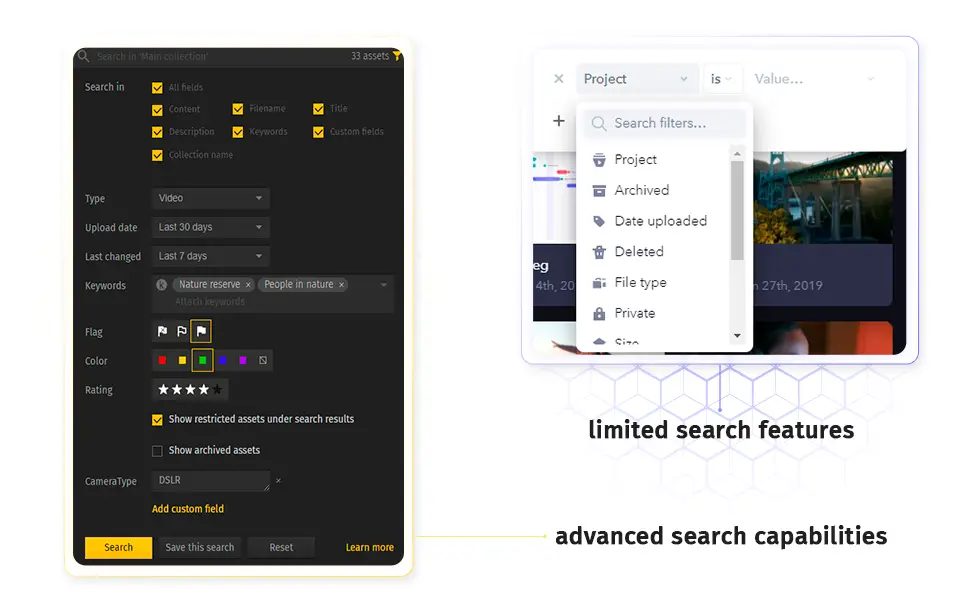 The next time you want to search for assets, you can filter hundreds of files in a few clicks by specifying the search.
Give Pics.io DAM a try
free 7-day trial
Pics.io Makes Video Collaboration Even Better
Both Frame.io and Pics.io make creative team collaboration easier through these features:
Leave time-stamped comments
Create visual annotations right on the video
Share files with third parties with a few clicks
Yet, Pics.io's collaboration tools don't stop on that.
Pics.io's roles and permissions management lets you fine-tune the team's permission with granular precision.
With Frame.io video review and approval platform, you have only 4 roles - Admin, Team Member, Collaborator, and Reviewer (+ Team Manager with Enterprise plan). Each role has a predetermined number of permissions.
Whereas with Pics.io, however, you can create as many roles as you'd like and adjust all global and collection-specific permissions individually.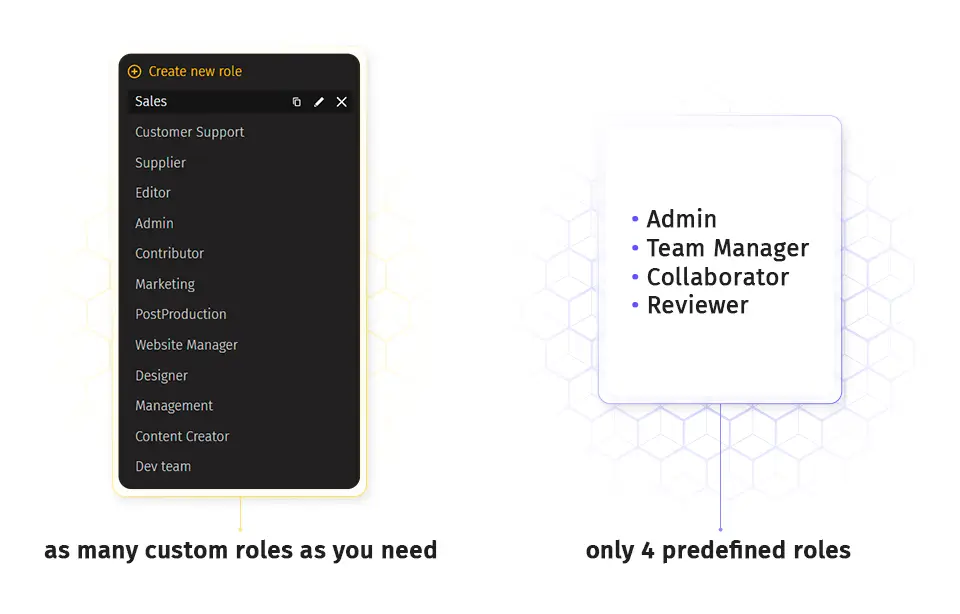 You can set up different permissions globally or even on the level of an individual collection. If you want to, you can even invite clients to your work environment, by saying:
"Okay, let's allow them to view and comment inside their projects' collection and also view our promotional materials. Everything else is restricted."
That leads to more organic teamwork. Clients can pop in to review the project whenever they need to, without waiting at the gate.
Pics.io, One of Frame.io Alternatives, Offers More Options at a Better Price
Let's compare the "go-to" plan of both offerings: Frame.io approval platform's Pro plan and Pics.io's Micro.
For 10 users, both will cost you $150/mo. However, the similarities mostly stop there, and Pics.io online proofing software for video offers a much bigger bang for your buck.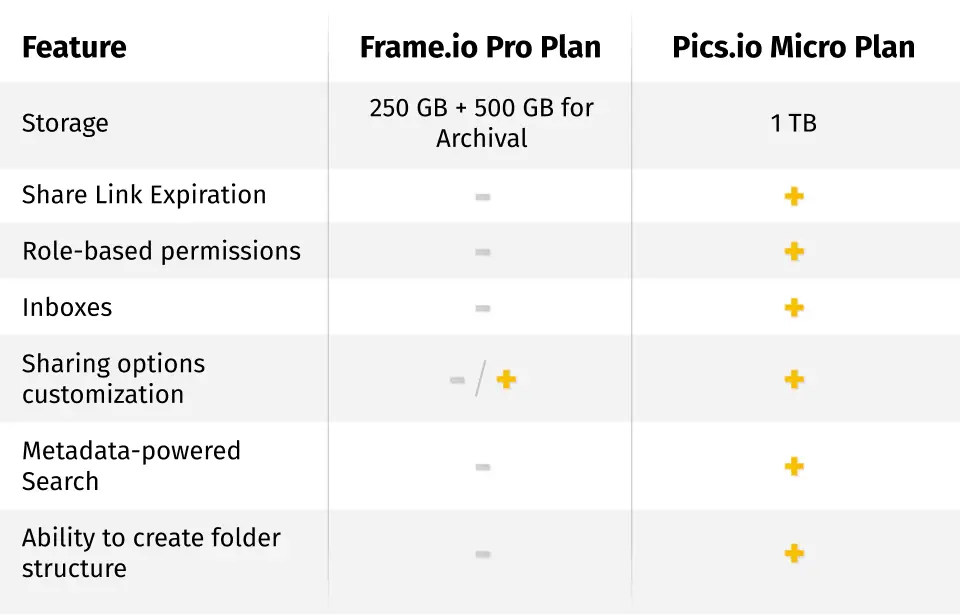 You can see how Pics.io's $150 plan offers more than Frame.io's one of equal price. Frame.io online proofing tool gives you some of these features at higher plans. Even then, you would be missing out on metadata and cataloging features.
If you're hesitant to commit to either option, Pics.io offers a 7-day free trial and $50/month Solo plan.
Solo plan allows you to test metadata capabilities and other features at your own pace, before committing to Micro or just upgrading your plan by buying add-ons.
Conclusion
Both Frame.io and Pics.io online proofing solutions make it easy for you to collaborate on videos by providing options to leave timestamped comments, create annotations, and share projects with clients and third-parties, receive client feedback, etc.
Frame.io review platform, however, lacks metadata management and an ability to create folder hierarchies making it a bad tool for cataloging
Its role and permission management options are also limited, requiring you to opt for a more expensive plan if you want to separate internal information from the one seen by an invited client
Comparing two $150/mo plans side-by-side, Pics.io collaboration platform offers a lot more storage and more options for sharing and managing your projects
This, ultimately, makes Pics.io approval tool a better Frame.io alternative if you want to create a catalog of your projects that is easy to organize and search through.
Give Pics.io DAM a try
free 7-day trial
Did you enjoy this article? Give Pics.io a try — or book a demo with us, and we'll be happy to answer any of your questions.