Probably you are one of those who hate your Inbox as I did some time ago. If yes, you are overwhelmed with tons of emails each day and long term ago decided to ignore this mess. But, sometimes it comes back and ruins your beloved workflow, shifting your attention from interesting tasks.
In this article I will share with you several simple practices and of you start using them now, just in a few weeks you understand that your emails are not a problem anymore, but a powerful instrument making you more productive than ever.
Why Is It Important to Keep Your Gmail Organized?
Despite various communication tools like chats, phone/video calls, collaboration platforms etc. email still remains preferred communication channel for many people especially in the business community. Being a business person myself literally every important thing goes through my email and I use it every day, hence its effectiveness as a source of communication is my priority.
Let's get acquainted with some statistics…
How many emails would you say you receive in a day?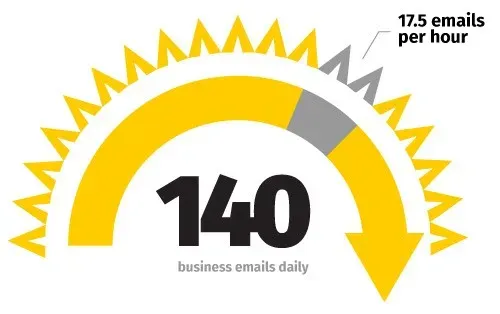 According to a report by a technology market research firm, the average worker send or receive 140 business emails daily in 2018. In a typical eight hour workday, that's more than 17 emails each hour, or one email almost every four minutes. Consider any personal or junk emails that may also go to your work account, and that number could easily top 200 emails each day.
Imagine how much more productive you could be if you didn't need to waste time sifting through all those emails to determine which ones are most important and require an immediate response.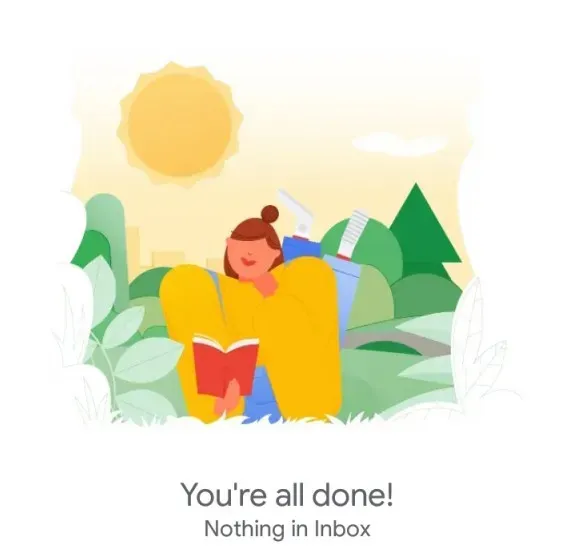 How to Organize Your Gmail?
About fourteen years ago I decided that I have to organize my email inbox in a proper way. I've realized that I started using the "Getting Things Done" methodology right after that. So, Inbox Zero has worked for me for years. I communicate with hundreds of people, working on several projects at a time. Just believe me, I have enough emails coming every day. I have been asked a number of times to explain how to do that and after the last request I decided to do that publicly.

Use this post as a step-by-step instruction, helping to place your emails in perfect order. Probably you can benefit from that as well and become more productive than ever. You are welcome to share this post, mention friends and ask questions in the comments. So, let's have a start.
🛠 Tools
I'm using GMail, pure GMail on my laptop (MBP 13'') in a browser and on my phone (iPhone XS) with no plugins. Every time I have tried to install a plugin it ended up with a slowdown of GMail interface. I need a fast responding interface, so I decided to stop playing with plugins. I've used Google Inbox before Google killed that, it was a really good thing, better than GMail for my workflow. It's really sad that I can't use Inbox, a cruel life. I tried a number of fancy email clients like Spark, Sparrow, Superhuman etc. They are good, but didn't work for me for different reasons.
🎳 Targets
I want to stay focused, know what to do next, have good evenings, sleep well and enjoy my weekends. To achieve that I use the following rules:
No emails before 10:30 am. I need the morning to focus myself on the upcoming day.
No more than a dozen emails in the inbox after the first 30 minutes of working day start. A dozen message on my computer screen without scrolling.
Keep 3–5 messages in the inbox on the second half of the day.
No messages in the inbox at 18:00 Friday.
More than ten years I've been following these rules. Sure, I can break them sometimes, but I follow the rules like 99% of the time.
🖇 Procedures
🗑️ Noise
Immediately remove any noise. If I see any kind of unwanted subscriptions, newsletters, marketing emails etc. I unsubscribe. Never just delete this noise first — unsubscribe then delete. I can snooze this kind of emails for a few hours to do that a bit later.
✉️ CCs
I'm getting a lot of emails where I'm in copy but the addressees of those emails are my employees, partners or friends. For instance — Pics.io support emails. I delete the email when I see that it's properly processed by the team. I snooze not yet processed emails with "Later today". They will pop up when the team answers them. The others untouched will be back to me at 6:00 pm (My setting for "Later today") and I ask my guys about their status. In the very beginning guys from the team were overwhelmed that nothing was unattended and that everything that was not processed pushes them back by the end of the day. Then they just accepted that every email should be carefully processed or they should provide some explanation to me.
↪️ Delegation
When I'm getting an email that can be processed by someone else then I'm forwarding the email to the person and accompany it with an instruction if necessary. Then I snooze the email to not forget to check if the email is properly processed by the team member.
🕒 Easy stuff
When I see that answering an email or accomplishing the task associated with the email takes up to 5–10 minutes I do that immediately and Archive the email.
⌛ Long tasks
I leave these kinds of emails in the inbox if I decide to work on them today. If the associated work either is not urgent or requires a decent chunk of time then I'm checking my calendar, allocating some time and snoozing the email to the start of the day when I'm going to work on that. This is actually my agenda for some other day.
🎬 How to start
Start just now, not from next Monday or tomorrow. Now is the perfect time to start. Don't read further if you are not ready — just close this post, there's no theoretical value in here.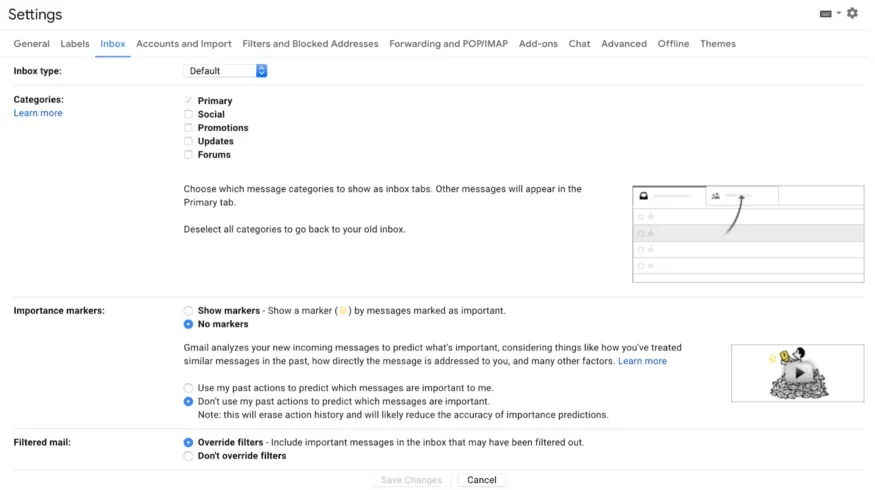 Remove all GMail plugins, you need your email fast, the link — GMail Add-ons.
Switch off GMail categories and other fancy stuff in GMail settings:
Now open your GMail Inbox. Select all the emails except the upper dozen and archive them. Just do that, don't lie to yourself that you will be back to them later — you will not. In case you archived something really important like an email from prince from Nigeria with his commitment to pay you $10 000 000, then you still can find this gem in the archive.
With the dozen that is left just perform what is written above in Procedures exactly in that order.
5. Perform the Procedures every single working day. After the first two weeks you will have pretty much everything in order.
🎩 Tips and tricks
🏷️ Labels
You may want to use labels. I'm using GMail labels when I need to store some emails associated with some entity or activity. For instance, I'm labeling all the invoices with <Company short name>/Finance label. When I'm buying travel insurance I'm labeling the confirmation email with Travels label etc. In general, you could label almost everything but I find that time consuming and not worth the effort.
Not all marketing emails and subscriptions are a noise. I'm reading a lot of them. The secret is that you don't want to read a subscription forever once you subscribed to it yourself or someone did it for you. Typically I'm snoozing these kinds of emails to day/time when I think I enjoy them and have time to read. When the day comes I read what is interesting, archive/delete what is not. If I caught myself deleting/arching a subscription without reading it three or more times in a while I just go and immediately unsubscribe.
📮 Emails to myself
I used to keep my tasks in my email. Google Inbox was pure gold for that, but now we have no Inbox. At some point I've found a way to deal with that. I have one general purpose email on @gmail.com domain, personal on @john.org.ua domain, @pics.io for emails associated with my company Pics.io etc. When I need to challenge myself with a task I'm sending an email with the task from general @gmail.com email to the one used for this task. I'm immediately getting that in my Inbox and snooze to the date/time when I want to start.
Inbox Zero won't just be an elusive dream if you follow these simple Gmail organization tips.
But just like any shortcuts, you need to find a system that works for you. If one of these methods makes it harder for you to find archived messages or keep track of important conversations, then try something else. Once you find the procedures that make sense for your daily routine, your inbox will be a well-oiled machine.
---
If you liked these recommendations, share the article with your friends and colleagues. If you know other useful tips for emails organization that you use in your everyday work we would be happy to let this discussion develop further. Interested in other tools, raising your file management to a new level, explore Pics.io now. Also, don't forget to look through a comprehensive list of DAM features.
Give Pics.io DAM a try
Free 7-day trial
No credit card required
Set up in 3 minutes or less