Google Photos has become a go-to for many to store cherished memories, important snapshots, and everyday moments. But did you know there's an unseen layer to every photo you click? It's called metadata, and it packs in vital information about each image.
While Google Photos offers some insights into photo metadata, a Digital Asset Management (DAM) system catapults this feature into the stratosphere. A DAM system doesn't just let you view metadata; it lets you harness its power, streamline searches, improve organization, and optimize asset use.
This article will unpack the intricacies of Google Photos metadata and show how a DAM system can revolutionize the way you manage and use this data.
What Is Metadata and Why It's Needed?
Metadata, in simple terms, is the "data about data." When it comes to metadata in photos, it's like a behind-the-scenes tag that tells you more about a single image. Think of it as a photo's personal diary, recording everything from the camera settings used, like shutter speed and aperture, to the date the photo was taken and even the location (if your device has GPS turned on).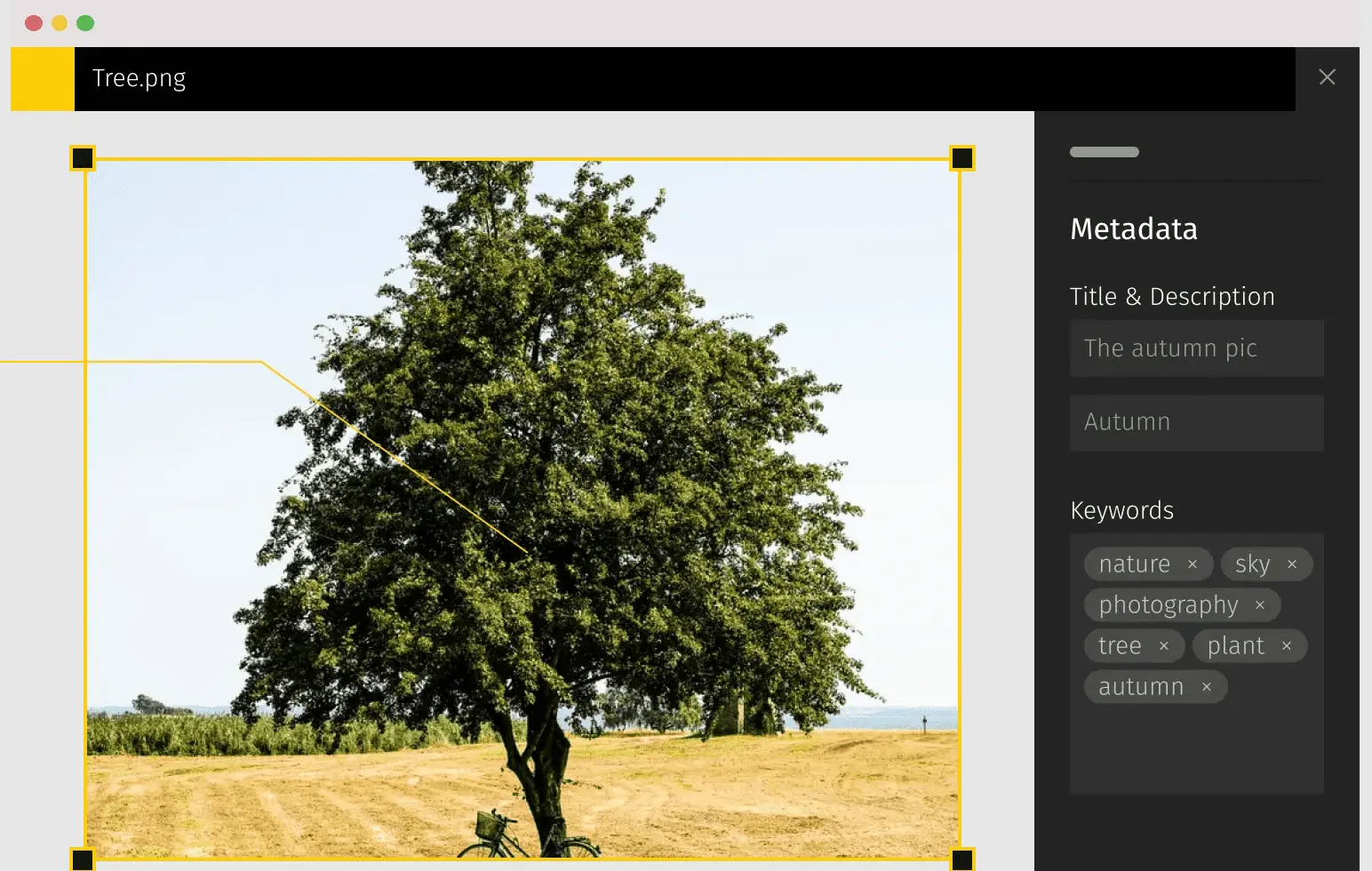 But why should you care about metadata? Well, it's super handy! For photographers, it helps in understanding and replicating specific shots. For instance, if you took a perfect sunset shot last summer and wonder, "What settings did I use?", metadata has your back!
For those managing vast collections of photos and videos, metadata acts as a sorting hat. By looking at these tags, one can swiftly organize, search, and categorize your images and videos without breaking a sweat. So, next time you glance at photos, remember there's more to it than meets the eye!
How Do I See Metadata in Google Photos?
For many people, Google Photos has become the go-to spot for stashing memories and all the photos they make throughout their life. Its convenience in storing, organizing, and sharing images and videos is undeniable. Unsurprisingly, Google Photos also keeps track of metadata that functions as a neat little tool that helps in effortlessly finding and retrieving specific photos.
Viewing photo metadata can give you some cool insights about your images. Whether you're using a smartphone or browsing on your computer, accessing metadata in Google Photos is straightforward. Let's see how you can check it:
From Your Phone: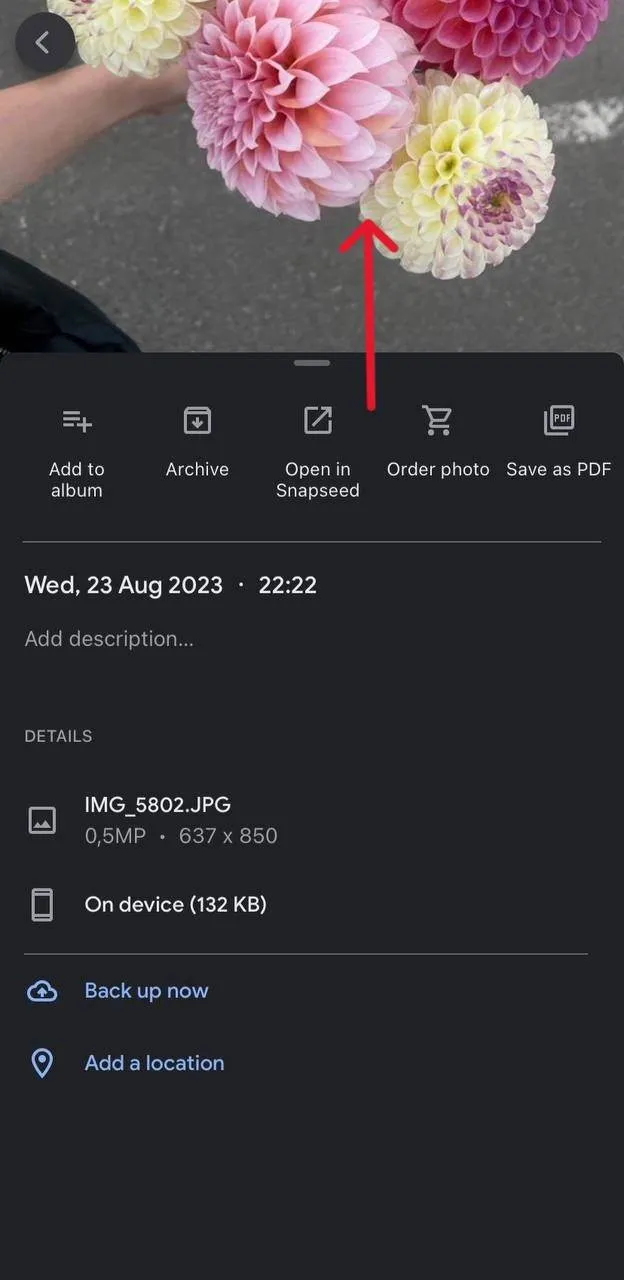 Launch Google Photos App: Tap on the app icon to open it.
Choose a Picture: Navigate through your photos and select the one you're curious about.
Tap on the Info Icon: This is typically represented as an 'i' inside a circle. Depending on your phone, it could be at the bottom or top. Once you tap it, a panel will slide in or pop up with details about the photo.
See the Metadata: You'll be presented with details like date, location (if available), resolution, file size, and more.
From a Browser: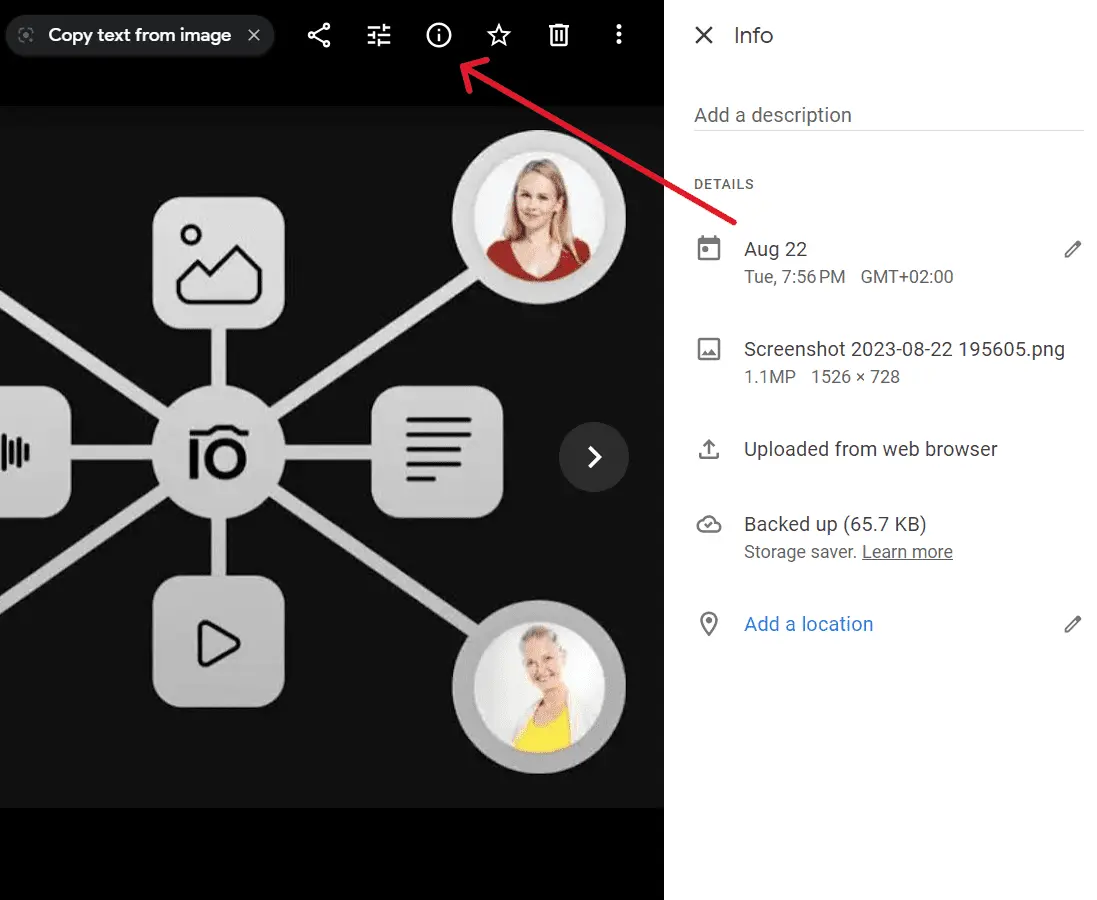 Visit Google Photos: Head over to photos.google.com and log in if you aren't already.
2. Select a Photo: Navigate to the image you want to investigate.
3. Click the Info Icon: Like on mobile, it's represented as an 'i' inside a circle, typically found towards the top right.
4. Review the Metadata: A panel will appear on the right side of the screen displaying all the details about your chosen image.
This metadata isn't just for fun. It makes sorting and searching fast and painless. Want photos from that December trip to New York? The date tag has you covered. Curious about all my photos taken with your vintage Canon? The camera detail comes to the rescue. With metadata, Google Photos turns into a well-organized digital photo album, each page telling its tale.
Does Google Drive Keep Photo Metadata?
First of all, it's crucial to understand the difference between Google Drive and Google Photos as they serve distinct purposes. Google Drive is a cloud storage solution, allowing users to store various file types like documents, videos, and photos. It's built for collaboration, letting users share and simultaneously edit documents.
On the other hand, Google Photos is specifically designed for photo and video file storing. Its primary function is to organize, back up, and share photos and videos. While both offer cloud-based storage, Google Photos comes with features like automatic album creation, facial recognition, and photo editing tools, tailored for image management and enhancement. In its turn, Drive is broader in scope, while Photos specializes in multimedia.
Now, back to our question. Does Google Drive keep photo metadata? Yes, it does. Google Drive retains all important metadata of uploaded photos. When you upload an image to Google Drive, it preserves associated metadata intact, including details like camera model, date taken, resolution, and more. This means when you download the image or share it with someone else via Drive, the metadata remains intact.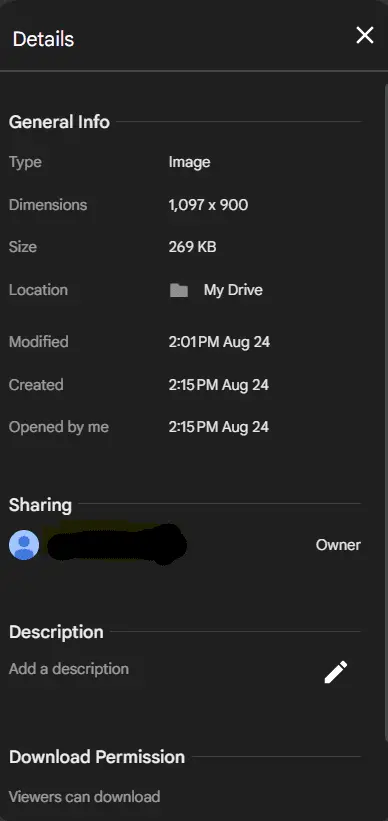 However, to view the metadata directly within Google Drive, you'd often need a third-party app or to download the file and inspect it with suitable software, as Drive's primary function is storage and collaboration rather than detailed photo asset management.
Advanced Metadata Management with Pics.io DAM Google Drive Integration
As we've already mentioned above, Google Drive offers a more versatile experience compared to Google Photos.
Firstly, it supports a broader range of file formats, not just photos and videos, making it a one-stop storage solution for documents, spreadsheets, presentations, and more.
The user interface is intuitive, ensuring even tech novices can navigate with ease.
Moreover, Drive shines in collaboration; users can simultaneously edit documents, leave comments, and manage shared files seamlessly.
Its integration with other Google Workspace apps further boosts productivity.
Additionally, Google Drive provides advanced file management features, allowing for organized folders and easy file retrieval, ensuring a comprehensive cloud storage experience.
But is there anything better than Google Drive? Yes, there is! Let me introduce an advanced digital asset management (DAM) software by Pics.io.

Pics.io DAM seamlessly integrates with Google Drive, acting as a refined overlay for all your files. Simply move all your digital assets into a Google Drive folder and manage them within the Pics.io interface. No need to buy additional storage or migrate data elsewhere. It's a smooth blend of your existing storage with advanced digital asset management features, making the most of what you already have.
Our Google Drive digital asset management solution can boast multiple features and tools to make your life even easier. Picture this: Your company has a mix of photos, videos, documents, and more, all in different formats. How do you keep track and use them without losing your mind?
DAM is like having a super-organized buddy for your files. One of its coolest features is metadata. By adding keywords, tags, and custom fields, finding that elusive file becomes a breeze. Imagine typing in a keyword and having the right asset pop up in seconds. And if you've got a preferred search method? Save it for next time with custom searches!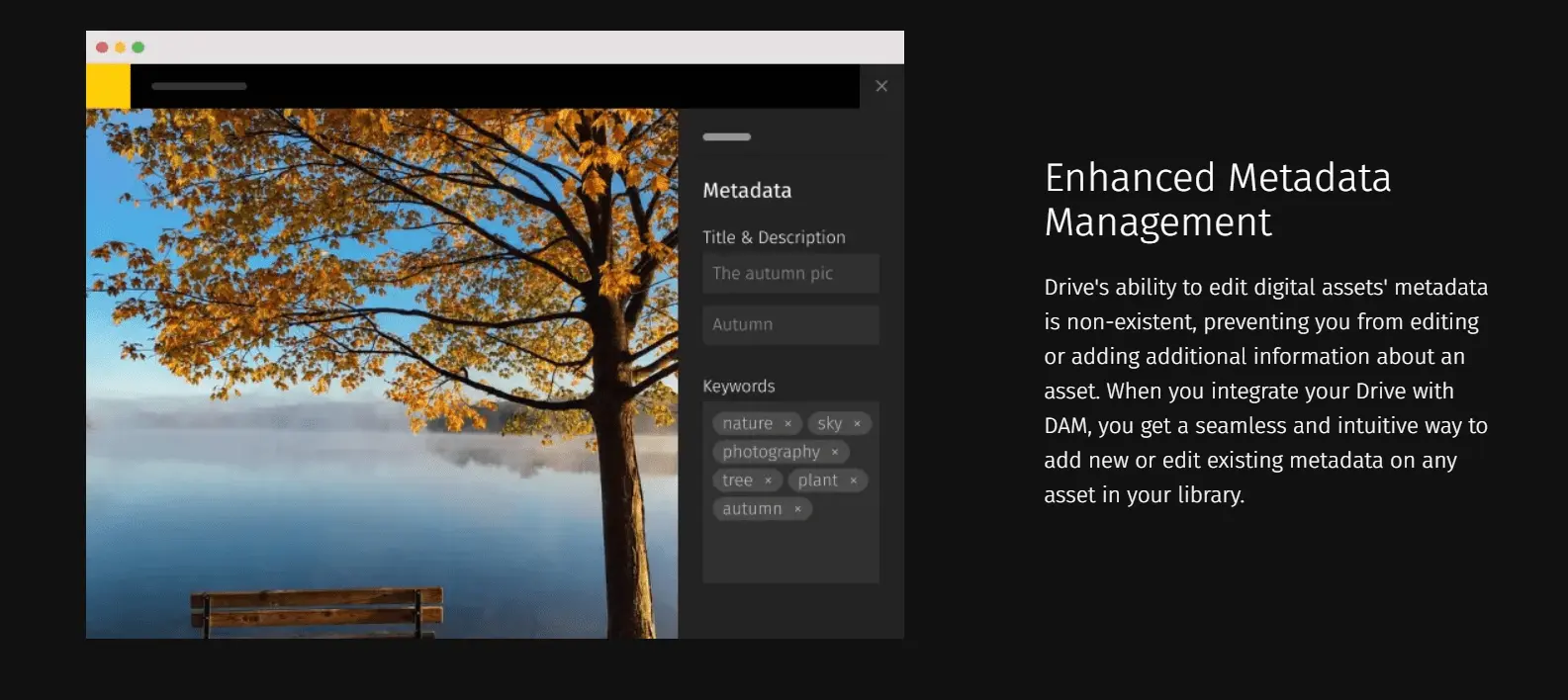 Navigating through a sea of digital assets can often feel like a time-consuming treasure hunt. That's why we have smart AI keyword tagging, — the compass to speed things up. With the power of AI, your digital assets are automatically tagged with relevant keywords, turning hours of manual labeling into mere moments.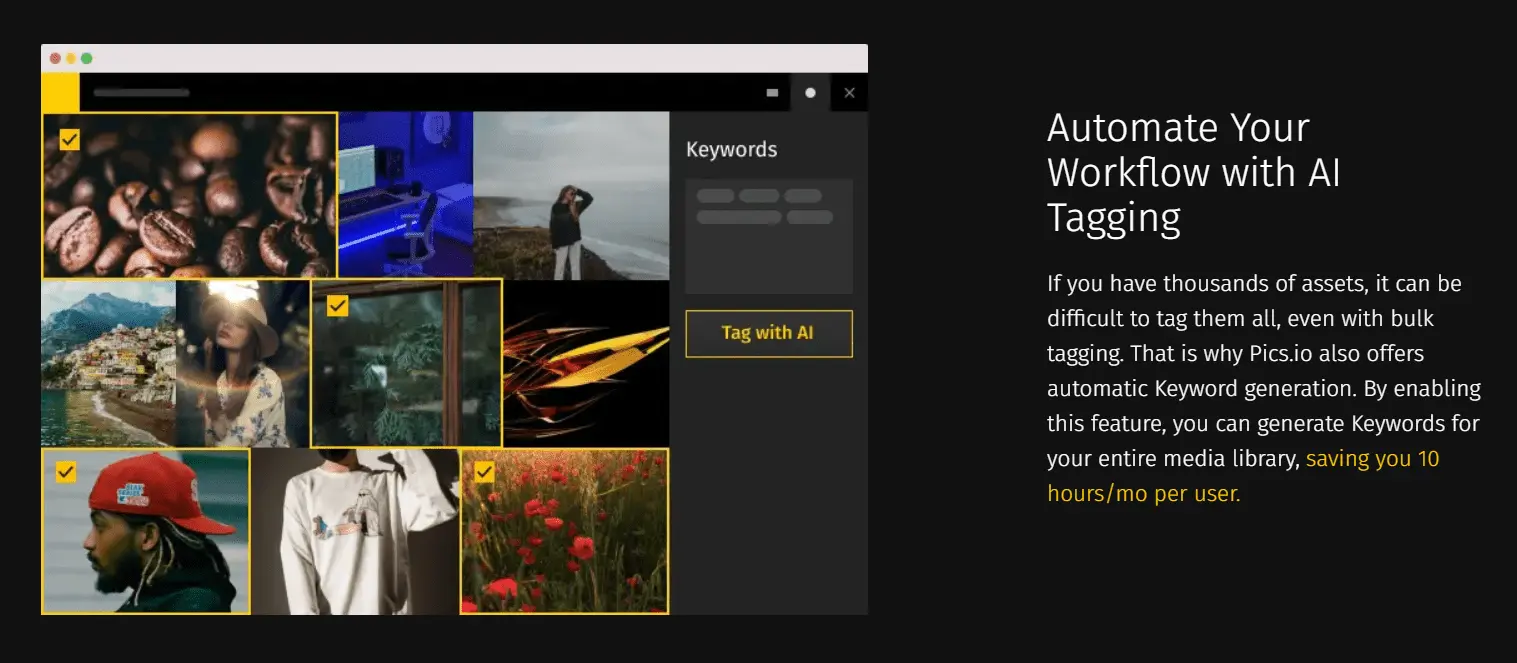 And the magic doesn't stop with just images or documents. For a video file, there's the fantastic speech-to-text transcription feature. Ever recalled a snippet of dialogue from a video but couldn't pinpoint which clip it was from? With AI-driven transcription, videos are transcribed into readable text in multiple languages.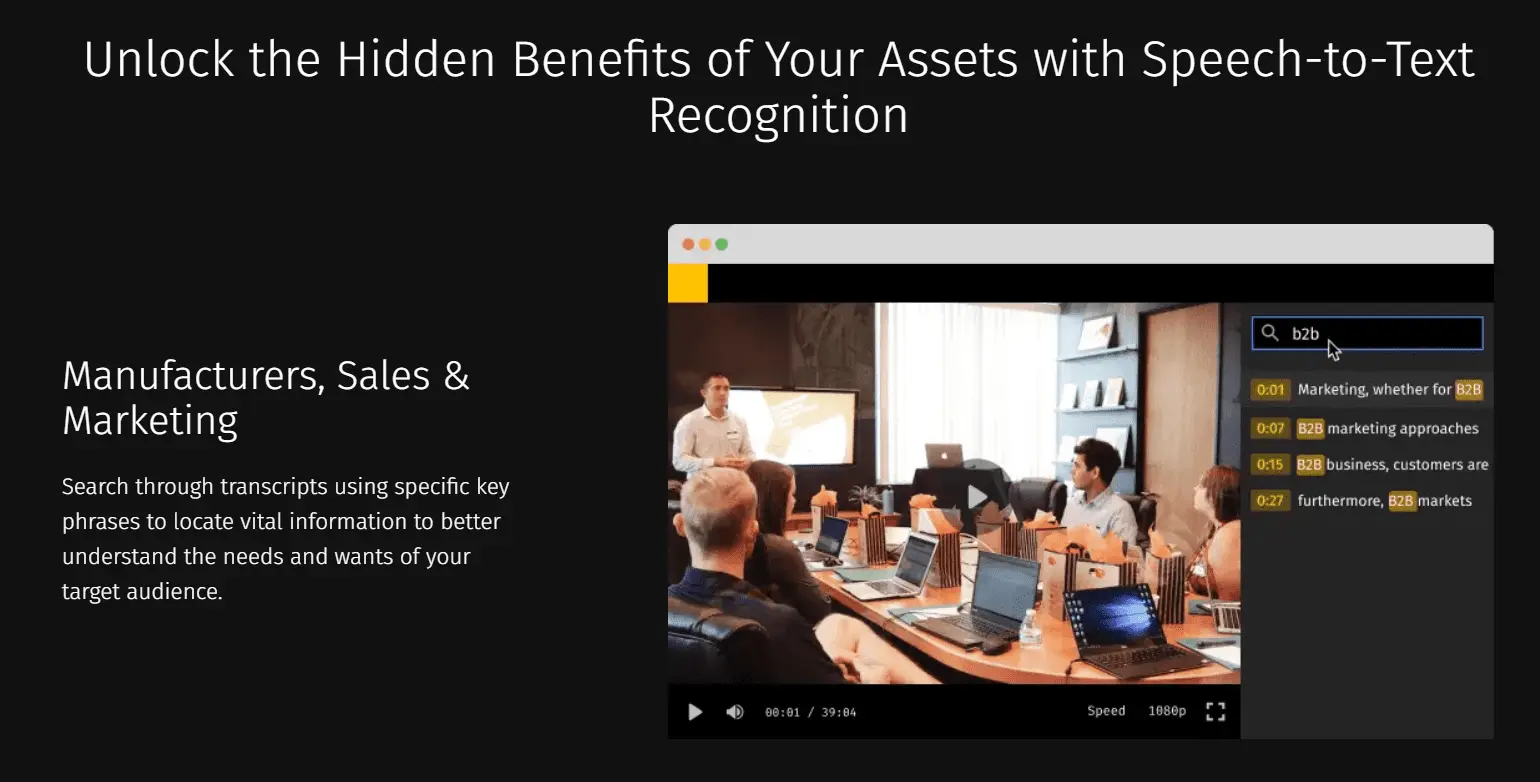 This means you can search for specific content using keywords from the dialogue or narration. So, instead of skimming through hours of footage, you simply search a keyword from the transcript, and voilà! Your desired clip is right there.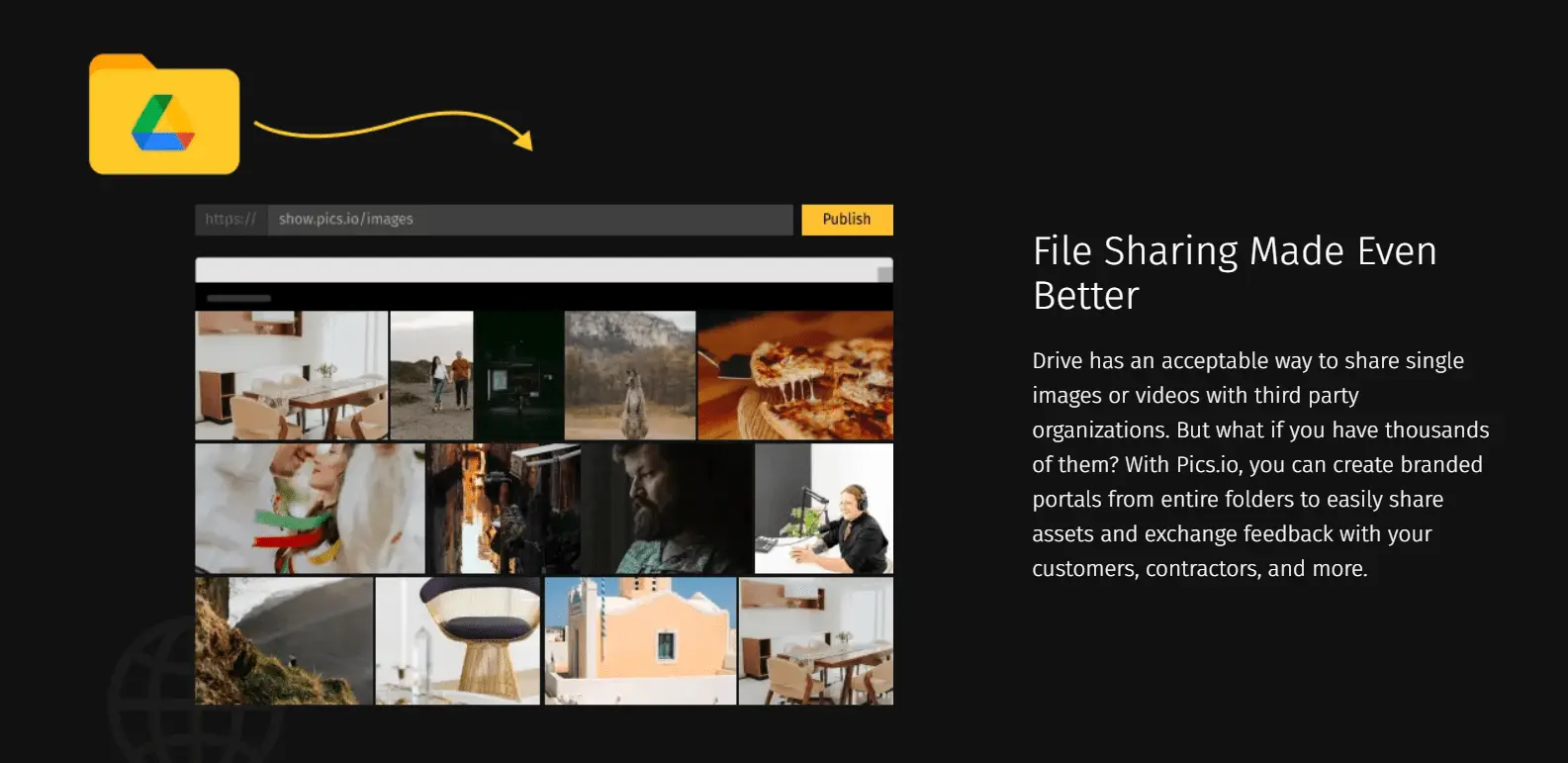 Digital asset management systems don't stop at organizing. Need to share a file? DAM ensures that it's both easy and safe. Whether you're sending or receiving digital assets through our websites or inboxes portals, security is a top priority. Both of them are protected with passwords to prevent unauthorized access.
Check our website to explore all the features that Pics.io DAM offers to make your digital asset management smooth and painless.
Conclusion
Every photo carries a story beyond its visual appeal, tucked away in its metadata. Understanding and harnessing this data, especially with tools like Google Photos, can elevate our photo-management game.
But the real magic unfolds when a Digital Asset Management (DAM) system steps in, turning this wealth of information into an efficient, powerful tool for digital assets organization and retrieval. With DAM, metadata isn't just a behind-the-scenes detail; it's a dynamic force driving smarter asset usage and management.
So, whether you're a casual photo enthusiast or a professional managing a vast library, remember: there's more to your photos than meets the eye. Digital Asset Management (DAM) goes beyond just metadata management. Imagine being able to effortlessly share files with specific permissions, employ AI-powered features that auto-tag your assets, and swiftly locate any file within seconds. Dive into metadata and let systems like DAM help you tap into the full potential of every image you capture.
Give Pics.io DAM a try
free 7-day trial
Did you enjoy this article? Give Pics.io a try — or book a demo with us, and we'll be happy to answer any of your questions.