The highest values of the digital age are privacy and confidentiality. Accidental and not-so-accidental data leaks cause billions of dollars in losses to large companies and bring many problems to ordinary users. Therefore, it is very important to be able to manage your digital footprint on the Internet while protecting personal information. In this article, we'll show you how to remove metadata from photos, why it's so important, and what tools will help you.
What Is EXIF Metadata and Why Is It Important?
EXIF is an interchangeable graphic file format. It was created in 1995 by the Japan Electronics and Information Industry Association (JEITA). Its development was an attempt to standardize the way all digital cameras process images.
Today, almost all digital devices capable of creating images — smartphones, camcorders, cameras, surveillance systems, and even scanners — support EXIF. It's not just about Japanese-made equipment — the standardized format has proven to be convenient for other companies as well.
The EXIF specification leaves manufacturers a lot of room for experimentation. They can choose different encoding methods and image formats, such as JPEG, PNG, WEBP, or TIF. But all of these files contain special code fragments with metadata, i.e., service information.
The main purpose of metadata is to make it easier to sort, edit, and search for images. They contain a fairly wide range of information:
A brand name of the camera or scanner manufacturer;
Device or digital sensor model
Date the image was created;
Geolocation, if supported by the device;
A brief description and information about the author, if any;
Basic image metrics — resolution, color space, encoding method, etc;
Camera settings — exposure, focal length, light sensitivity, etc.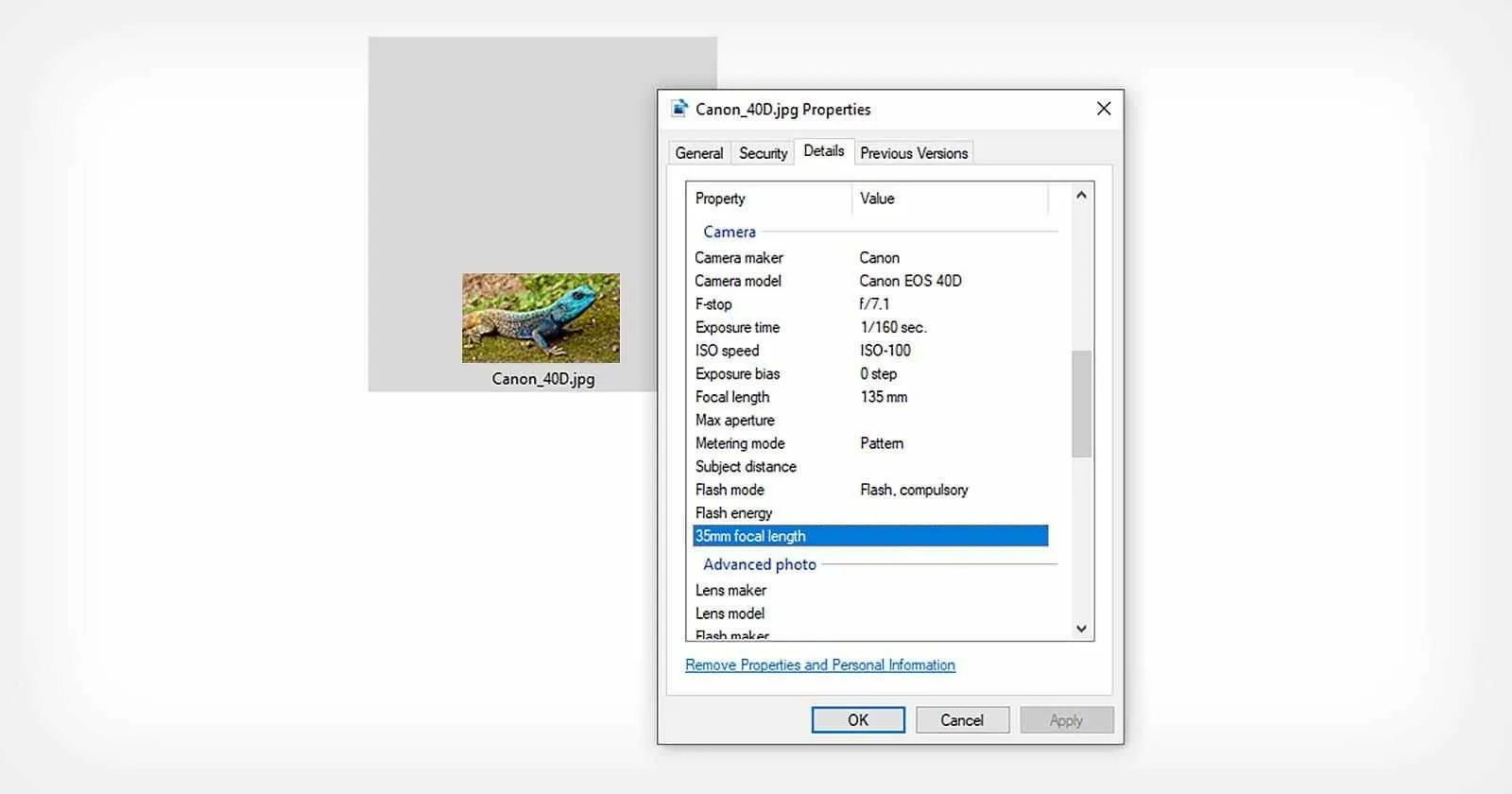 The current EXIF 3.0 specification was released in May 2023. The latest update fixed bugs and expanded the list of available fields. Now, you can even include information such as the gravity vector, the position of the lens relative to north, and the current time zone in the metadata. All of this makes automated photo editing easier — knowing the position of the horizon, the Sun, and the Earth's surface, the program can quickly select the best filters and color correction schemes.
But if you read the list of fields carefully, you might have noticed that metadata contains a lot of personal information: the author's name, if they wanted to share it, the exact time and place of the photo. Sharing it with everyone can be dangerous. There are the following scenarios of metadata abuse that are quite common in the real world:
Disclosing the address of a house or apartment. Showing off luxurious housing on the Internet attracts the attention of thieves.
Threat of persecution. Famous people often unknowingly give a tip to stalkers and obsessive journalists who want to know all the details of their personal lives.
Disclosure of a secret. An anonymous informant who wants to prevent an offense can contact the police or authorities. If the photo they submit is published without metadata removal, it will be easy to find it.
Cyber fraud. It will be easier for criminals to access the device if they know its unique ID. This increases the threat of withdrawing funds from bank accounts and e-wallets.
Extortion. Knowing the details of a person's life, criminals can combine modern technologies with social engineering methods. They can threaten a person, simulate danger to their loved ones, or ask for help on their behalf.
You don't need to be a super spy, hacker, or technical genius to use these methods. Sometimes, it's enough to know what metadata is and how to find it, and to have a couple of spare minutes. Therefore, if you actively share your photos on the Internet, post them on blogs, and send them in private messages, you can never feel 100% safe. And the only way to get rid of this threat is to remove EXIF data.
How to Remove Metadata from Photos?
Fortunately, it's relatively easy to do. Besides, when it comes to single images, you don't need to use specialized tools. Let's figure out how to remove metadata from photos on different devices with different operating systems.
How to Remove Image Metadata on Windows?
Find the file you need.
Hover the cursor over its icon and right-click.
Select Properties from the drop-down menu.
In the window that opens, select the Details tab.
At the bottom, you'll see the Remove Properties and Personal Information link.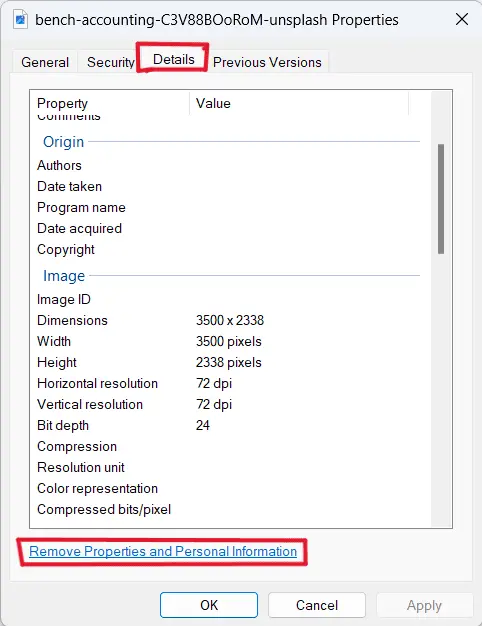 In the new window that opens, select Remove the following properties from this file.
Click Select All, then click OK.
When you return to the previous window, click OK again.
Note that you can also remove data from a photo by keeping the original and creating a new copy without personal information. To do this, select the option "Create a copy with all possible properties removed" in the sixth step.
This method works in all current versions of Microsoft-supported operating systems, including Windows 10 and 11.
How to Remove Image Metadata on Mac?
Find the image in the file system.
Open the file using the standard Preview app.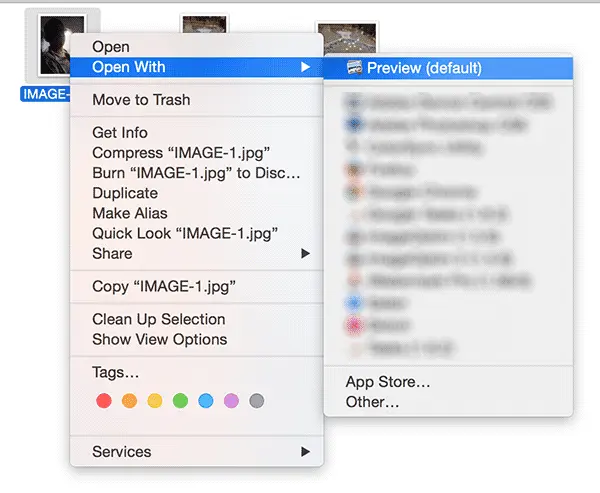 In the top menu, select the Tools section, and in it — Show Inspector.
In the window that opens, go to the Information tab marked with the i icon.
Find the GPS tab and click the Remove Location Info button.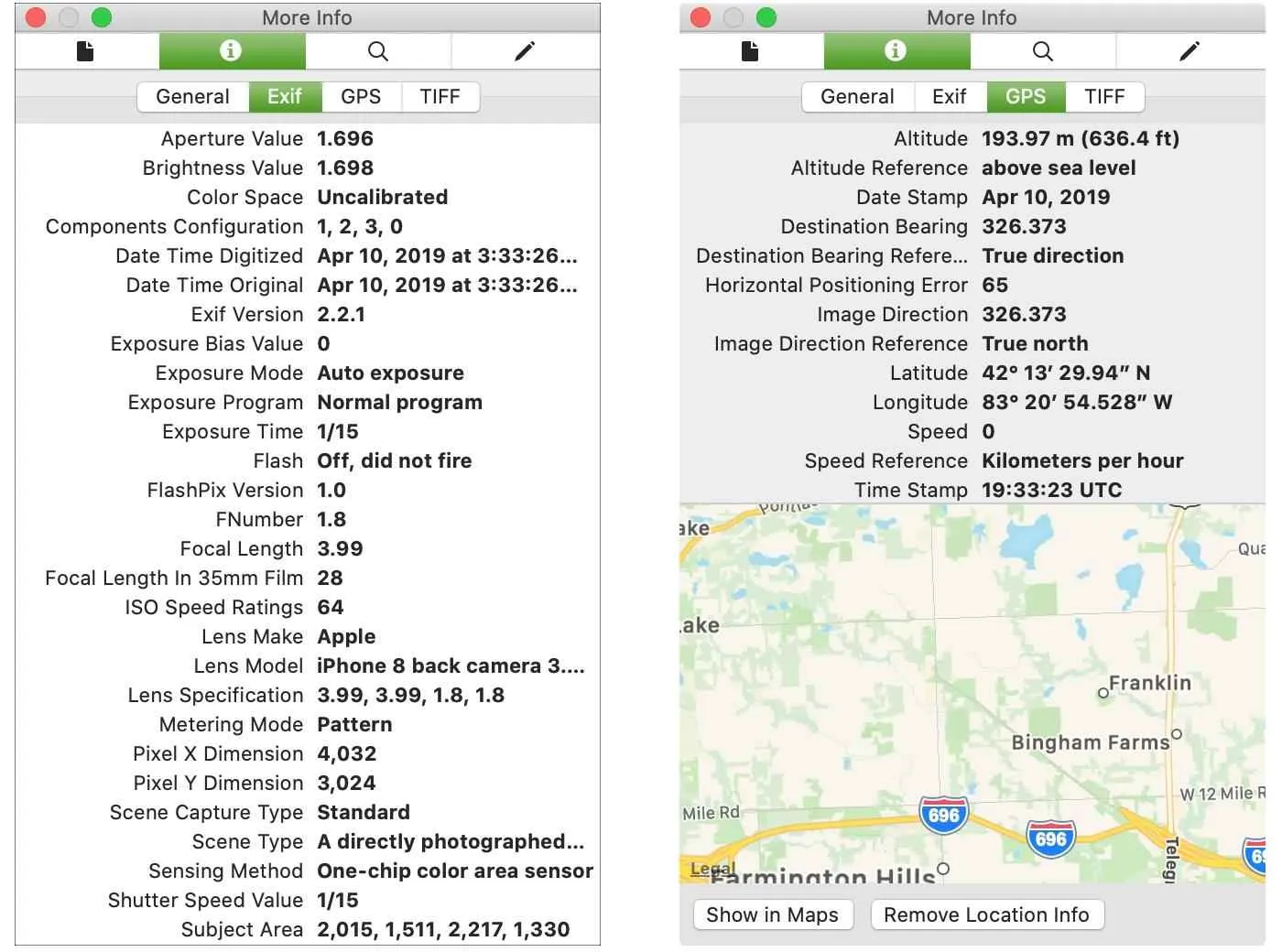 In the instructions, you can see that the MacOS operating system is more private. You can only delete the geolocation of a photo in it. If you need to completely remove metadata from a picture, you'll need to use a third-party service. We will tell you about it later.
How to Remove Image Metadata on iOS?
Open the standard Photos app.
Select the image you want to share.
Tap Share.
Press Options.
Turn off the Include Location option.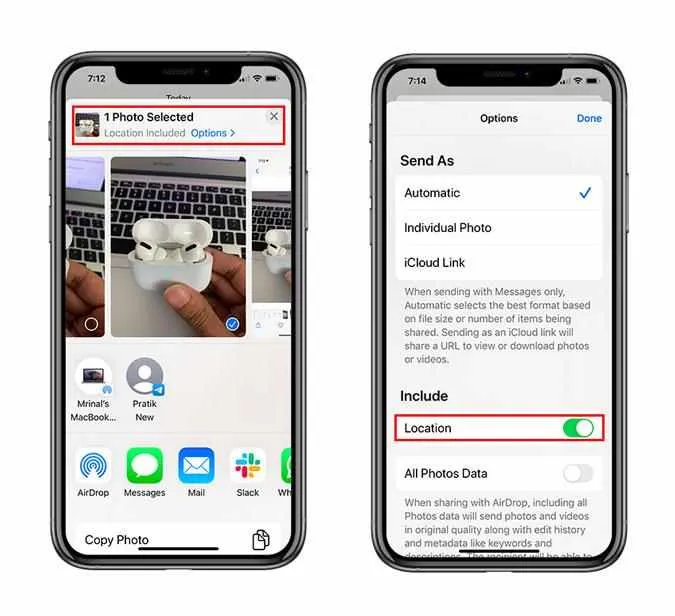 iOS also sets certain restrictions, so you will need third-party applications to EXIF remove completely. If you're only interested in geolocation privacy, it's best to disable location tracking in the camera menu or when transferring images to your Mac device.
How to Remove Image Metadata on Android?
Open the default Gallery app.
Select the image.
Tap the Share button.
Click the Options button at the top.
Select Remove location and Remove other properties.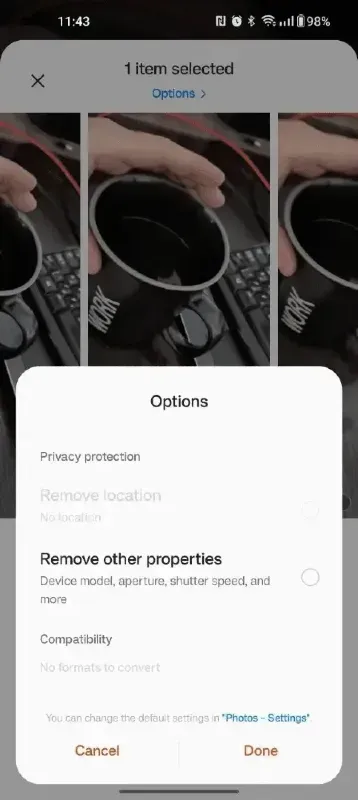 Click Done.
Note that despite being more flexible than iOS, the Android operating system also has its limitations. Standard apps don't allow you to strip metadata from images completely, so they don't provide 100% security guarantees.
How to Take Photos Without Location Data?
Everyone knows that it's better to prevent a problem than to deal with its consequences. If you are worried about cybersecurity, act now! Start by turning off the geolocation option in your smartphone's camera settings.
How to Take Photos with No Location Data in iOS?
Open the main menu of the operating system.
Go to the Settings section, select Privacy and the Location Services function.
Find the default Camera application and click on its icon.
In the Allow location access section, select Never.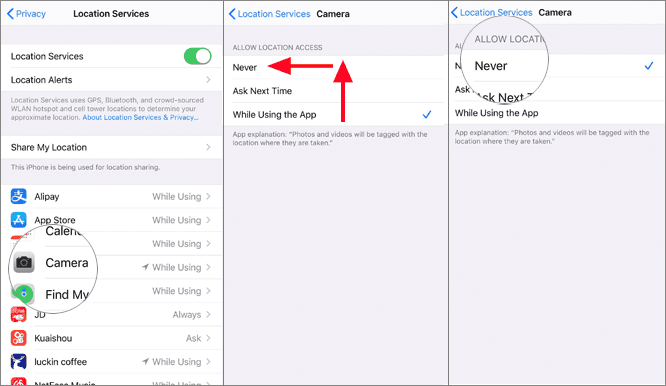 This way, you can remove the location from all images that will be taken with your iPhone or iPad camera after this point. Please note that previous photos that are already stored in the device's memory may still contain full information! When working with them, do not forget to remove the geolocation from the EXIF.
How to Take Photos with No Location Data in Android?
Open the main menu of the operating system.
Go to Settings and Apps.
Find the default Camera app and click on its icon.
Go to the Permissions section.
Turn off the Location permission — the slider should move to the left and turn gray.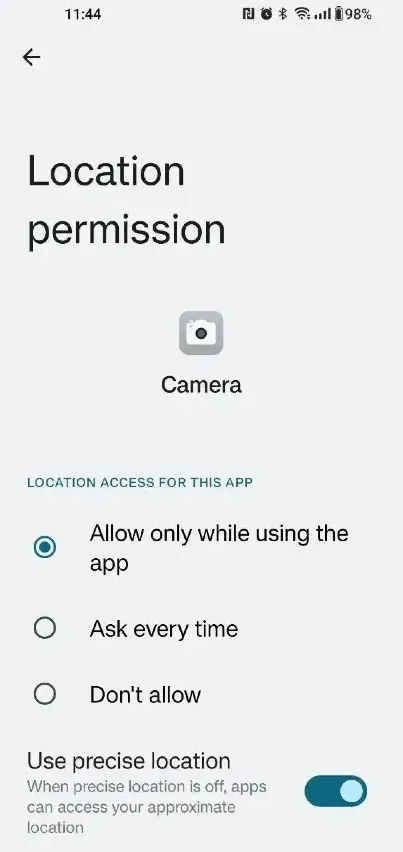 Of course, this will prevent the program from recording only your location at the time of taking the photo. All other data will be recorded in the file. Above, we described how to delete them partially. Now, it's time to consider a more convenient, reliable, and secure way to clean up your information.
Helpful Tools
Of all the operating systems listed above, only Windows allows you to completely scrub photo metadata. But even in Windows, you'll have to edit each file separately. If you deal with hundreds or even thousands of photos in your work, this can be a disastrous waste of time. To avoid this, use specialized applications, which we'll describe in more detail:
1. Pics.io is a universal web service for managing digital assets. It allows you to edit or clean up the metadata of various files in bulk, including photos, graphics, videos, 3D models, text documents, spreadsheets, and more. The application is also suitable for those who want to protect their copyright and prevent uncontrolled distribution of files on the Internet — you can automatically add information about authors and licenses. The service offers you a flexible pricing policy and a 7-day trial period.
2. ExifTool is a specialized service designed to work with EXIF data only. It has a very wide list of available file formats and encoding methods. Among the disadvantages are limited functionality and an inconvenient outdated interface.
3. Exif Pilot is a program for Windows and MacOS. It has the function of bulk editing of metadata of a large number of files. It allows you to create your own templates and upload information to spreadsheets. The basic version is distributed free of charge, but you will have to pay extra for each additional function. Among the disadvantages is a rather confusing interface.
How to Edit EXIF Metadata?
The simplest answer is to use one of the tools described above. All of them can not only delete information but also change it, including automatically adding template strings. But if you only need to edit a few photos, you don't need to buy software or subscribe to a service. You can edit image metadata in Windows by following these simple instructions:
Find the file.
Right-click on its icon.
Select Properties.
Click the Details tab.
Select the row you want, move the cursor to the Value column, and click.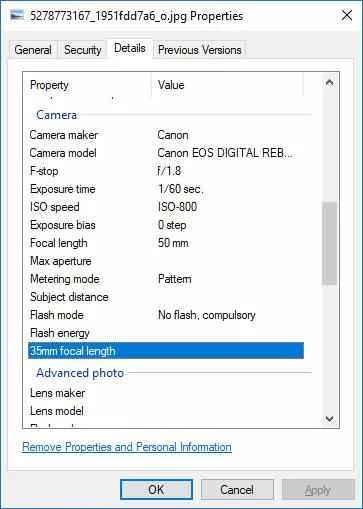 If you see a field to fill in or a drop-down list, you can edit this information yourself. Please note that you cannot change service data such as resolution and some camera settings.
Conclusion
So, image metadata can be used both to manage digital assets conveniently and improve online safety. Therefore, it is very important to know how to edit or remove image metadata. You can learn more about this in our reference material.
The Windows operating system offers the most freedom in this regard, allowing you to remove and edit most strings without any third-party tools. Android comes in second, while iOS and MacOS only allow you to delete geolocation data.
But any default operating system tools force you to work with each file individually. If you are dealing with a large number of photos, it is better to use special software for managing digital assets. The Pics.io service allows you to remove sensitive data from images in bulk, add licensing information, and create internal metadata syntax with controlled vocabulary. It seamlessly integrates with popular applications used by businesses and independent creators, including Adobe Photoshop, Google Workspace, Zapier, Slack, and others.
Give Pics.io DAM a try
free 7-day trial
Did you enjoy this article? Give Pics.io a try — or book a demo with us, and we'll be happy to answer any of your questions.