At the intersection of technology and content lies Digital Asset Management (DAM). More than just a storage location, DAM systems have evolved into central command centers for the increasingly large numbers of digital assets businesses have amassed. But the command center is most effective when it's interconnected with other strategic operations. That's where DAM integrations come into the picture, adding layers of capability, accessibility, and intelligence.
In this article, we'll explore ways to level up your DAM software with integrations so you can maximize their benefits.
What Are Digital Asset Management Integrations and Why You Need Them
DAM integrations involve connecting a DAM system with other software tools or platforms. So, what makes integrations so valuable to DAM systems?
Unified Workflows
At the heart of it, DAM is about efficiency. However, efficiency is capped when teams have to jump between systems. Integrated platforms mean more seamless operations. For instance, with a remote desktop application for Mac, a team member traveling or working remotely can instantly access the DAM system, ensuring seamless operations regardless of their location.
Breaking Down Silos
In many businesses, departments can inadvertently operate in isolation. Maybe marketing isn't aware of the new assets that design has rolled out. Or perhaps customer service is missing key updated product sheets. DAM integrations help to bridge this division within one secure location.
Time and Resource Efficiency
Every second counts in today's business landscape. Digital asset management integrations minimize manual work and reduce the risk of human errors. This not only saves time but also ensures that resources are optimally used.
As you can see below, DAM systems can save teams a considerable amount of time. With 3.9 hours lost a day, when teams aren't using one.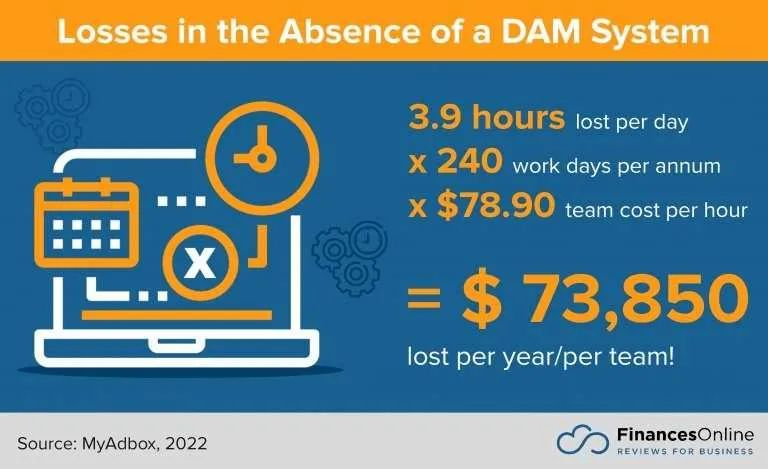 Data Insights and Decision-making
Integrations allow DAM systems to pull data from various touchpoints, providing a holistic view of asset usage, engagement metrics, and effectiveness. Integrating a DAM system with marketing platforms, for example, can reveal which digital assets drive the most engagement or conversions.
Brand Consistency and Integrity
With various teams accessing and distributing assets, maintaining brand consistency can be a challenge. By integrating DAM software with tools like content management systems or marketing platforms, businesses ensure that the right version of an asset is always used, upholding brand identity.
Scalability and Future-proofing
Digital asset management integrations provide businesses with the means to expand without massive overhauls while satisfying evolving digital asset management needs as they arise. Integrations ensure that DAM systems can seamlessly communicate with newer tools or expanded platforms that arise as the business evolves, as well as serve to secure its longevity in today's rapidly morphing digital environment.
Must-have Digital Asset Management Integrations Types
Let's discuss the most common DAM integration types and what they bring to the table:
Design Tools
Your design team, especially those frequenting Adobe Creative Cloud, find their home within these tools. Integrating them with your DAM system streamlines the entire design process, from previewing mock-ups in Figma to tracking changes to assets in Trello.
Once assets are created or edited, saving them directly to the DAM ensures they're readily available for every relevant department. It eliminates the chaos of versioning miscommunications or searching for files in never-ending email chains. For instance, by integrating your DAM software with Adobe Photoshop, users have a shortcut to the team's shared library where they can browse stored images and filter to find images based on specific branding materials or references.
Pics.io DAM integrates with such design tools:
Adobe Creative Cloud
Trello
Figma via external links
Project Management Software
DAM integration with PRM software streamlines the approval process and completion of multiple tasks.
Let's take as an example a marketing team. The DAM serves as the single repository for all creative assets. Instead of scrambling through emails and disparate folders, the team has instant access to the latest versions of graphics, videos, and documents. They link these directly to tasks and timelines in the project management platform, ensuring everyone is literally on the same page.
With project management system integration, feedback on creative assets is centralized, tracked, and managed within the project tasks, slashing the time spent on revisions. The marketing team stays in sync with real-time updates, so when a deadline looms, they're ready—not racing against the clock.
Pics.io DAM integrates with such project management tools:
Easy Projects
ClickUp
Wrike
Monday.com
Collaboration Tools
Platforms like Slack have revolutionized interdepartmental communications. By pairing your DAM with these collaboration tools, instant asset sharing and real-time feedback become the norm. Imagine the marketing team accessing a design draft instantaneously on Slack without the wait or formalities.
Some more comprehensive DAMs also offer add-ons for platforms such as Google Workspace, which is ideal for teams collaborating on reports or presentations, particularly when working remotely.
Let's say a company's external copywriter is drafting the newsletter but needs the marketing manager to select and add the accompanying visuals. In such case, the manager can access the company's entire media library, choose the necessary media, and paste them directly into the shared Google Doc that's also stored in a DAM.
Pics.io DAM integrates with such collaboration tools:
Slack
Google Workspace
Salesforce
Product Information Management
Digital assets play a role beyond marketing and design; they're central in operations, especially in sectors like retail. The mix of DAM with Product Information Management (PIM) ensures that product images, details, and related digital assets are always in sync. With everything taking place in the cloud, this means users can more seamlessly locate and control files and metadata.
For example, online retailers that use Shopify are often made to upload products to their sites manually. If you launch a new collection, this can add unnecessary work to the process. If you're a small business owner with limited resources, this can really hamper your efforts to grow the business.
A DAM PIM integration allows business owners to add bulk product images and organize existing ones. After adding product SKUs to the image metadata, the system automatically maps them to products in your store and uploads them to each matched product.
Marketing Automation
Automated campaigns gain an edge with the right digital assets. When DAM is integrated with platforms like HubSpot, marketing teams can easily extract the necessary assets for their campaigns. This not only adds convenience but also certifies that every piece of content remains on-brand.
This is particularly important for ensuring consistency across your marketing channels. For example, with DAM and marketing automation integrations like Hootsuite, content creators and social media managers can have access to branded images and videos at their fingertips. This saves significant time searching for images that fit the style guidelines as you'll have immediate access to your library of approved marketing collateral.
Pics.io DAM integrates with such marketing automation tools:
Content Management Systems
Integrating DAM with CMS platforms like WordPress means that content creators and managers can pull assets directly into their content, ensuring brand consistency and updated imagery on websites and blogs.
This allows users to upload blog images more quickly. They can easily search for and filter assets in their media library directly from the CMS' page editor as well as searching for assets using keywords, tags, and your pre-established folder tree.
Pics.io DAM integrates with such content management tools:
YouTube
WordPress
Hootsuite
Sales Enablement
For sales and marketing teams, CRM systems like Salesforce are foundational. Integrating DAM with such platforms gives sales teams direct access to the repository of digital assets. For instance, a salesperson wanting the latest product brochure would pull it directly from the CRM, ensuring accurate, timely communication and perfect alignment with brand guidelines.
This saves sales agents significant time searching for files and documents on their desktop or Dropbox. Instead, if a client asks to see a specific business proposal, the agent can quickly search for and locate it without even closing their screen.
Pics.io DAM integrates with such sales enablement tools:
How to Start Using Pics.io DAM Integrations
Visit the Integrations page on our website and select the necessary tool you want to connect. For each integration, you will receive detailed instructions on how to set it up.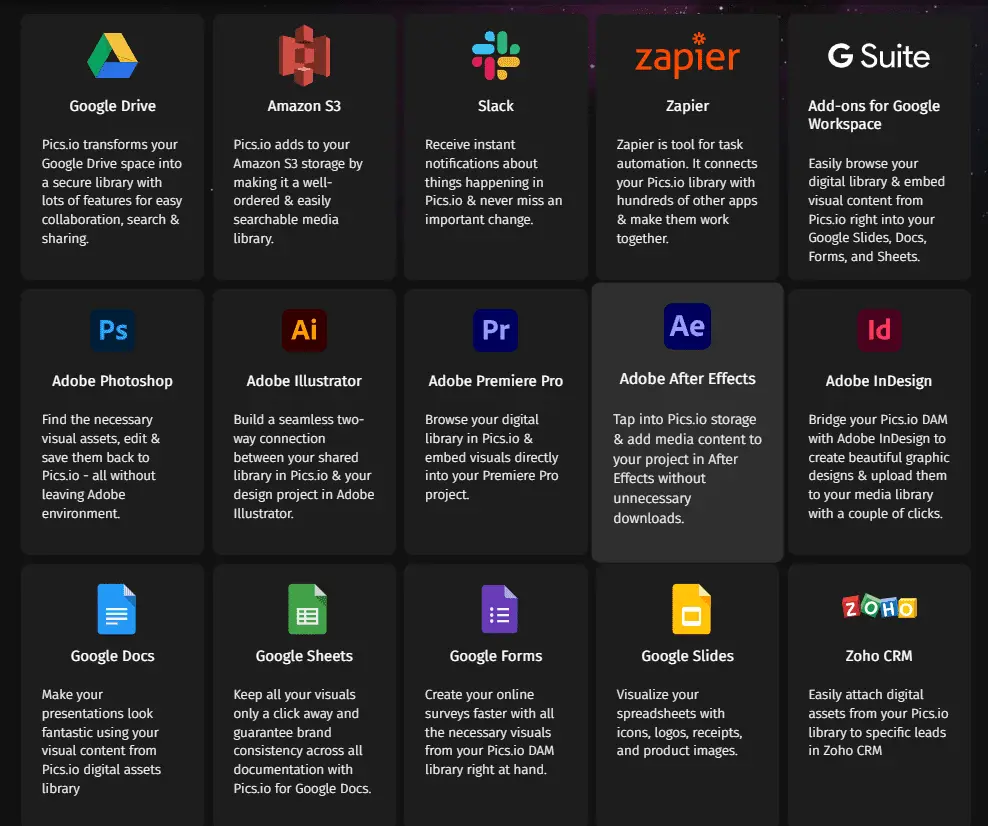 We also offer open-source API for custom integrations. You can learn more about it here.
Future trends in DAM integrations
Research published in 2023 stated that, as content continues to be digitalized, the DAM market will likely grow with it and predicted that, globally, it will be worth 14.31 billion by 2032. But, what is that likely to mean for future trends and integrations? Let's take a look…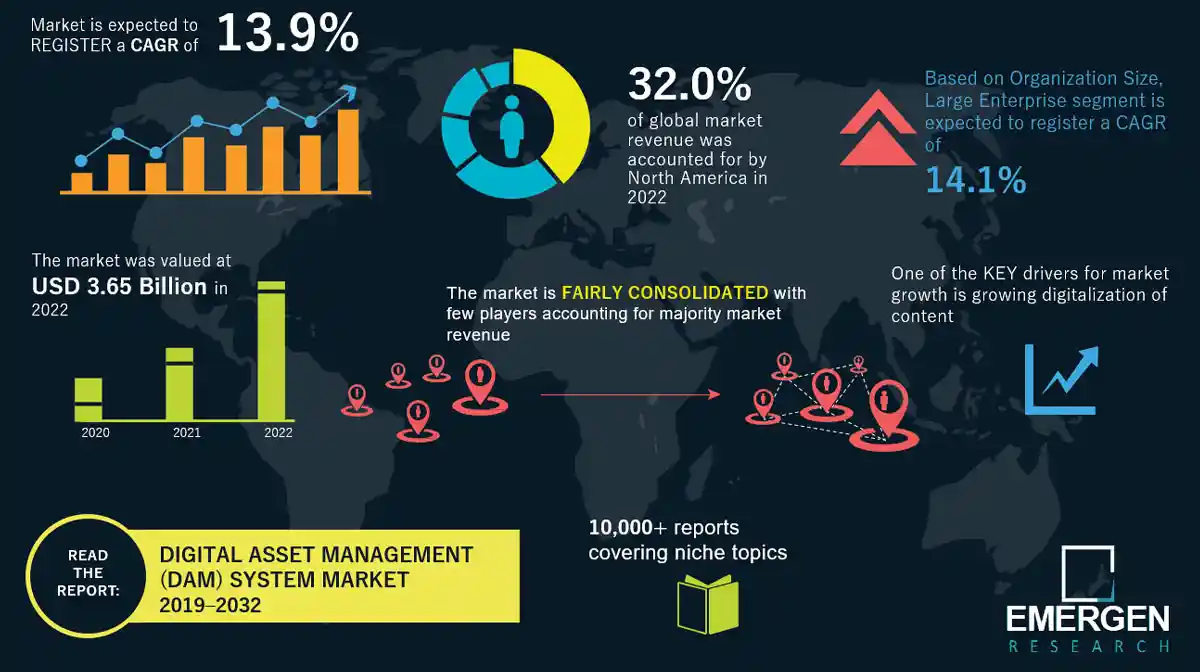 Artificial Intelligence (AI) in DAM
Imagine your assets getting auto-tagged accurately the moment they're uploaded or even recommendations on which asset would be most effective for a particular campaign based on historical data.
Pics.io digital asset management system already can boast AI smart keyword tagging and AI speech-to-text transcription features.
Beyond DAM, the benefits of AI in sales are becoming more pronounced. AI-powered sales tools can analyze customer behavior, predict which leads are most likely to convert, and even automate follow-up processes. This not only enhances sales efficiency but also ensures that sales teams have easy access to insightful data.
VR and AR assets
With the rising popularity of virtual reality (VR) and augmented reality (AR), businesses are beginning to produce more of these types of assets. In the future, DAM systems will need to not only store but also facilitate the seamless integration of VR and AR assets into various platforms and campaigns.
Integration with IoT
As more devices become interconnected in the Internet of Things (IoT), the role of domain names in identifying and connecting these devices becomes more prominent. DAM systems need to ensure these devices access the right assets based on their domain-specific identifiers.
Cloud-first Approach
As businesses migrate more of their operations to the cloud, DAM systems that prioritize cloud-first integrations will lead the pack.
This means faster access to assets regardless of geographical location, seamless updates without the need for physical infrastructure tweaks, and integrations that are always up-to-speed with the latest cloud technologies.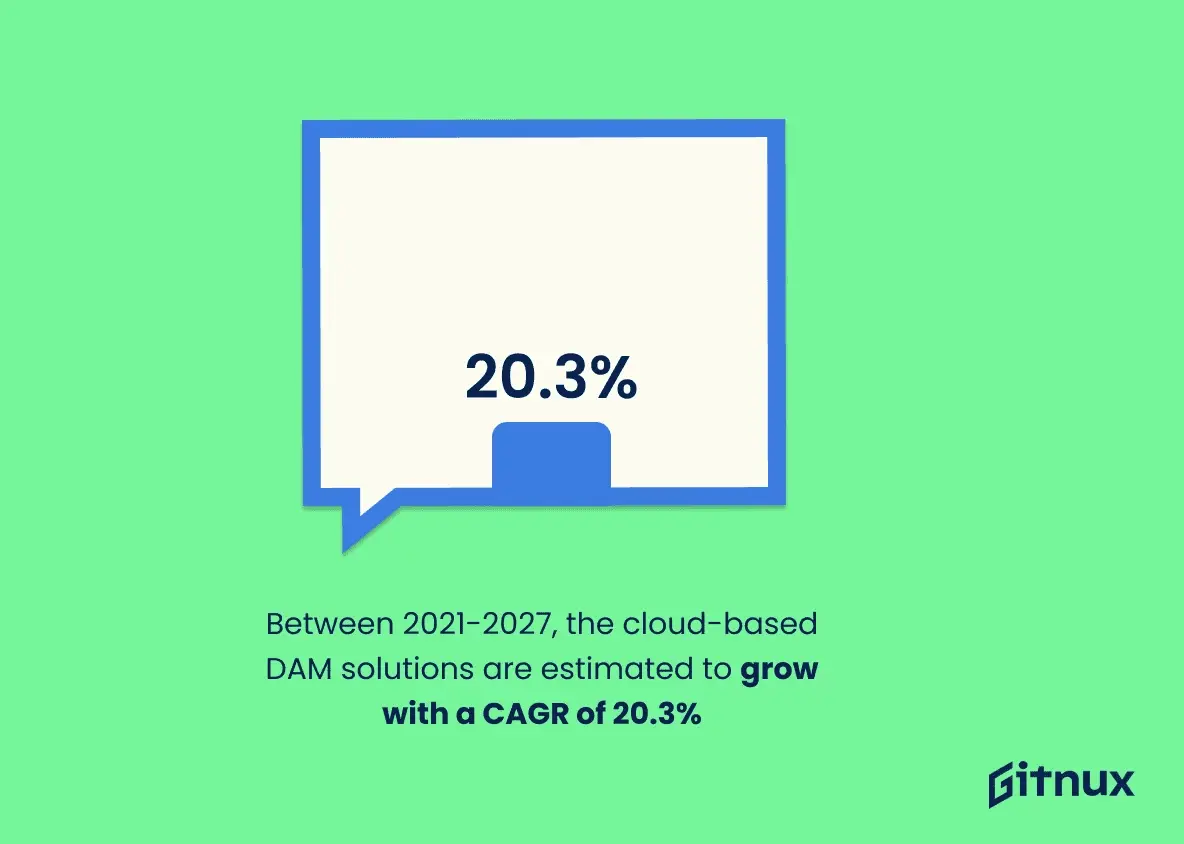 Incorporating platforms like a cloud-based contact center further exemplifies the importance of a cloud-first approach. By integrating a cloud-based contact center with a cloud-first DAM, businesses ensure seamless communication. Customer service teams can access up-to-date assets instantly, which enhances their efficiency and ensures customers receive accurate and relevant information.
Final Thoughts
By seamlessly weaving DAM into the broader digital infrastructure, businesses can gain agility, consistency, and security. They can respond faster, adapt smarter, and always ensure their audience receives the most relevant, updated content.
Yet, as with any technology, the DAM ecosystem will continue to evolve. Businesses should remain vigilant and adaptable, always seeking to harness new features and integrations that will enhance their digital asset management experience. The horizon is vast, and the future holds countless opportunities for those willing to integrate, innovate, and inspire.
Give Pics.io DAM a try
free 7-day trial
Did you enjoy this article? Give Pics.io a try — or book a demo with us, and we'll be happy to answer any of your questions.
Jessica True
is the Senior Director for Marketing Strategy and Operations at Dialpad, a modern business communications platform that takes every kind of conversation to the next level—turning conversations into opportunities. Jessica is an expert in collaborating with multifunctional teams to execute and optimize marketing efforts, for both company and client campaigns.