Remote work has become a need of the hour amidst the coronavirus outbreak. While it has been necessary to take precautions, work productivity is now of significant concern for many companies.
Have you also had the uncertainty regarding the progress of work when employees are working remotely?
I understand that!
Let's look at the brighter side, though. With the noteworthy evolution of consumer and business software, it's not that difficult to sustain work from home situations. Moreover, so many businesses have found remote work to be more beneficial for their companies.
Fact check: 2020 is the year where humans have worked from home the most in the history of civilization.
So let's move with the trend!
And to guide you further, this blog talks about the tools that can help in boosting the productivity of your remote employees.
8 Must-Have Tools to Boost the Productivity of your Remote Employees
1. Pics.io - Your digital asset manager for crisis management
It's necessary for businesses to access, control, and report all their digital assets with their team members and also with the clients sometimes. This is where digital asset management comes in. It handles and delivers content that people are looking for and even tracks the engagement.
Give Pics.io DAM a try
Free 7-day trial
No credit card required
Set up in 3 minutes or less
Pics.io offers features that streamline the workflow by making it easy for teams to collaborate by sorting, organizing, and retrieving assets. The best part is that it easily integrates with Google Drive and can serve as a central hub that holds all the media. So now you and your team members don't have to spend an extra minute looking for your digital content. And there you have it - increased productivity!
The cherry on the cake is that it allows the exchange of comments which means you can easily resolve comments from clients and team members quicker than ever before.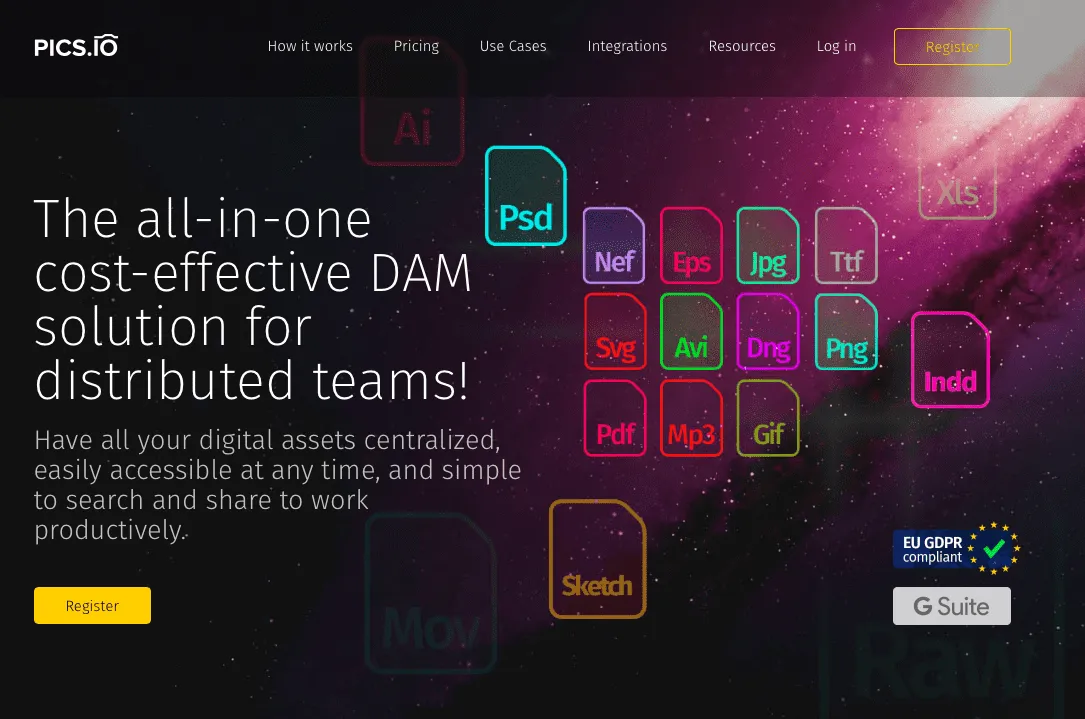 Price: $18 per month
2. Trello - Your go-to project manager
Project management becomes easy when the tool that you use is powerful, fun, and friendly. If you are looking for such a tool, Trello is precisely what you need. It can bring significant benefits to the employees as well as the organization and make your work smoother than ever.
On Trello, the work happens on boards which are further divided into lists. And, there are separate cards to each list. This gives you the freedom to sort and aggregate steps within your team.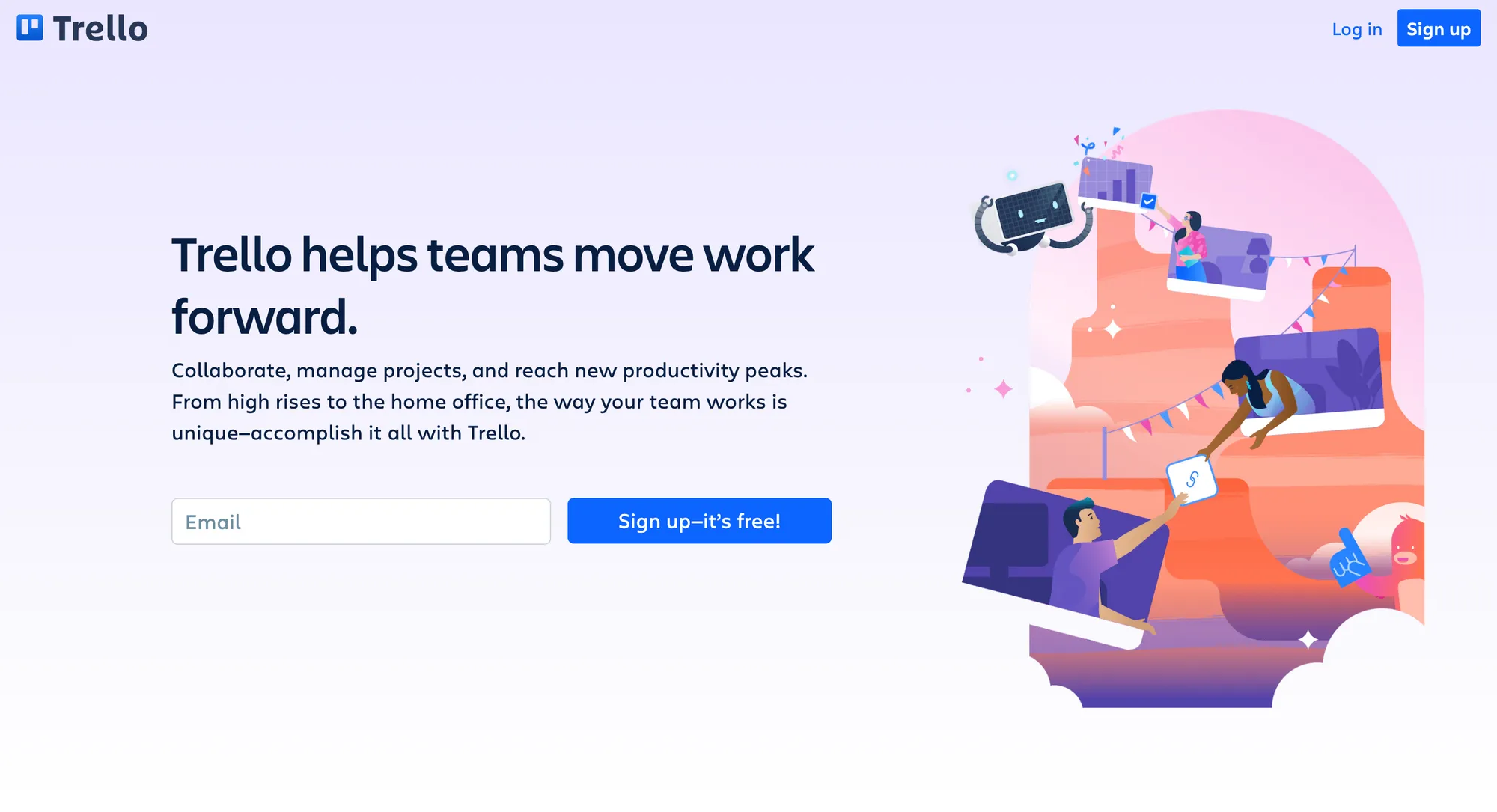 This is how it's interface looks like. This tool makes it convenient for team members and the manager to keep track of the projects that are marked as done and what is yet to be done. For instance, if your organization has multiple employees that build online courses for your customers, there are many complex dependencies that occur in the process. Something like Trello is essential to your success because it will allow your team to understand not just who is in charge of each task, but also what tasks need to be finished prior to others.
The best part about this is the free features are just enough for you to get started with your project management, both micro-level and macro-level.
Trello makes organizing a project more manageable than ever before, indeed!
Price: $9.99 per user per month annually (Business Plan)
3. Slack - Enabling end-to-end communication
Well, there are chances that you are already using Slack!
If not, let me tell you what it's about. Communication is one of the biggest challenges faced by remote teams. It's easier when you are in a physical office, but remote work can make it necessary to have a powerful communication tool.
There is an easy installation and onboarding process to follow on Slack. And as you have signed up, you are all set to work with an always-on communal process. Begin with your work chats, exchange ideas, share comments, share media, and set reminders, all under the roof of one tool, Slack. It is also beneficial to teams that are in different time zones.
Here, the departments and teams can create their public or private channels according to their needs. Therefore, Slack has slowly started replacing emails for organizations that are using this tool. Moreover, Slack also offers mobile apps for Android and iOS.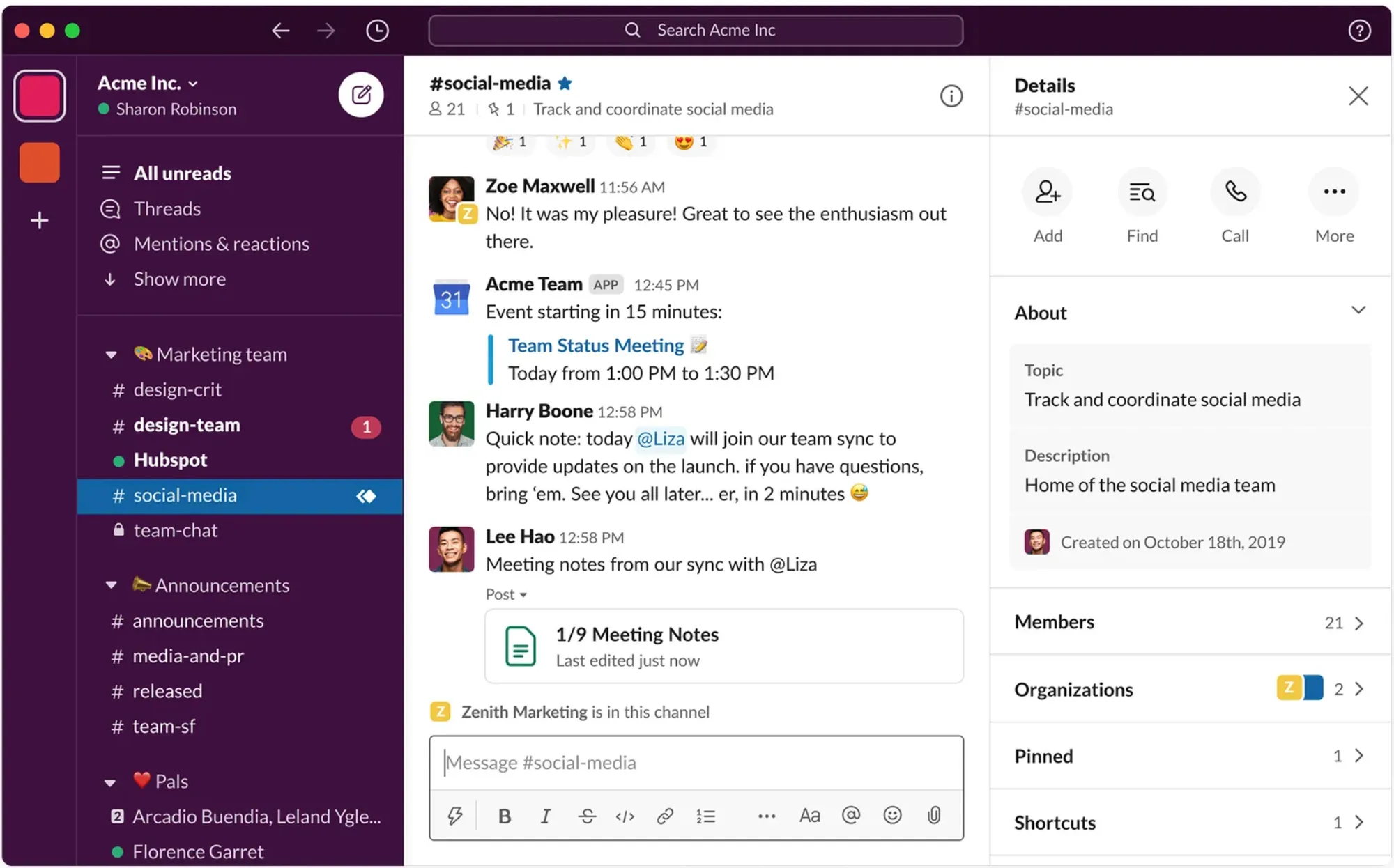 Price: $6.67 per user per month annually
4. ProofHub - Best for Project Management and Team Collaboration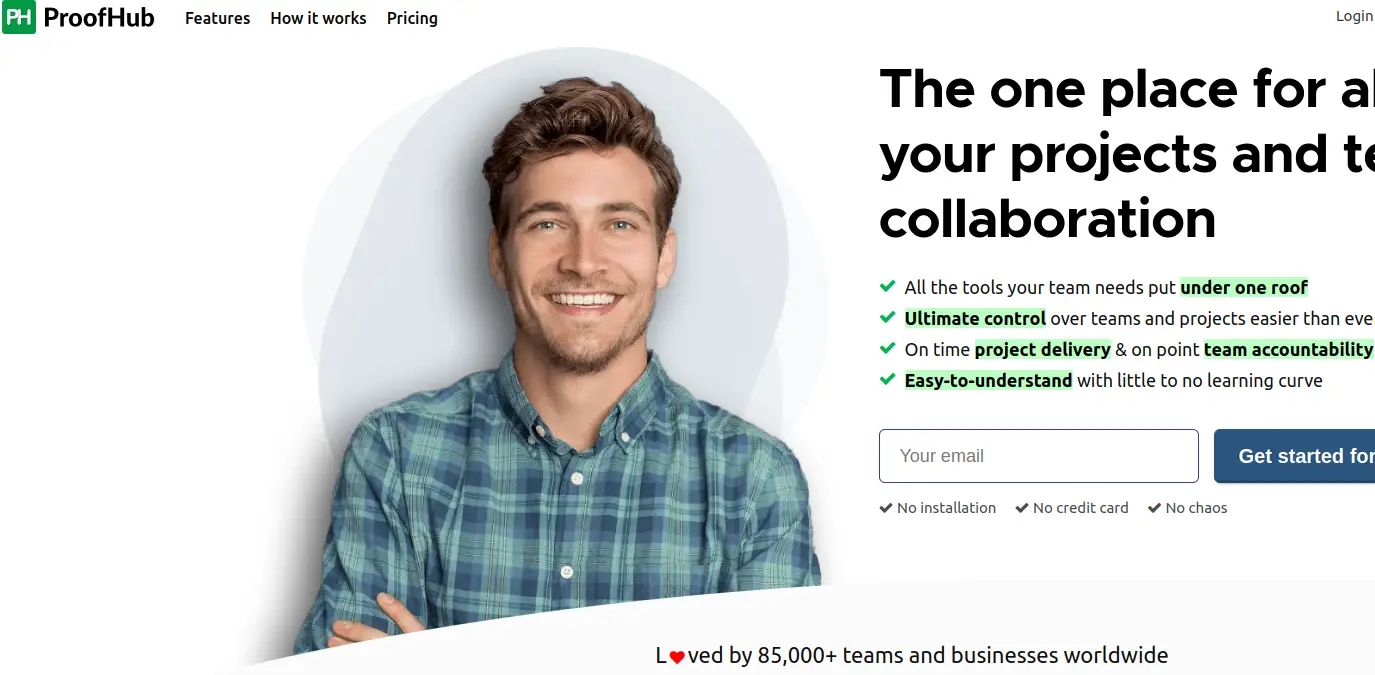 One of the best things about ProofHub is that you are always in control of your projects and teams, which makes the journey easy for remote employees.
ProofHub helps managers to create, assign tasks, and track through task management. It allows employees to collaborate through proofing, announcements, and group chats in real-time.
It supports integrations with Google Drive, Slack, Dropbox, and OneDrive, which stops you from the hassle of switching between multiple tools and delivering projects right on time. This allows employees to increase productivity and perform their best when working remotely.
Price: 14-day free trial. The essential Plan starts at $45 per month, and the Ultimate Control plan at $89 per month with no per-user fee.
5. Zoom - For smooth video communication
By now, this would echo in your head at least once a day.
"Let's get on a quick call."
Quick calls are used for different purposes, i.e., 1-1s, group meetings, introduction meetings, etc. As more and more companies started working remotely, Zoom solved thousands of work problems and ignited millions of brain-storming discussions.
We didn't realize the importance of a tool like Zoom because when we were in the closed quarters, it seemed pretty easy to communicate with anybody in the office. But now, imagining a work world without Zoom is difficult.
We all know how explaining an idea or discussing something can take a longer time over emails or text messages. But with Zoom, you can quickly wrap up your discussions in a more elaborate way and give more time to your work. This will undoubtedly contribute to boosting your productivity.
Zoom has always been better than its competitors in the market because of a smooth interface and the following features:
Video conferencing for up to 50 participants
HD video and audio
Recordings and transcripts
Ability to share your screen, pictures, documents, etc
Live chat
Consumes less data than other video communication tools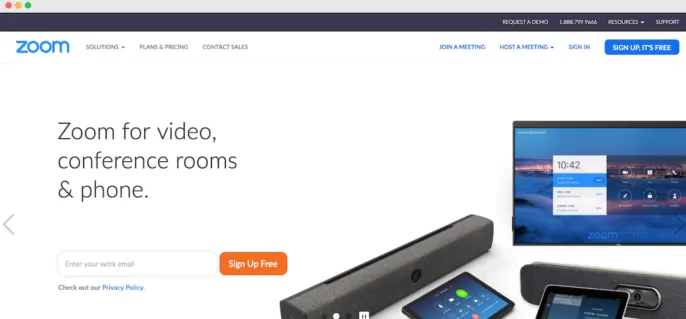 Price: Free for personal meetings of up to 100 participants for 40 minutes.
6. Google Drive - Cloud storage on the go
Managing internal organization files is essential for any employee, manager, or even the CEO. Google Drive is a one-stop solution for managing and sharing files, documents, spreadsheets, and almost anything.
I can't deny that we must all be familiar with Google Drive and might have used it multiple times in our lives. It's work collaboration features have made it the most user-friendly storage tool. It provides 15 GB of free storage to all the users, and increased storage capacities come at an affordable price.
The feature of real-time editing has made Google Drive more advantageous than any other storage tools. This can easily cut on the time you spend on sharing files and storing them. With Google Drive, you can create a shared folder when you can upload the files, and your team members can view it whenever they want.
Quite a boost in productivity, isn't it?
Since this is a product by Google, you can easily integrate it with all the other Google tools available.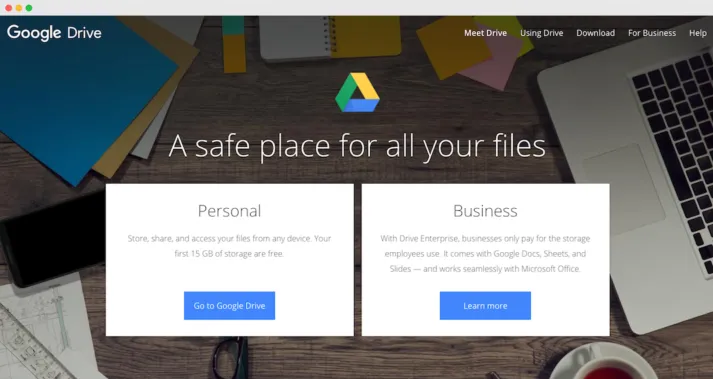 Price: $1.99 for 100 GB, $2.99 for 200 GB
7. Serpstat
Are you starting a new business, or already have one? Do you want to gather the pool of keywords to create special categories for your customers, and make your website fast, optimized and smooth?
Serpstat will help you to get your website at the top of Google search results, which leads to more traffic. More traffic equals more customers, and more customers lead to business growth.
With Serpstat you will be able to gather the pool of keywords for your content, review your competitors and find the best options to optimize your website/business.
On the screenshot, you can see a list of tools to help you solve and automate all your SEO and marketing tasks. You can track the information on your domain, keywords, backlinks, and the exact URL.
Audit your site for errors that affect page load speed. and track the ranking of selected keywords by region with just one tool.
Price: starts from 69$ and has free trial access for 7 days.
8. Notion - To document like a pro
With the 2020 pandemic, the world has shifted from person-to-person communication to a virtual world. This has also impacted organizations and made them evolve and take upon virtual management.
As it has become difficult to read someone's body language or more, which is usually experienced in a physical setting, it is time to document every little detail. And tools like Notion makes it easier for us.
Notion is an all-in-one tool that provides writing, planning, and organizing features. It offers components such as notes, wikis, tasks, calendars, and reminders that saves a lot of time for an employee. Hence, Notion can contribute significantly to boosting productivity.
Additional information:
Notes & Docs: Writing experience with 30+ media types.
Knowledge Base: Easy-to-find answers.
Tasks & Projects: Kanban board, list views, and calendar.
Spreadsheets: Keep records of every little detail and capture your workflows.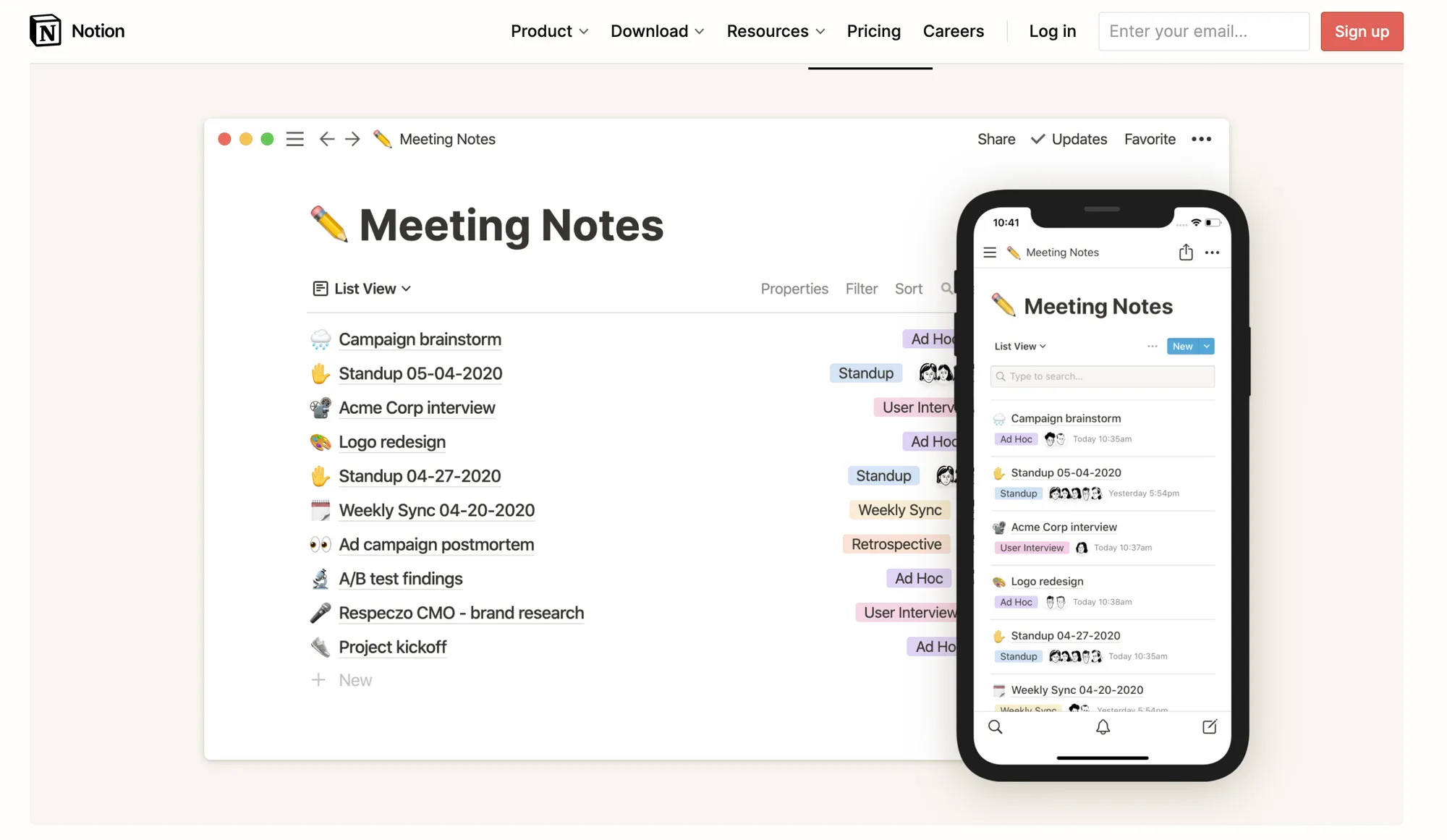 Price: $4 for Personal Pro
9. Time Doctor - Time management of your team
When employees work remotely, it's crucial to be certain about what they are working on and when. This certainty eliminates the misunderstanding between employees and managers.
Time Doctor is a tool known for its splendid features of time tracking, work session recording, memories, screenshot logging, invoicing, reporting tools, integration, and much more. With these features, you can quickly figure out how Time Doctor helps you.
Timesheet Reports – Measures the amount of time an employee worked during a given period.
Detailed Project Reports – Know how much time your projects took along with who worked on them.
Web & App Usage Report – Keep a track of the websites your employees access during work hours.
Inactivity Timer – Ensure that your employees can't pass off idle time as work hours.
Distraction Management – Keep your employees focused on their workday by checking unproductive apps and sites.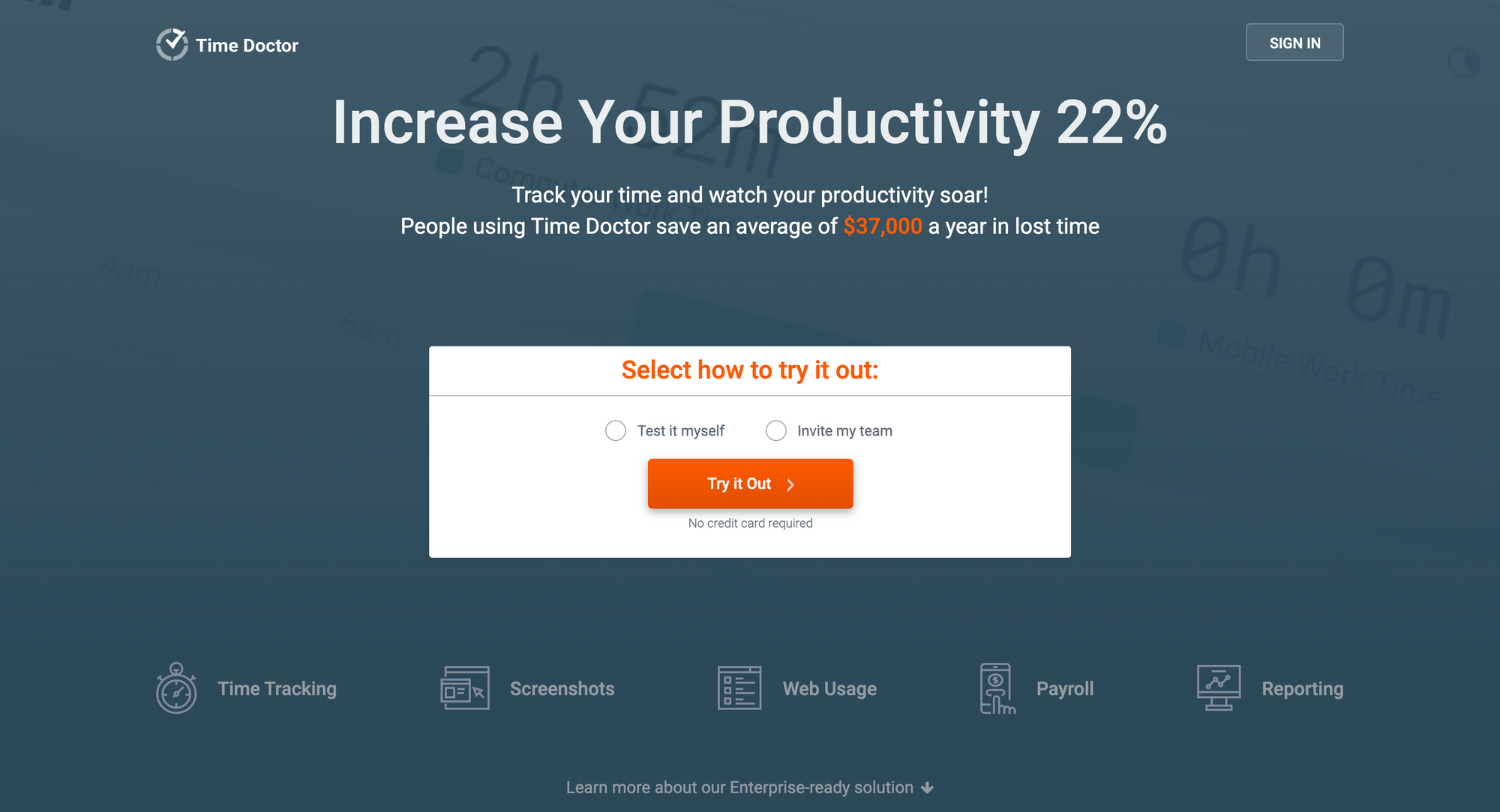 Price: $7 per month (Basic Plan)
10. Todoist - Fan favorite task management app
It often happens that you forget a few tasks from your to-do list because you have so much to do. Sometimes, it also becomes difficult to manage and assign tasks at the right time to the right person. And when it happens, you must want a tool that saves you time and effort.
For people looking forward to more simplicity and minimalism in their work, Todoist is the right tool to use. Todoist allows you to add tasks, reminders, to-do lists, and sync all your devices with an application. And you can rely on this tool as it enables you to plan for seven days in advance.
Moreover, you can also assign tasks and their priorities to your employees by adding additional comments. This set of features has made it a fan favorite task management app that can boost your productivity significantly.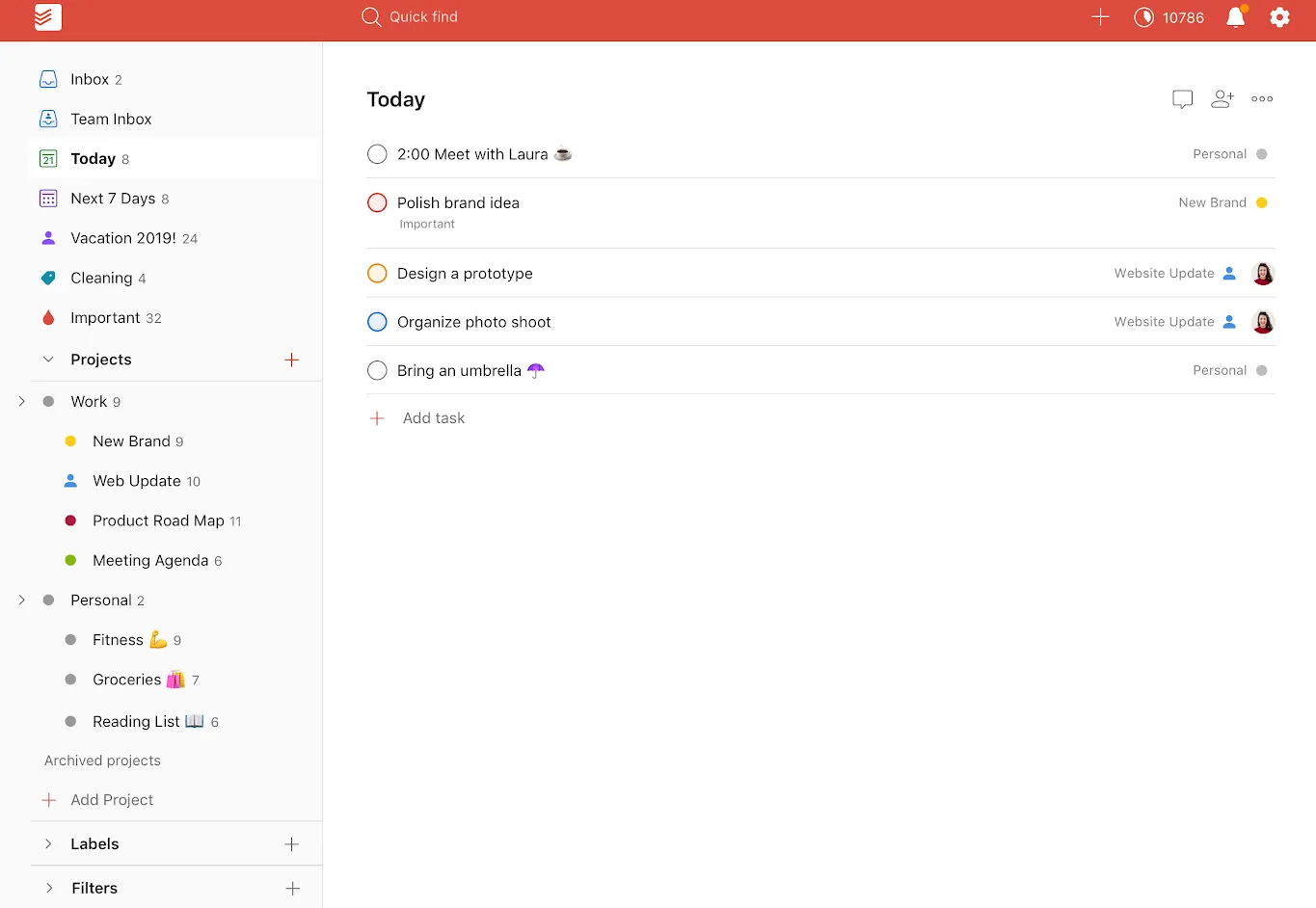 Price: $3 for Premium (Free for starters)
One last thing
Managing remote employees can be daunting at first, but there is nothing unachievable with the right set of tools. With a determined workforce and the right combination of tools, your remote work can set benchmarks of productivity.
I hope this list proves to be beneficial for you. Also, don't limit your research for tools to a single blog. Explore more and if you find anything new and productive, comment down below.
Happy work from home!
Give Pics.io DAM a try
Free 7-day trial
No credit card required
Set up in 3 minutes or less
And if you're looking for an excellent digital asset management solution – Pics.io is the right tool for you. Store, organize, & distribute your files the most productively.
---
Author
Surya is an SEO Strategist at SocialPilot. He often looks out for new strategies to optimize the content. He is a problem solver by nature, a mountain person to the core, and music calms the chaos in him. Feel free to ping him on Facebook or connect with him on LinkedIn.