Now and then you end up gazing at two different copies of your presentation. You switch between windows, scroll them up and down, and pop your eyes out in order to see how they are different and which of the two documents should be sent to the customer…
Or you may find yourself pondering over several photos trying to tell which of them is the original and which has been edited. 'Cause this difference can be very subtle and not obvious at first sight.
But the answer to your problems is close. There is a list of file comparison tools on the market to help you compare files quickly and automatically. Let's review the 10 most popular comparison apps so you could choose easier.
Draftable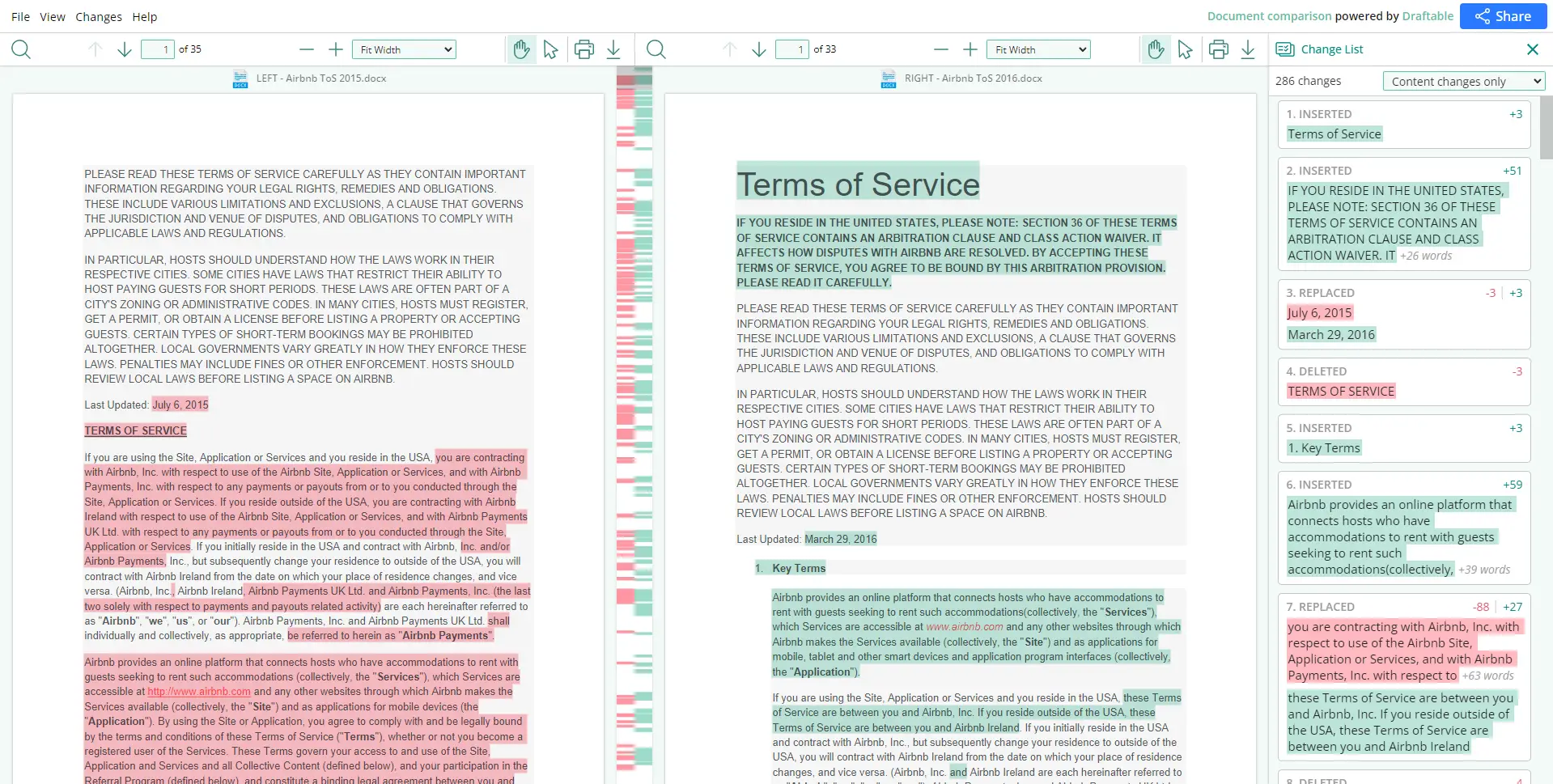 Draftable is an online tool for file comparison that shows that you don't have to sacrifice style to be useful. It has a very pleasant-looking interface that not only highlights all the changes in two documents but also describes the type of change. I.e., whether the new content was deleted, inserted, or replaced an already existing snippet.
It also lets you find discrepancies between different file formats. The online version (which is free) lets you compare Word, PowerPoints, and PDFs while the premium desktop version ($129 annually) expands to include Excel. It also boasts password protection for your files and, for the tech-savvy, there is even an API to tinker with.
Suffice to say, it's not just a file comparison tool but a fully-fledged SaaS product! But, for a quick comparison of the two files, you have at hand, the online version (free forever) is going to work just fine.  
Pros
Sleek Interface
Compare different file formats
The online version is free and doesn't require downloads
Access to API
Cons
Might be too bulky if everything that you're looking for is a quick comparison of a short document.
Diffuse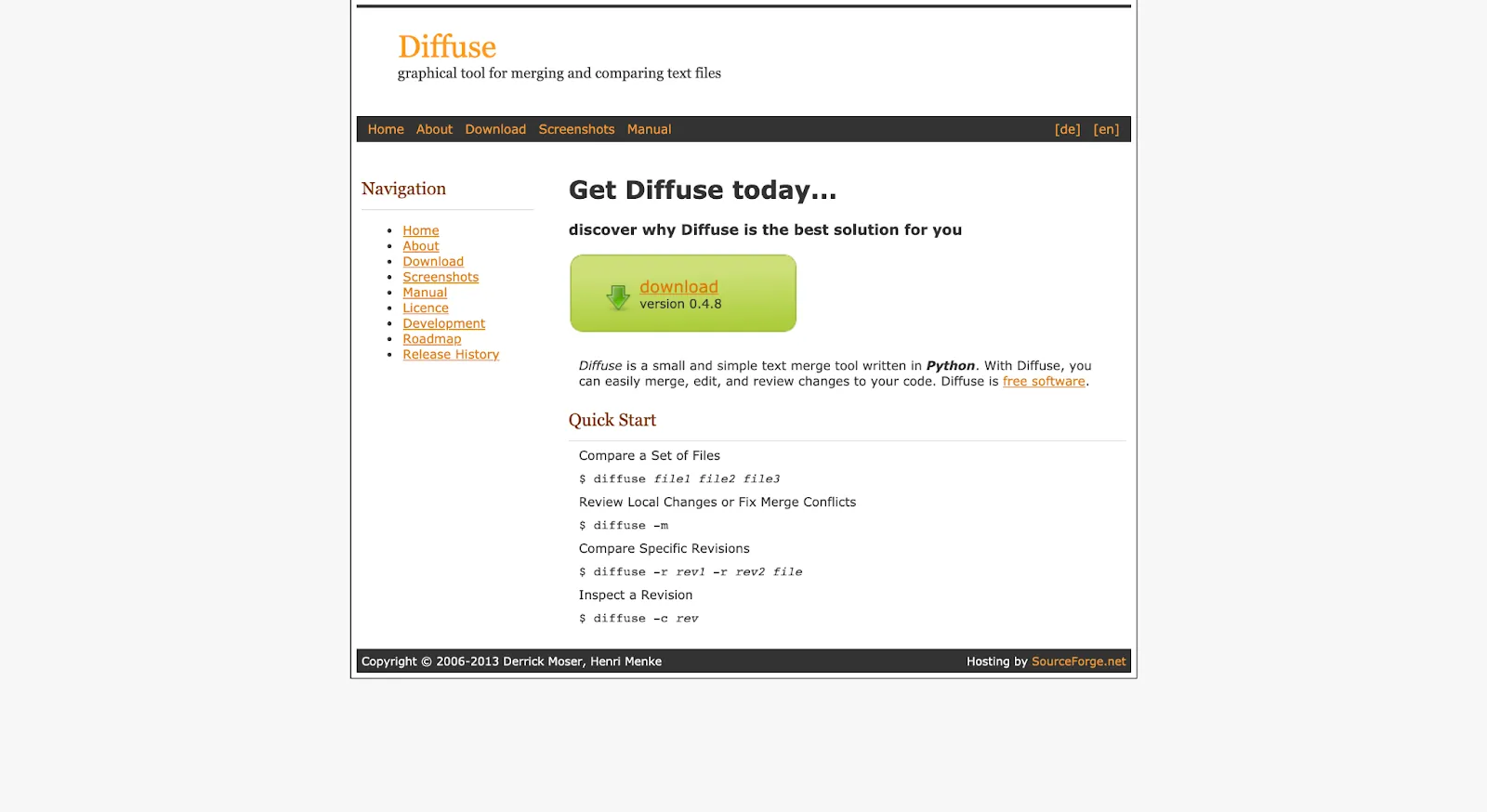 Diffuse is a simple graphical tool for text comparisons. Use the line-matching feature to compare texts side by side and edit files immediately. In-built version control will help you save revisions after merging or editing them.
The comparing tool is a lifeline for code reviewers. QA teams will find it useful for syntax highlighting, easy navigation with keyboard shortcuts, and the support of Git, CVS, Darcs, and other repositories for tracking versions.
Pros
Side-by-side text comparison
Suitable for quick textual comparison before sending the final version to the editor
Easy to use & has a zero learning curve
Cons
Not really customizable
Lacks complexity in case you need the app to check text differences regularly
Needs downloading
Pricing: Free
Beyond Compare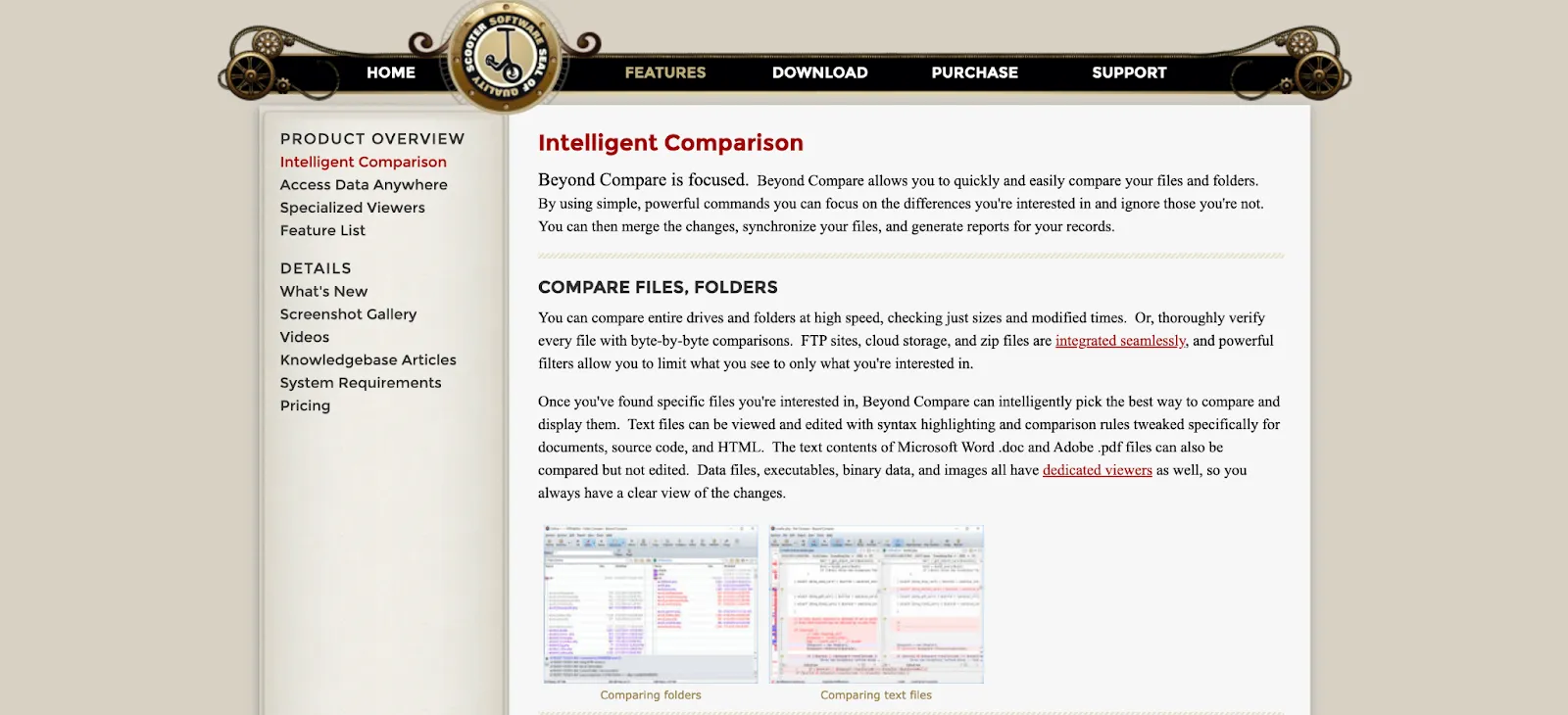 Choosing the best file comparison software, you cannot pass by Beyond Compare – a truly one-of-a-kind comparison tool. Versatile and complex, Beyond Compare allows you to literally compare anything you want, from files of different types and sizes to folders and entire repositories like Dropbox or Amazon S3. And it works perfectly with large files.
Aside from highlighting the differences, you can also merge files, synchronize changes, and generate comparison reports for checks in this app. A 3-way merge is also possible!
Pros
Intelligent file comparison software to compare files, folders, and drives
Has no problem with large files
Ability to merge and edit changes, as well as produce reports based on comparison results
Intuitive folder sync
Cons
Limited navigation between compared items
Not so many formats supported
Pricing: $30 per user per month, but if you have more than 4 users, the price goes down.
Pics.io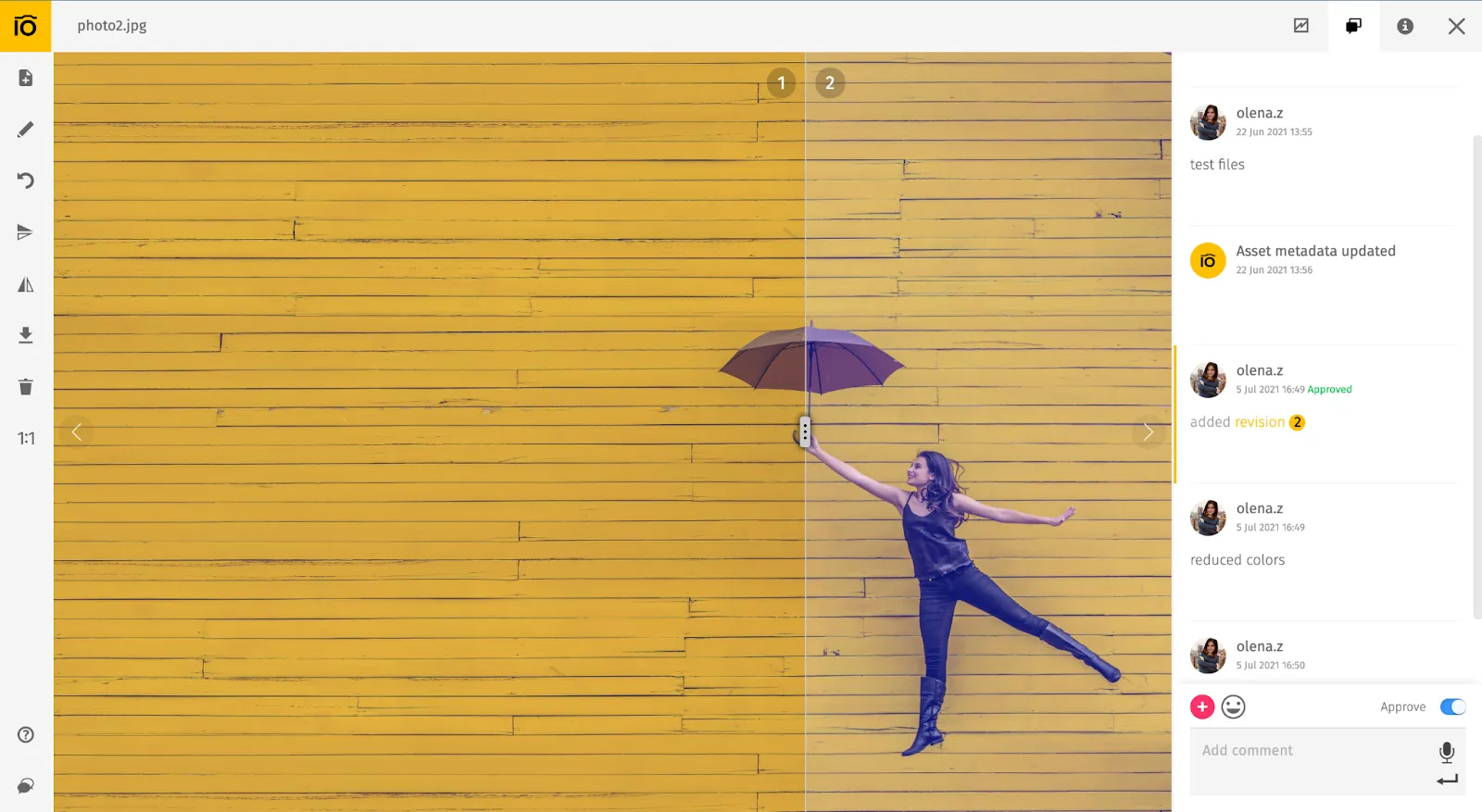 Strictly speaking, Pics.io is a lot more than a mere instrument for file comparison. It's a comprehensive app for cloud-based digital assets management (DAM). And it has all the related bells and whistles, such as collections, tagging, keywording, search, sharing, versioning, and many others.
One of the core functionalities of Pics.io is the Visual Diff tool. And it works ideally for comparing visuals: photos, all kinds of images, Sketch and other multi-page designs, PDFs, and video files. With Diff Tool, two similar visual files will be placed one over the other for better contrast, and you can move the slider sideways to compare them.
Pros
Side by side comparison of visuals to see the subtlest changes such as brightness or saturation
Working with any formats you need, designer files included (Adobe XD, Sketch, or AI), plus videos and PDFs
Powerful version control in case revisions pile up over time
Commenting to discuss file changes with colleagues
Cons
A bit of a learning curve
Pricing: $18 per user per month, though there are also pricing plans suitable for team users.
Meld

Free and open-source, Meld is a great comparison app to see the difference between two or three files and merge them. The compare software allows you to navigate between contrasts easily. As usual, the changes get marked with a different color. Also, use the regex text feature to ignore the differences you want to leave untouched.
This file comparison software will also come in handy to compare folders. Feel free to compare two (or even three!) media libraries to see differences file by file. Alter files on the fly, and once you notice that something's missing, don't hesitate to open the folder directly from Meld to fix things.
Pros
Comparing two or three files at once
Edit or merge files right in the file comparison app
Support for folder comparison
Basic file management when comparing directories
Cons
Needs download and installation
Clunky interface, and sometimes, the app is difficult to operate as Meld is designed for tech-savvy users
Available for Windows and Linux only
Pricing: Free
Araxis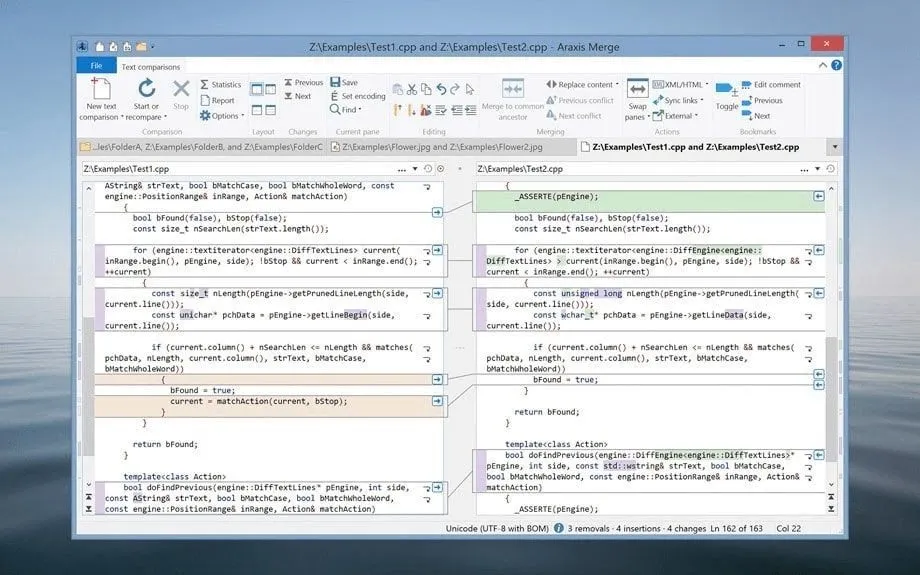 Araxis is a professional tool that was specifically designed for comparing various files. With the help of Araxis, you can instantly identify all the differences between the two documents. You can accept some of these changes, edit, and merge when it's necessary. And what I personally find really cool is that you can synchronize and merge entire folder trees with all the files within.
Such versatile functionality makes Araxis a great tool for a broad range of professionals – software developers, quality control managers, legal and publishing professionals. In other words, it's perfect for everybody who deals with text-based documents.
Pros
Ideal tool for text comparison: source code, web pages, XML, and all common office files such as Word, Excel, PDFs, and RTF
Editing and merging files on-site
Comparing as many as three files at a time with Araxis Pro
Cons
Not so good for comparing visual file formats – the app knows how to make a binary comparison between two images, but the results appear rather bulky and redundant
Requires installation on your desktop computer
Pricing: $119 as a one-time payment
DiffNow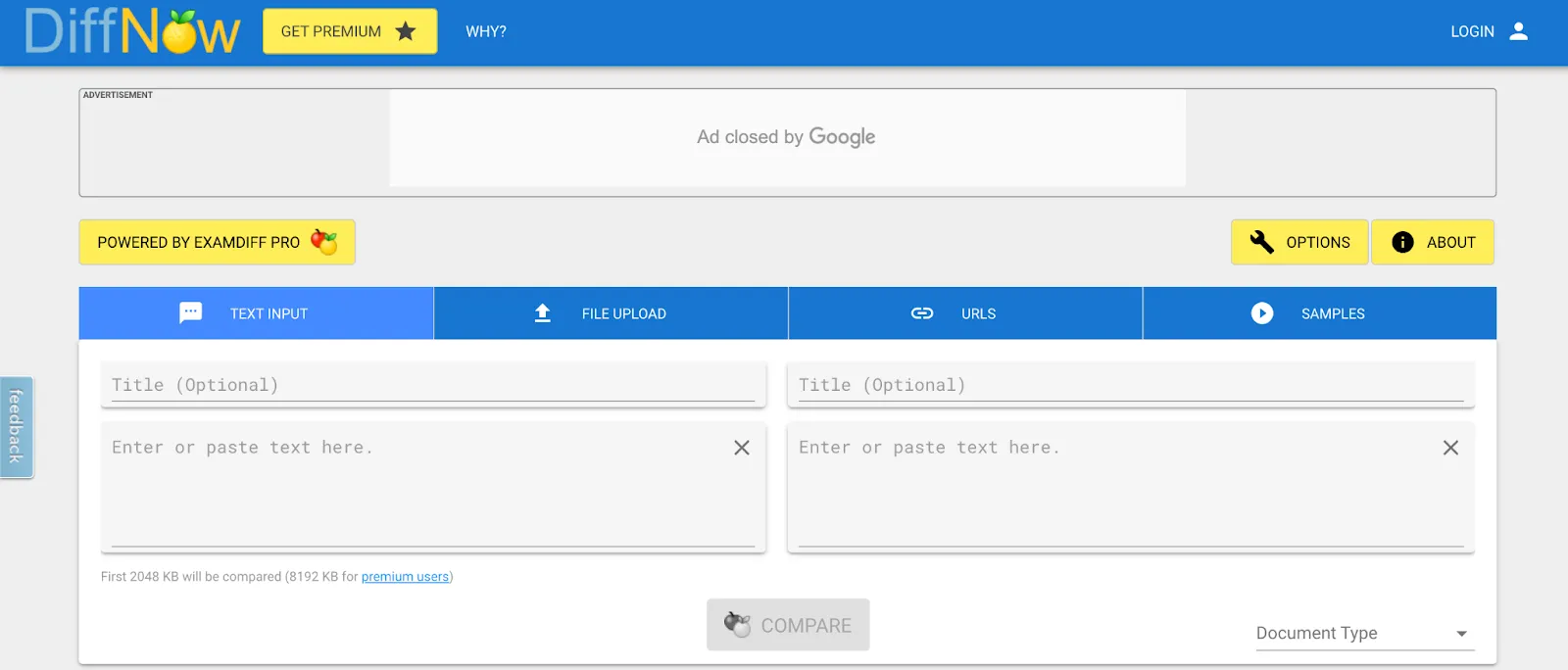 DiffNow is online comparison software where you can run files and see the difference immediately. The app is free and very simplistic, which makes it suitable for quick checks on the move.
There are three ways how you compare files. You can upload documents, enter URLs, or type the text manually. After running your checks, you'll get results as an interactive comparison report. The file is usually formatted as HTML to make it easy for you to download.
Pros
Little helper for quick comparison checks
Interactive comparison reports for better visualization
Ability to save searches and share them with colleagues
Support for text and binary files, source code documents, directories (uploaded as zip files), and different archive formats
Cons
Text-orientated – this file comparison software isn't really helpful for images or videos
Not good for more complex requests due to 2048 KB limitation in the file size
Not more than 5 comparisons a day
Pricing: Free, but the premium version is available for $2.99 per month which will get you an unlimited number of comparisons and remove some of the limitations
Text Compare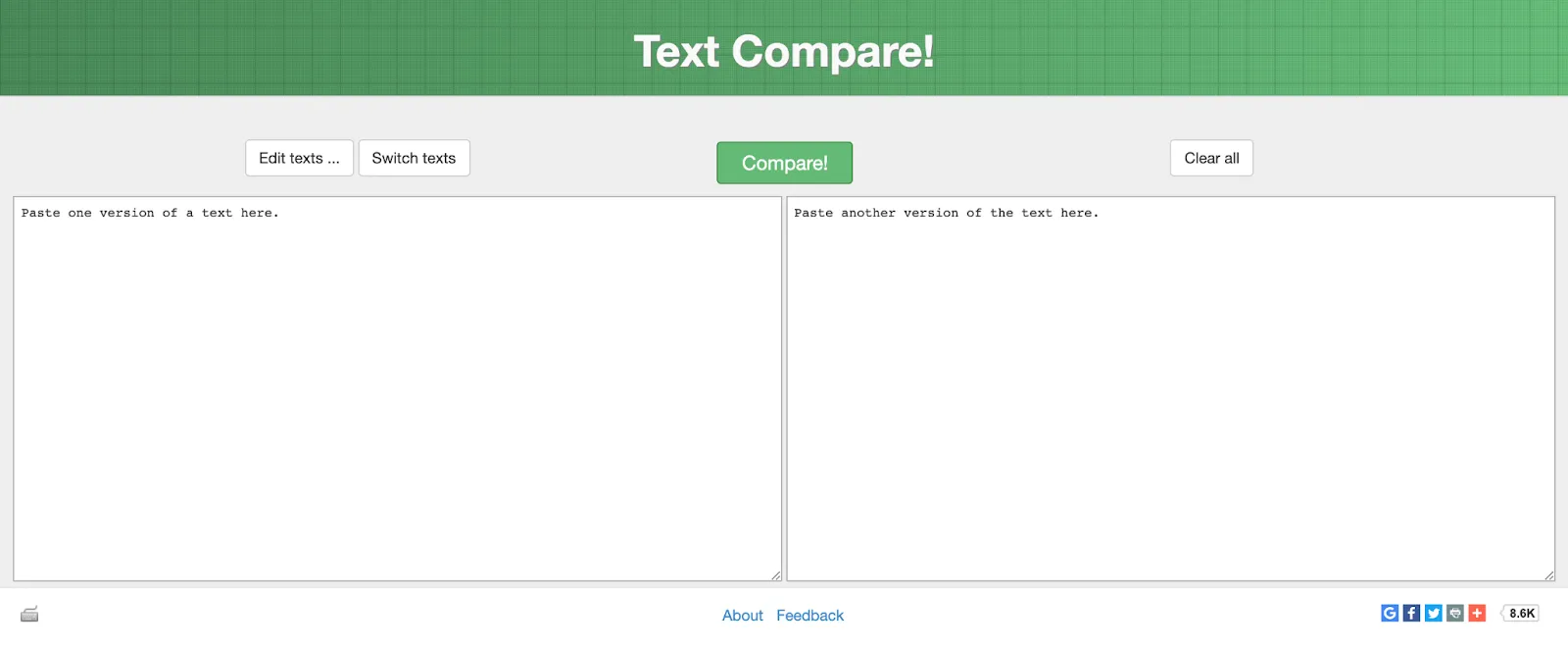 Text Compare is another online text comparison software to use when you need to compare and edit two texts while on the go. The tool is completely free of charge and doesn't require any download or installation.
You just copy and paste two texts and see the difference between them highlighted in blue. You can also switch and edit texts, as well as send the results of your comparison in the email.
Pros
Quick and easy text comparison
Online tool
Opportunity to send comparison results via email
Cons
Limited functionality
Oversimplified UI
Pricing: Free
Diffchecker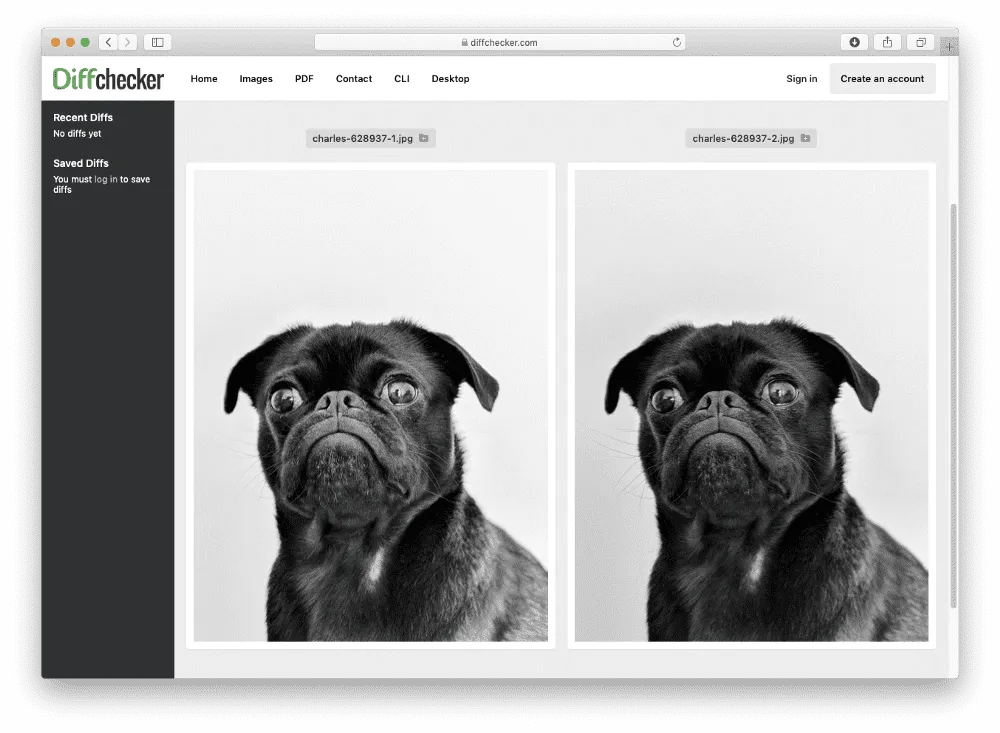 Diffchecker is a really cool online tool for comparing images. It is very straightforward and as easy as pie to use. You can place images side by side – put one picture on top of the other and move the slider sideways for comparison. Or activate the Difference tool to generate a "merged" image where the differences between the pictures are highlighted.
Diffchecker works fine for PDF and various kinds of images. It also works well with text-based files — it highlights the differences between the texts so that they catch your attention.
Pros
Dynamic and adaptable tool for images
Ultimately simple and doesn't require registration
Suitable for comparing images, texts, PDFs, Excel sheets, and folders
Cons
Not enough sophisticated
Helpless with designer files such as Sketch, EPS, or PSD, or videos
Pricing: $9 per month, though basic functionality is available for free
Compare Suite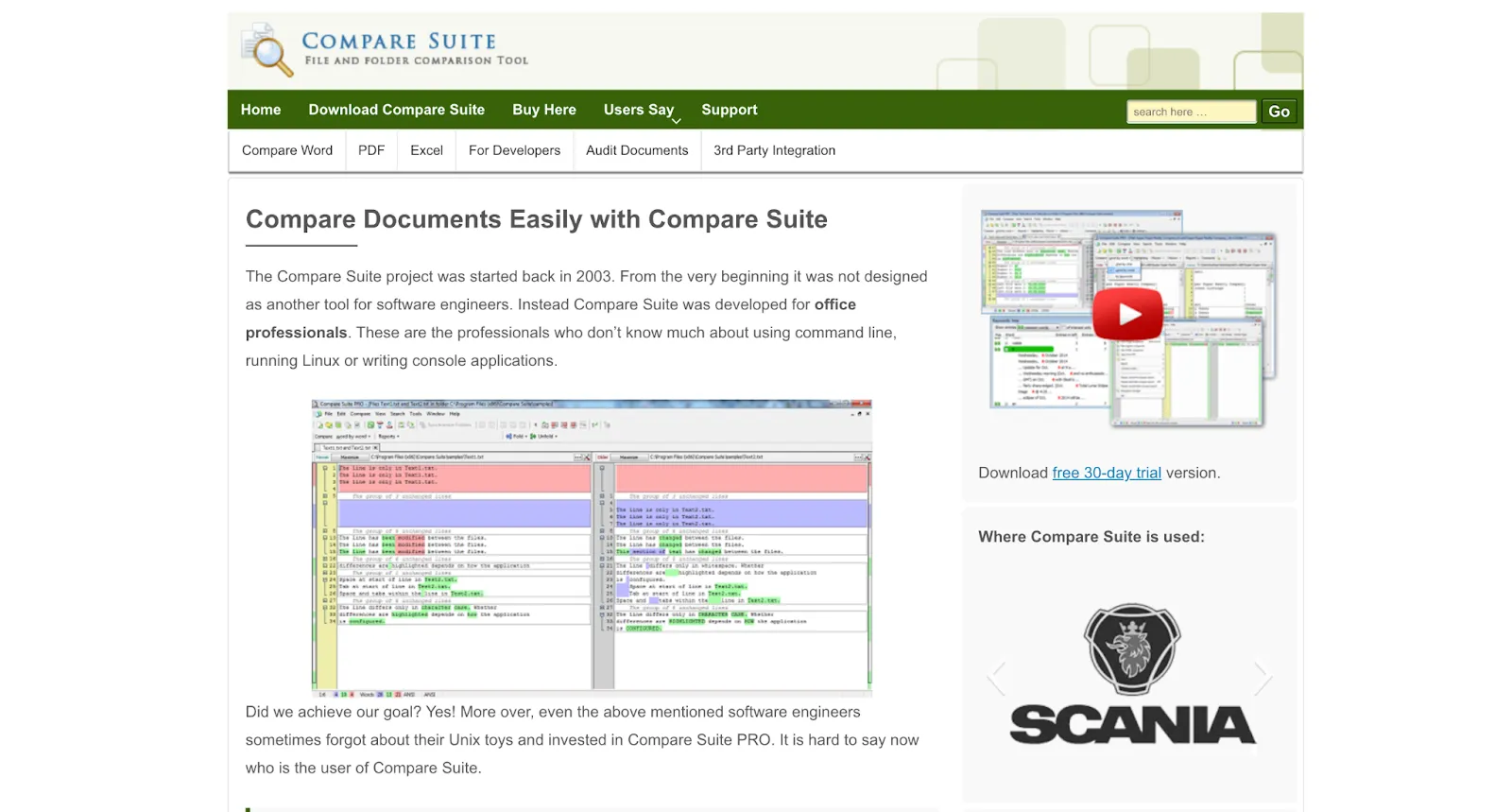 Designed specifically for office workers, Compare Suite has a list of features that you'll find useful for file comparison. For example, comparison "by keywords" will come in handy to compare non-identical texts written on the same topic.
Comparing Excel spreadsheets is also more advanced with Compare Suite. As expected, the tool will point out text differences, but it'll also calculate the differences between numbers or dates and update them for you. Also, don't forget about syntax highlighting to have the parts of your code in different colors and fonts and notice the difference easier.
Pros
Lots of unique and great features such as comparison by keywords or syntax highlight
Support for various formats, from MS Office and Powerpoint to Multimedia and Zip archives
Most suitable for white-collar workers, and its functionality is mainly defined by their needs
Cons
Too intricate to use
Lacks a user-friendly and intuitive interface
Pricing: $70 as a one-time payment, though you can choose a free version with limited functionality
WinMerge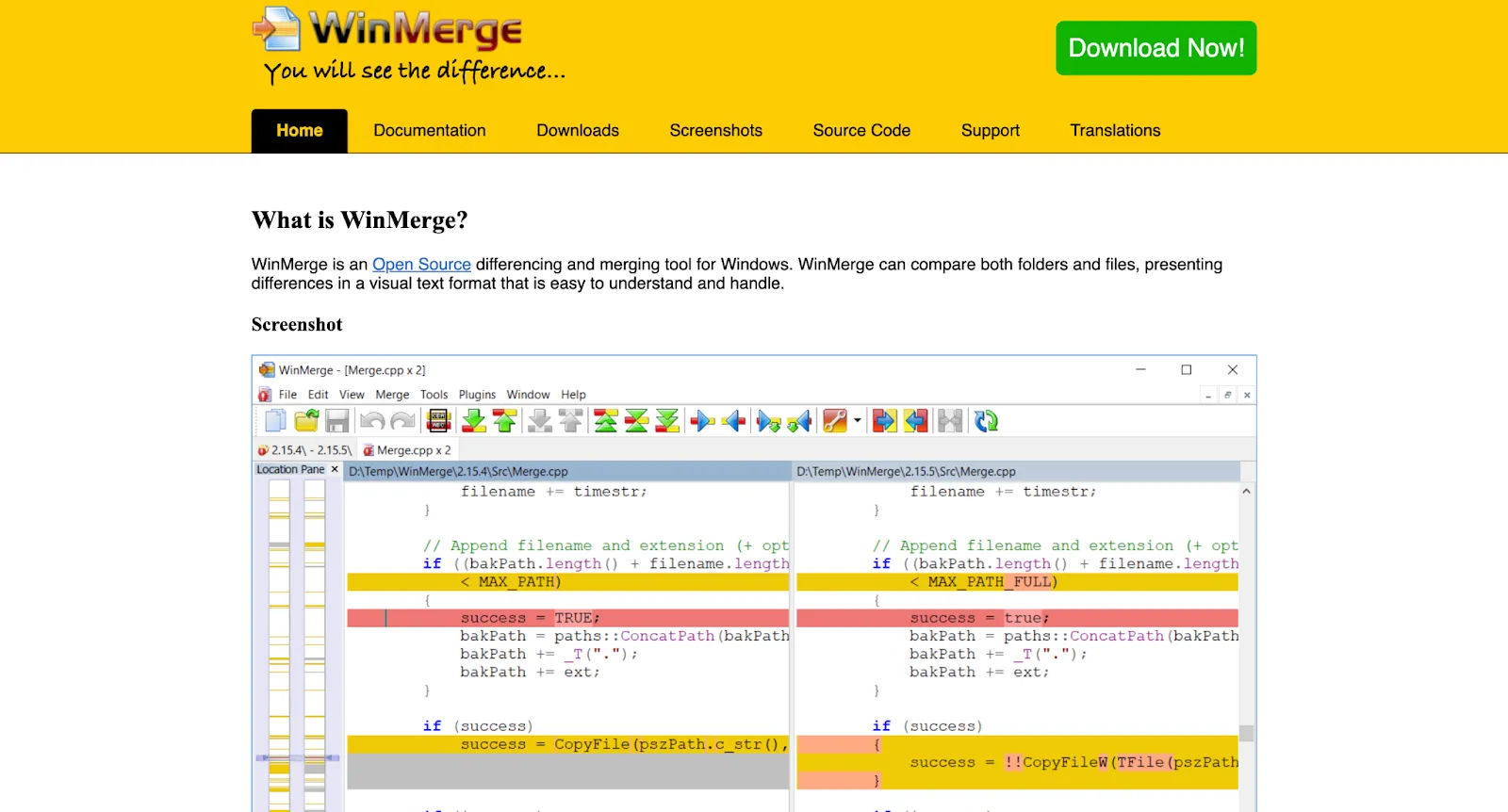 WinMerge is another open-source file comparison software in our tool review. The text comparing app is looking for differences in files and folders and shows the discrepancies in the best way possible. You can edit or merge the differences if needed.
This file comparison software suits great to compare different project versions. For instance, the app will help you notice and remove corrupted files, which may not be visible to the naked eye.
Pros
Ability to compare files and folders across multiple platforms
Three-way file comparison
Image comparison is also possible
Cons
Needs downloading and installation
Outdated interface
Windows version only
Pricing: Free
Wrap up
This has been a very short overview of 10 distinctive apps that can help you with file comparison. Choose whichever you find the most useful, just make sure that this file comparison software meets your basic needs and requirements.
Consider the next criteria when looking for your best file comparison apps:
Efficiency like whether the app targets professionals or ordinary users and whether it's appropriate for the format you're using.
User-friendly interface. With the best apps, you work intuitively and don't need to do extensive research each time you use a new feature.
Sophistication such as collaboration, sharing, and updates about changes. This also includes any additional features you may think about which will simplify your life.
Online version. Choose online tools so you won't waste your time making them compatible with your operating system.
If you're looking for something more sophisticated, DAM is ready to assist you with its additional features. Give Pics.io a try and compare your files in the most convenient way. Also, save revisions and share them with colleagues.
Give Pics.io DAM a try
Free 7-day trial
No credit card required
Set up in 3 minutes or less