Blog content can be very powerful for boosting SEO and improving your social media engagement. But, to fully utilize its power, you need to know how to organize your blog content within a digital assets management (DAM) tool to ensure you're getting the most out of it.
In this article, we are going to explain how to do just that and the best practices for using DAM tools to improve your search engine optimization and how much your audience engage with you on social media. Read on to learn more.
Categorize your content to ensure you cover all your bases
Most digital asset management tools like Pics.io have features that will allow you to categorize your content, and this is great for ensuring that you cover all your bases. The whole point of creating blog content is to help both search engines and customers get a better understanding of what you specialize in. So, you'll want to make sure you're creating content that covers every facet of your work.
You can set up categories in your DAM tool which cover the different areas of what you do — you'll then find it easier to ensure that you're creating enough content that addresses each area of your work. Note that these categories will be different for every business and industry so there isn't a one-fits-all approach.
To give you some inspiration, let's take a look at the kinds of categories a specific type of business might have.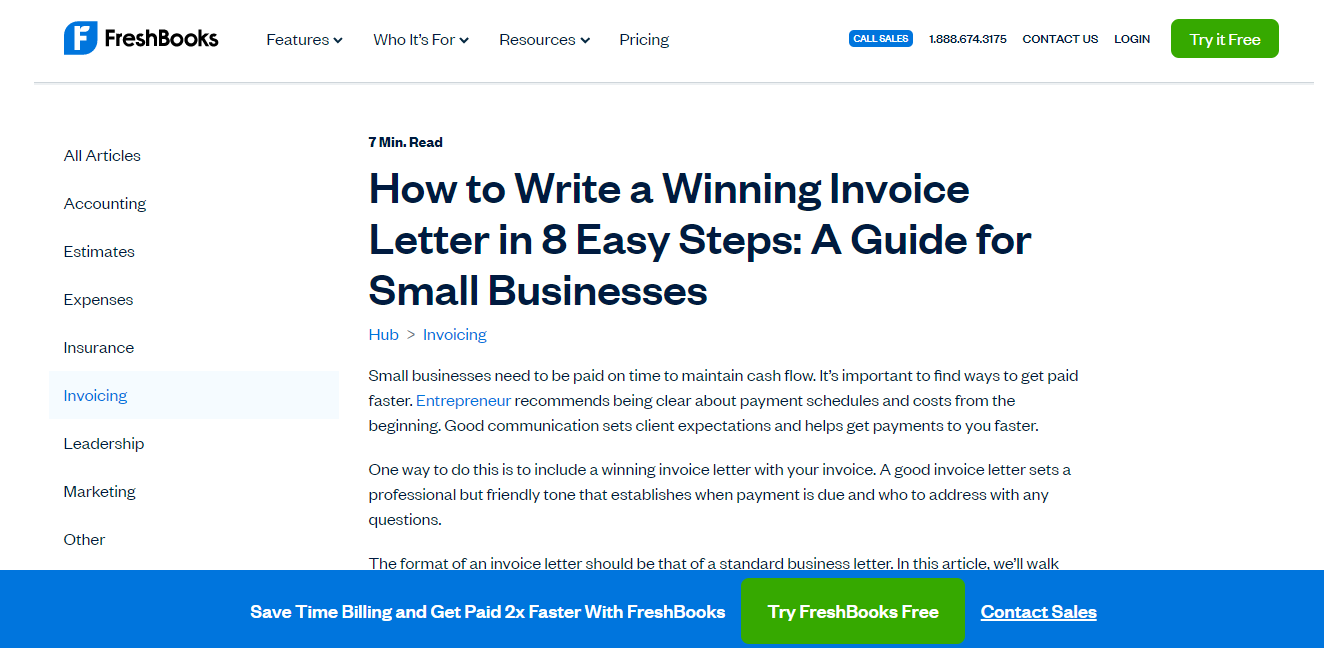 For instance, FreshBooks provides best accounting software for small and medium-sized businesses and, as a company in the financial industry, there are many categories that they could split their content into. These could span across accounting, insurance, estimates or expenses, and other aspects that they would like to educate their audience on.
Under their invoicing category, for example, they have an excellent guide to writing winning invoice letters and billing clients. This is really valuable content that can educate and engage their audience, as well as give them a reason to trust the company.
On the left hand side of this piece of content, you can see the categories FreshBooks has chosen to divide its content into. If they were to use a DAM tool, they could set up the same categories in there to ensure they're touching on every topic regularly. This is an approach you should certainly consider taking when it comes to creating and organizing your own website content.
Keep track of the internal links you've added to blog posts
When you're writing or updating a piece of content, you should always make sure to include links to other relevant pages on your site. Internal links are particularly important for SEO as they will help to establish your site's architecture and also make it easier for search engines to understand and index the pages on your site.
You should include internal links in your blog content to point people to similar posts for further reading or to recommend a product or service that's relevant to what you're discussing. You can also add internal links to give people more context about your products or services.
When storing and organizing your blog post content, it's a good idea to include notes about which internal links each post contains — this will ensure you're linking to all of your most important pages frequently enough.
It can also help your team to work more effectively as, even if someone hasn't written a specific post themselves, they can check the notes in your DAM tool to quickly see which internal links have already been included. This can then inform which links they add to a new blog post.
Just in case you aren't familiar with how to effectively add internal links to your blog posts, let's take a look at an example of a business that does this well.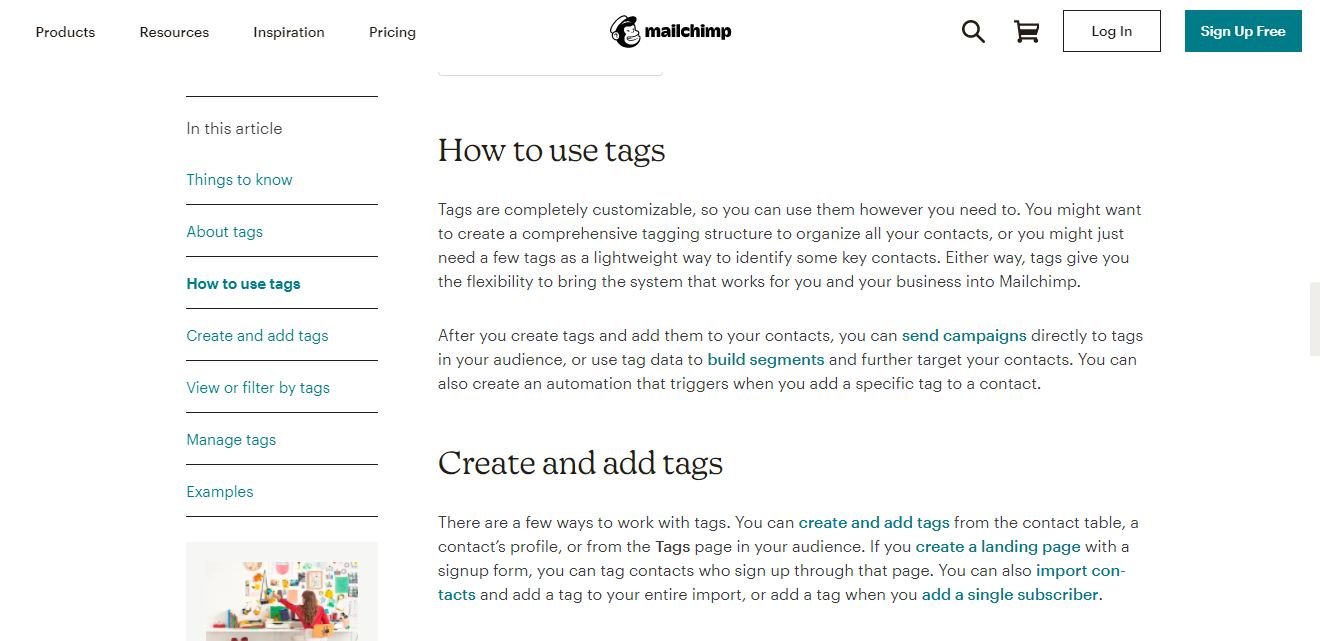 Mailchimp is an email marketing platform that helps small businesses perform tasks like sending email campaigns and newsletters. And, looking at their website, you can see that they make judicious use of internal links.
For instance, in their blog post about getting started with using tags when organizing email contacts, they include internal links to their other posts about other topics like sending campaigns and building email segments. It's a great way for them to help search engines understand their content better and help their website visitors access more information from previous blog posts on their site. Consider using a very similar tactic when creating your own website content to boost your SEO.
And note which keywords you target with every blog post
Keywords are the words or phrases your audience is typing into search engines when they're looking for more information about your products, services, or industry. It's important to target some of these in your blog posts because this will help search engines to rank your website for relevant queries, and then your ideal customers to find you.
It is important to note that you should only ever target a particular keyword on one page of your website, though. If you target the same keywords on multiple pages, this could cause keyword cannibalization, which is when search engines can't quite work out which page is the most suitable result for a particular search. This can result in you not ranking at all.
One way you can avoid keyword cannibalization is by taking advantage of asset tagging to make a note of which keywords you've targeted in your blog posts when you file them away in your DAM tool. This can help you to keep track of everything, avoid cannibalization, and ensure you are targeting all of the keywords you need to. A proper SEO content editor will help you automate the whole process.
If you're completely new to SEO and keyword research, you might be wondering where you should even start with optimizing your content with the right phrases. So, to give you some inspiration, let's take a look at businesses that do a great job of this, and have boosted their SEO as a result.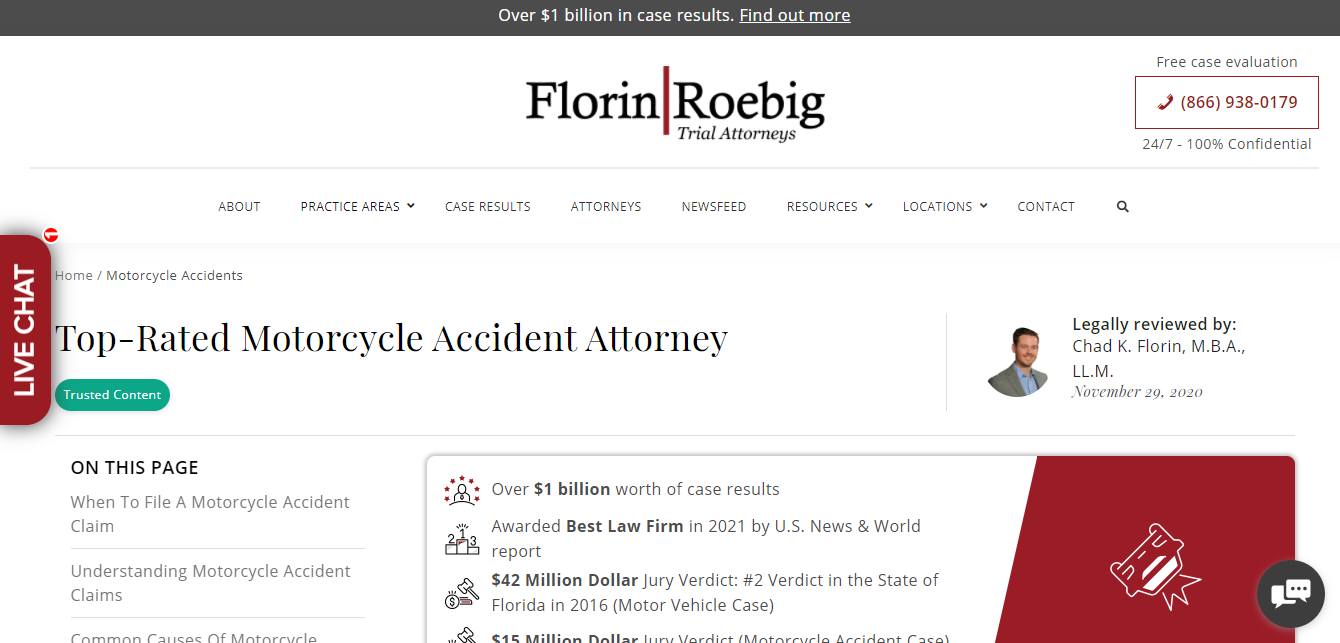 Our first example comes from Florin Roebig, a law firm specializing in practice areas like personal injury and labor law.
On their website, they have a page that explains how they help people that have been involved in motorcycle accidents and the legal options that are available.
It talks about dealing with the aftermath of a motorcycle accident and, in the piece, they do a great job of targeting keywords naturally (like motorcycle accident). Their methods seem to be working because the page ranks on the first page of Google for relevant keywords with a collective monthly search volume of 22,920. This is really great for boosting their SEO and helping them reach more people in their target audience.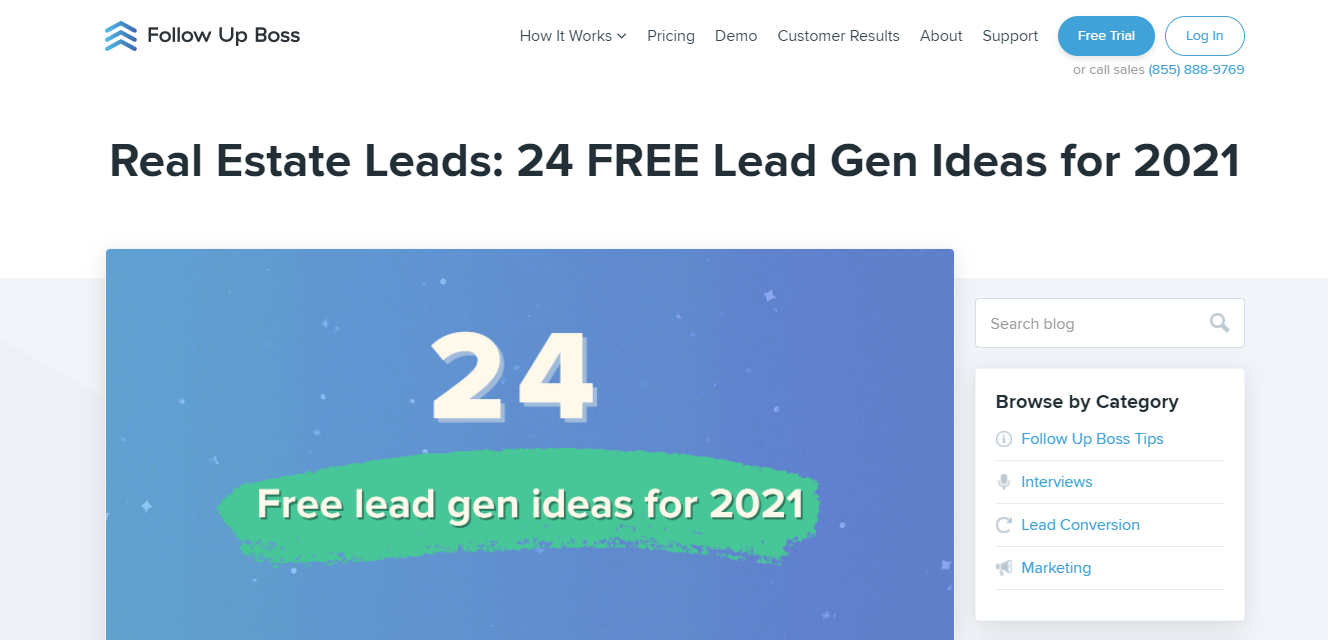 Another example is from Follow Up Boss, and it's a piece of content on lead generation ideas for real estate. The company provides a CRM lead generation platform for helping real estate firms with their lead generation process and, in this post, they outline 24 free lead generation ideas for people in the industry.
They target relevant keywords and incorporate them naturally into the content without making it too obvious. Their efforts have also been rewarded, as the page ranks on the first page of Google for queries with around 15,900 searches per month.
If you want to give your blog posts the best chance of ranking for relevant queries, try not to target the same keywords on any other page because this can cause search engines to get confused. To keep track, leave notes in your DAM tool. This will help you ensure you're targeting all of the necessary keywords in the most appropriate content.
Create a social media calendar so every post gets attention
You'll want to ensure that all of your blog posts are shared on social media at regular intervals, so it's a good idea to create a social media calendar. When a new blog post goes live, you could even use a social media bulk scheduling tool to plan posts that will share it every so often over the next few weeks or months.
It's a good idea to keep notes in your digital asset management tool, which outline when and how often a piece of blog content has been shared — this will help you ensure that all of your content is getting the right amount of attention.
It's also worth keeping notes of how well a specific piece of content has performed on social media, as you can then use this to guide your strategy going forward. To do that, SocialPilot has a great guide that highlights free and paid social media tools that you can use to analyze and create reports of your activity on social media.
Keep your visual assets on hand to create engaging social posts
Asides from storing copies of your blog posts in your DAM system, it's also a good idea to keep an image database of the best visual assets you've used in them.
The visual assets you store could be illustrations or diagrams you've used to explain a concept, or original photos of your products or employees. You could also include infographics in your DAM system — these are visual representations of facts and figures that can perform very well on social media.
The main reason for keeping these copies is to have easy access to them so you can attach them to relevant social media posts about your blog posts or a related topic.
According to Finances Online, in 2020, social media posts that contained images delivered a click-through rate that was 18% higher than posts with only text. So, it's evident that visual social media posts tend to perform best, and using this approach can help you to get more engagement and shares.
Summary
Instead of just publishing blog post after blog post without any real direction, keeping all of your content stored and organized properly can help you to improve your SEO and social media engagement.
But you need to know how to do it right. You can start by categorizing your content with a DAM tool to cover all your bases, keeping track of the internal links you put in your posts, and creating a social media calendar to ensure consistency in publishing. And, if you don't have a DAM tool yet, be sure to use Pics.io as a digital library for managing and storing your media assets without any restrictions.
Give Pics.io DAM a try
Free 7-day trial
No credit card required
Set up in 3 minutes or less
---
Author