Google Drive is an online file storage and synchronization service, developed by Google. It allows users to create, share, and edit files from any computer or mobile device with Internet access (or even offline – more on this later).
The service provides the ability to upload documents such as text files, spreadsheets, pictures, and videos; present slideshows; chat; collaborate on projects, and much more.
In this article, we'll give you some tips and tricks to help you with Google Drive while making the most of it.
Accessing your Google Drive from any browser
Before we start, one quick tip to remember is that you can access Google Drive from any browser you might be using on different devices.
This means that you can always access your Google Drive even if you're using different computers (at home, work, a friend's computer, etc.).
Tips & Tricks to know
The below are some tips and tricks that will help you manage Google Drive files and make your workflow much smoother.
Translate a document
If you need to translate a document from English into another language (or vice–versa), you can use the Google Translate service.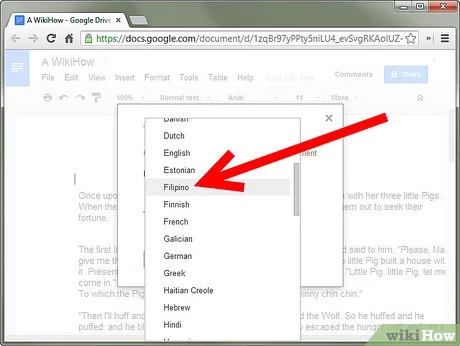 In Google Docs you can go to Tools > Translate and then choose the destination language that you want to translate to.
This makes it easier to translate any of your business ideas to other languages, making the transition to multiple regions much easier than it used to be.
Organize your folders
You can also organize the files in your Google Drive into separate folders. This is very useful if you need to share the content of one folder with a collaborator, but not the other folder (for example, if you have a directory for an event where there are many images that you don't want others to see).
This is also a great way to manage multiple projects at the same time while ensuring that the right documents are always easily accessible.
Importing files from other services
Google allows users to import documents and spreadsheets from other services such as – Dropbox (this link should let you import directly), OneDrive, and other commonly used services.
There are even apps that vouch for automatic file synchronization. It's well worth it to take a look at them and decide which one is best suited to you.
Google Drive offline access
Another great tip from Google is the ability to perform tasks offline without having to be connected to the internet. To enable this feature, simply open your browser and go to drive.google.com. You should see a notification telling you if you've previously downloaded the files for offline access or not (if not, just click on "Enable offline").
To retrieve all the changes made while in offline mode, ensure that you are connected to the internet and then just log back into your account.
You can also consider using Google Drive for Desktop for a great tool to save files that are on your computer straight to the cloud.
Drag and drop from the desktop
Using drag and drop is another great way to move content from your desktop to your Google Drive or vice versa.
All you need to do is click the specific file, and then drag your mouse, holding it down until you reach the Google Drive destination you want to drop it in. Once there, simply let go of your mouse button.
This can also be done in a specific document. For example, if you are in Google Docs you can go to File > Open. When the resulting pop–up menu shows up, you can press the Upload button and drag and drop the desired file to import it.
If you find that uploading files to Google Drive is taking a long time, then you can also see if you can speed up your Google Drive updates for faster upload times.
Get more information on the go
Did you know that there is a way to get more information on a document that you're working on when it comes to research?
In a Google Document go to Tools > explore. Then enter the search query that you want more information about. Google will then research and show the returned results – all in the same window which means that you won't have to leave your document.
Online document sharing made easy
Have you ever thought about how to share a document with others when you're online and working on it? Well, there is an easy solution for this popular problem.
All the services in Google Drive allow users to share documents in real–time and make changes all at the same time. This ensures that everyone is up to date with any changes and also saves your precious time. You can also chat while working together on a document so that there will be no problems when communicating.
You can share a document with others and even allow them to make changes. The specific google drive services allow you to see who has edited the document, what they changed when the changes were made and what their comments are.
Create a survey
With Google Drive, you can easily set up a survey in order to get user research done.
Google Forms is a simple tool that allows users to create surveys and collect the responses automatically. You just need to define your questions, decide who should see them, and then send the link to invite others to participate. All answers will be saved in the form of an interactive graph or can even be downloaded for further analysis.
You can use Google Forms to do everything from creating quizzes to conducting a survey. You can add images and even videos, as well as other files. It's free and very easy to use.
Quick shortcuts to create a new document, sheet, or slide
Did you know there are specific shortcuts that you can set as bookmarks in your browser to quickly create new Google drive file types?
Even better, these shortcuts are not just limited to Google Docs. Here are the shortcuts that you might want to save as bookmarks in your browser:
The above links are very helpful when you want to create a new document or sheet. By saving the shortcut as a bookmark in your browser, you can access it with just one click.
Furthermore, many people are not aware of Google sites and the power that these have when it comes to SEO ranking. You can even use these to create your own sales funnel hosted directly on a Google server.
Collaborate on work using comments in the file you're working on
Comments are very important when you want to share your ideas with others, especially in a business environment. You should write comments on the document you are working on to get feedback from other team members. Comments can be displayed in different colors and styles so that they stand out from the rest of the content in the document.
Also, there is no need to worry about losing your information or dealing with technology problems as Google Docs has a wide range of security features that will keep all your data safe. This is great when you're focusing on the security of your personal brand while making it easy to collaborate with customers or other stakeholders involved in a business process.
Use tailored made mobile apps for on–the–go access
Google Drive apps are available for any type of device. You can find them in your device's online application store – whether you use an Apple or Android device.
If you need to access the files when on the go, just open the right app on your mobile device and you will be able to open your file right there and then. You will also be able to see all the documents that are saved on your Google Drive account.
By using Google Drive from your phone or tablet you can work wherever you are – whether that's on the road or in your bed.
Going Full Screen And Eliminating Distractions
You can ensure that no distractions will reduce your focus from the document that you are working on.This needs to be done in two easy steps.

In your Google document go to View > Full Screen. Then, in your browser, press F11 to remove the menu bar and maximize the browser window.
This will ensure that you have nothing that can take your focus away from the work that you're supposed to be doing.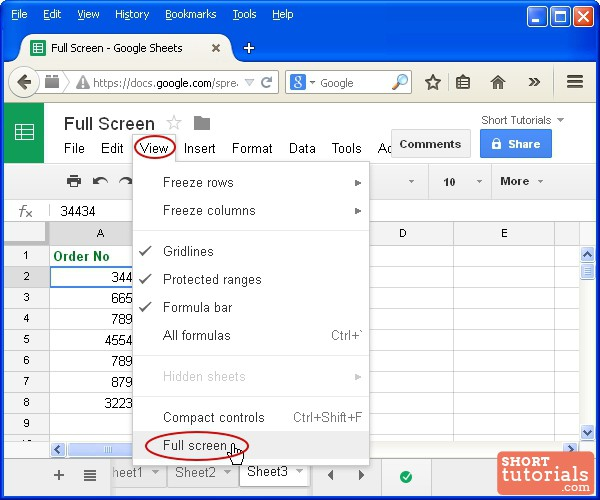 Add new rows or columns in a Google Sheets
If you want to quickly insert new rows or columns (above or below the ones you're working on) in Google sheets, the following shortcuts will help:
Alt+I, then R (Chrome) or Alt+Shift+I, then R (Other browsers): Insert rows above.
Alt+I, then W (Chrome) or Alt+Shift+I, then W (Other browsers): Insert rows below.
Alt+I, then C (Chrome) or Alt+Shift+I, then C (Other browsers): Insert columns to the left.
Alt+I, then O (Chrome) or Alt+Shift+I, then O (Other browsers): Insert columns to the right

These are very helpful when you want to power through the work that needs to get done.
Final thoughts on Google services
Keep an eye on your Google Drive storage
At the moment, the free plan gives you 15 gigabytes of space for all your files. If you want to check how much space you are using and how much is left, simply go to https://one.google.com/storage.
Here you can change plans or add more storage as well as view what's taking up so much space.
Don't forget about Google Hangouts
Even though it doesn't fall directly under the Google Drive realm, we can't close off this article without mentioning how easy it is to set up a live video conference using another of Google's services - Google Hangout.
In fact, this Zoom alternative has been around for many years and all it takes is a few mouse clicks to be able to speak to someone directly through this Google service.
The service is fast, easy and allows you to get any clarity needed when collaborating with others on projects that might involve any of the Google services mentioned above.
Pics.io - the tool that simplifies working with Google Drive
We can't close this article without speaking about Pics.io, which makes life easier when it comes to working with Google Drive.
If you have a distributed team, then you know that granting your employees easy access to all your documents is a must. No one wants to spend time looking around and performing long-winded searches just to find a simple document that got lost somewhere on the cloud.
That is where Pics.io comes in. The following are some of the benefits that it covers:
Share files with anyone easily and without unnecessary steps
Allow you access to your data at any time without any complicated extra steps
Control access to what is able to see what data, ensuring that no security breaches occur
Have access to unlimited storage so that you don't have to worry about running out of space.
Conclusion
In conclusion, we believe that these tips and tricks will help you make the most out of your Google Drive. Whether you are a marketer, business owner or just using Google Drive for your personal projects, Google has created the right tools to make your workflows easier. By using them, you'll be able to save time and get the job done as efficiently and effectively as possible.
Get your digital assets organized with Pics.io DAM. Schedule a free demo with us to get all your questions answered.
---
Author
Neal Taparia
is the co-founder of Imagine Easy Solutions, a portfolio of online educational services that reached over 30 million students yearly. Neal sold the business to Chegg (NYSE: CHGG), where he stayed there as an executive for three years. He's now pursuing a new initiative,
Solitaired
, which ties classical games with memory and attention training.