Media assets (images, videos, infographics, photos, etc.) are incredibly important to modern enterprises. Marketing, sales, and development of a product - all of these are impossible without high-quality assets that reflect the values of your offering.
However, all these assets become a pain to manage and maintain if you cannot find them in their time of need.
After all, modern workflows are asynchronous - designers might finish their work long before others. As the other teams catch up, you might realize that some initial designs might need to be adjusted. Or, you simply might struggle with finding them as designers absent-mindedly stored original assets on their local computer.
That is why you need a cloud content repository to store, organize, and collaborate on your existing assets. Although there are many possible options to choose from in that niche, the one that might be of particular interest is Digital Asset Management (DAM)
In this article, we'll take a look at DAM, how it differs from traditional repositories, and how to get started with one.
What is Digital Asset Management (DAM)?
Digital Asset Management is a software solution designed to make your work with assets easier. In a business environment, it is not rare for a company to accumulate hundreds, if not thousands, of digital assets. Managing such a volume becomes quite challenging quite fast.
These are the most common problems that organizations encounter when they are trying to make sense of their collection.
Assets are difficult to find
This is especially apparent with files that are difficult to preview - videos, work-in-progress files (such as Photoshop's PSD, for example), and documents.
With these types of assets, the user must rely on their memory or hope that the file's name is descriptive enough to explain what is stored inside. Imagine a company with a fleet of vehicles that uses a telematics system. For security reasons, a number of them are equipped with AI dash cams, and without Digital Asset Management or a connected operations platform, it would be impossible to manage all that material.
Even with simple images, looking through hundreds of tiles can be difficult.
Difficult to keep track of revisions
Each asset goes through many changes. The designer wants to change colors a bit, the marketing rep wants to emphasize the product's core values, and the product manager seeks to maintain consistent brand messaging.
What starts as a simple project, soon becomes a tangled mess of slight alterations. Without a proper digital asset repository, you end up with dozens of similarly-looking files, with no ability to remember which version has been approved and no sensible way to track all the comments and remarks.
Sharing assets is difficult
High-quality assets can get large fast. Especially, if we are talking about videos! But there comes a time and a place when you need to share those assets outside of your organization - clients, customers, third parties, freelancers, etc.
Sensitive and unfinished assets are oftentimes stored inside your organization's secure environment. It would be unwise to invite every third party inside that env, considering the implied security risks.
Hosting those files on publicly available channels - like Dropbox, Google Drive, etc. - is, once again, unwise. Not only does it take too much time to upload there, but the upload can also be disrupted or there might be an unwanted leak of sensitive information.
These are the problems that Digital Asset Management poses to solve through full utilization of metadata (keywords, file name, EXIF, custom metadata fields) and the intuitive UI/UX that allows you to gauge full information about any given asset at a glance.
Give Pics.io DAM a try
free 7-day trial
How Pics.io DAM Solves Problems of Inefficient Media Management
Pics.io DAM is an example of a modern Digital Asset Management solution that you can use to transform your unorganized assets into a fully-fledged content repository. It reduces the time that you spend searching for the right assets and makes collaborating and sharing them easier than ever.
Use advanced search to find assets better
In Pics.io, you can use advanced search to find assets fast by any parameter that you might need. You can add Keywords to describe assets or use visual markers to specify the asset's status and/or quality.
Custom fields, meanwhile, allow you to include detailed information with any parameter in mind, be it an asset's location, its price, or anything else.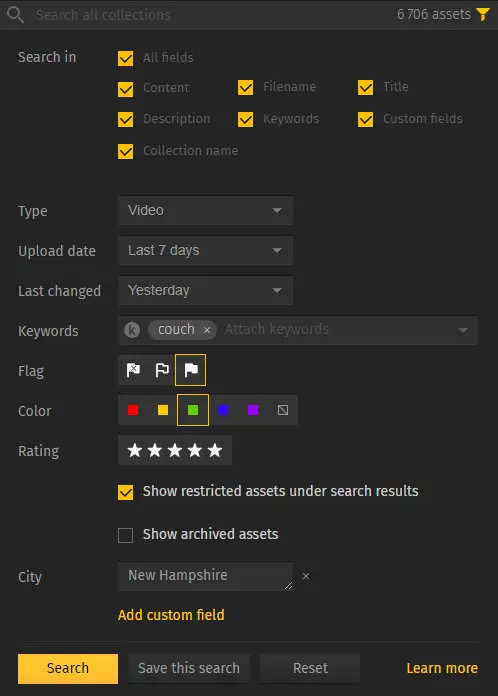 Using metadata search capabilities improves the search speed by 270%, according to the DAM benefits report.
In Pics.io, PSD documents are also displayed as any other image, so you can preview them without having to open each one individually, thus saving you a lot of time.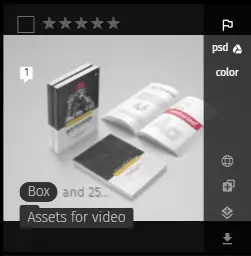 Intelligent Version Control
In Pics.io, all information about an asset is accessible through its thumbnail. That includes its revision history as well as feedback comments.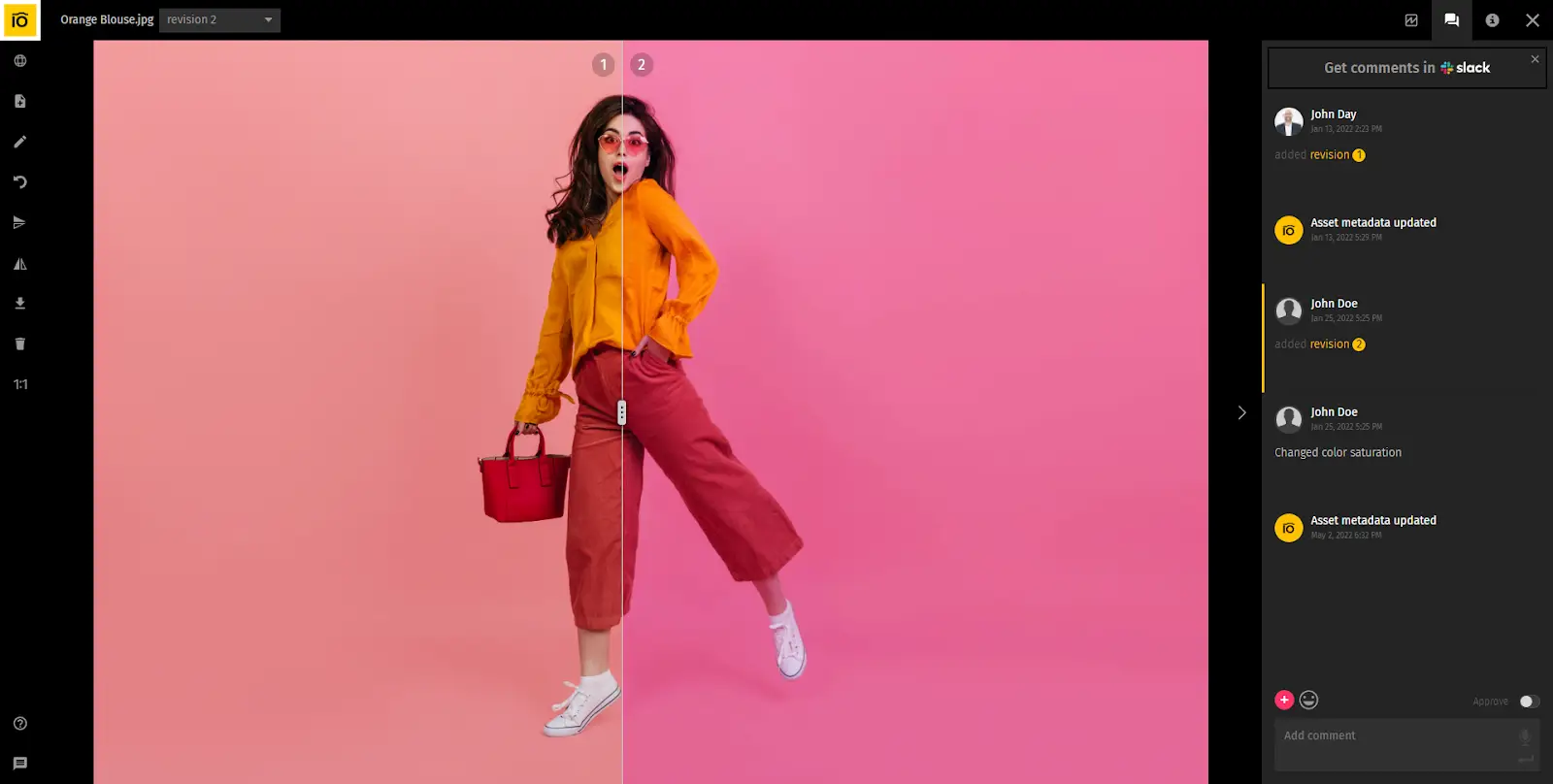 Clicking on an asset will bring a panel where you can track all comments and uploaded revisions of an asset. Clicking on any of them will pull up that version that you can set as an approved one (which means that it will always appear in the asset preview).
You can also compare assets side-by-side to see the exact level of changes that have been made. It even works for videos! This ability to freely switch between the revisions while also keeping the full history of changes intact is what makes Pics.io DAM a true repository. Like GitHub but for media assets!
Sharing Has Never Been Easier
Sharing a single asset requires two clicks. Literally.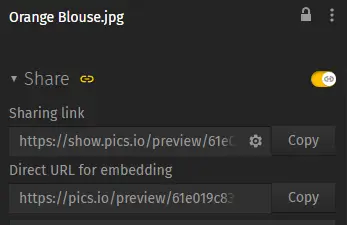 You just need to toggle sharing on and then copy a link that you can send to people outside of your organization. If you allow them to, they will be able to comment and view revisions as easier as you can do yourself inside Pics.io, so you don't need to maintain an awkward email chain to keep track of all of their comments.
For multiple assets, you can use Website functionality to share entire folders (that we call collections) as branded interactive portals:
Going in another direction, receiving assets is similarly easy. Let's say you're working with a freelance photographer that makes photos for you. Using Inboxes, they can send files directly to your Pics.io but without getting access to any assets inside your environment. So you don't need to download and re-upload assets to your repository, you can simply move them to a required collection directly from the inbox.
Give Pics.io DAM a try
free 7-day trial
How Does DAM Differ From Other Media Repositories?
When DAM systems came to the market, they didn't try to re-invent the wheel. Media repositories existed long before that, used, for example, by art galleries, museums, and universities to create digital representations of their exhibits.
One such repository is in use by the University of British Columbia, for instance. However, the university's page points out, its repository has certain limitations that can make the management of large collections extremely unviable:

Specifically, it admits the inability to restructure the repository after its creation while also acknowledging that the upload of multiple large files can be accomplished only via a CSV sheet. So, it is not far-fetched to imagine a scenario where you spend hours with CSV sheets and upload a large batch of files, only to realize that your folder structure is suboptimal.
Pics.io DAM does not have such limitations as restructuring and uploading files is as easy as it would be directly on your Mac or PC but with an upside of metadata capabilities and revision history management, from anywhere in the world (provided that "anywhere" has Internet access)
Conclusion
Media content repositories are a necessity for efficient and timely management of your media library
The lack of a properly set up repository can cause troubles down the road as you might have troubles finding, updating, and sharing your assets
There are many types of media repositories out there but a lot of them are intuitive or awkward to use, requiring you to do bulk uploads only through CSV sheets
Pics.io DAM solution combines metadata search capabilities with an intelligent  interface that allows you to organize and keep track of your assets through simple and intuitive steps
Give Pics.io DAM a try
free 7-day trial
Did you enjoy this article? Give Pics.io a try — or book a demo with us, and we'll be happy to answer any of your questions.
FAQ
How do I create a media content repository?
The best way to approach the creation of your content repository is to look for third-party software. That way, you don't need to focus on the back-end and figure out the logic of building one yourself, and you can dedicate your efforts to creating a content taxonomy that makes sense to you. Digital asset management is the most popular option for the image repository needs.
What is the best way to version control images?
The best way to keep track of the image's revision history is by establishing an intelligent repository where you can see all the different versions as well as the comments (i.e why this or that change has been made). Digital asset management tools remain one of the best options for maintaining an orderly revision history because it provides visual feedback and an ability to compare different versions side-by-side.