If you're wondering how to organize files better and access them faster, it's time to learn about the difference between cloud storage service and Digital Asset Management. Earlier we wrote how DAM differs from OneDrive in case you're a Microsoft Office user. We've also covered the distinction between DAM vs Google Drive. Now it's time to learn the difference between DAM vs Box.
Box is one of the oldest cloud storage platforms, known for its security, ease of use, and storage capacity. However, there are some use cases on file organization and access when another solution like DAM will seem a more optimal choice.
Let's compare DAM vs Box and see what solution suits you more in what situation.
4 Reasons to Use DAM
Digital Asset Management system is an advanced tool to store, organize and retrieve digital assets, as well as manage user rights and permissions to perform these actions. The tool is a must-have collaboration app that makes sure your team stays on the same page when it comes to managing the company's digital resources.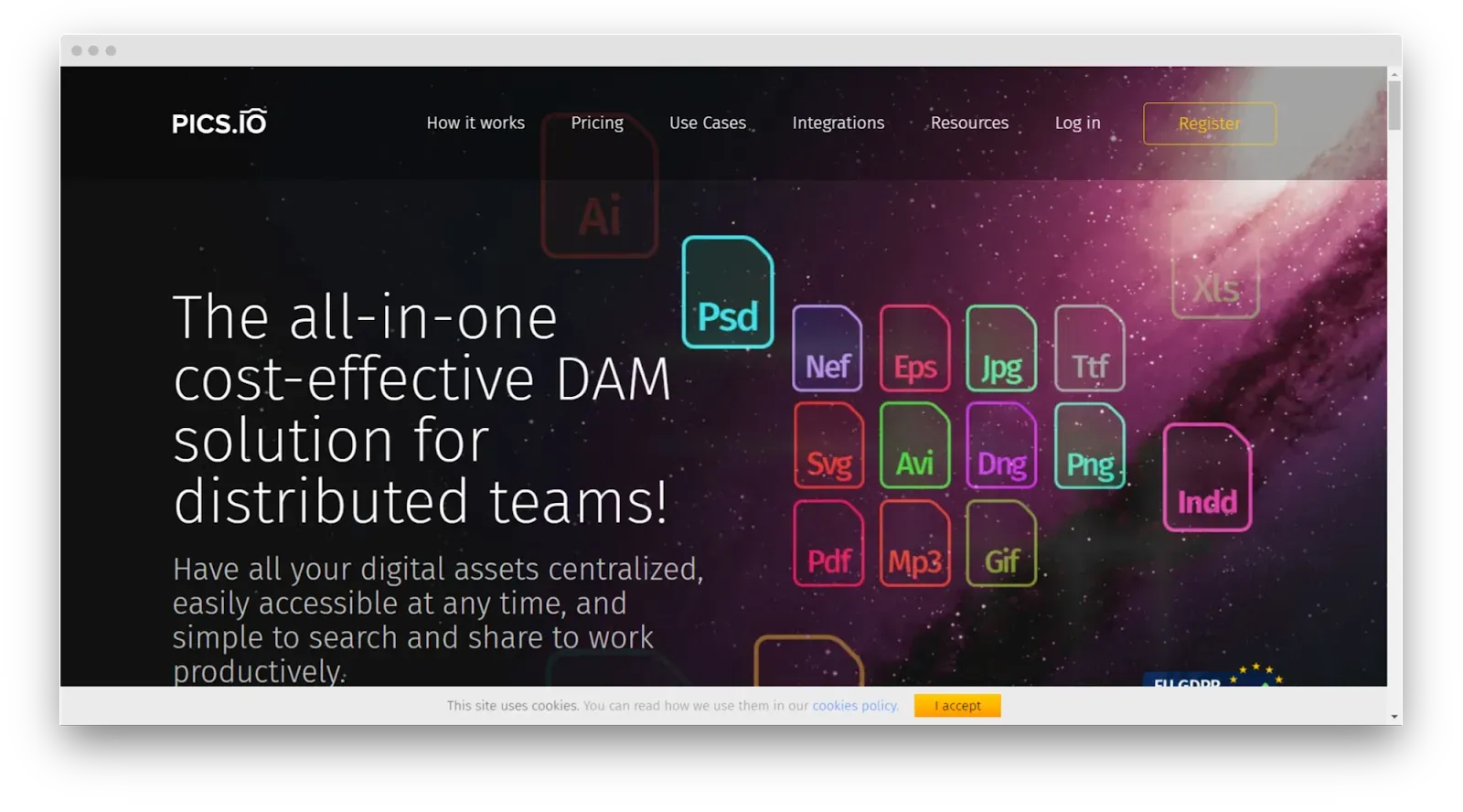 Why choose Pics.io DAM?
Access to digital assets with no effort. Pics.io helps to find and retrieve media easily. Filter your searches by metadata, file descriptions, upload dates, assignees, file types, content, etc., etc.
Distribute materials easily within and outside the team. DAM works as a centralized system for digital assets, so everyone in your team will have access to media resources by default. (With granular team permissions, your colleagues will see only those assets and collections they're working with.) Sharing materials outside the team also causes no difficulty in DAM. You can just share a ready-made website with your clients or partners.
Bridge different departments together. With Pics.io, your developers work side by side with designers, and the sales team knows what branding materials to use. Collaboration goes smoothly as DAM allows you to comment on digital assets, add revisions, and tag colleagues when needed.
Integrate your best tools with DAM. Reach the full potential of your team's toolset by connecting them to DAM. For example, use the Pics.io Adobe plugin to access your media library right from Photoshop or InDesign. By and large, you can bridge almost any tool with your media library via API.
4 Reasons to Use Box
Box is a file storage service focused on cloud content management and file sharing. As a pioneering company in cloud computing, Box has won its customers' loyalty thanks to top-notch security measures, easy-to-use interface, and competitive storage plans. Although it's not as popular as Google Drive or Dropbox, Box is still among the top cloud storage options for individual and business users.
Why choose Box?
Very versatile and easy to use. You won't find a Box user who didn't point out how user-friendly the storage is, with its clean and intuitive interface and ability to track user activity.
Storage space. Box has a variety of storage plans, depending on the size of your company and the number of users. Starting from the Business plan, you get unlimited storage. Individual business users also appreciate an opportunity to get extra gigabytes just for installing Box on a new device.
Increased security. If you're worried about data safety when uploading files to cloud storage, Box is the right choice for you. The storage has granular file-level sharing permissions, allowing you to protect the privileged info. Shared folders are also useful to deliver the right info to the right people.
Real-life note-taking. Box Notes is a great collaboration feature delivered to Box users. By writing notes in real-time, teammates can plan projects together, keep track of changes, optimize brainstorming, or keep up with meeting results.
How DAM is Different from Box
Purpose
The biggest difference between DAM and Box is their focus. Like other cloud storage services, Box is a user-centered solution. As soon as you upload files or folders into the storage, they stay private unless you decide to share them via links or shared folders.
The idea of DAM is different from the very beginning. Centered around assets (not users), the info becomes available to your team the moment you upload it. Of course, you can restrict access, but the very purpose of DAM is easy access to digital assets for a large number of users.
Storing files
Box is a great cloud storage solution for data saving. A user can drag-and-drop files into the storage easily and then access their materials from anywhere, anytime. The storage grants that these data will be well-protected, highly durable, and available the moment the user needs them.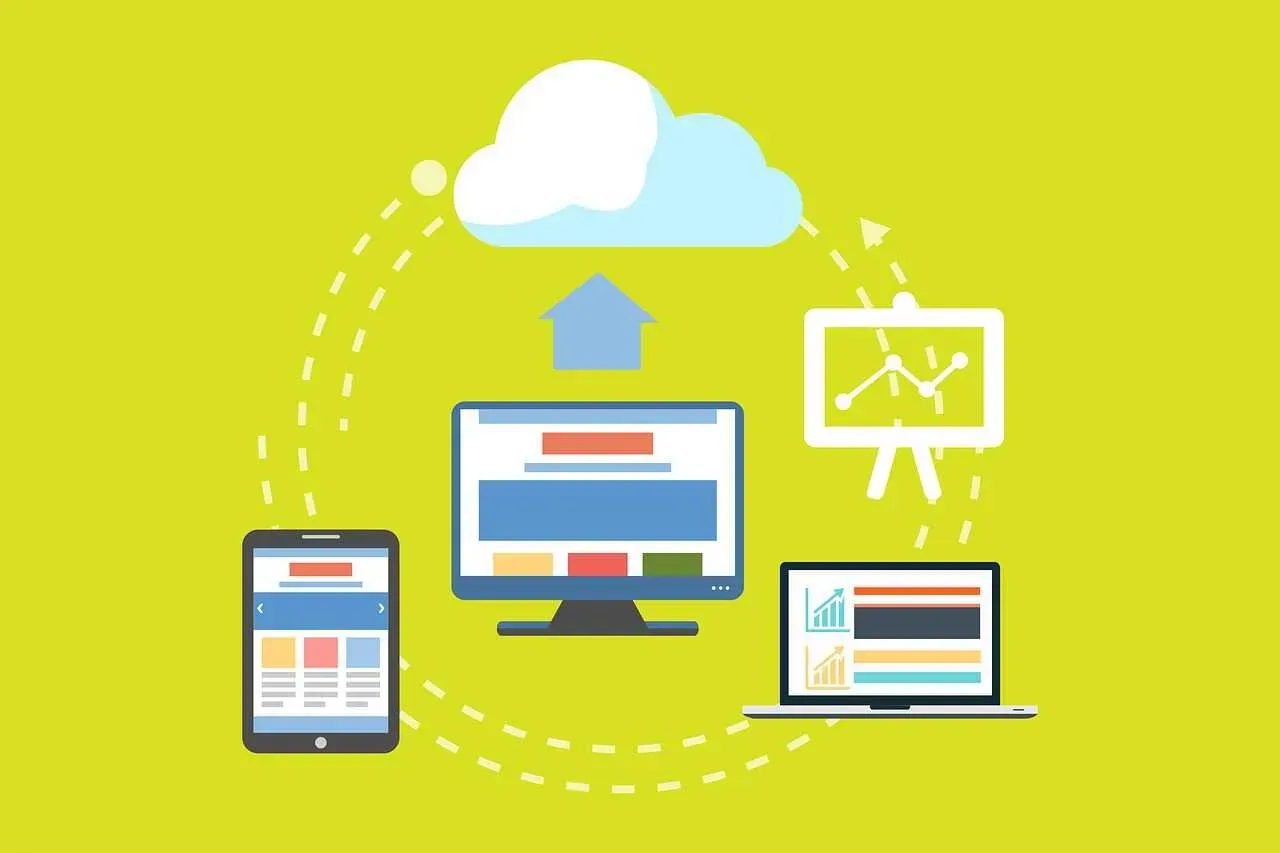 While cloud storage like Box aims at storing data, DAM is more committed to data management. Very often, businesses store lots of digital information, and it clutters all around without any centralized system in place. This is where digital asset management for small business comes in to transform cloud storage into a neat and well-ordered media library.
While cloud storage like Box aims at storing data, DAM is more committed to data management. Very often, businesses store lots of digital information, and it clutters all around without any centralized system in place. This is where DAM for small business comes in to transform cloud storage into a neat and well-ordered media library.
File organization
Traditionally for cloud storage solutions, Box organizes your content by folders and basic metadata. The typical recommendation is to keep your folder structure as flat as possible to be able to access assets faster.The search functionality includes basic search options such as by file type, owner, or size, though you can also create personal custom fields.
In case you search for content very often, DAM offers more advanced options to structure your digital information as well as more extended search functionality. Here a user can add keywords and custom metadata fields, keep the same file in multiple collections, or link assets if there is some internal workflow hidden beneath it.
External collaboration
If you regularly work with external collaborators such as freelancers or partners, you can use Box's shared links to distribute content to them. You might even want to enable view-only access to prevent people outside of the organization from editing your content. To secure your files in Box even further, think about creating separate folders for external partnership and labeling content there appropriately so the users know that files there are accessible by third parties.
If you need to bring branding features to your sharing option, then DAM will come in handy to you. External collaboration in Pics.io goes via public websites i.e. a shareable collection (folder) where you place all the info you want to distribute to partners. You can customize these websites, for example, change the look and feel of your shareable collection. Consider adding your company's name, logo, and colors to emphasize branding.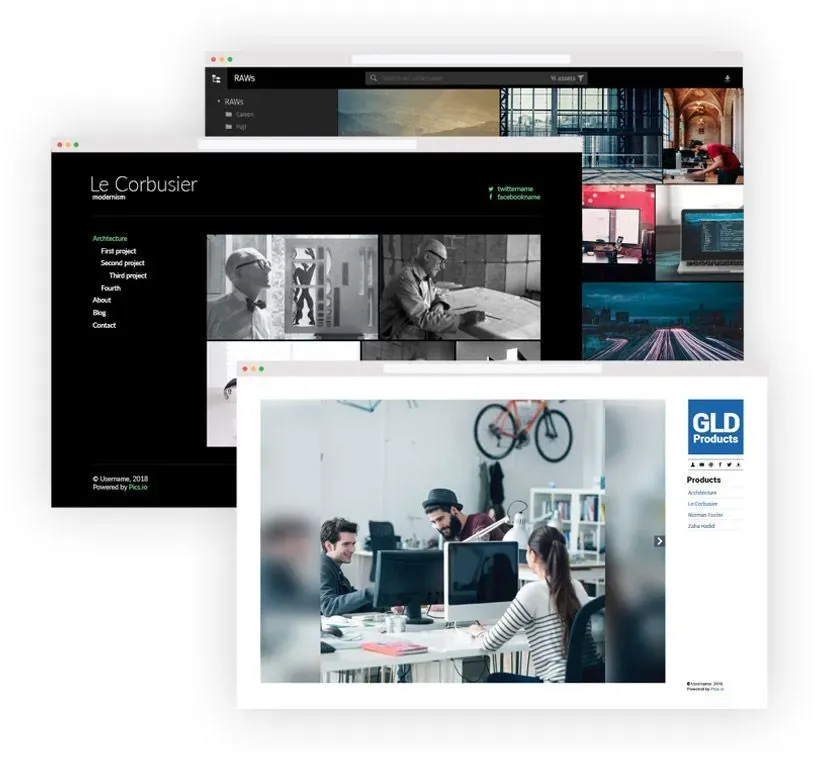 Online editing
Box is very user-friendly if you need to add last-minute edits or update the file without going into the trouble of downloading/uploading the file. Its in-built editor allows you to add new info to documents and format it properly. Don't forget to lock the file to inform other users that you've started working on it. In addition, you can upload Box Edit which lets you edit files on Box through the native apps on your computer.
Pics.io DAM has a basic image editor in case you need to crop pictures, brighten colors, or change the resolution. Plus, simple version control will help you keep your revisions in one place, track any changes in files, and choose the best version as current.
File limits
If your company works with tons of text files, why not choose Box as your cloud-native document management platform? Here you can easily edit text files, track all your project-related documentation, and streamline the document approval workflow. One problem with Box is that you cannot upload files larger than 5 GB for Business accounts, which is not convenient if you work with video/graphic content.
As an advanced file management system, Pics.io DAM doesn't have any file limits – feel free to upload any format, file type, size, or dimension. The platform will generate visually appealing thumbnails for your digital assets (even design files and videos) so you could navigate between files more efficiently. Managing photos and videos in DAM is as easy as organizing documents. Search for photos by keywords, run videos in the video player, compare two media files side by side, and leave comments under digital assets.
Integrations
Box is a cloud storage platform open for businesses. Overall, the storage allows users to connect their content with more than 1400 apps. Among the most popular integrations, there are productivity tools like Slack or Google Workspace, line-of-business apps like Salesforce and DocuSign, and tons of other solutions to meet even the most extravagant business needs.
Pics.io DAM also has a number of integrations in its toolbox. Users find its plugins for Adobe CC, Google apps, and Amazon S3 the most powerful. Plus, its API tool allows building the first-rate cloud stack by connecting almost any app you need to DAM.
Customer Support
On average, Box's support gets a rating not lower than 4. The storage has a wide knowledge base for FAQ and troubleshooting, and if you cannot find your answer there, you can contact the support department, always ready to jump in and help you. Here's what one of Box users wrote about their customer support on Capterra:
We've found Box to be very responsive both from a support standpoint and in terms of listening to their customers regarding features and needs.
Eugene, J., Director of Information Technology
Pics.io DAM also has a great support team, committed to respond quickly and help their users. On higher plans, a team gets its own customer success manager whom they can refer to should any questions arise. Here's what one of Pics.io users said about our support service:
Support is truly stellar. There is a built-in chat system within Pics, and someone almost always replies within a couple/few minutes. Everyone is always very friendly and helpful. Pics is also incredibly responsive to feedback and they've already implemented a couple of feature requests for me, which has made a huge difference for our workflow.
Holly B., Designer
If you're looking to integrate a chat API for IOS or Android applications, there are several options available that can help you offer efficient and timely customer support. Box and Pics.io DAM are two examples of platforms with excellent support teams, who are responsive and dedicated to assisting their users.
A Few Takeaways
As you see, DAM differs from Box and cloud storage tools a lot. With its goals to solve different problems, you can choose the tool most suitable for your business purposes and workflow.
When to choose Box?
To store files securely and accurately
To have files available on-demand from anywhere and any device
To prepare the company's documentation, brand deliverables, blog materials, etc., etc.
To edit text files online and invite the team to make their own updates too
To make real-life notes like when you're at online meetings or sharing ideas with teammates
When to choose DAM?
To organize files properly, make them searchable and accessible
To manage final versions of designs and projects easily
To improve collaboration within the organization, especially between departments
To streamline the approval process when you assign an asset for review, add revisions, give feedback, and choose the final version
To distribute third party materials in the nicest and easiest way possible
To reuse materials thanks to having one centralized system and keeping digital assets tagged and categorized
Don't waste your time and start a Pics.io free trial here and now. You'll learn about the simplicity but rich functionality of this DAM system first-hand.
Give Pics.io DAM a try
Free 7-day trial
No credit card required
Set up in 3 minutes or less