Choosing the best cloud storage for business isn't easy. But it's definitely worth it! By moving to the cloud, you get access to your data anytime, anywhere. You save upfront costs, get unlimited storage space, and forget about obsolete software.
Choosing the best cloud storage for business isn't easy. But it's definitely worth it! By moving to the cloud, you get access to your data anytime, anywhere. You save upfront costs, get unlimited storage space, and forget about obsolete software.
But what storage will suit your business needs best? With our earlier post, we tried to make your life easier in case you felt torn between Google Drive and Amazon S3. But these are NOT the only options available in today's saturated market.
Let's target other big players now. Dropbox vs. Google Drive vs. OneDrive should be the first to come up to your mind when thinking about the most trustable cloud storage services. For you to make more informed decisions, we'll discuss the strengths and weaknesses of each.
Three Biggest Players on Cloud Storage Field
Launched in 2007, Dropbox is the oldest cloud storage known today. When it debuted on the startup scene, the cloud storage system won over public opinion quite fast. For the first time in history, individuals and companies got a chance to access their files no matter where and when.
Of course, this was a unique value proposition at that time. With no competitors in place, Dropbox has built a solid customer base (200,000 users) in "something like 10 days". More importantly, the company hasn't gone bad over the years (as it usually happens). It worked hard to impact its reputation and become the fastest and most reliable storage on the market.
Only a few months later, Microsoft OneDrive appeared in the cloud computing world, though it was known under the SkyDrive name at that time. The new cloud provider yet wasn't so widely accepted as Dropbox. Its presence was limited to Microsoft users only.
Ironically, the same Microsoft integrated ecosystem became the key to success for OneDrive. Security updates were another great impetus for OneDrive over the last years.
In 2012, Dropbox and OneDrive finally received their toughest competitor. This was the year when Google Drive joined cloud storage services. This cloud provider has turned the market upside down. Giving 15 GB for free, the company urged to prove that everyone could afford personal cloud storage. Google Drive also left behind its competitors due to its ease of use & simplicity.
Regardless of your choice, storage may not be enough to manage all your 1000+ assets. Think about adopting Digital Asset Management – innovative technology that will become a single source of truth for your digital library.
And now it's time to know. Who is the best cloud storage provider: Dropbox vs. Google Drive vs. OneDrive?
Why Choose Dropbox?
Reliability and fast performance are the key strengths of Dropbox. Many users all appreciate its collaborative nature & data recovery. Let's dive deeper now.
1) Really fast sync
If you ask Dropbox users why they've chosen this storage, fast sync will be one if not the main reason. Indeed, this storage is one step ahead of its competitors when it comes to speed and performance.
The storage provider uses a built-in block-level data transfer. This technology breaks up each file into smaller pieces. And this allows us to reduce the upload and download wait time. Block-level copying also speeds up your syncing time, especially if it comes to large files.
Actually, OneDrive takes advantage of block-level sync as well. But this works only for Microsoft-native files. Thus, OneDrive sync can be incredibly unreliable, particularly when syncing large and complex data.
A user shared his unfortunate experience with the OneDrive desktop client that stopped synchronization in the most unfavorable moment. The user had no choice but to reset it manually. And this ended with lots of files with the same name misplaced all around his storage.
Another feature that makes Dropbox stand apart from OneDrive and Google Drive is LAN (Local Area Network). By using your local network, LAN helps Dropbox to work faster and speed up your downloads even more.
2) Collaboration
No doubt OneDrive and Google Drive are very collaborative. Still, they're more oriented to a particular ecosystem. OneDrive integrates seamlessly with Microsoft. Respectively, Google Drive is for Google apps users.
Although it's counterintuitive, Dropbox works well for both. Its users can collaborate on both Microsoft Office and Google Documents. Switching between two services is very easy and won't cause you any inconveniences. Click on your Google Docs, Sheets, or Slides, and the storage will open it in the relevant Google app. The same principle applies to your MS file formats. (Just know that MS Office is paid, as usual).
Moreover, you have no restrictions when working with your files. Create, view, and edit them together with your colleagues. Just save them in Dropbox directly. A nice bonus is the ability to open MS files in relevant Google apps.
3) Dropbox Paper & Dropbox Showcase
If we talk more about features, we cannot mention Dropbox Paper and Dropbox Showcase. These are two separate apps developed by Dropbox, which also gained acceptance by many users.
Dropbox doesn't have its own office suite. But with easy access to Google apps and MS Office, it doesn't need one. Still, the cloud service offers you Dropbox Paper. This is a basic notes app where you can save your text notes, images, videos, and code snippets.
Dropbox Showcase can interest you even more. You won't impress anyone with shareable links today. All three cloud storage (Dropbox, Google Drive, and OneDrive) have it. But it's nice to have an opportunity to create a shareable, professional-looking portfolio. And this is precisely what Dropbox Showcase offers.
Still, sharing could be a bit primitive in cloud storage. In Dropbox, Google Drive, and OneDrive, you can choose who can view or edit your file. But you cannot differentiate your user rights by teams, create regular or power users.
Dropbox and OneDrive give you a chance to protect your links with passwords and set expiration dates for them. Google Drive doesn't have even these basic security measures.
And none of these allow your visitors to tag you or leave comments under your asset. Or place a visual mark to show the area on the image that needs to be edited. These are all powerful additions of DAM. (But we'll talk about it later.)
4) File preview
Vast file previewing opportunity is one more advantage of Dropbox over Google Drive and OneDrive. Unlike two other storage services, Dropbox allows you to preview more file types and extensions, starting from traditional docs or PDFs and ending with PSD and INDD files.
You can also preview the most common video formats in Dropbox. This helps you save time without the need to download a large video file just to check it. Zoom is another good tool that helps you view the image or video in detail.
5) Reliability
Out of three storage under review, Dropbox is the most reliable. (Though, the difference is rather insignificant). In the study conducted by BoxFreeIT in 2013, Dropbox was down only 6,5 hours during a half a year.
Actually, Google Drive goes toe-to-toe with Dropbox if we speak about reliability. But its users report sudden loss of files and data corruption from time to time. This usually happens during the sync of files.
6) File restoration
You've probably heard about one more unique feature of Dropbox called "unwind". This allows you to restore your whole Dropbox account to the preceding version. So "unwind" is a finding when something really bad happens to your files like a virus.
OneDrive has a similar feature, with a more straightforward name "files restore". It's included in both personal and business plans but is available to you for 30 days only. And this is where Dropbox beats OneDrive in this case, placing no time restrictions for users.
7) Automatic file backup
This will be my last argument why you should choose Dropbox over Google Drive or OneDrive. Backup is available in all three storage solutions, but only Dropbox grants it to you per se. Plus, file restoration in Dropbox is a matter of a few clicks, and you won't need any external help or technical background.
Backup in Google Drive and OneDrive will cause you more headaches. In OneDrive, you need to specifically turn it on and configure. In Google Drive, you'll need to launch a separate app (Drive File Stream) if you want to ever back up your data.
Why Choose Google Drive?

Google Drive is the choice of many due to its free storage, a suite of features, and many integrations. No file size limits are another good news here. Learn about all these in detail:
1) Free storage space
I bet you expected this argument here. And why not? Google Drive indeed makes a generous offer to its users, presenting them with 15 GB for free. And this actually helped the company to shake down the competition when it only joined the market.
15 GB is very little if you're running a business. Still, it's just nice to have them, especially if compared to the 5 GB free plan offered by OneDrive and 2 GB by Dropbox.
2) Seamless integration with Google
Being a product of Google, Google Drive combines perfectly with its apps. This is really great news as lots of us use Docs, Sheets, Slides, and Forms on a regular basis.
And then Gmail, of course. This is by far the most popular email service. 72% of Internet users prefer Gmail over any other webmail client. Unlike two other storage, Google Drive integrates with Gmail seamlessly. To attach a file, you just need to drag-and-drop it in the new message window, and that's it.
3) Integration with third-party tools
Google apps are not the tools you can integrate with. Google Drive is probably the only cloud service that has so many different integrations. Trello, Slack, YouTube, Facebook, Evernote, Amazon S3, Asana – this list is endless. (And Pics.io is also in this list as an advanced Digital Asset Management working on top of your storage).
Any third-party tool wants to integrate with Google Drive. Media players, social networks, productivity and time management software, accounting tools, photo and video editors, and much more. So you have a really great variety of integrations if you choose Google Drive as your storage option.
4) Versioning
This is one more useful feature of cloud storage. All three storage providers have it, though with different time limits. OneDrive will store your version history for 30 days only for personal accounts and 500 versions for business ones. Dropbox keeps your version history a bit longer, for 180 days.
And only Google Drive has no constraints in time or the number of versions. Though, the company reserves the right to merge changes for the sake of space.
At the same time, none of the storage provides you with a really good versioning tool. Storing versions is the maximum they can do, and you cannot even retrieve them properly. Plus, storage leaves you no space for collaboration. You cannot approve your versions, assign them to users, etc.
5) Ease of use
Again, all three cloud storage providers offer great usability. Google Drive just heads them up, with its very intuitive UI, clean and modern interface. The tool has large icons in bold, official Google colors, and an accessible taskbar in the upper right corner.
6) File search & access
Of course, no cloud storage surpasses DAM functionality when it comes to search capabilities and access. Still, if you compare Google Drive vs. Dropbox vs. OneDrive, Google Drive is in a position of advantage.
In Google Drive, a user has quick access to files by searching by date, file type, file name, etc. For better convenience, you can also switch your viewing options from list to grid or thumbnails.
OneDrive search options are even more limited. It doesn't show you suggestions, and you cannot search through your media content. Things look the same bad with Dropbox. Here your search limits to file type, owner, date of modification. That's it. No keywording, AI technology, nothing.
7) File size limit
Google Drive is also likely to become your storage option if you work with large files, such as videos. Its file size limit is 5 TB unless you're going to upload a document, spreadsheet, or presentation (they have a bit different file size requirements).
Dropbox and OneDrive are more modest in this case. The two storage providers allow you to upload a maximum of a 100 GB file in OneDrive and a 50 GB file in Dropbox.
8) Number of devices
The number of connected devices is one more interesting category where Google Drive yields its competitors. In this scenario, you can sync as many devices as you need.
As compared, OneDrive puts the limit of 15 devices connected simultaneously. Still, this should be enough almost for any user. The situation worsens with Dropbox, which allows up to 3 devices. One computer, tablet, and mobile phone, and you've reached your maximum.
9) Customer service
Customer support service is one more strength of Google Drive. As a rule, the GD support department answers you in less than a minute. And this reply will be useful and relevant. They also practice sending follow-up emails to make sure they helped you solve your problem.
OneDrive is a step behind Google Drive if it comes to customer service. Your first contact with the support will be through virtual assistance. And even when you request to talk to an agent, you can do it via email only.
Users describe Dropbox customer support as "almost absent". Even if you managed to get an answer from the service, there is a great chance it won't help you.
Why Choose OneDrive?

Behind the scenes, OneDrive is considered the most secure storage. Its unique features and good pricing are two other advantages of this storage. Read where OneDrive beats its competitors more precisely:
1) Security
Many users consider security the top reason why they've chosen OneDrive. And neither Google Drive nor Dropbox can come up to OneDrive in terms of security.
Only recently, the cloud storage provider has added one more security measure. So-called Personal Vault allows you to protect your data with identity verification, such as fingerprint or face. It'll also lock your account if you're inactive for 20 minutes. Very useful if you're keeping sensitive info, right?
We won't even mention other OneDrive security measures, such as encryption or two-factor authentication. As a must in cloud computing, these are the same present in Google Drive and Dropbox.
2) Privacy
Going toe-to-toe with security, privacy also matters when choosing cloud storage. No business owner wants their data to become public at some point.
All three storage providers reserve the right to check your content. Still, the Microsoft OneDrive privacy policy is the least obtrusive here. The company promises "not to use what you say in email, chat, video calls or voicemail, or your documents, photos or other personal files to target ads to you."
You can compare it to Google Drive's statement: "We can collect the content you create, upload, or receive from others when using our services. This includes things like email you write and receive, photos and videos you save, docs and spreadsheets you create, and comments you make on YouTube videos." No surprise this storage provider was seen in so many privacy scandals.
Dropbox isn't that straightforward as Google Drive. The company claims to check your data only for the sake of security. Still, it's analyzing "your stuff" i.e. "what you decide to store in your Dropbox account".
The worst is that Dropbox is the only one out of three that was hacked. Dropbox's data breach in 2012 ended with the leakage of 70 million user passwords. Imagine what a catastrophe it was for the company?
So when saying that OneDrive cares most about your privacy, it's more like choosing the lesser evil.
3) Integration with Microsoft
The same as Google Drive assimilates with Google apps, OneDrive fits perfectly the Microsoft ecosystem. And this goes beyond traditional MS Office but also includes Outlook, Skype, etc. For example, you can share all your files via Skype with no effort.
By sharing your documents with others, you can also work on them together with your team. You'll see all the changes in real-time, and they'll be automatically saved in your account.
4) Files On-Demand
This is a great feature recently added by OneDrive. Files On-Demand allows you to access your files on your device offline, without the need to physically store them on your computer. Indeed, an ideal solution if you have a tablet or mobile device with limited storage space.
Dropbox has a similar feature called Smart Sync. But it's not available on all storage plans. Google Drive doesn't have an "online-only files" feature unless you additionally launch the Drive File Stream app.
5) Recycle bin
At first glance, this is not the most important feature to have. Still, how often do you delete a file by mistake and then go through your trash, praying that it didn't disappear forever? I do it regularly :)
With OneDrive, you can restore your files for 93 days since you removed them. I bet it's long enough to understand whether you need those materials. As compared, two other storage solutions give you only 30 days for recycling.
6) Pricing
Affordable pricing is another very important criterion when choosing your cloud storage. For sure, Dropbox is the most expensive solution here. It offers 2 TB for $11.99. For the same storage space, Google Drive will charge you 2 dollars less.
If you compare Google Drive to OneDrive, their pricing plans are a bit similar. Google Drive yet offers you a much wider range of options. You can check all of them in our detailed review of Google Drive vs. Amazon S3 pricing.
Still, OneDrive is the best choice when it comes to pricing, offering you better value for money. For $9.99, Google Drive gives you 2 TB storage space. OneDrive will offer you 6 TB, plus an MS Office product package. (But don't underestimate GD pricing deals. Sometimes, they're still better than OneDrive.)
7) Mobile app
Again, all three storage services have a mobile app, and they're quite similar at first glance. This is more a question of convenience: when you get used to the GD mobile app, it's difficult to change to OneDrive, for example.
The only benefit of OneDrive over Google Drive and Dropbox is its "photo" page. This is very useful for companies working with media content. You can search for your photos by places and tags.
Collaboration on-the-go is another advantage of the OneDrive mobile app. You can upload, edit, and share your files without changing to the web version.
Dropbox vs. Google Drive vs. OneDrive: Who is the Winner?
Now let's summarize our analysis and see the strengths and weaknesses of each cloud storage. For more transparency, we rank each storage from 1 to 3 in the most critical categories. If the solutions get equal points in a category, it means that the difference between them is too petty to count.
| Category | Dropbox | Google Drive | OneDrive |
| --- | --- | --- | --- |
| Free storage space | 1 | 3 | 2 |
| Unlimited storage capabilities | 3 | 3 | 2 |
| File size limits | 1 | 3 | 2 |
| Collaboration | 3 | 2 | 2 |
| Versioning | 2 | 3 | 1 |
| Sharing | 3 | 1 | 2 |
| Search & access | 1 | 3 | 2 |
| File restoration | 3 | 1 | 2 |
| Additional features | 3 | 2 | 3 |
| Integrations | 2 | 3 | 2 |
| Security | 2 | 2 | 3 |
| Privacy | 1 | 2 | 3 |
| Ease of use | 2 | 3 | 2 |
| Reliability | 3 | 2 | 1 |
| Performance | 3 | 2 | 2 |
| Flexibility | 2 | 2 | 2 |
| Scalability | 2 | 2 | 2 |
| Innovation | 3 | 3 | 3 |
| Mobile app | 1 | 2 | 3 |
| Customer service | 1 | 3 | 2 |
| Pricing | 1 | 2 | 3 |
| Market share | 1 | 3 | 2 |
Disclaimer: Some of the criteria are pretty subjective like the ease of use. This review aims at giving you the most general impression. So don't blindly trust our word, but try using the storage yourself :)
Whatever Storage you Choose, Add DAM to Manage Your Files Effectively
If your company works with lots of digital assets and does it on a regular basis, having storage won't be enough for you. You'll need to equip your team with Digital Asset Management – an advanced tool to organize and manage your assets productively.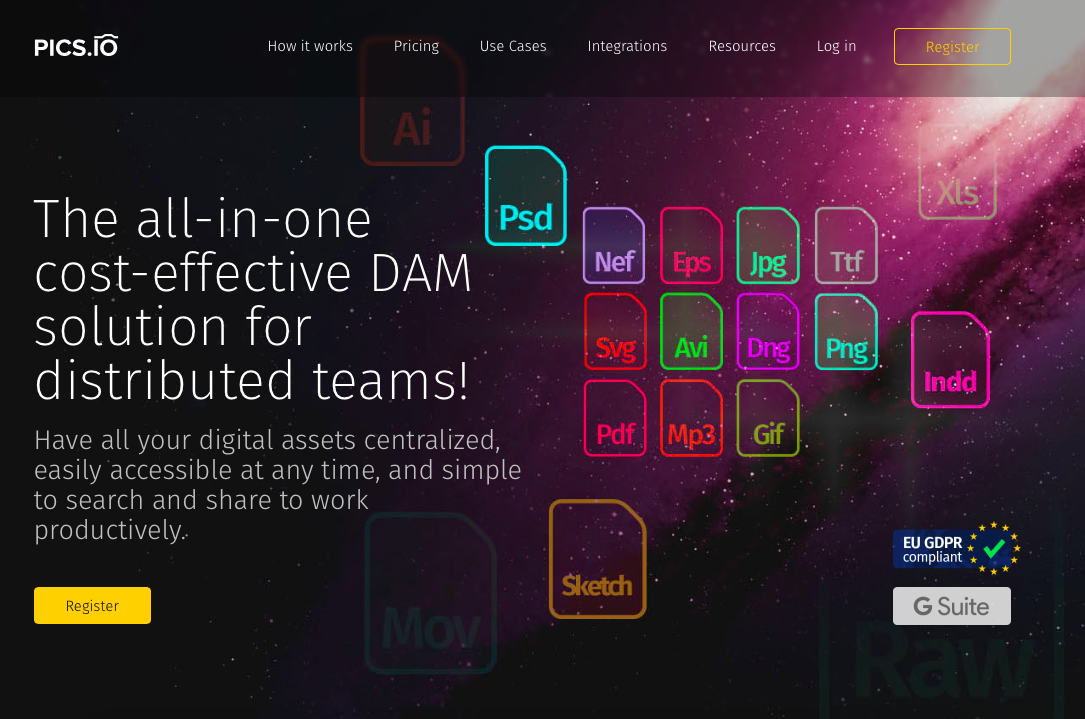 DAM will compensate for the weaknesses of your storage and add to its strengths. Here are a few ideas of how the tool will be helpful to you. With DAM, you'll be able to:
Create one source of truth for your assets where you won't only store your materials but can easily access them;
Keep your assets organized with the tree of collections, tagging, and so on;
Search for assets in no time by using keywords, AI-powered technology, custom fields, and more;
Collaborate with your team: tag them under assets & collections, write comments, etc., etc.
Streamline your asset approval process;
Share your assets easily with customizable public websites;
Receive materials from third parties, check them, tag, and only then add them to your library;
Ensure consistent branding strategy by keeping all your brand deliverables at your fingertips;
Make sure you protect your data by allowing users to access only those files & collections that they need in their job;
And much more.
And here's the best part. Pics.io DAM works on top of your storage (Google Drive or Amazon S3). This means you're the only one who owns your data and who can access them.
Plus, you don't have to move your data anywhere else if you're a Google Drive user. If you're using OneDrive or Dropbox, it's not a problem too. Use our data migration tool to transfer your data smoothly to any new storage.
Not so long ago, Pics.io also released its own storage & became known as an all-in-one DAM solution. So now you don't need to go into the trouble of setting up storage or configuring permissions. Sign up & use DAM immediately!
Choosing your cloud storage is only half the battle. Get the fullest of your storage with Digital Asset Management. Organize your assets, access & distribute them easily! Schedule a free demo with us if you have any questions left.
Give Pics.io DAM a try
Free 7-day trial
No credit card required
Set up in 3 minutes or less