When you realize that digital asset management (DAM) is a "must have" for you or your company, a natural question comes up immediately — how exactly should you choose a DAM service? There's a great variety of options on the modern market, each with its own pros and cons, so it can be can be a hard task to filter them and find the product that perfectly meets the needs of your company or your personal working aspirations.
We recommend the following these simple steps to choose the right digital asset management service for you.
First of all, it is recommended to focus on the types of data you're planning to store and organize. For example, if you're a designer or photographer, the DAM system of your choice should have the means necessary for easy and fast visualization of the selected content. If you're a cameraman or film director, perhaps, your digital asset management tool may need a built-in video player that would simplify the search for a specific take or cinematographic shot.
Meanwhile, if your company specializes in software development , you need an environment that could deal both with rich digital media and text files, spreadsheets and similar data. Pics.io works with all the types of information mentioned above, so you won't need any additional software to keep your digital assets organized in one convenient library.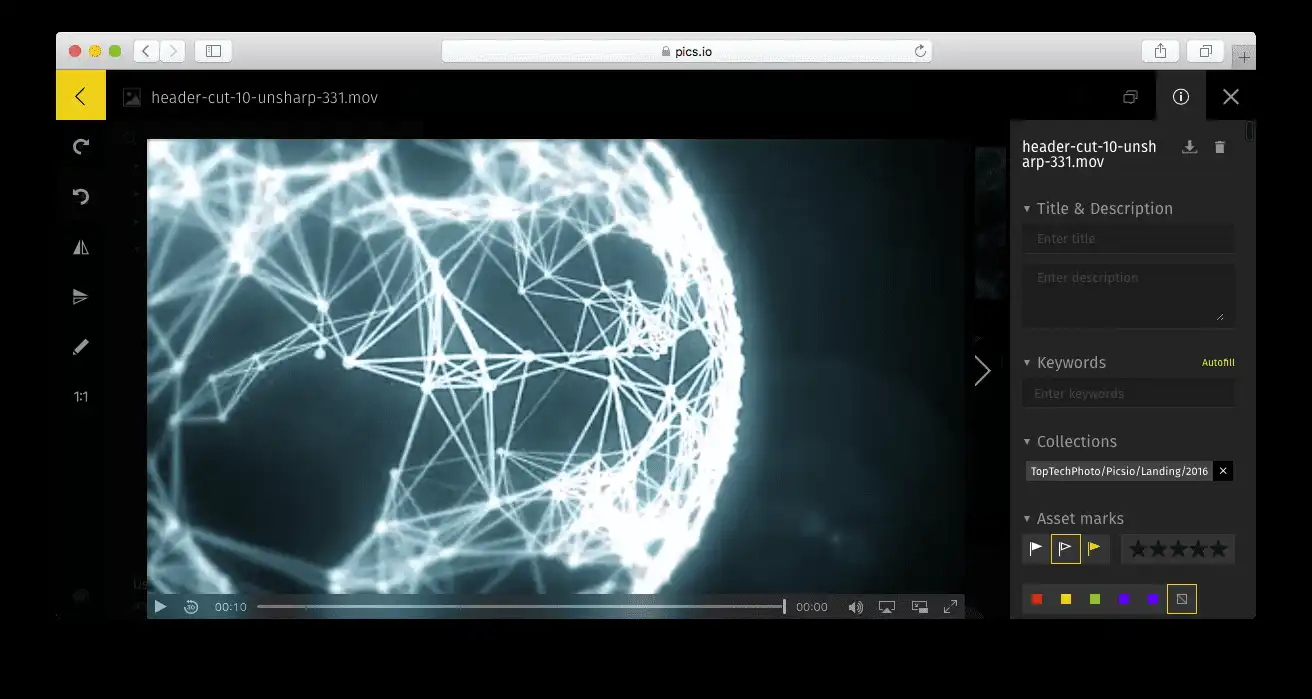 After thinking through the data types that will be frequently used in your working process, it is important to ensure proper distribution of rights and access permissions throughout your team. This is useful not only to prevent accidental usage of data, but also to preserve information confidentiality, for example. The team leaders and project managers should have a superior level of rights compared to that of regular team members in order to ensure better coordination of work. Pics.io is able to distribute such rights in an easy and understandable way. Choose any permission you want to give — from viewing files up to manage billing.
Another convenient function in Pics.io is the possibility to mark unfinished files and digital assets in order to prevent leakage of raw content. In combination with a proper management of rights inside your creative team, this is a powerful safety measure to maximize the impact of your content strategy and distribution.
The next step is to organize a proper workflow throughout each of the project's stages. Every digital asset management system has its own approach towards how this can be achieved, so the best way to see if a specific DAM service lives up to your expectations and fits your needs is to try it out.
When everything said above is considered, another important thing to take into account is the accessibility of your digital asset library. Pics.io is a cloud-based SaaS (software as a service), meaning that all of your information will be stored on remote servers — so you'll be able to access it from any location and using any device of your choice, without being chained to a specific desktop computer with installed DAM software, as it once was.
Moreover, one of the best things about Pics.io is that its functionality does not depend on the device you're using. Contrary to those of some other modern DAM options, the functions and working possibilities that you get with Pics.io are the same on your desktop computer, mobile and tablet. This gives you the possibility to access your digital asset library on the go — and manage everything related to it whenever the need should arise. No additional software, hardware or payments needed — Pics.io is your ultimate solution for all digital asset management needs.

And everything said above is true not only for a single specific user, but for any other team member as well. Cloud-based digital asset management platforms like Pics.io are the best environment for the collaboration of professionals from all over the world. By letting them to take part in exciting projects regardless of their location, Pics.io expands the boundaries of creativity and productiveness.
Thanks to Pics.io.
Give Pics.io DAM a try
Free 7-day trial
No credit card required
Set up in 3 minutes or less