At the request of the interviewee, this interview is published anonymously. The interviewee works as a Digital Asset Manager at an international non-profit organization operating in more than 25 countries.
Can you tell us a bit about your organization and your position? What are your responsibilities?
I'm the digital assets manager for my department. We're a team of about 50 people. And we are a media studio within my organization. We create a lot of content and a lot of videos. And we generate a lot of B-rolls (one of the video types).
We didn't have all those B-rolls in one place. They were spread across several hard disks and Google Drive. And we realized that sometimes we need to recover those B-roll and use them for other projects, especially for internal communication projects or promotional videos. And then we created my position and started using Pics.io to search for specific B-rolls, categorize, organize, and then use them in future projects.
"When we need to find a video, we've gone from spending a couple of days tracking the video to a few minutes."
Do you use these videos only for social media and for your website? Maybe, you use them somewhere else too?
We're using them for social media, videos for clients, and internal communication videos, we're using them for everything.
What problem did you solve with the DAM system? What was the main challenge?
We had a lot of video content that was spread across different hard disks and Google Drives. And with Pics.io, we've been able to gather all those video files and manage them together. Now all the videos can be accessed easily and we can give other people access when it's needed. We don't have to look for some files on hard disks or drives or ask someone to do this now.
For example, when our social media manager needed a specific clip, it would take a couple of days to track down who was doing that project, to find the specific clip or clips that they needed, and then get it to them. And now it takes literally five minutes - one can go on their own to the platform and use the search bar, find what they need, and have it ready.
What does your current workflow look like?
So, I use something called ODrive. It's a tool that syncs folders with your Google Drive. So I get a bunch of videos, edit them, and choose the relevant ones. I put them in my folder and through ODrive, I sync it directly to Google Drive to the folder that's connected to Pics.io. Then these videos show up automatically in DAM.
And what are the advantages of a DAM system for you?
Simple file organization - we have our own taxonomy and can find things easily and fast.
Maybe you use some interesting DAM features, for example, websites or inboxes. Do you have experience with them?
We use websites when we have vendors doing content for us to share specific content with them. We don't want to give them access to everything we have. We just want to give them access to specific videos and that's how we use websites.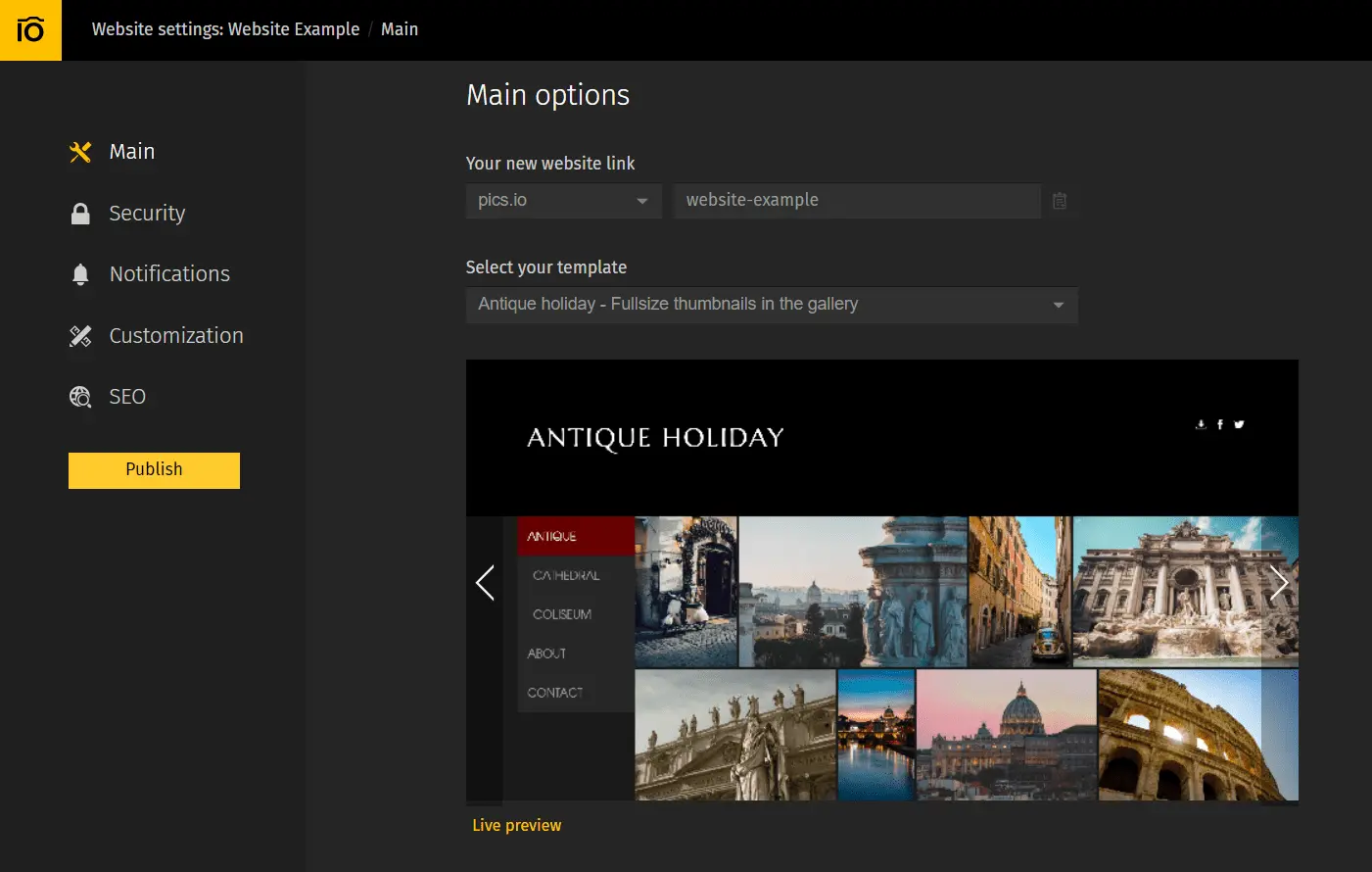 Do you have a favorite feature in Pics.io?
I like how granular my team options are, we can create as many roles as we need, and give access to specific things. I like that. That's a very powerful tool and I use it a lot.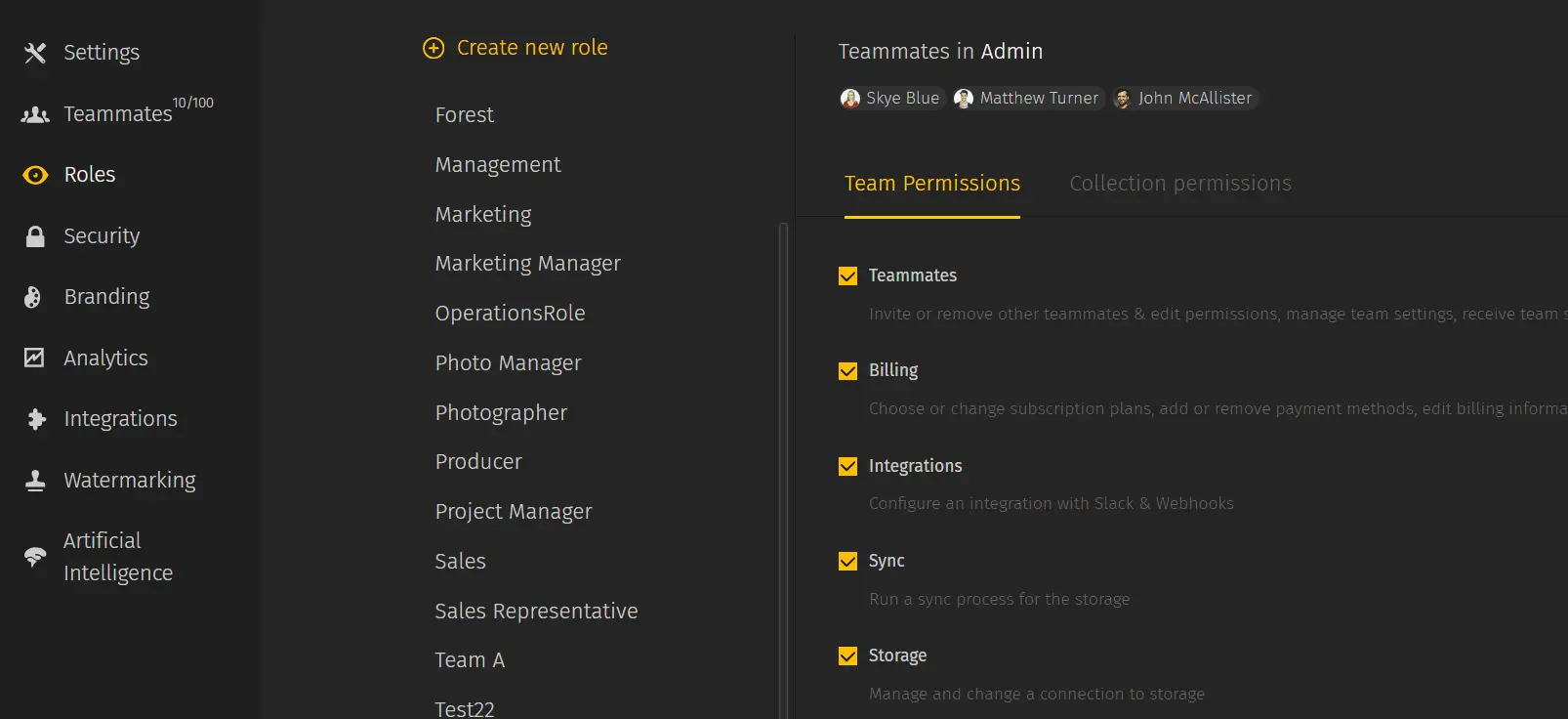 Can you estimate how much time Pics.io saves you monthly or weekly?
When we need to find a video, we've gone from spending a couple of days tracking the video to a few minutes.
And maybe you have examples of roles that you use in your organization?
So, we have a main role. That's me. I'm the only one who can create tags, delete files, and see all the collections. Then we have what I call super users. Those are people who can upload files and have their own collections in their own spaces.
For example, a social media manager can do that. They can upload files and move them around. And then we have regular users - people who can just see the main collection and download from that collection.
Thank you so much for the interview!
Give Pics.io DAM a try
free 7-day trial
Did you enjoy this article? Give Pics.io a try — or book a demo with us, and we'll be happy to answer any of your questions.