The rise of remote work has brought about many challenges for teams, one of which is the management of digital assets, such as images, videos, and documents.
When you have a centralized office, you can have something like NAS that all your on-premise teammates can access. With everyone scattered all over the globe, this system becomes unwieldy.
Thus there is a need for a more elegant system to manage a large library of media files. A system such as a digital asset management system.
In today's article, we'll discuss the challenges that remote teams face and the four main benefits of digital asset management for remote workers.
Let's dig in.
Common Asset Management Issues for Remote Teams
Now, let's look at the challenges that digital asset management for your remote workforce can solve.
Lack of Single Source of Truth for Your Assets
Without a centralized hub for storing and sharing assets, team members may have to rely on a variety of different options, such as Google Drive or Dropbox.
Relying on multiple various storages can lead to confusion and time wasted on teammates searching for the correct version of an asset or even losing valuable assets when some storage gets lost by accident because it is difficult to keep track of all hard drives, Dropboxes, etc.
Traditional Storage Doesn't Offer Good Organization Tools
Without a system for organizing and categorizing files, remote teams may struggle to find the files they need when they need them.
Something like Google Drive, for instance, has but rudimentary metadata management features. So you can search by creation date, file's title, or author.
It works in a pinch when you have 20-30 assets that you know by heart. But what happens when you have thousands of assets? Or when you have a new hire that is not familiar with the arcane network of dependencies and connections that only you understand?
Lack of Unified Communication Channels
Without face-to-face interaction, it can be difficult for team members to stay on the same page and ensure everyone is working towards the same goal.
So what happens is that you will have your assets in one place, and communication about assets in a completely different one. Like you'll have assets in Dropbox and talk about those assets through email or in Slack.
If you lose track of the conversation and try to resume it on a later date, it might take you some time to match the conversations with the assets in question...not to mention the unending string of questions like "Can I use this picture" or "Can you help me find x asset?"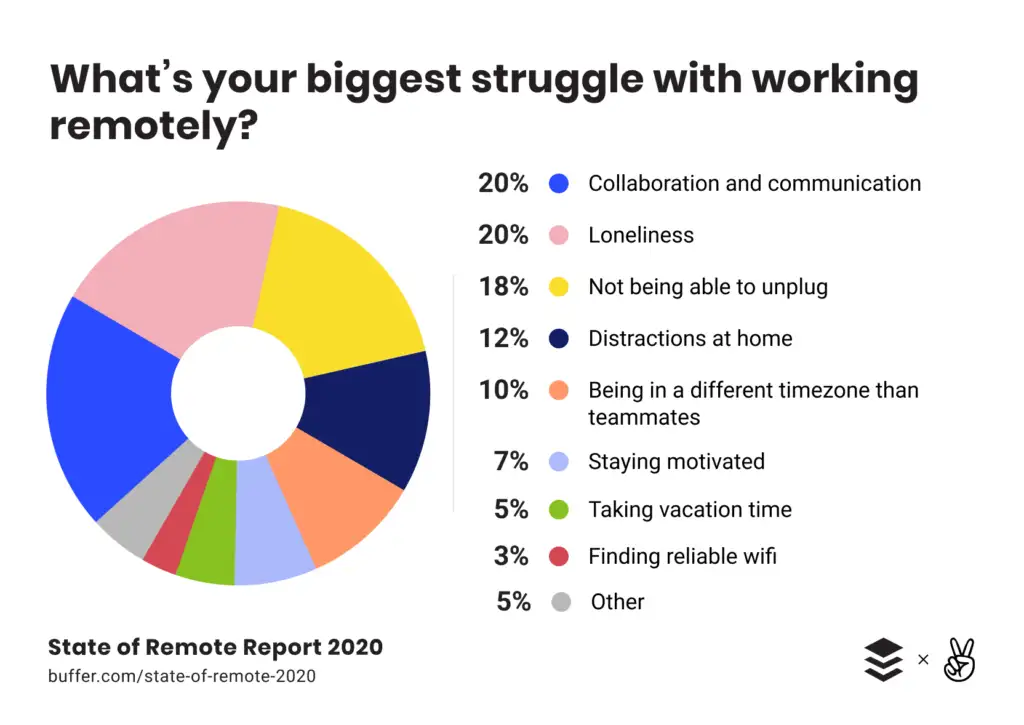 ---
A lack of a centralized hub for all asset management needs creates a lot of unexpected complications for remote work teams. These complications are solved by the introduction of digital asset management solutions.
With that said, let's look at how digital asset management for remote teams can reduce these pain points.
4 Benefits of Digital Asset Management for Remote Workers
Improved Communication. Every asset in DAM software has a dedicated comment section, where you can track revisions and all feedback about any single asset. This makes it easy to remember the availability and consensus on any given asset, as you don't need to constantly @ your teammates to get the latest update; you can just bring up the asset's info panel and see all you need yourself.
Increased Productivity. With a DAM for your remote teams, employees can find the assets they need at improved speeds. files. Using a combination of keywords, custom fields, and other metadata tags, they don't even need to remember the name or exact appearance of the asset, as they can just specify their criteria and the system will bring up all assets that match it. According to the DAM benefits report, using the DAM system can save each user up to 10/hours per month that they would have otherwise spent looking for assets.
Better Sharing. Digital asset management solution offers a simple way to share single assets in one click by generating links directly to the assets in your DAM. So you don't need to worry about rehosting your assets elsewhere. What's more, with the branded portals that we call Websites, you can share entire collections as interactive galleries in just a few minutes. Thus, you can deliver the assets to the stakeholders at never-before-seen speeds, drastically improving your asset pipeline.
Improved Organization and Permission Management. A DAM for a remote workforce can completely eliminate inquiries about the availability of the assets or permission to use them by offering you a granular way to manage asset permissions. You can create as many DAM roles as you need and specify, for each role, which assets they can see, use, or edit. In short, if you don't want your marketing people to use some R&D assets, you can save yourself a lot of nerves by simply making it so that they can't see them whatsoever.
Considering that these advantages seem to solve the majority of problems associated with remote work - async work environment, lack of proper communication channels, etc. - remote teams need digital asset management as the all-in-one solution to fix these prevailing problems.
How Pics.io DAM Solution Can Help Remote Workers?
The features we've described above are available across-the-board. Remote teams that need DAM, thus, should expect these from any reputable DAM vendor.
However, Pics.io has a few more tricks up our sleeves that you may find useful or otherwise interesting ;)
Give Pics.io DAM a try
free 7-day trial
Competitive Pricing. One of the biggest roadblocks to the adoption of any new tools (that do make your life easier) is the price. Even if the software is good, spending thousands of dollars and the time and effort required to adopt a new system on something that might not just work for you... can be a tough sell. Pics.io understand that which is why we have plans as low as Micro which starts at $150/mo and you can always easily scale up whenever you need.

Google Drive and Amazon S3 Integration. Do you already have Google Drive or Amazon S3 storage that you love and would just love if it was a bit...smarter? You can do it with Pics.io! Thanks to our full integration with these storage types, you can keep your assets where they are while using Pics.io as a smart interface to manage and interact with your assets. So, no vendor lock, no cumbersome asset migration - literally Plug'n'Play.
Looks and Feels the Same Anywhere. From your computer to tablet to smartphone - Pics.io offers the same functionality on all screen types as it's completely cloud and web-based. This can be especially helpful for remote teammates that might not always have the access to their most powerful devices but that still might need to access Pics.io's digital asset management functionality.
Onboarding Managers that Stick with You All the Way. Let's face it: even the best UI/UX in the world can't simplify something to a point where it is easy to pick up all nuances. Pics.io offers free training for your entire team where we not only teach you about how to use Pics.io but will also help you understand what business challenges you can solve by using DAM workflow.
Conclusion
The role of digital asset management in remote work cannot be overstated. By introducing just one solution into your workflows you can solve so many challenges such as:
Lack of a single source of truth for your digital assets
Problems with security and access to sensitive assets
Lack of a unified interface that allows you to keep assets and feedback about them in one place
and more.
A DAM system like Pics.io can help you manage remote teams like never before. Solving these micromanagement-Esque, bureaucratic challenges of just finding the things you need to do your work lets your team focus on actual productivity and creative output.
If you're still on the fence, then there's no better way to become convinced than to try it out for yourself! Pics.io offers a free 7-day trial (no credit card required) and you can always upgrade to a paid sub once you feel that Pics.io is the right fit for you.
Give Pics.io DAM a try
free 7-day trial
And, as always, don't hesitate to book a demo with us where we can answer all of your questions!
See you there ;)
Did you enjoy this article? Give Pics.io a try — or book a demo with us, and we'll be happy to answer any of your questions.