With every problem, the solution is always around the corner. Doubly so for the management of your digital photo library. From simple storage options to robust editors, developers had produced dozens of options to please everyone. But which option to pick?
Suppose you just need cloud storage to dump your photos into or you need a wide range of editing functionality. In such scenarios, the choice is straightforward - Google Photos and Adobe Suite are as good as it gets at fulfilling these needs. What about when you need a mix of both, however? Google Photos isn't that good at being an editor and paying both for Lightroom and Photoshop can get quite pricey if you need just the basics of each. Or, perhaps, you need something else, like an ability to categorize your photos by specific keywords, tags, or metadata?
In these situations, choices broaden and decisions become harder. Don't fret, though - this time we are going to cover both the basics of photo management software and give you a roundup of programs that might just suit your precise desire.
What is Photo Management Software?
The thing we need to understand about photo management software is that it is a moniker that encompasses a wide range of offerings. Something as simple as a virtual folder in the cloud where you keep your photos and as extensive as breaking it all down by collections, geotagging, keywords, etc. While the complexity varies, the general purpose and principle remain the same - to help users spend less time searching for and retrieving photos.
The extent to which you should bother with setting up a photo management solution will therefore depend on your needs. Do you just need to quickly send photos up in the cloud to carry them to your new PC or just share them with someone else? Google Photos will work in a pinch. Are you constantly working with photographs, either as a professional, hobbyist, or just the family's designated photo keeper? You'll need something more robust: nested folders, sorting by name, location, date, and whatever else you can come up with. Imagine working with dozens of clients and mixing up their photos OR simply forgetting where they are. Or, heavens forbid, your uncle won't stop pestering you about "those two photos from that you remember which fishing trip" and he won't leave you alone until you send them.
Surprising Benefits of Photo Management Software
Categorization aside, the modern photo management software brings with itself some surprising benefits that cannot be replicated by the creation of an intricate nested folder system on your computer.
Frees Up Space
It feels like demand for more storage will never wane. First, the modern hardware made a transition from hard to flash storage - it's faster, but also more expensive. It's much rarer to see someone with terabytes worth of flash storage capacity. So we are already losing space here. Then, we are seeing an ever-rising demand for higher definitions - 1080p is old news, 4k became a new standard. Thus we have less storage and files that eat more of it, making our demand for cloud storage higher than ever.
Photo management software either offers cloud storage or facilitates the swift transfer from your PC to the cloud, so you can free up space on your laptop, phone, etc.
Sharing Made Easy
Let's say you need to send a photo to another person. If it's just one person and you don't care about image compression, many messaging apps will do just fine. Sending one photo to many people over and over can get tiresome. Not to mention if we are talking about a professional setting, where the receiver needs to see the photo in its original size and definition.
Cloud-based photo management allows you to generate a direct link to a particular photo (or even a collection of them), that you can just send to everyone without worrying about the rest.
Best Pick of Photo Management Software
Google Photos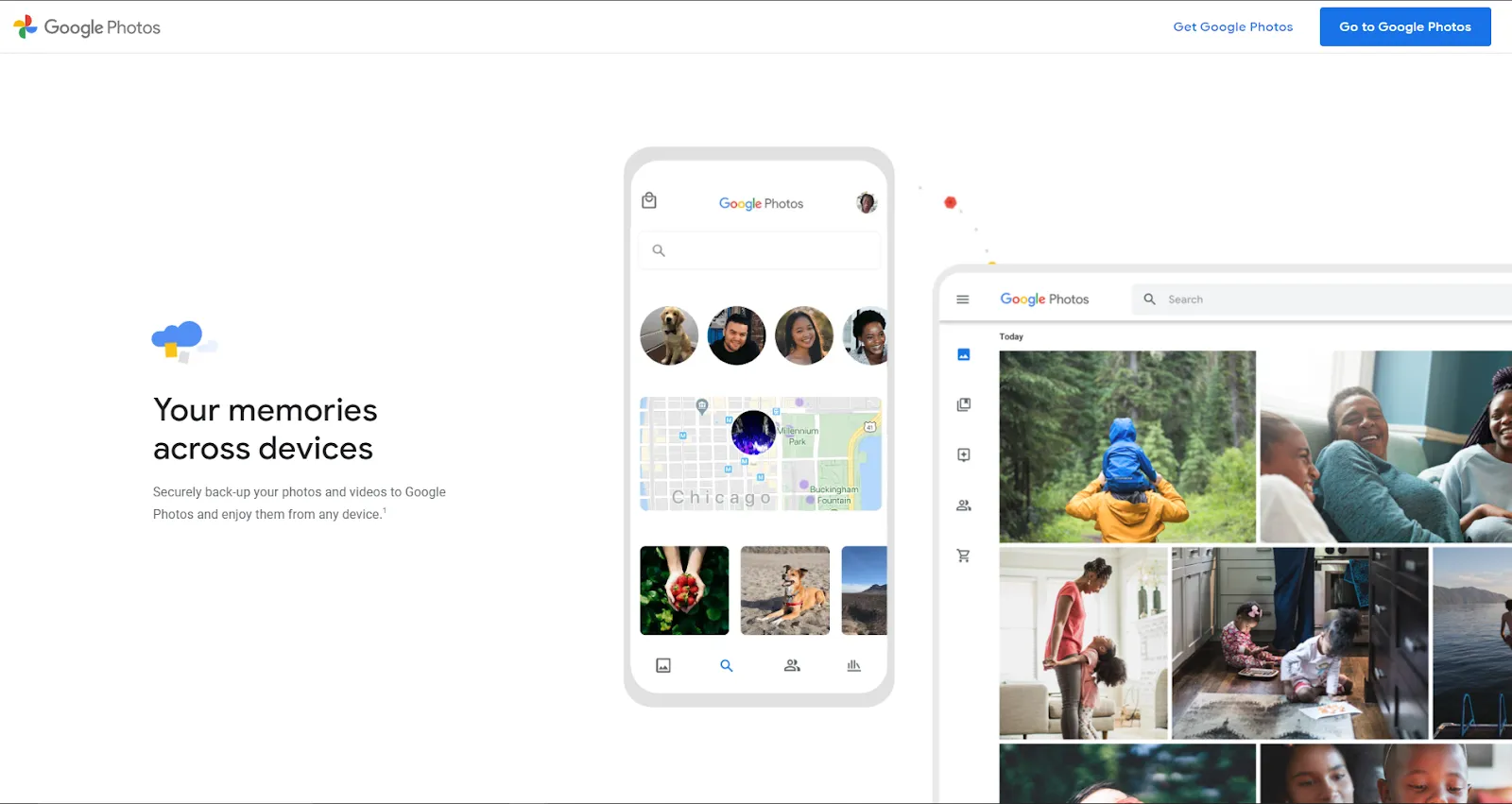 Google Photos is a cloud-based photo management software from a well-recognized tech giant. Its main draws are the all-pervasive Google ecosystem that many users are familiar with and the fact that it swiftly integrates with all other software and hardware offerings from the company. So if you have an Android smartphone, chances are that you already have an option to automatically backup your photos to the cloud and if you're using Google Drive or Google Docs, you can easily pull photos from one place to another.
Pros: Google Photos also offers a limited photo-editing capability (exposure, brightness, color grading), and boasts some powerful AI-backed technology that can automatically sort your photos by geolocation or you can use object search to look for the photos that you don't precisely remember.
Cons: The main drawback of Google's offering is that its custom metadata features are not extensive enough, so you have to rely on Google's AI on making the right guesses about your photos. That, and that while being nominally free, it requires a paid subscription if you want to upload uncompressed images.
Google Photos might be a good pick for you if you like the Google ecosystem and don't need extensive tagging or editing features.
MAGIX Photo Manager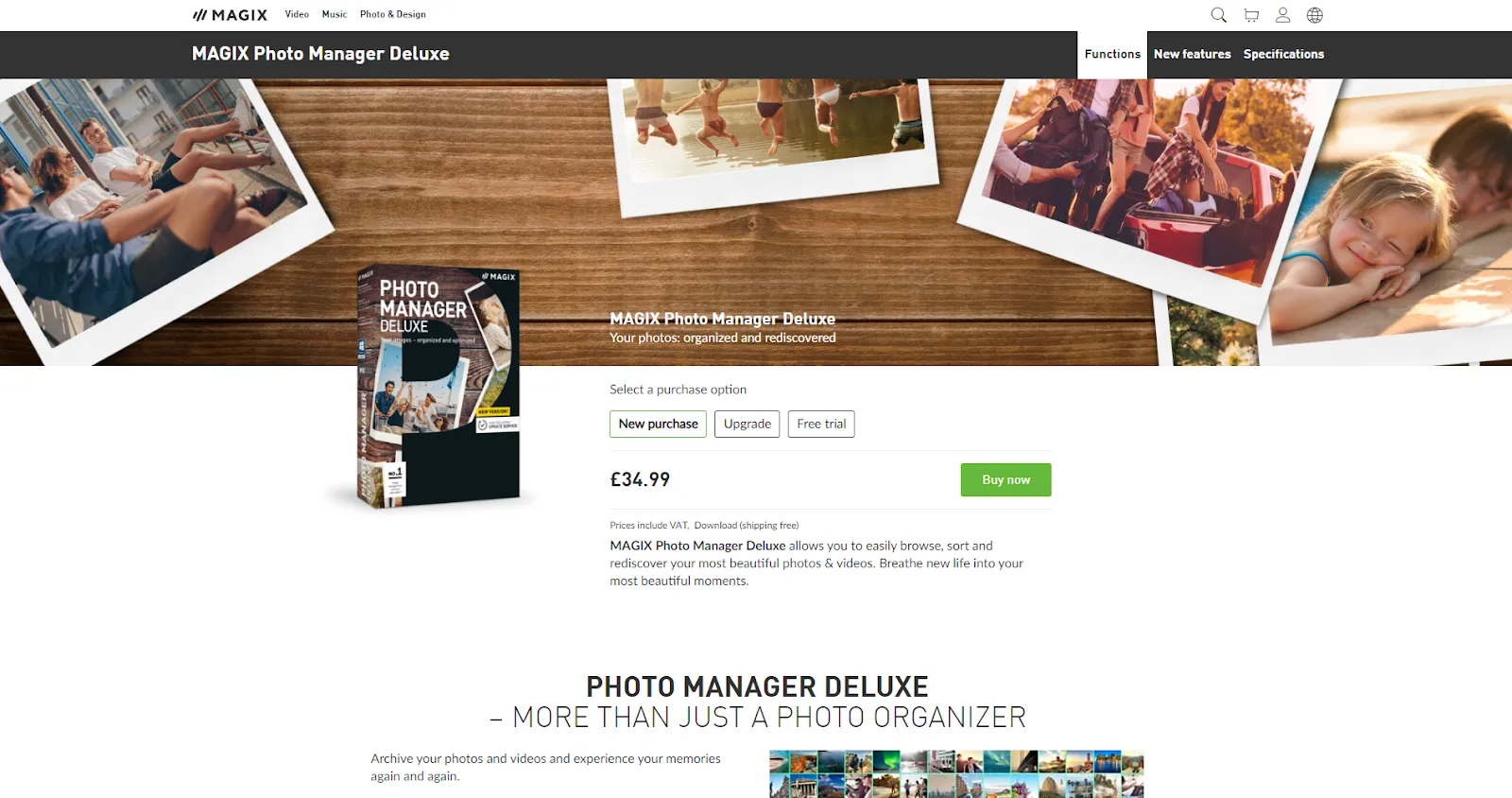 MAGIX offers some robust and neat features that can make your photos truly shine.
Pros: In addition to the expected sorting features, MAGIX offers some interesting photo editing features: for instance, you can level the horizon of your photos with one simple motion, and also automatically create panoramas from multiple photos: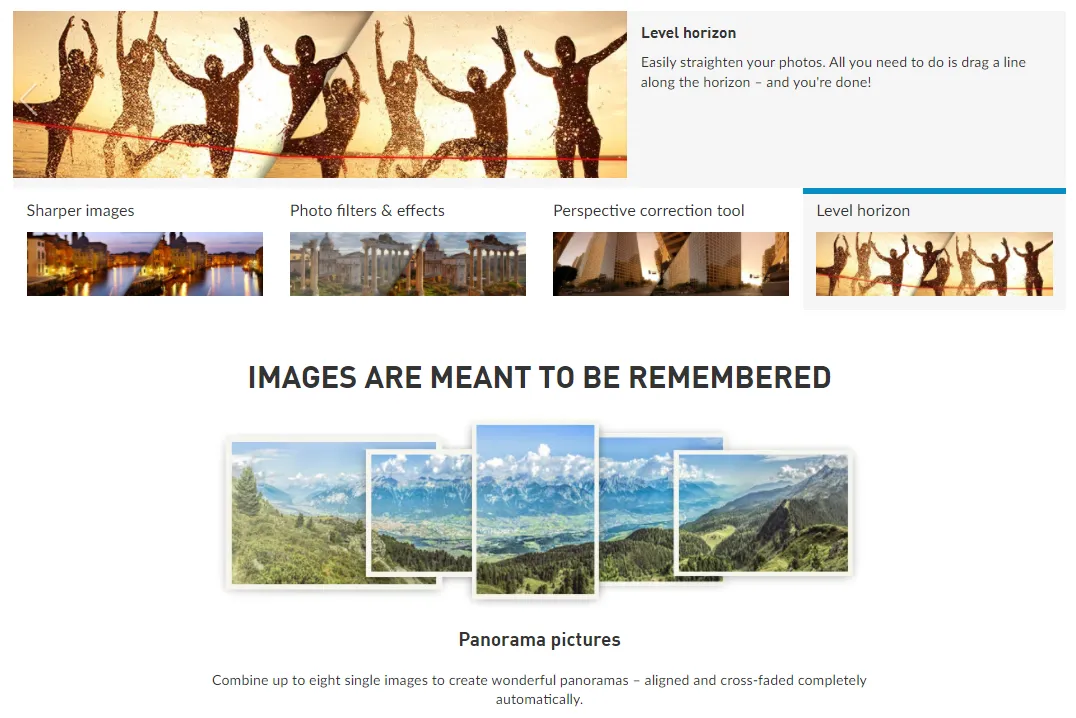 Cons: The glaring downside of MAGIX is that it does not offer a cloud storage solution. It does offer an easy way to import your pictures from the cloud but this means that if you need cloud storage, you'll have to shell out more money on top of MAGIX's $49.99 asking price.
MAGIX might be a good pick for you if you need streamlined and robust photo editing features and the lack of cloud-based storage isn't a deal-breaker to you.
Adobe Lightroom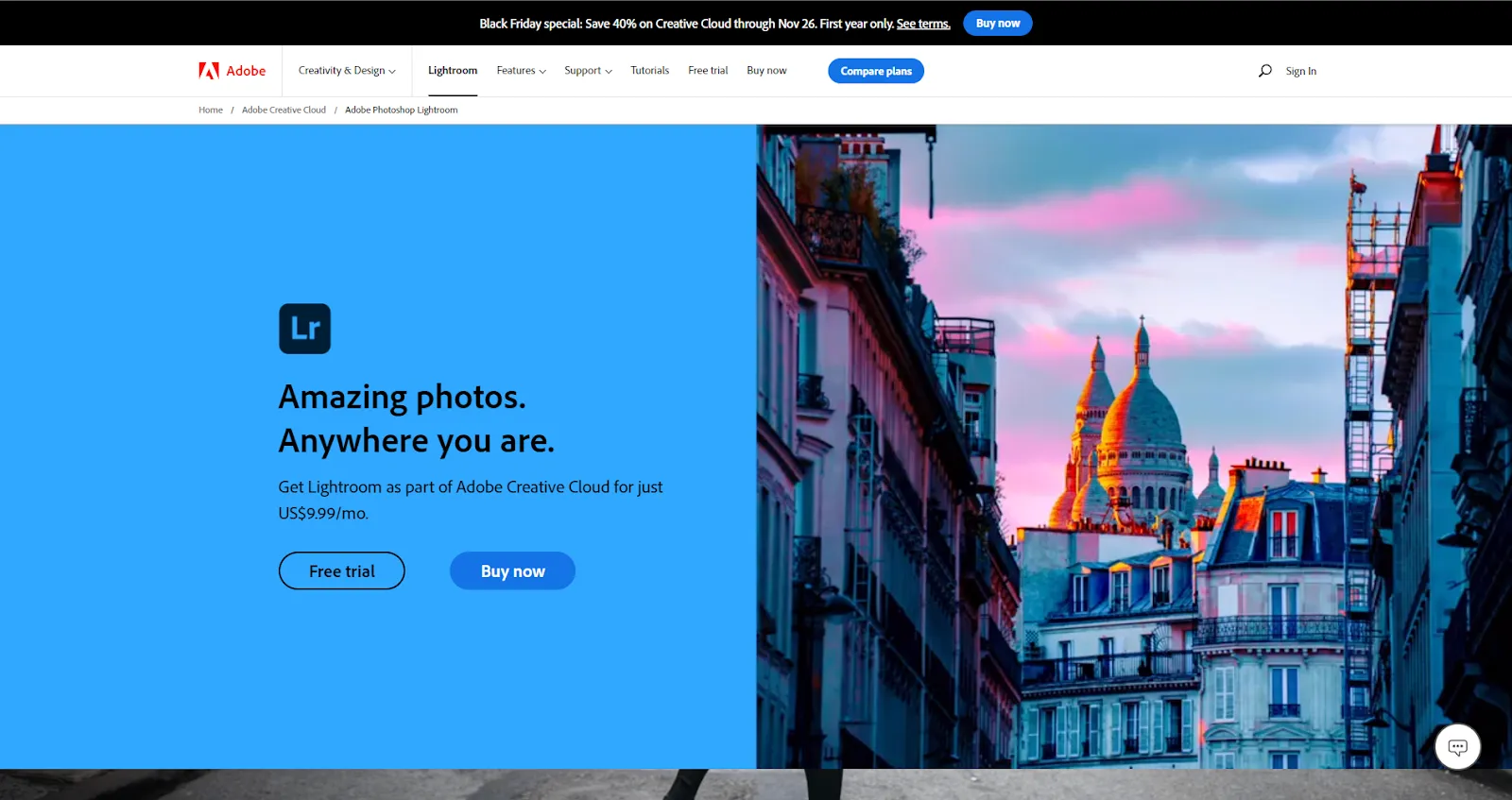 There is a reason why Adobe remains such an important player in the scene, and Lightroom is just another testament to that. Created specifically to meet photographers' needs, Lightroom is like Photoshop's little sister with a few extra tricks up its sleeve.
Pros: Lightroom has a built-in cloud-based cataloging system that you can swiftly arrange to suit your needs thanks to Adobe's AI-powered object and face recognition functionality. The main reason that professionals pick Lightroom is for its editing options. Either through granular adjustments or built-in presets, Lightroom helps you make photos better. And the best thing is that it understands that edits aren't always the right thing to do. Virtual Copies allow you to make a "snapshot" of a photo to experiment with if you don't want to mess with the original file. If everything else fails, Lightroom allows you to reverse all edits on a photo even if they were made months ago.
Oh, and it goes without saying that it easily integrates with Adobe Suite (Photoshop, Premiere, etc.)
Cons: Lightroom can be a bit too much if you are primarily focused on storing and organizing your collection.
Lightroom might be a good pick for you if you really care about editing capabilities and cloud-based storage is just a nice extra bonus for you.
Luminar AI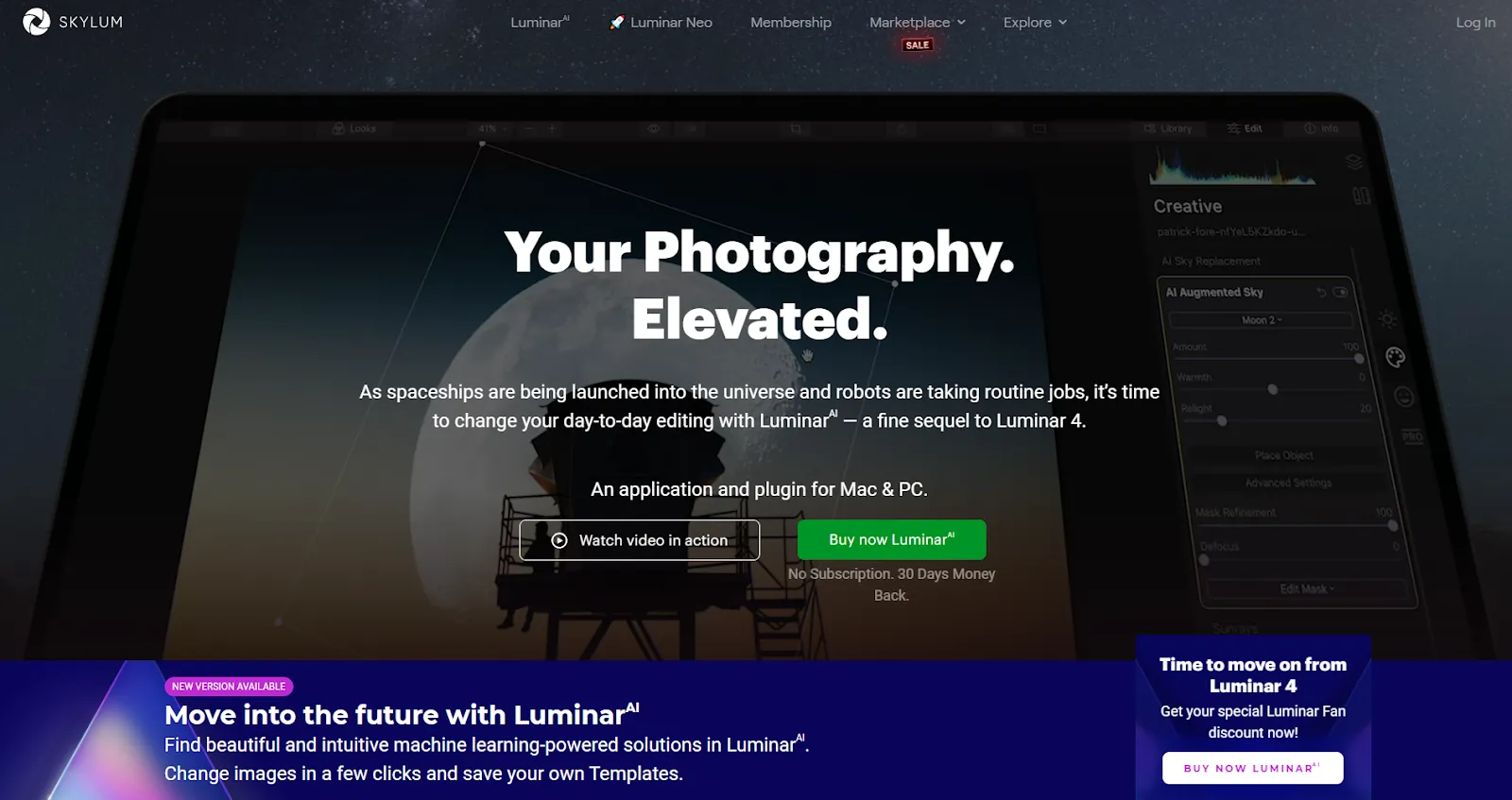 Luminar is an old player on the market and they have recently updated their solution to bring AI features to the forefront.
Pros: The key feature of this new addition are Templates - AI-powered image corrections and filters. So instead of just slapping a preset on the photo hoping it will work great, Luminar uses AI technology to suggest the best Template for your photo which it then fine-tunes with hundreds of small edits.
AI features don't stop on that, however. With Luminar, you can add many alterations to the photos - change a person's physique, add bokeh effect, alter the subject's eye color - all as if you were a life-long Photoshop master!
Cons: You'd think that AI is a perfect tool to make great indexing and categorization features, but Luminar AI actually lacks something as simple as labeling, keywording, and tagging! So while it's possible to organize files with Luminar, it might take you a while.
Luminar AI might be a good pick for you if you want to make your photos pop with little effort, but it is as good as Google Drive at organizing your collection.
Digital Asset Management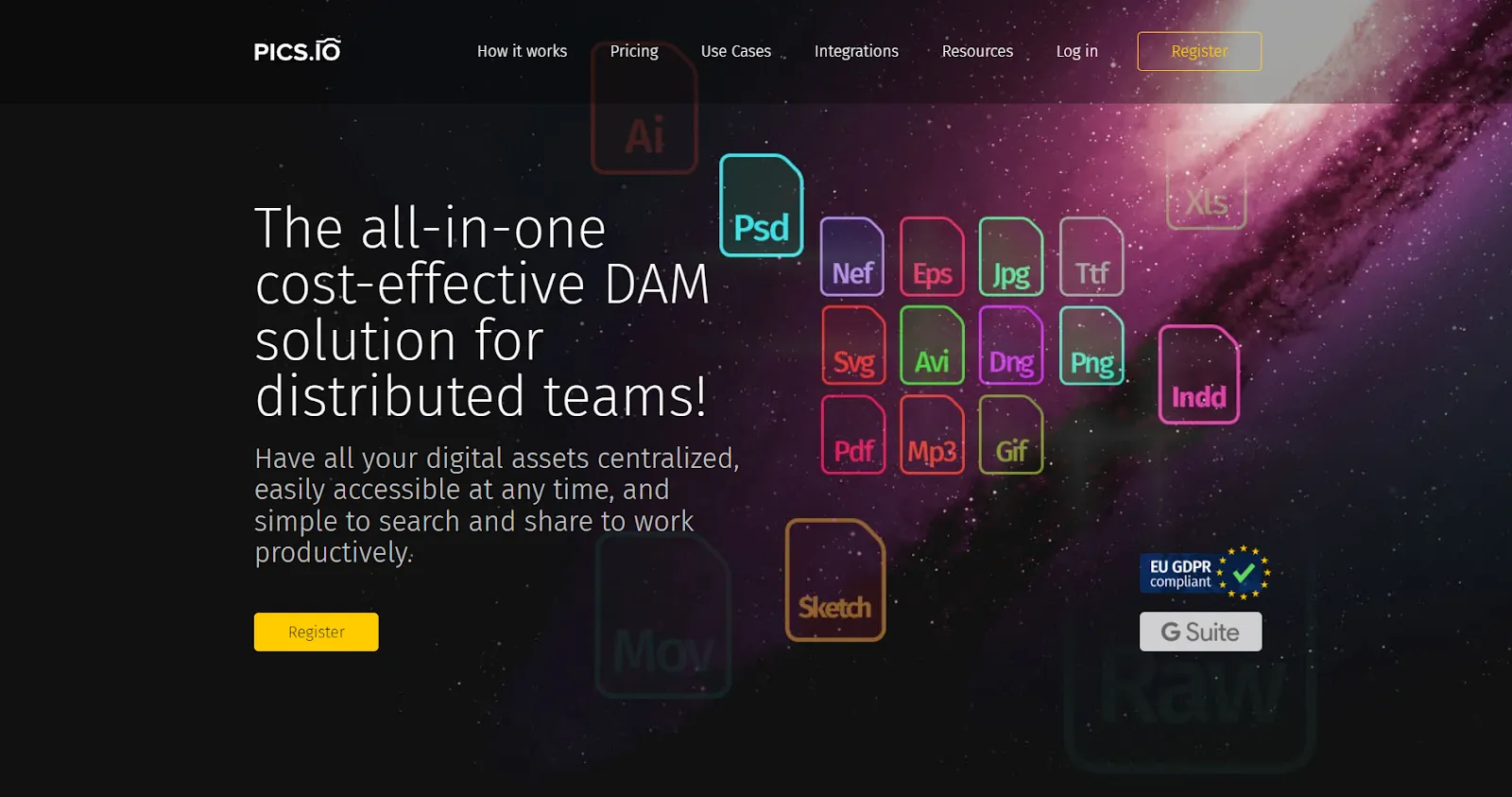 Digital Asset Management (DAM) solution is what happens if you were to look at all the photo management software and ponder: "that's great, but what if everything at once?"
Well… not that dramatic, actually, but yes - the idea behind DAMs is to incorporate all the best practices and features of the photo management solutions into one package that can be used from anywhere.
The biggest differentiator here is the wide degree of metadata customization. Google Photos will give you things like "time and place when this was taken", "device that took the photo", and maybe you can add an extra comment on top. In contrast, DAMs allow you to add virtually any designator to a photo which works especially well in a corporate setting.
Pics.io is an example of the modern DAM solution that fits these robust criteria of doing virtually everything that you might want to do with photos. Storing, categorizing, sharing, editing, and collaborating on large projects - everything through a modern, intuitive interface. It also can easily integrate with your Google Drive so that transition from one service to another does not feel like the most mind-numbing thing since filing your yearly taxes.
Since we're talking about photo management today, let's look at how Pics.io keywords feature makes photo discovery easier than ever.
Give Pics.io DAM a try
Free 7-day trial
No credit card required
Set up in 3 minutes or less
So, for example, here's a random pull from our Pics.io:


This is a metadata tab for our Adobe integration marketing campaign. You can see that we have it in a specific nested folder (which we dub a collection), but also observe the Keywords window. We've added the "Adobe" keyword, so now if I want to find all photos pertaining to this marketing campaign, I can just use keyword search and it'll be just that: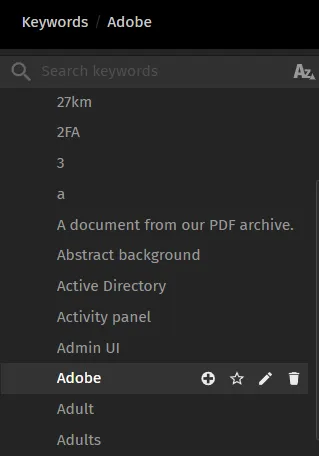 So in an environment where you can make or break marketing campaign by having the right photos at the right time, DAMs functionality can be a literal life-saver.
And even if I don't like something about the photo, I don't really need to pull out Photoshop (although there is such integration if you actually need it) thanks to the built-in image editor that allows you to make some finishing touches.
Sharing photos is easy, too. You can just pick a photo that you'd like to show off, set parameters (e.g. "can they download this photo", "can they comment on it") and click publish to generate a link that will point directly to your photograph or the number of them at once: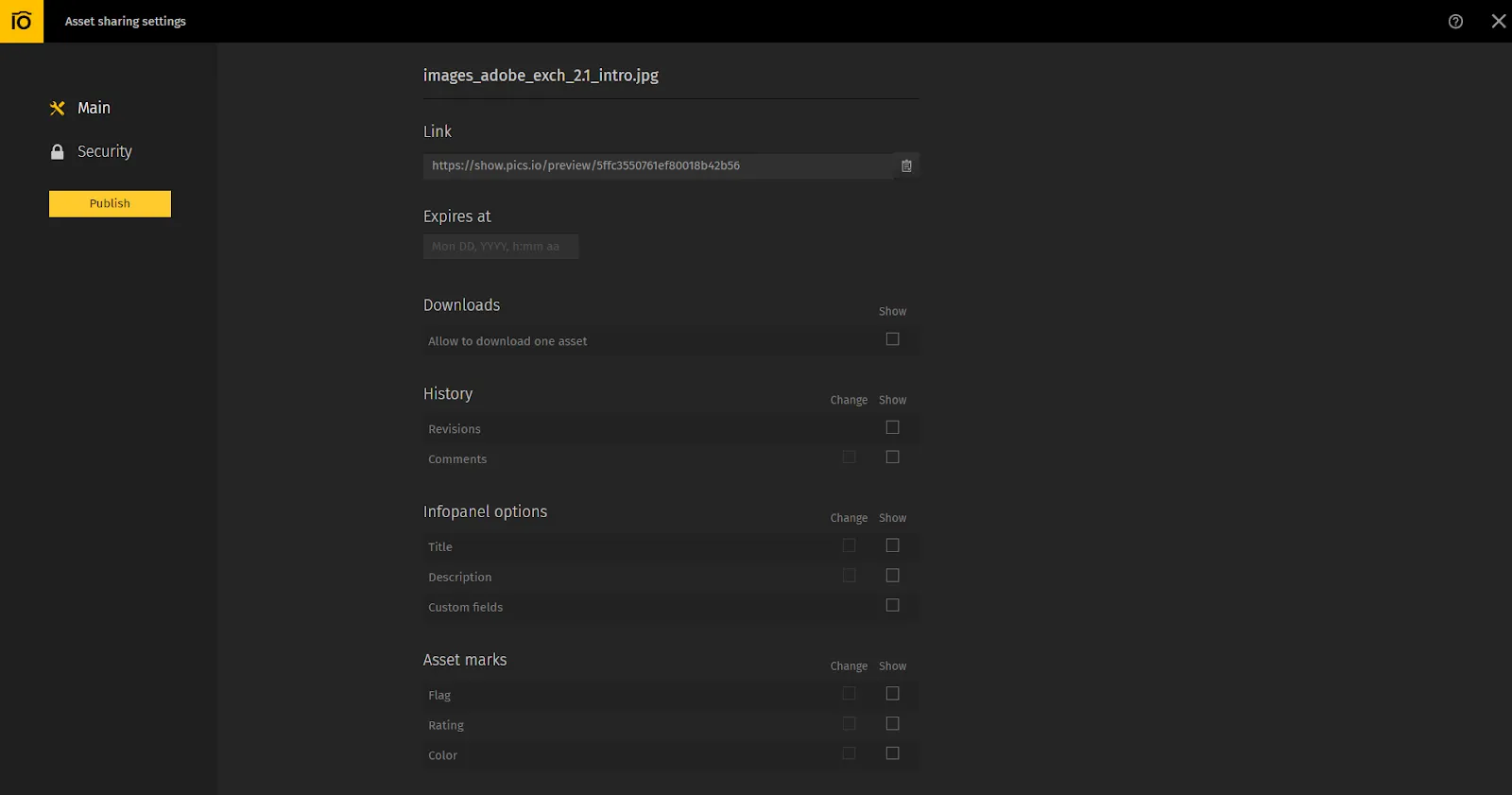 Cons: if you don't need so many organizing features and care more about editing your photos, we'd say Lightroom is still the best option for you. Also, if you're working solo, Pics.io's many team features can become completely irrelevant to you, so that's something to consider as well.
DAM might be a good pick for you if you are constantly working with a large photo library with a need for extensive tagging features, and an ability to share photos while also protecting yourself from fraud.
Photo Management Software on Mac vs PC: Differences and Similarities
Modern UI/UX practices are so refined that using software will be intuitive regardless of whether you're using macOS, Windows, or even Linux. That said, there are certain limitations that you should consider when choosing your photo management software.
Mac Specific Photo Management Software
Did you know that Photoshop debuted as Mac exclusive software? It's a rarity these days, and even Luminar became multiplatform not so long ago. Since we've mentioned Luminar AI, it should be said that they are quite different beasts on Windows and macOS. While they boast the same features, Luminar is a lot more optimized on the Mac, fully utilizing the capability of Apple's new groundbreaking CPUs. So while you can switch from Mac to Windows, keep in mind that your experience will be quite different.
Windows Specific Photo Management Software
More of a rarity these days, but still occurs. MAGIX, for example, doesn't have a macOS version - it is made for Windows only. So if you are hopping between two OS all the time or are planning a switch from Windows to Mac in the foreseeable future, keep in mind that you'll have to learn a new photo management software.
OS-agnostic
Adobe Suite is the best example of such kind of software. Adobe offers its range of products both on Windows and Mac with complete feature parity, so you won't have to re-learn anything if you switch your operating system. You can start editing your photo on a Mac, upload it to the cloud, do some minor reviews on an Android smartphone and finish it all at your home's Windows PC. The only downside here is that mobile versions of the apps can be a bit more limited in comparison to their desktop counterparts, but large companies such as Adobe are constantly working on narrowing that gap.
Cloud-based Software
Cloud-based software's biggest strength is that it does not really care what OS you're running. Hell, there might be some OS that is yet to be made and cloud software will still work there, provided you have access to the Internet and a web browser. The extra benefit of cloud software is that it does not expect your computer to do the heavy lifting. So even if your PC isn't what it used to be, or you are working remotely, you can still use Pics.io to its max potential.
The only major downside to cloud-based photo management is that as soon as your Internet is out, you can't do any work whatsoever.
Conclusion
Whether you're a hobbyist photographer, professional freelancer, or working in a corporate environment, photo management software (regardless of the choice) is ought to make your life easier.
A correct choice will depend on your needs and expectations. If you need something simple to use, you might go with the free Google Photos option. If you are working in a corporate environment and have a need to collaborate on projects and share assets with prospects and clients, DAMs will be the tool that will help you the most.
If you fall into the latter camp, Pics.io might be just the tool for you. The incredible search and categorizing features make it a great option for those that juggle hundreds and thousands of photographs every day, and when "simply remembering everything" is no longer a possibility. So, if you think that you or your organization can benefit from DAM, give us a try for free!
Give Pics.io DAM a try
Free 7-day trial
No credit card required
Set up in 3 minutes or less
Curious? Learn more about Pics.io or book a demo with us and we'll answer all of your questions!