Even if you don't know how to code, there's a website builder out there for you, whether you're a small business owner, graphic designer, filmmaker, writer, or advisor. So, how do you decide which website builder is suitable for you when there are so many out there?
This article will walk you through the advantages and disadvantages of the most popular website builders. In addition, you can also see the crucial factors to look for when you are choosing the best website builder for you.
What to look for in website builders
Before evaluating the top website builders, I propose you specify what you want to do with your website. For example, what are the services and features that you would like to see on your website?
You can name issues like having a blogging section, gallery, eCommerce, booking, SEO features, and so on. Then, if you're not sure what you want, you can look around for ideas on other websites.
The next step is to analyze your expansion plans. Will your website be updated frequently? Is a blog section considered necessary? Are you planning to add more products to your website in the future? Or, perhaps you want to implement a backlinks API to automate link building for your website?
Whatever you choose, you must ensure that the website builder you select will be able to meet your needs as your company expands.
When examining the best website builder choices for each use-case, keep the following five factors in mind:
User-friendliness – Make sure that the website builder is simple to use, even for complete novices. A drag-and-drop builder, robust editing tools, and customization choices must all be included.
Cost – In this competitive market, look for the website builder that provides the best value for the money. Ask about free domains, SSL certificates, business email, and eCommerce functionality, among other things.
Features and design – Ensure that the website builder has a lot of professional website templates to choose from as well as the ability to add extra features like Google Analytics, usability testing software, and third-party marketing tools.
Customer service – Although website builders should provide an easy-to-use interface, you need to ensure that customer service is available 24/7.
Ownership and data mobility – Beginners sometimes overlook this, but read the terms of service carefully to confirm that you control your data and transfer it if you need to change.
That stated, let's look at the best website builder software for creating a website without hiring a developer or learning how to code from scratch.
WordPress.org - Best for writers and bloggers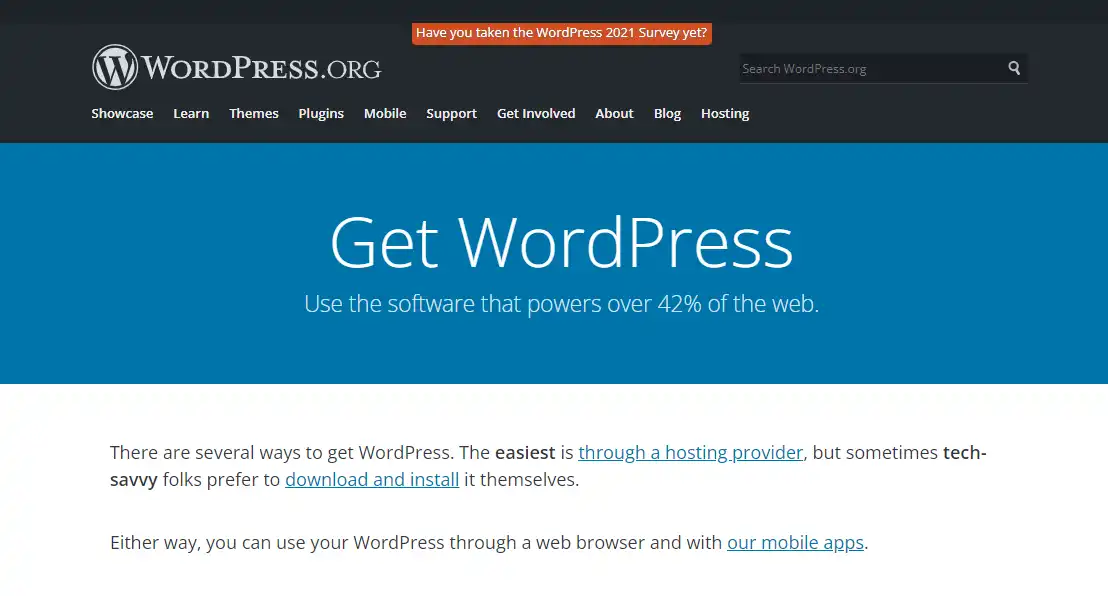 WordPress.org (sometimes known as self-hosted WordPress) is the most widely used website building tool globally. There are two versions of WordPress to choose from: WordPress.org and WordPress.com, both of them have self-hosting options.
WordPress.org is open-source software that anybody can use for free. You only need a domain name and web development hosting to get started. Because of this, it's also known as self-hosted WordPress. On the other hand, WordPress.com is a fully hosted program where you don't have to manage a web server.
Because of its fame, extensive features, and ease of use, self-hosted WordPress claims the number one spot on the website builder list. In addition, WordPress is both free and open source. That indicates that you have complete control over your website compared to any other online website builder on this listing.
It also includes sophisticated SEO techniques that search engines adore, ensuring that your website consistently ranks at the top of search results.
Wix - Best website builder overall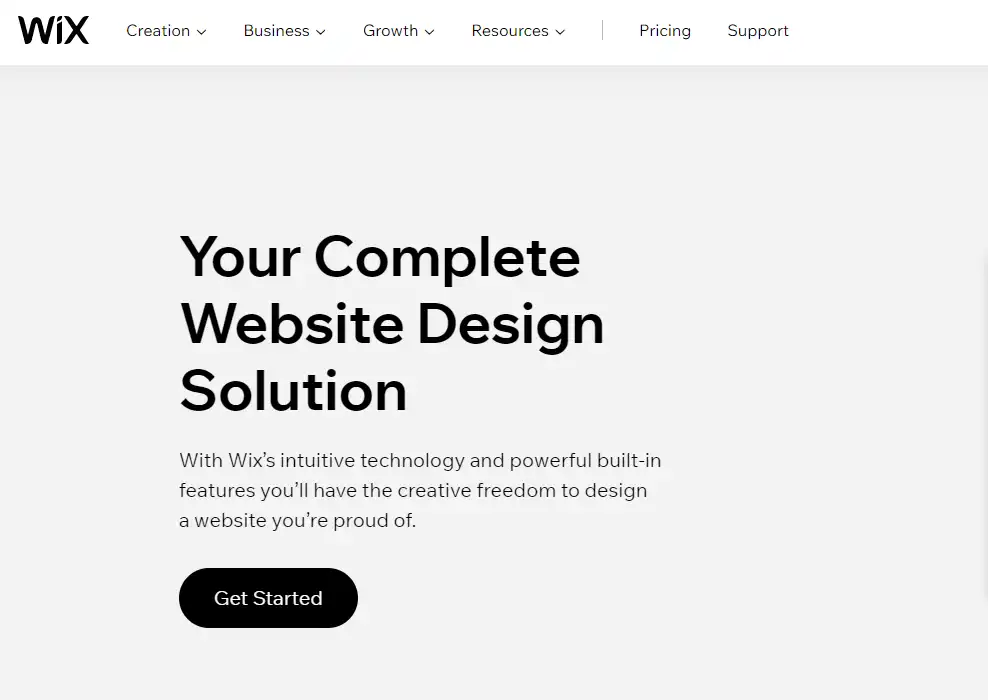 Wix.com is another well-known cloud-based website builder. It combines ease of use with a comprehensive collection of features to let you create a website quickly.
You won't have to pay for maintenance because Wix website maker is a completely hosted platform. You'll have access to hundreds of templates to pick from while designing your website. With its user-friendly drag-and-drop site builder, you can customize each template.
Apart from a large number of designs, Wix also includes a large number of free and paid tools that you can use to customize your website. Such apps allow you to upgrade your website's performance and add new features. What makes things even better is that Wix has an artificial design intelligence to create a stunning website for you.
Wix's editing interface allows you to customize your website rankings by dragging and dropping text fields and pictures to the desired location. Of course, many other builders do this, but Wix's editor is simple to use and does not limit your creativity.
Web.com - Best user-friendly website builder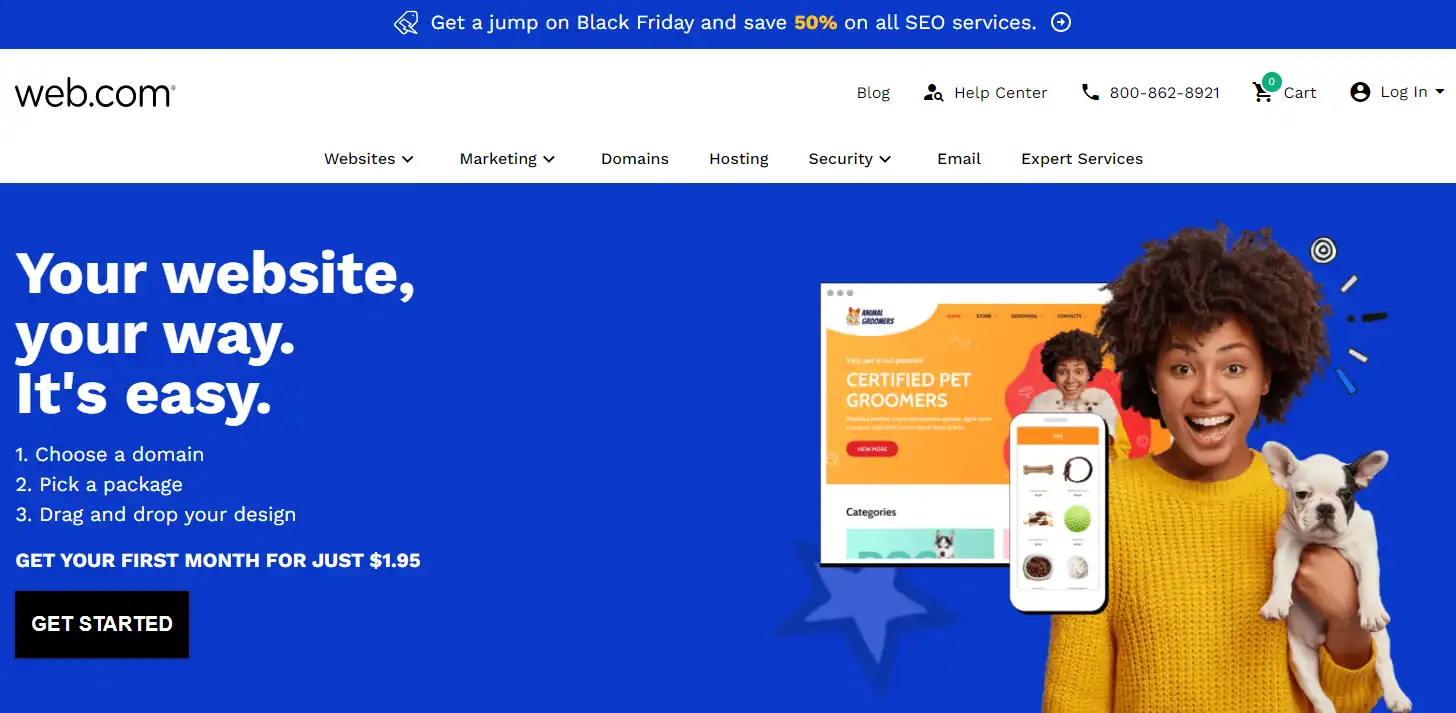 Web.com is a small company website builder that was one of the first and most successful. They provide simple website construction tools at a low cost, allowing anyone to create a website without coding.
Web.com is a powerful drag-and-drop website builder that is simple to use even for non-techies. You can choose from thousands of gorgeous pre-made website templates and easily adjust the design to match your brand.
A great feature is that you can add an unlimited number of pages to your website and change the style of each page separately. In addition, all of their website designs are fully responsive and allow you to alter the design for different gadgets. The best thing? They provide limitless chat and phone support, allowing you to contact their professionals whenever you need assistance.
Squarespace - Best prepackaged design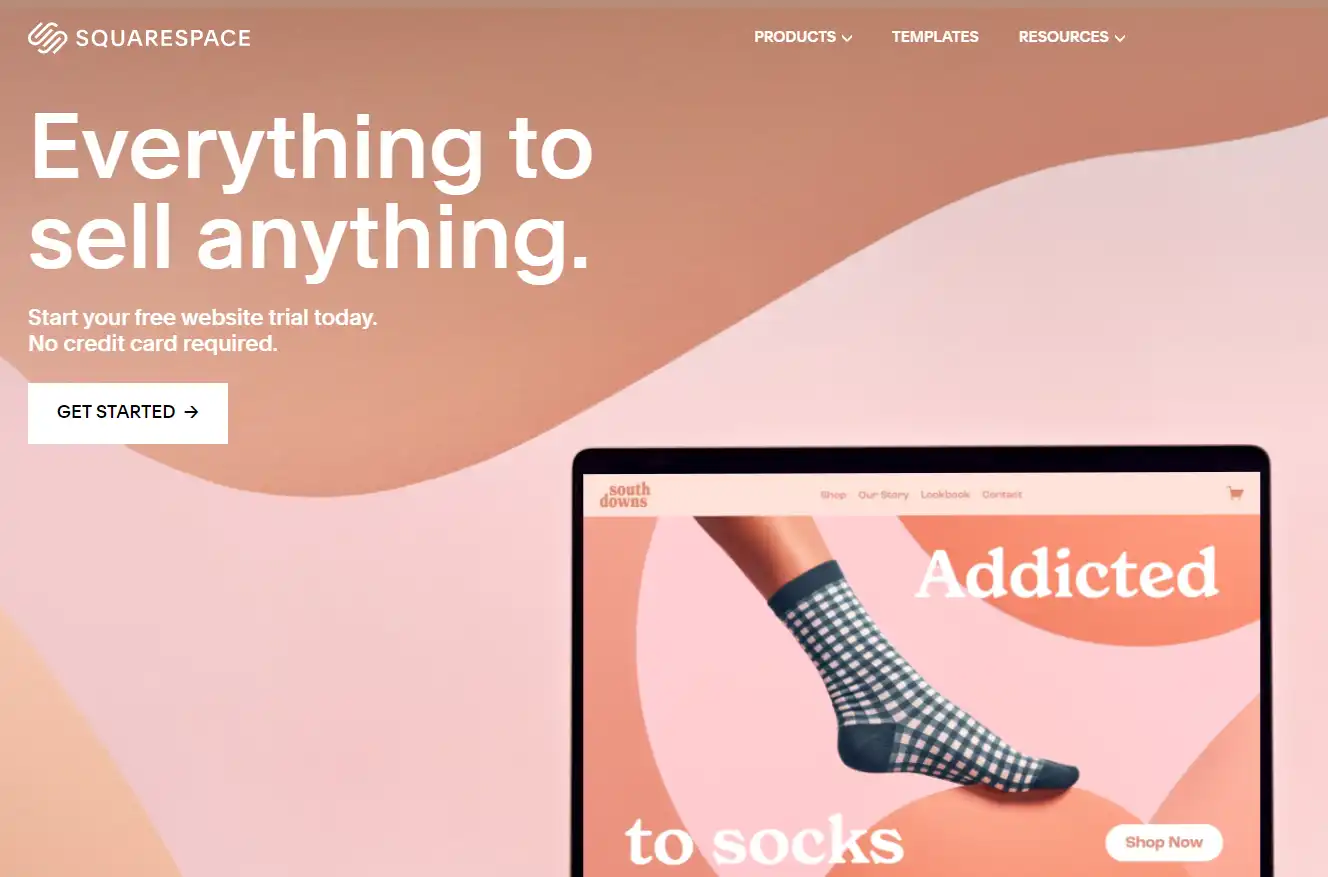 Squarespace is a famous professional website builder that is well-known for its beautiful designs and simplicity. This safe and reliable platform allows you to concentrate on building your company rather than worrying about hosting. It's fully hosted, meaning that Squarespace maintains your site up to date.
To get going, Squarespace has a multitude of website templates. All of these designs are ready to use with any content type. In addition, they're completely customizable, and Squarespace even lets you use multiple layouts for the same website at the same time.
Squarespace makes it simple to add content to your website. Point to a location on your website and begin typing. You can quickly construct your layouts by dragging and dropping elements on pages. In addition, it has a user-friendly interface that allows you to manage your items, inventory, purchases, and more.
HostGator - Best option for small businesses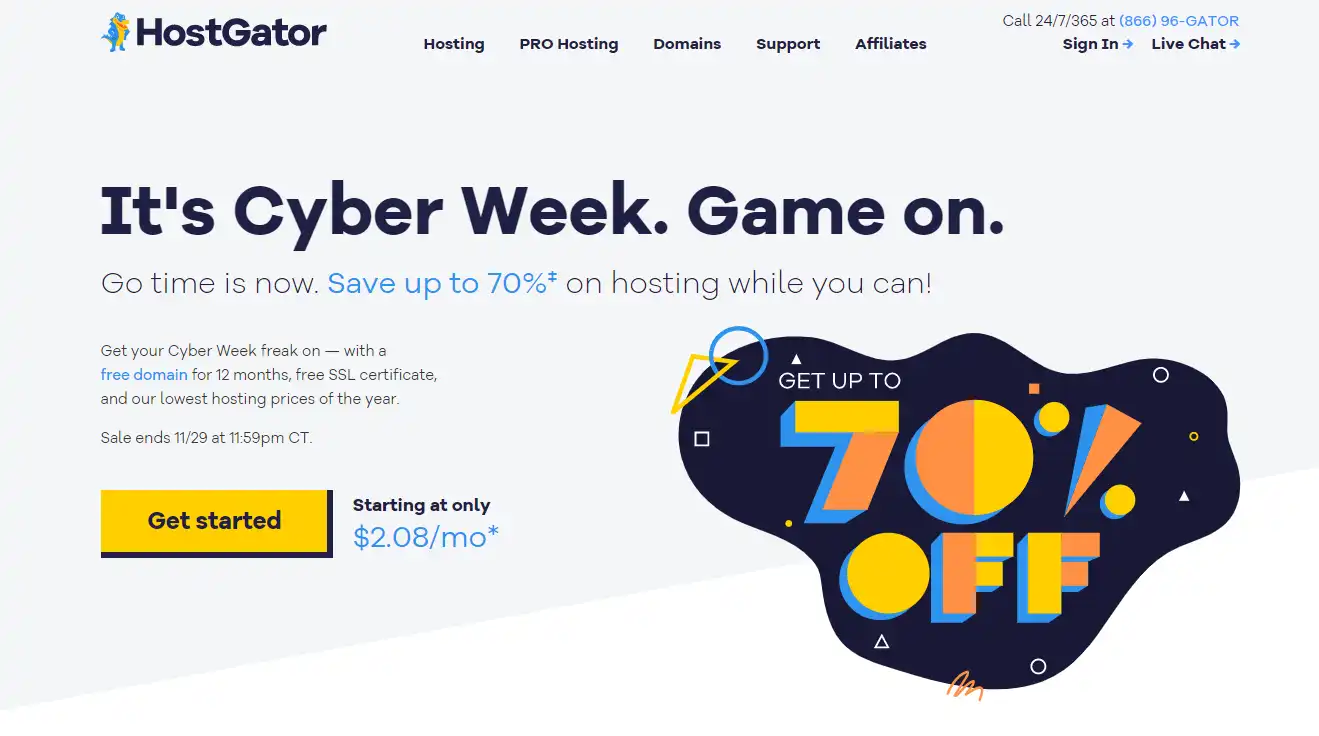 Gator is a successful website builder from HostGator, one of the world's biggest web hosting companies. The Gator builder is a fully-featured website builder and hosting option, ideal for small enterprises.
Gator is a completely hosted platform, so you don't have to bother about software, upgrades, or backups. Instead, you get a simple website builder with 200+ professional website design templates to select from.
With a simple one-click interface, you can change any item on a webpage. Gator also includes a built-in stock photo gallery, allowing you to search and use stunning images on your website. It also allows you to drag and drop objects like images, videos, and more.
BigCommerce - Best for bigger stores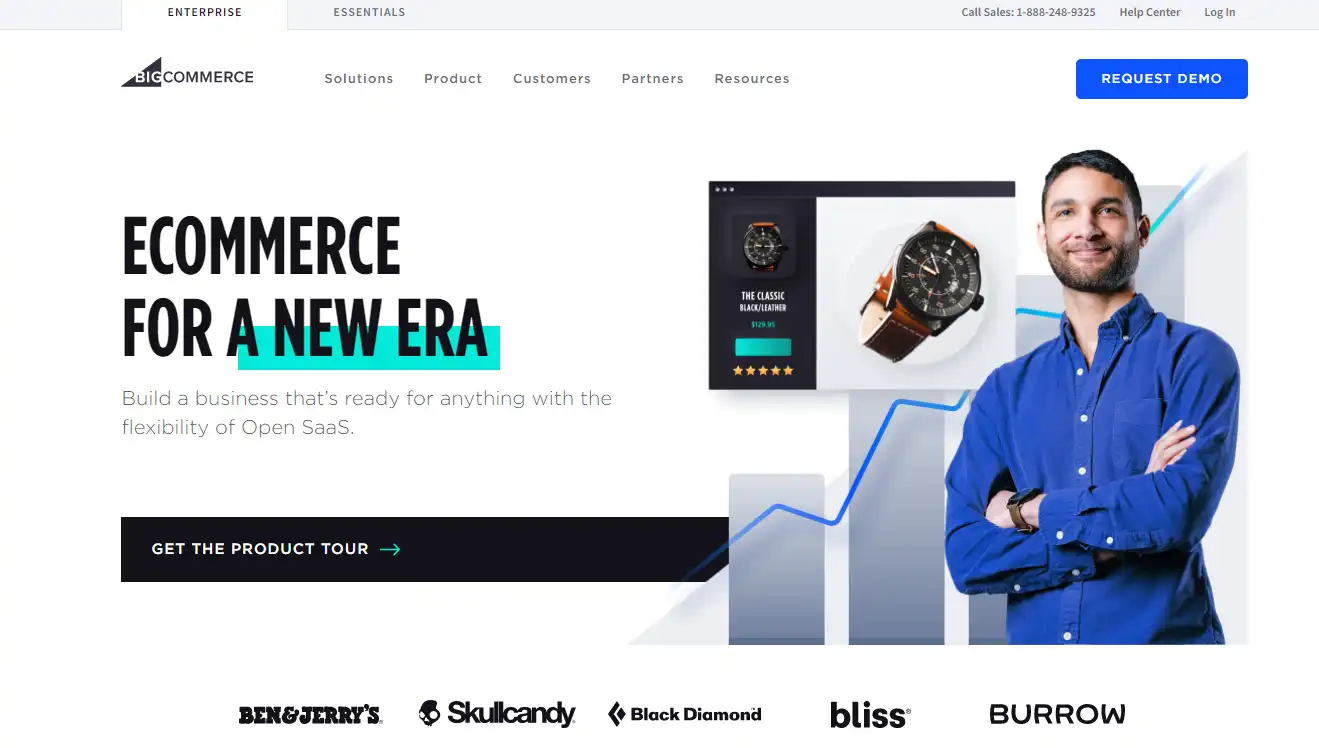 BigCommerce is suitable for medium- to large-scale online stores. That is because they can benefit from the lack of additional transaction costs and the ability to create limitless product variants.
The editor provides many options and versatility when you're just getting started. Still, it can be intimidating for newbies, comparable to Wix (it has many features that need a third-party connection from their app store). However, if you have some expertise, such features and tools (such as product variants and tax rates) will most likely come in helpful when your business grows. Moreover, by incorporating BigCommerce headless, store owners can build a fast & personalized storefront that can be managed and developed without the need for coding knowledge.
BigCommerce costs more than the other website builders on the list if you're just getting started. In addition, switching to BigCommerce will be challenging because it is a proprietary platform.
Although the shop site builder is not as simple to use (unlike Shopify, for example), the time you spend learning it now could save you a lot of money long term. Your e-commerce site can also be linked to eBay, Google Shopping, and Amazon.
GoDaddy - Best for basic websites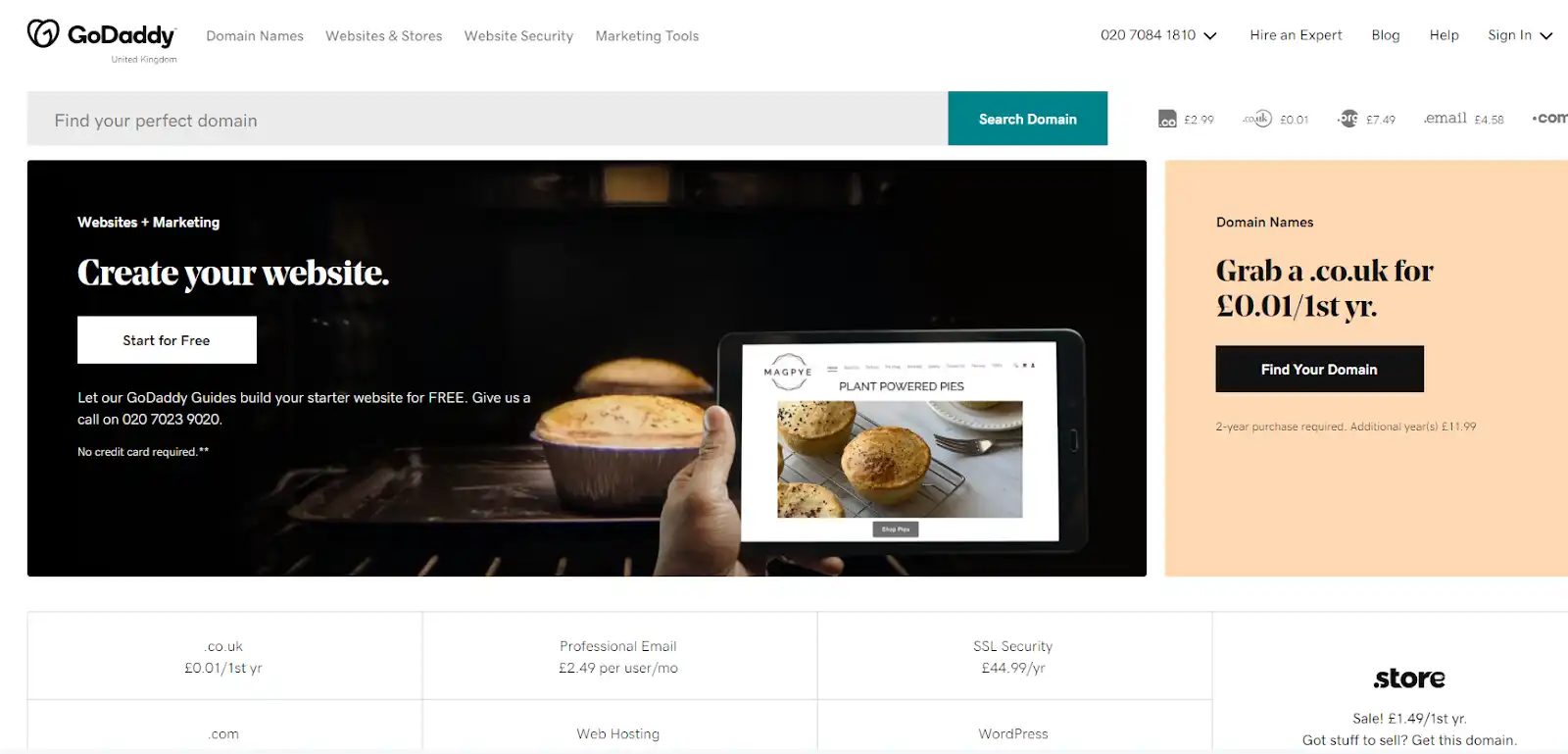 GoDaddy is best known for unique domain names and web hosting. Therefore it's only natural that it also provides website builder software.
When it comes to the internet, GoDaddy is everywhere. It is the world's largest domain registrant and has been for quite some time. GoDaddy Websites + Marketing is a natural extension of that strength – if you already have a GoDaddy domain name, why not buy a website to go with it?
The company's website builder is an all-in-one solution that covers marketing and tools for promoting your website. You get everything in one place: a domain name, a website builder, social media plugins, and email marketing.
DreamHost - Best for any type of website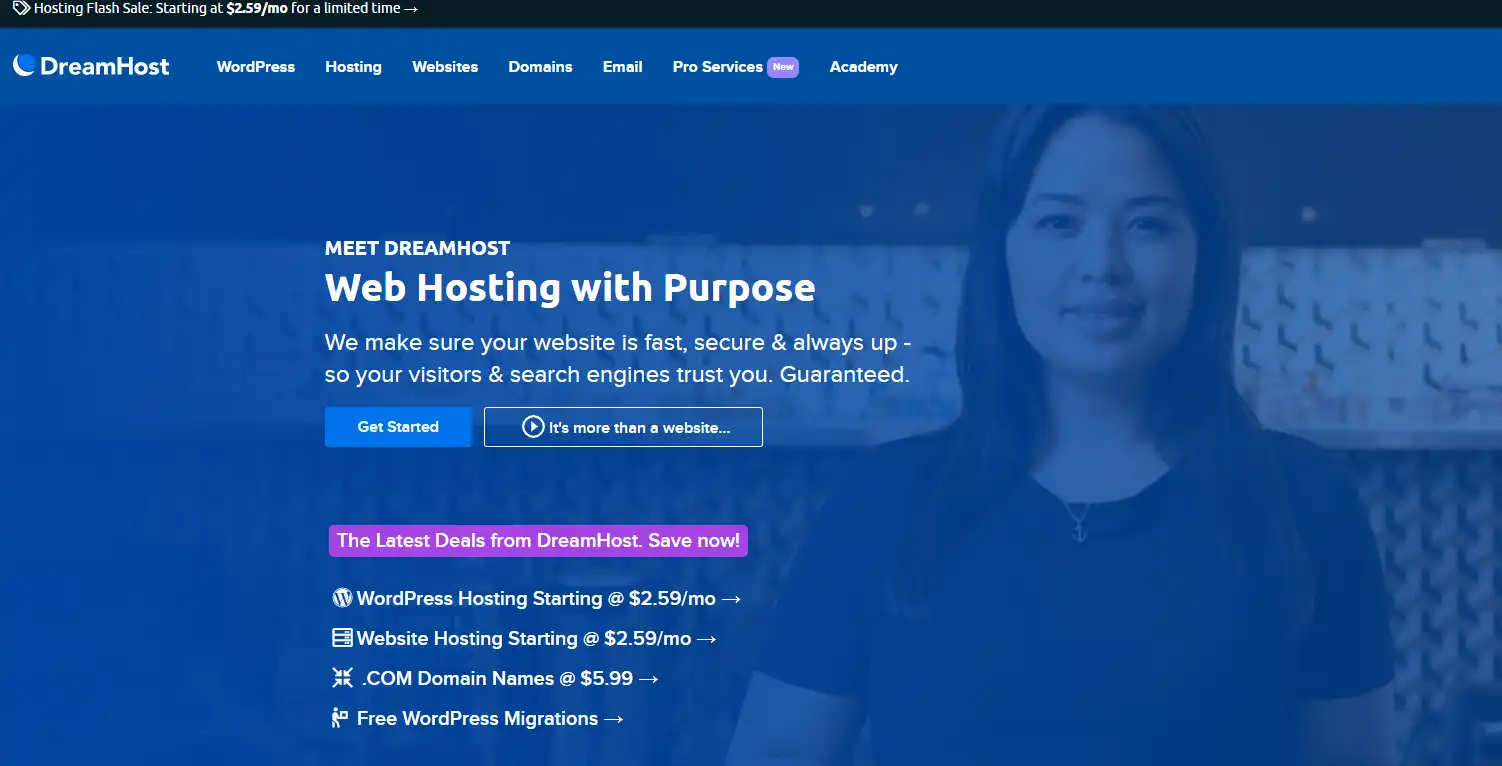 The DreamHost website builder is a new WordPress-based website builder software. It is included in all DreamHost hosting plans.
The DreamHost WP website builder is added on top of WordPress and driven by BoldGrid to get the most out of WordPress while having a unique UX. The website builder on DreamHost allows you to select a stylish look from a portfolio of themes.
Afterward, you may use a drag-and-drop customizer to make changes to the designs. To edit the characteristics of any item on the preview page, simply point and click on it. It also has a complete What You See Is What You Get (WYSIWYG) page editor. So when it comes to updating your WordPress pages, there's no need to assume. You'll get precisely what your page editor window shows.
And now, a small detour into DAM world from our friends at Pics.io:
Digital Assets Management for Your Website Assets
Website builders make the creation process easy, even for non-tech-savvy folks. That said, using premade templates will only get you so far. Personalization is what you need - original videos, pictures, and anything else that you can come up with will be the things that can make your website stand out from the rest.
It's important, however, not only to create assets but not to misplace them. It seems like a trivial ordeal until your project inflates in size or, in this scenario, you start testing these website builders for yourself. Sure, we've tried to make this overview as informative as possible, but there isn't an article that can replace hands-on experience.
So, imagine that you try Wix, but then you maybe want to trial GoDaddy or HostGator. Doing things once, you might be fine with something that can be called "organized storage" from a distance. Repeating the process several times, however, you'd wish that you spent time setting up your project properly. Thankfully, like with website builders, there is a simple way to do that.
Pics.io is a digital assets management (DAM) software, a streamlined solution for organization and safekeeping of your digital assets. Initially created as a cloud-based storage for media files, Pics.io had evolved into a product that does not only keep but enhances your assets with smart keyword searches, watermarking features, version control and so much more!
Give Pics.io DAM a try
Free 7-day trial
No credit card required
Set up in 3 minutes or less
However, for this demonstration, we'll focus on the basics to show how Pics.io can help you while you're experimenting with website builders.
The first thing we should mention about Pics.io is that it integrates with your existing Google Drive storage. Past initial set-up, all your soon-to-be website assets will be available inside Pics.io so you won't have to do extra legwork.
Already, I gain more glance value of my collections in comparison to Google Drive where nested folders are hidden behind clicks. It is not that much of a hassle in this example, but imagine folders inside folders inside folders. It's folders all the way down.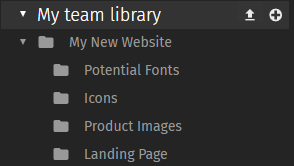 Inside each folder, there are dozens of images, fonts, and other materials that will be beneficial to me at different stages of website creation. Let's say I've set up a landing page already and I want to see how my product pages (I'm selling novelty cat collars, by the way) would fit.
So I already have a picture of the cutest cat with pink bell collar in my collection.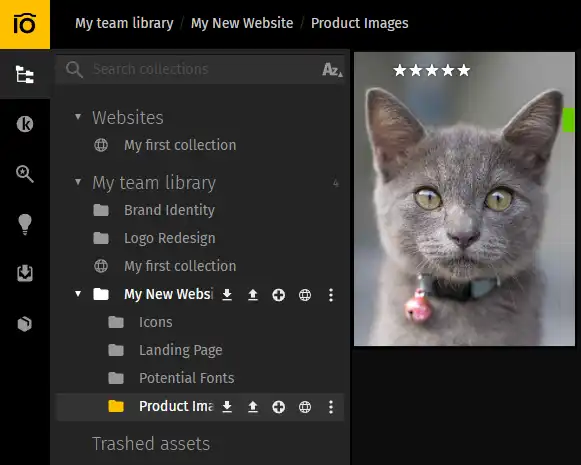 As you can see on the thumbnail, I gave my cat asset some extra features to give glance information about the asset. A green flag means that these are the assets our team agreed to use already. Five stars mean that I rate this cat five stars.
Okay. I think this will look good on my website. But I want to do this thing where I grey out a product image if it's been sold, and I want to know beforehand how it'd look.
To compare grayscale with an original, I can add revision on top of an already existing asset, like so: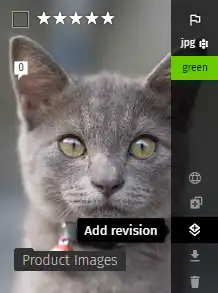 So now I can easily see how it'll look in comparison with the original. Our purring model is already gray-ish, so I was worried that it might not make enough of a difference with a grayscale filter.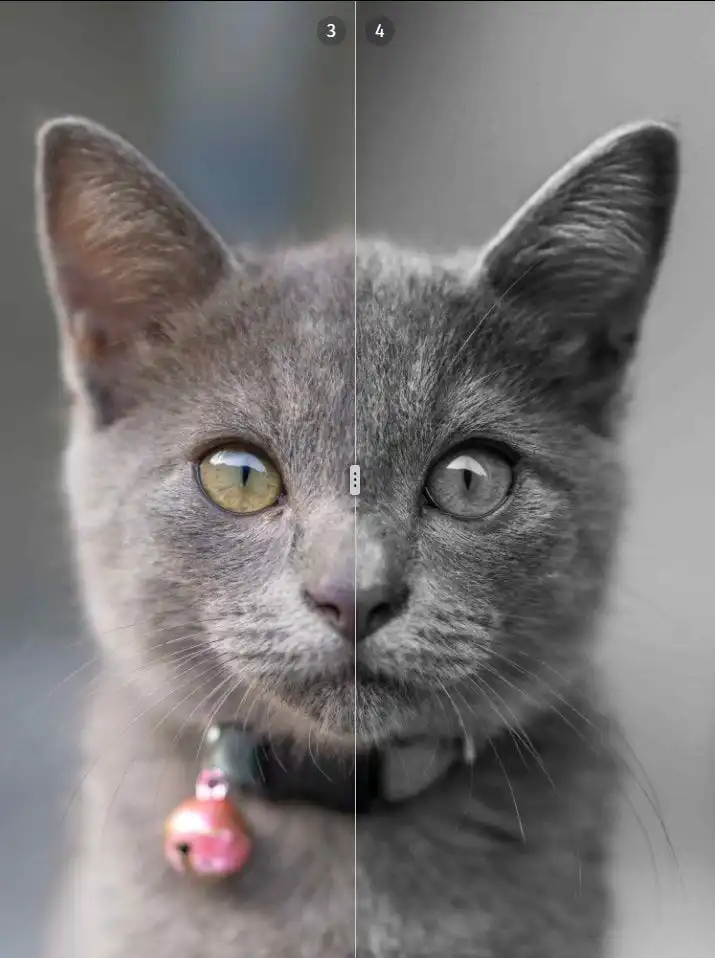 But I think it turned out purrfect.
Conclusion
Without any technical knowledge, you'll be able to design a functional website that promotes your business online using whichever builder you pick.
On the other hand, these top website builders that I've picked will help your company not just show up but also thrive. Finally, you can convert your modest business into the next major thing with the best website builder for you.
And, if you want to make your life even easier than before, you can turn your gaze towards Pics.io's digital assets management offering. Together, these tools will save you so much time, you'll be left wondering why were you spending your time juggling assets and relying on obtuse software.
Give Pics.io DAM a try
Free 7-day trial
No credit card required
Set up in 3 minutes or less
Curious? Learn more about Pics.io or book a demo with us and we'll answer all of your questions!
---
Author
Lindsey Allard is the CEO of
PlaybookUX
, a video-based user feedback software. After seeing how time consuming and expensive gathering feedback was, Lindsey made it her goal to create a solution to streamline the user feedback process.