Videos are the most effective marketing tool. According to HubSpot, they have the highest return on investment (ROI) among all types of content. Statistics show that 91% of users watch videos offered by companies, and for 79% of potential customers, they serve as the main argument when choosing a product. But to succeed, it's not enough to shoot and edit a video — you need to distribute it to the target audience. And YouTube metadata will play a significant role in this process. In today's article, we'll explore what YouTube metadata is, why it's so important, where to find it, and how to edit it.
The Significance of YouTube Metadata in Enhancing Search Rankings
YouTube metadata is service information about a video, which is partially displayed on the page and partially used by hidden algorithms. It benefits all parties involved:
Content creators can optimize videos for their audience's search requests, quickly find relevant materials, and connect automated analytics systems;
Users can easily find interesting videos and learn more about them before watching them;
YouTube uses metadata to categorize and moderate content on the platform, as well as to improve the site's user interface (UI).
We have already mentioned that the metadata of this multimedia service can be divided into two categories. The first category includes visible information accessible to every visitor. It is represented by:
Video title.
A short description.
Date of uploading.
Duration of the video.
Short tags.
External links, including in the form of icons.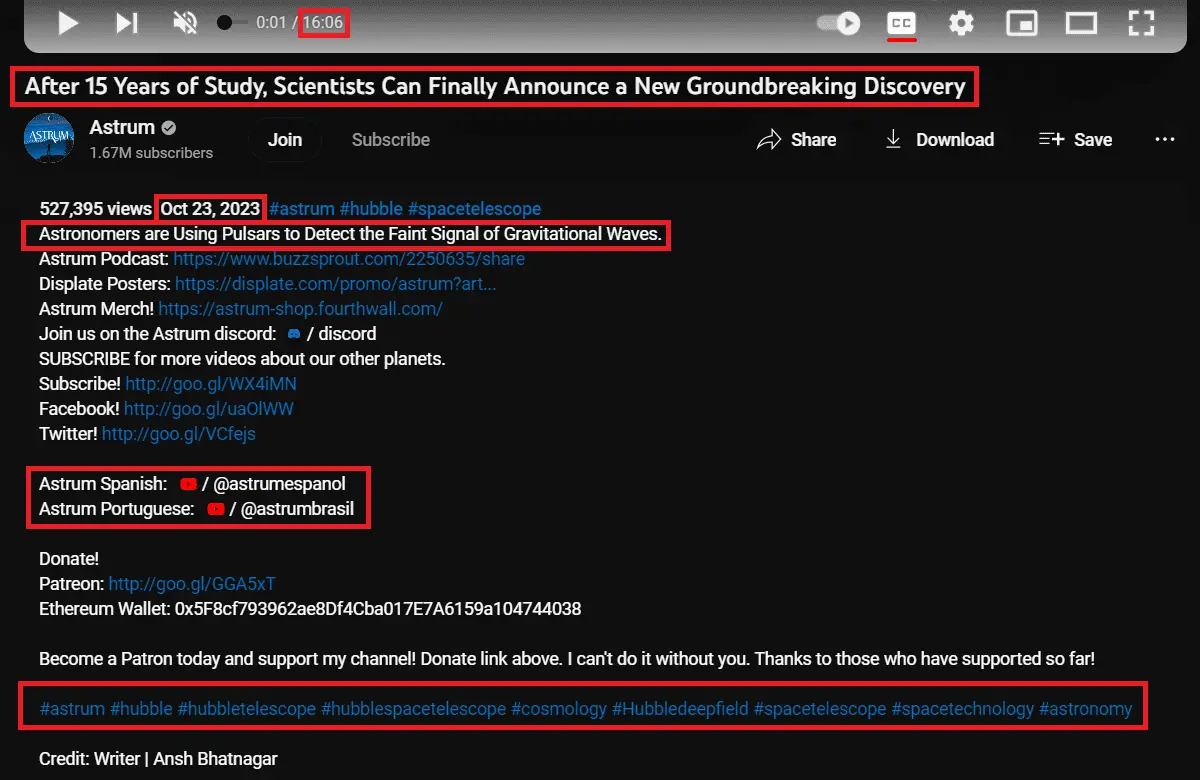 The title and short description are used on YouTube in the same way as in Google and other search engines. They attract the viewer's attention, motivating them to click on the link. By adding keywords that match popular search requests, you can significantly increase the ranking of your video.
The date of upload allows you to determine the relevance of the information. The duration helps people determine whether they have time to watch the video. In addition, both of these values can be used as filters in advanced search settings.
YouTube metadata tags are used to find more videos on a particular topic or more content by the same author. And links will be the main commercial tool — they help promote other channels and websites, sell products, and spread information.
However, metadata is not limited to visible elements. Its hidden part is also highly valuable. That's why you need to know where to find it and how to use it properly.
Exploring the Accessibility and Relevance of Metadata in YouTube Videos
Unfortunately, Google doesn't provide an easy way to view the hidden service information about a video. To find it, you will have to work with the program code a bit. But don't worry — you only need standard browser tools to do this. First, open the page with the video about which you want to get detailed information.
To check YouTube meta tags in Google Chrome, right-click outside the video and select Inspect.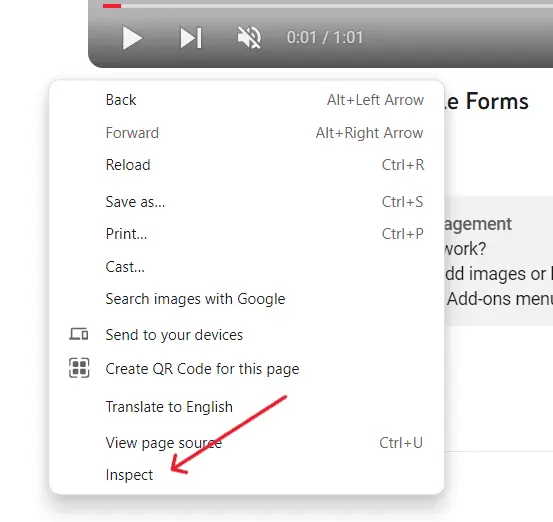 The instructions for Mozilla Firefox are very similar, but the option will be called "Inspect (Q):"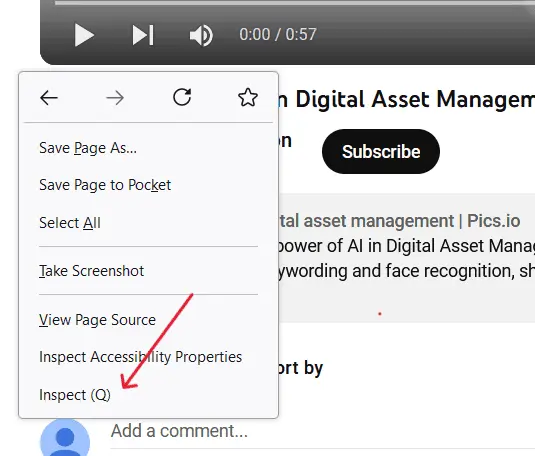 In Safari, the standard Apple browser, the procedure will be a bit more complicated:
First, open Preferences and go to the Advanced section.
Check the box next to the Show Develop menu in the menu bar.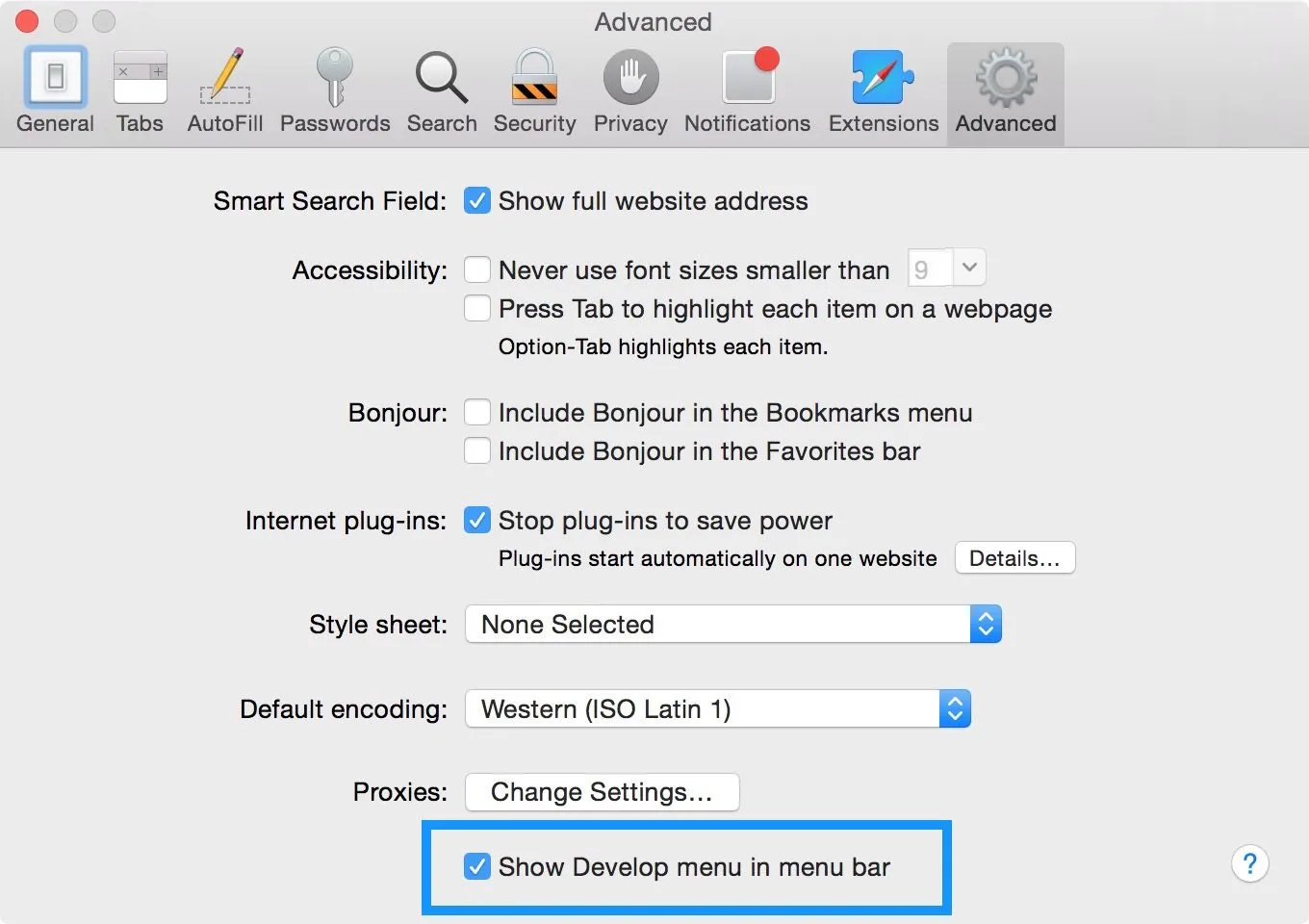 Close the settings.
The Develop section appears in the menu at the top.
Open it and use the Show Page Source function. You can also invoke it with the keyboard shortcut Option+Command+U.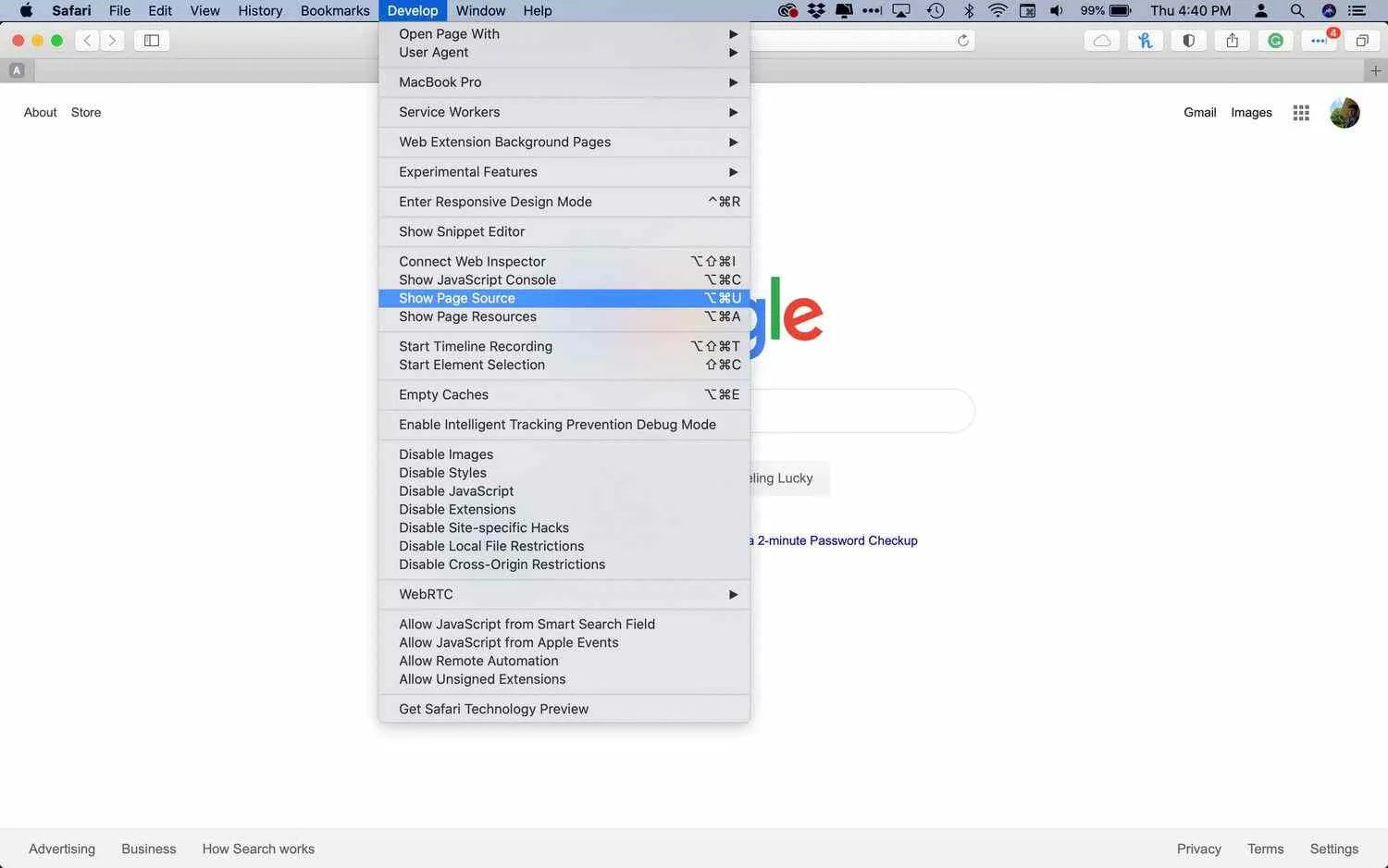 The result will be the same in all browsers — you will see the source code of the page. This is the most reliable way to get metadata from YouTube videos. Let's look at how to find it using Google Chrome as an example:
Go to the beginning of the page with the program code.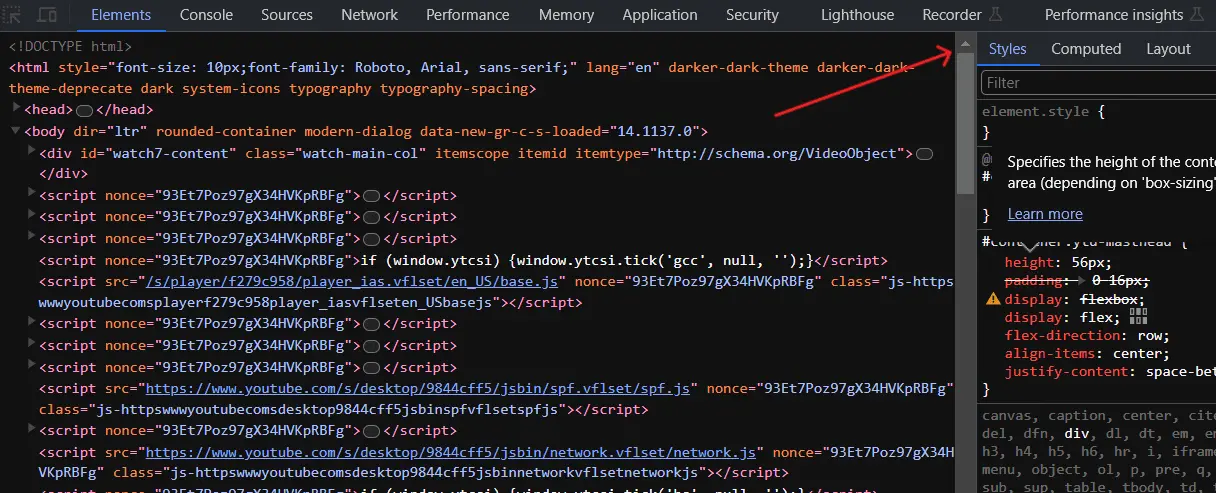 Minimize the <body> section and open the <head> section.

Scroll down until you see the first <meta...> tags or use the search at the bottom of the window.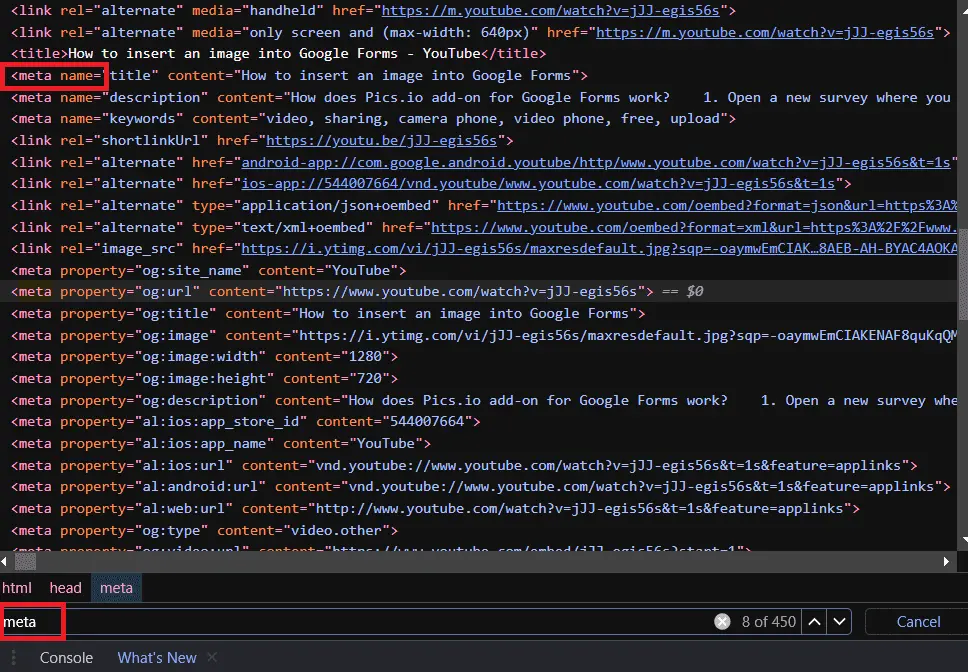 In addition to the visible data described above, you will find hidden information as well:
Links to images used for video previews;
Keywords and tags to quickly search for a specific video;
Shortened links and links to watch videos in applications for different operating systems;
Updated uploader data — author's name, geolocation, camera model, etc.;
Languages of the original and localized versions;
Age restrictions in accordance with the laws of different countries;
Availability of licenses and other information.
The full list of YouTube meta tags is extremely long — you can familiarize yourself with all possible properties of multimedia content here.
Of course, such difficulties attracted the attention of developers who often have to work with proprietary information of digital assets. That's why you can find many web services on the Internet that allow you to quickly view hidden video meta tags and download them to files. Among the most popular applications are:
Editing Metadata on YouTube
The first thing you should know is that only channel administrators can change information about videos on YouTube. This feature is available for accounts that have the Owner or Manager status. All other users can only view the data.
To learn how to add metadata to a YouTube video or edit it, follow these simple instructions:
Open the menu in the upper left corner of the screen.
Find the You section and click on Your Channel.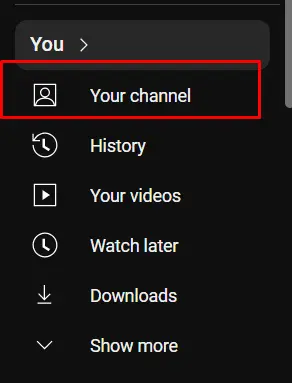 Click the Manage Videos button.
Click the Upload button to add a new video, or select an already uploaded video and go to the Details tab (pencil icon).
Fill in or edit the meta tags you need.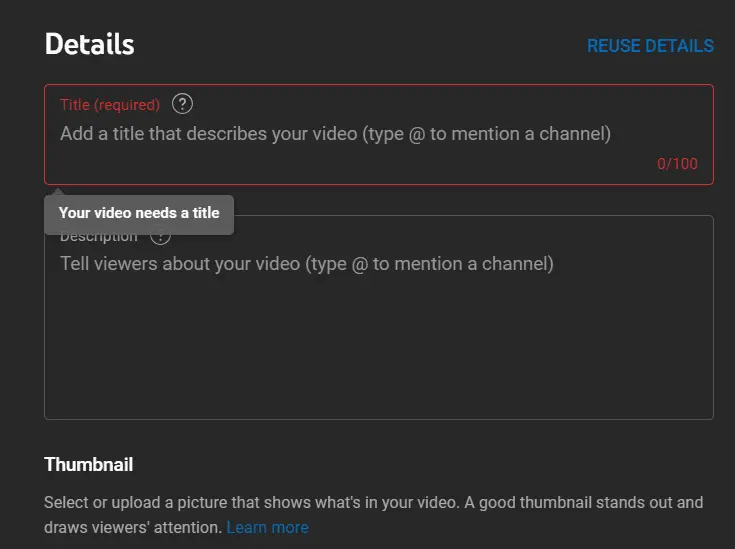 Please note that the form contains many fields. You don't have to fill in all of them, but by adding more information, you can increase your video's ranking. Another important thing is to answer honestly the questions about the presence of adult content or integrated advertising. If you cheat, the video will be deleted, and the channel may be subject to penalties.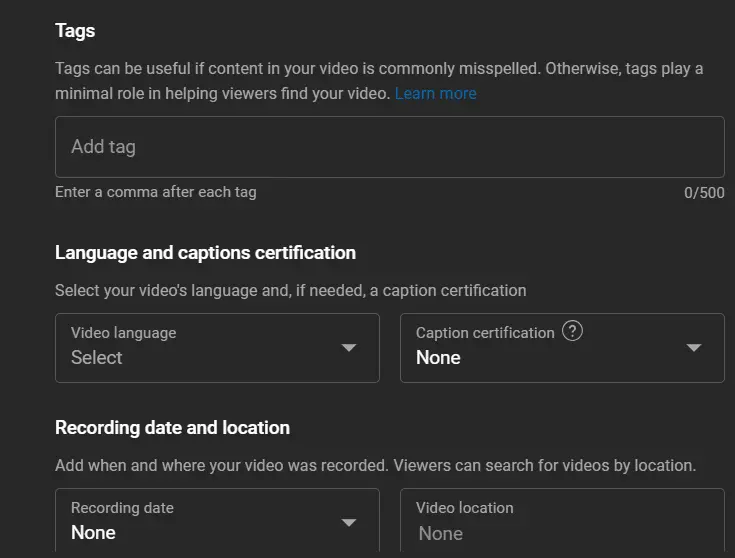 Utilizing Metadata for Improved Search Rankings
The main objective of metadata on YouTube is to make it easier for potential viewers to find content interesting to them. By creating catchy titles and descriptions, you significantly increase the likelihood of your video being clicked on. The same goes for preview images.
Here, we explained how to organize them properly using a digital asset management system. Experienced YouTubers also often optimize the length of their videos based on the needs of their audience. For example, long videos may seem too boring for Gen Z, and short videos may be too simplistic for professionals. 
But you should remember that YouTube video metadata is also used by search algorithms. It is very similar to metadata used by Google, so the same principles of content promotion will apply here. To increase the ranking of your videos, follow these basic guidelines:
Fill the Title and Description with high-frequency keywords but avoid spam;
Make meta tags attractive and interesting but do not resort to blatant clickbait;
Add links to your other videos, including those on related channels;
Use frequently asked questions in the description that people ask on Google;
Make sure that all preview images are relevant to the YouTube video info and content; if you deceive viewers, they will immediately close the window, which will reduce your rankings.
How Can You Manage YouTube Videos with Pics.io DAM System?
When creating videos for YouTube, authors often use licensed content, such as music, stock images, or short videos. Metadata alone is not enough to track the connection between them and multimedia content. You'll need a digital asset management (DAM) system.
One of the features of the Pics.io web service is the possibility to use external links as digital assets. This allows you to link them to other parts of your information storage system. You can use these links in the scenario mentioned above — to manage licenses. By creating a simple script, you will receive reminders to renew the license or delete the video.
External links also allow you to link YouTube videos to tasks in apps like Figma or Confluence. All this improves the visibility of digital assets, makes them easier to categorize, and simplifies project management. You can quickly organize video files hosted on a third-party platform without having to use complex and expensive tools.
Pics.io automatically adds a preview image to your video, creating an interactive icon. You can also add your own metadata to YouTube videos. You have access to custom fields where you can specify information for search, categorization, and other actions.
Conclusion
If you run your own video blog or use multimedia content in your marketing, you need to know what metadata on YouTube is. It has a very crucial impact on the popularity of your videos — using it correctly can significantly increase ratings and expand the audience. You can search and edit this information manually or use specialized web services.
If you're looking for a tool that can help you track how your YouTube videos are linked to other digital assets or licenses, check out Pics.io's DAM platform. It allows you to use external links to videos like regular digital assets. You can link them to other assets, add them to a task list, and divide them into groups and categories. Try Pics.io for free! The service offers a 7-day trial period with no credit card required!
Give Pics.io DAM a try
free 7-day trial
Did you enjoy this article? Give Pics.io a try — or book a demo with us, and we'll be happy to answer any of your questions.