Updated July 2020
In distant 2013, while many cloud services gave users several gigabytes of space (2Gb at Dropbox, 7Gb at SkyDrive and 15Gb at Google Drive), and their users, in turn, tried to get another 20Gb upgrade to their Dropbox through referral, China telecom giant Tencent stepped in and changed the rules. Storing massive amounts of data in the cloud, like 10TB, is now more feasible than ever with telecom cloud solutions.
Their new service named Weiyun gave everybody 10TB of instant cloud storage. Awesome, yeah?
But pace yourself: this advertising campaign ended a few years ago, with Weiyun storage shifting from 10TB of free storage to 10GB only (it's not that little if you think twice but still).
No need to be upset, by the way. As it turned out, the newly released Chinese storage had a range of limitations, especially when it comes to non-Chinese users. Here are a few of them:
Security. China doesn't have a strong reputation concerning privacy and confidentiality of users' data. You also know that there's no such thing as a free lunch. So many users across the globe doubted "a nice gesture" on Weiyun's part, being assured that the company collects users' data to serve its own interests.
No English. Even seven years later, Weiyun still has no English version. Of course, the Internet is crawling with tips on how to deal with it like using a built-in Google translator or blind step by step registration process. This still doesn't improve your user experience unless you're an advanced Chinese speaker.
Infrastructure. As compared to other available storages on the market, Weiyun seems a bit simplistic, with the lack of infrastructure. Compared to more traditional Google Drive, for example, you don't have file preview, a possibility to share a folder, or edit files in the storage. Not to mention advanced search, AI-keywording, or shareable websites you get with Pics.io DAM.
Outdated interface. When you open the storage, it seems as if you travel back in time. The 2005 year or so. This is not a critical issue, but an attractive and intuitive interface is always a good bonus.
And last but not least, 10 free GB from Weiyun is still less than 15GB delivered by Google Drive today, so maybe it makes sense to read a complete guide to uploading your files to GD. When choosing the storage for your team, you may also want to read about image database software and video cloud storage platforms.
If you still want to register in Weiyun, here are the steps to follow:
To register, go to http://www.weiyun.com/act/10t-en.html
Register in the QQ service
Step 2. Install Tencent Cloud app for your smartphone. Login with the data from step 1.
Step 3. Click "Get 10TB".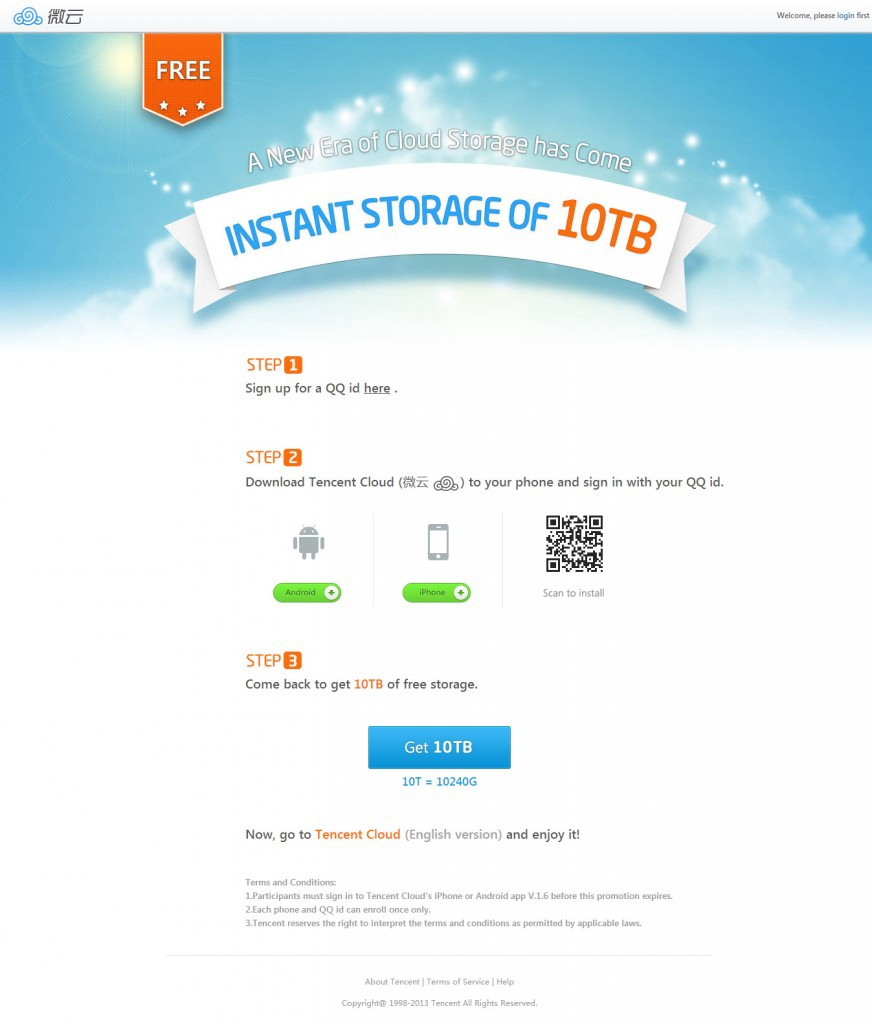 If everything is done right - you're the happy owner of 10TB cloud.
Now you can always navigate to your cloud using the link http://www.weiyun.com/disk/index-en.html (type your login/password from step 1).

They've updated the interface a bit. Now it looks pretty slick and clean.
The main elements are:
Upload button. Supports files up to 4GB using regular upload and 32GB using Power Upload (installs plug-in)
Share button (either email, or a link)
Profile information (avatar icon in the upper right corner)
The last is of a particular interest: it's the only one place you can make a very hearth-warming screenshot like this.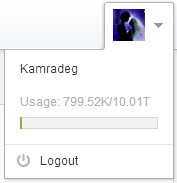 By default it will use the current catalog for uploads.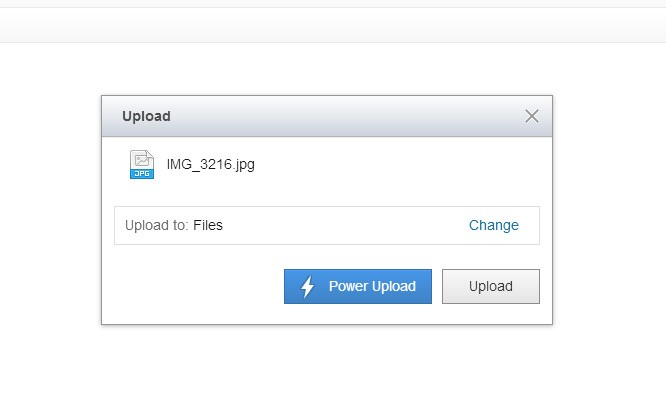 An uploading queue appears in a frame.

If you add the same file to the storage it adds an index at the end of the filename ((1), (2), etc.). Though it doesn't count them against your storage space, which is pretty interesting.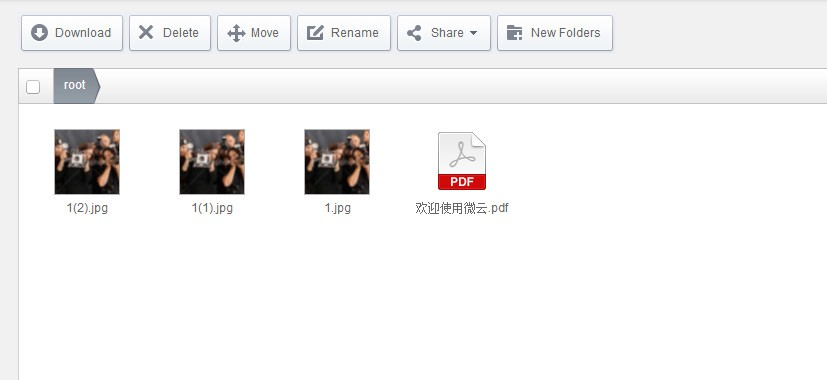 So how come they're able to give users such a freebie?
This cloud has a feature that checks a hash checksum of the file being uploaded and if it matches the file in the cloud's cache, they just create a reference (and it doesn't require uploading). But they count it against your 10TB quota. It is based on the idea that most of the users store pretty much the same files. But that won't work for photographers for obvious reasons.
The difference in uploading time will appear depending on a file size (in the range of a couple of seconds) because of scanning time.
The similar approach used guys from Bitcasa to provide unlimited cloud storage for $10/month.
If you shared a photograph with someone via link share — you'll see that the interface is still in Chinese. The left blue button downloads an image, right — adds it to your Tencent account (pretty standard for clouds nowadays). The gray button will show you QR code with an embedded link.
I've tried to deliver the image to the phone using that QR functionality and here's what I've got on the screen of my Nexus.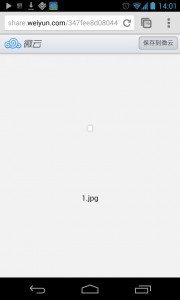 It may seem like it's not working, but if you click on that little square original file will be downloaded to your phone. Didn't test it on iPhones.
The photos section revokes most of the questions. It appears to me that it was added just because everyone has it. If we look closer — it's not practical without some kind of organization.
Tencent just stacks all of the photos together and doesn't even let you organize using folders. Also, photos won't work with their business model. Mostly, photographs are unique, so their smart checksum method won't work with images. Eventually, they are gonna need either to charge for photographs separately or deal with the big image archives of Pics.io users :)
Tweet this post here - Tweet.
---
If you have obtained your big cloud storage it is the right time to organize your digital assets inside it and find any image you need with just several clicks. Pics.io software is here to help, subscribe for our 7-day FREE trial to get your files organized.
And if you're still in search for your cloud storage solution, you might want to test Pics.io as your all-in-one DAM software. Let's go, give it a try!
Give Pics.io DAM a try
Free 7-day trial
No credit card required
Set up in 3 minutes or less