The best cloud storage should offer the space you need, use the operating system you love & charge a price you're ready to pay. It should also be easy to use and navigate so that you're able to just dive right in without having to take a crash course in the basic use of the platform.
Today, we are happy to share our review of 4 most reliable cloud storage providers on the market today. All four will provide you with roughly the same lineup of features, and each has a version that'll let you take advantage of the cloud without paying a dime. However, for the business needs we will show the only one solution best fit for your team and we will keep it a secret for a while…
Give Pics.io DAM a try
Free 7-day trial
No credit card required
Set up in 3 minutes or less
How to Choose the Best Cloud Storage?
Before evaluating cloud storage providers here are some main points to keep in view throughout:
A cloud storage for personal use or for business — The best cloud storage will offer a free version for those looking to gain only the minimum out of the service — and even this minimum shouldn't be too limiting. At the same time, for business the cloud storage should offer the extensive list of features and different pricing plans depending on the size and specificity of the industry.
Customer experience — cloud storage, regardless of the type, should let you have the freedom to access and import the data you want from wherever you are, using whatever device you choose.
Security — pay close attention to the security options available for stored data when it is "at rest" and in transmission. Depending on the sensitivity of your data you may desire more control and stronger protection. In those cases, look for a service that allows you to manage encryption keys and apply different encryption methods as necessary, such as virtual data rooms.
When you have evaluated the main points, it's a time to evaluate some other important characteristics of the cloud storage:

Compliance — If you work in an industry with rigorous regulatory and compliance rules such as in healthcare you may think that storing data in a cloud service is more trouble than it is worth to fulfill those requirements.

Access for all Clients — Evaluate how users will access the cloud service and whether it provides clients for the appropriate devices and operating systems. If it is a web client does it work on mobile? Android and iOS? If it is a desktop client do you need it to be available on Windows, Mac, and Linux?

User Setup Expectations — Particularly when you are evaluating a cloud backup service consider whether you will ask your users to install a client and configure it themselves or whether you will automate that configuration. How easy must the client be to configure? If configured automatically can the client configuration be restricted to administrators?

Ease of Transition — Start with a high level vision for how you will transition to use the cloud storage. Will you migrate existing data? If you plan on moving many TB of data look into whether the provider allows for "offline" passing of data back and forth via delivery and receipt of hard disks.

Support — Support can vary significantly between services. What may seem like the right cloud service for you and your organization in terms of features may be lacking in the support you need. What support levels are available for the service? Can you escalate issues and if so what is the cost?

Cost — Cost considerations literally affect the bottom line, and you may be tempted to compare cost above considering fit. If a cloud storage solution is indeed right fit, improves the productivity of your team, and reduces strain on infrastructure you will be in a better position to calculate the total cost of ownership for those cloud resources and compare them to the cost of the status quo.
Some users also wonder whether it's worth moving from on-premise solutions to the cloud or the difference between NAS vs cloud. And although there are pros and cons in both, the cloud will grant you:
More scalability
Financial feasibility
Accessibility and global presence, etc.
Taking all these factors into account when choosing the right cloud storage comes down to how much you're willing to pay and which operating system you've already invested in.
The Four Best Cloud Storage Services
We have prepared a list of the four best cloud storage solution that will fit your business needs. In our list, we left the cloud drives most suitable for corporate requirements. Due to this criteria some solutions were excluded from the list like Amazon Drive. Unlike Google or Microsoft's services, Amazon Drive doesn't allow you to edit documents beyond renaming them, so real-time collaboration is out of the question here. For now, this is just a bare-bones cloud storage solution, which might be all you need for personal but not for business needs.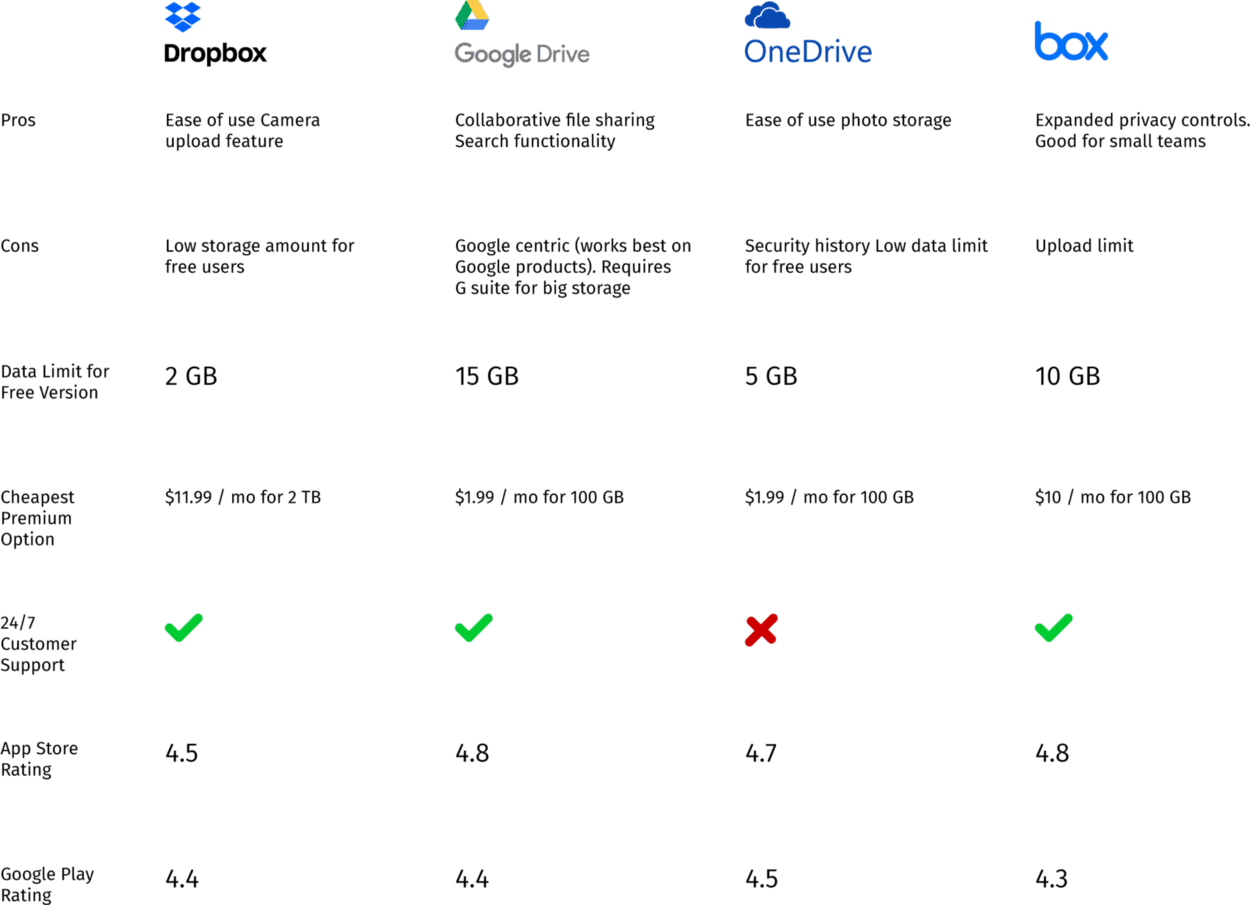 Still have doubts what is the best cloud storage? Check these cloud storage comparison articles:
Review of Cloud Storage for Teams
As we can see from the table all four online data storages have similar rating within App Store and Google Play, they have free version and customer support. But only one solution is perfect for team collaboration and can be named the best team cloud storage on the market.
This one is Google Drive online data storage. Why is it so?

Collaborative file sharing
Drive is more than a cloud storage service; it's a powerful, collaborative office suite that wraps all of Google's services into a neat little package — we considered it one of the best file sharing and storage sites. You can create spreadsheets, documents, presentations, Google Forms and connect to a whole slew of third-party apps — everything you do syncs conveniently into your account as long as you have an internet connection. And if you don't have a connection — all you have to do is enable offline access and use the Google Drive extension for Chrome.
Like most file-sharing interfaces, Google lets you specify the people you want viewing or editing your work at any given time, and you can easily grant or deny access requests. You can also opt for Google's Backup and Sync feature, which lets you connect your Drive to your personal computer and any other files you choose outside the existing data in your cloud storage.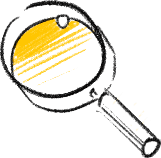 Search functionality
Another seriously powerful aspect of Drive is its search functionality, which uses Google's image-recognition technology, or optical character recognition (OCR), to surface photos that are relevant to your search keywords. For example, when we searched for "cat," it found documents that included the word "cat" and photos of one of our team member's yorkiepoo (who apparently could pass for a cat).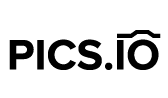 Integration with DAM
The final aspect why you have to choose Google Drive and no other alternative software — is its ability to integrate with other services. If you work in a team you need not only the storage, but the management of your files. Here, digital asset management software like Pics.io comes into place.
For a more comprehensive guide to DAM vs cloud storage, check out our guide here.
You probably heard that such solutions are costly and not affordable to every business. But, Google Drive makes it as close to your team as possible, because Pics.io works on top of Google Drive. You do not have to pay twice. You build DAM on the basis of your file storage and do not require any additional software.
Give Pics.io DAM a try
Free 7-day trial
No credit card required
Set up in 3 minutes or less
In addition, you get is a convenient visual interface with lots of DAM features that you can't find in Google Drive including additional collaboration tools, version control and metadata management.
Have second thoughts on Google Drive? Try also Amazon S3 integration or Pics.io as an all-in-one DAM solution, with its own storage.
Final thoughts…
The final consideration for choosing a cloud storage is the ease of adoption and the possibility of committing to it. How easy the path to adoption is for your organization will likely not involve technical reasons. Convincing others that you have made the right choice for your team or organization can be just as important as making the right technical choice. There is no single method to gain buy-in but as adoption is essential to the success of your project, when you research options imagine how easy or not adoption may be.
It will be easier to gain buy-in if you can commit to your choice, and commitment to a solution will be easier if it fits into a larger ecosystem of applications and services that are consistent with a longer term vision. When possible try not think of services in the cloud in isolation. Even if a chosen provider is not the perfect fit, as long as it enjoys wide adoption, solves your primary problems, and aligns with your corporate culture and vision, it will be the right choice.
---
If you enjoyed this story, please click the 👏 button and share to help others find it! Feel free to leave a comment below.