Along with automation and the development of mobile technology, cloud computing has been one of the megatrends dominating the tech community in the last 5-7 years. Even as the economy was ravaged by the pandemic, the cloud was resilient and kept a high growth rate.
In fact, with the growth of remote work and the worldwide policy of lockdowns, a growing number of all-scale teams started moving their processes to the cloud. The benefits were clear - data accessibility, on-demand resource scaling, and ease of maintenance.
However, it's natural for business owners to be hesitant about migrating from on-premise storage to cloud platforms. In this post, we will take a look at how two types of data storage are different, what benefits the cloud has over on-premise databases, and share tips for hassle-free cloud migration.
On-Premise vs. Cloud: Key Differences
On-premise infrastructure is hosted by the company. From storage to security and maintenance, the in-house teams take responsibility for the data. Establishing an on-premises infrastructure has undeniable benefits - freedom and full control - coupled with unparalleled challenges - the need for upfront investment and the risk of losing the data with no backup.
Cloud data storage is a widely-used alternative for building infrastructures and workflows. It's a relatively stress-free way to create accessible data storage since a third-party vendor is responsible for providing business owners with server power, security protection tools, and other resources. Other than that, relying on the cloud allows teams to pay exactly for the resources they use, with no hidden fees and added operating costs.
Let's take a closer look at the differences between cloud and on-premise data storage platforms:
| Criteria | On-premises | Cloud |
| --- | --- | --- |
| Upfront investments | Required | Not required |
| Scaling | Difficult | Relatively easy |
| Need for internal support | Yes | No |
| Data loss risk | High | Low |
| Reliance on third-party vendors | No | Yes |
| Storage management freedom | Full | Limited |
Benefits and Limitations of Cloud Storage
There's no denying that cloud computing generates a lot of hype. Yes, the market is huge. Yes, cloud here to stay. However, if you are wondering whether your business needs to switch from an off-premises infrastructure, these concerns are reasonable.
At the end of the day, the cloud is not a remedy for all operational threats - before you make a decision in favor of migration, be sure to have a clear understanding of both benefits and limitations of server-based third-party data storage.
Benefits of Cloud Storage
Scalability - making the most of infrastructure-as-a-service helps business owners quickly build and deploy new solutions. As the traffic load increases, company managers can increase resource expenditure to provide the team and platform users with high-quality services. Similarly, if the traffic load decreases drastically, tech teams can scale the cloud storage down to avoid extra expenses.
Focus on business processes. Relying on a vendor to establish a cloud-based infrastructure helps business owners focus on building processes that fuel business growth and improve product quality. Instead, team leaders will take advantage of the infrastructure provided by large-scale companies, with a full focus on meeting the data-related needs of their clients.
Financial feasibility. Since most startups have an unstable cash flow, the Pay-as-you-go model provided by cloud storage vendors is a flexible and sustainable solution. Furthermore, business owners will not have to take responsibility for infrastructure breakdowns - it's enough to ask a vendor to procure stable servers to ensure stable and scalable workflows.
Accessibility and global presence. Last but not least, cloud computing helps teams grow their awareness globally. By reaching out to vendors with data centers across the globe, team leaders get a stable global infrastructure at their disposal. Accessibility is another reason to bet on cloud computing - it's easier for international teams to retrieve files stored on the cloud compared to on-premises storage.
Limitations of Cloud Storage
Performance inconsistencies. If you used shared infrastructure, the execution speed can be impacted. To mitigate performance inconsistencies, business owners have to invest in choosing vendors who offer private servers.

Limited security. When it comes to the cloud, the vendor is fully responsible for security. Thus, business owners managing sensitive data and large traffic loads might need advanced protection tools extending beyond the operational capacity of the vendor.
Why Businesses Switch to Cloud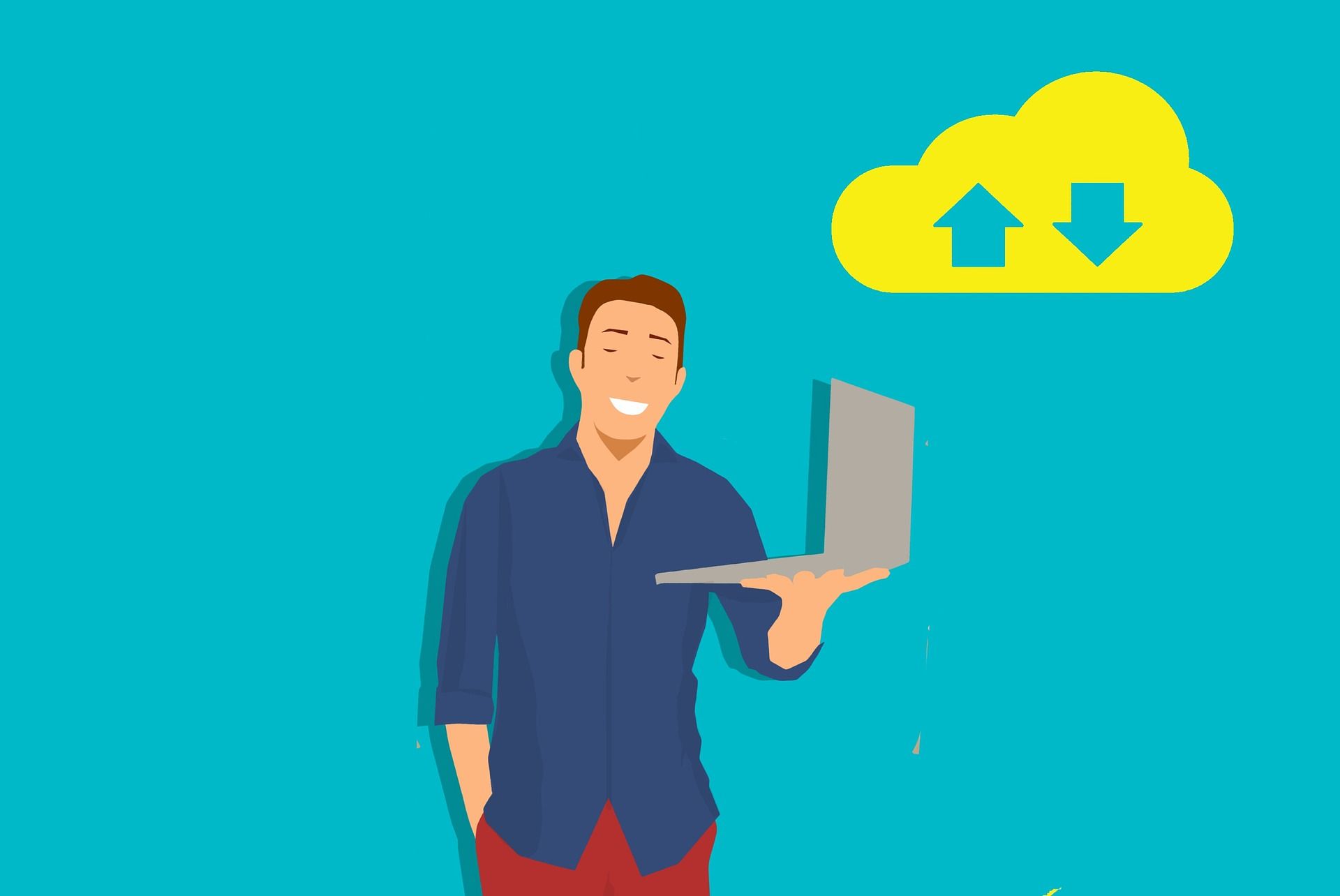 Statistically, 94% of global data will be stored and processed by cloud storage. Here are the top reasons why business owners opt for migration:
Reason #1. Cost reduction
Cutting operating costs is the number one reason why business owners migrate to the cloud. In fact, 94% of team leaders found out that using vendor-based storage helped reduce setup and maintenance fees.
Reason #2. Transparency and improved team management
Cloud is a powerful tool for driving workplace engagement and boost employees' individual productivity.
Here's how migrating to an accessible storage fuels teamwork and collaboration:
Enable remote work by supporting distributed workplaces.
Increase the speed of file hand-off and improve the efficiency of feedback loops.
Improve the efficiency of record-keeping and foster accountability within the team.
Facilitate employee onboarding.
Reason #3. Facilitated data recovery
Small business owners rarely have enough talent and resources to host a full-scale in-house data recovery system. To that end, cloud platforms are an opportunity to rely on a robust disaster management system that helps recover lost files after a security attack or hardware malfunction.
Reason #4. Low entry barrier
Compared to on-premises storage, cloud infrastructure is considerably easier to establish. Small- and medium-scale business owners rely on the cloud to avoid the need to set up offices and invest in tech talent to keep the infrastructure up and running.
Contacting a cloud vendor is risk-free since you can scale resources up and down depending on the economic landscape and the user load of the business.
Step-by-Step Checklist on Migrating to the Cloud
As you are contemplating moving your team's workflows to the cloud, it's important to have a well-thought-out strategy to ensure a successful transition. Here's a step-by-step checklist for hassle-free cloud migration.
Step #1. Assess available resources
Take a thorough inventory
Before migrating to the cloud, take the time to assess the company's on-premises inventory - networks, hardware, computing power, etc. Optimizing processes and redistributing workloads ensures successful migration and brings additional savings: inventory often optimizes processes and redistributes workloads.
A migration architect should identify the infrastructure components the team wants to move to the cloud. By separating processes, identifying the objectives of each, and determining whether a workflow is more efficient on-premises or in the cloud, company managers cut migration costs, account for risks, and make the most out of the benefits of both on-premises and cloud storage.
Step #2. Gather migration tools
Organize channels, decide on tools for the migration process
To make the migration flow as straightforward as possible, it's a good idea to determine which tools the company's cloud infrastructure needs to work effectively. Here are the types of platforms that support business owners on the move to the cloud:
Digital asset management platforms like Pics.io provide centralized, secure, and accessible cloud storage. By integrating a DAM tool into the cloud infrastructure, team leaders promote collaboration, build an ordered organization paradigm for managing internal data, and creating a way to securely share data with partners and clients.
Infrastructure maintenance tools. Platforms like Google Cloud Deployment Manager provide tech teams with a reliable backbone for deploying cloud projects in parallel or create templated infrastructure configurations. Cloud deployment managers come with a wide range of APIs and graphic interfaces that streamline data management and ensure infrastructure security.
Firewall and security tools. Data protection is a crucial part of cloud infrastructure reliability. That's why business owners rely on firewalls for server protection, security scanners that detect and alert the team of suspicious behavior patterns, and VPNs to access the infrastructure via a secure, hacker-proof network.
Step #3. Migrate gradually
The gradual migration of infrastructure is one of the safest ways to move to the cloud. Moving workflows to the cloud step-by-step allows business owners to quickly identify and fix bottlenecks that appear in the process. On the contrary, a one-time migration puts a productivity strain on the team and carries integration risks.
As you migrate to the cloud component-by-component, it is important to test scalability. Scalability can be horizontal - adding a second VM if one virtual machine lacks capacity) or vertical (increase the capacity of an existing VM).
Step #4. Automate repetitive processes
If you are moving large components (think web servers) to the cloud, it's better to have a strong automation backbone.
Here's how automation improves the efficiency of cloud migration:
Improves code remediation speed.
Lowers the time and cost of migration.
Eliminates bottlenecks and reduces the impact of disruption.
Step #5. Monitor the efficiency of cloud migration
Assessing the efficiency of cloud migration is how tech teams identify bottlenecks and avoid making repetitive mistakes in future migrations. Here are the metrics you can use to analyze the success of moving your infrastructure to the cloud:
Duration - how much time the entire process too,  how the duration of the process aligned with the initial estimate.
Disruption - how much the migration impacted the end-user. Was there server downtime? Were critical features available throughout the entire process?
Product performance - how many error requests and time-outs the product generated. Tracking latency and availability is also a telling way to measure performance.
Cost and time savings - how many resources the team spent on migration. After the move, were there significant cost and time savings?
Conclusion
Given the growing popularity of remote work and the increasing value of internal mobility, it's clear that organizations should prioritize flexible and accessible ways to host infrastructures. That's why choosing cloud storage over an on-premises platform is a way for business owners to match the growing market speed and meet the expectations of clients or product users.
Having a laid-out strategy is the key to successful cloud migration. By taking the time to select the tools to support the migration and create a timeline for migrating the vital components, you will be able to plan for risks and move the infrastructure to the cloud without letting down the team and users.
Want to organize and distribute your files easily? Try incorporating Digital Asset Management into your workflow. This tool will help you to get rid of the mess with your digital files once and forever.
Give Pics.io DAM a try
Free 7-day trial
No credit card required
Set up in 3 minutes or less