Although a lot of teams are excited about digital asset management, it's normal not to understand where the hype is coming from. After all, isn't DAM just a new name for cloud storage? Right?
The truth is, there are quite a few differences between traditional storage platforms and digital asset management tools. In this post, we will take a look at them and settle which tool is better for your team.
What Is DAM?
Digital asset management platforms are not focused on storage as much as file organization. Having enough memory space to store data is important but only for as long as teams are not struggling to find needed files. With cloud storage alone, most are.
We call digital assets all files created for online use - images, documents, video and audio clips, RAW files, etc. The most common examples are brand elements - logos, typography, presentations, brand books, etc.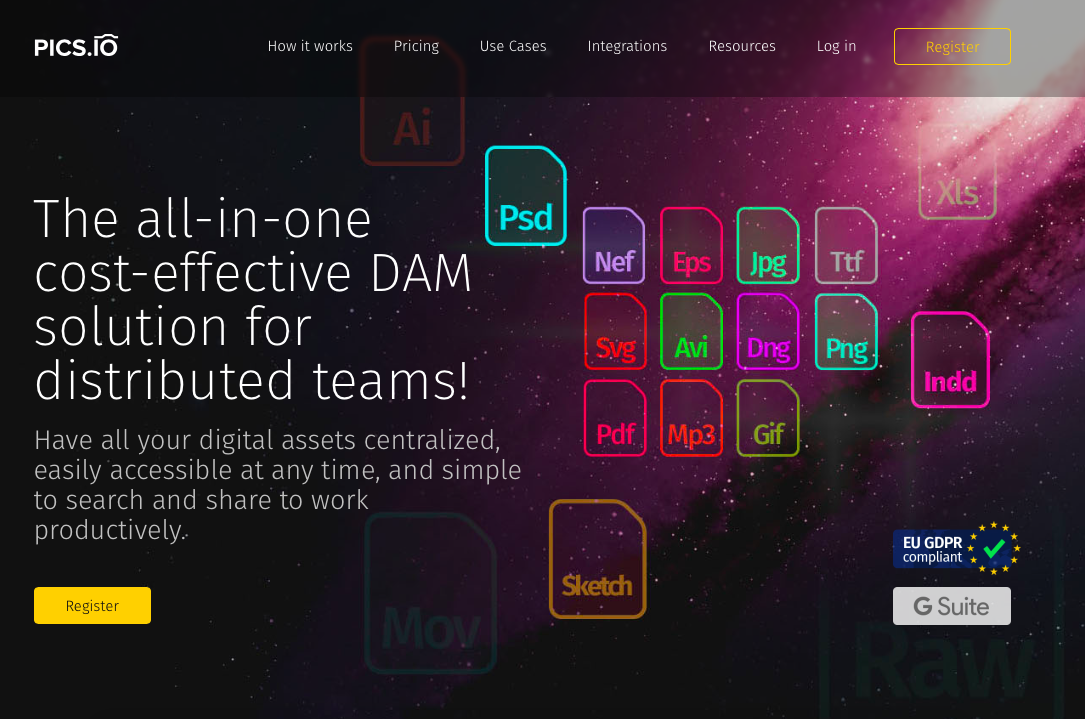 DAM vs. Cloud Storage Platforms
The core technology of DAM tools and storage platforms is similar - both use cloud and are accessible from any device. There are digital asset management tools that, just like cloud tools, have unlimited storage.
However, when it comes to organizing files and fitting your entire library into day-to-day workflows, DAM tools are superior to cloud storage platforms. If you still haven't upgraded to DAM, take a look at the differences between digital asset managers and traditional storage platforms to know what you are missing out on:
| DAM | Cloud Storage Platforms |
| --- | --- |
| A wide range of branding tools - custom websites, personalized layouts, etc. | A standard interface with limited room for customization. |
| Advanced search features: find files by using keywords, describing the objects in the frame, or by applying refined criteria. | In the case of most cloud storage tools, can only search files by their names. |
| Built-in photo editing - crop, resize, and retouch pictures using DAM. | Limited, if any, editing toolset. In most cases, users are limited to viewing and downloading assets. |
| Detailed access and permission settings across user groups. | Team managers can limit access to viewing, editing, or commenting on files. |
| Different hosting options: cloud, server, local drive. | The only storage option is the cloud. |
| Wide range of integrations with task managers, messengers, photo editors, and other tools widely used by creators. | Narrow range of integrations limited to task managers and CRMs. |
| Usage tracking and detailed reporting. | No insight on how many people downloaded or shared files with others. |
| Customizable previews for photos and videos that help quickly locate files. | Few providers allow creators to generate custom thumbnails. |
Improve Team Efficiency with These 5 DAM Features
What is digital asset management bringing to the table? Most DAM tools come with the following features:
Metadata editor - anyone who uploads the file to the library can add more data to provide other users with context. For example, creators can add the date when they took a photo, retailers can specify which product the picture relates to and content managers can let others know when content is scheduled for publication.
Version control - having access to all versions of a document gives creators confidence that no changes are lost. DAM tools allow teams to come back to particular changes or features in previous versions and add them to newer file iterations.
Instant file search. Over time, large file libraries get hard to navigate. That's why standard search features offered by Google Drive, Dropbox, or other storage platforms are no longer helpful. Teams need elaborate mechanisms to find files without having to remember precise names - that's where DAM comes in handy. Digital asset management platforms use keywords set manually or automatically to help creators and project managers find files they need with surgical precision.
Integrations with marketing and team management platforms. DAM tools help streamline file sharing with a wide range of integrations. In a few clicks, business owners can set-up real-time asset tracking in Slack, streamline file search in Adobe Creative Cloud, or quickly publish files online. These are small changes - however, in larger teams, they add up to saving hours of productive time.
Detailed reporting and refined privacy settings. Compared to cloud storage platforms, DAM tools are a lot more precise in letting project managers know who viewed and downloaded assets. It's easy to track changes and find out which teammates made them. Other than that, digital asset management platforms have granular privacy control - team managers can be selective about assigning access rights to each user, making sure that no teammates have access to more files and privileges than they use.
File editing. Most DAM tools have built-in photo and video editors that allow creators to tweak photos or set a custom video thumbnail before sharing content online. These editors are rarely as powerful as Photoshop or Sketch - having said that, they are perfect for last-minute tweaks.
DAM Tools vs. Top Cloud Storage Providers
Generally, compared to DAM, cloud storage platforms are limited. However, some cloud tools are more advanced than others, so you might be wondering how your favorite tool compares to DAM.
DAM vs. Google Drive

Google Drive is a team-friendly cloud storage platform. Compared to DAM, it falls short in file security, search and navigation features, and branding capabilities.
For example, Drive doesn't have an built-in metadata editor, whereas most DAM tools do. Similarly, you cannot publish assets on a branded website. To that end, digital asset management simplifies sharing files with clients and partners.
Find out how DAM tools are superior to Google Drive in our blog post. In your investigation of the best solutions on the market, you also shouldn't miss the post on Dropbox vs. Google Drive.
DAM vs. Dropbox
When it comes to Dropbox, a limited range of supported formats is the main pain point teams have to deal with. The cloud storage platform supports standard image, audio, video, and document formats. On the flip side, you cannot open Adobe CC files, RAW photos, or 3D files.
DAM tools support Adobe CC formats and allow teams to preview large assets without having to download files.
Read more about how digital asset management platforms are different from Dropbox below.
DAM vs. WeTransfer

WeTransfer is a popular tool for sharing large files. However, its inability to store data for extended periods of time is limiting for teams. At the same time, DAM tools help managers upload and store large-size assets for weeks, months, or years.
Find out about the differences between DAM tools and WeTransfer below.
In the table below, we outlined the key differences between digital asset management platforms and top cloud storage providers: Dropbox, Google Drive, and WeTransfer.
| Feature | DAM | Google Drive | Dropbox | WeTransfer |
| --- | --- | --- | --- | --- |
| Custom thumbnails | Yes | No | No | No |
| Metadata editor | Yes | No | No | No |
| Sharing large assets | Yes | No | No | Yes |
| Opening Adobe CC files | Yes | Yes | No | No |
| Keyword search | Yes | No | No | No |
| Long-term data storage | Yes | Yes | Yes | No |
| Version control | Linked assets are stored together | All file versions are saved | All versions are saved | No version control |
| Photo and video editor | Yes | No | No | No |
When Should You Use Cloud?
Cloud storage has a handful of benefits - it has an unlimited or expandable capacity, improves file accessibility, and offers basic file organization tools.  Small-scale teams and individual creators are usually comfortable using cloud storage alone.
In our opinion, these are the cases when committing to traditional cloud storage providers makes the most sense:
You are a freelancer or a small creator who does not need to store a lot of data.
You want to comfortably access data from any device.
You don't share files with many collaborators, clients, or partners.
You have a limited budget and can't afford to invest in productivity tools.
When Should You Use DAM?
DAM is a cut above traditional cloud storage both in convenience and the range of features. The truth is, some teams don't upload that many assets to leverage the full power of digital asset management tools.
How can you be confident that DAM is a game-changer for your business? Here are the signs it's time for your team to switch to digital asset management:
Your team has a hard time organizing files and finding needed files takes hours of productive time.
You share files with many users, including teammates and external collaborators (freelancers or partners).
You have complex feedback loops - creators across different departments edit and comment on files.
You share assets with clients and want to present your work in a sleek, comfortable way.
You aim at scaling and expanding the team - as a result, it makes sense to anticipate the growing number of assets.
Wrapping Up
Although there are misconceptions about when is the right time to use digital asset management, the truth is, no team is too small to switch to an improved file organization system.
DAM tools are a win-win decision for business owners, project managers, and end clients, as they ensure the security of your file library, improve the efficiency of file navigation, and save the team's productive time.
Give Pics.io DAM a try
Free 7-day trial
No credit card required
Set up in 3 minutes or less
By the way, Pics.io works on top of your cloud storage (Google Drive or Amazon S3). So you don't have to give up your cloud storage entirely. Still, if this is what you want, Pics.io also released its own storage not so long ago & became known as an all-in-one DAM solution. It's up to you to choose what's best for you.