Building a brand from scratch is a no-small ordeal. You need to develop a strong branding strategy and establish a unique brand identity.
All these things take time, and a lot of investments, especially if you don't have any brand assets that make you stand out from the competition. To save effort, many new businesses refer to ready-made solutions. Plenty of website builders, for instance, reduce the time you'd have spent on hiring a developing team to create your website from scratch.
But even if you go that route, these drag-n-drop website builders cannot make assets for you, so that's something that you need to put effort into. With how valuable brand assets eventually become, you need to guarantee that:
You don't lose them,
You maintain consistent brand messaging across all platforms,
You have an easy way of maintaining and updating them whenever the need arises.
And, like with website builders, there is no need of designing an asset management solution from scratch, because it's already here: digital asset management.
Do you need professional management of your assets?
When you have made your website, your focus changes to the digital assets that make up your online presence. Most brand managers have assets spread across countless computers and digital devices, most of which they have little or no control over.
The fact is that many organizations aren't properly storing and protecting the digital assets they create. And the cost of such negligence is quite astounding. According to Datto, the average cost of downtime caused by data loss is almost $4,500/minute.
Brand managers regularly ask themselves:
Are my brand assets secure?
Can I manage assets properly and easily find the one I need at a time?
How can I navigate across 100+versions of my assets?
How can I store my photos and videos?
How can I collaborate with designers, marketers, and developers on my assets?
These questions are answered with Digital Asset Management software solution. Thanks to its metadata management capabilites, permission management, and sharing options, DAM ensures that your assets are never lost and are only seen by those who should see them.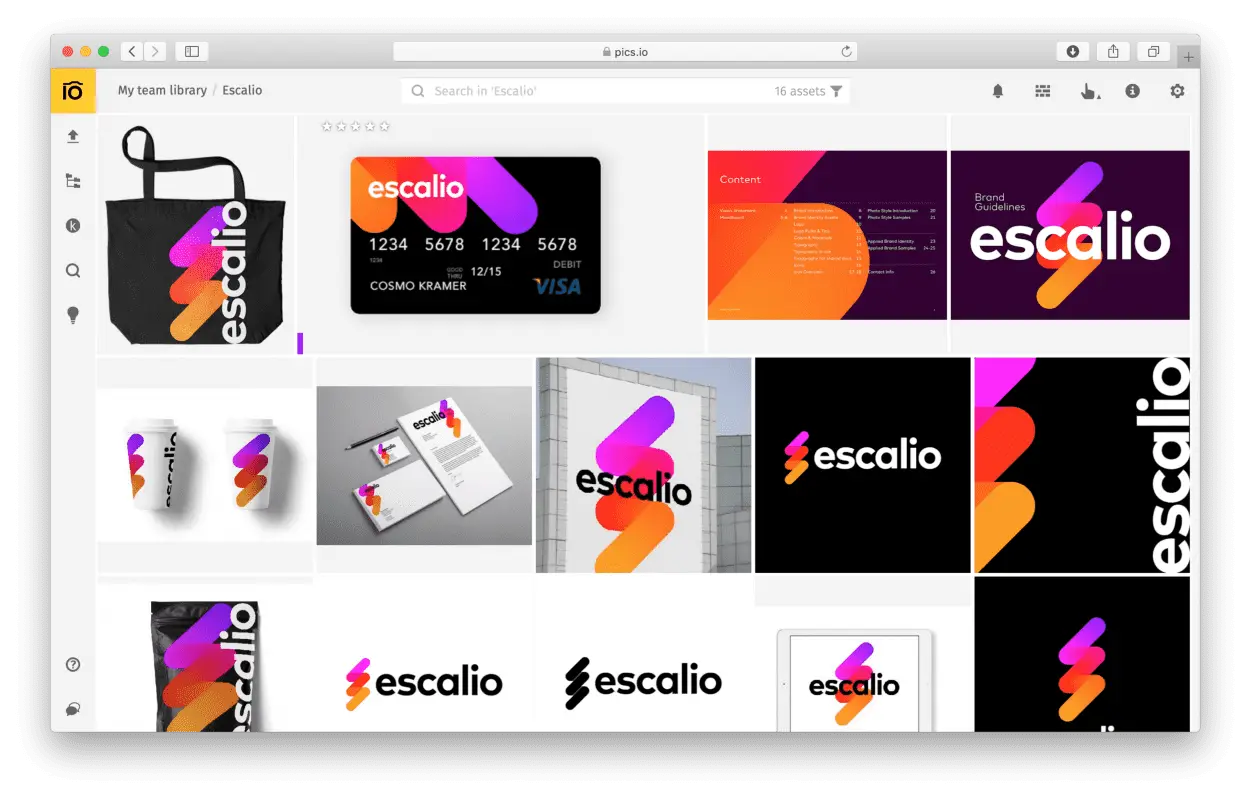 How DAM can help you
Here are a few features that can help you with building your brand (as far as management and creation of brand assets are concerned)
Unlimited file storage on top of Google Drive

High-quality photos and videos are very heavy and occupy much space. Pics.io works on top of Google Drive or Amazon S3 (it also has its own storage now). That means that if you are Google Workspace, for example, you will get unlimited storage for your assets. There is no need to pay extra for the provider's storage, thus eliminating unnecessary costs.
Improved asset discoverability

Searching for assets is the core functionality of a DAM system. Therefore, Pics.io has gone to a great length to provide you with a powerful search engine with versatile capabilities of broad and advanced search. You can tag assets with metadata (keywords, custom fields, and more), allowing you to search for them not only by file name but by all the descriptors that you can come up with.
Collaboration on assets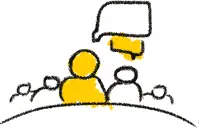 Pics.io helps your team collaborate. You can easily set different roles for your teammates, control their access to the system and discuss your assets. You can also use Markers and Areas of Interest functionality to discuss some particular part of your asset.

Version Control
Instead of creating a separate version for each revision, all revisions are kept under a single thumbnail. This allows you to freely switch between old and new revisions, and keep track of the updates through the asset comments section. It is the most simple and efficient version control you can imagine.

Easy assets sharing
Showing your projects to clients and partners outside Pics.io is very easy with the help of online branded portals. You have a variety of customizable websites to choose from, which all work on any device and in any browser. If you need to collaborate with your clients, a Proofing template is for you. It allows the people who see your website to interact with you using comments, rating, modifying custom fields, etc.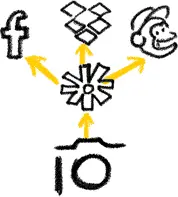 Integration with other services
Pics.io is easily integrated with your other favorite apps so that they can work together using the Zapier app. Zapier. There are also G Workspace and Adobe Suite integrations, that let you access your digital assets straight from the specified programs.
---
One final advice for getting the most from Pics.io DAM software — once you get your files organized, it is important to control your workflow to avoid any potential new mess in your digital assets. Keep track of changes and leave no room for new digital mess. This step is essential to get the most of Pics.io solution for your brand and guarantee its consistency.
Our solution is intuitive enough for any non-technical specialists, yet functional enough to cope with your business needs. So Pics.io DAM shows you an efficient way to survive in a new era of digital assets mess.
You can also consult our Smart File Organizer to learn more about efficient file organization. Get rid of the mess in your digital files forever!
Give Pics.io DAM a try
free 7-day trial