Updated February 2021
73% of your customers want to see more video content from you, and 87% of your employees prefer video over text every day. By 2021, these numbers will go beyond 90% and nothing is going to stop this trend, because video captures attention…
Your production process starts with adopting DAM
A typical video goes through a number of different production stages — and people — before it's ready for the world. If you haven't got a workflow set up that clearly defines who should be doing what, and when, chances are you will get in a trap of miscommunication and waste your time.
Seeing all these advantages of Pics.io DAM, our users from 27km.de successfully use it to upload pretty decent video files, and it works as a great media storage and collaboration platform for them.
Here's what Alexander de Lukowicz, CCO at 27 Kilometer Entertainment GmbH, has to say about Pics.io:
We mainly use Pics.io to showcase the work of our directors in a simple and easy way through Lumieré video template. Pics.io allows us to quickly set up a compilation of reels and have them ready to be sent in no time. For us, the simple and easy-to-understand structure of Pics.io is particularly important. It is not necessary to get familiar with Pics.io for a long time to get started and enjoy the advantages of this tool.
And now read on to learn more what the features of Pics.io video asset management 27 Kilometer uses and recommend for other video production companies!
Get unlimited storage for your video assets
As digital video resolutions increase, your need for storage increases as well. If you're ready to step up to a new storage solution, you're in the right place. Pics.io video asset management offers unlimited storage for your video assets. The solution works on top of Google Drive or Amazon S3, hence whatever space you have it is all yours.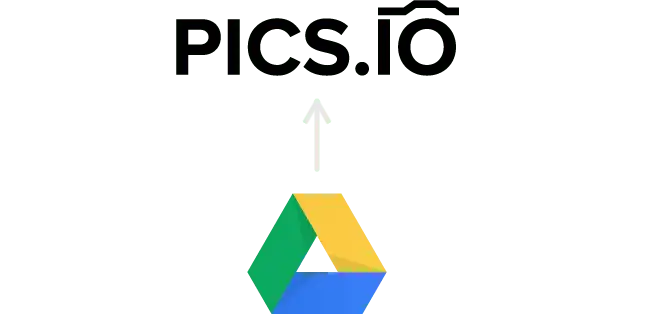 Such a digital library is especially important for video production, because video files are very heavy, and they can clog your disc space very quickly! Here Pics.io DAM on top of Google Drive or Amazon S3 is the best solution ever, offering unlimited storage for your video assets.
In case you are the happy user of GSuite, like many businesses around the world currently are, you can enjoy unlimited space for your video assets. And with Pics.io you have an opportunity to use this space in the most efficient way.
Unify content creation with deployment
Pics.io DAM allows you to unify your content creation with the deployment process. With our video asset management, you don't have to worry about getting everything to work together because it's deeply integrated with all of your favorite Adobe tools: Photoshop, Illustrator, After Effects, and Premiere Pro.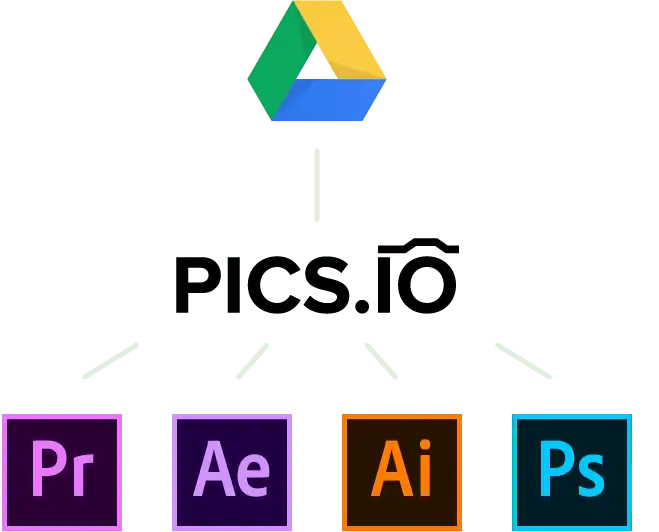 With the right connections, a marketing creative can easily open their favorite Adobe application, search for and open assets from the DAM, and save final versions back to digital asset management for video, without ever needing to leave the Adobe interface.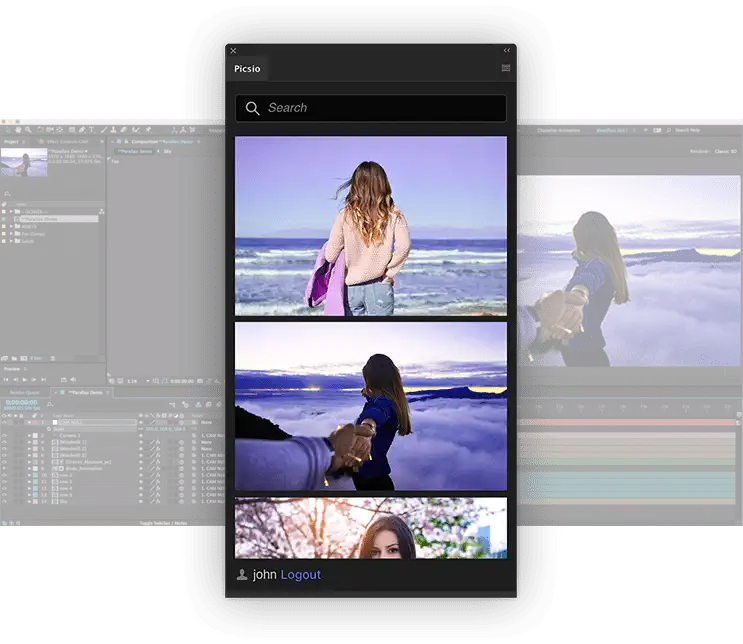 DAM lets you collaborate with everyone from independent contractors and in-house designers to major branding agencies. As a result, it's extremely straightforward to flesh out a well-stocked repository of digital campaign assets that you can use to communicate your message to audiences.
With the right creative tool integrations, digital video assets are literally at the fingertips of your creative, marketing, and sales teams and they hardly even realize they are using a DAM. Ultimately, these integrations make your creative process efficient and save time for your teams so they can spend more time utilizing their core competencies instead of searching for assets.
Modify and discuss your video assets
Pics.io has a powerful multiformat video player that allows you to play your video files and perform basic manipulations with them without leaving the app. Besides playing your videos the player allows to:
Create custom thumbnails to make a screenshot of the definite moment of video and use it as a thumbnail and video preview for your files

Cut your video files into pieces

Make screenshots from video and automatically download them to your device
Video production definitely requires not only creative process, but collaboration of various team members. They should have an opportunity to discuss video assets. For this purpose Pics.io proposes Timestamp Markers and Areas of interest functionality.
If there's a particular place on your video that you want to comment on, you can just take your marker and put it at any point of your video.They are numbered, so you will not get confused. In the same way you can highlight the areas of interest in your video.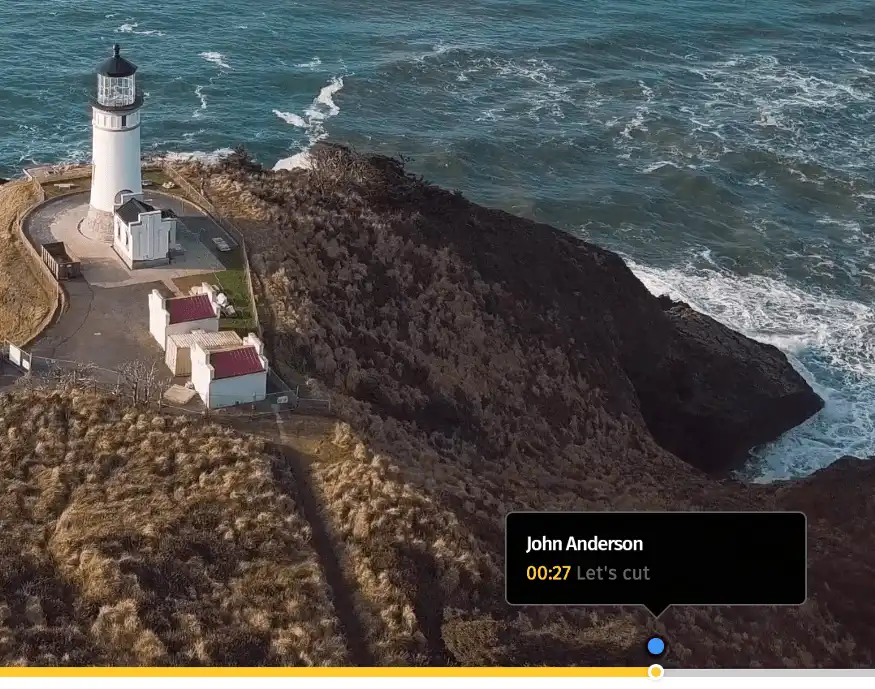 Every time you select an area of interest or put a timestamp marker on your video, the time is automatically attached to your comment. So your teammates will easily understand which moment in your video you were referring to.
Get rid of duplicates & maintain effective version control
Do you happen to think that you need neither version control nor version history in video asset management? Then you must not make any mistakes nor must anyone else. Ever. Good for you! Some of us wish we could live in your world.
Now back to reality …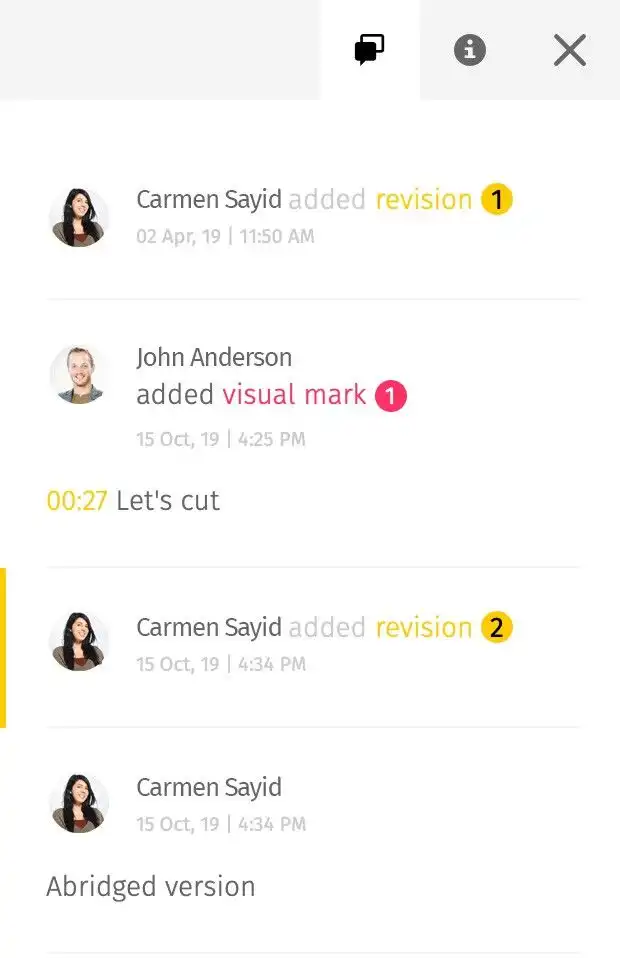 When we start accumulating assets for projects, we are bound to have corrections.
Without version control, there is no going back even if we need to. There is little record as to what was done to reach this point without version history. The lack of version control does not help job security either. At some point, a version will be selected and it may be the latest version.
We at Pics.io developed the simplest version control feature that helps keep the history and control these changes, both in team-operated and individual projects. Once the revision is uploaded and you select and open the file, you will be able to see the list of revisions uploaded by any of the team members in chronological order.
Version control goes hand in hand with another Pics.io DAM feature: Visual Comparison tool, which allows to compare several video versions side by side. With our video comparison tool you can simply choose any two video files, play them simultaneously & immediately see the difference.
Share your video assets easily
You've spent long days working hard to create the perfect video. Why should you have to struggle to publish and share them?
Pics.io DAM has public websites functionality that let your clients access all types of assets from anywhere at any time. You have a variety of customizable websites to choose from, which all work on any device and in any browser. We recommend using the Lumière template for publishing video files. It is the best theme to show your videos to clients or teammates.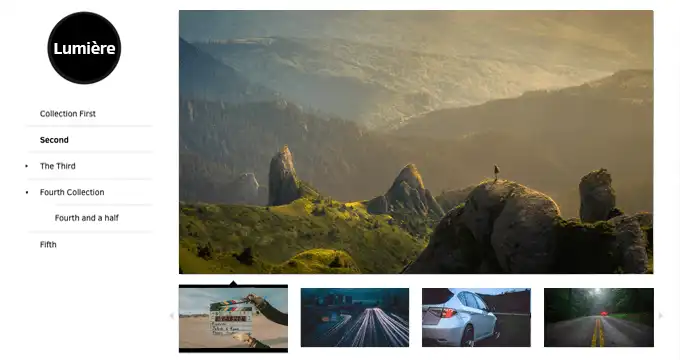 Still, if you need to collaborate with your clients, Proofing template is for you. It allows the people who visit your website to interact with you using comments, rating, etc.
DAM works around a globally accessible repository that includes native version control and robust availability, but what if you want your asset distribution to adhere to a specific formula or pattern? Just set access roles and permissions at the item or group level to ensure that the right people get the right video materials and assets.
Organize your video files
As a bonus, here are a few pieces of advice on how to use your video asset management the most productively:
Move all your videos to one centralized location. (Of course, DAM will fit you best here). This will help you search & retrieve your files easily, along with sharing them with your clients, colleagues, and partners.
Keep all your files in organized video collections or folders. There are different approaches to file organization, for example by client/project, date, or status. Choose whichever suits you better. But don't forget to strengthen your system with file naming conventions too.
Avoid any random files – each & every video should have the right place within your storage.
Attach metadata to all your videos & then use it for search & access. Video metadata is any additional information about your video assets like the description, creators, dates when the video was created and/or uploaded. Pics.io is an advanced metadata viewer & editor. For example, here you can check all the EXIF data (metadata provided by default) like codecs, duration, etc.
Don't ignore tags & keywords which will ease your searches. Pics.io has a powerful AI-keywording tool that will automate this process for you.
Keep all your video versions together. So you can get back and choose the best revision if needed. Of course, version control will be of the greatest help here.
Link the related videos. For example, you can link raw versions with the processed ones in case you need to use the raw materials again.
Restrict access to your video files & distinguish users' rights. No need that all your team has equal access to all video assets. For example, separate video collections per project and grant access & editing rights only to those who currently work on this particular project. This will help you avoid any confusion and solve any random removal of files.
Archive your video projects. For one thing, you'll get a backup copy. For another, archived footage will occupy less place in your storage.
Reuse your video materials. Having all your assets at hand is also good because you can reuse the leftovers.
Get rid of the mess in your storage with the best video asset management ever.
---
With Pics.io Digital Asset Management solution both your team and external agencies have one central platform to assign and review tasks, see who's responsible for what and generally have a much clearer oversight on how the production process is progressing.
If you're interested to learn more about how we perform video asset management in Pics.io, — welcome to our Help Centre where there's more technical information. Or you can simply drop us a word in the comments section below or on email. We'll absolutely check it out and do our best to meet your needs.
If you haven't registered yet, follow this link to create a free account.
Give Pics.io DAM a try
Free 7-day trial
No credit card required
Set up in 3 minutes or less