When we talk about branding, the first names that pop up are Apple, Nike, and Starbucks. Your list might differ from mine, but the point is that these global brands have created strong identities for themselves.
You think Apple and you think of slick products, happy employees, and great service. Likewise, Starbucks is synonymous with warm, cozy cafes brimming with hot lattes.
You get the picture, right?
Good.
These brands didn't become identifiable in a day. It took decades of conscious, consistent brand-building efforts to become the powerhouse brands that they are today.
While it might be too aspirational to compare yourself with these brands, you can strive to replicate their brand success. By incorporating some essential components into your branding strategy, you can create a brand identity that represents what you really are and what you stand for.
But before we discuss brand strategy components, it's important to gain clarity about the term "brand strategy."
What is Brand Strategy?
First things first, your brand is not just your name, products, logo, or website. It is the sum total of all of the tangible and intangible elements that shape the public perception of your brand. Though hard to pin down, it's something that differentiates you from your competitors.
Brand strategy is a long-term plan that governs the experience that your customers, prospects, investors, employees, and competitors have with your brand. It has more to do with the intuition side of the mind than the physical side.
To ensure that your brand strikes the right chord, your brand strategy should incorporate some important components. Let's learn about them.
5 Elements of an Effective Brand Strategy
Your brand identity is not something that you can mess around with. It's hard (sometimes, impossible) to change public sentiment about a brand. If your brand is all over the place or not reflecting the desired identity, you need to revisit your brand strategy.
But how?
Just include these five elements in your strategy:
1. Purpose
Every entrepreneur has a vision and a mission for their business. If you're not yet clear about yours, it's time to think about questions like:
What do you aim to achieve through your venture?
What are your short-term and long-term goals?
Do you have any personal goals as well?
Do they align with your corporate objectives?
Once you have a list of goals, categorize them into:
Functional Goals: These are the objectives you want to fulfill on the commercial front. In simple words, they pinpoint how much revenue your business will generate in a predetermined time frame.
Intentional Goals: Granted, a business needs to make money. But it also gives back to society, fosters relationships, improves the lives of those it touches. These are your intentional goals.
Take IKEA for example. While keeping a close eye on business bottom lines, they also prioritize sustainability and community building, as you can see from their "About Us" page: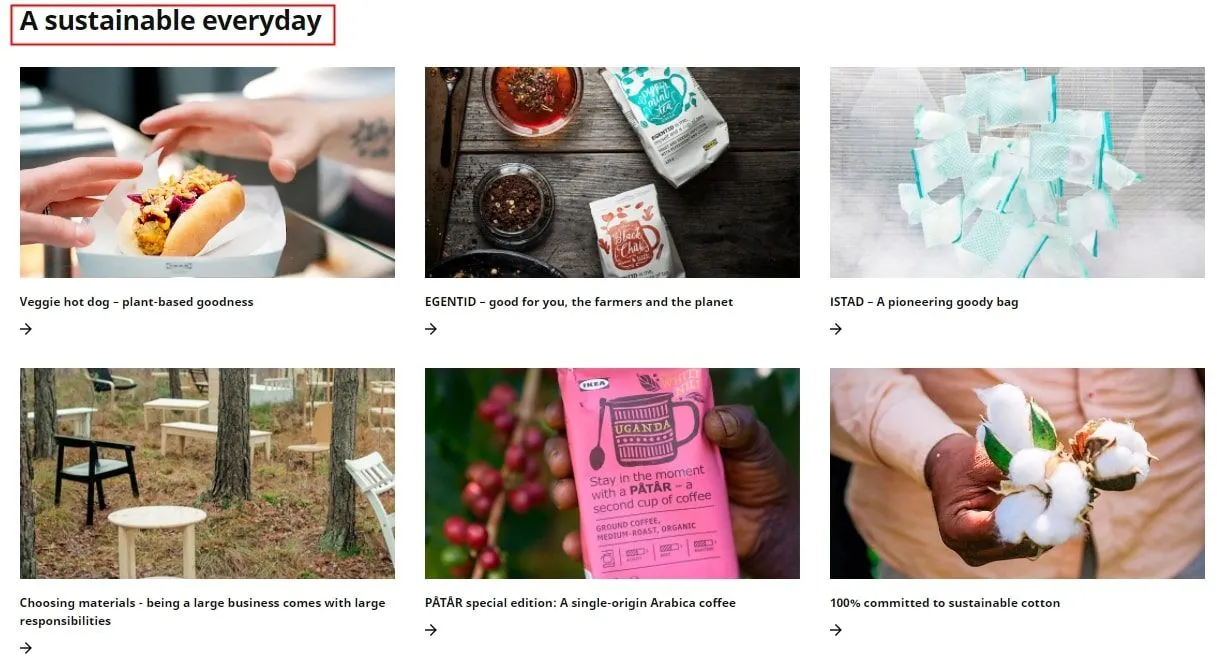 Research proves that brands that care about society and the environment are more respected and trusted than profit-centric brands.
One more thing...
Stay away from boasting about your humane initiatives. Modern consumers are averse to companies that use cause marketing as a ploy to grab eyeballs and boost sales.
Just be genuine and authentic in your approach, and don't try too hard to show that you care. If your efforts are well-founded with a clear roadmap, they will reach the right audience and help carve out the right brand identity for you.
2. Consistency
As you might have figured out by now, brand strategy is anchored on trust. But trust doesn't happen overnight. It has to be earned by projecting cohesive messaging across all online and offline platforms.
According to a Lucidpress survey, 24.5% of marketers believe that inconsistent branding confuses consumers and 18.6% believe that it damages brand credibility and reputation.
Cohesiveness fuels brand recognition, which helps you stand out among your competitors and foster consumer loyalty. To build a cohesive brand image, you can harness the power of visual communication.
What's that, you ask?
You can use text, fonts, colors, and symbols to create a harmonious picture of your brand. For all of these elements to be in-sync, you can create a brand style guide that your teams can follow.
If you need inspiration, take a cue from Coca-Cola. From their social media pages to their branded videos, all of their customer-facing assets reflect the same look and feel. By repeatedly exposing people to the same stimulus, the brand becomes memorable.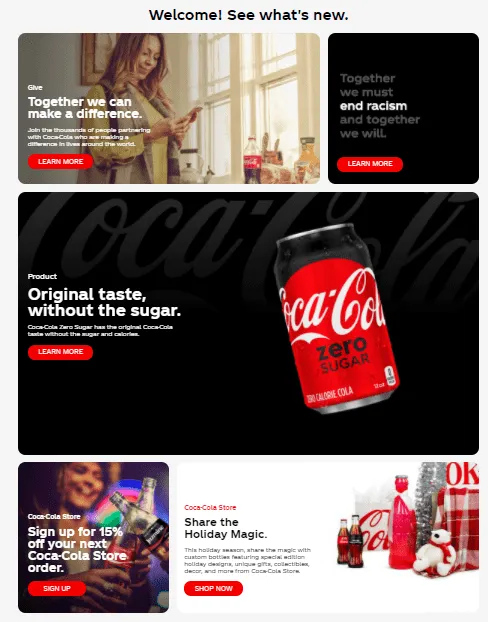 Employ your branding everywhere, especially if these are tools of everyday usage. Best solutions like Pics.io brand management platform will allow you to display your brand identity. And so both your team and users will be exposed to your brand repeatedly.
The tool enables you to adapt your signup & login as well as the general interface of your storage. So your team will see the colors, fonts, logo, etc. of your brand.
When you share the info through public websites, your clients, partners, or freelancers will also see your branding & won't meet any mentions of Pics.io. Bring your brand identity to your workplace!
3. Customer Loyalty
If you have a loyal customer base, count yourself as lucky. But don't just sit there and bask in their love. Reward them for their business, loyalty, and advocacy.
By doing so, you cement their loyalty and make way for more returning customers. You also come across as a brand that values their customers, which is a magnet for potential customers.
Some customers may be satisfied with a shoutout on social media, while others might deserve a bigger reward. You can gift them goodies and exclusive services and discounts. You can also build a formal loyalty program in which you incentivize existing customers to write positive reviews for you or bring in new leads.
Apart from creating a positive image for your brand, these programs also reduce your marketing costs. You have to spend less on customer acquisition and retention, which is bound to increase your profit margins.
4. Competitive Awareness
It always pays to keep a close watch on your competitors' brand strategies since you all are targeting the same consumers. Take it as a learning experience and observe what succeeds for them and what fails.
You can use social listening tools like Buffer to set up alerts for mentions of your competitors. Then, you can act proactively before they have a chance to respond. This way, you can protect your brand's reputation and improve your industry positioning.
Need an example?
Twitter wars between Domino's and Pizza Hut are legendary. In one such battle, a pizza lover asked their followers about their pizza preferences. Without missing a beat, Pizza Hut jumped in with a witty answer before Domino's had a clue about the whole situation.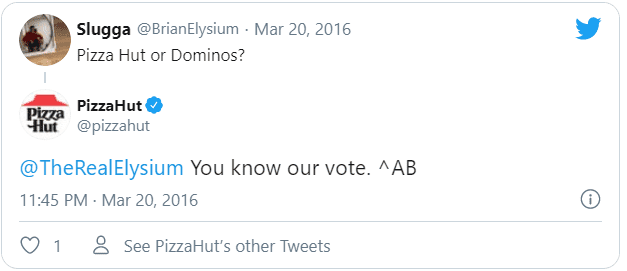 Likewise, you need to be alert and follow your competition around the web. At the same time, don't lose your unique edge by replicating their every move.
5. Emotions
Did you know that most purchase decisions are controlled by the mind rather than by logic, costs, and other tactical factors? I bet you didn't. Similarly, people's perceptions are also molded by their emotions.
So, you need to feed in on human needs, such as love, compassion, and community feeling, to build your brand. Harley Davidson is a brand that nails this tactic. They have an exclusive Harley Owners Group (H.O.G.) in which all Harley buyers can compare notes, share biking tips, and generally bond together.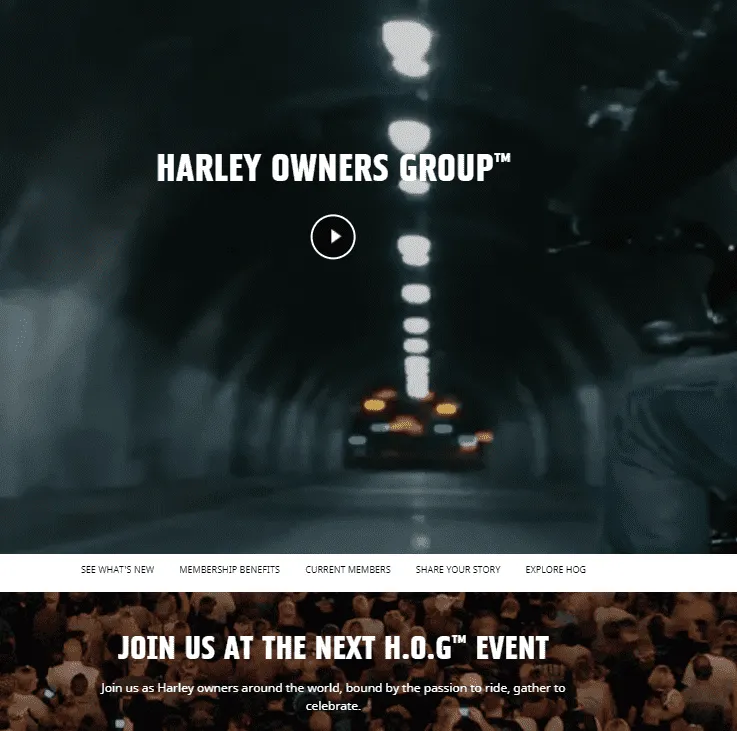 Members get exclusive product updates and share their ownership journeys. The brand organizes member-only events and creates dedicated resources for their members to access.
Since humans are social creatures, they have an innate desire to connect with other humans. By providing an opportunity for like-minded people to connect, Harley becomes the preferred brand for luxury bike lovers.
You can also brainstorm with your branding teams and come up with initiatives that stem from basic human needs.
Ready to Catapult Your Brand Image Ahead of the Competition?
Brand building is not an easy task, especially in this ever-evolving digital world. You should aim to build a brand image that stands out and appeals to your consumers. And all of this should be done without compromising on your innate values.
That's where the tips I've mentioned above can come in handy. They will give you a great headstart in branding and also help you realign your existing image.
Do you have any questions about any of the points I've covered in this post? Leave them in the comments below. I'll get back to you with the answers soon.
And if you're looking for an excellent digital asset management solution – Pics.io is the right tool for you. Store, organize, & distribute your files the most productively.
Give Pics.io DAM a try
Free 7-day trial
No credit card required
Set up in 3 minutes or less
---
Author
Shane Barker is a digital marketing consultant who specializes in influencer marketing, content marketing, and SEO. He is the co-founder of Attrock, a digital marketing agency. He has consulted with Fortune 500 companies, influencers with digital products, and a number of A-List celebrities. Social connects: Twitter, LinkedIn & Instagram.